Quiet Beaches and High Rivers on the Beautiful Nicoya Peninsula.
The Nicoya Peninsula's combination of dirt roads, deserted bays and jungle-to-the-sea landscape sounded like the perfect way to continue the great introduction to the country we'd had with our Volcan Rincon de la Vieja ride.
The Nicoya's been well known as a no-brainer detour from the Pan American Highway for touring cyclists for a long time, but with bigger tyres and a bit more time there are more adventurous routes possible which hug the coast more closely and keep you further away from the tourism and resort development which have started to impinge on the Nicoya's otherwise unsullied beauty. We more-or-less rode the route described on Bikepacking.com, which combines pavement, dirt roads, tracks and coastline. It was early November – the dry season yet to start – and previous wet season storms meant there was still a lot of water around, forcing a couple of detours and some non-trivial river crossings, but at least the Nicoya's notorious polvo (road dust) was not at its peak.
Without a doubt riding there was one of the highlights of our Central America ride and I'd highly recommend it on any Costa Rica-bound itinerary.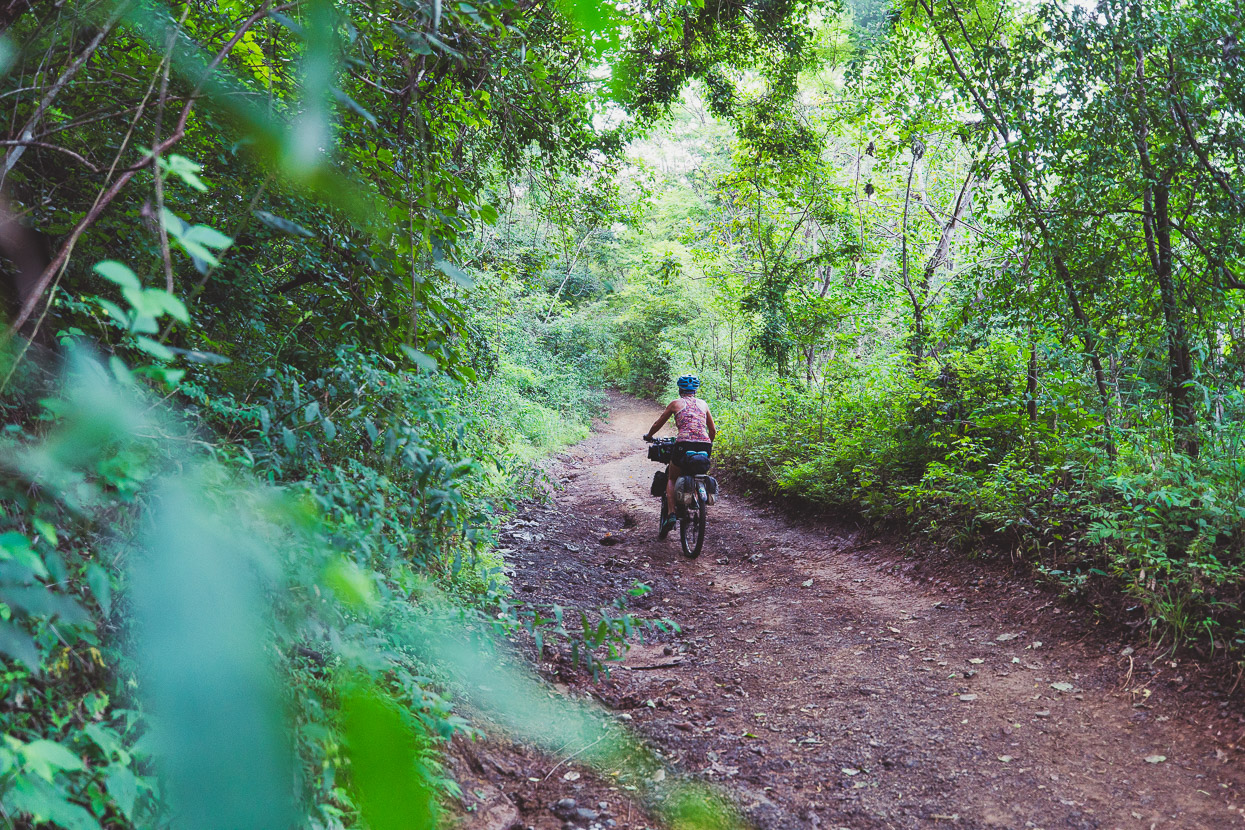 The documented bikepacking route starts from the city of Liberia and follows quite busy, unavoidable, highway and then a dirt road known as the Monkey Trail out to the route's first contact point with the Nicoya coast. Reading up on the evocative sounding Monkey Trail we realised it's actually one of the main routes used by tourists and services for the coastal resorts and is a wide and dusty dirt road, so we looked for alternatives.
Searching Ride With GPS for local riders' exploits we found what turned out to be a really worthwhile alternate that deviates from the Monkey Trail roughly 1km after it starts in Nuevo Colon and follows the Zapotal Valley for a while before turning off to Playa Danta. The only traffic we saw were a couple of motorbikes and the route crisscrosses a pleasant stream as it makes its way down a narrow quad track and 4WD road. Fun, scenic and quiet – if not a little steep in places…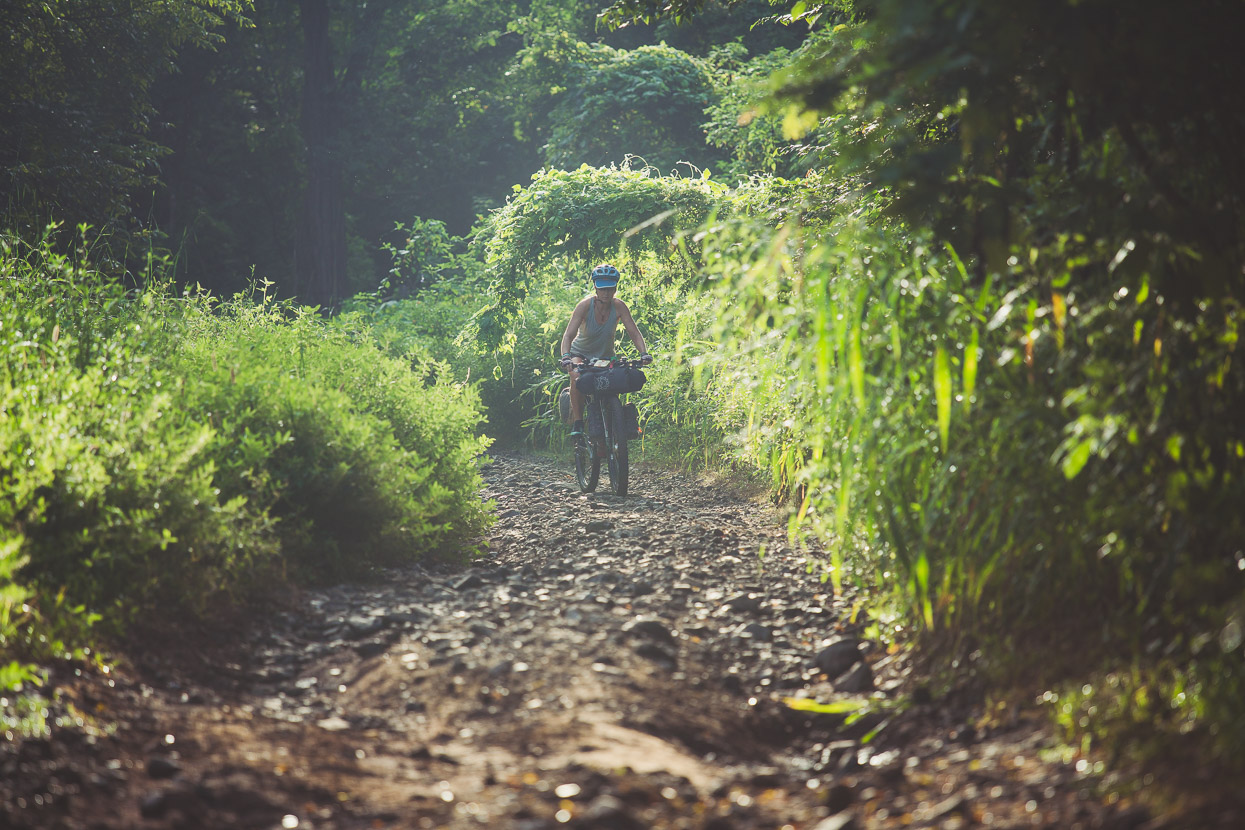 We'd had a late start from Liberia, and then ripping through one of the stream crossings with dusk not far away I sliced my tyre sidewall open on a rock. Stitching, glueing and booting followed but by the time we had the bike rideable again it was practically dark, so we camped beside the gurgling stream and despite no beach camp had a peaceful night under the stars.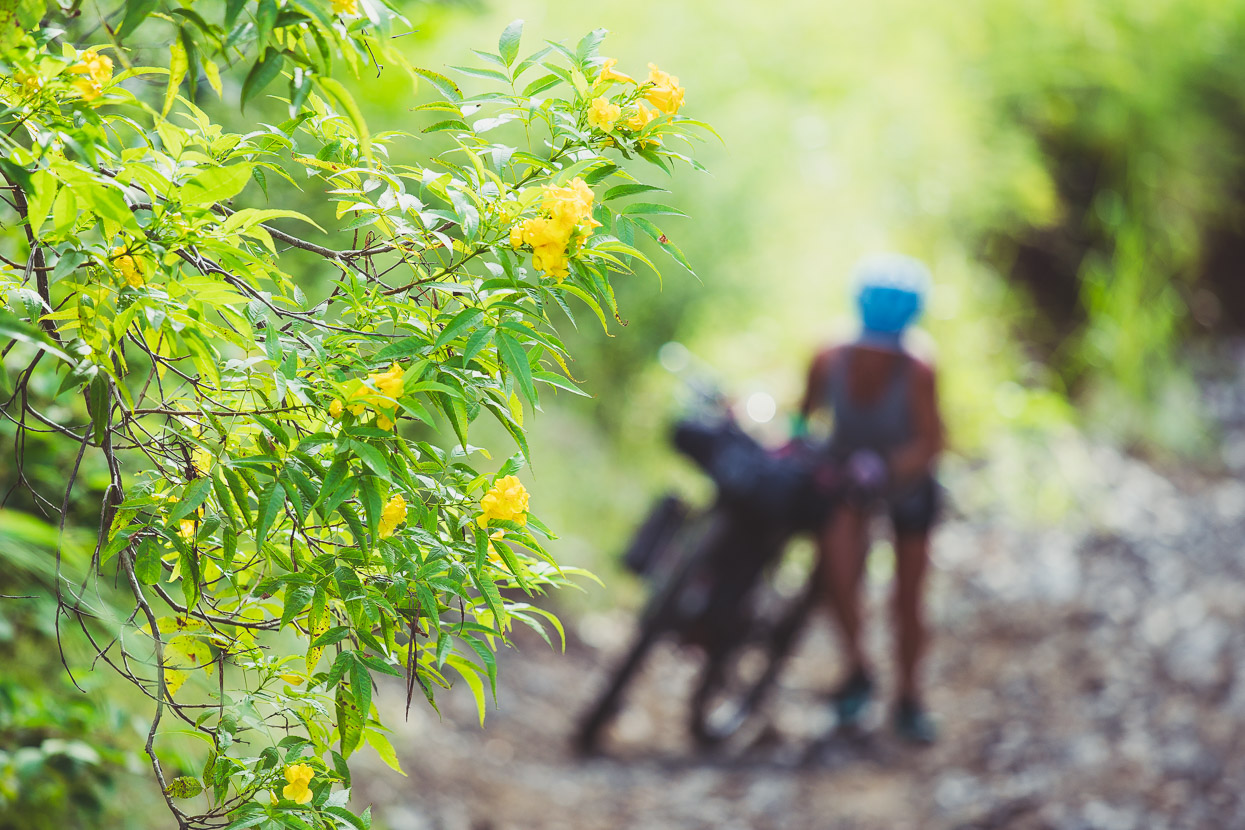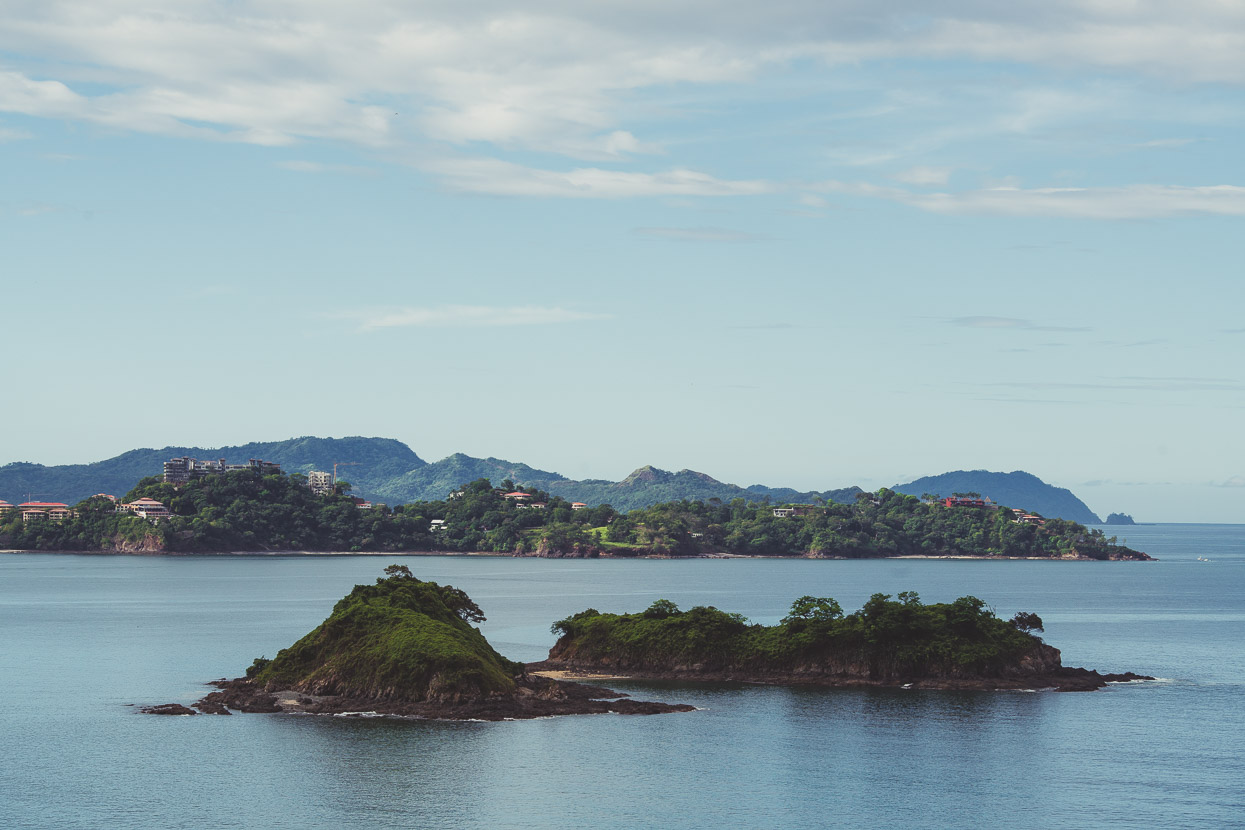 We continued to the coast in the morning. This was the view at the top of the last hill, before we dropped down to a clutch of resorts and apartments lining the bay.
As we'd discover as we made our way south along the coast and interior, the north of the peninsula is generally the most developed, but even here the route manages to avoid a lot of the pavement and traffic by weaving a devious route along beaches, tracks and backroads.
We rode across this river mouth on the beach while a jeep nearby had made a bad choice of line… it didn't look like it was going anywhere but down.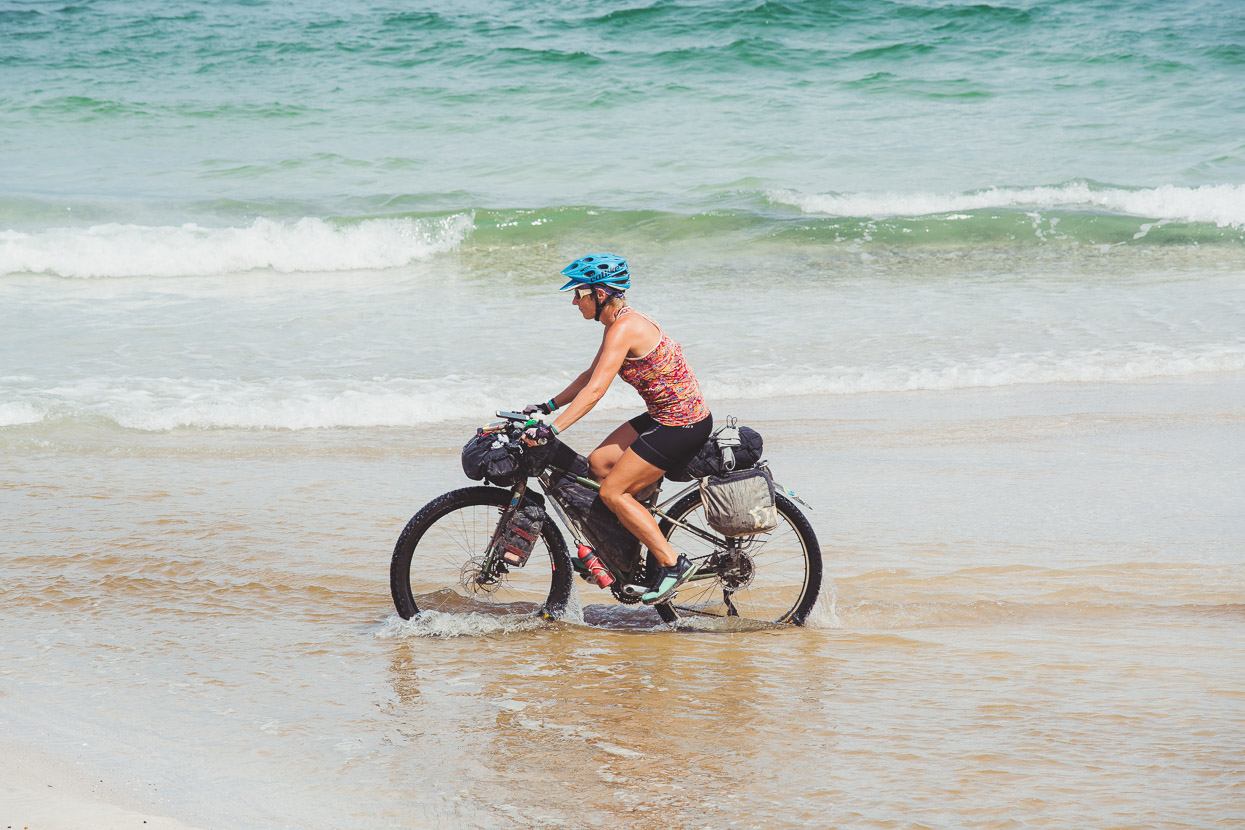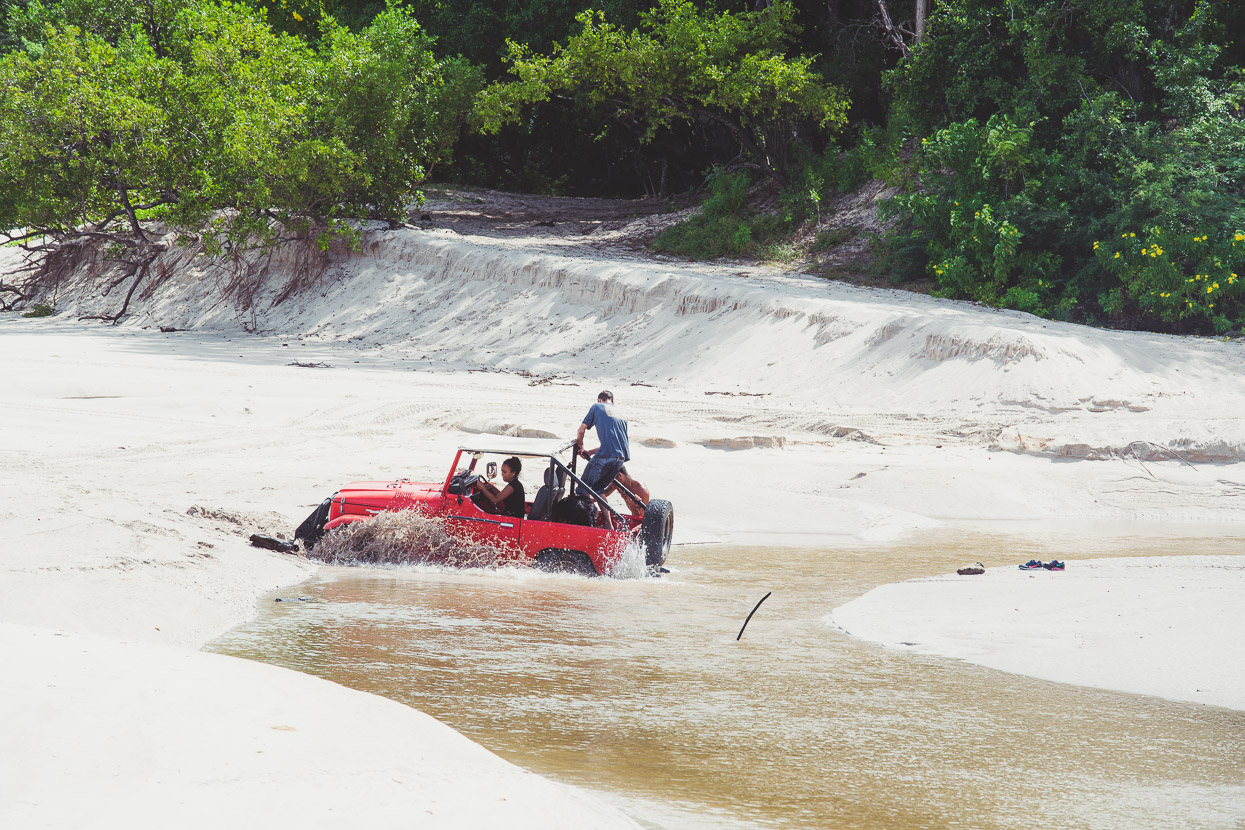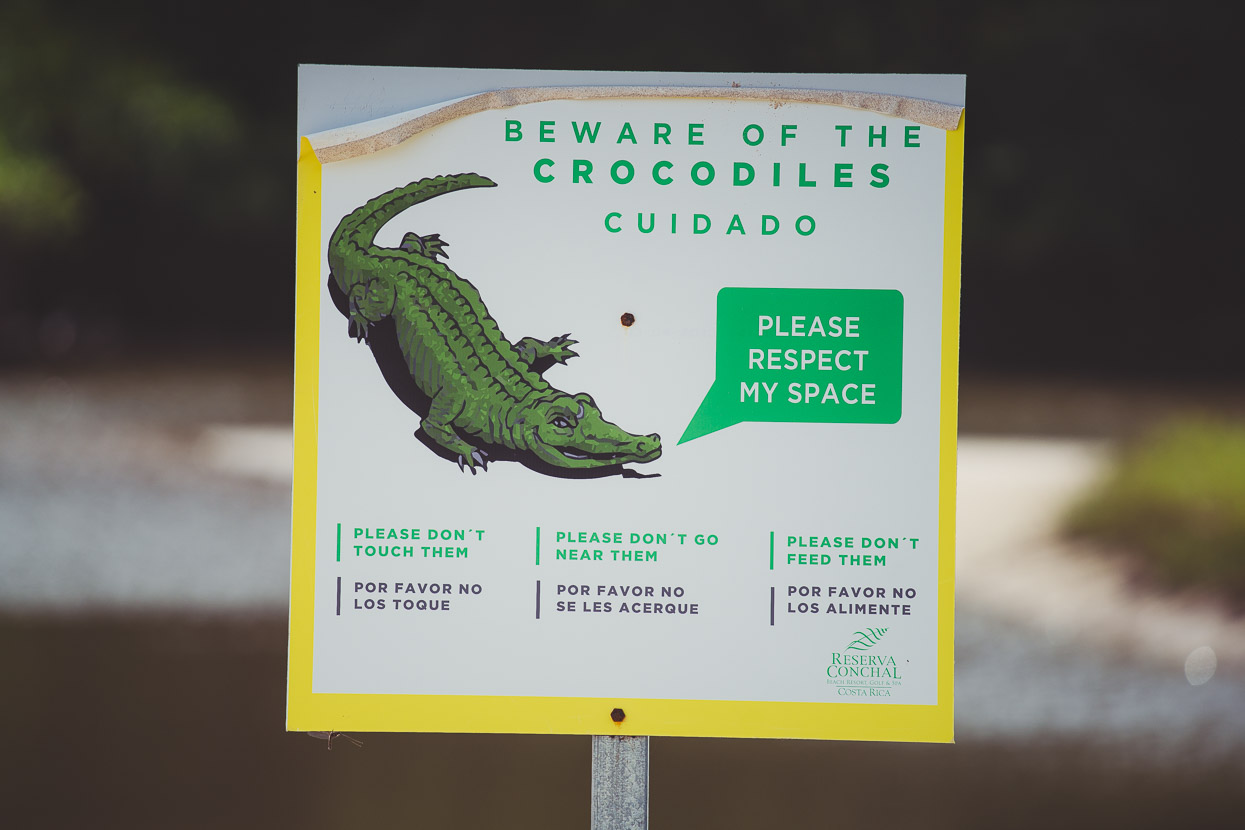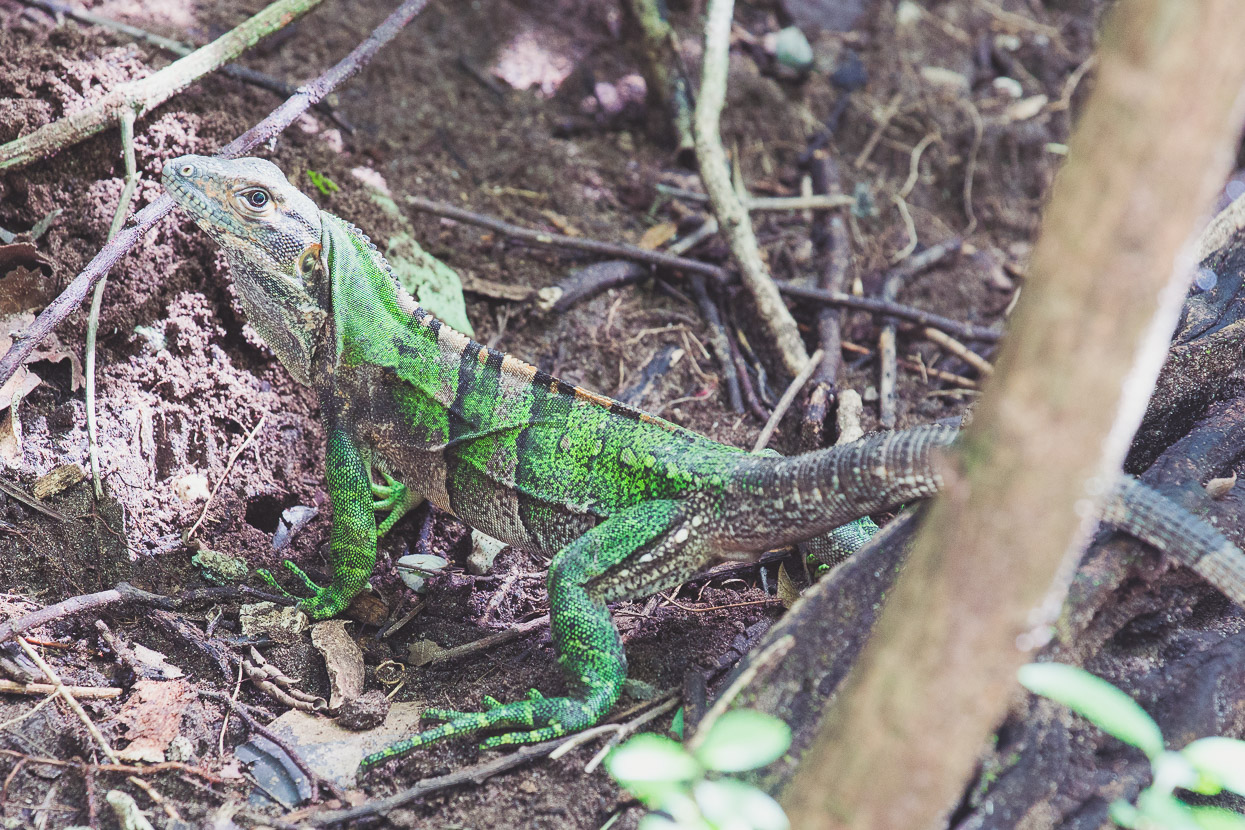 We didn't see any crocodiles but there were plenty of big lizards around, usually freezing for a while when disturbed and then scuttling off into the leafy undergrowth.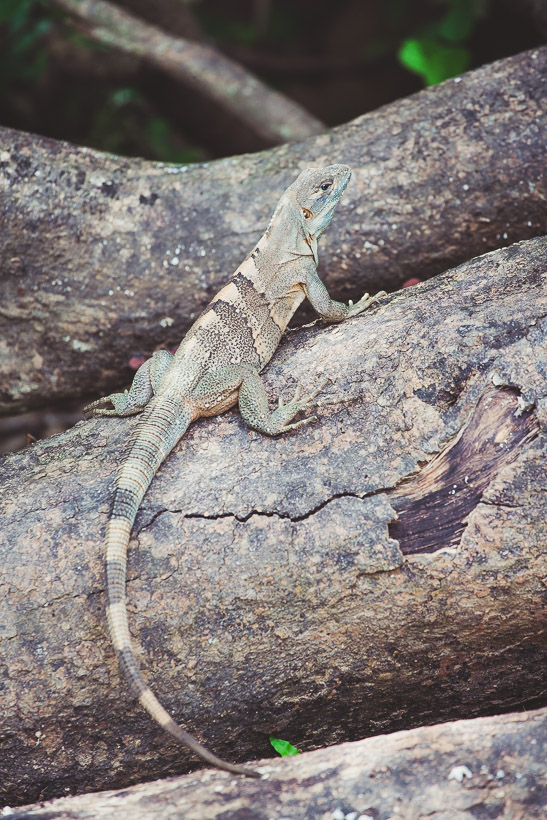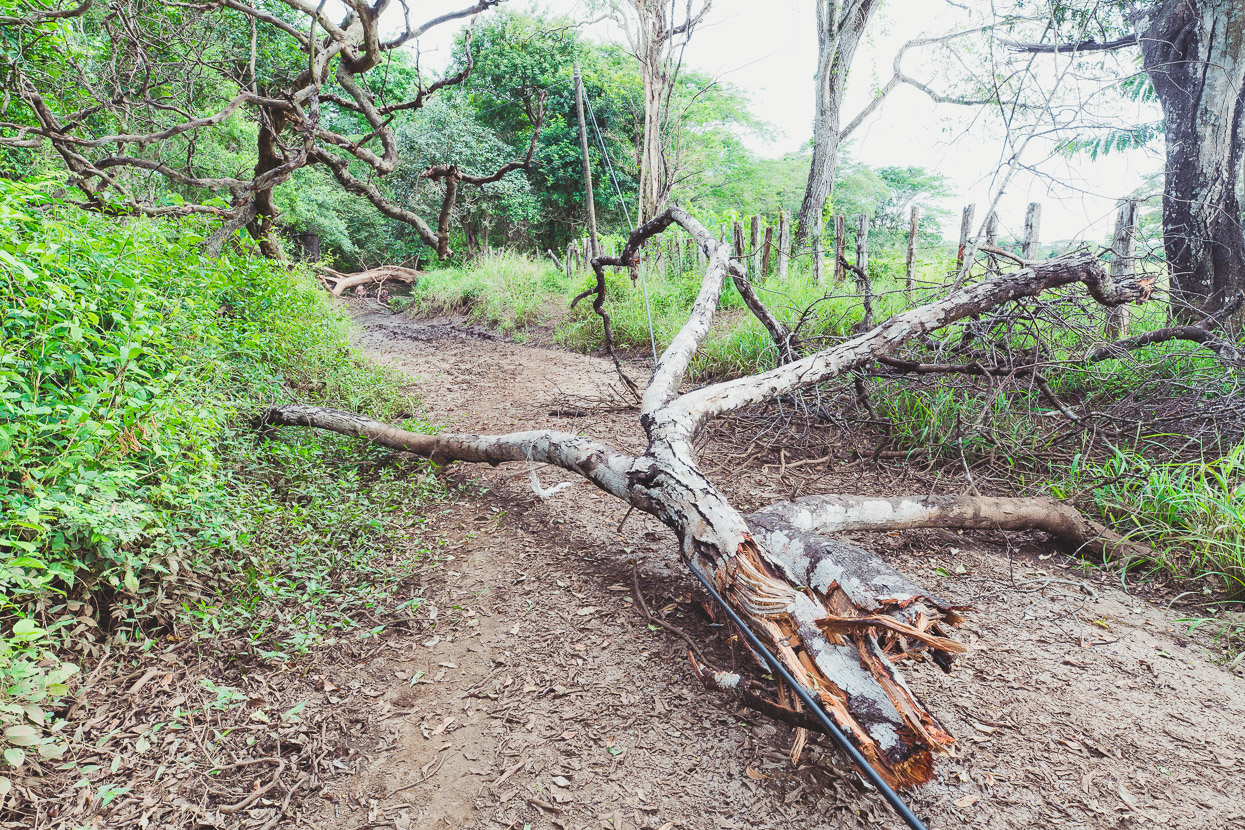 While we were exploring the back roads of Honduras back in early October, Tropical Storm Nate, borne from the Pacific, was pounding Costa Rica, Nicaragua and Honduras. 22 people were killed and many roads, bridges and homes destroyed. We were lucky in Honduras to be scarcely grazed by the edge of it, but the damage it caused is still being cleared up in Costa Rica. Earlier that day the track we were supposed to be followed vanished under several feet of muddy water and we saw many snapped power poles, shattered trees and flood damaged houses.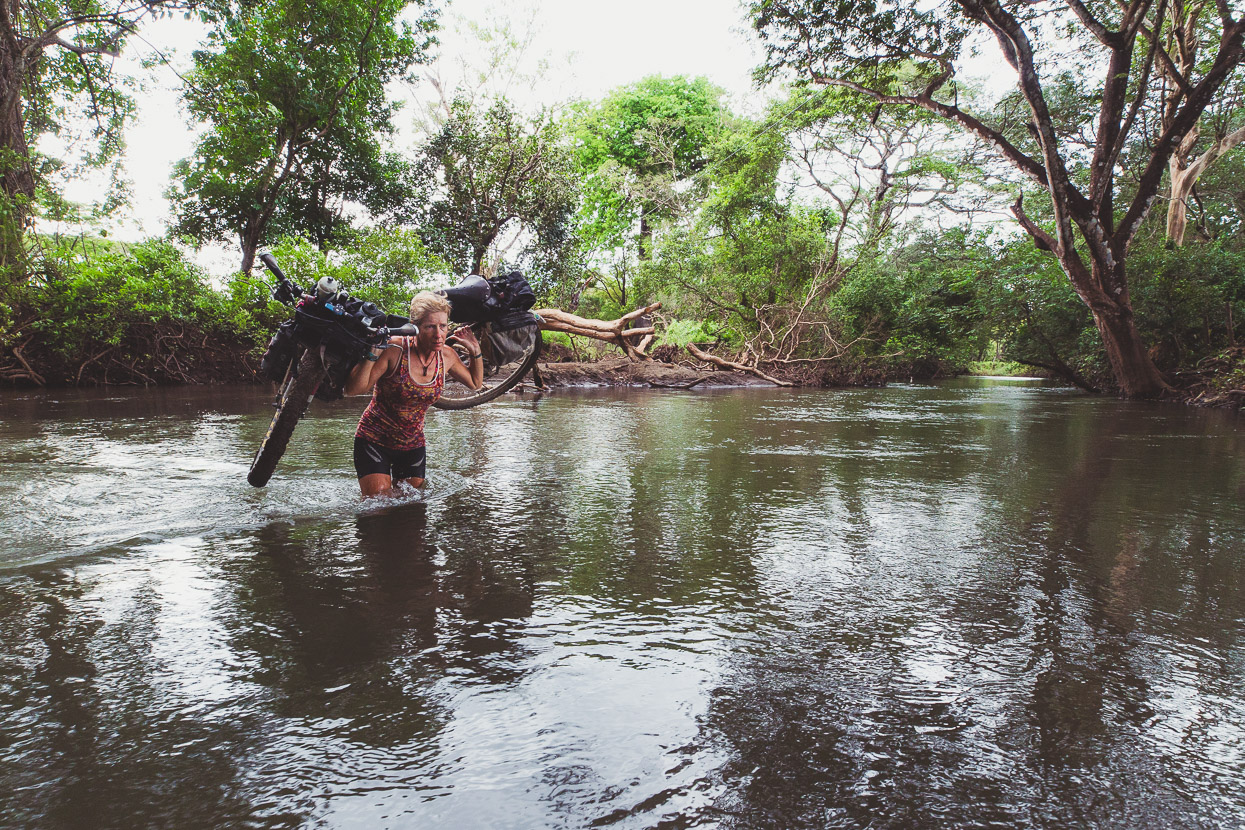 There was no riding through this river, still high with water. A man was wading through from the other side when we arrived here and we a half-jokingly asked if there were cocodrillos, to which he said 'yes' with a shrug of the shoulders as if to say 'What a stupid question'. We didn't have much choice but to wade through and the man's nonchalance gave us confidence, so we made two trips each in the end to carry some of our bags and then the bikes.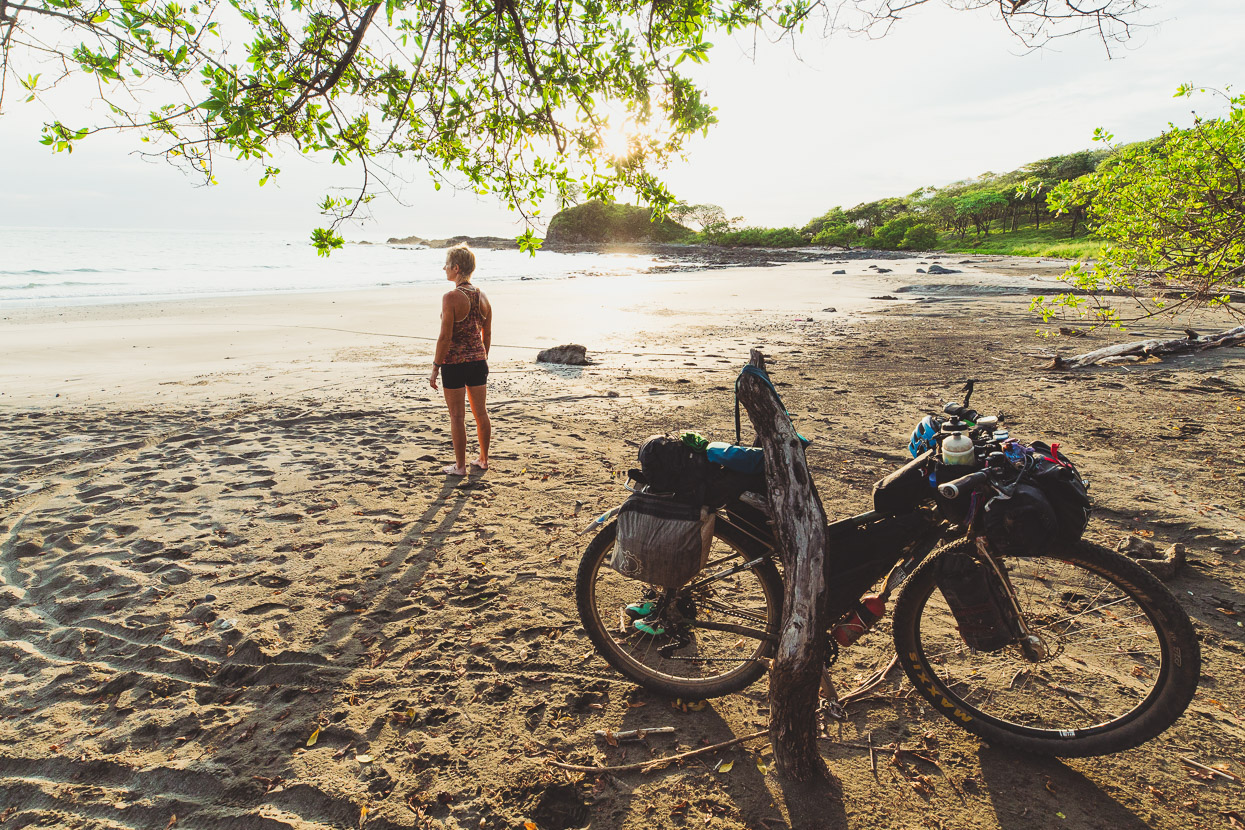 The wade was worth it though when you can end the day at a place like this. Playa Pitahaya was a quiet beach with only a small scattering of houses in the adjacent village. We swam in the warm late afternoon light and then found a comfortable campsite off the sand next to a photogenic rocky cove.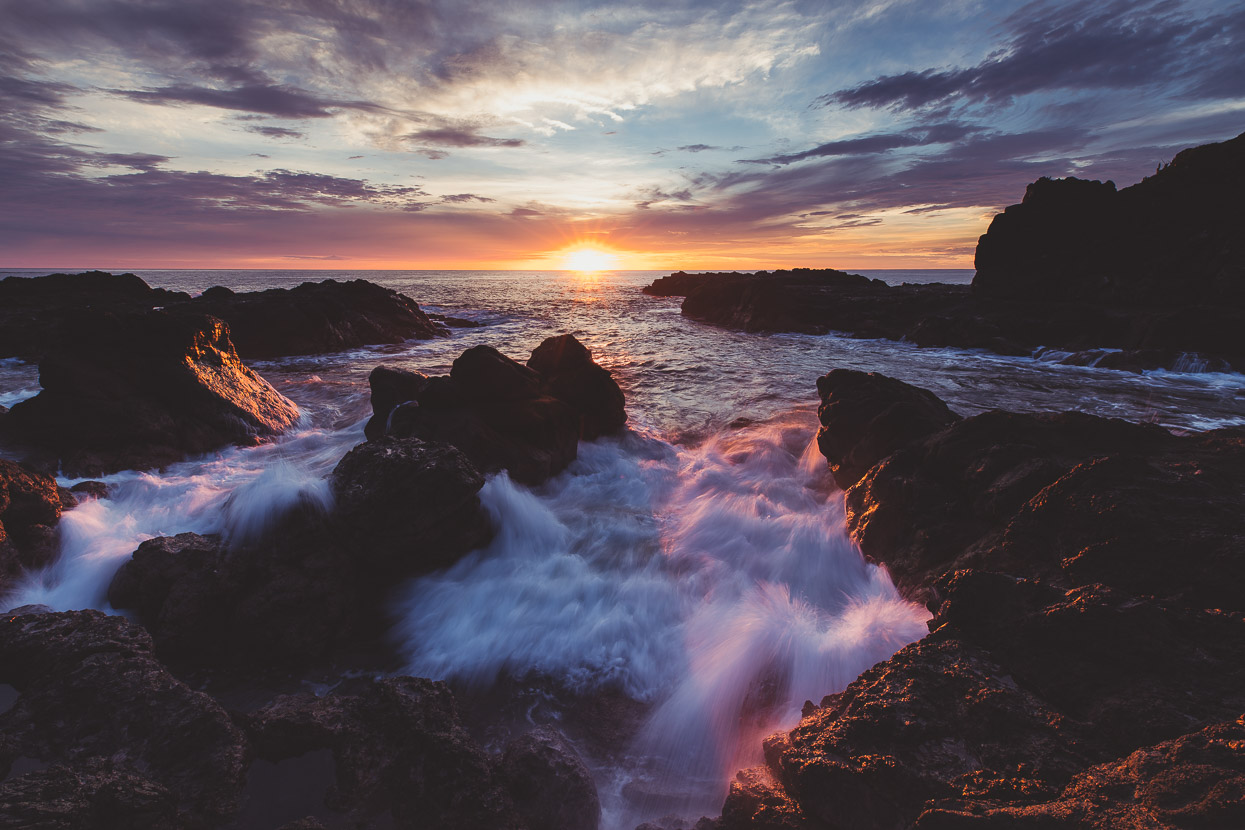 Where we were treated to some magic light as the sun sank behind the horizon of the Pacific Ocean.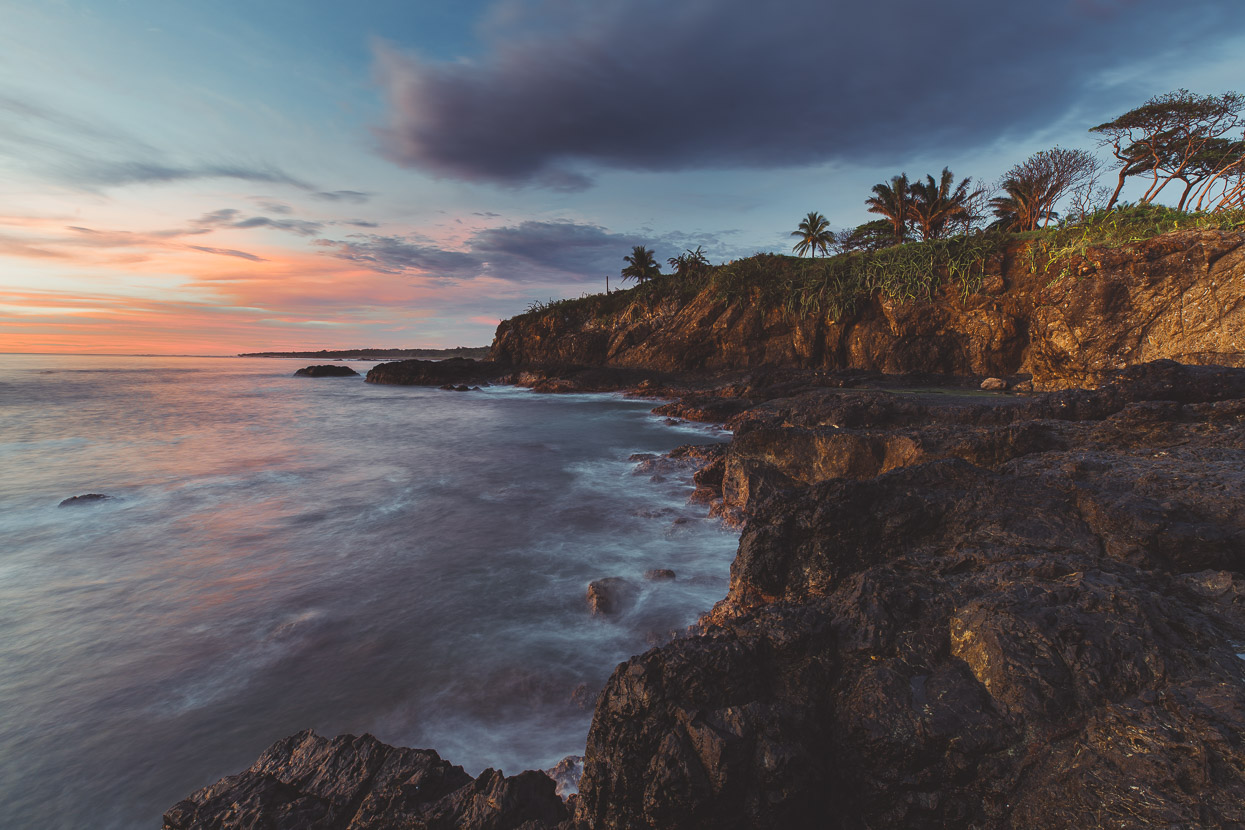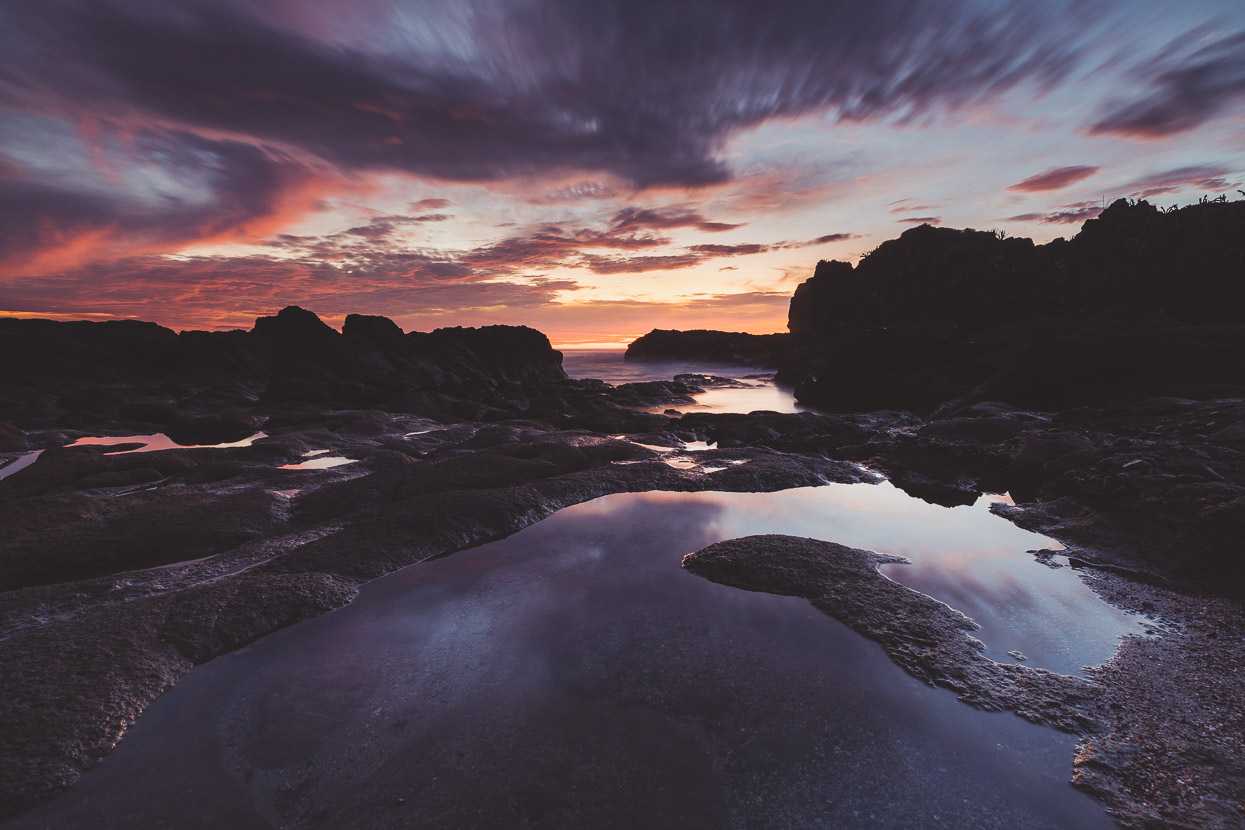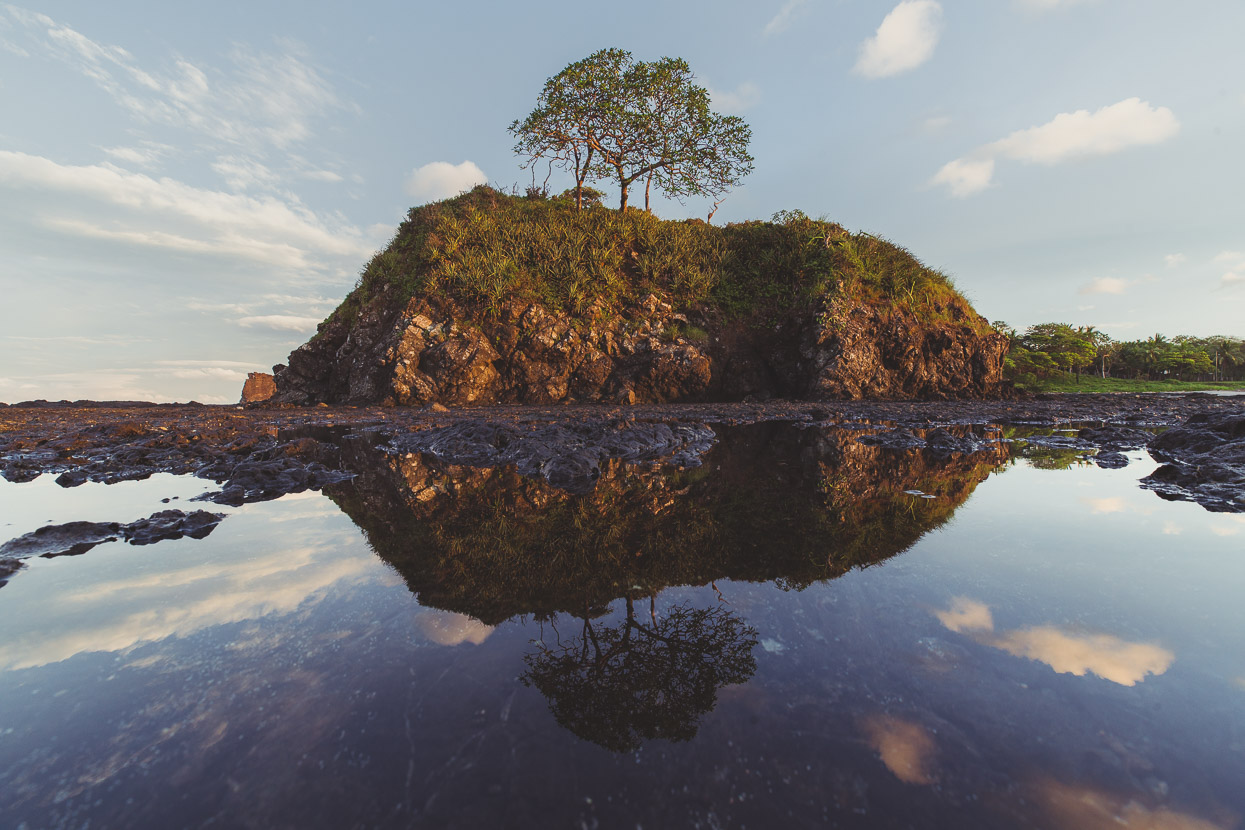 As usual we were up early for a dawn wander with cameras in hand.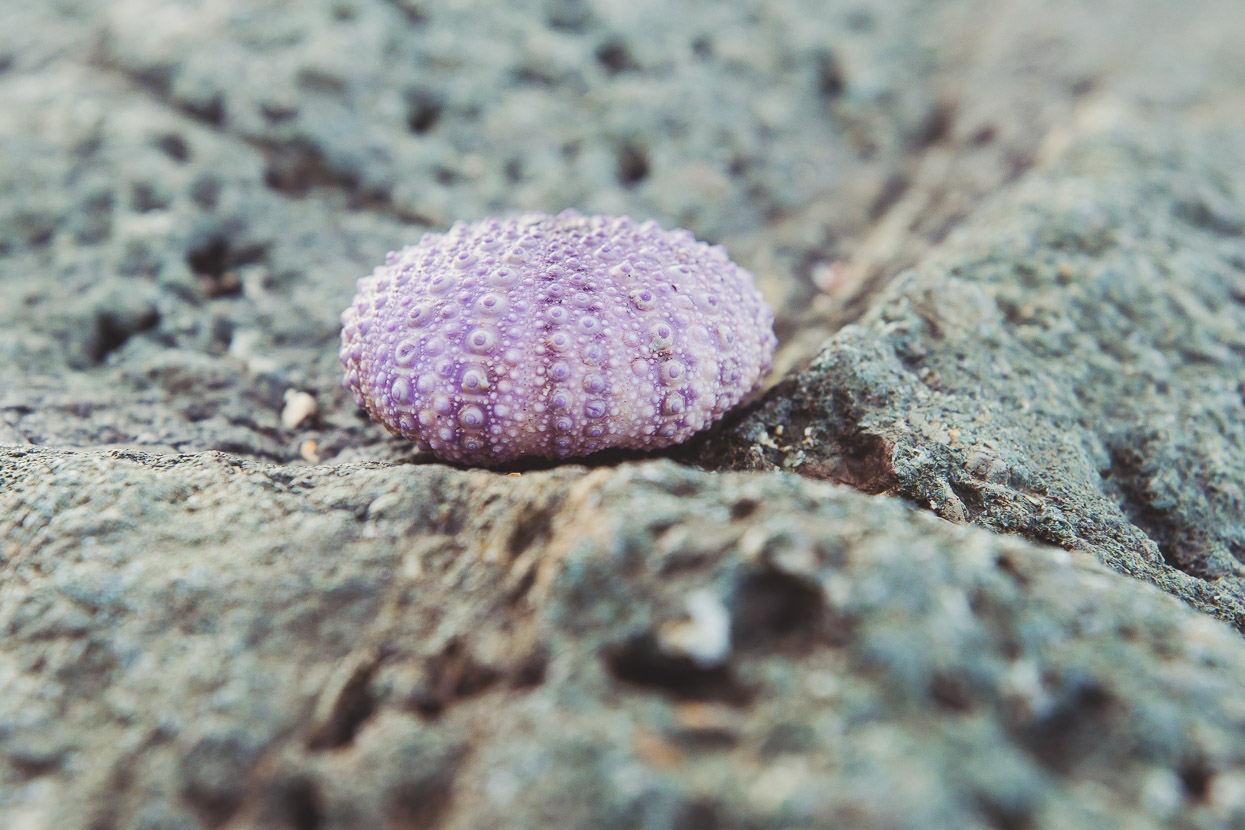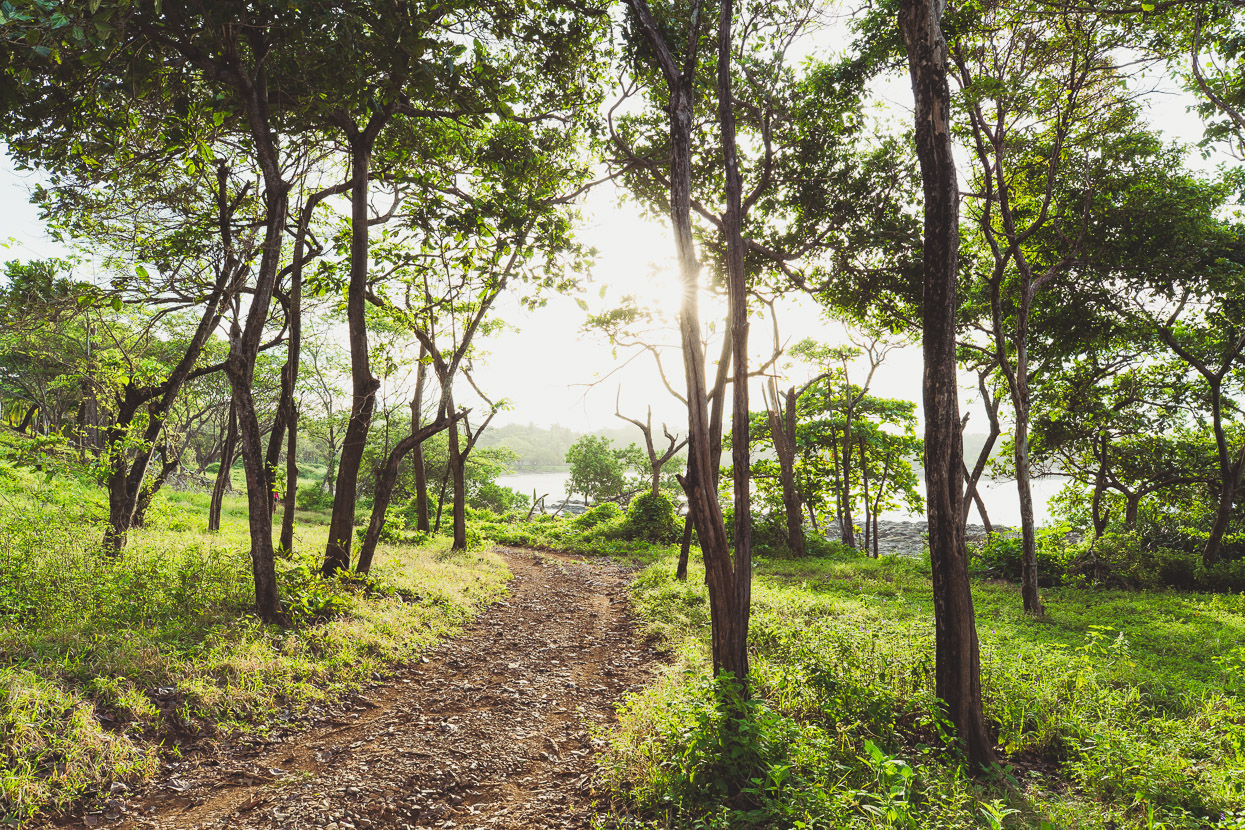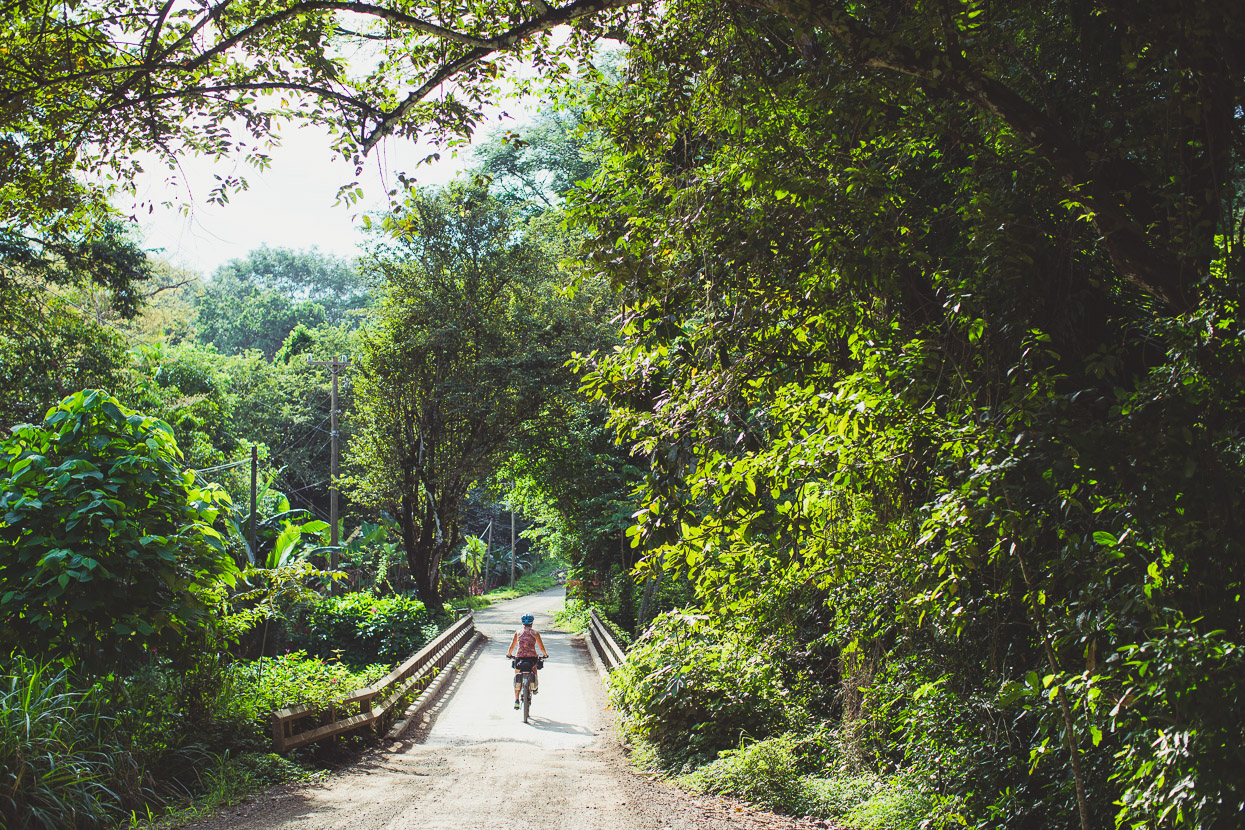 The riding highlights of the Nicoya are stretches like this, where the road's narrow, quiet and framed with jungle – sometimes accompanied by the roar of howler monkeys. At other times the route takes to dusty and faster stretches of road frequented by tourist traffic. There's some sections of paved highway too, though as you get further south these get very quiet.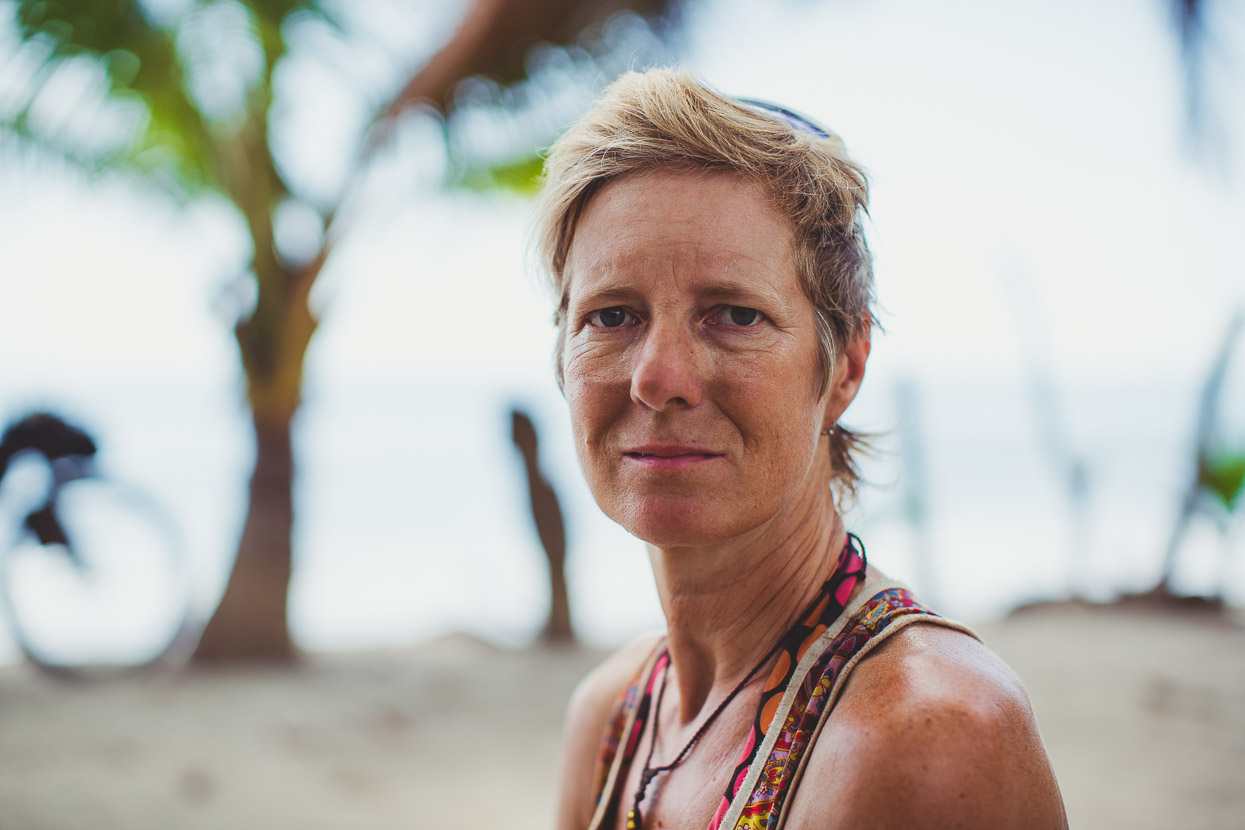 Hana bearing the dust goggles from one particularly dry and busy section of road.
Below, the classic contrasts you experience as you cross the steep headlands of the Nicoya between breezy beaches. Sometimes we'd just have to just stop and admire these empty beaches for a few moments before riding on.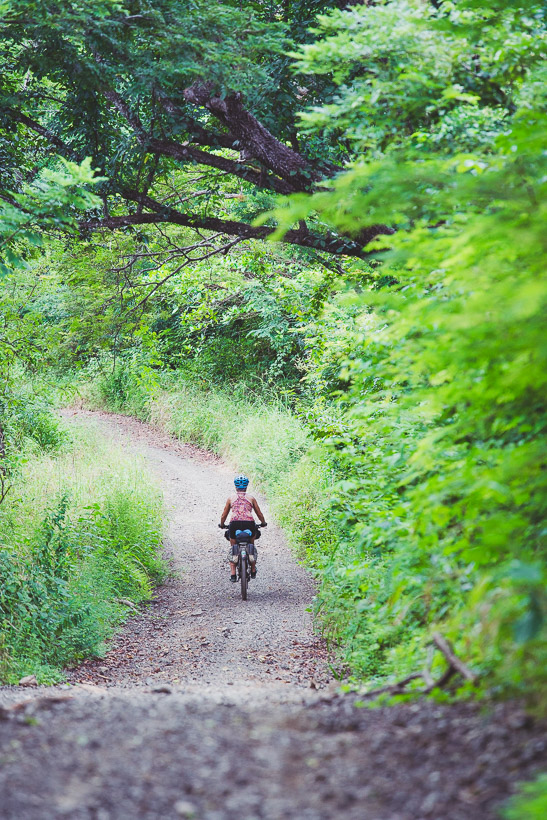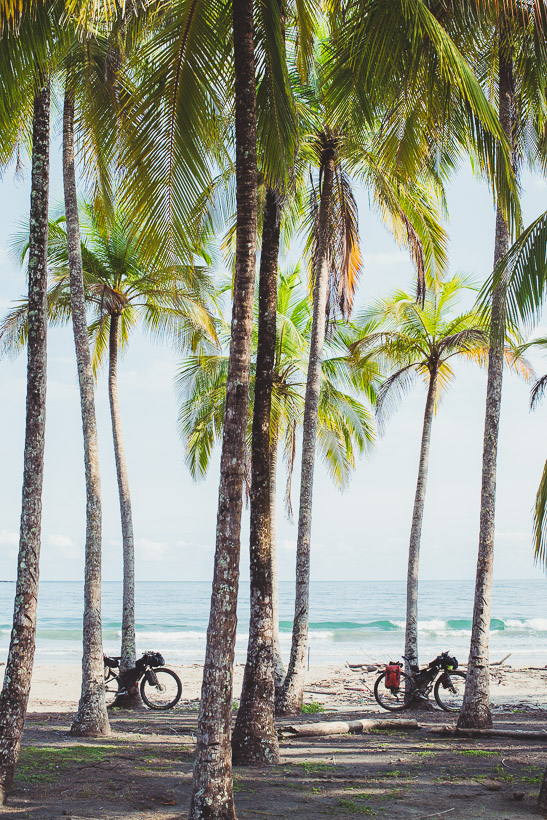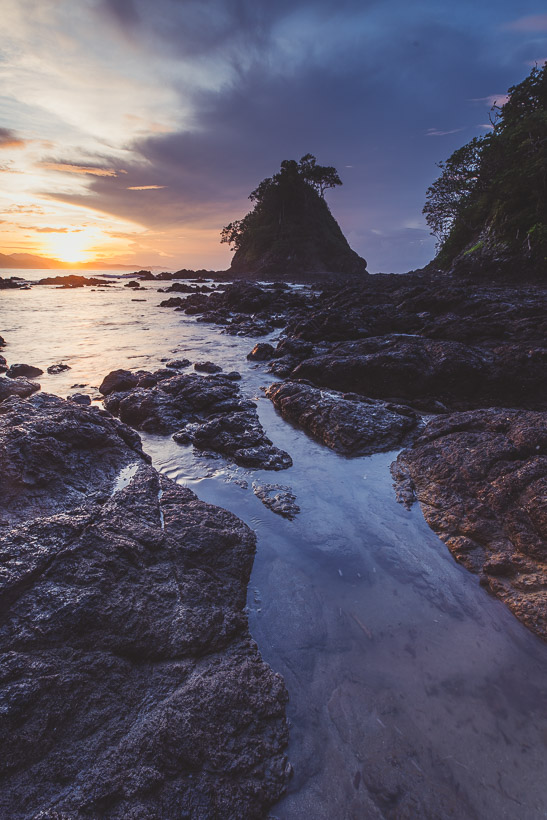 Playa Islita was another magic spot to spend the evening. The jungled hillsides above the bay are home to some resorts but the development has been thoughtful to avoid creating eyesores. We camped on a patch of seaside grass by a picnic/parking area and once again pretty much had the beach to ourselves in the evening and early morning.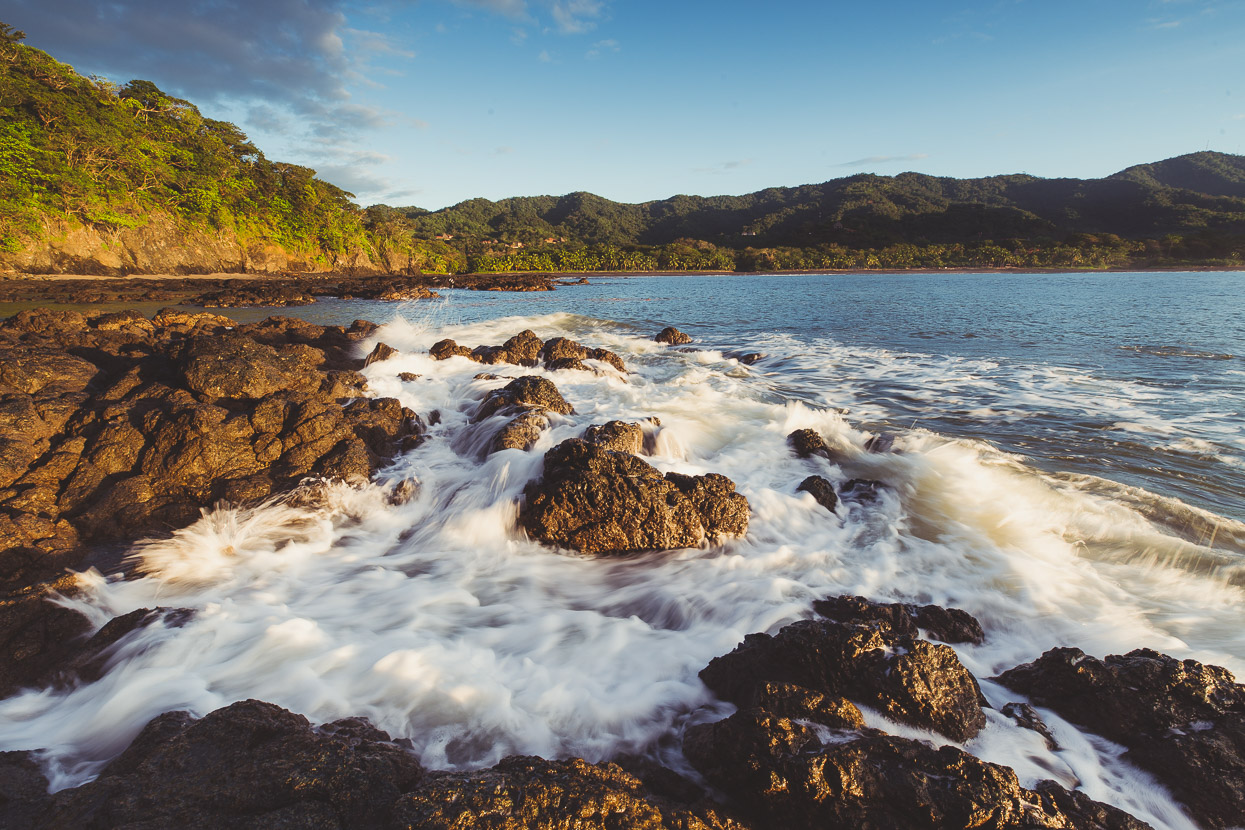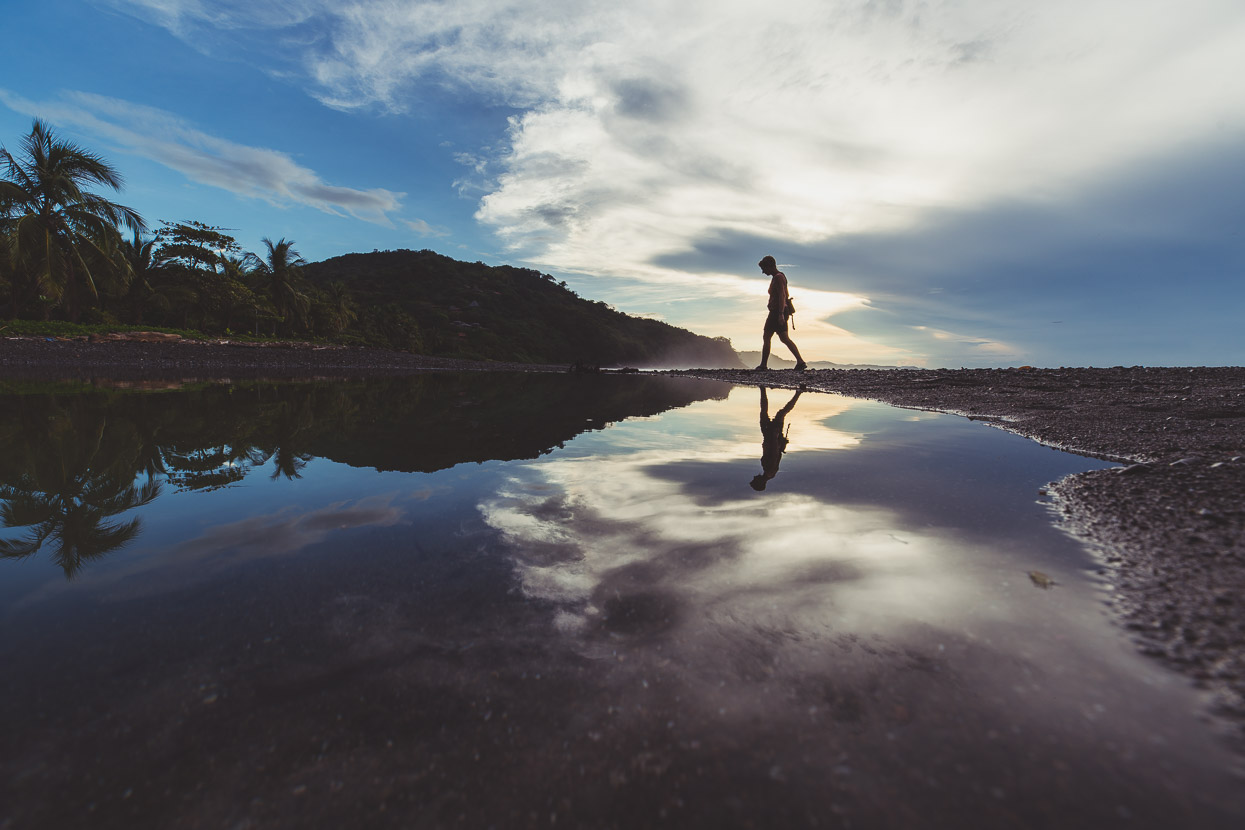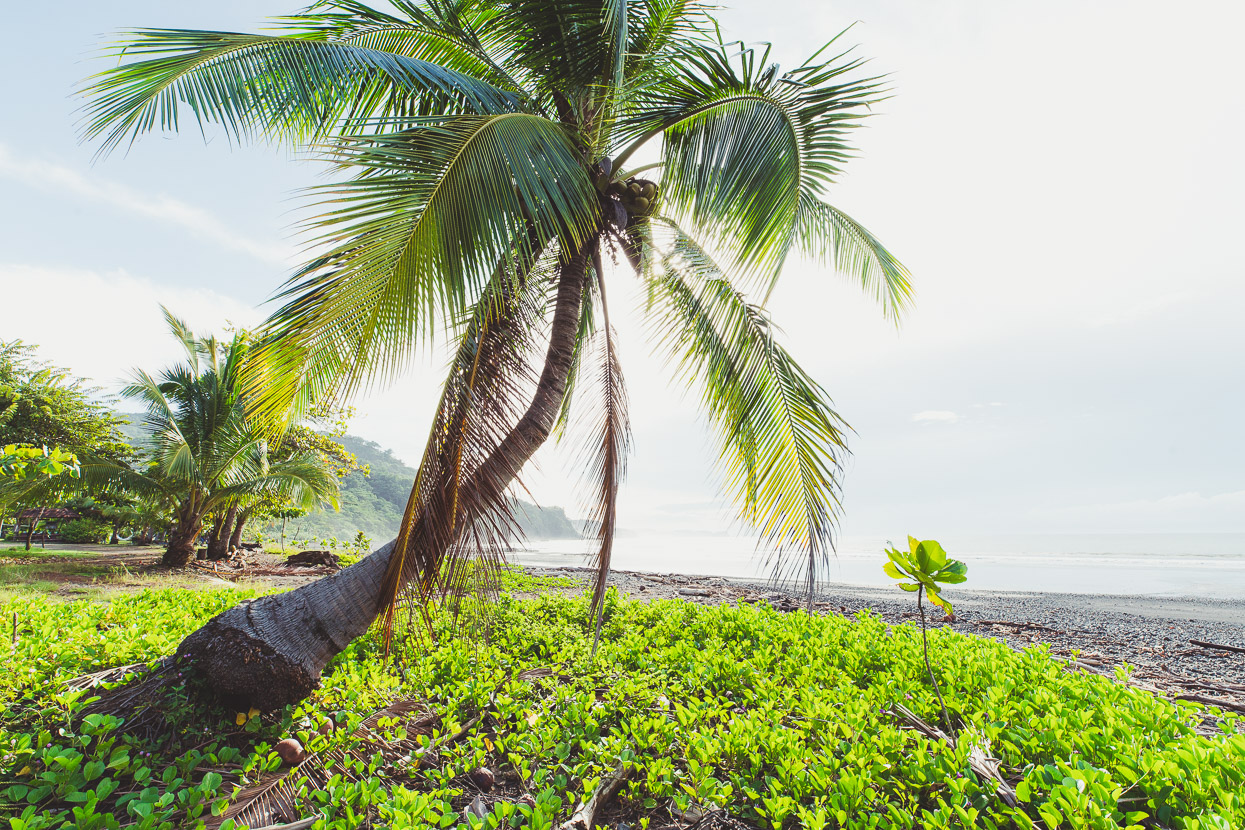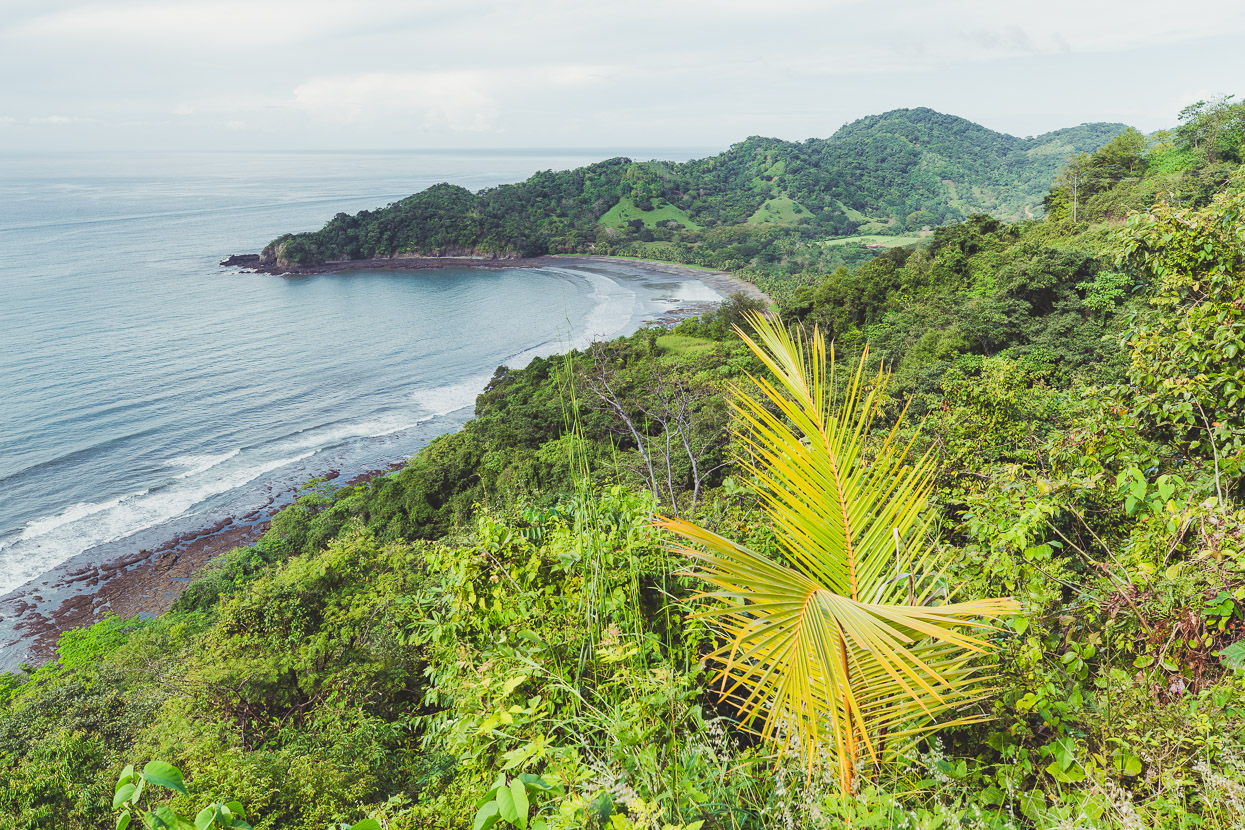 In the morning we climbed out of the bay on a paved road, past the quiet resorts. Looking back here on Playa Islita (little island beach).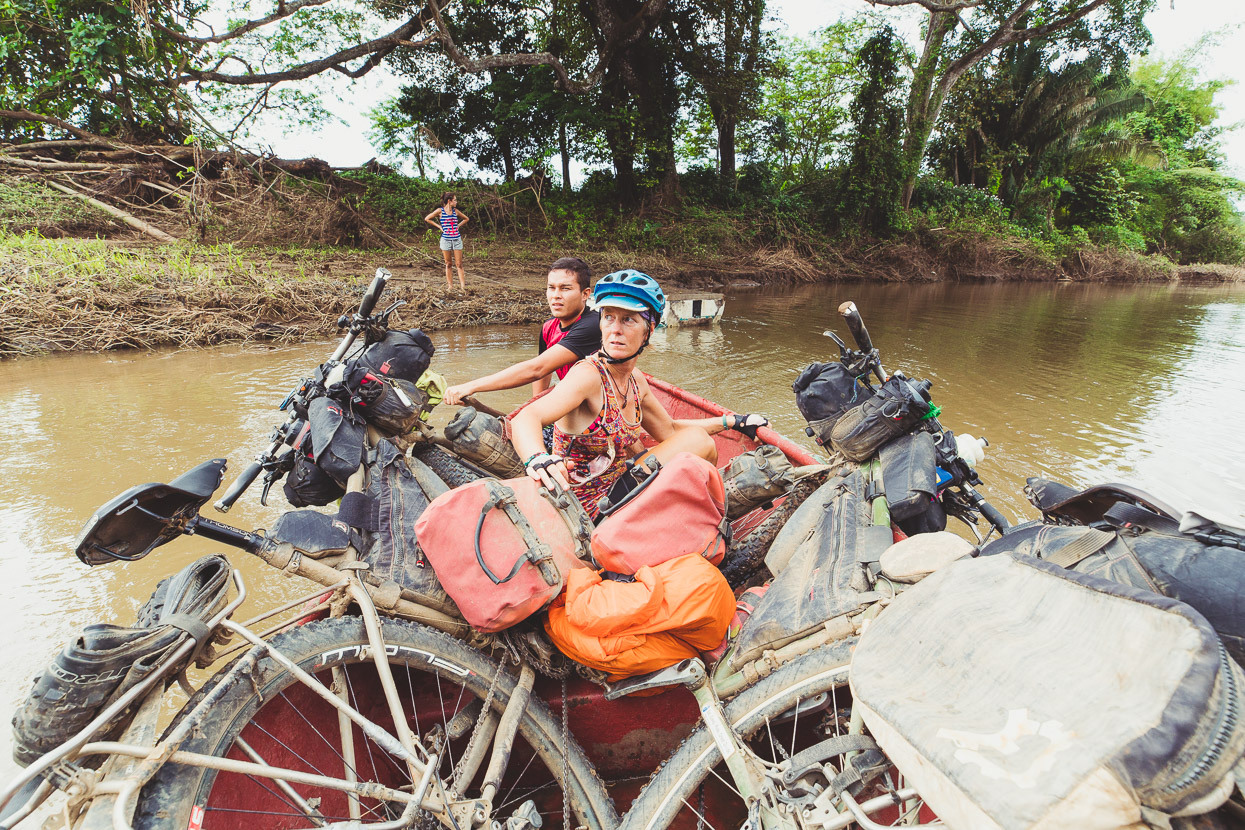 Later in the day we reached the wide and dirty Rio Bongo, the biggest unbridged river that the Nicoya bikepacking route crosses. I assume in the middle of dry season it's clear and an easy wade. Nevertheless, I cautiously waded into the river (sans-bike) to test its depth, only to have a young lady come along and tell us that there were a lot of crocodiles around there and that they'd seen one snatch a heron from the riverbank just yesterday. Something of a Darwin moment on my part which I'll blame on being from NZ and hence not automatically programmed to be fearful of beasts in the Great Outdoors!
The girl who'd come to our assistance said they could row us across in a boat, which we paid an exorbitant US$25 for. Costa Rica's definitely on the expensive side for food and accommodation compared with the rest of Central America, but we couldn't help but feel they were shafting us with that price. There was no haggling either – apparently that was the 'cheap' rate! With the alternative being a long detour into the hills we decided to go for it; at least we hadn't been paying for accommodation recently.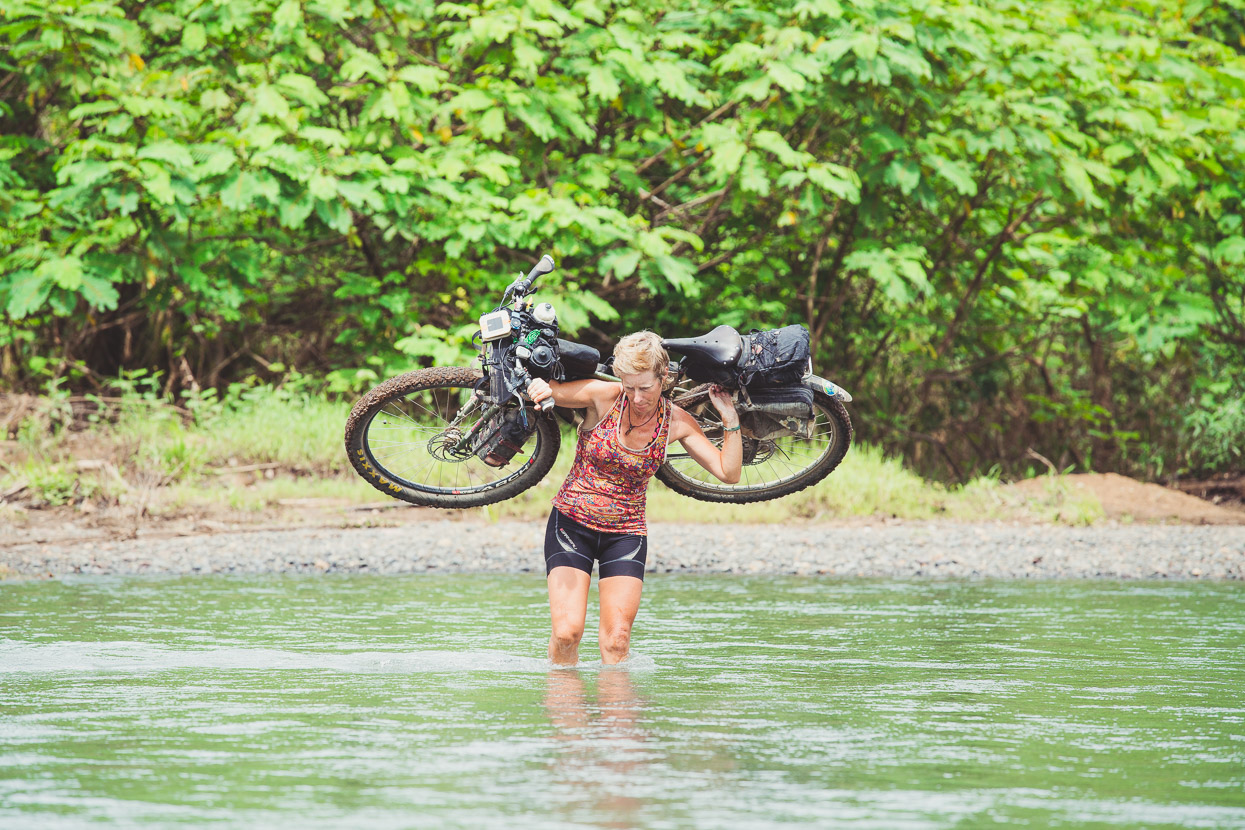 We weren't long back on the bikes when we came to the Rio Ario that also required a carry to keep essential bearings out of the water. At least this one was clear so we could see the crocs coming… (apparently they prefer muddy rivers anyhow).
Soon after we hit the coast again, emerging onto a remote-feeling beach that's obviously popular with turtle egg poachers 'It is prohibited to steal the turtles eggs' says the sign. No matter that earlier in the day we'd seen a sign outside a house saying 'Se Vende Huevos de Tortuga en Salsa' (We sell turtles eggs in sauce)!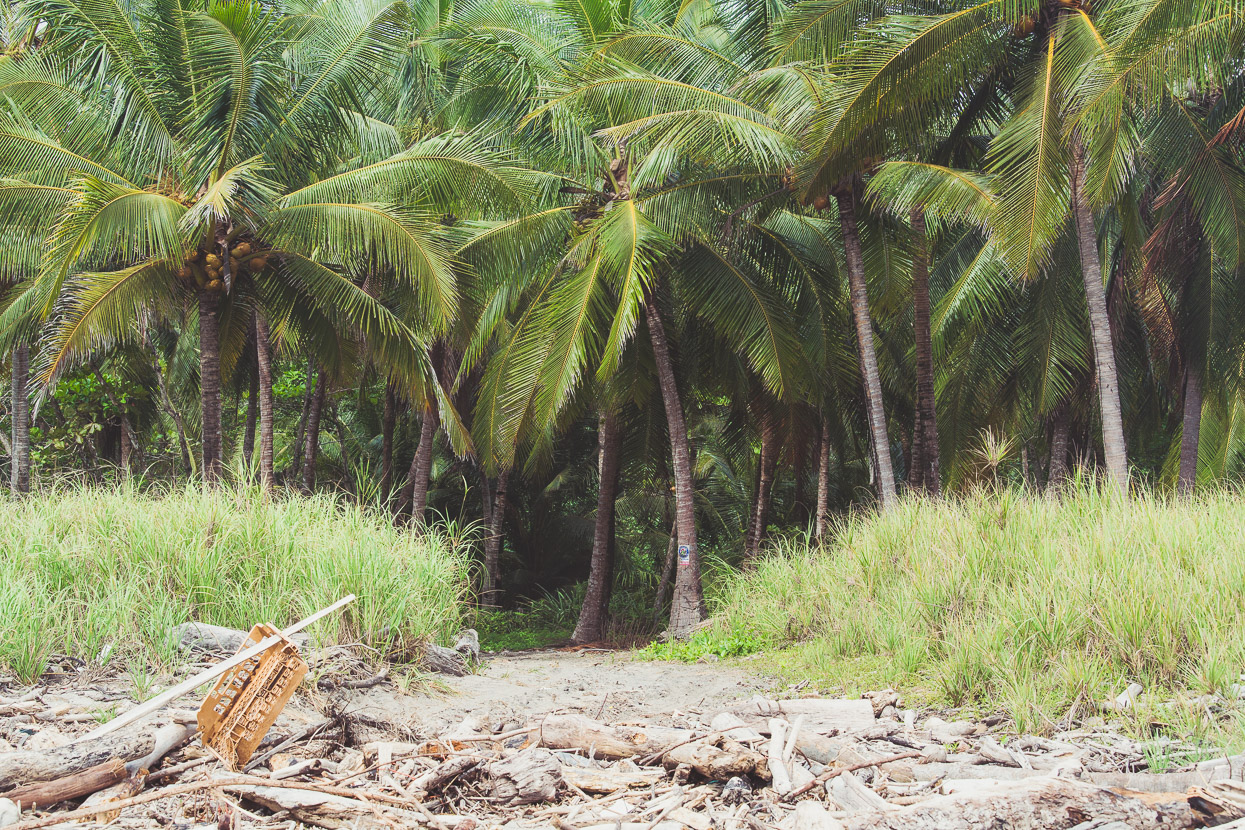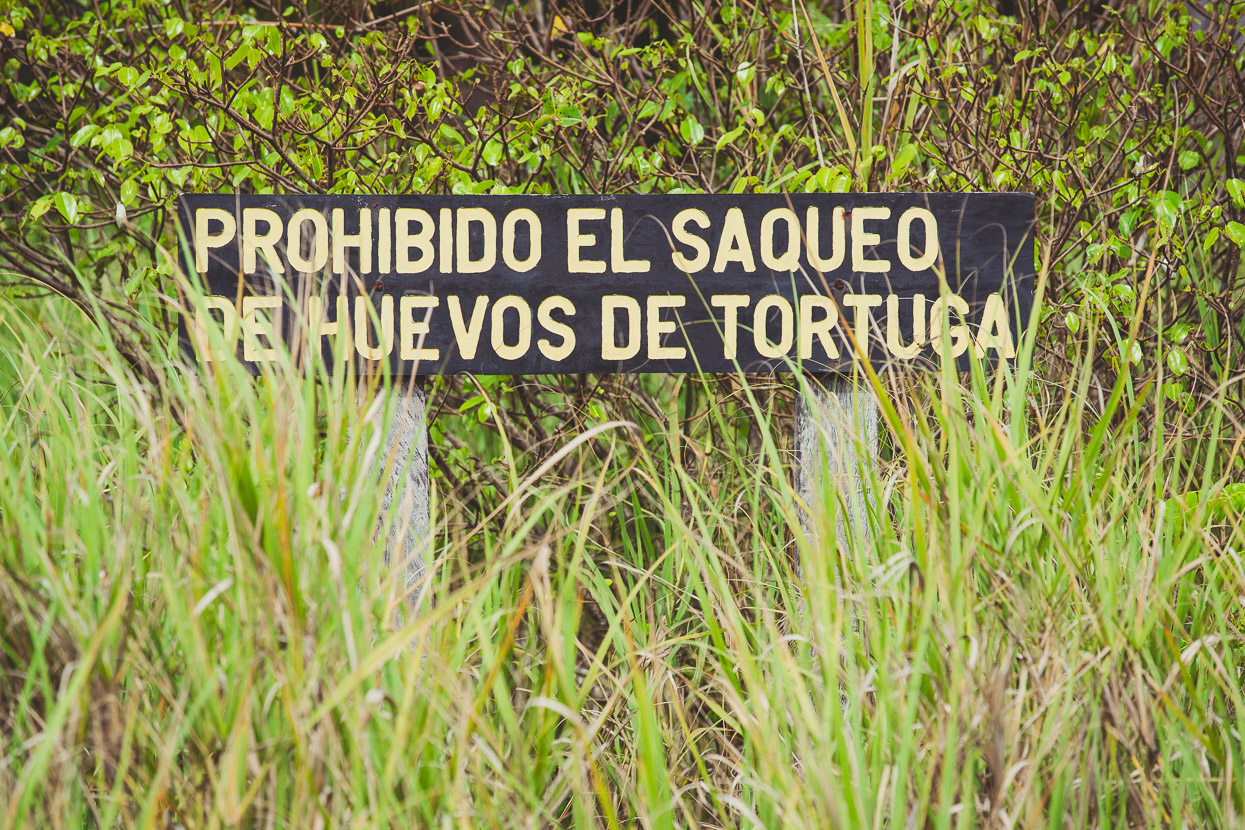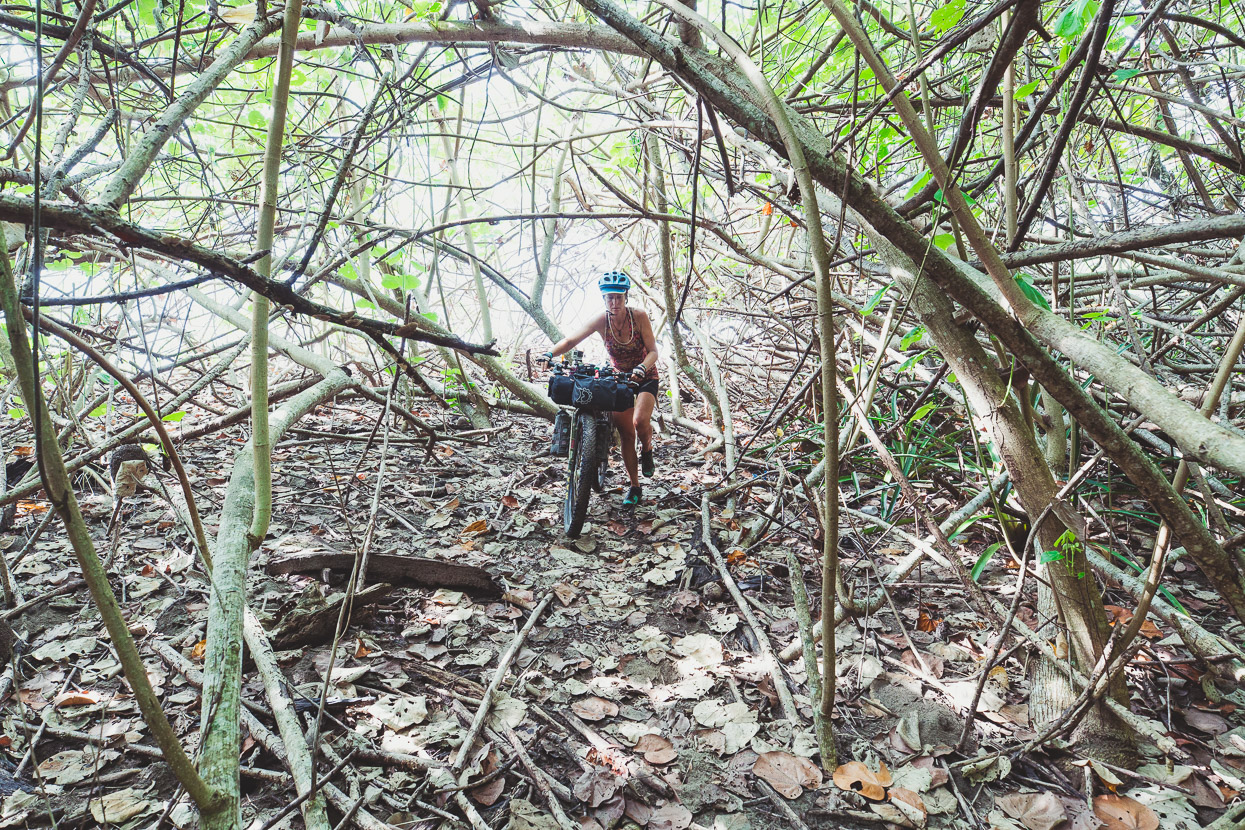 We'd been looking forward to the isolated coastal stretch between the Rio Bongo and Playa Manzanillo but unfortunately hit it at high tide, unaware that there was a tide-crucial river crossing. First of all we had to take to the bush just inside the beach as the waves were pushing right to the tide line.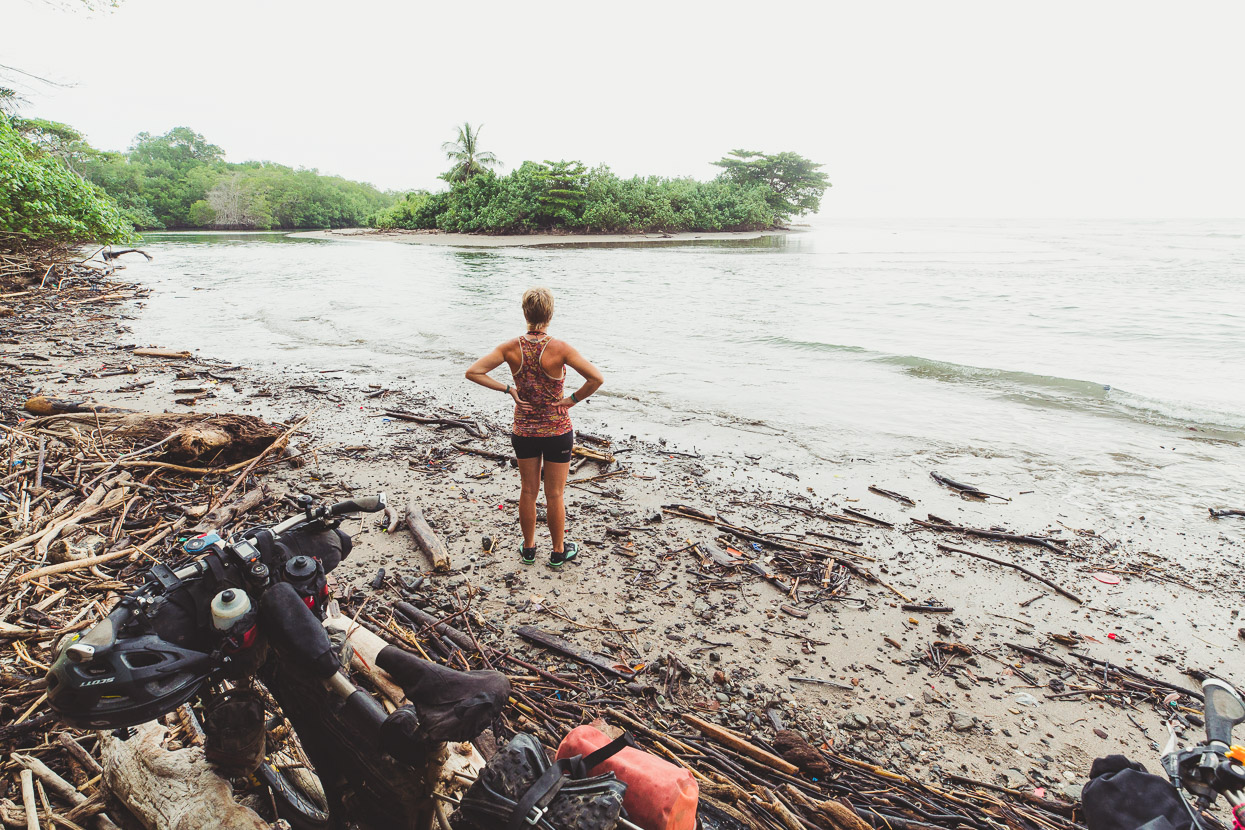 And then we reached a deep unnamed stream where the incoming tide was mixing to create a turgid – at least neck-deep – crossing that was swirling with flotsam and jetsam. There was no option but to wait this one out so we took our shoes off to give our feet – constantly wet from the past few days – a break. I lay down on a chunk of wood in the shade of a bush and was soon asleep.
We waited about two hours and made a test crossing, but it was still too deep, but once the tide really turned it went down quite fast and half an hour later we were across, albeit with five crossings between us to get the bikes and gear over.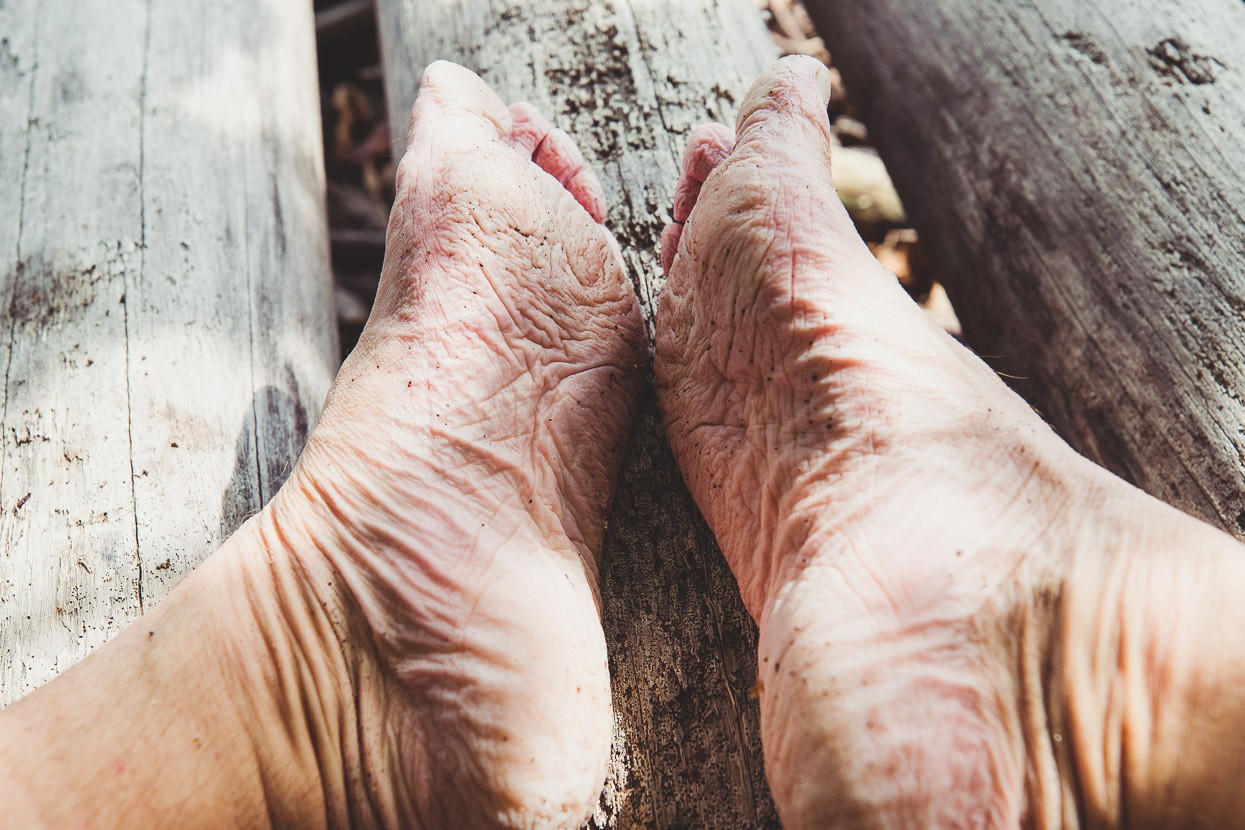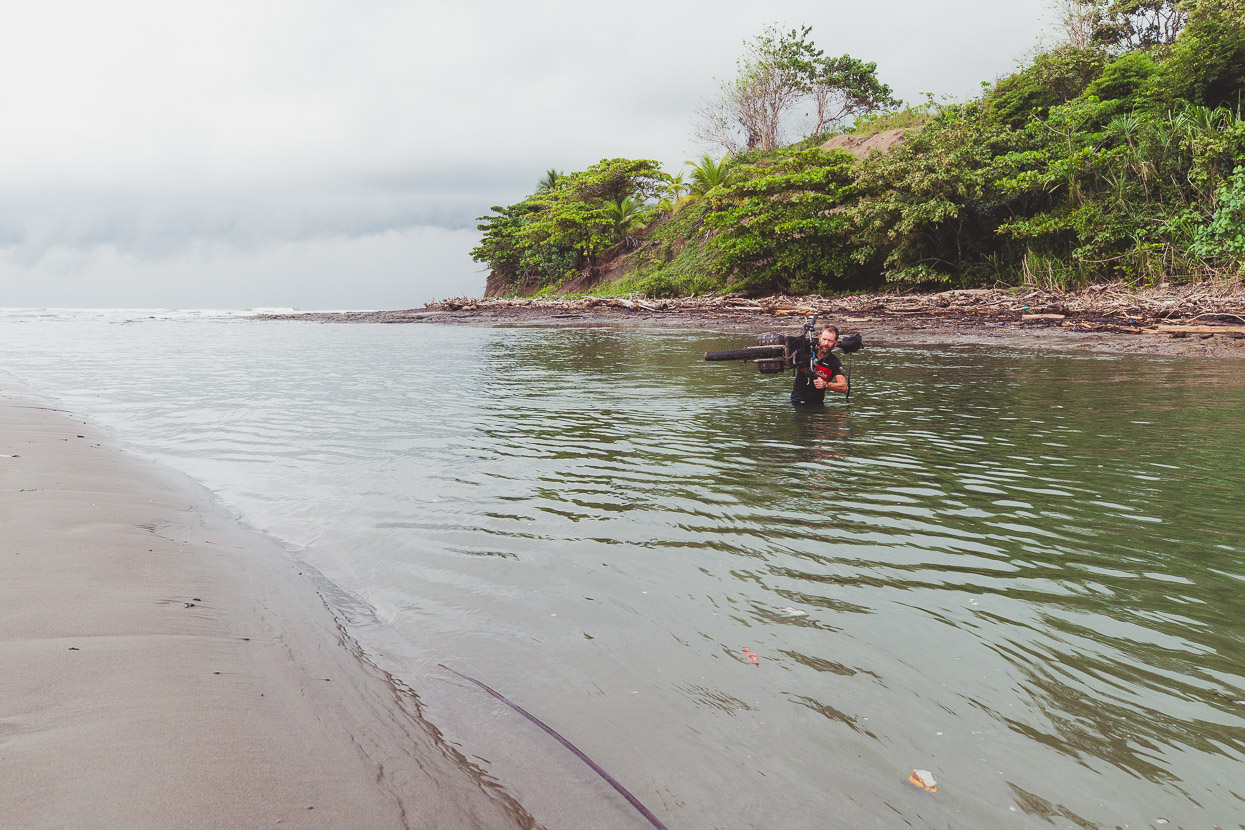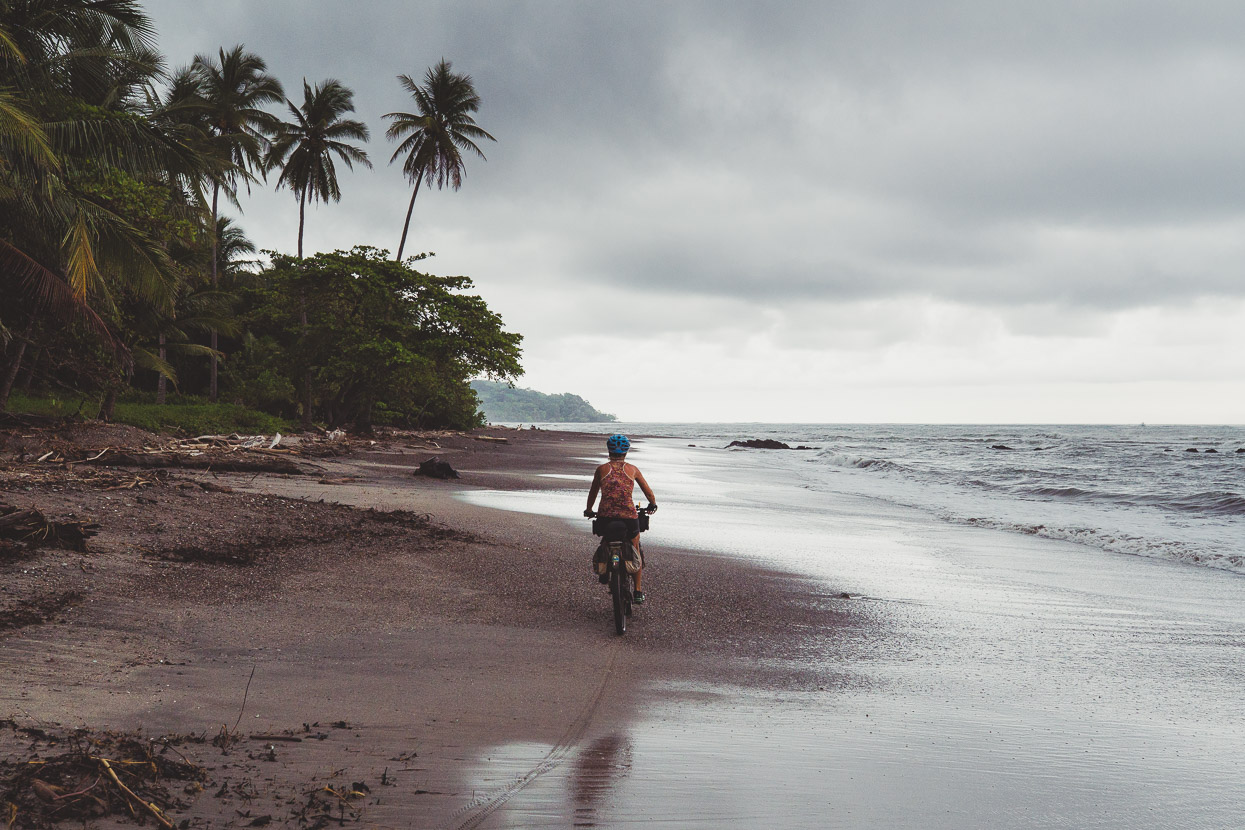 With thunder clouds overhead, sheets of rain not too distant and darkness coming we shot off down the beach, only to come to another quite deep stream portage at the northern end of Playa Manzanillo. We crossed with shouldered bikes and then my panniers and picked up the road shortly after. The rain was falling heavily as we rode on in the dark to the backpacker/surf town of Santa Teresa where we had a room booked and a day off planned.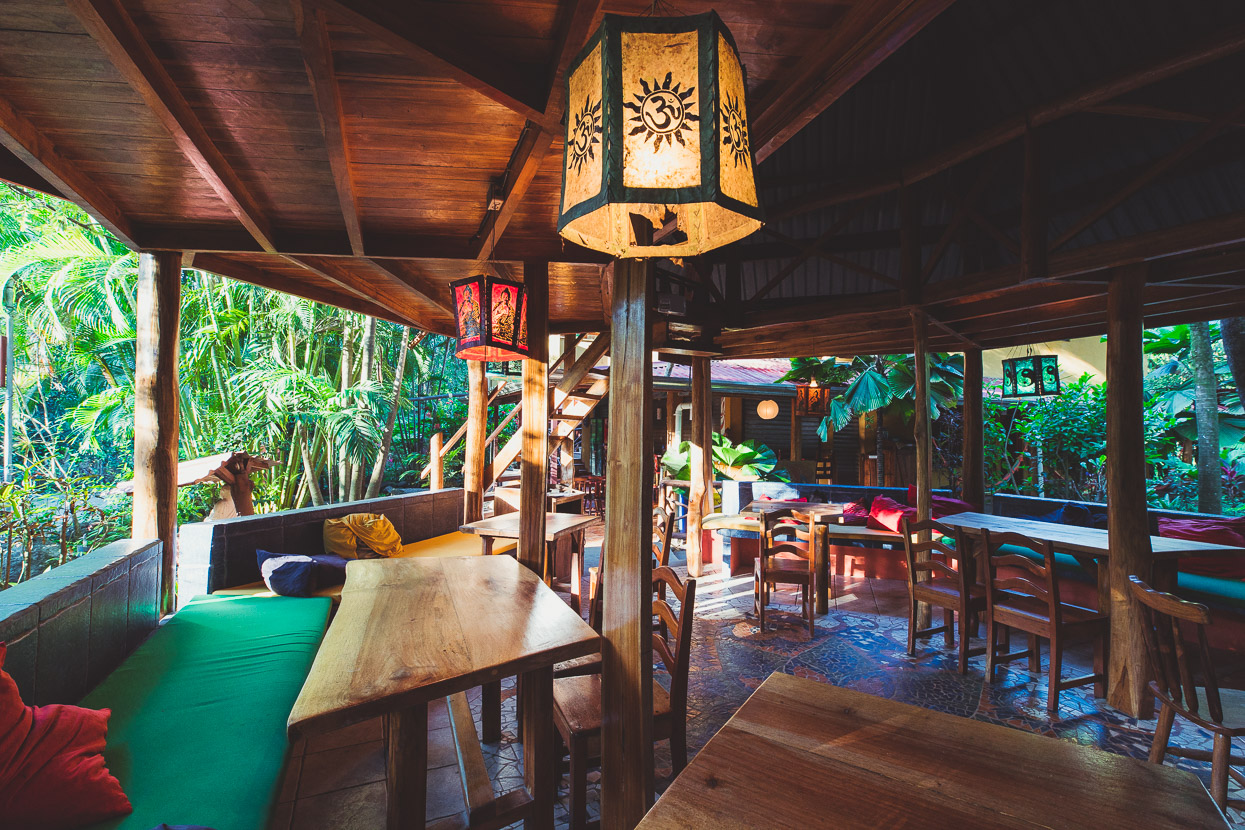 And a relaxing spot Casa Zen made for a day off…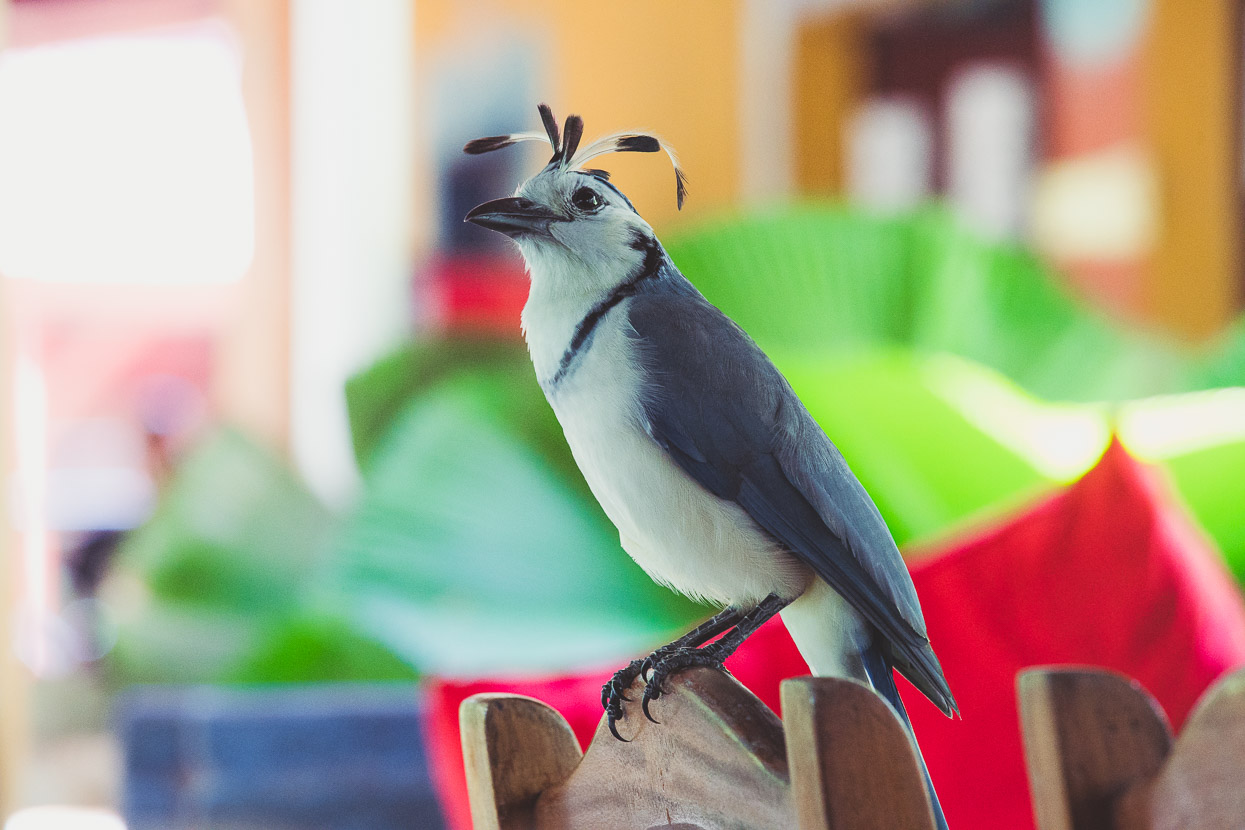 Complete with a curious white throated magpie-jay for breakfast company…
Later in the day we were chatting to a Costa Rican hostel staff member about our afternoon of river crossings the previous day and I asked if crocodile attacks were common here. The answer was chilling: 'Yes sometimes for sure, but the problem is it's not like a shark bite. They'll bite you, hold on and twist themselves to tear the flesh, or sometimes the whole limb, off. They don't care if they don't get the whole of you – they just want a bit of meat'. Noted!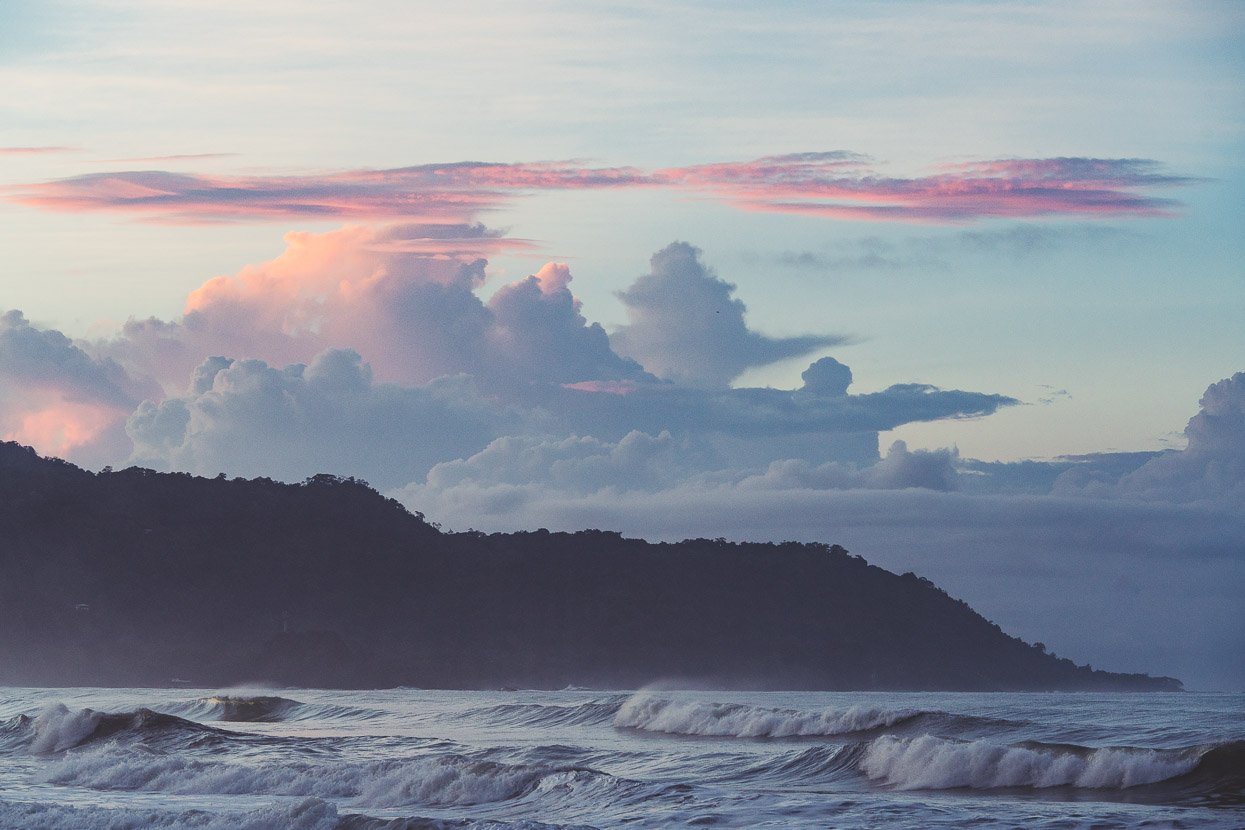 Dawn at Playa Santa Teresa.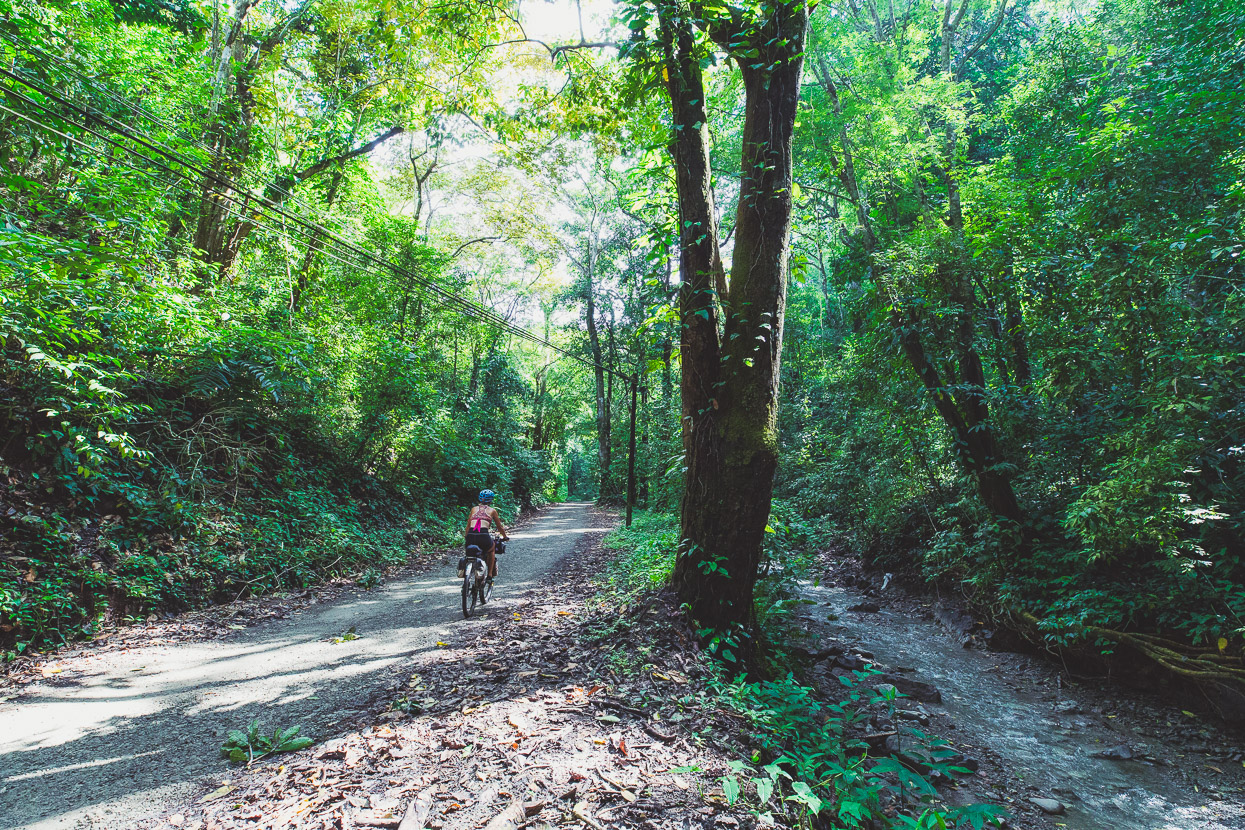 Just a final day of riding separated us from the ferry to Punta Arenas on the Costa Rica 'mainland' now, and the day got off to an awesome start with the road following a shady gully, where white-faced monkeys scattered into the jungle as we rode.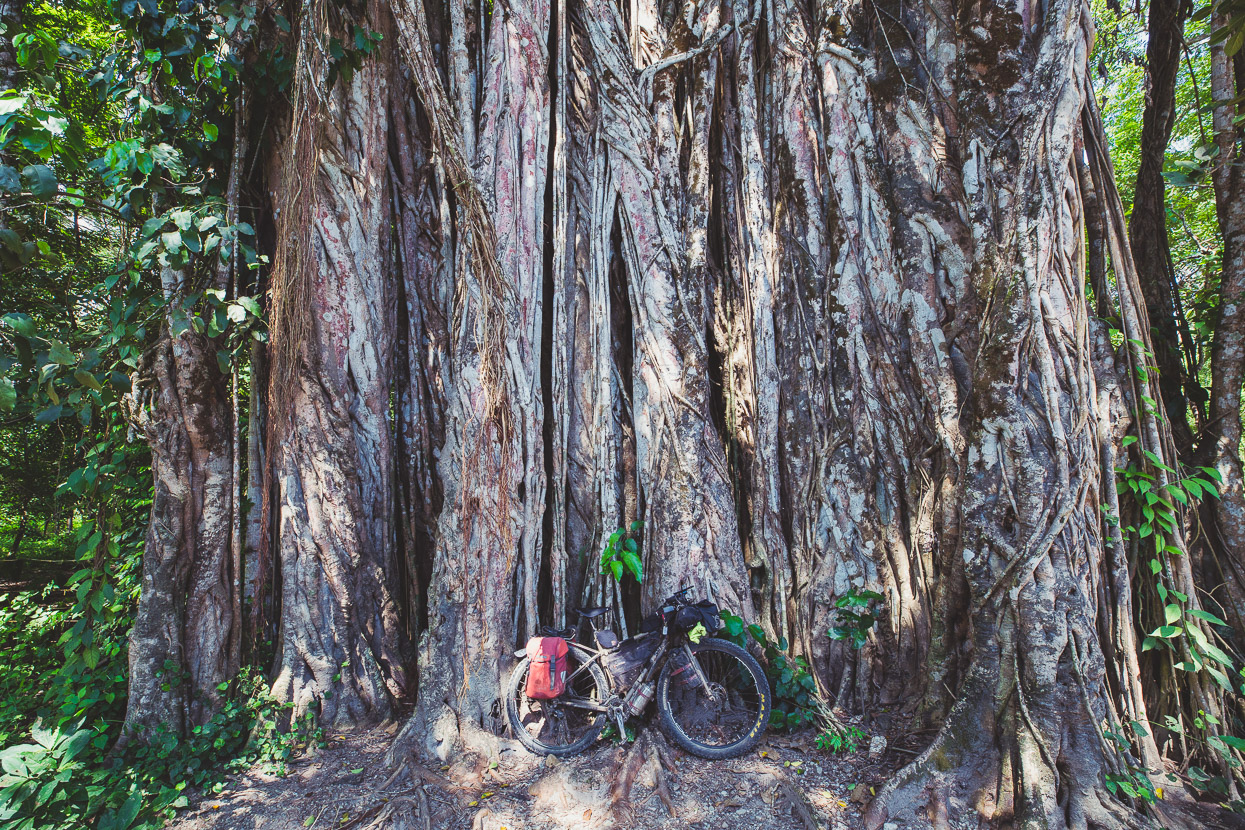 This was a higueron tree (ficus cotinifola, known in the USA as strangler fig) between Malpais and Playa Montezuma, known as El Higueron de Cabuya it's possibly the largest tree (or biomass) in Costa Rica. They're amazing trees, having the appearance of many slender trunks and a bushy top.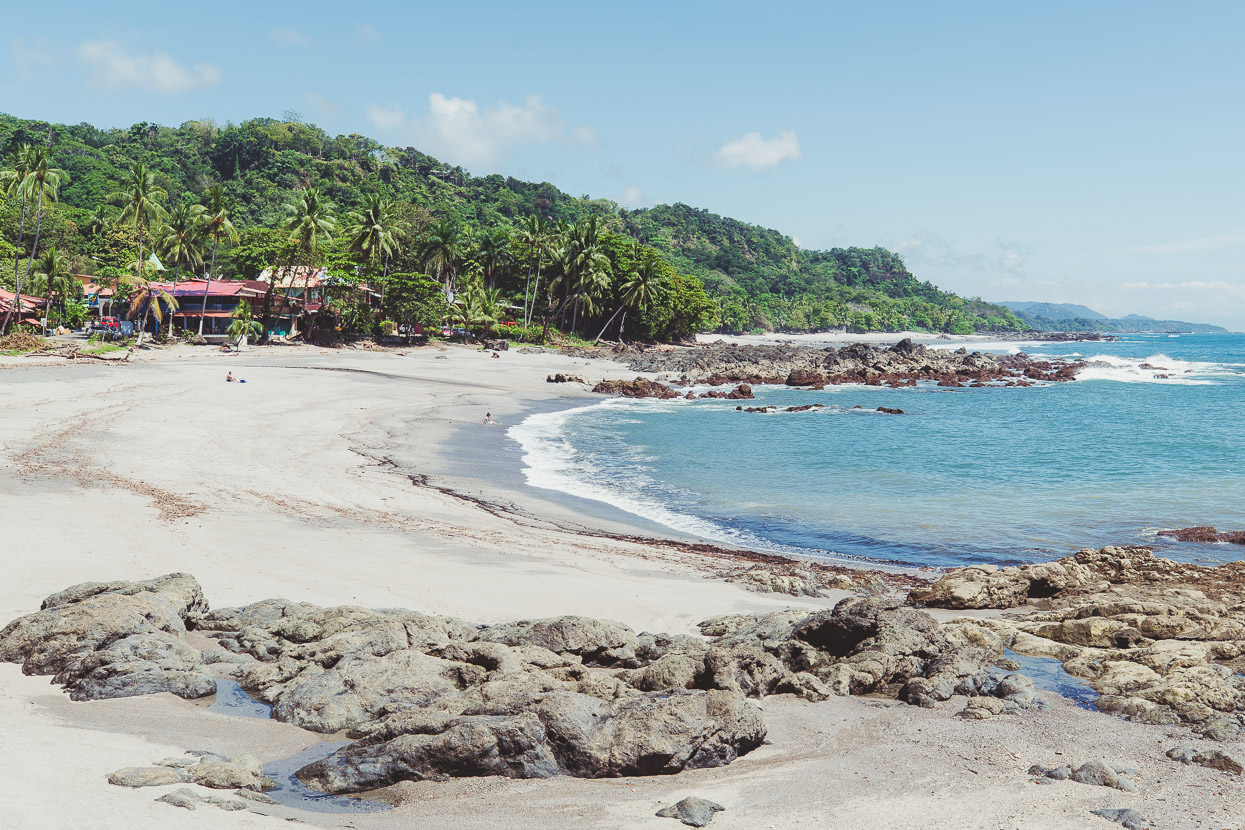 Playa Montezuma was another really attractive spot with clear streams, waterfalls, beaches and jungle, but sadly we were just passing by that day. Definitely a spot to spend a day or two if you have the time.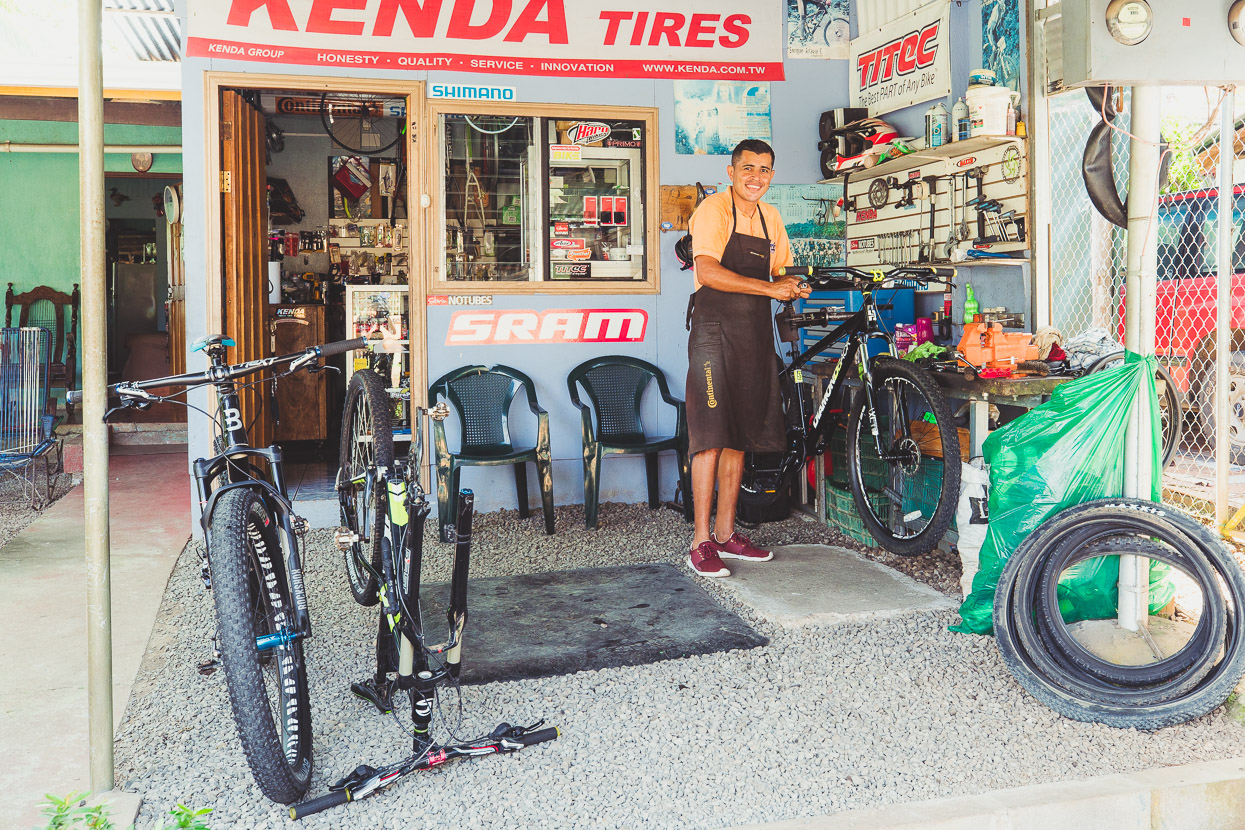 Other through-riders note that there's good bike shop with a mechanic and some good quality parts (rare on the route we've been taking) in Cóbano. Ciclo Duan (Gollo Cobano, Puntarenas Province, Santa Fe. Phone: +506 2642 0837)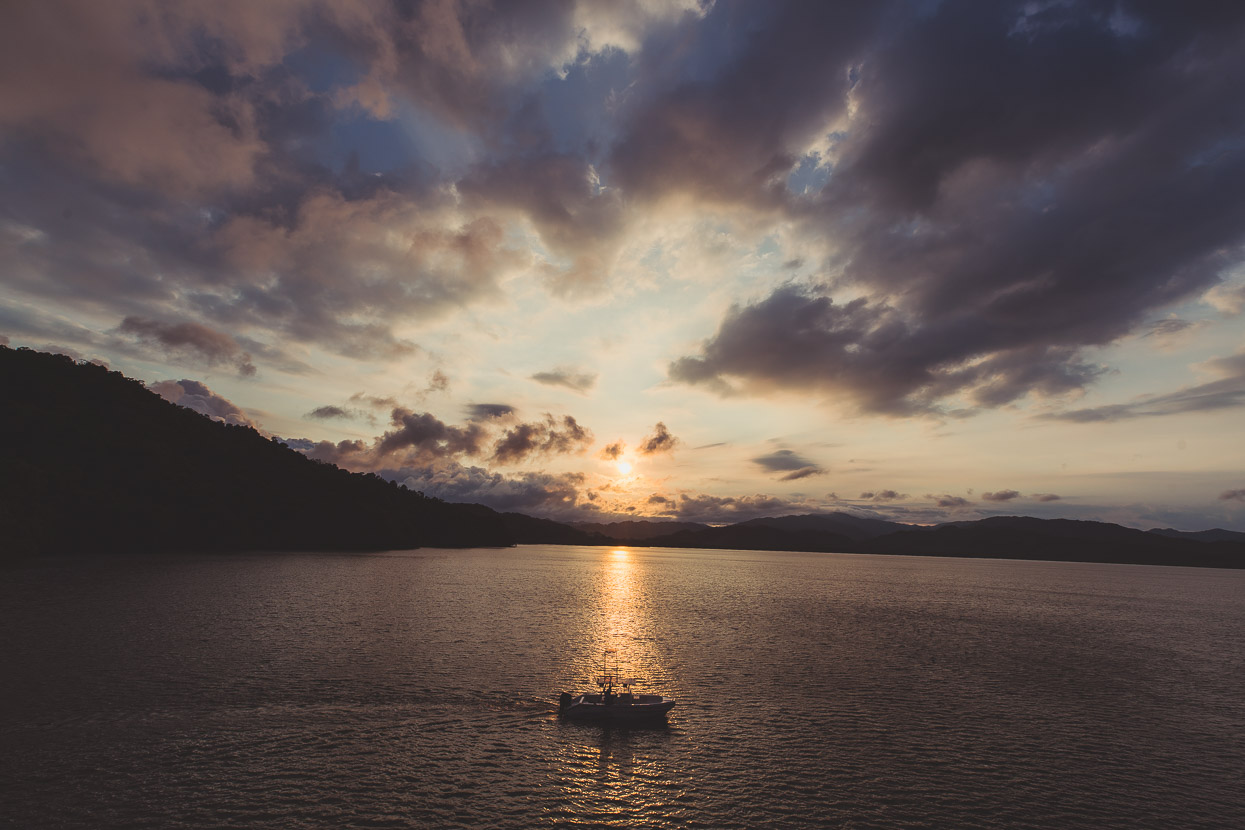 And with a sunset departure on the ferry we crossed from Paquera to Punta Arenas, ending our time on the Nicoya.
The Nicoya Peninsula was a highlight of our time in Central America and is definitely a detour worth making for touring through riders, or as a bikepacking destination in its own right, and as we experienced, it might just throw you a bit more adventure than expected…
Read more about the Nicoya Peninsula bikepacking route on Bikepacking.com
Do you enjoy our blog content? Find it useful? We love it when people shout us a beer or contribute to our ongoing expenses!
Creating content for this site – as much as we love it – is time consuming and adds to travel costs. Every little bit helps, and your contributions motivate us to work on more bicycle travel-related content. Up coming: camera kit and photography work flow.