We get lots of questions from people regarding the bikes we're riding and in particular our combination of panniers with more new-school Revelate Designs bikepacking kit. Here's a breakdown of how we're both set up for our Alaska to Patagonia tour, including a full gear list from each of us.
(Note, Jan 2019) Our Andes Gear List is more up to date than the list on this page, with a greater emphasis on weight savings and cold weather equipment.
Hana
Surly Ogre (29er), which was purchased as a standard build (second hand) that we made a few customisations to:
• Carbon seat post and Brooks B17 Standard saddle;
• Watson Cycles Revelation titanium handlebar with Ergon GP1 grips;
• 170mm cranks with 22, 32, 42 chainrings and 11-36 cassette;
• Son dynamo front hub paired to The Plug III USB charger (mounted on steerer) with Stans ZTR Arch EX rim;
• Tubus Cosmo stainless steel rear rack;
• Salsa Anything Cage HDs mounted on fork.
Mark
Surly Ogre (29er), purchased as a frame only from Universal Cycles in Portland, WA. The build was done by Web Cyclery in Bend, OR.
• Thomson Elite stem and seat post with Brooks B17 Narrow saddle;
• Watson Cycles Revelation titanium handlebar with Ergon GP1 grips,
• 175mm cranks with 22, 32, 42 chainrings and 11-36 cassette (no big ring since Quito);
• Stans ZTR Arch EX rims with Stans Neo hubs;
• Tubus Cosmo stainless steel rear rack;
• Salsa Anything Cage HDs mounted on fork
• We're both using Shimano's M785 Trail Pedal, which is great for extra foot support, without being too big.
Tyres
From Deadhorse, AK to San Diego we both ran 2.35 – 2.4 inch tyres, except for the long highway section from Whitehorse to Banff, where we swapped to 1.5 inch slicks. The Great Divide riding surfaces are very variable, and we've concluded that if we were riding it again it we certainly wouldn't want to run skinnier tyres. 2.35 inch has given enough volume to soften the bumps and allow us to carry speed over rougher sections of road, without creating the drag that a bigger volume tyre would have.
For the Baja Divide's rough and sometimes sandy surfaces we used 3 inch tyres on the front and a 2.4 on the back, and have done ever since, through Mexico, Central America and South America.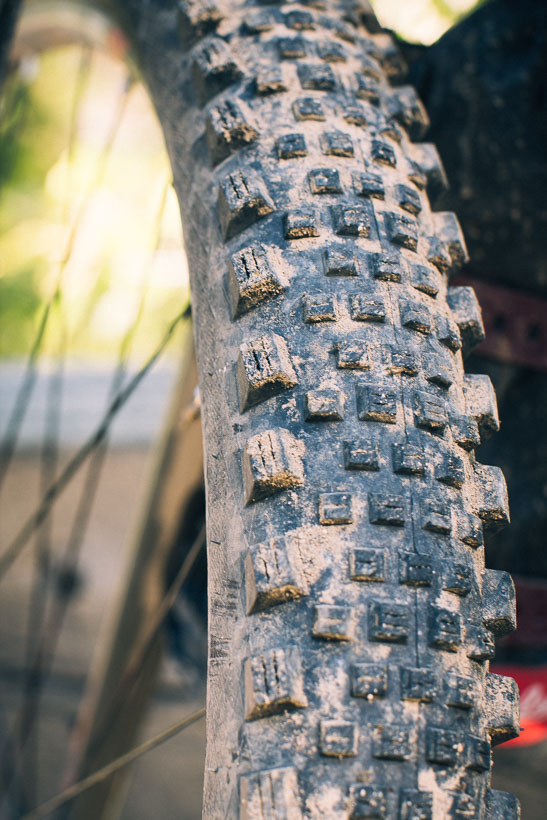 How we carry the load
Our carrying capacity is comprised of small rear panniers each and Revelate Designs bike packing kit: the handlebar holds the Harness and Salty Roll which I use to carry my sleeping bag and some spare clothing. Hana's contains our MSR Hubba Hubba tent. Integrated with the Harness are a pair of Mountain Feedbags. We carry water bottles, food and/or our bear spray cans in these – a great way to keep your bottle handy and easier than reaching down to the frame triangle. On the front of the Salty Roll we each mount a Pocket (now replaced with Egress)– for small items that need to be kept handy during the day.
On the frame we each have the Ranger frame bag. These have a velcro divider in the centre so you can split the bag into two compartments.
Along the top tube we have the Mag Tank; for on-the-ride snacks (we don't tend to stop for snacking), and the Jerrycan which is ideal for tools and chain lube.
Under the seat I sometimes use the Terrapin harness and drybag (when we want to travel lighter) which I love for the fact that the fully waterproof bag can be removed from the harness and quickly thrown in the tent. Hana uses the Pika (as small bikes have less clearance).
Hana has relatively small Revelate Nano panniers, so she is uses a dry bag on the rack for her sleeping bag and food-overflow.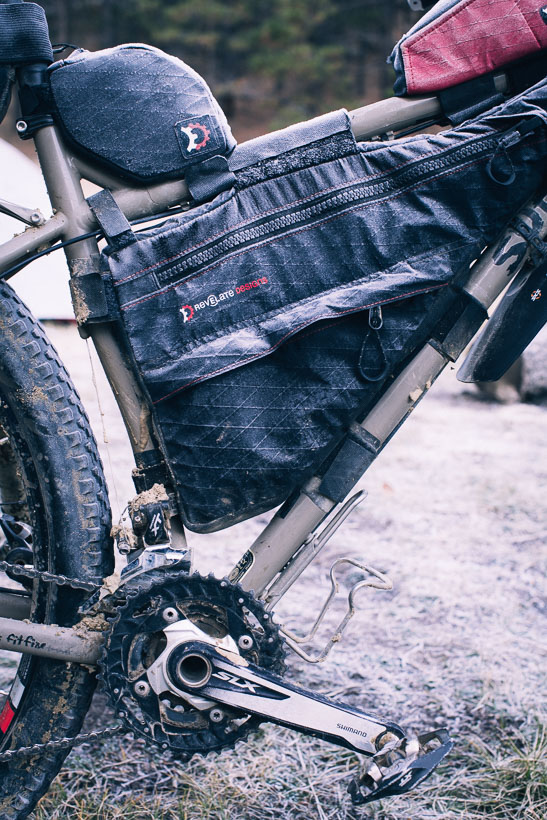 Gear Lists
This is our 'base' long-distance touring gear. I.e. used for the majority of the ride from Deadhorse, AK to San Diego, CA. It proved to be a not-too-heavy load for the long climbs and rough and sometimes steep riding of the Great Divide. For the Baja Divide we cut the load right back and droped the laptop/hard drives, stove and extra clothes, before resuming a more normal load for the journey south through Mexico and Central America. Having a combination of panniers and Revelate bags gives us the flexibility to adapt our set up for the climate and to lighten up if need be for long technical/mountainous sections of the ride. Updated Andes Gear List (Oct 2018).
(*) denotes that the item is swapped seasonally – see list at bottom for specific winter gear.
Mark
Body
• Short sleeve full zip cycling jersey
• Short sleeve merino top
• Long sleeve merino hoodie*
• Windproof cycling jacket: A very old Mountain Hardwear Transition
• Waterproof breathable rain shell: Mountain Hardwear Plasmic Ion (inexpensive)
• Down jacket: Rab Microlight Alpine*
• Arm warmers: Pearl Izumi
Legs
• Underwear x1
• Long pants: Outdoor Research Ferrosi (very light, but will swap for shorts after USA)
• Biking/hiking shorts: Kathmandu Aklo (light, vented, fast drying and hardwearing – love them)
• Knee/thigh warmers: Pearl Izumi
• 3/4 waterproof overpants: Endura Superlite
• Padded cycling short liners x 2
Head/Hands/Feet
• Long finger MTB gloves
• Light thermal liner gloves
• Dishwashing gloves (used as over-glove in cold rain)*
• Socks x2 short
• Outdoor Research soft shell beanie* (an amazing hat that works well under a helmet in cold rain and freezing winds)
• Neck gaiter, merino*
• Buff (great for keeping ears/face warm on cold mornings)
• Cap (for apres-bike wear)
• Bike shoes: Shimano XM7 (best MTB adventure shoes I have ever had)
Tech
• Macbook Air 13 inch + Thule Gauntlet sleeve
• Hard drive 4TB x 2 (for photos video captured during ride – one drive is dedicated backup)
• Hard drive 2TB x 2 (work files, plus most of my photographic library)
• Power bank: Battery Box (16,500 mAh – can run laptop for several hours)
• iPod touch + in-ear headphones
• Phone: Samsung S5 (used for navigation with Backcountry Navigator and Osmand apps)
• Bryton Rider 100 GPS cycle speedometer
Accessories/Misc
• Helmet
• Sunglasses (a dark pair and a pair with changeable amber lenses for grey weather/forest riding)
• Brooks waterproof saddle cover
• Revelate designs wallet
• Passport
• Headtorch: Led Lenser SEO5 (can be set to stay on red LED only – great for night photography)
• Sunscreen & lip salve
• Biomaxa Chamois Cream
• Various lightweight drybags
• 750ml bicycle water bottle
• 2.0 litre Camelbak bladder (without hose)
• 2.0 litre Platypus bladder (extra water capacity for dry sections)
• Bear spray (for North America north of southern New Mexico)
• Bear bell (for North America north of southern New Mexico)
• Ursack S29.3 All White bear bag (for North America north of southern New Mexico)
Sleeping/Camping
• Sleeping bag: Kathmandu Pathfinder*
• Silk liner
• Sleeping mat: Thermarest Neo Air XLite (packs up tiny)
• Camp seat: Thermarest Compack Chair Kit (a light luxury that I won't carry past end of USA)
• Two 1.5m x .6m sections of silver coated bubble foam (protecting tent floor/comfort sitting at picnic tables)
• Spork
• 500ml plastic bowl (all eating/drinking duties)
• Toiletries (razor, shaving oil, toothbrush, toothpaste, soap scrap)
• Microtowel, small
• Pocket knife
• Homemade light nylon food bag
Photography
• Sony A7RII Camera body
• Metabones Sony/Canon adapter
• Canon 16-35mm f2.8L
• Canon 50mm f1.2L
• Canon 70-200mm f4L IS
• Cable release
• Cleaning kit (Lenspen, microfibre cloth, lens fluid, sensor cleaning swabs + fluid)
• 5 spare batteries (Sony batteries do not last long)
• 64 GB SanDisk SD card (x1)
• 32 GB SanDisk SD card (x2)
• Lee filter holder
• Circular polariser
• .6 and .9 Lee soft grad filters + Adorama Slinger filter pouch (holds all filters)
• 3-stop ND filter
• Sirui T-024X carbon fibre tripod + ball head
• All camera gear except filters carried in Lowepro Flipside Sport 10L AW pack (an old model now)
Bike tools/repairs
• Tubes x2
• Biomaxa chain lube
• Patch kit
• Topeak Multi-tool with chainbreaker
• Leatherman Juice S2 (scissors and pliers)
• Torx tool for rotor screws
• Very small adjustable wrench
• 2 x spare rack/water bottle screws and nylock nuts
• 1 x spare seat post binder bolt
• Small section of 10 speed chain (for serious chain breakages)
• 2 x 10 speed chain 'quicklinks'
• 1 x spare brake cable
• 2 x spare shifter cables
• Small blob of grease in plastic bag
• Stein Mini Cassette Lock Tool (for removing cassette without usual tools)
• Tyre boots (cut from old road tubeless tyres)
• Tubeless tyre plugs (use Leatherman to insert)
• Spare disc brake pads (x2 pairs)
• Spare spokes (x2)
• Cable end caps (x2)
• Assorted cable ties
• Length of duct tape (wrapped around pump)
Cold weather gear
• Sleeping bag: Sea to Summit TSII Dri-Down
• Down jacket: Kathmandu XT DriFill
• Fleece jacket: Outdoor Research Radiant Hybrid Hoodie (best fleece ever!)
• Waterproof/breathable ski gloves (cheap ones)
• Long johns
• Neoprene shoe covers (1mm-thick)
• Long socks x1 (we prefer a knee warmer/long sock combo over full-length leg warmers for easier temperature regulation and flexibility)
Hana
Body
• Short sleeve full zip cycling jersey* (will switch to sleeveless for warmer weather)
• Short sleeve merino tee
• Long sleeve merino
• Arm warmers: homemade
• Long sleeve shirt* (to keep off sun and mosquitos)
• Windproof jacket
• Waterproof jacket: Arcteryx Beta LT Gore-Tex (has leaked through the front zip since I bought it – am sending it back and replacing with Kathmandu Zeolite for Mexico south)
• Down jacket: Kathmandu XT Ultralight DriFill*
• Sport bra
• Bra
• Merino singlet
Legs
• Merino underwear x 2
• Long cotton/nylon pants*
• Shorts
• Padded Bike shorts x 2: Ground Effect Sirens, and Louis Garneau
• Knee/thigh warmers
• 3/4 waterproof overtrousers: Vaude (not 100% waterproof but better than nothing)
Head/Hands/Feet
• Short MTB gloves
• Long MTB gloves
• Light waterproof bike gloves: Sealskinz
• Socks x 3 short*
• Merino beanie
• Neck gaiter, lightweight
• Headband
• Cap
• Bike shoes: Pearl Izumi X-Alp Enduro (uppers started separating from the sole after about four months)
Tech
• Camera: Sony RX100 III, and spare battery
• Hard drive 500GB
• USB flash drive 64GB
• Power adaptor: Belkin
• Power bank: Plox 6000
• ipod Nano
• Phone: Samsung S5
• Kindle
• iPad Air
• Go Pro Hero 3 Silver
• Cycle speedometer: Cateye Micro wireless
• Headtorch: Black Diamond Spot
• Rear light, helmet mounted

Accessories/Misc
• Helmet: Catlike Leaf
• Helmet cover: homemade
• Sunvisor
• Sunglasses x 2, and case
• Backpack: Sea to Summit Ultra-sil
• Saddle cover: homemade
• Revelate Designs wallet
• Passport x 2
• Various lightweight drybags
• Water bottle: 700ml Camelback
• Water bladder x 2: 2.0 litre Platypus
• Pocket knife
• Homemade light nylon food bag
• Bear spray (for North America north of southern New Mexico)
• Bear bell (for North America north of southern New Mexico)
• Ursack S29.3 All White bear bag (for North America north of southern New Mexico)
Sleeping/Camping
• Sleeping bag: Kathmandu Pathfinder*
• Silk liner
• Sleeping mat: Exped UL7, and Schnozzle pump bag
• Drybags: Sea to Summit ultra-sil compression 10 litre x 2 (for clothes and sleeping bag)
• Camp seat: Thermarest Trekker (old model)
• Silver Insulation bubble foam for seat pad
• Spork
• 500ml plastic bowl (all eating/drinking duties)
• Toiletries: toothbrush, toothpaste, Chapstick, earplugs, mooncup, Dr Bronners, small pack wet wipes
• Microtowel, small
Bike tools/repairs
• Spare tyre
• Tubes x 2
• Bike pump: Lezyne Micro floor drive (the best pump ever!)
• Bike lock, lightweight cable (to stop opportunists)
• Biomaxa chain lube
• Patch kit
Cold weather gear
• Sleeping bag: Marmot Xenon
• Down jacket: Kathmandu XT DriFill
• Microfleece zip thermal
• Fleece jacket with hood
• Insulated ski gloves with fleece liners
• Leggings
• Neoprene shoes covers (1mm)
• Waterproof socks
• Long socks x 2
• Extra neck gaiter
Shared gear
Cooking/Camping/Comms/Nav
• 750ml MSR fuel bottle + Whisperlite Internationale burner
• 500ml Sigg fuel bottle
• GSI Halulite 2 litre cooking pot
• Small pot scrub pad
• Small plastic bowl with lid for mixing/storing food
• Stove repair kit (o-rings, pricker etc)
• Pot grip
• Stove lighter (flint)
• Tent: MSR Hubba Hubba NX, and footprint
• luminAID (solar charged inflatable light – brilliant for lighting cooking area and tent)
• Steripen Ultra (USB rechargeable)
• First aid kit: painkillers, antibiotic ointment, bandaids, steristrips, suture kit, non-stick dressings, tape, antihistamines, prescription antibiotics, gastro-soothe
• Repair kit: needles, thread, patches and glue for mat and tent, tent pole repair sleeve
• 15m x 3mm cord for hanging food/clothes line
• InReach SE (used for updating our location each night, communication via satellite text/email, and emergency locator beacon)
• Printed maps (for overview/backup – we use Backcountry Nav app for detailed route finding*