Equipment, bike set up and tyre selection for the Baja Divide is the subject of much discussion. The Baja's combination of challenging riding conditions and remoteness makes gear selection and reliability important.
Baja Divide pioneers Nick and Lael have imparted a ton of advice on bikes and gear on the Baja Divide website and this makes for valuable reading, much of it applicable to bike packing in general. We thought we'd share some comments about particular equipment items we carried and choices we made, along with our full Baja gear lists.
Bikes
We both rode Surly Orge 29ers and found them fully capable for the ride. While a suspension fork is recommended for Baja, we found we managed comfortably enough without and there were only a few sections where I felt a suspension fork would significantly improve comfort or enable faster riding. We use Watson Cycles Revelation titanium handlebars on our bikes, and I do think these make a difference over aluminium bars in terms of softening the road shock a little. We were also careful with our tyre pressures to make sure we got maximum 'suspension' out of them. Running your tyres too hard on Baja is a sure way to shake the meat off your skeleton.
Tyres
The recommended max tyre width for the Surly Ogre is 2.5 inch, however at the rear this would be a squeeze and 2.4 is a safer bet: better mud clearance and more leeway if you buckle a wheel and can't correct it. The Surly will fit 3 inch tyres at the front however with plenty of clearance, substantially adding to these bikes adventure potential and adaptability to rough terrain.
We'd picked up a couple of near new Bontrager Chupacabra 3.0 tyres in a second hand store so ran these on the front with 2.4 inch tyres on the back and found the combo worked very well. With fine tuning of tyre pressures we were able to ride almost all the sandy sections of the Baja. Occasionally we'd stall, but could always restart and in total probably only walked about 100 metres of sand each over the whole distance of the ride. Something that people riding the Baja on non-plus bikes might find comforting to hear.
Because of its remoteness and very few bicycle stores selling high quality parts, sturdy tyres are recommended to prevent casing damage. Heavy (900 gram+) tyres with aggressive tread should be the go-to for Baja. Don't think 'fast rolling/cross country', think 'chunky tread/all mountain' when picking tyres. Having said that, we were surprised with how well the Chupacabra's coped, seeing as they are a lighter (800 gram) tyre with a faster-rolling tread. We experienced no damage at all to our tyres from rocks and never needed to add extra sealant or make any repairs. We both picked up lots of cactus thorns, which we just left in the tyres – it's better to leave them in plugging the hole. Overall I would have preferred a chunkier tread on the front, but the Chupacabras passed the test ok.
On the rear I ran a Vittoria Goma TNT 2.4 (1080 grams) and found this to be an awesome tyre: chunky knobs and a sticky compound made this tyre handle very well on Baja's mixed surfaces, which can be sand one minute, rock slabs the next and five minutes later, loose baby heads.
Hana ran a Maxxis Ardent 2.4 (805 grams) on the rear and of all our tyres this was the only one to start leeching sealant through the sidewalls in the latter stages of the Baja. Otherwise it showed no other damage, but is probably too light for most people to run as a rear tyre.
Notably, we are both using narrow 24.6 mm (external) rims and found the 3.0 inch Chupacabras worked satisfactorily on these even at low pressures.
Drivetrain
You can expect your drivetrain to get thrashed. We had new cassettes put on in Steamboat, CO, and then started BD with new chains from San Diego. By the time we got to La Paz the chains and cassettes were toast – mostly due to very sticky, gritty mud earlier in the ride – so we had them changed by the helpful guys at Ressel Bikes. Velo Citti, nearby, were also good for some parts. We used Biomaxa's lanolin-based chain lube for most of the Baja (until we ran out), and this dry, wax-type lube is the best kind of lube to use for Baja conditions. Any wet lube just becomes a magnet for dust and gritty granite sand.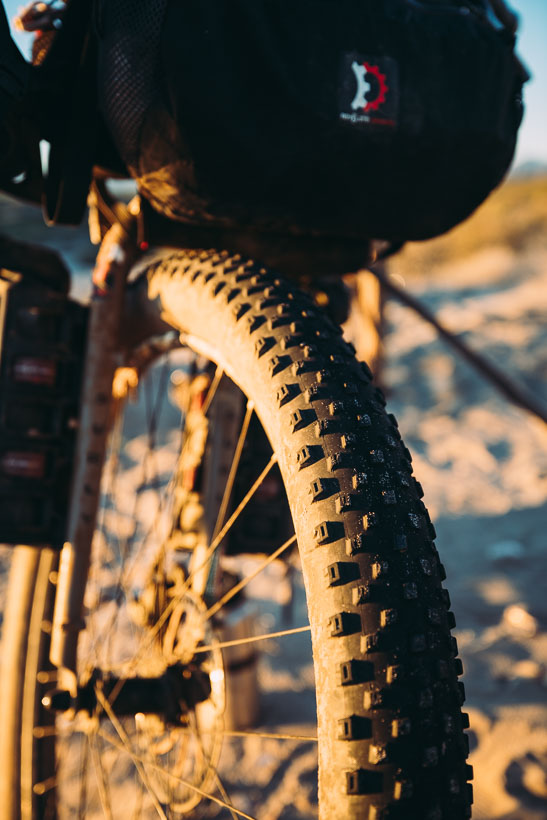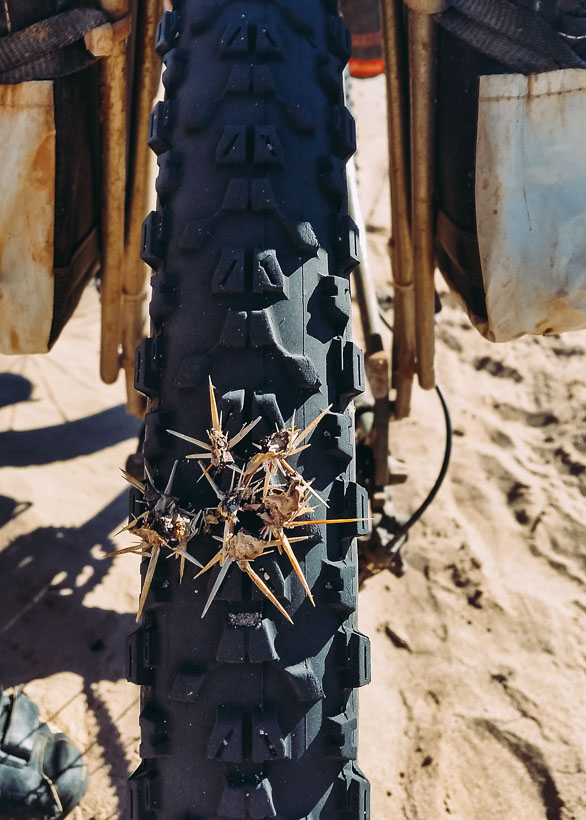 Tent
We used the same MSR Hubba Hubba NX (2 person) that we have used for the rest of our tour, but chose to take only the fly and the footprint (ground sheet), sending the inner onto Mazatlan with our other excess gear. This combo was manageable for Baja, but I would not recommend it for bike packing in especially wet or windy areas. The cool of the Baja nights means few insects and we saw no snakes or scorpions, so being without a tent inner is quite manageable; and about 1/3 of the nights we simply slept under the stars.
The Hubba Hubba fly worked well to keep dew off and slow the wind, but because the fly sits relatively high from the ground, sand and dust blows underneath it easily when the wind is strong. In anything more than brief showers, you run the risk of water running straight off the fly and onto the footprint. Passable for Baja this time round when were were indoors for the heaviest rain that hit the peninsula (luckily) but probably not a combo I would use again.
We used MSR Ground Hog pegs (not the mini ones) and found these to have sufficient holding power in sand, but also still able to be beaten into harder ground (most of time).
Sleeping Mats
Hana uses a Exped UL7 (inflatable) and I have the Thermarest NeoAir X-Lite (inflatable). Mine punctured about half way through Baja and despite trying three times I could not find the hole. The slow leak meant I had to re-inflate the mat 2-3 times during the night. Coincidentally, it also delaminated, and Thermarest agreed to send me a replacement to La Paz, solving both issues at once. We also carry two 3/4 length sections of silver coated bubble wrap (the construction insulation kind) and this works well for a bit of extra mat protection without taking up much space.
Sleeping Bags
We both used Kathmandu Pathfinder sleeping bags (710 grams), rated to 5 degrees Celcius (41 Fahrenheit). These were perfect for Baja, except for the first couple of nights out of San Diego. At Barretts Junction we were cold and at Cañon Manteca the next night a strong, cold wind was blowing, so we slept in all our clothes, including down jackets. But the bags were comfortable for every other night of the trip.
Clothing
In San Diego we had deliberated over whether to take down jackets or not and were very glad we did. As mentioned above, temps were below freezing the first couple of nights, and generally remained cold at night for almost all of the rest of the Baja. Virtually every morning we put our jackets on as soon as we woke up (usually 1 hour before sunrise), and likewise nearly always put them on shortly after stopping riding. We both had leggings which we wore in the sleeping bags on cooler nights and put on most days at the end of the ride. See our gear lists for the rest of our clothing; the only items that weren't used after the first couple of days were the light gloves and Buffs. We used our rain shells a few times in wind and rain during the first two weeks.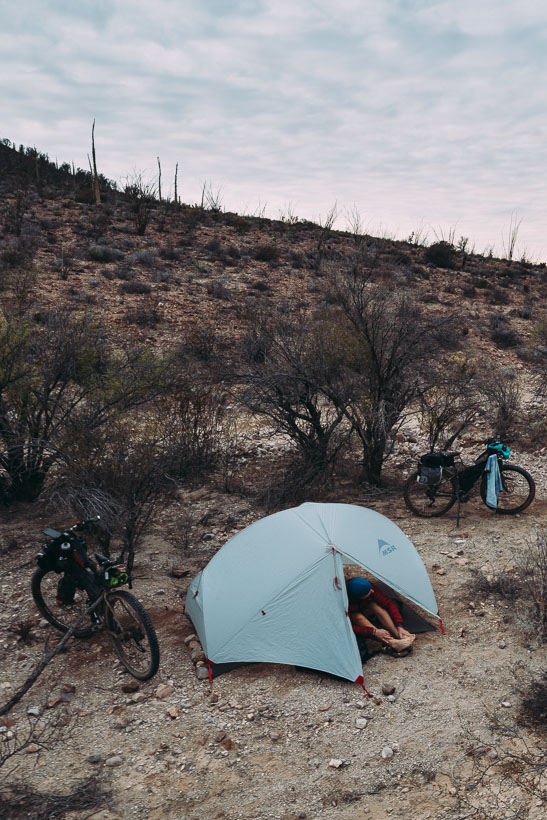 Navigation
Our go-to for navigation on the Baja was OsmAnd+ run on an Android phone. With the contour line modules and hillshade layer enabled OsmAnd provides a very easy to view topo map that can be read while riding. This was sufficient for us to be able to see what terrain lay ahead, navigate through towns and quickly calculate distance between points using OsmAnd's excellent 'use displayed track for navigation' feature.
The Cartografia E32 map series that's available for Garmin GPS only (and is expensive) has more surface detail and we carried this as a backup (kindly lent to us by Cale Wenthur), preferring the easy-to-use and view smartphone over the GPS for day to day use.
Prior to Baja, we used Backcountry Navigator through Alaska, Canada and the USA and I think this is still my favourite app for topo map use (as opposed to street navigation) if a good quality topo map such as the 1:24,000 US Topo ArcGIS or CalTopo US is available. We've been using GaiaGPS and MapOut lately too and will write more about those in another post. The Baja topo maps available for BCNav were difficult to read compared to OsmAnd's.
Given that the E32 map is about the only one (as far as I know) that actually has most (all?) of Baja's roads and tracks marked, with any other mapping option you're really just going to be following the GPX track and not necessarily matching your map to a road on the ground.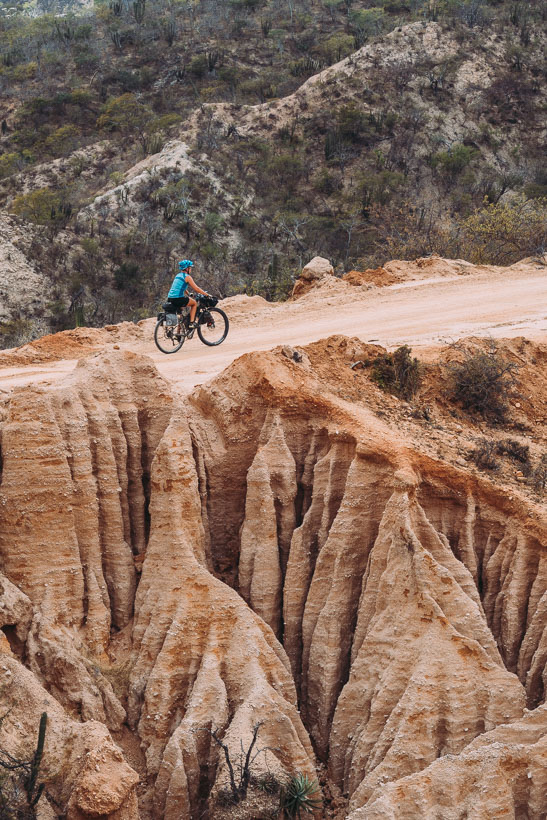 Luggage
Revelate Designs excellent bags were used throughout (read more about which ones we have here), except on our forks, where we use Salsa's Anything Bags on their Anything HD Cages. Hana's riding a small Ogre frame and consequently has less storage space than that of a larger frame. Small frames mean small frame bags, and the lower seat height means a smaller under-seat bag has to be used. To overcome this she kept her rack on her bike and used Revelate's Nano Panniers for extra water and food capacity. She liked them so much they're still on her bike while we ride through the rest of Mexico!
Scroll below for our full Baja Divide gear lists.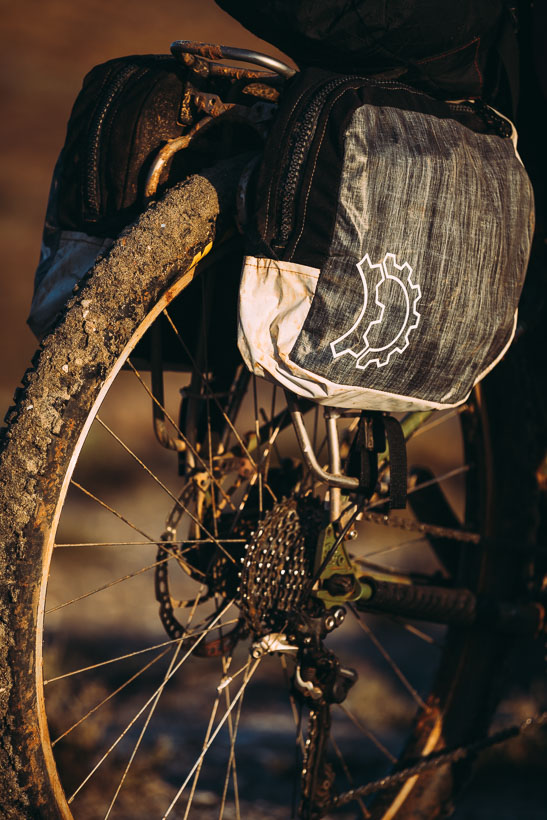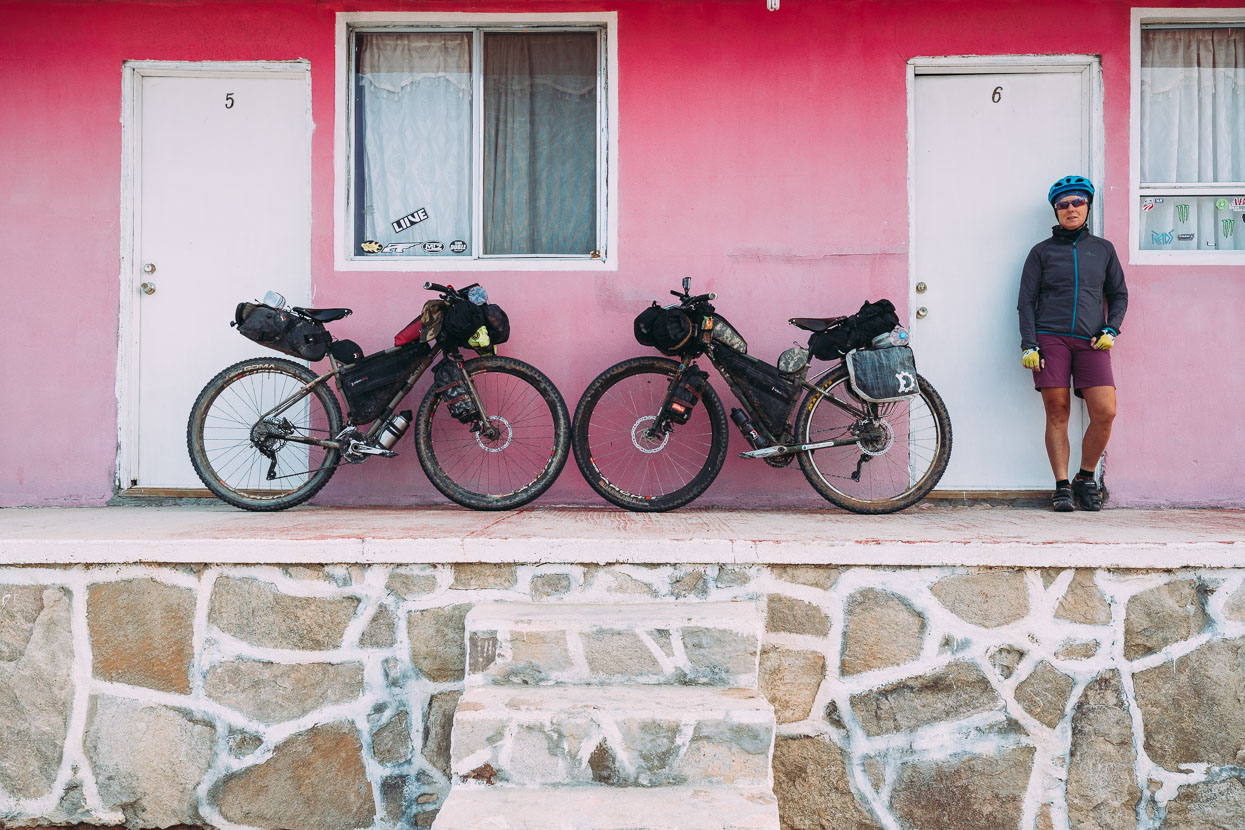 Gear Lists
There is an emphasis on lightweight travel for the Baja Divide due to the steep and sometimes sandy roads. Not only will your bike handle better on technical ground if you travel light, but there with be less strain on both it and you. The requirement to carry up to 9-10 litres of water also necessitates that you get keep your base weight as low as possible. We definitely weren't in the super light category – I carry several kilograms of photography kit, plus I had a hard drive I was unwilling to courier in case of loss, but found our load fully manageable for Baja's riding. Having come straight off the Great Divide and then a long ride sideways to San Diego we obviously had the miles in our legs, and shifting to our lighter Baja set up felt great – even if it was still relatively heavy compared with others.
Mark
Body
• Short sleeve full zip cycling jersey
• Cotton T-shirt with sleeves cut off
• Cotton singlet (did not wear often)
• Long sleeve merino hoodie
• Waterproof breathable rain shell: Kathmandu Zeolite
• Down jacket: Rab Microlight Alpine
Legs
• Underwear x1
• Biking/hiking shorts: Kathmandu Aklo (light, vented, fast drying and hardwearing – love them)
• Padded cycling short liners x 1
• Polyester thermal leggings (worn most evenings we camped)
Head/Hands/Feet
• Short finger MTB gloves
• Light thermal liner gloves
• Socks x4 short
• Buff
• Cap (for apres-bike wear)
• Bike shoes: Shimano XM7 (best MTB adventure shoes I have ever had)
Tech
• Hard drive 4TB x 1 (photo library from whole tour – did not want to courier with the laptop to Mazatlan)
• Power bank: Battery Box (16,500 mAh)
• In-ear headphones
• Phone: Samsung S5 (used for navigation with Backcountry Navigator and Osmand apps)
• Bryton Rider 100 GPS cycle speedometer
Accessories/Misc
• Helmet
• Sunglasses (with changeable amber lenses for grey weather riding)
• Brooks waterproof saddle cover
• Revelate designs wallet (lost in San Ignacio)
• Passport
• Headtorch: Led Lenser SEO5 (can be set to stay on red LED only – great for night photography)
• Sunscreen & lip salve
• Biomaxa Chamois Cream
• Various lightweight drybags
• 2 x 750ml bicycle water bottle
• 2.0 litre Camelbak bladder (without hose)
• 2.0 litre Platypus bladder
Sleeping/Camping
• Sleeping bag: Kathmandu Pathfinder
• Silk liner
• Sleeping mat: Thermarest Neo Air XLite (packs up tiny)
• One 1.5m x .6m section of silver coated bubble foam (protecting tent floor/comfort sitting at picnic tables)
• Spork
• 500ml plastic bowl (all eating/drinking duties)
• Toiletries (cut down toothbrush, toothpaste, soap scrap)
• Microtowel, small
• Pocket knife
• Homemade light nylon food bag
Hana
Body
• Sport bra
• Merino singlet
• Sleeveless cycling jersey
• Short sleeve full zip cycling jersey
• Arm warmers/sun protection sleeves
• Long sleeve casual shirt
• Long sleeve merino: Kathmandu Yatra. Doubled as thermal and casual wear.
• Windproof softshell jacket
• Waterproof jacket: Kathmandu Zeolite. Super light and packs away very small.
• Down jacket: Kathmandu XT Ultralight. I wore this every night – it's colder than you might expect!
Legs
• Underwear x 3
• Thermal leggings
• Shorts x 1
• Padded Bike shorts x 2: Ground Effect Sirens, and Louis Garneau
Head/Hands/Feet
• Short MTB gloves
• Fleece gloves
• Merino beanie
• Neck gaiter
• Headband
• Cap
• Socks x 3
• Bike shoes: Pearl Izumi X-Alp Enduro
Tech
• Camera: Sony RX100 III, and spare battery
• Power adaptor: Belkin 2 port
• Power bank: Plox 6000
• Phone: Samsung S5
• Kindle (essential for the long dark nights)
• Go Pro Hero 3 Silver
• Cycle speedometer: Cateye Micro wireless
• Headtorch: Black Diamond Spot
• Rear light, helmet mounted
Accessories/Misc
• Helmet: Catlike Leaf
• Helmet cover: homemade
• Sunvisor
• Sunglasses x 2, case and cleaning cloth
• Backpack: Sea to Summit Ultra-sil
• Saddle cover: homemade
• Revelate Designs wallet
• Passport
• Various lightweight drybags
• Water bottle: 750ml x2
• Water bladder x3: 2.0 litre Platypus
• Pocket knife
• Homemade light nylon food bag
Sleeping/Camping
• Sleeping bag: Kathmandu Pathfinder, rated to 5 degrees celsius.
• Sea to Summit Silk travel liner
• Sleeping mat: Exped UL7, and Schnozzle pump bag
• Silver insulation bubble foam for protecting sleeping mat, 1m x 50cm
• Spork
• 500ml plastic bowl (all eating/drinking duties)
• Toiletries: sunblock, toothbrush, mini toothpaste, chapstick, earplugs, Mooncup, Dr Bronners soap, small pack wet wipes
• Microtowel
Shared gear
Camping/Comms/Nav
• Tent: MSR Hubba Hubba NX (fly only) and footprint with Ground Hog pegs x 6
• luminAID (solar charged inflatable light – brilliant for lighting cooking area and tent)
• Steripen Ultra (USB rechargeable)
• Small cigarette lighter
• First aid kit: painkillers, antibiotic ointment, bandaids, steristrips, suture kit, non-stick dressings, tape, antihistamines, prescription antibiotics, gastro-soothe
• Repair kit: needles, thread (also for tyre repairs), patches and glue for mat and tent, tent pole repair sleeve
• InReach SE (used for updating our location each night, communication via satellite text/email, and emergency locator beacon)
• Printed National Geographic Baja maps (for overview/backup) – only looked at a couple of times, would not bring again.
Bike tools/repairs
• Bike pump: Lezyne Micro floor drive (the best pump ever!)
• 2 spare tubes (between us)
• Bike lock, lightweight cable (to stop opportunists)
• Patch kit
• Tiny can WD40
• Biomaxa chain lube
• Patch kit
• Topeak Multi-tool with chainbreaker
• Leatherman Juice S2 (scissors and pliers)
• Torx tool for rotor screws
• Very small adjustable wrench
• 2 x spare rack/water bottle screws and nylock nuts
• 1 x spare seat post binder bolt
• Small section of 10 speed chain (for serious chain breakages)
• 2 x 10 speed chain 'quicklinks'
• 1 x spare brake cable
• 2 x spare shifter cables
• Stein Mini Cassette Lock Tool (for removing cassette without usual tools)
• Tyre boots (cut from old road tubeless tyres)
• Tubeless tyre plugs (use Leatherman to insert)
• Spare disc brake pads (x2 pairs)
• Spare spokes (x2)
• Cable end caps (x2)
• Assorted cable ties
• Length of duct tape (wrapped around pump)
Mark's Photography Kit
• Sony A7RII Camera body
• Metabones Sony/Canon adapter
• Canon 16-35mm f2.8L
• Canon 50mm f1.2L
• Canon 70-200mm f4L IS
• Cable release
• Cleaning kit (Lenspen, microfibre cloth, lens fluid, sensor cleaning swabs + fluid)
• 5 spare batteries (Sony batteries do not last long)
• 128 GB SanDisk SD card (x1)
• 64 GB SanDisk SD card (x1)
• 32 GB SanDisk SD card (x2)
• Lee filter holder
• Circular polariser
• .6 and .9 Lee soft grad filters + Adorama Slinger filter pouch (holds all filters)
• 3-stop ND filter
• Sirui T-024X carbon fibre tripod + ball head
• All camera gear except filters carried in Lowepro Flipside Sport 10L AW pack (an old model now)