Crossing Costa Rica's Divide.
After hearing so many good things about Costa Rica from other cyclists, we crossed the border from Nicaragua with high expectations and our first three days in the country did not disappoint.
Adventure bikepacker Cass Gilbert's While Out Riding write up of a dirt road route that nearly encircles the volcanic massif of the Rincon de la Vieja National Park sounded like a perfect introduction to both Costa Rica's aberrant topography and its diverse environment.
Rincon de la Vieja – part of the Cordillera de Guanacaste – straddles the Continental Divide and lies just inland from the well known Golfo de Santa Elena coastal region. The gulf is renown for water sports, some of the best marine ecology in Central America, fishing villages and beautiful beaches. It's also considered, geologically, to be the oldest region in Costa Rica. That said, our impression was of a cruisy, laid back area where we saw few people as we followed quiet roads between bays separated by rocky headlands.
This post covers just three days-worth of riding: from the Pan American Highway to the Gulf of Santa Elena, and then up and around Volcan Rincon de la Vieja before dropping down to the city of Liberia – a ride from the hot, dry tropical forest of the Pacific coast into the rain soaked jungle and cloud forest of the Caribbean side and back again.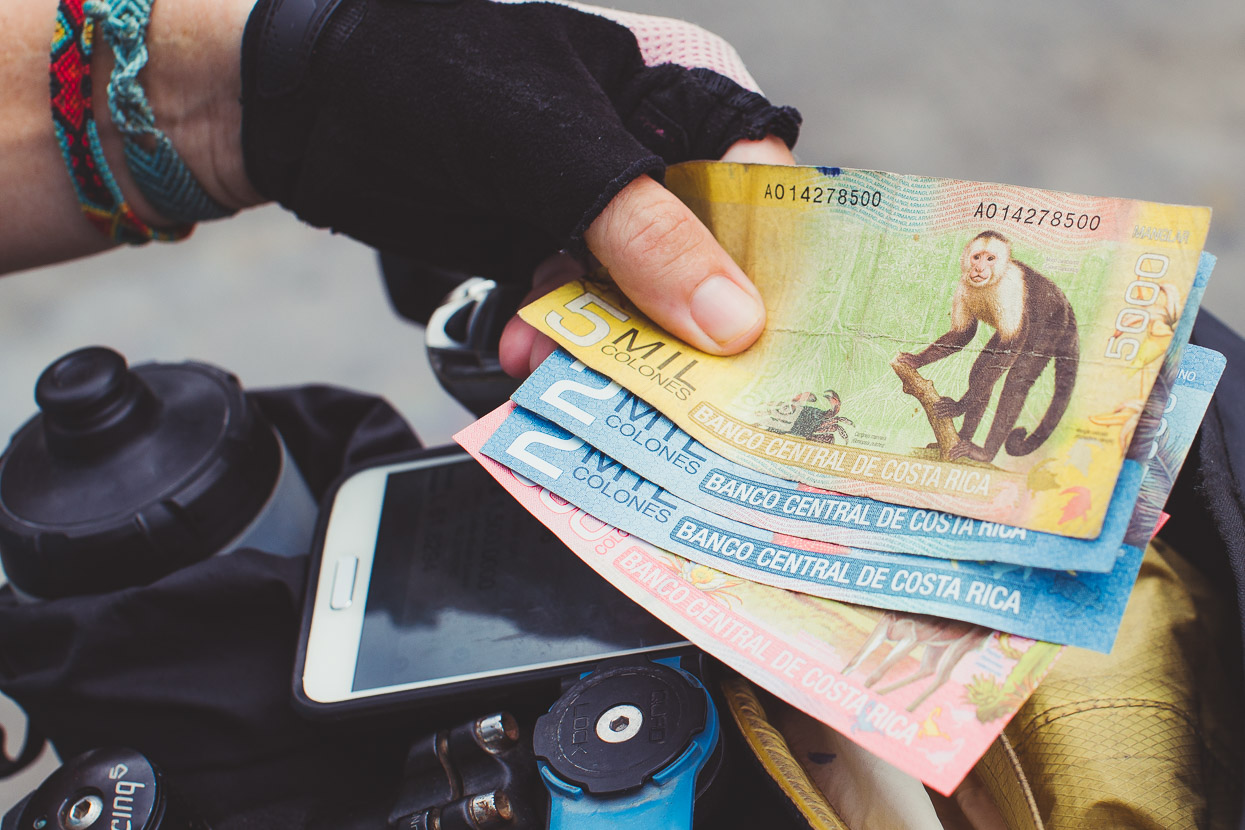 We'd actually already crossed the Peña Blanca border to Costa Rica just three days prior, to get a fresh visa for a couple of extra days in Nicaragua, and second time round was just as smooth. With some Costa Rica colones in our wallets we were on our way.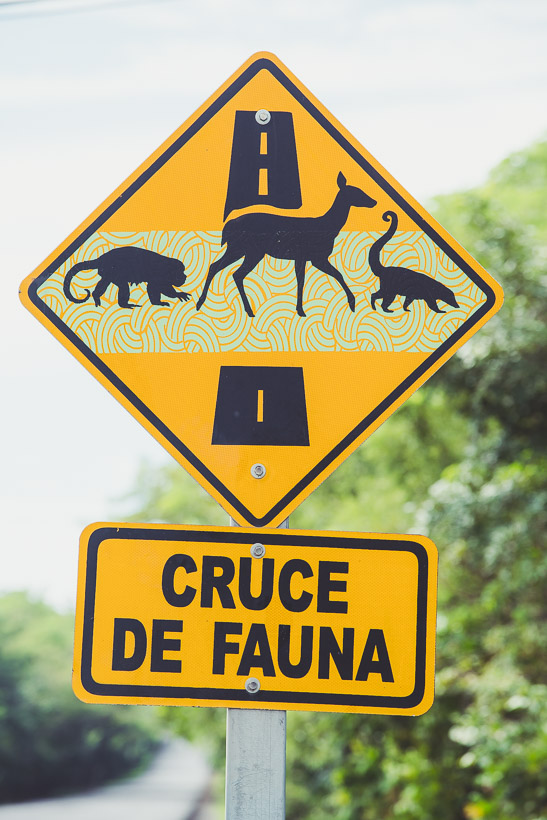 As with our final days in Nicaragua we were on the Pan American Highway at first, a road we've successfully managed to avoid 99.9% of our time riding south. But this section was actually very very quiet – few trucks, little traffic at all, and quite pleasant riding. The signs were a good sign too, so to speak.
We'd read other cyclists comments that Costa Rica is in a category of its own when it comes to biodiversity and wildlife. This terrapin wandering just a little too close to the edge of the highway was our first positive sighting.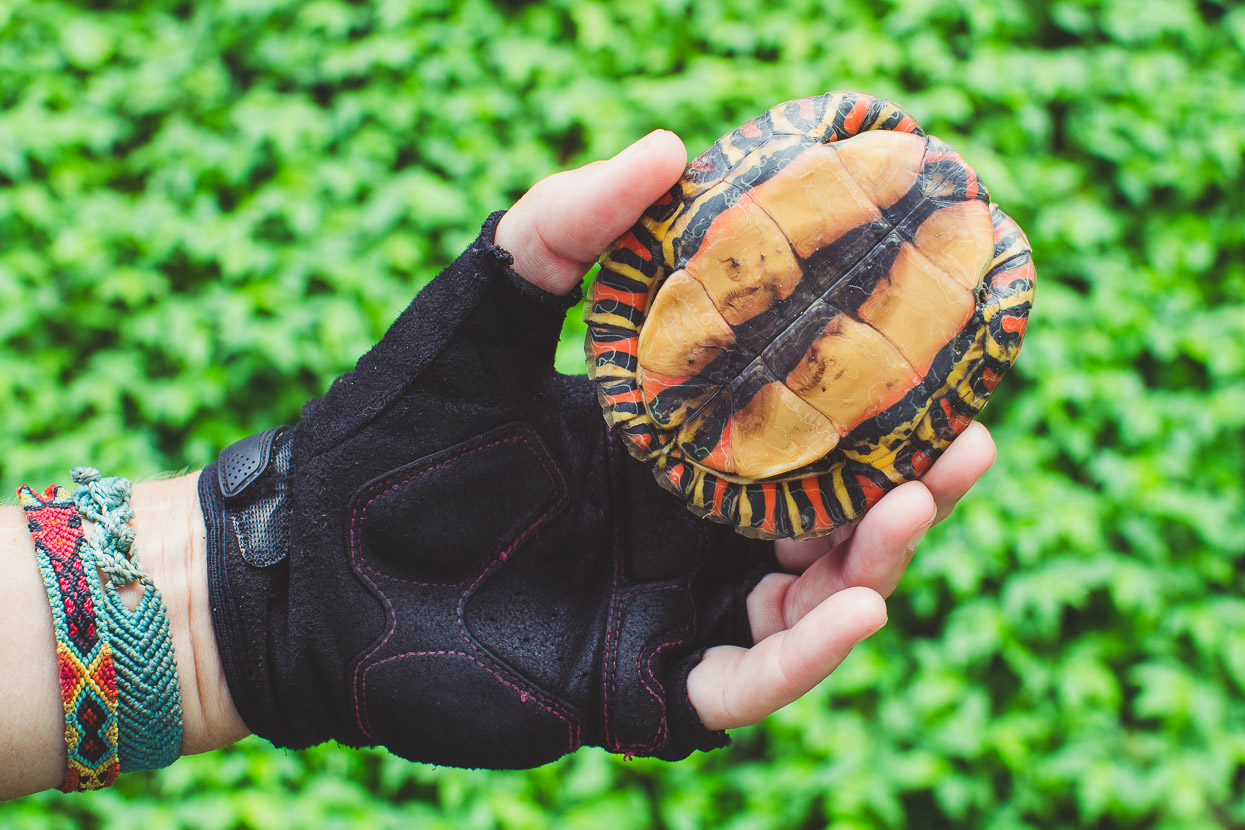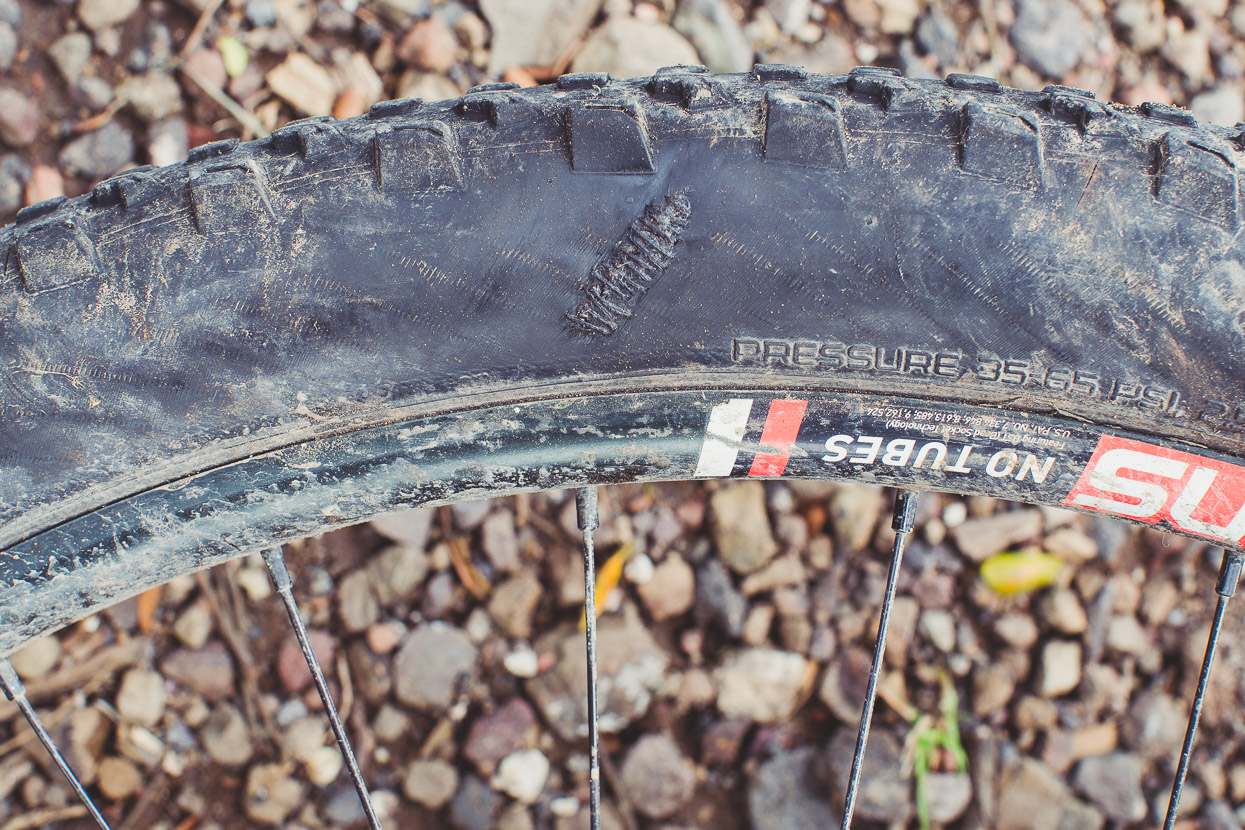 The well-worn tyres given to us back in La Ceiba were still holding up – just. As we travel we're getting better and better with tubeless tyre repair (we're convinced tubeless is the way forward for touring), and to date have only had a handful of punctures that have required intervention (i.e. insertion of a tubeless repair plug) in over 25,000 kilometres of riding. This was a sidewall cut that was already on the tyre when given to us and marginally patched. We stitched it with heavy (backpack construction type) polyester thread, superglued a thin tyre boot on the inside and smeared more superglue on the outside. It worked a treat.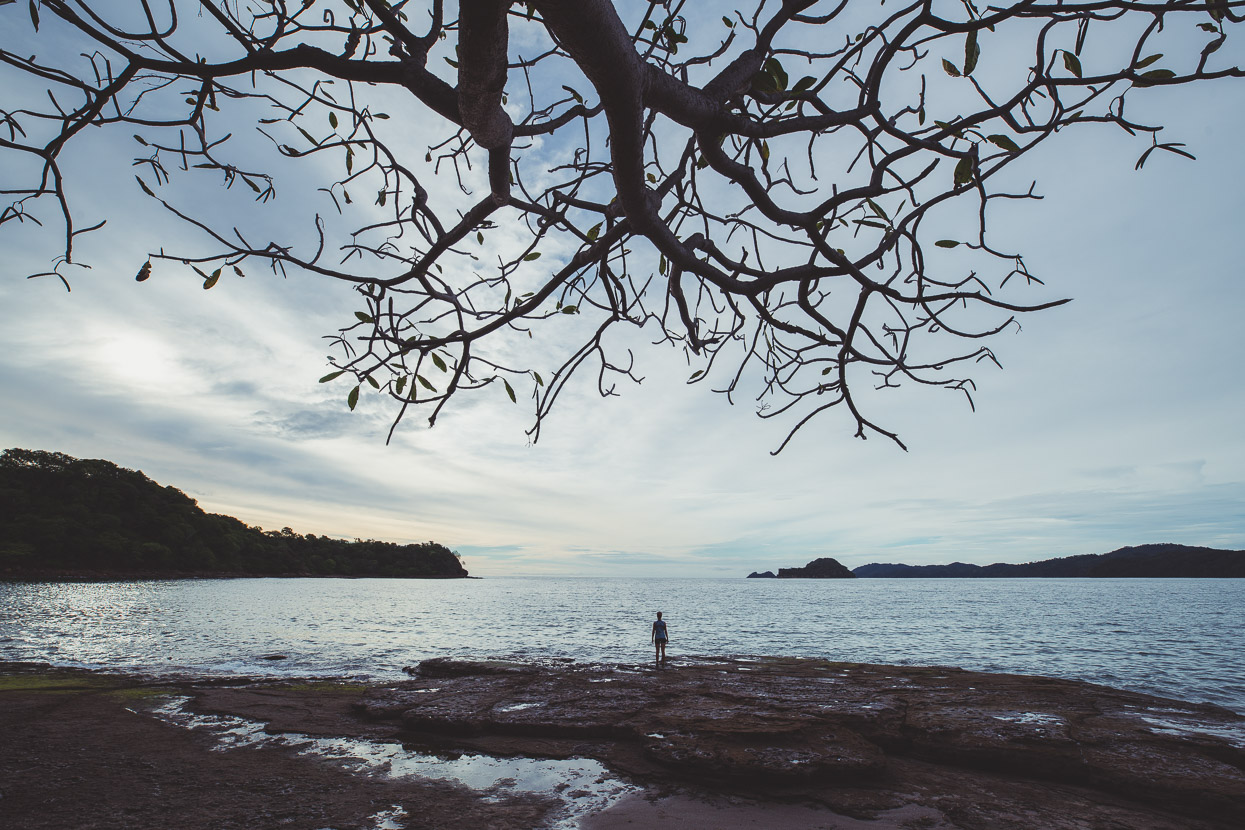 We cut off the highway at La Cruz and dropped down into the bays, spotting a couple of elusive white faced monkeys on the way. Unlike the bolder howler monkeys the white faced variety tend to flee through the tree branches when disturbed by us, so no photos as yet.
Playa Junquillal, part of a reserve, was the first beach we dropped in at and had a resident security guard and the exorbitant fee of US$20 per person for camping (we'd heard Costa Rica could be expensive), so we backtracked to the road and biked a kilometre or two further to Punta Calavera which we'd spotted on the map as a second option earlier. A rough track led down to a beautiful bay separated by a narrow rocky point and was a slice of coastal paradise. A few fishermen were packing up and as the sun lowered in the sky we had the place entirely to ourselves.
It was our first time back on the Pacific Coast since Mazatlan, back in Mexico. There's something special about being beside the Pacific for us Kiwis. It might be the biggest ocean on the planet but it's the same ocean whose waves crash on our far away country. Whenever I'm near the Pacific I experience a subtle sense of commonality – as in 'hey, that's our ocean' and the only thing between me and home right now is water (albeit a lot of it!).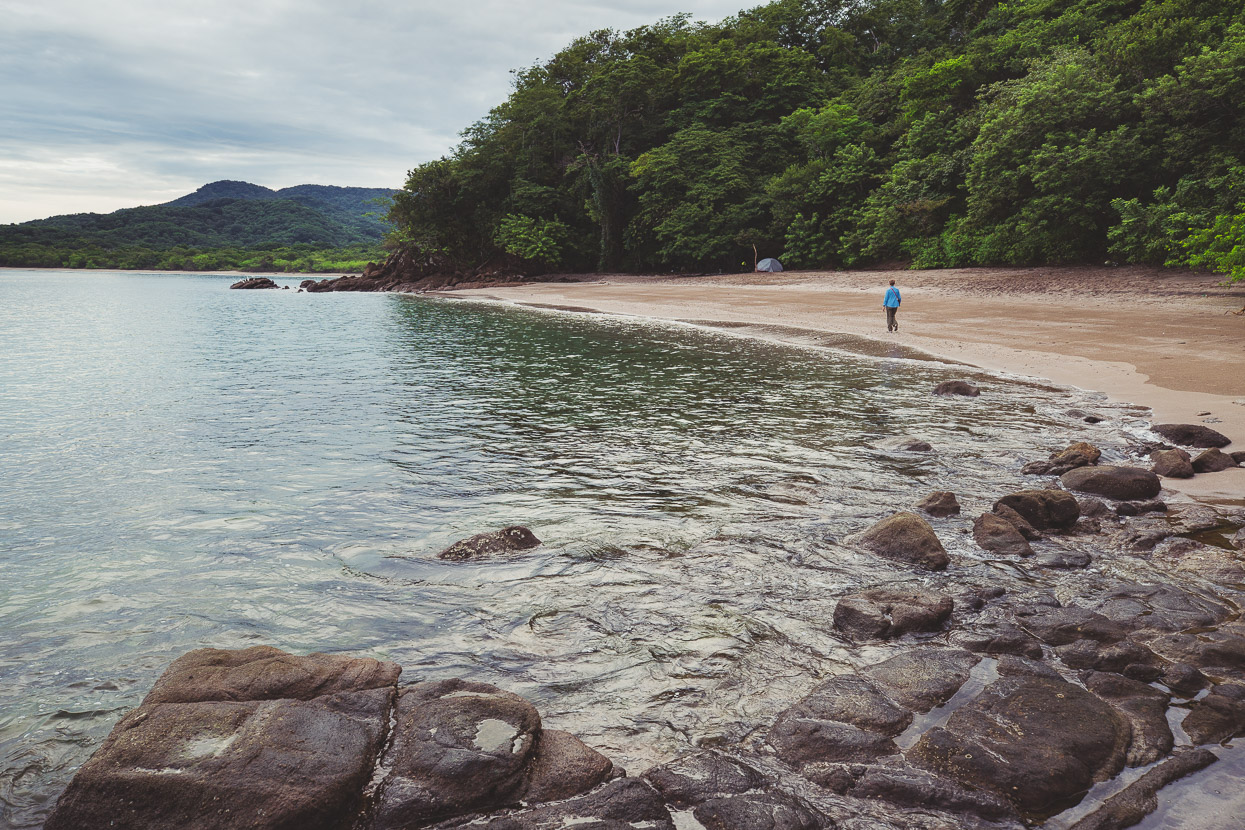 We found ourselves a nice tent spot tucked in by the trees, swam in the gently rolling and unbelievably warm water and as the sun went down explored with our cameras.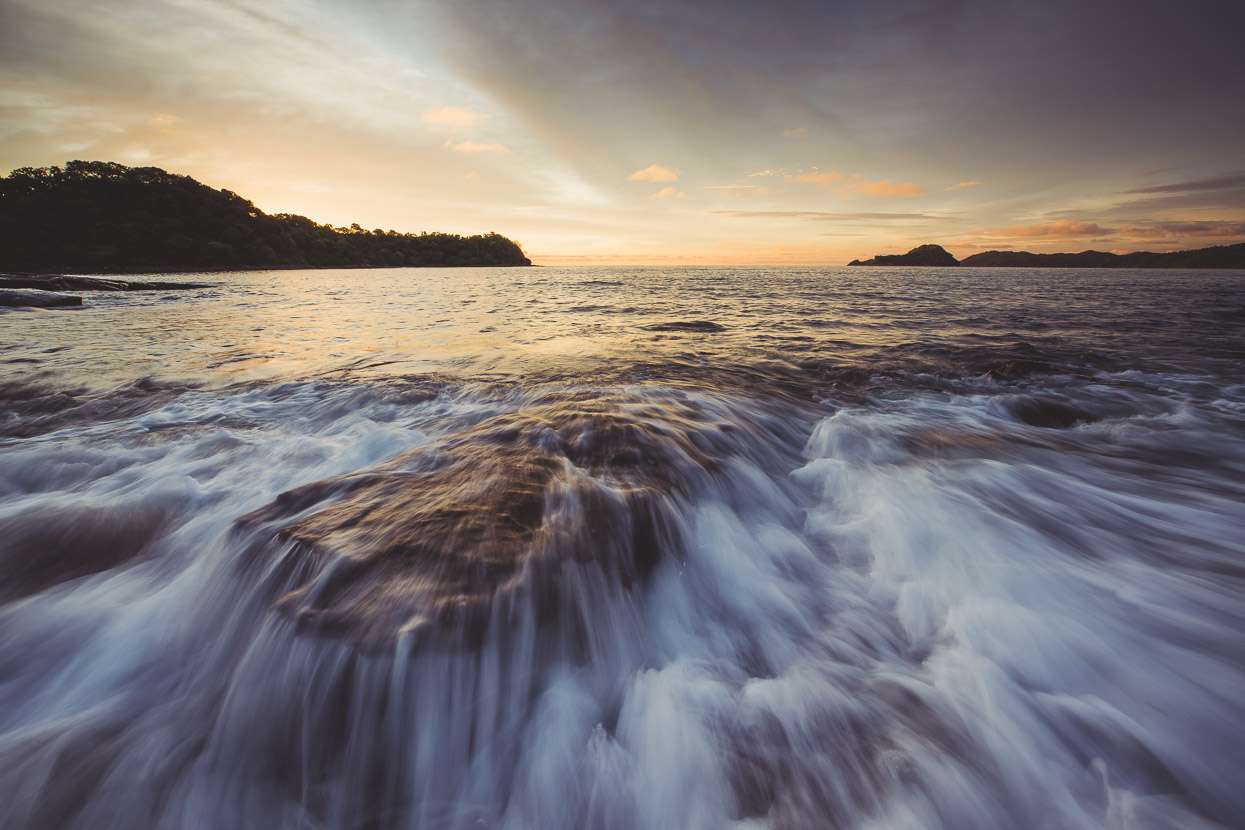 Playa Bassey, Gulf of Santa Elena. This and the following two photos were all taken on the same slender rocky point that divides the bay. It becomes an island at high tide.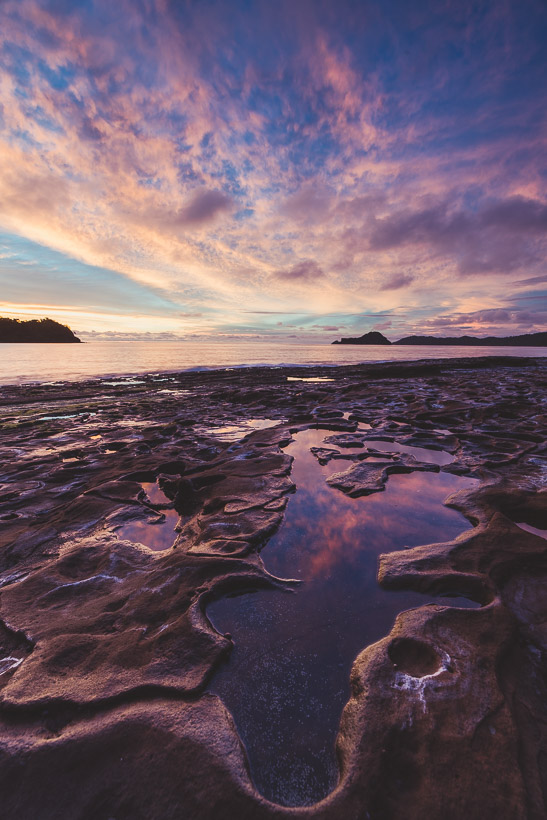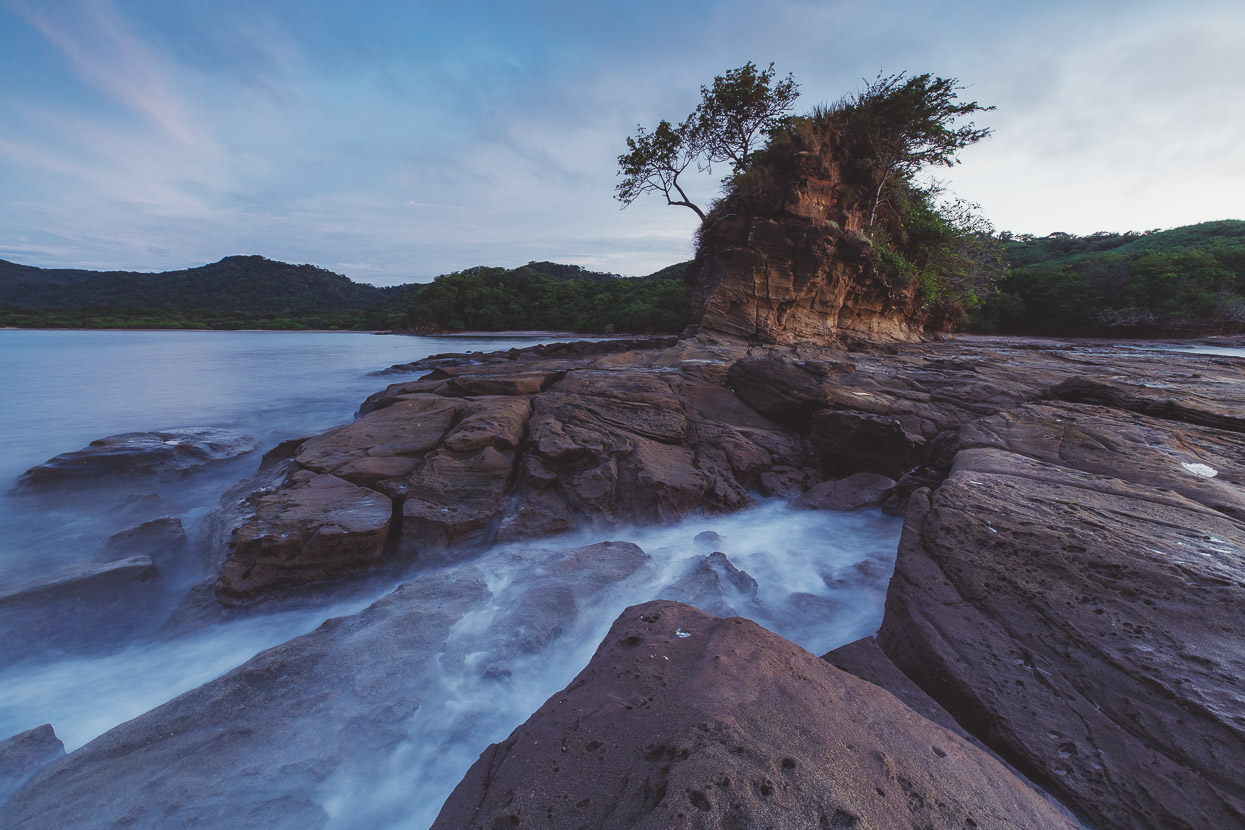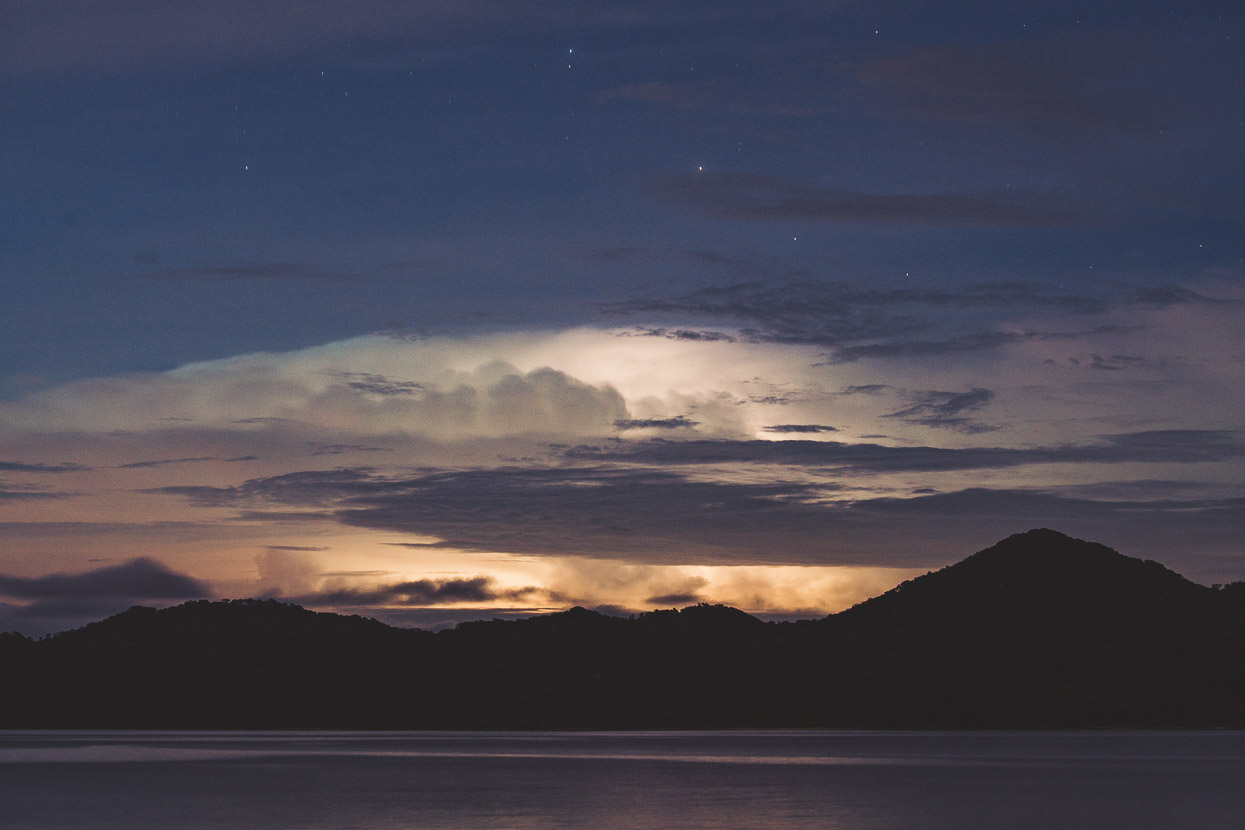 After sunset we sat on the beach sipping rum and eating beans, tortillas, tuna and corn chips while the lightning of a distant thunderstorm lit up the sky. Along the beach we spied the unmistakable silhouette of a coatimundi running around on the beach eating scraps left behind by the fishermen.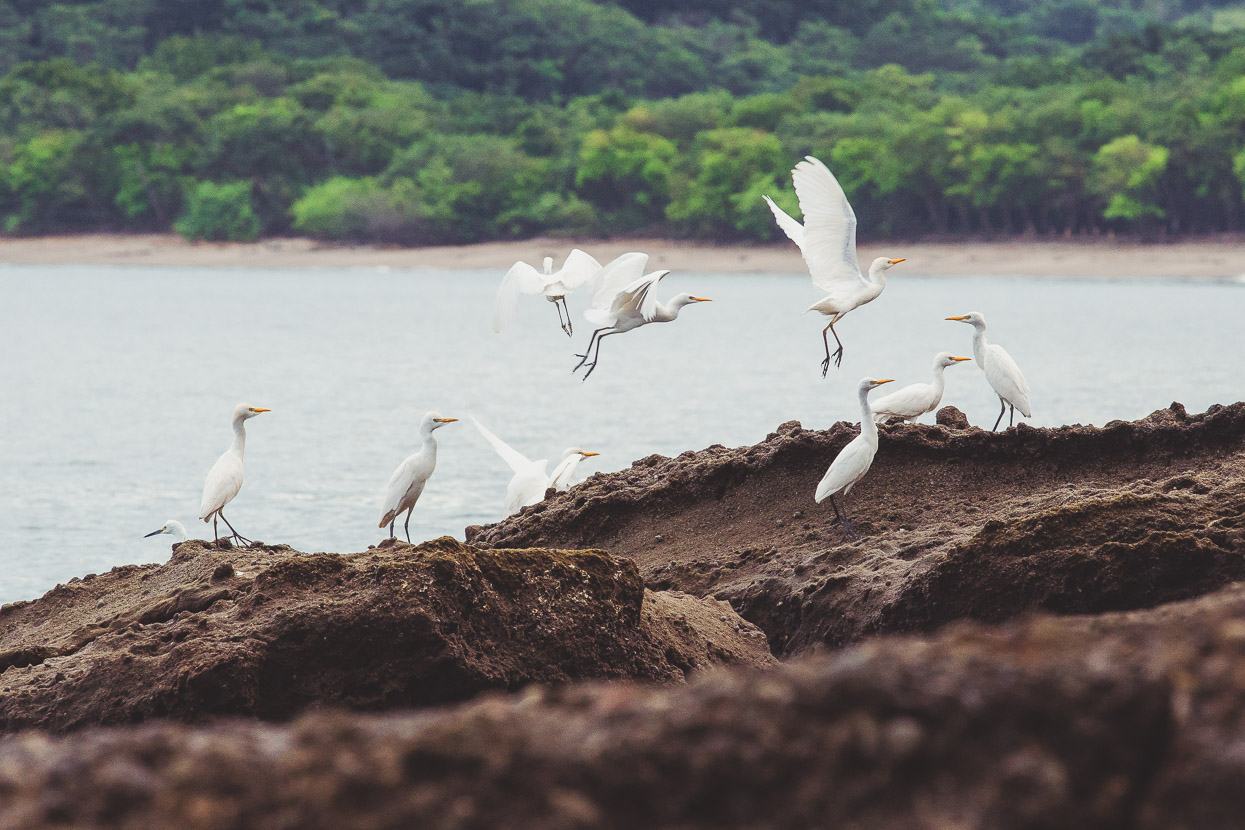 We weren't the only ones enjoying the otherwise deserted beach early the next morning.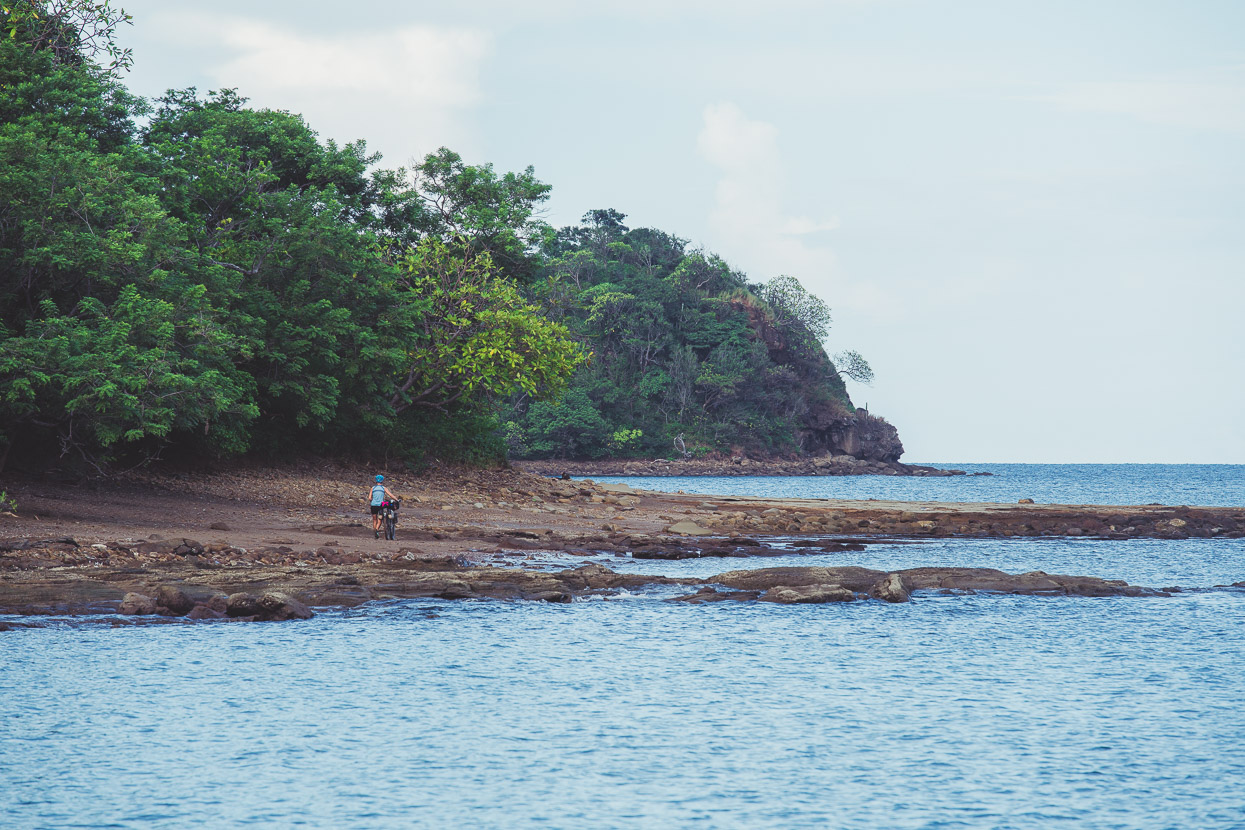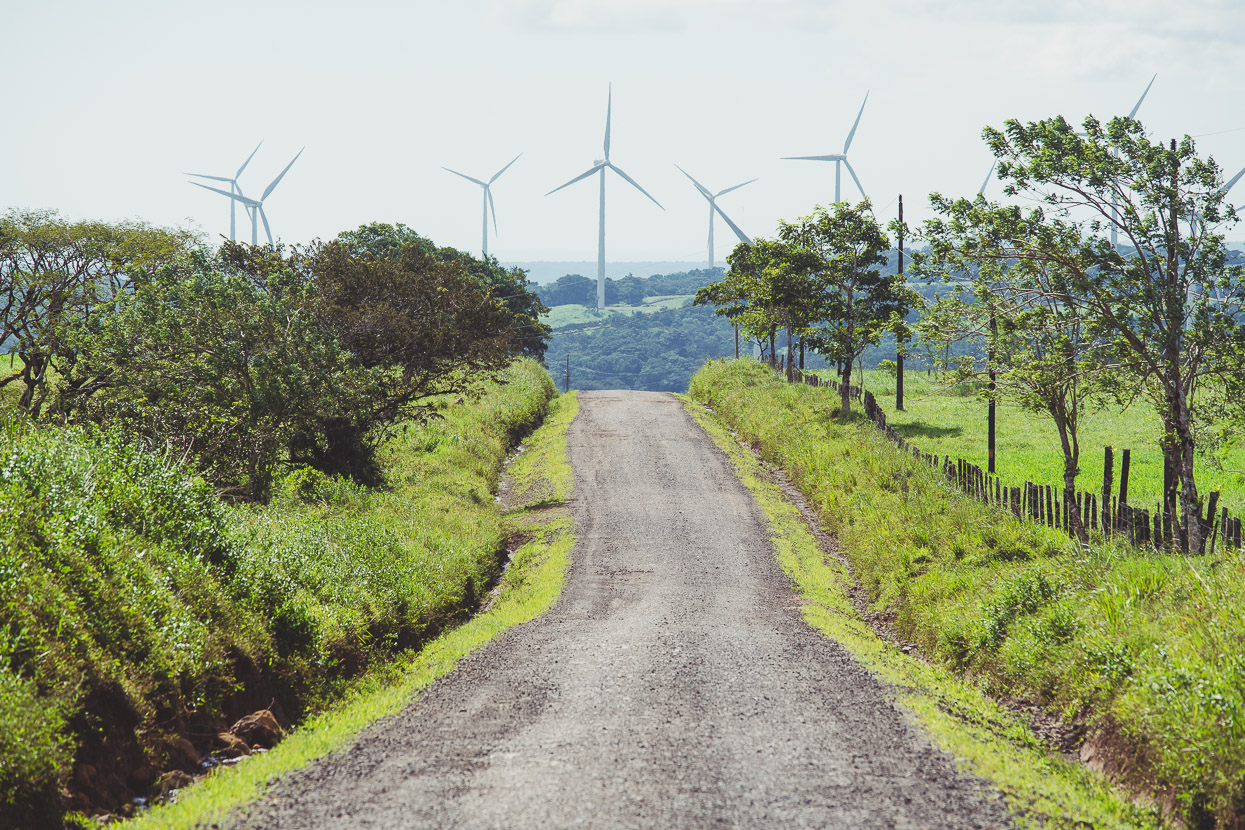 A sweaty paved road climb took us back to the Pan American briefly, before we turned off and began the long, generally upwards, ride into the cordillera, passing cattle pasture, wind turbines and a couple of small villages.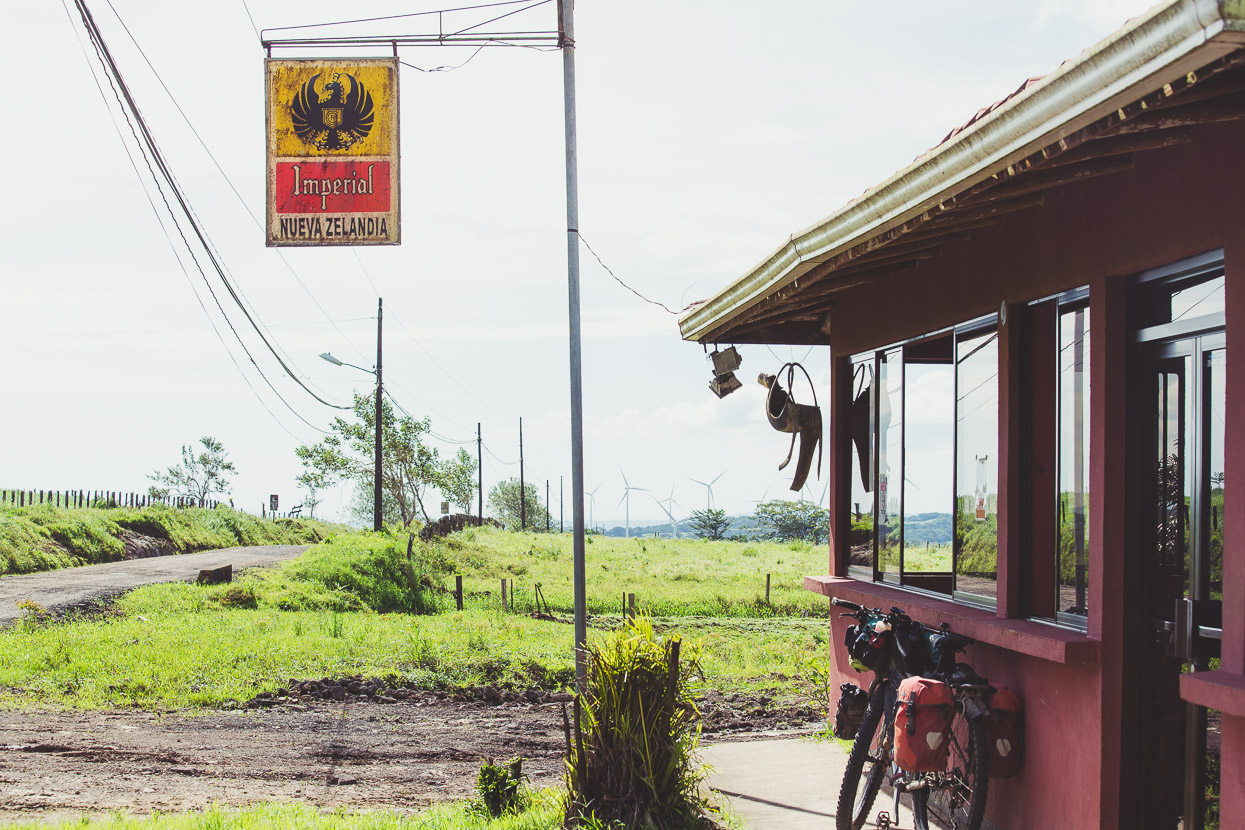 Nueva Zelandia (Español for New Zealand) was a pleasant surprise and we could hardly refuse a mid-afternoon beer. There was even wifi!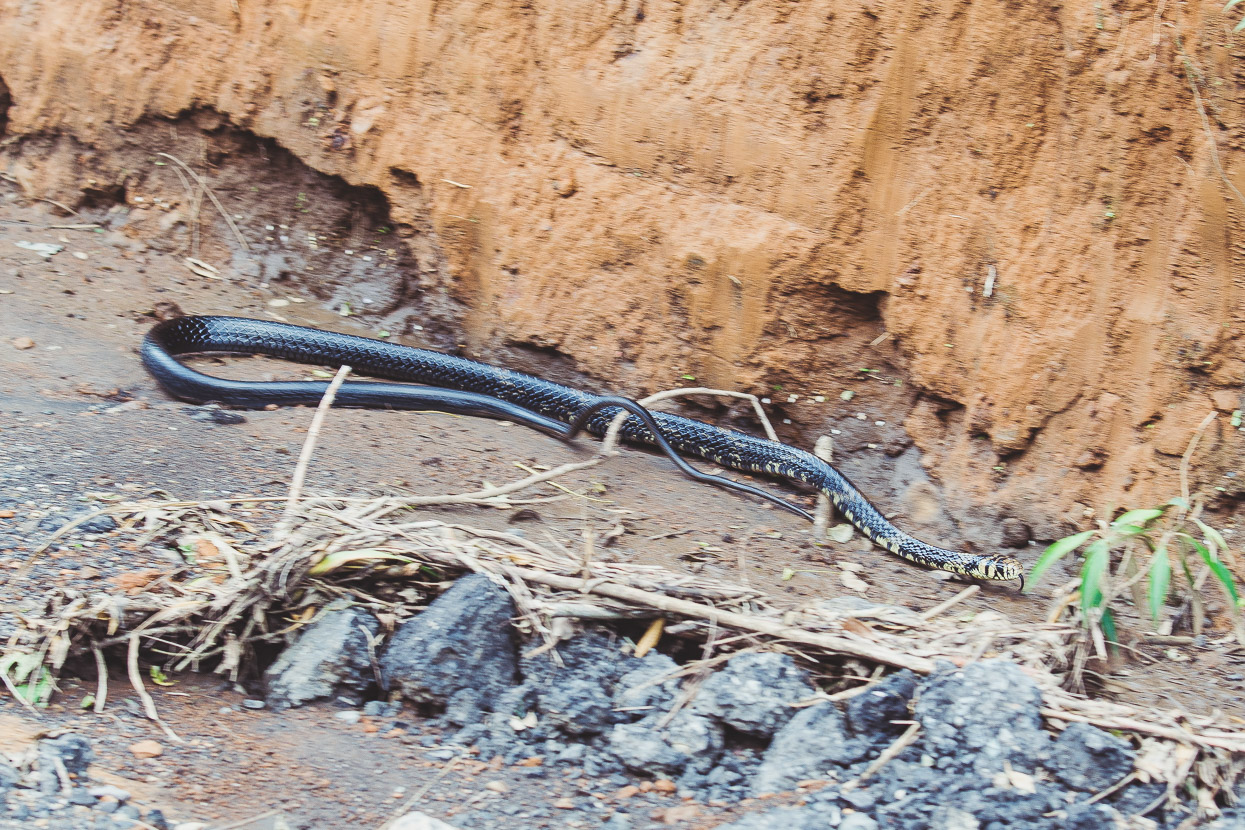 Not long later we saw one of the largest snakes of the trip – a metre and a half of unpredictable scaly slitheringness crossing the road in front of us. It didn't like us either though and snaked off up a bank and into the grass.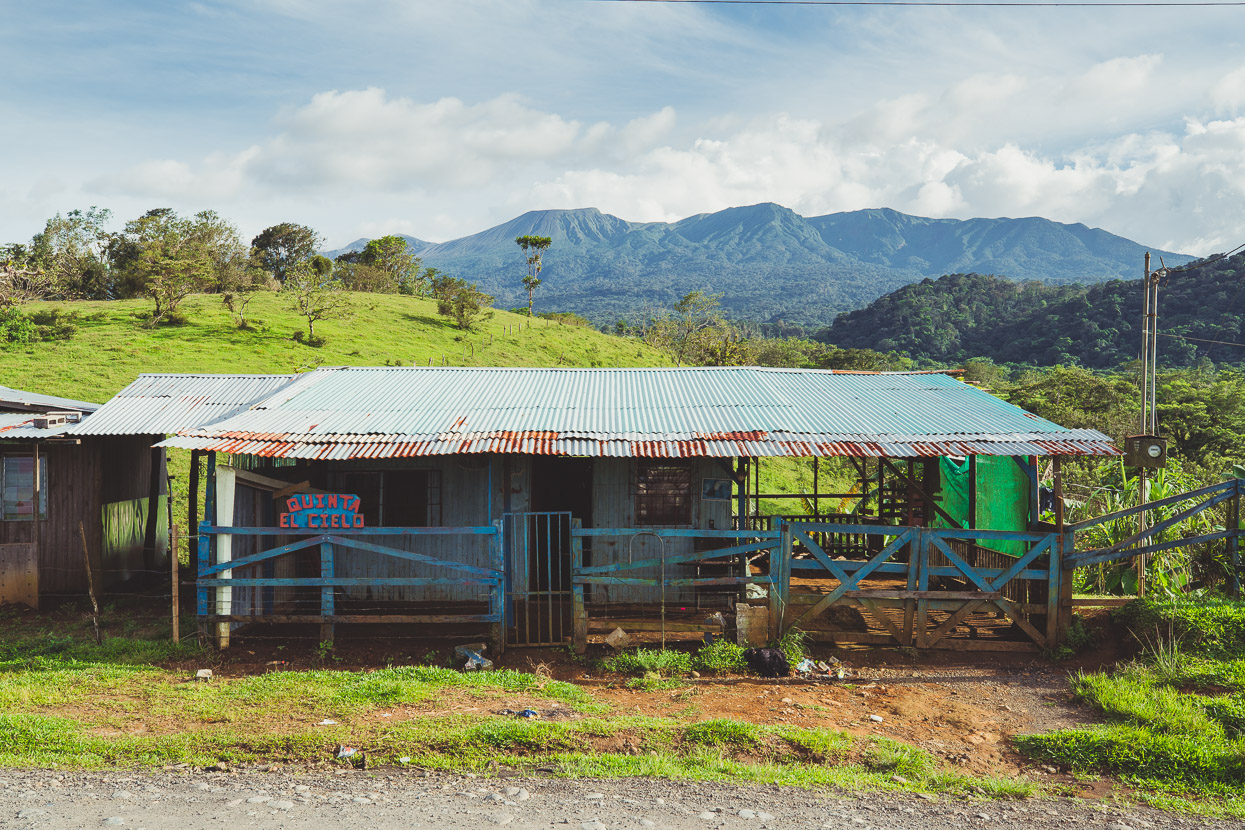 The Volcan Rincon de la Vieja massif in the background from one of the small fincas (ranches) we passed. At this point, about the Continental Divide, our surroundings were transitioning from the dry tropical forest that cloaks the lower coastal regions into much lusher rainforest.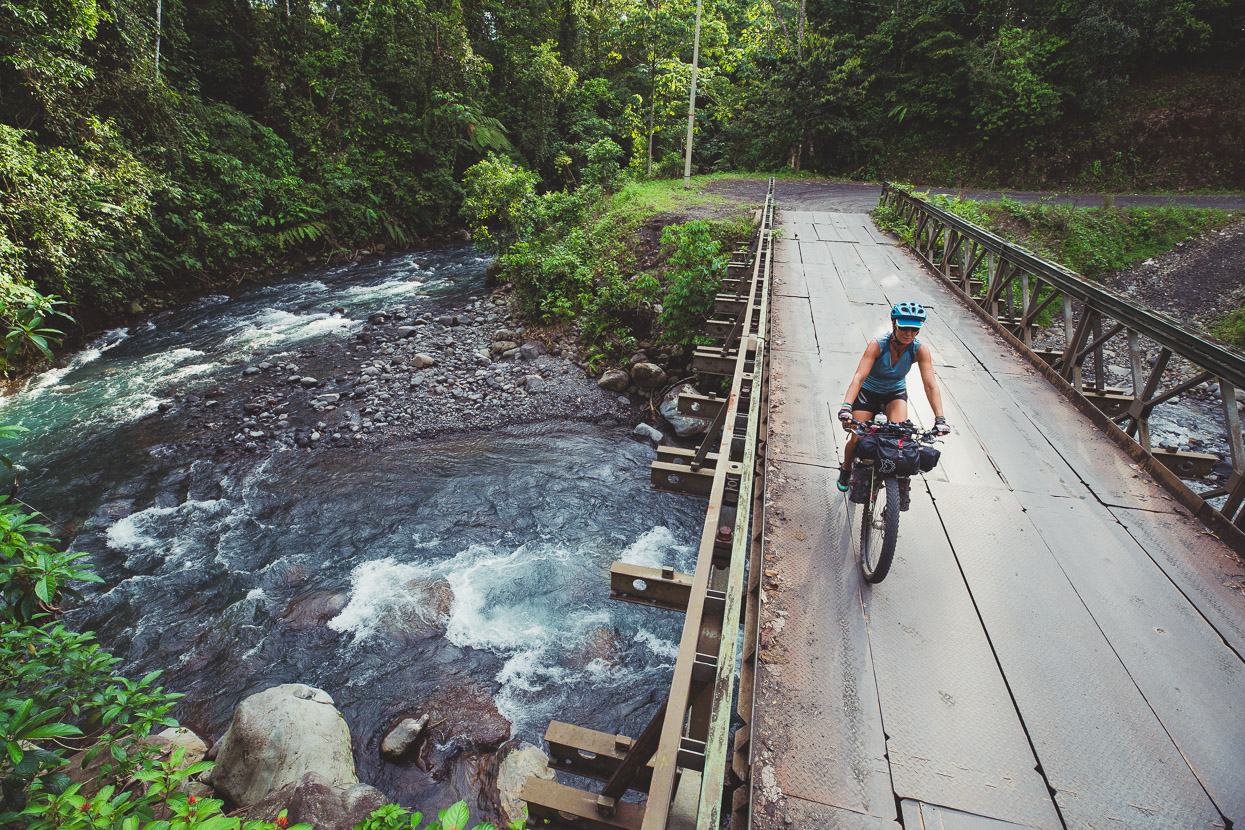 Clear streams coursed down the mountains flanks, sometimes strong with the smell of sulphur.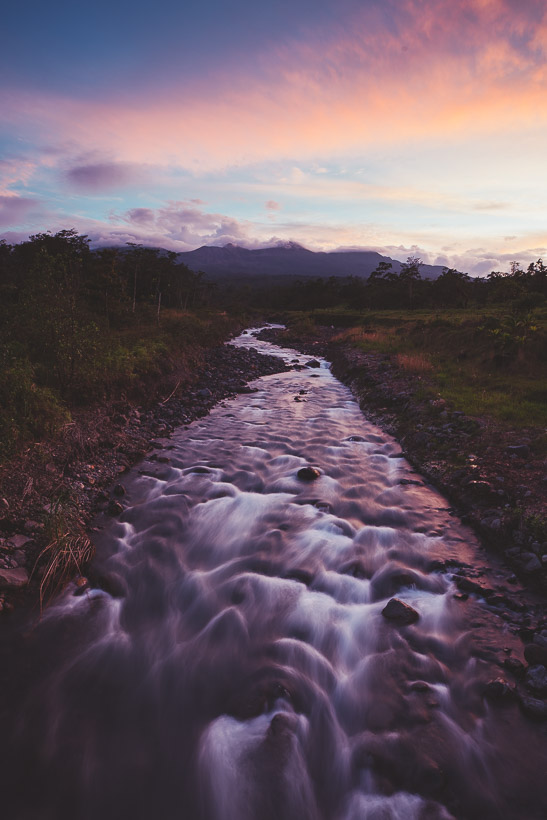 We stopped just before sunset in Buenos Aires. A tiny settlement just beyond Rio Negro, beautiful in post-sunset light.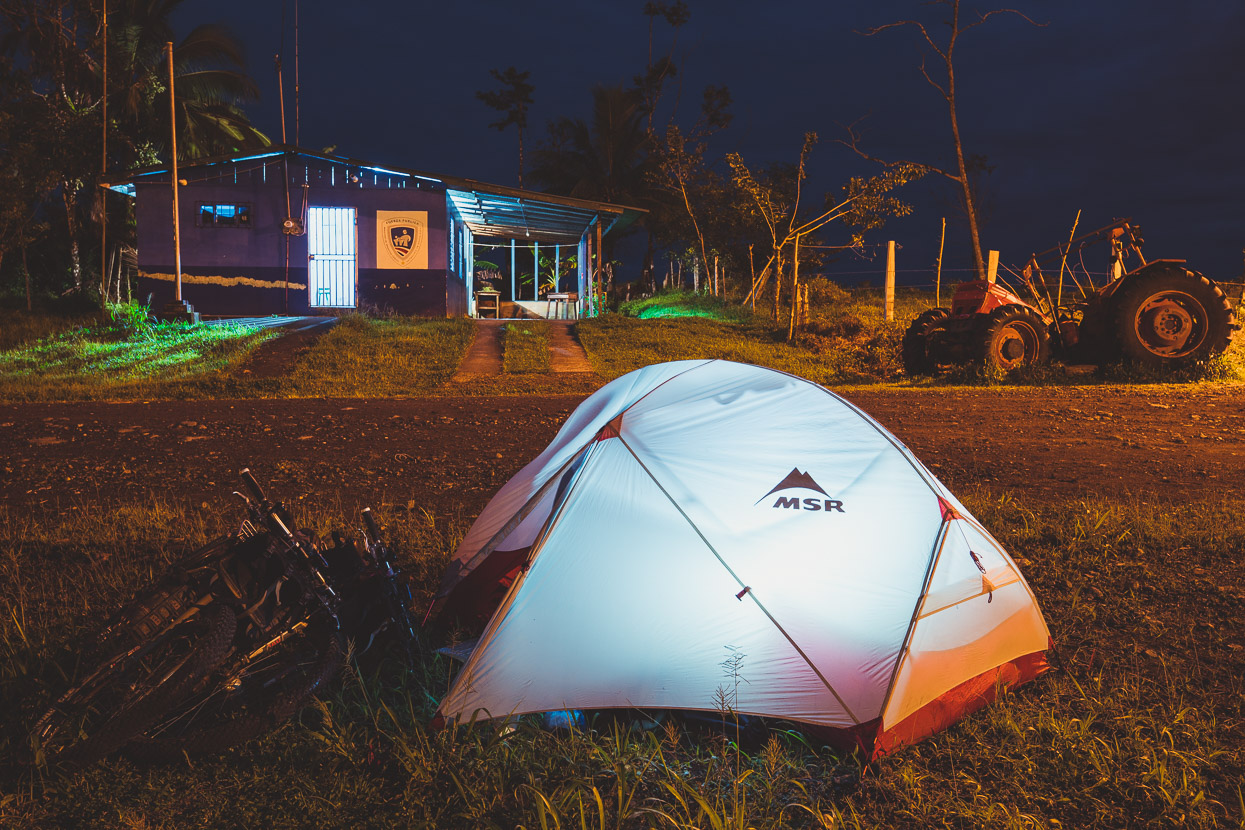 We thought about camping by the river, but decided to check in the village first, where the puzzled but agreeable lone policeman told us that there were gente malo (bad people) about sometimes, and that we could camp on the grass between the police station and the community hall. Making a wild throwing gesture with his arm he said we should throw a stone on his roof if anyone bothered us during the night. We filled our water bottles and ate in the tent – away from the bugs, while the calls of howler monkeys resonated from the forest.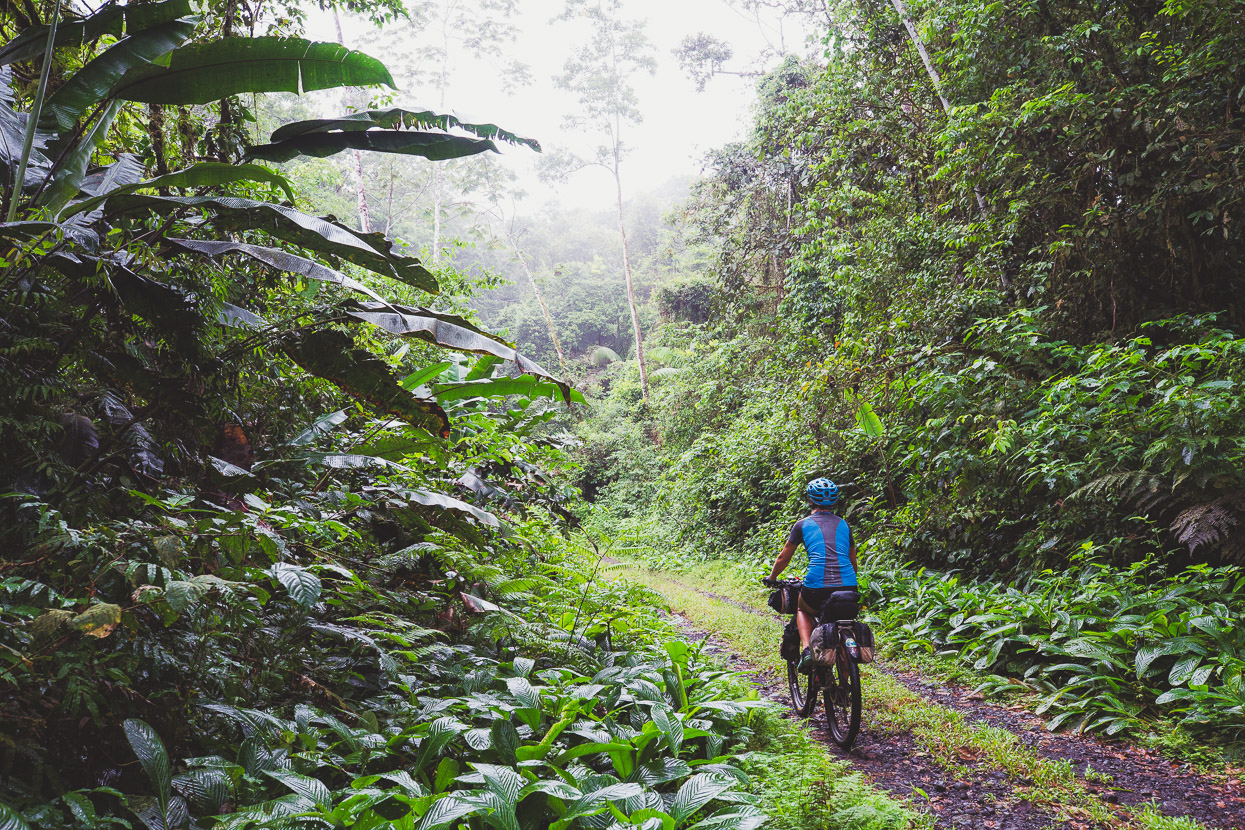 The good gravel road we'd been on the previous afternoon ended at Buenos Aires and turned into a double-track that dropped quickly into full on jungle on the Caribbean side of the divide. Overnight it had rained and the air was thick with humidity and chirping insects, while the road was a corridor through vibrant, dripping forest – in every shade of green. It showered on and off as we rode, but with shirts soaked with sweat anyway we barely noticed, except for the pattering of the rain on the giant leaves that surround the track.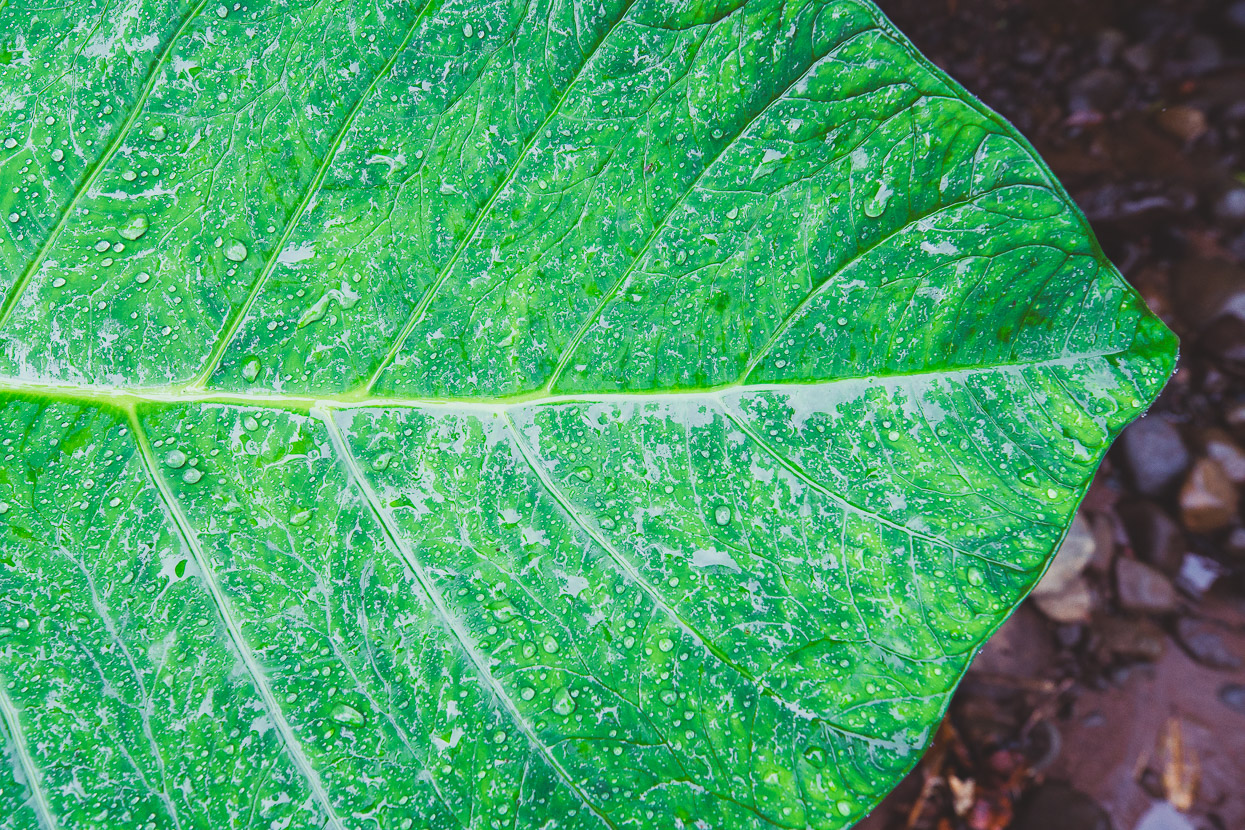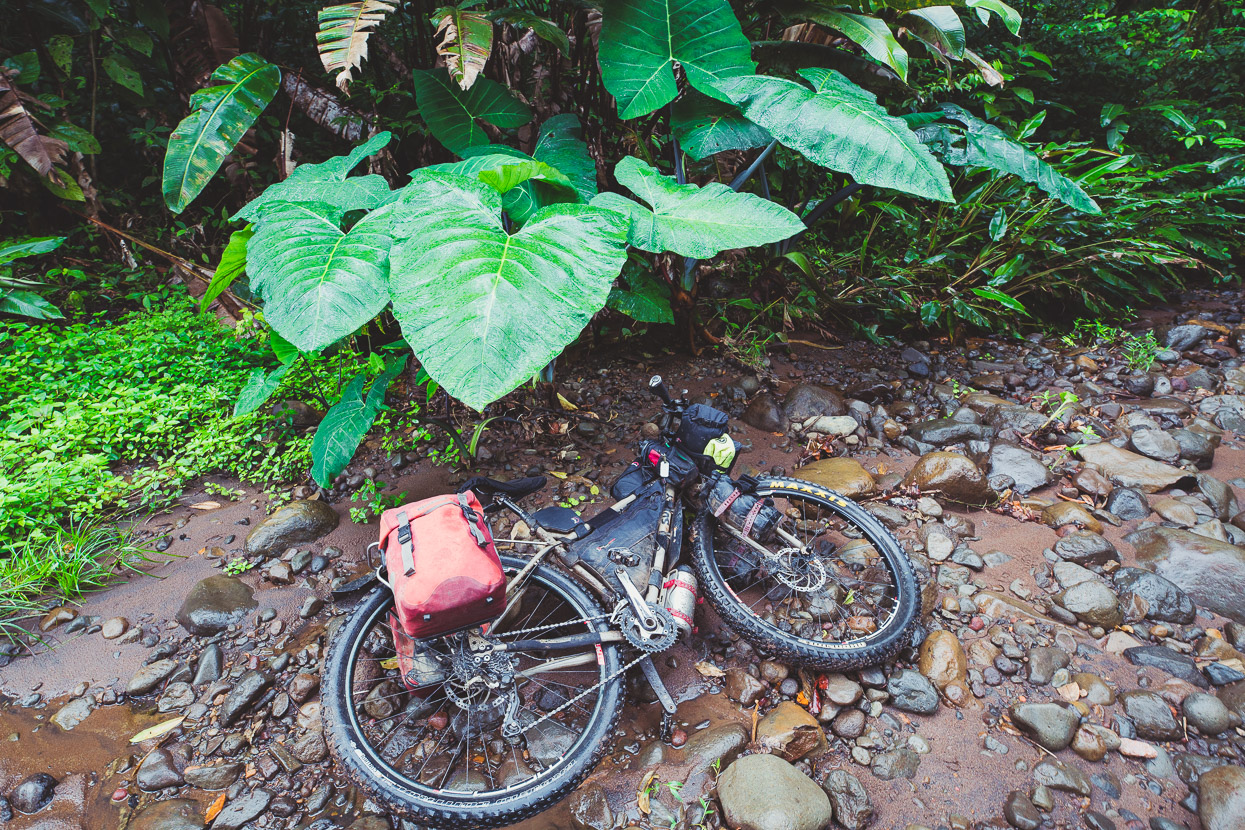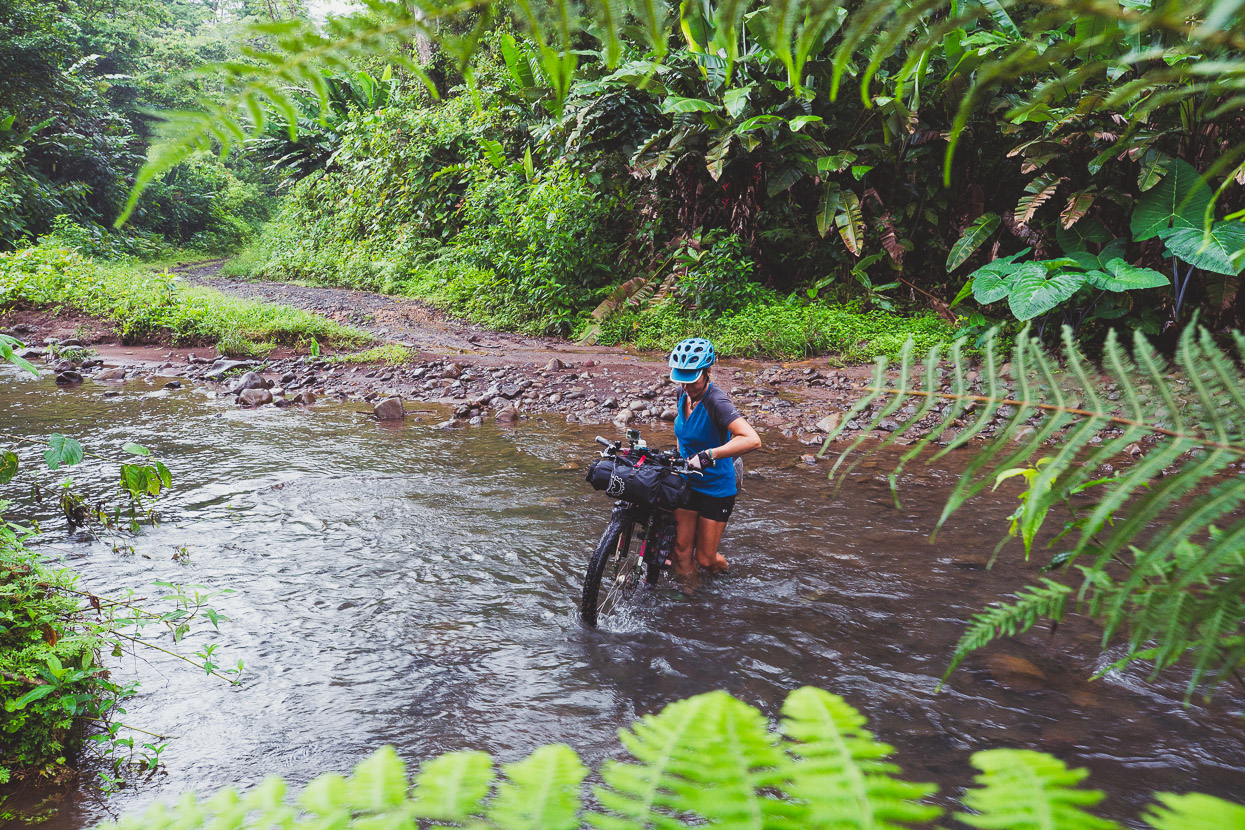 We splashed through streams and stopped between showers to marvel at the interesting plants that lined the road. A very special and unique environment.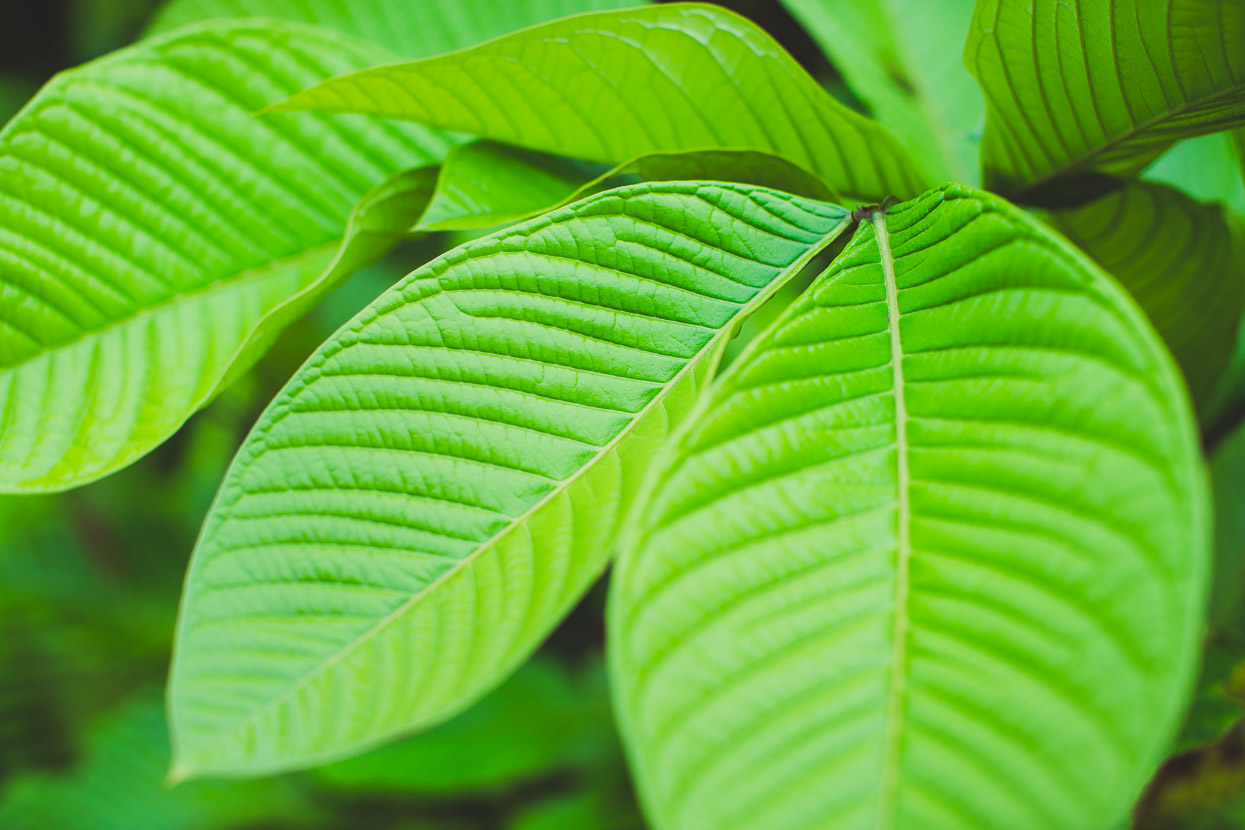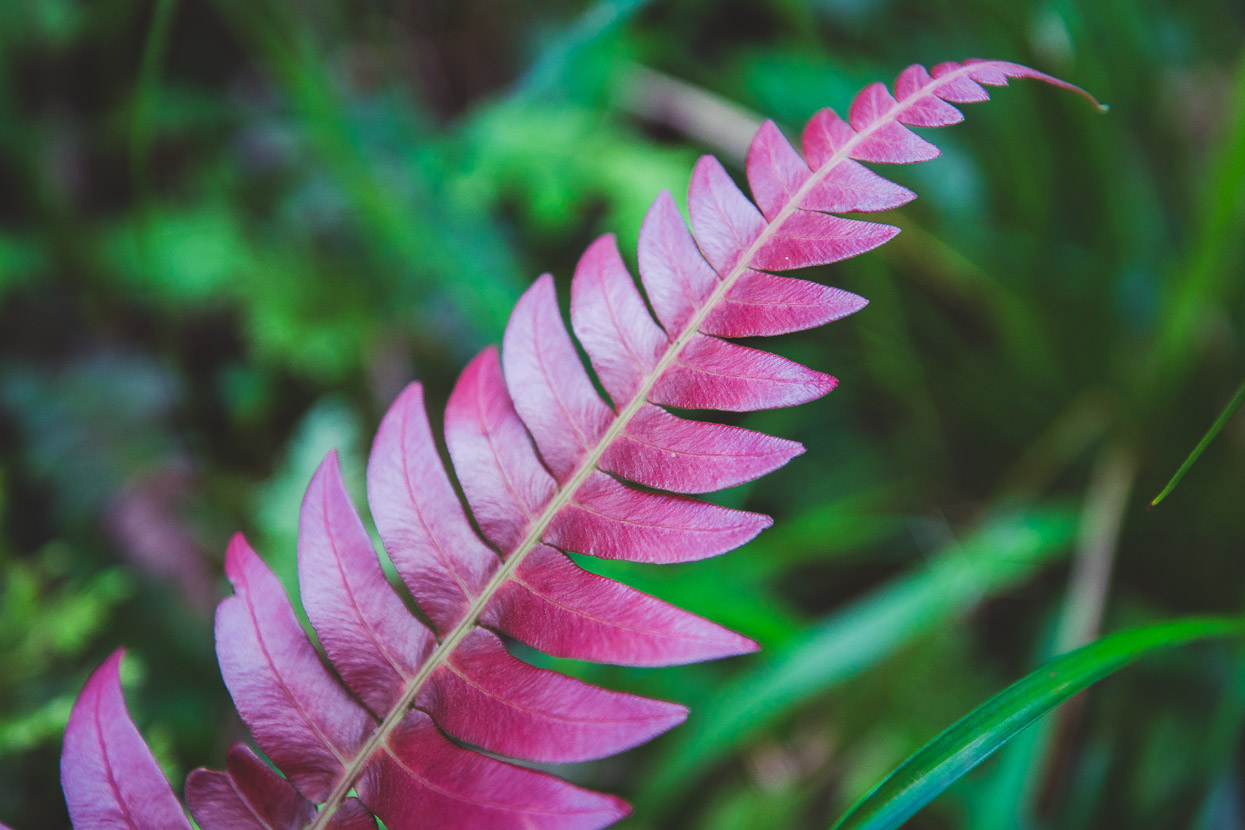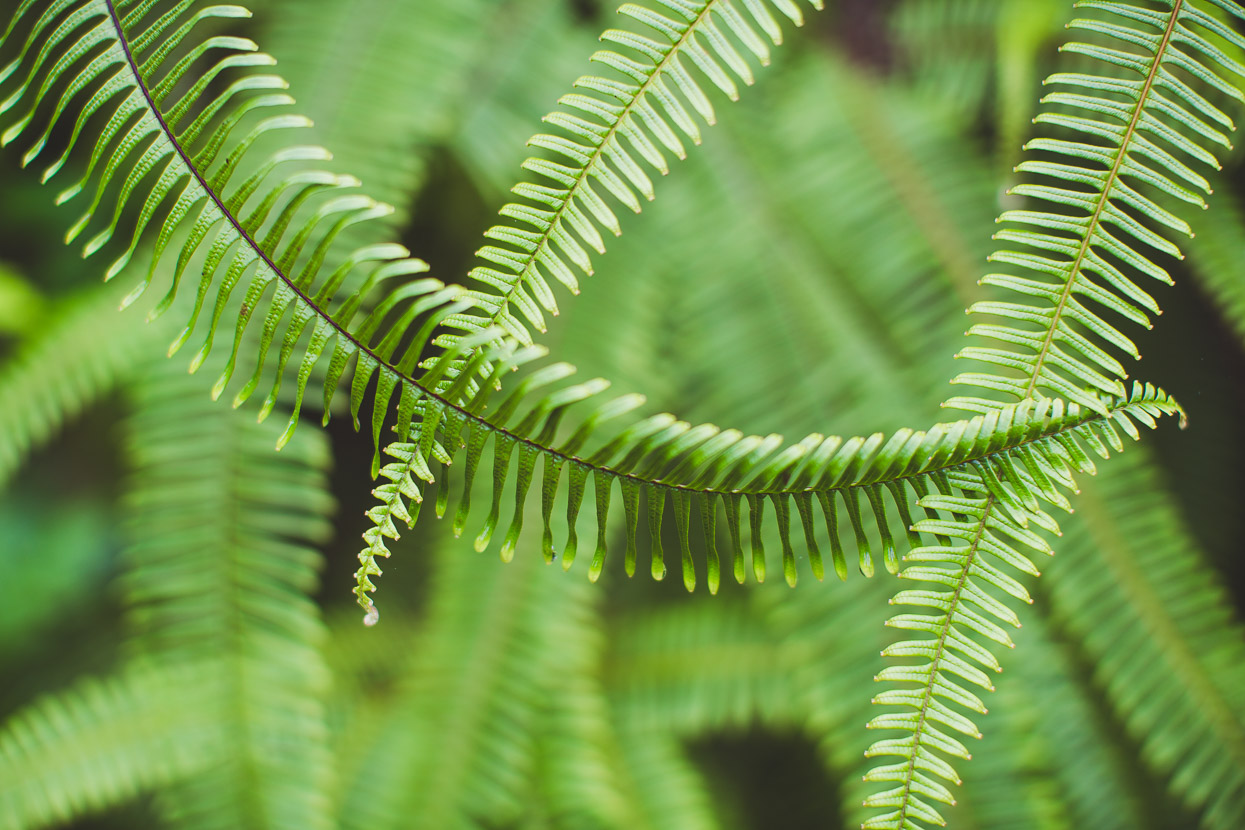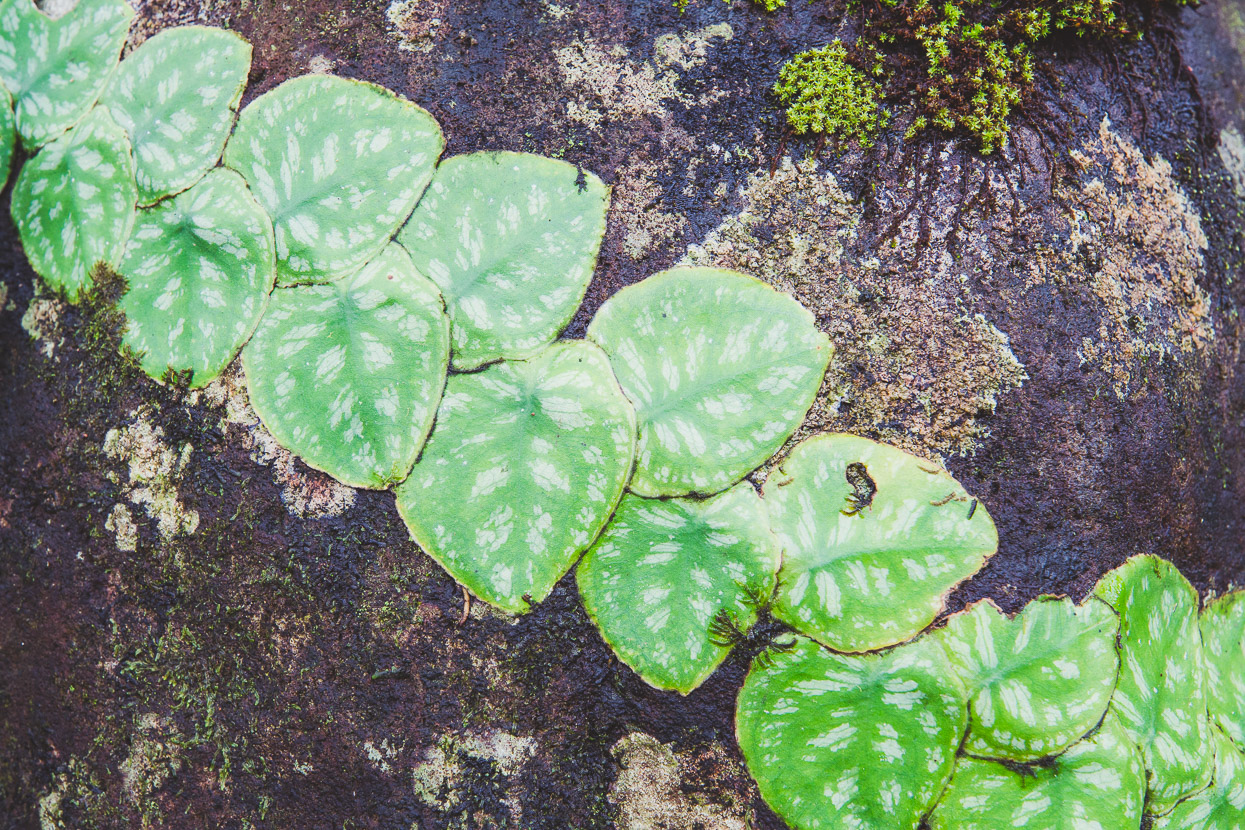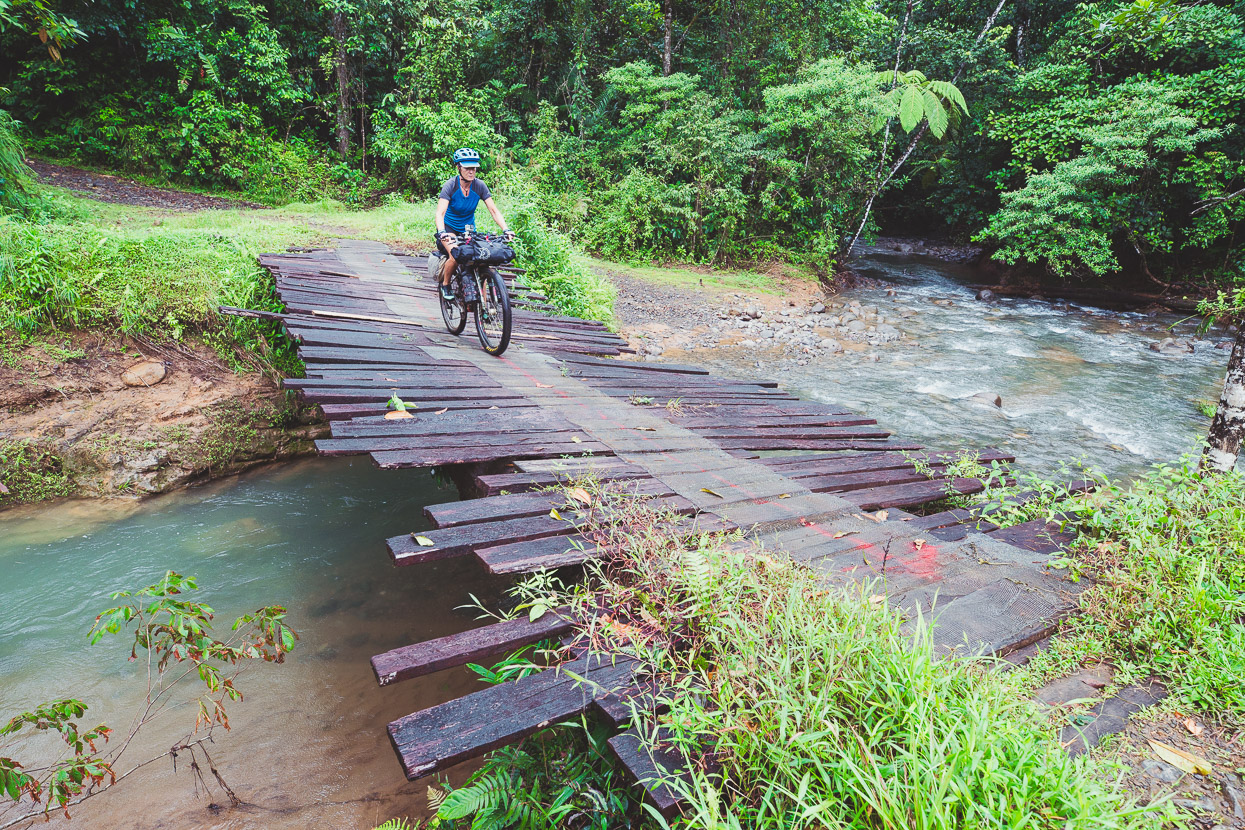 Sometimes there were (dodgy looking) bridges. Not much traffic in these parts.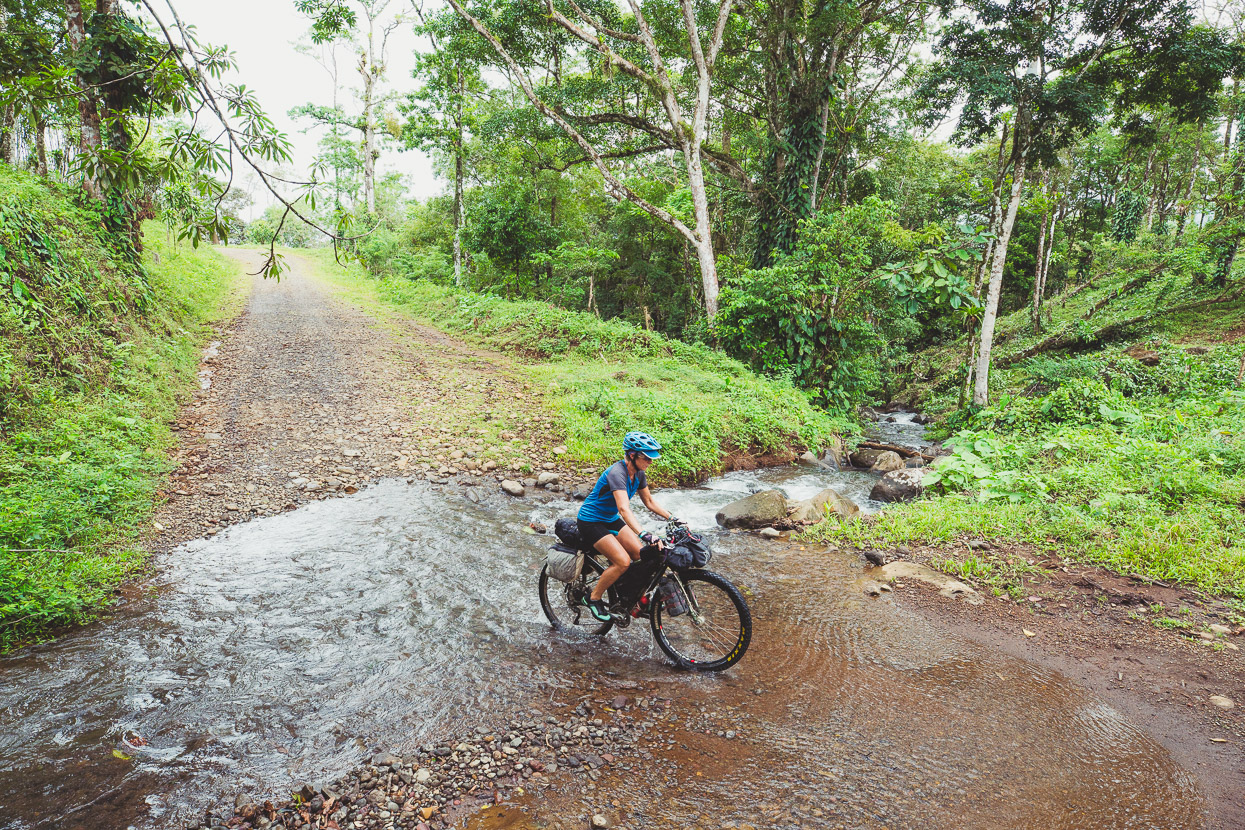 The road improved unexpectedly at the small settlement of Colonia La Libertad and we rode on past Colonia Blanca (some jungle cabin accommodation), after which the road shrinks back to a single lane again as it begins a long climb up and around the side of Rincon de la Vieja, heading back in the direction of the Pacific coast. As we climbed the forest changed again into cloudforest typical of higher elevations in Central America.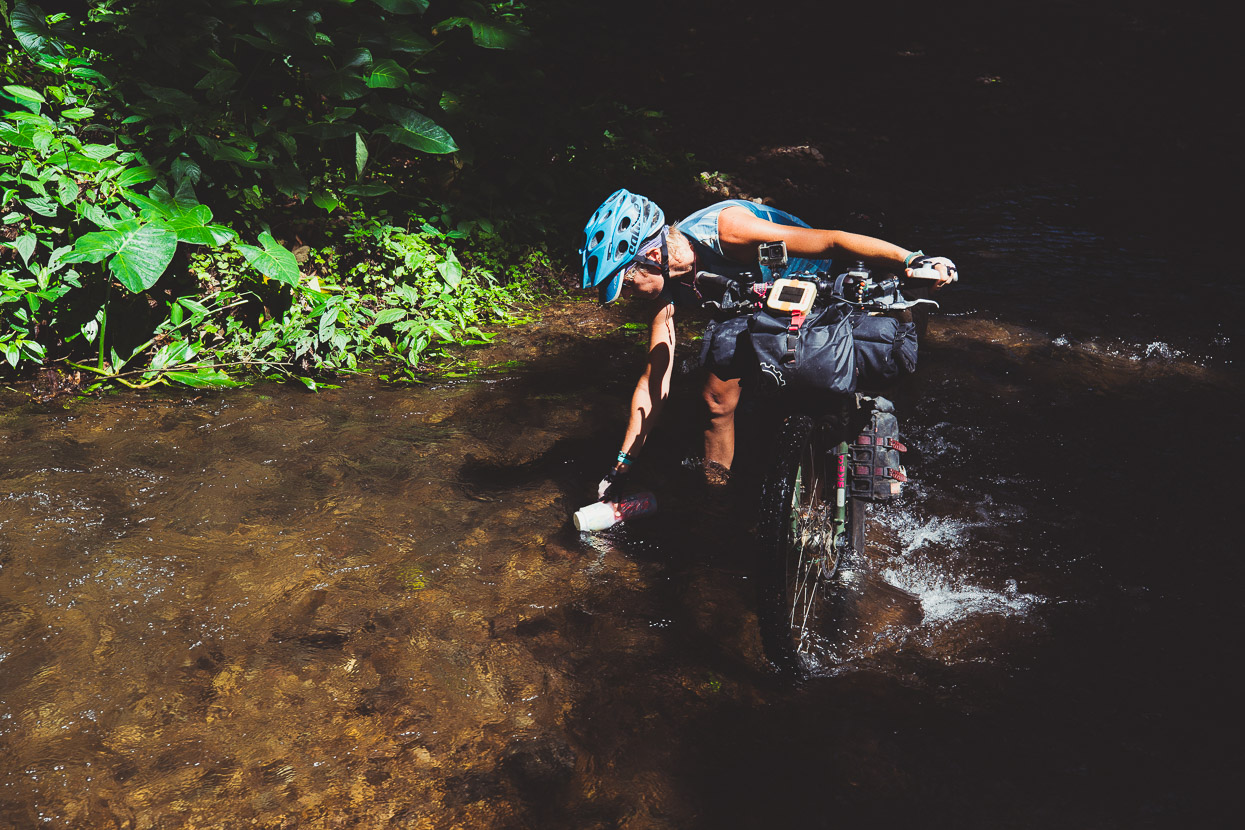 With no villages above us on the volcano's slopes and no grazing animals, we could drink the cool and clear water from the streams untreated – just like home.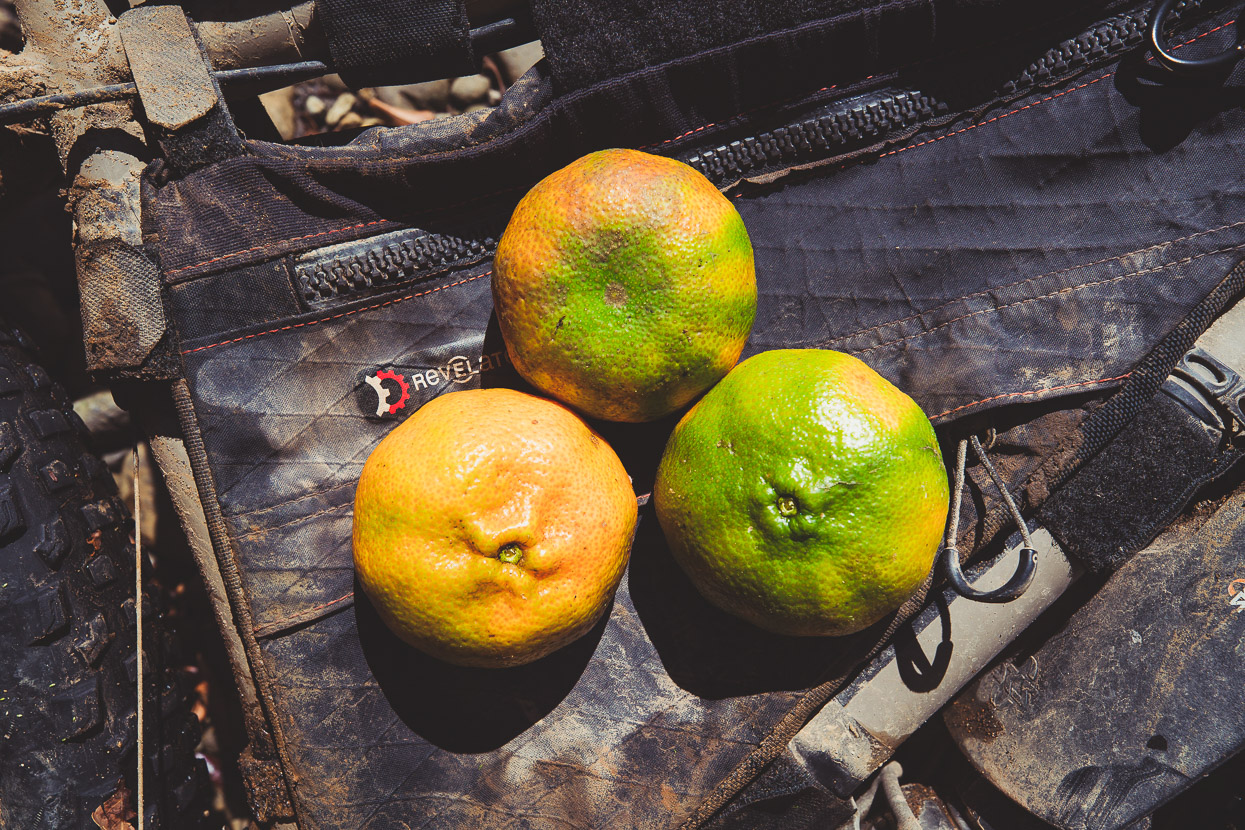 A gift from three men who passed us in a battered pickup, taking their load of mandarinas to the market in Liberia.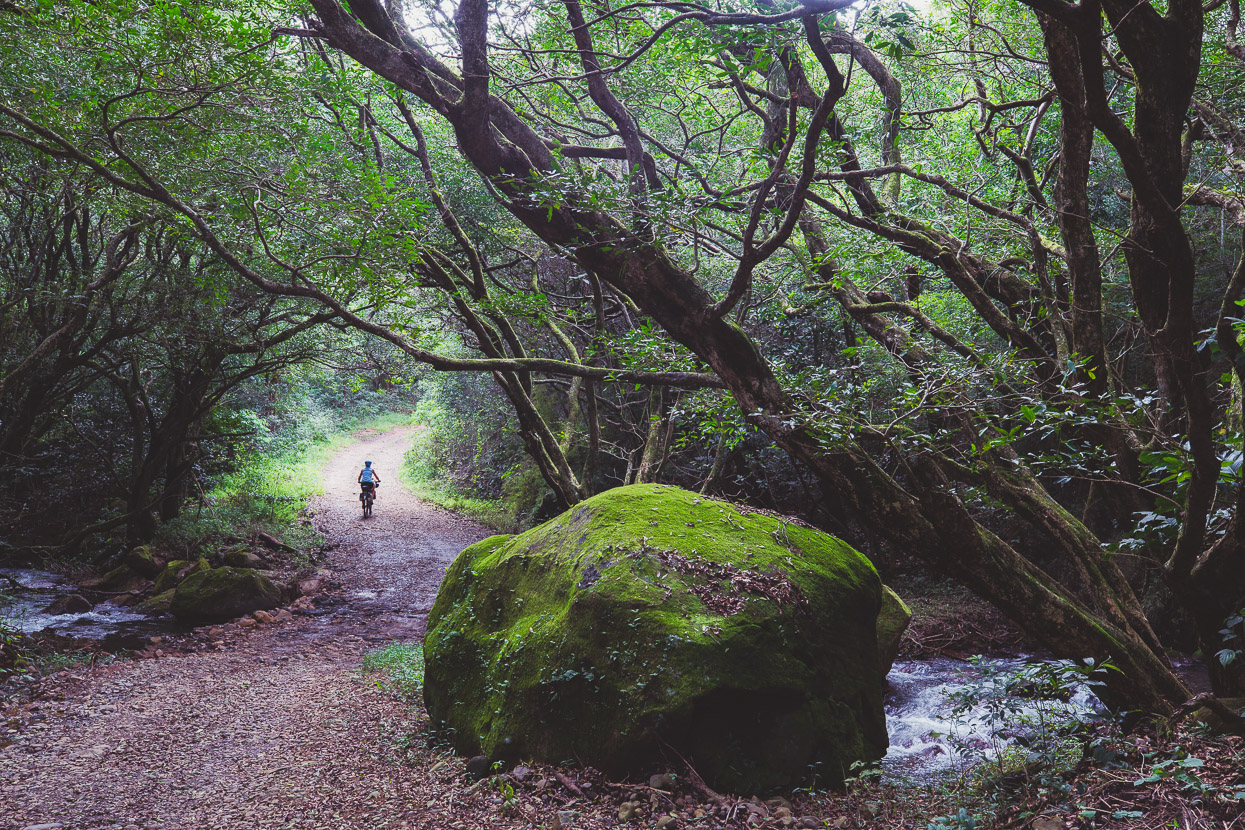 The changes in the forest continued to fascinate us we passed the highpoint of the day and neared the drier side of the continental divide, certainly an amazing introduction to the diversity of Costa Rica.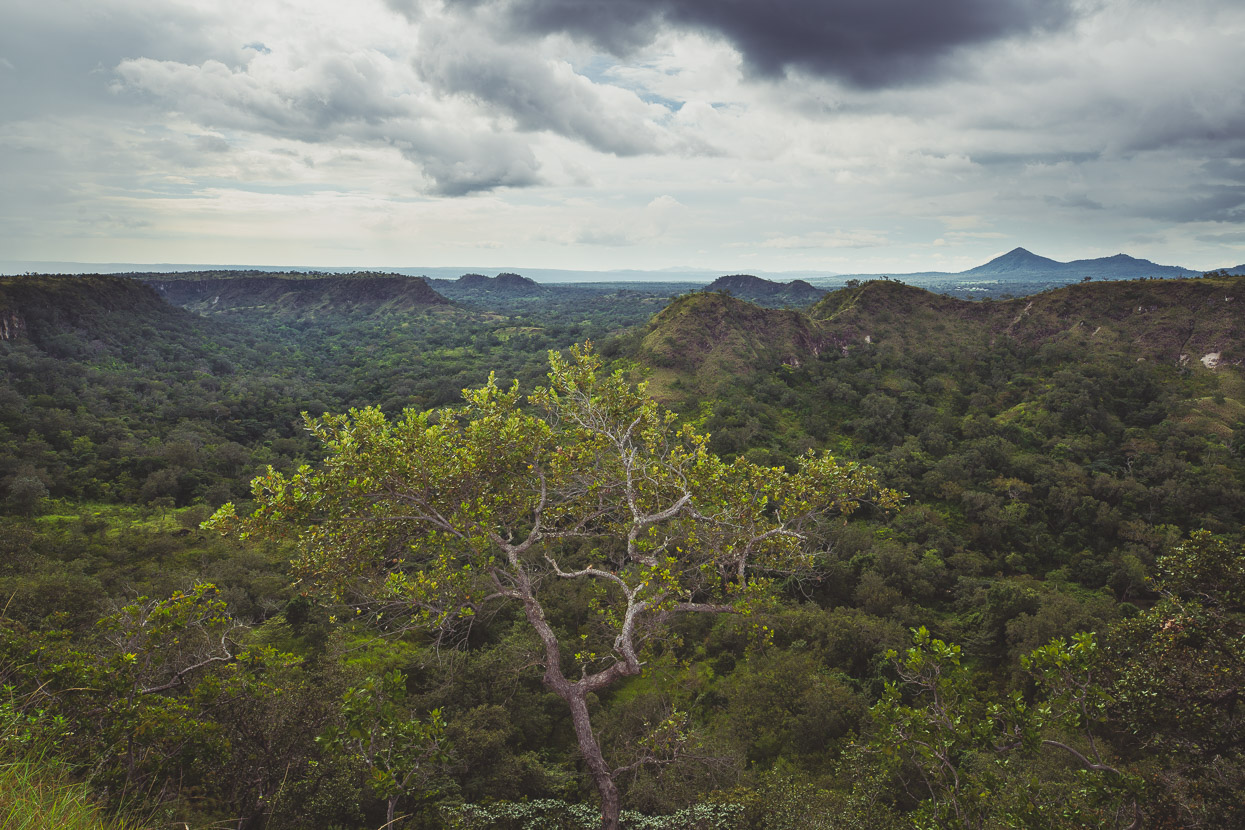 And then we coasted down, down, down following roads hewn through the tephra and winding along mesa-like ridges, where streams have cut canyons through the mountain's thick ash layers, the vegetation here growing short and scraggly in the hot, dry environment.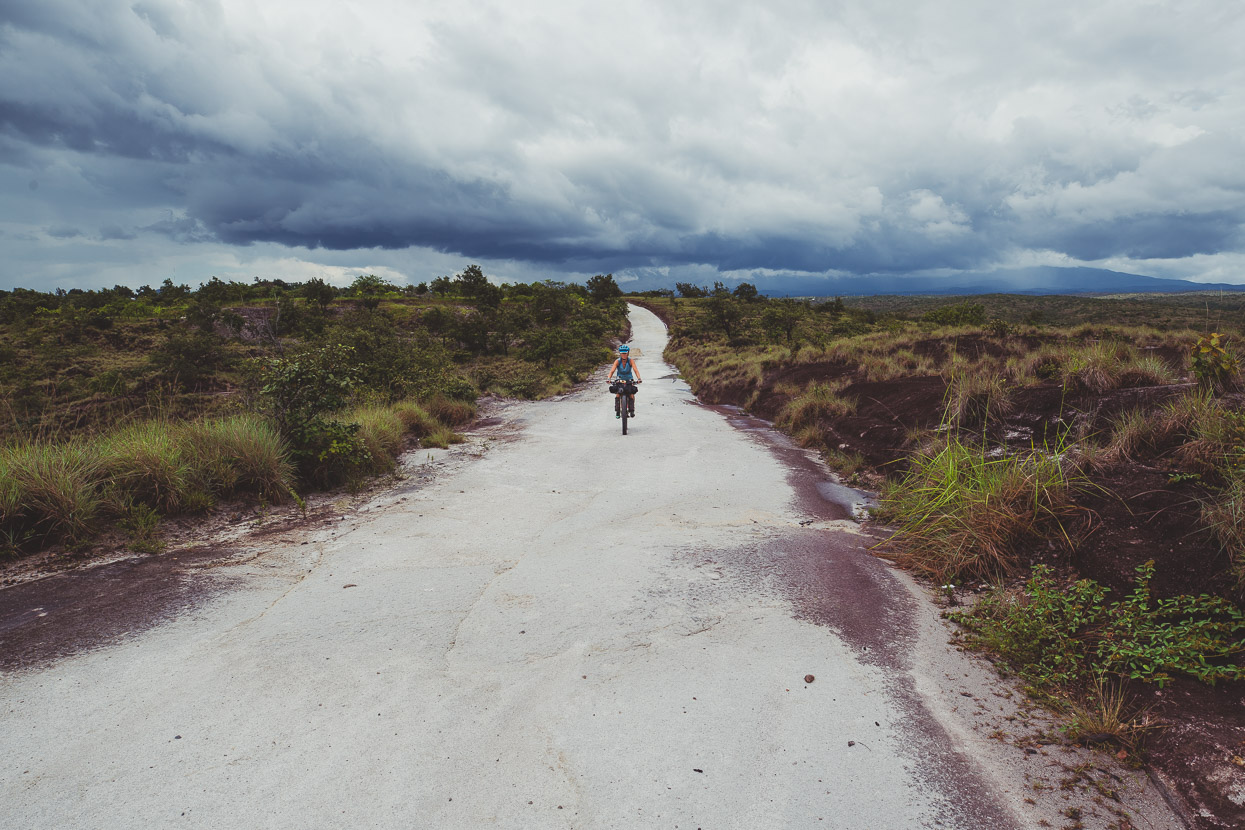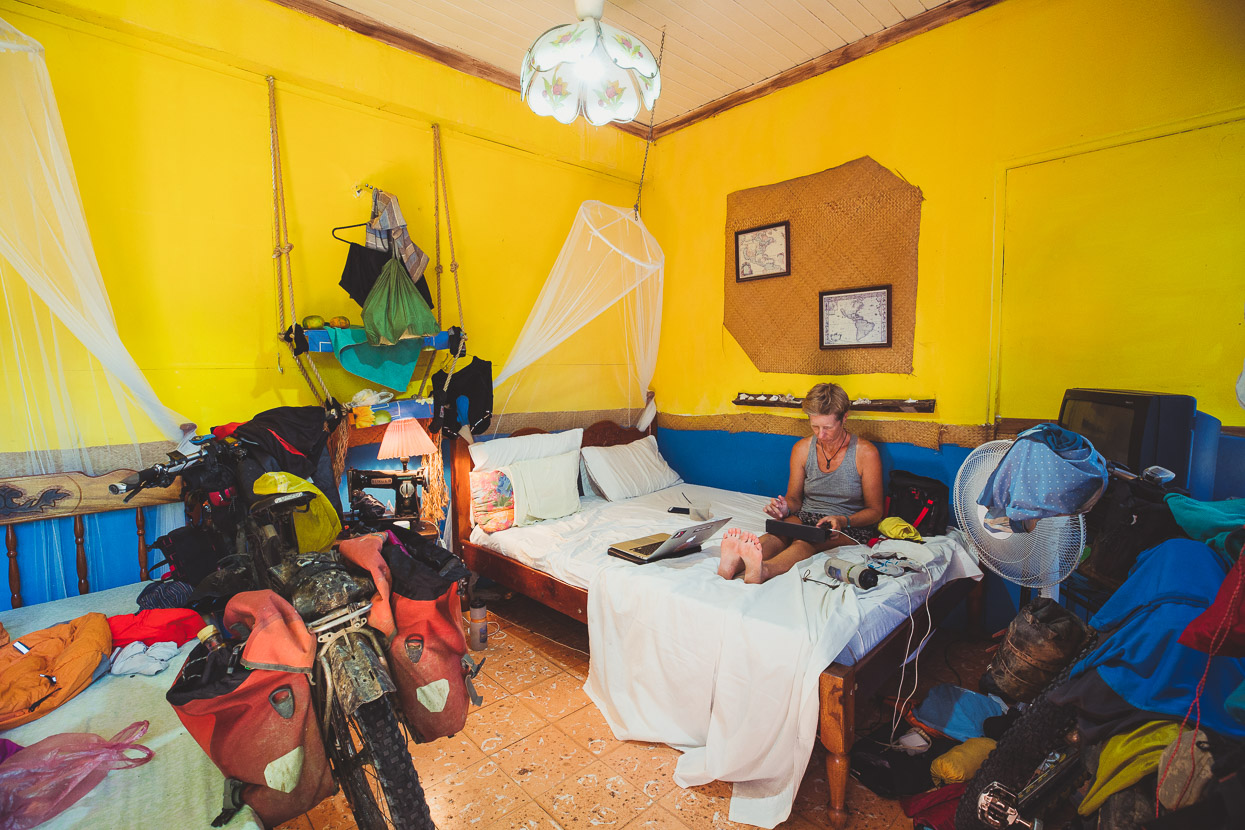 Liberia's Posada de Tope made home for the night (and a drying room!) and after a couple of dinners of cold beans and tortillas we were happy to indulge in the city food on offer, the next morning we'd be heading for hopefully more camping on the Nicoya Peninsula.
Before leaving that morning though we had some online shopping to do. With Hana's parents due to meet us in Cuba in late November (flying from Miami, USA) it was a perfect opportunity to receive bike parts and other items without the expense of shipping into Central/South America or the potential hassles of duty. So we had a shopping marathon in the early morning, ordering new chains, cassettes, gloves, bike shorts, a new Garmin GPS (the one kindly lent us by Cale Wenthur died) and various other accessories. Also coming would be a set of hubs and headsets each from Hope Technology who have generously agreed to come on board as a sponsor.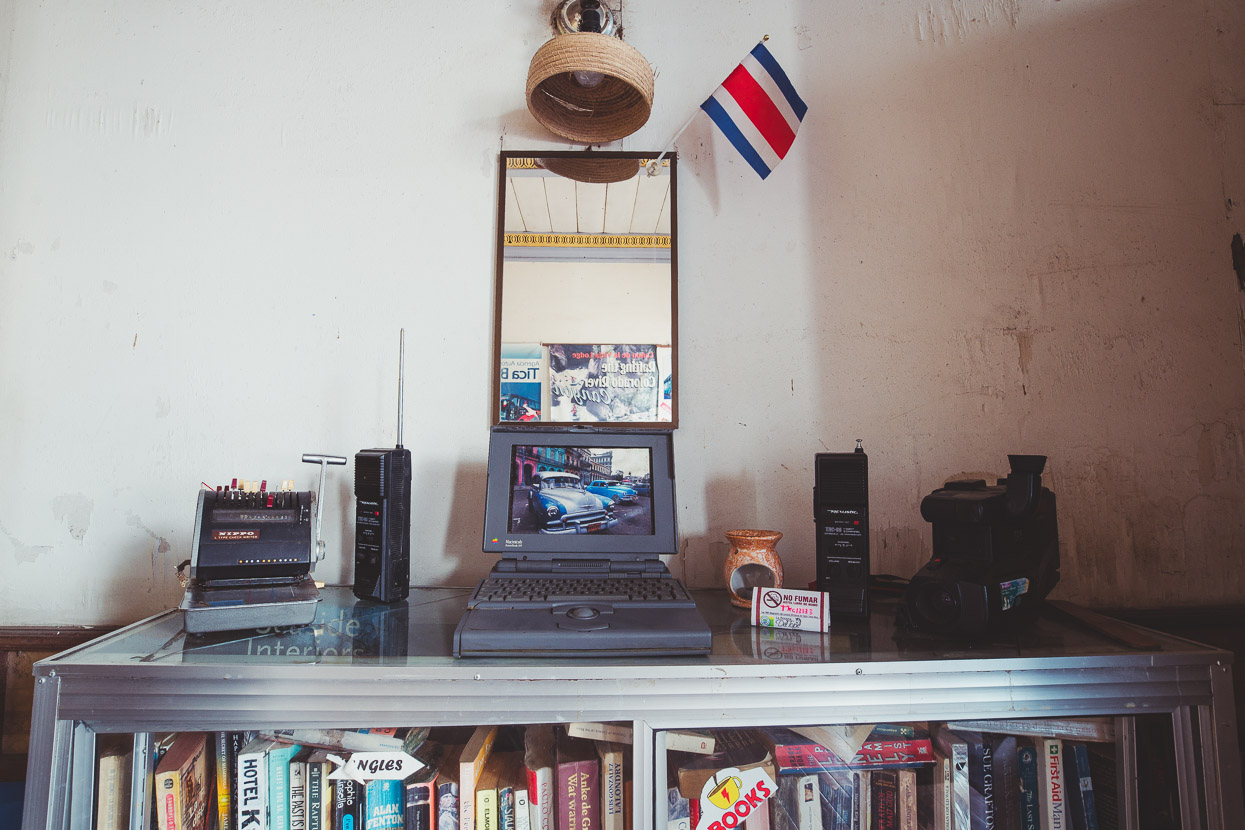 A quirky collection of items on display in the quirky Posada de Tope – including an old Macintosh Powerbook.
All in all, a classic ride and a great introduction to Costa Rica. Thanks to Cass for the original write up.
Do you enjoy our blog content? Find it useful? We love it when people shout us a beer or contribute to our ongoing expenses!
Creating content for this site – as much as we love it – is time consuming and adds to travel costs. Every little bit helps, and your contributions motivate us to work on more bicycle travel-related content. Up coming: camera kit and photography work flow.