The end of Guatemala and into Honduras.
We hadn't really planned to use up the bulk of our Central America time in Guatemala – it just happened somehow and without much thought or planning (for a change) – such is the wide appeal this country has for cycling and travel in general; it just keeps on delivering surprises and kept us wanting more. But eventually we had to start making tracks for Panama.
We'd had intentions to leave Antigua via the village of Santa Maria de Jesus (on a saddle below Volcan de Agua), drop to the south and then climb back up to Laguna de Calderas, a tiny volcanic lake on the side of Volcan Pacaya. We'd been warned by two or three locals about robberies in the Santa Maria/Agua area, but there were no recent reports so we thought we might ride to Santa Maria and check in with the police there for advice on the rest of the route (the sketchy bit). We were only about two kilometres out of Antigua when a man in a 4WD pulled over, hopped out and waved us to stop – he made short work of the formalities before telling us that we were risking robbery/assault riding into the area – and then left with a quick glance to the sky and a 'May God be with you' comment.
It's hard to filter warnings sometimes, and perhaps easy to be lulled into a false sense of security when everyone you meet seems so nice. As we've mentioned on this blog before, in Mexico we were warned almost daily about the 'next village', only to ride there and find the people welcoming and curious. But talk to locals in Guatemala about how people generally seem good, and they'll always give you a knowing look and say something along the lines of 'Yes, but not everybody – be careful'. And careful we are, so following our 'three strikes and you're out' decision framework, we heeded the thoughtful gentleman's advice and turned back to the city.
Instead, we took a more direct route in a south easterly direction – bypassing Guatemala City – on pavement before turning north east towards the Honduras border on a mixture of pavement and dirt. Finally we were leaving behind the string of volcanoes that shape the American Cordillera through Guatemala and the rest of Central America and heading into a landscape that was still volcanic, but less mountainous.
Unfortunately our departure from Antigua coincided with a tropical cyclone parking itself off the Pacific Coast and with that came three days of nearly continuous rain. Despite the drenching and the mud, our route, roughly: Santa Lucia Milpa Atlas – Villa Nueva – Laguna El Pino – Amberes – Nueva Santa Rosa – Laguna de Ayarza – Jutiapa – Agua Blanca – Ipala – Jocotan – Border (see map at end of post) worked out pretty well, with the exception of a dead end at an uncrossable river (requiring a backtrack and some creative navigation), but sadly the volcanoes we'd hoped to see remained hidden in the clouds.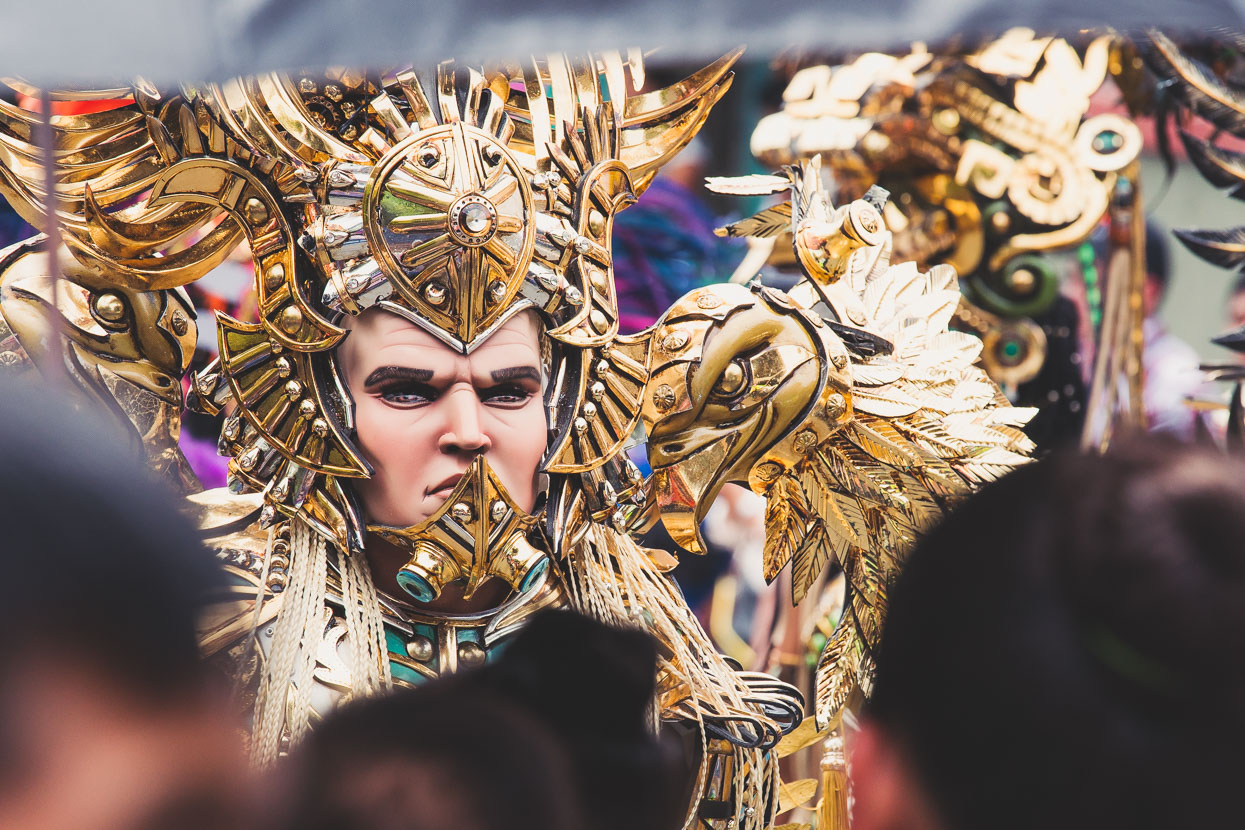 I mentioned surprises in the introduction. Guatemala's good for those. We rounded a corner in Villa Nueva to deafening music, the street closed by a crowd and a troupe of people dressed in exotic costumes dancing in the middle of the road. I understand it's a modern take on an old dance representing the attempted domination of the indigenous people by the Spanish Conquistadors.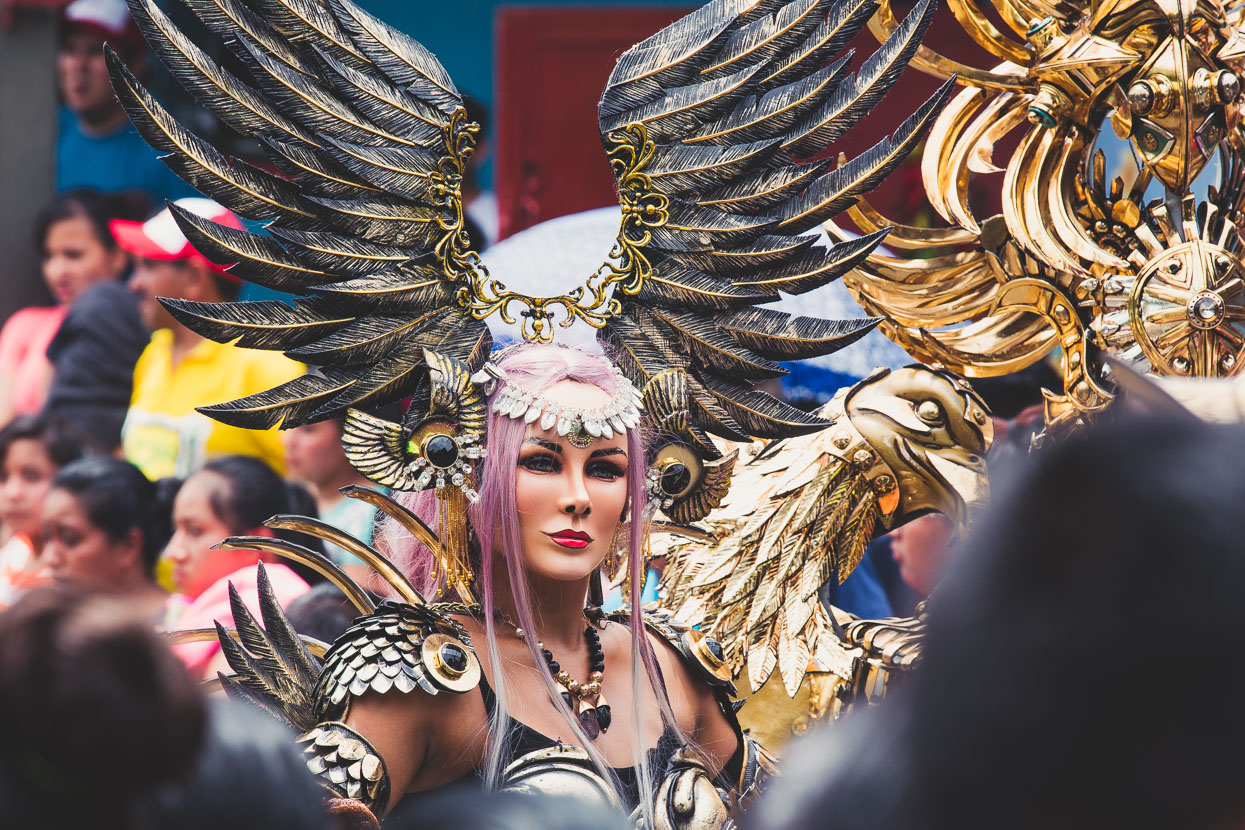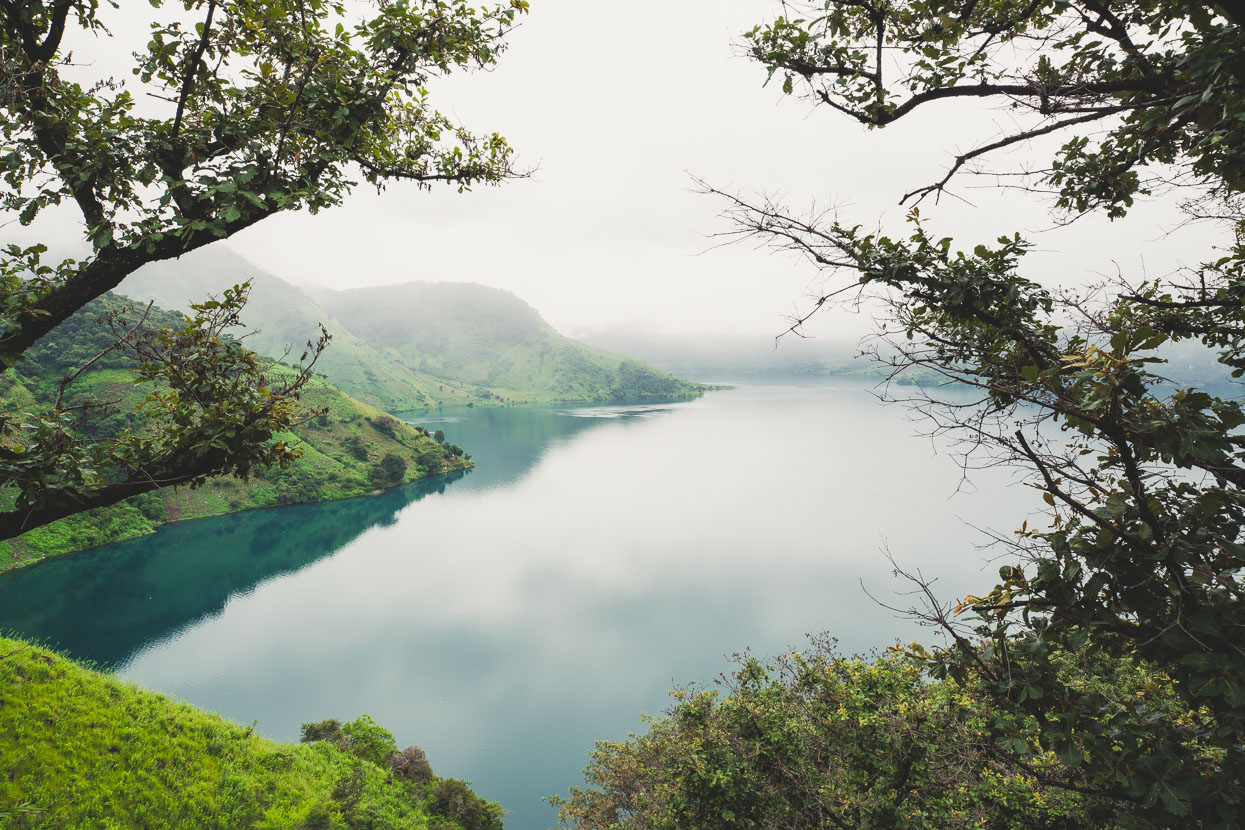 On morning three out of Antigua it stopped raining long enough for me to get this shot of Laguna de Ayarza as we biked past, climbing steadily 1000 metres up around the edge of the lake to the top of the range. It's a beautiful spot.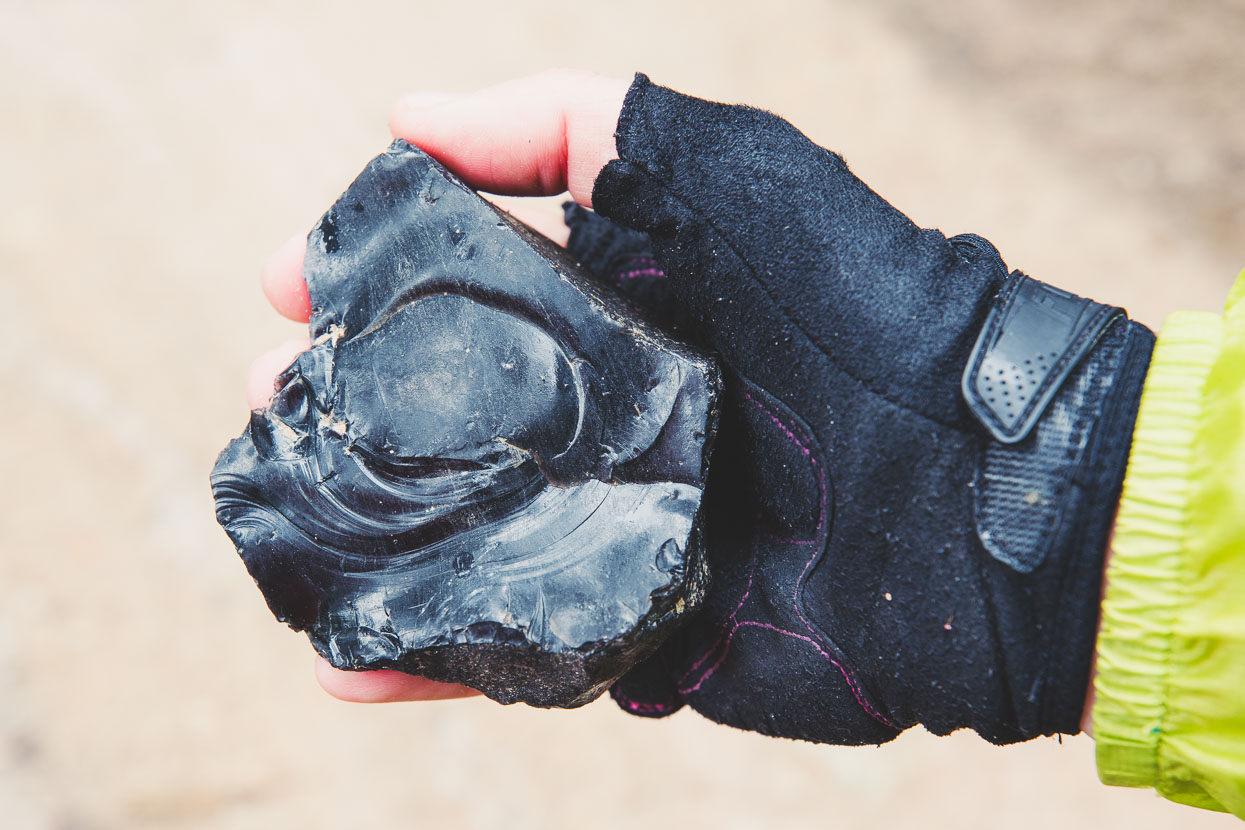 The lake's a volcanic crater and we climbed on a road of tephra, dotted with lumps of glistening black obsidian. Razor sharp when worked into a blade, the stone-age Maya sought this hard rock as a tool for cutting, tattooing and weaponry and it was traded widely.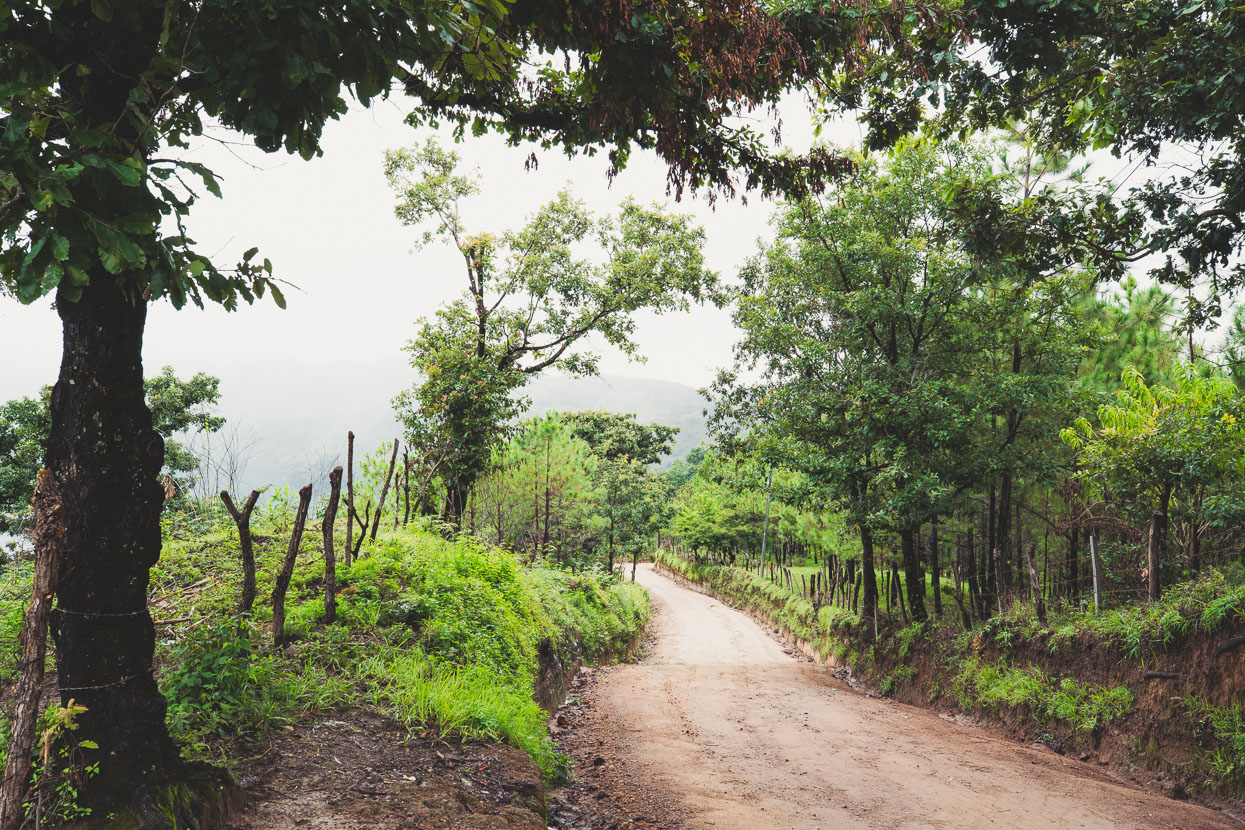 Quiet roads climbing up and around the lake.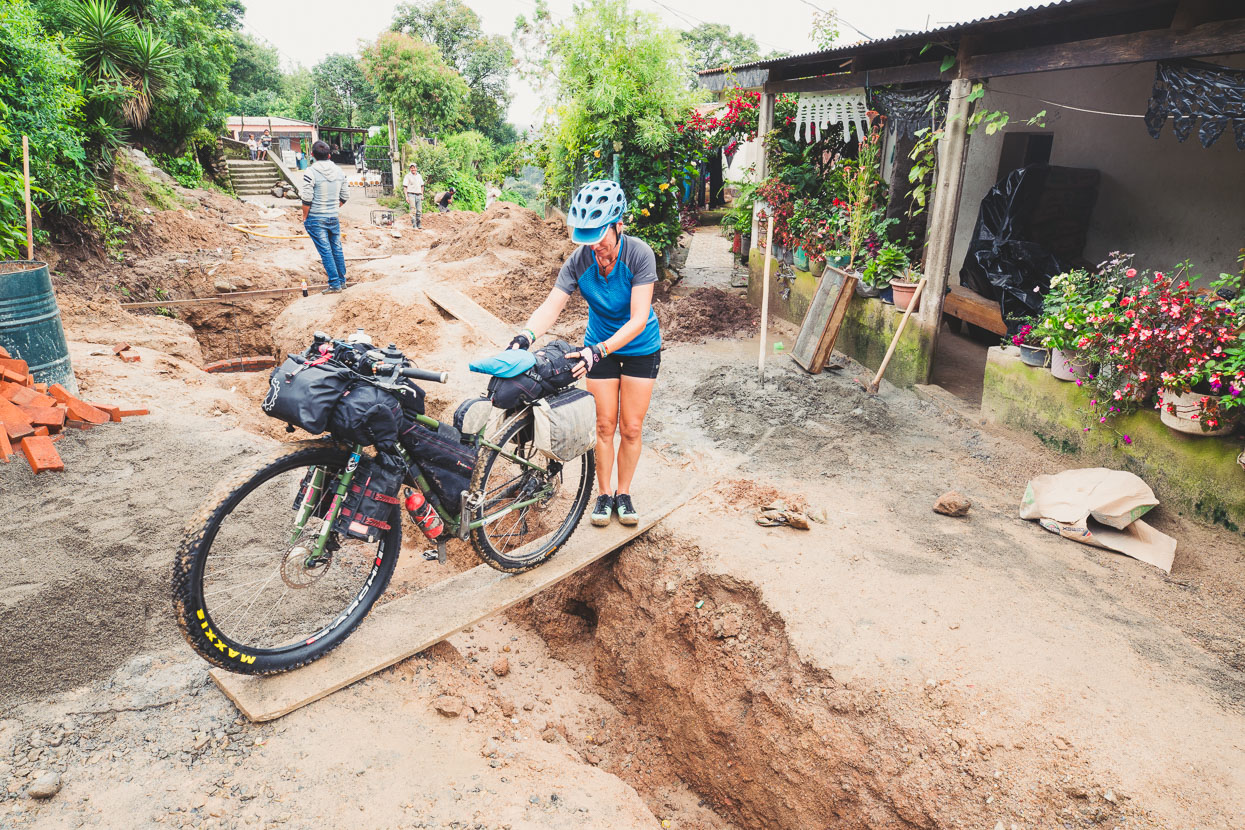 Some tricky moves negotiating road/sewer works in a village.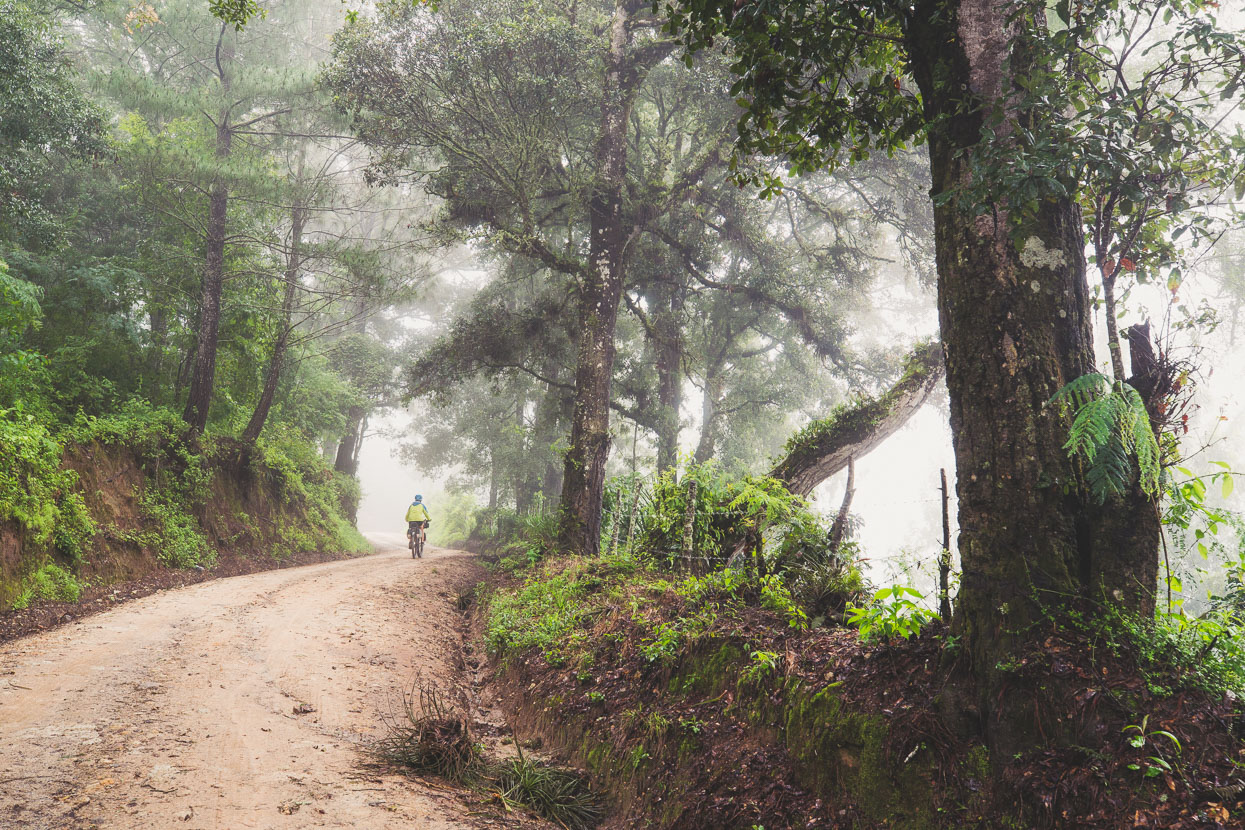 Who minds riding in the rain when it's in a place like this? The hills were covered in a mixture of 'cloud forest' and pine.
We hoped we were climbing the 'wet' side of the mountain and that the other side might be drier, but unfortunately it was the opposite as we descended and followed a bumpy and muddy road through steady rain for a couple of hours before a long descent to the plains on a paved road that had been badly damaged by floods. My new shoes aren't looking so new anymore.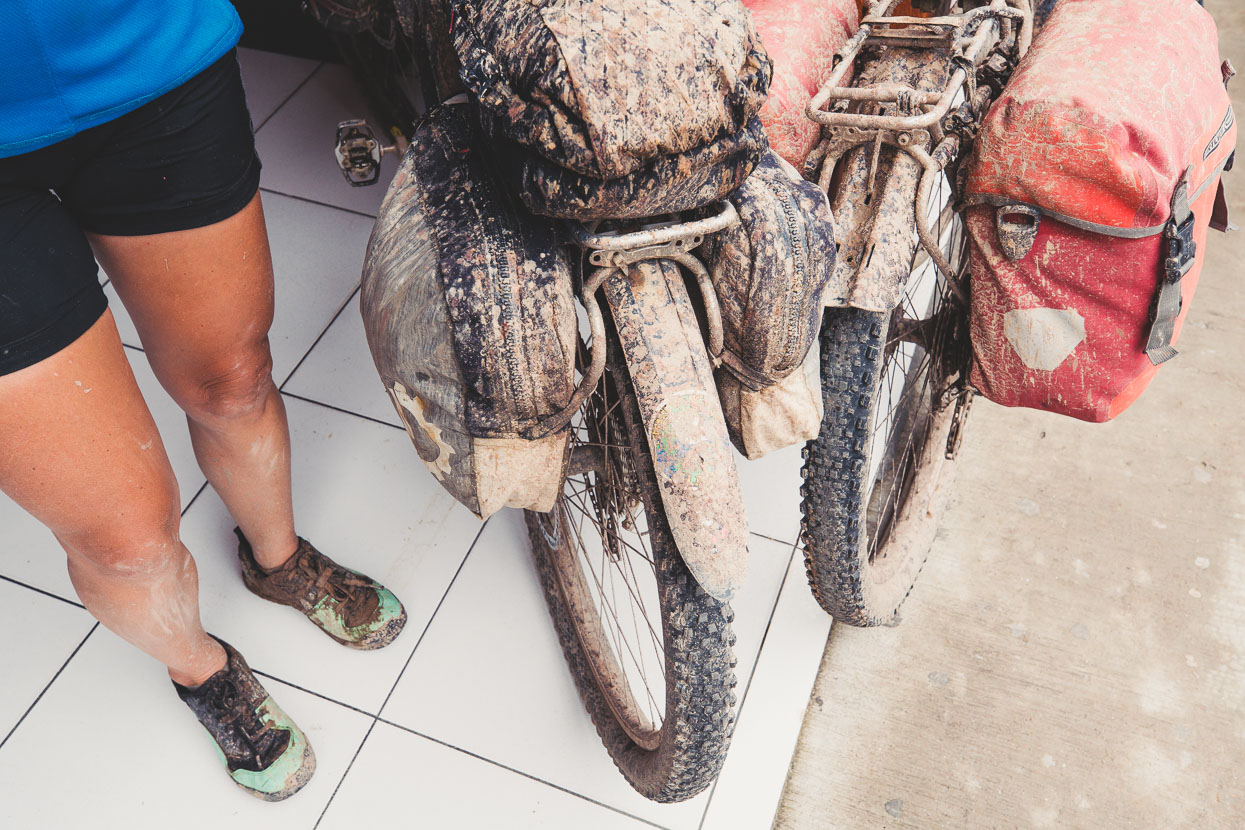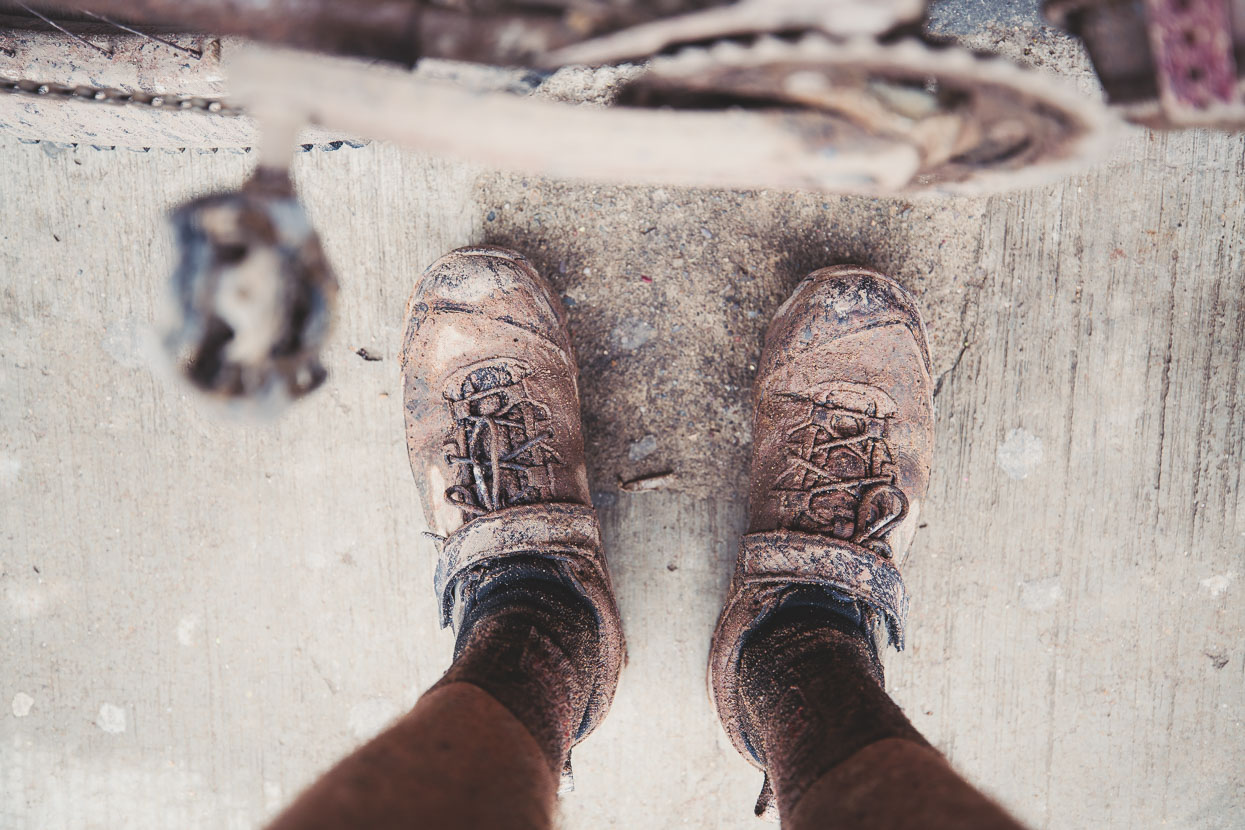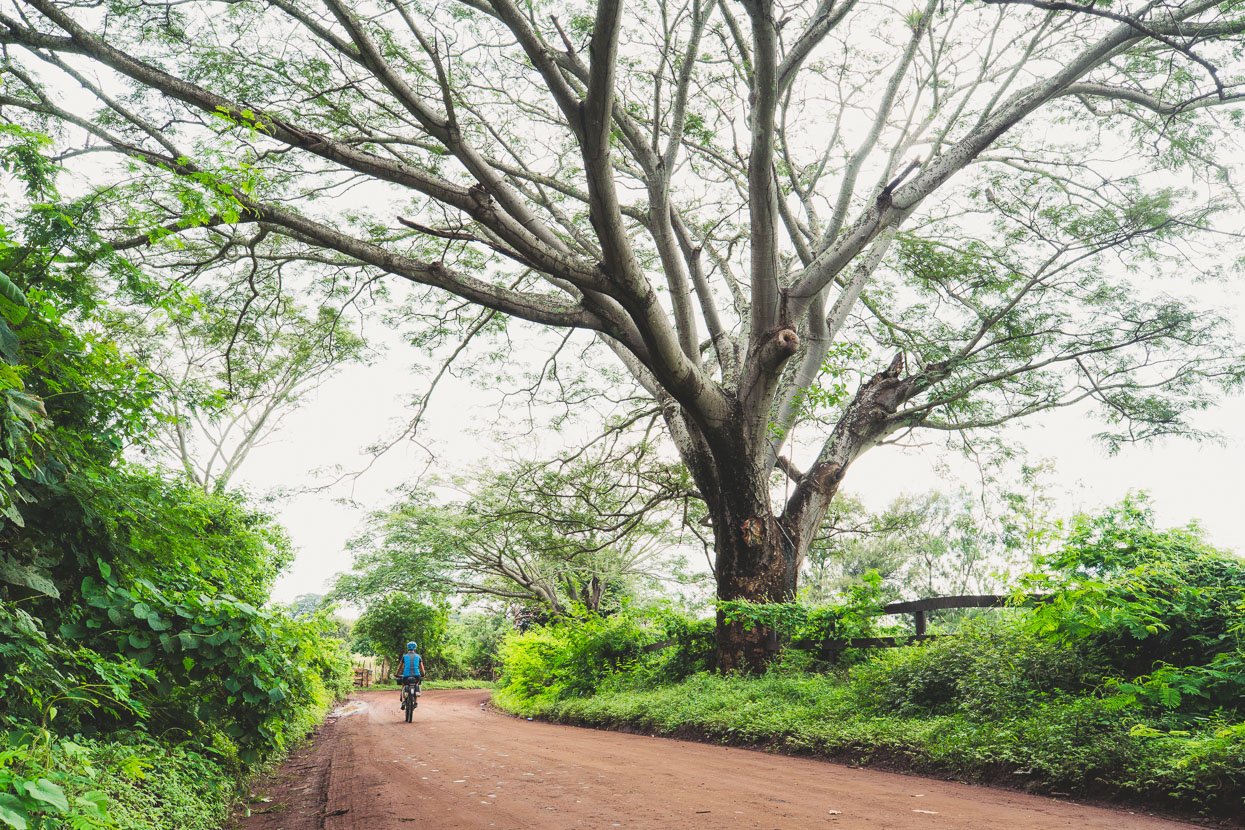 We'd had plans to cycle to the summit of the isolated cone of Volcan Ipala, but with the summit deep in the clouds we lost motivation, spending the night in Agua Blanca at its base, before pushing on along this beautiful, quiet road parallel to the main highway.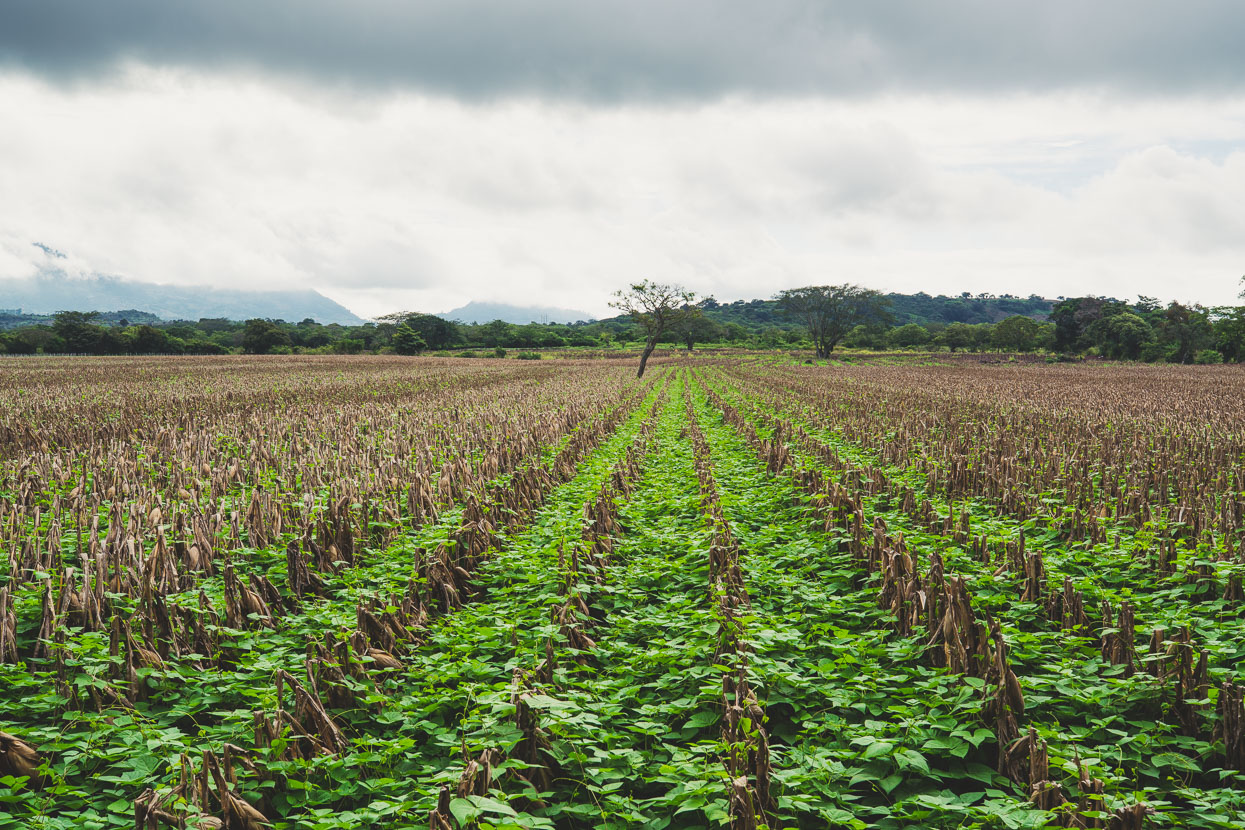 Fields of snapped stalks mark the end of the maize season, while young bean plants bring fresh life to the fields. We've seen every phase of the maize growing cycle now.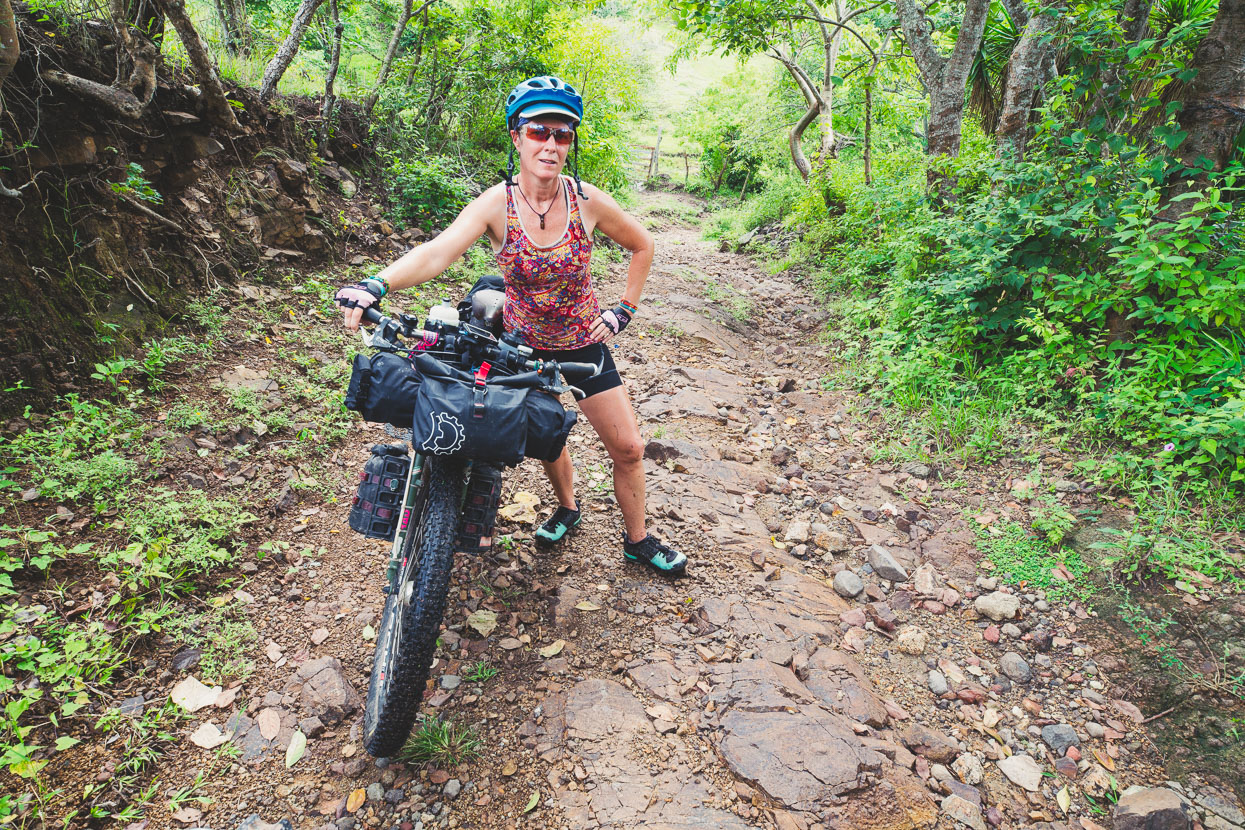 After Ipala we followed a nice back road through small villages for a while but eventually it dwindled away to a rocky track that climbed steeply. It was a quick way to our destination on the top of the ridge, but we noted that the next road north could also be taken, likely with a bit less brute force.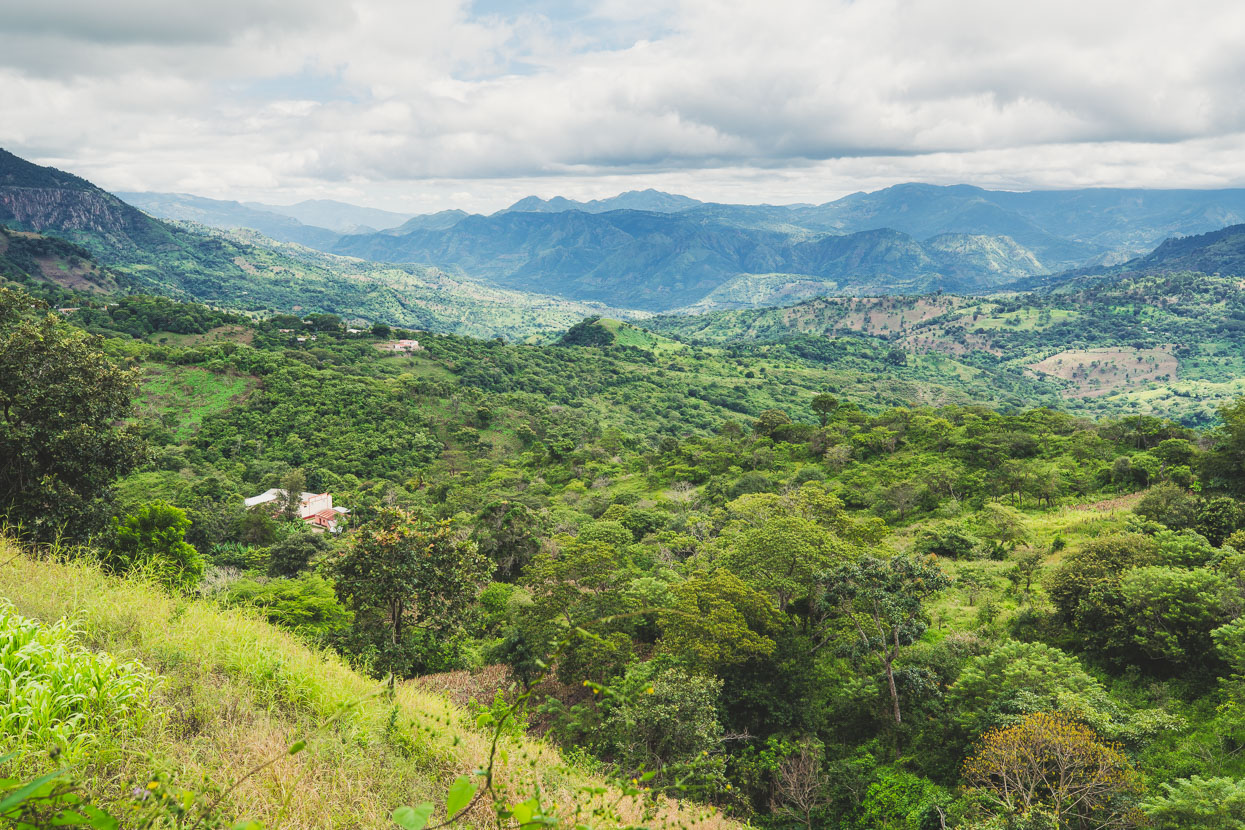 The steep finish was worth it though, bringing us to the edge of a valley system that we dropped into and followed on dirt and cobbled roads towards highway CA10.
Through nice sections of forest and over wonky bridges.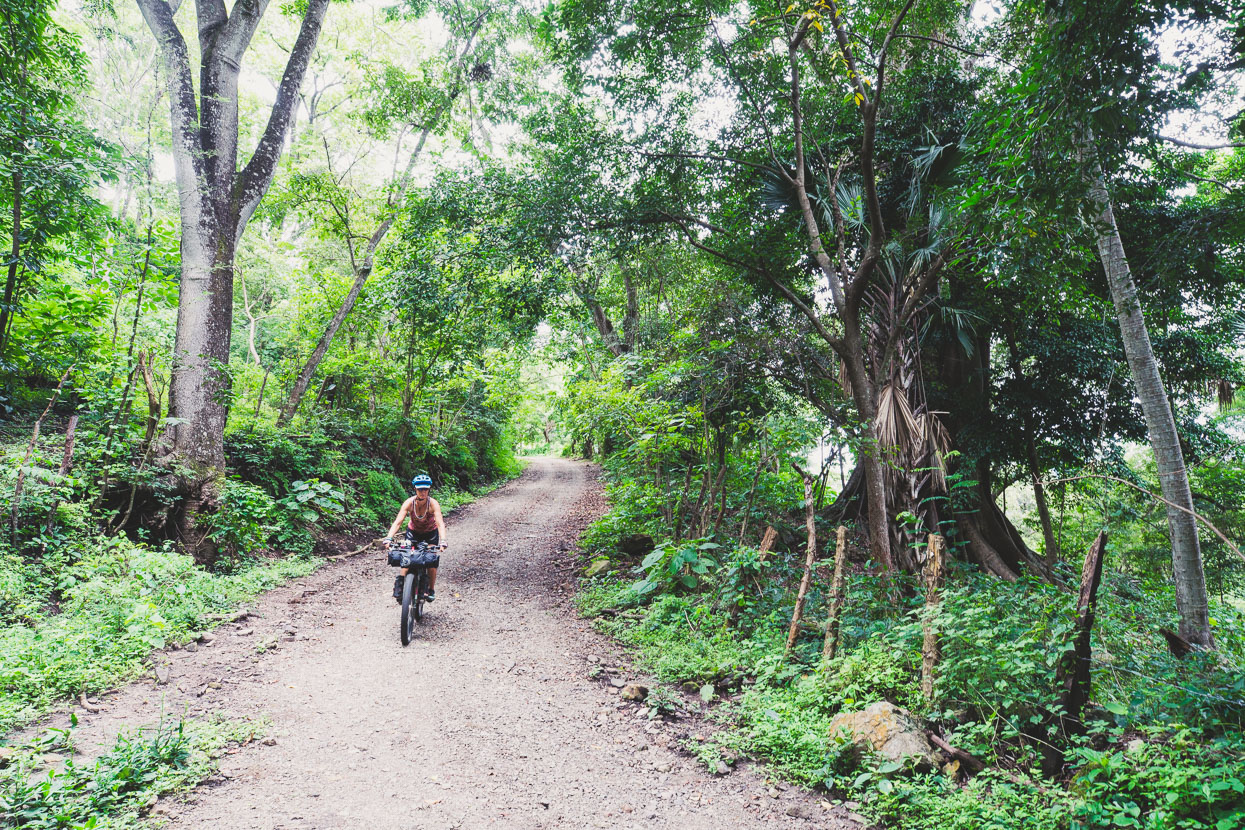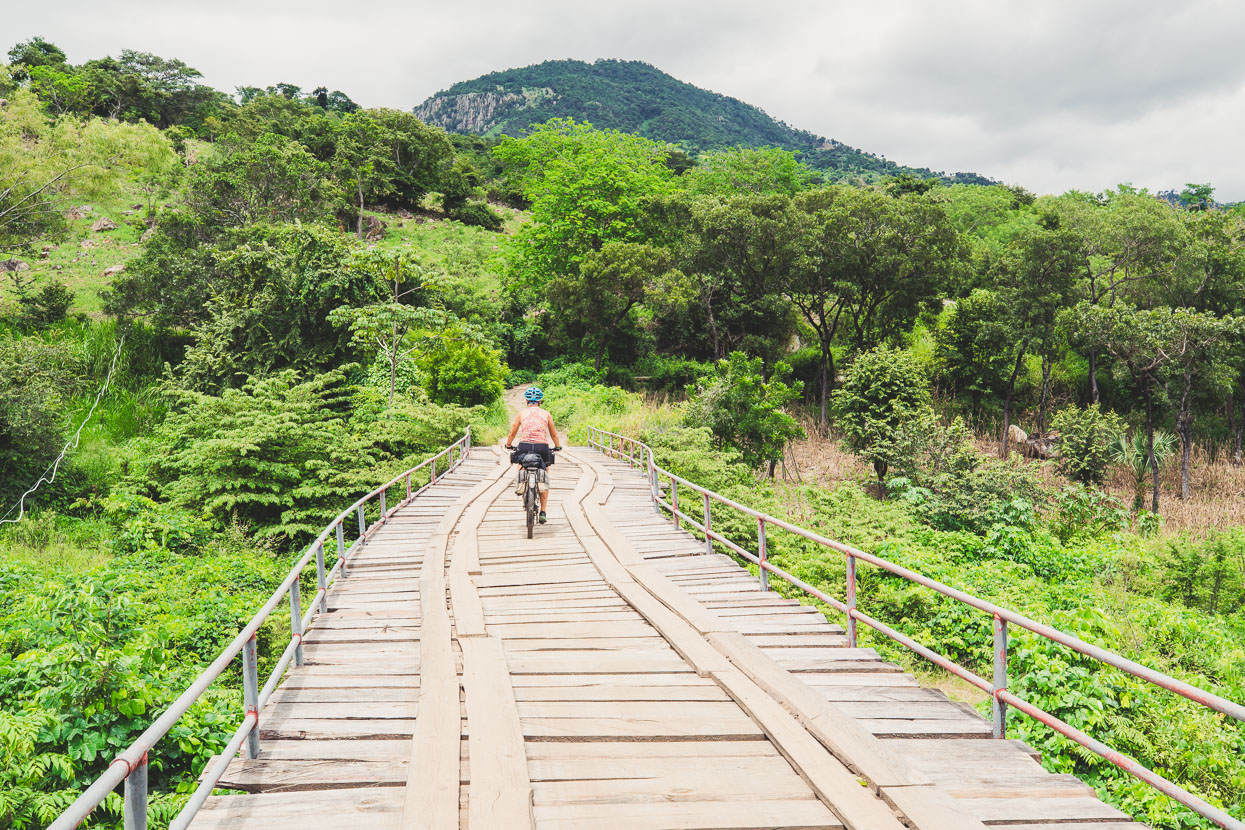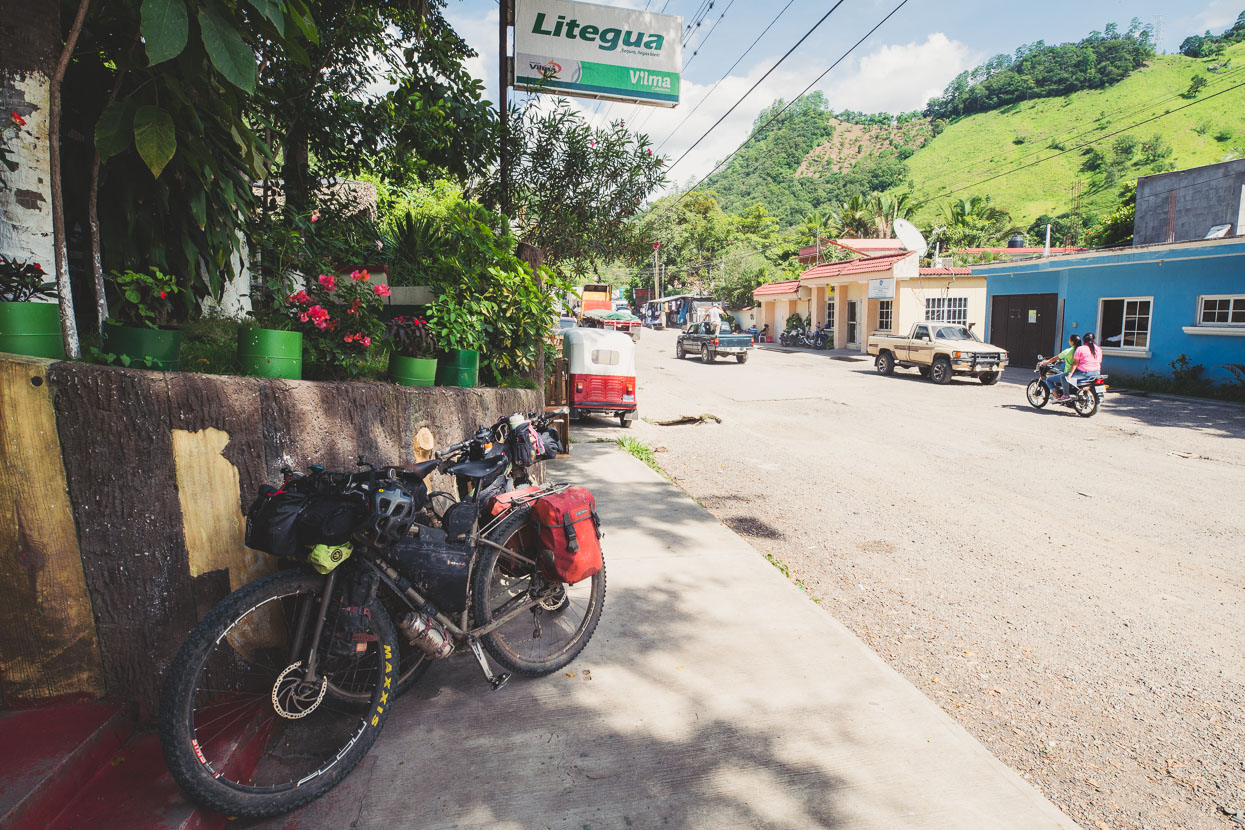 We stopped in Jocotan for the night, but in the early evening I came down with a vigorous stomach bug that had me purging both ends at once. Quite nasty and the first in while, after a run of digestive-related illness in Chiapas and northern Guatemala. I was good enough by morning to climb onto my bike though and we headed for the border on a paved highway and crossed with no problems. We passed a long line of trucks as we climbed into the hills away from the frontera, beneath many of the trailers the drivers ate or relaxed in the shade in hammocks slung from the trailer's bellies.
Copan Ruinas – our first town in Honduras – is a pleasant spot nestled among jungle covered hills and the Maya ruins we'd come to see are just a short walk from town. In the five days it had taken to ride from Antigua to here we hadn't seen another tourist; instead a string of fairly non-descript townships that were much more Ladino than Maya – we were already missing the Maya charm of the Guatemala highlands and it made us realise just how special that area is.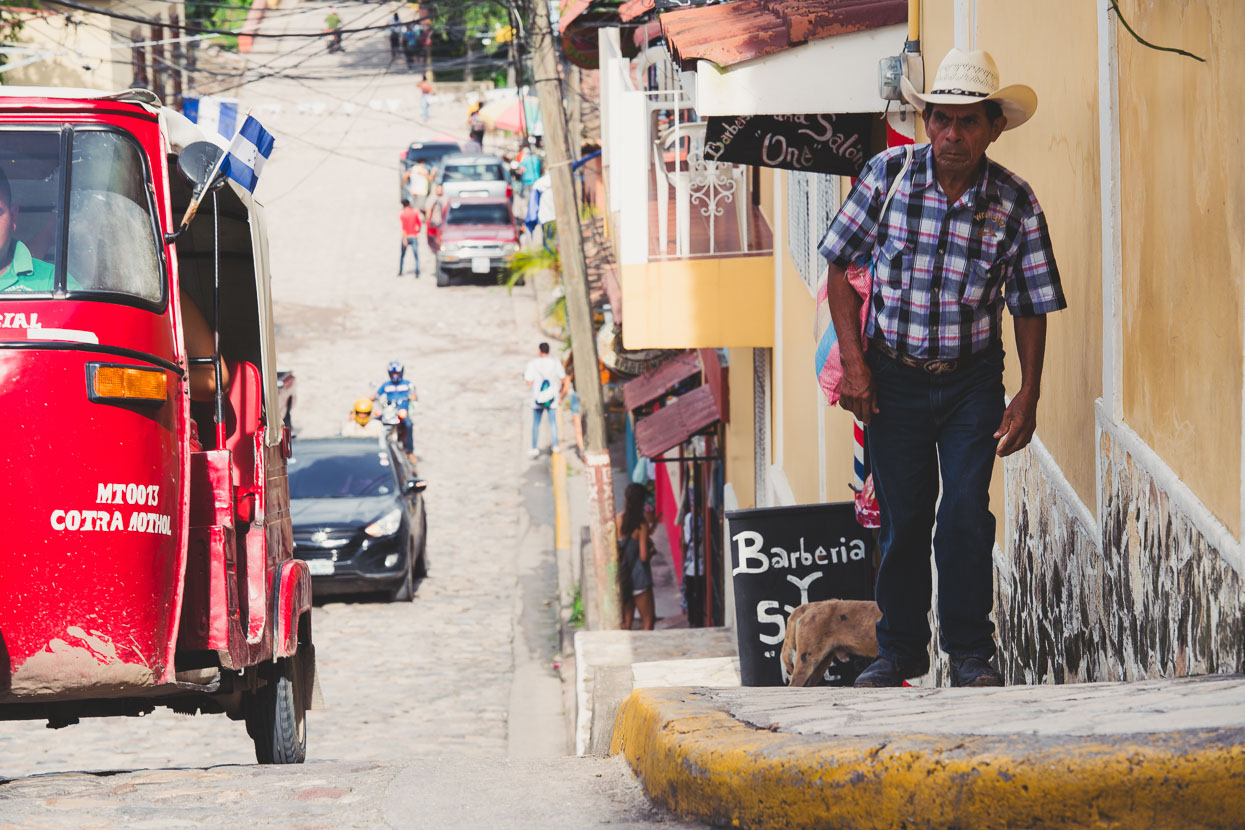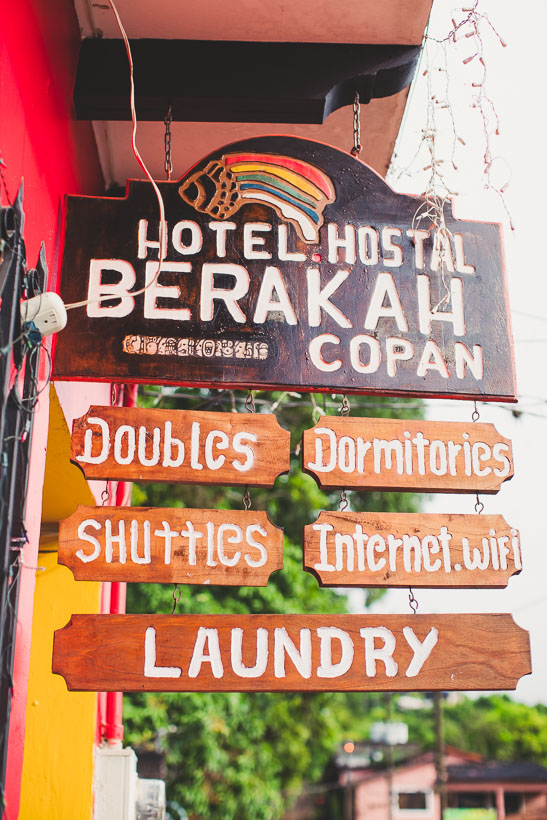 But after a sequence of grotty hotels and decidedly average meals it was nice to be back in a more backpacker-oriented town for a couple of nights.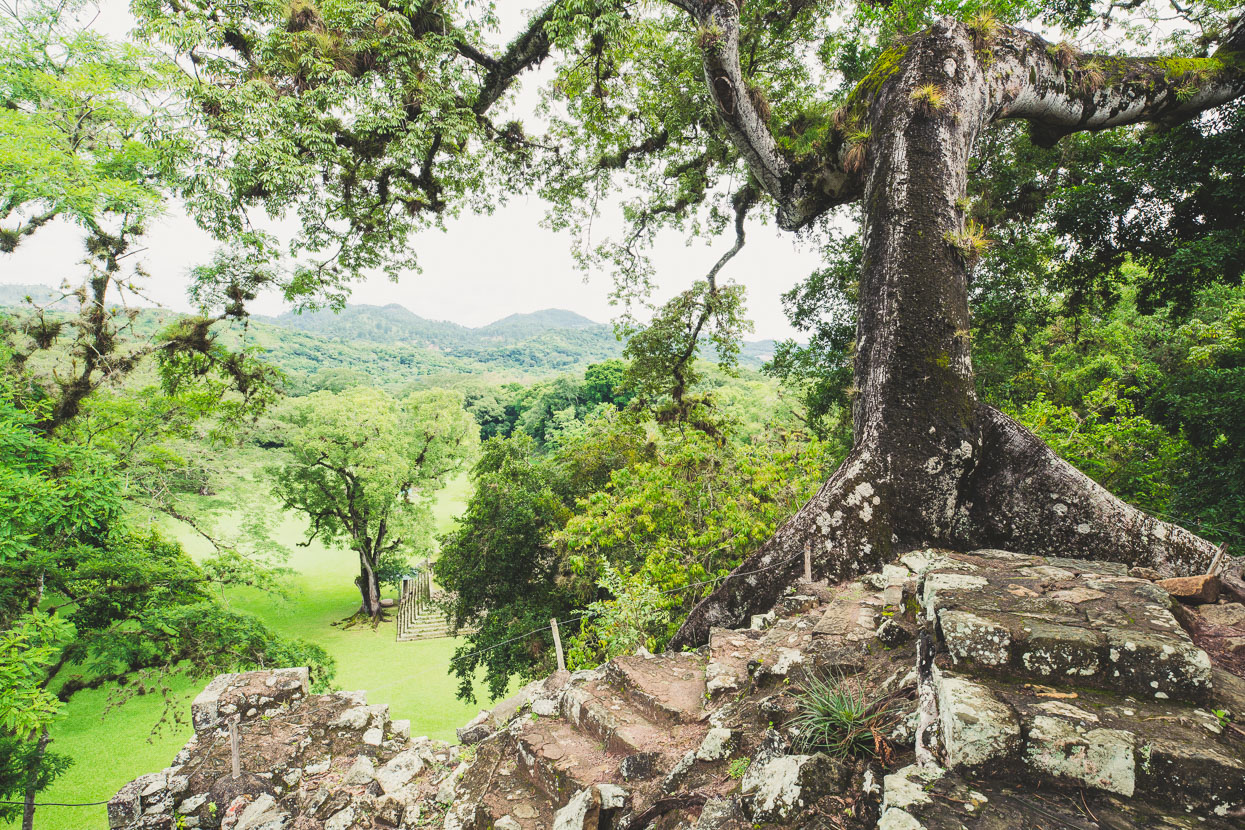 The ancient Maya chose the site of the Copan Valley for its fertile surroundings and abundant water, and indeed it's those very surroundings that are part of the draw to come here – thickly jungle covered hills and chirping insects abound.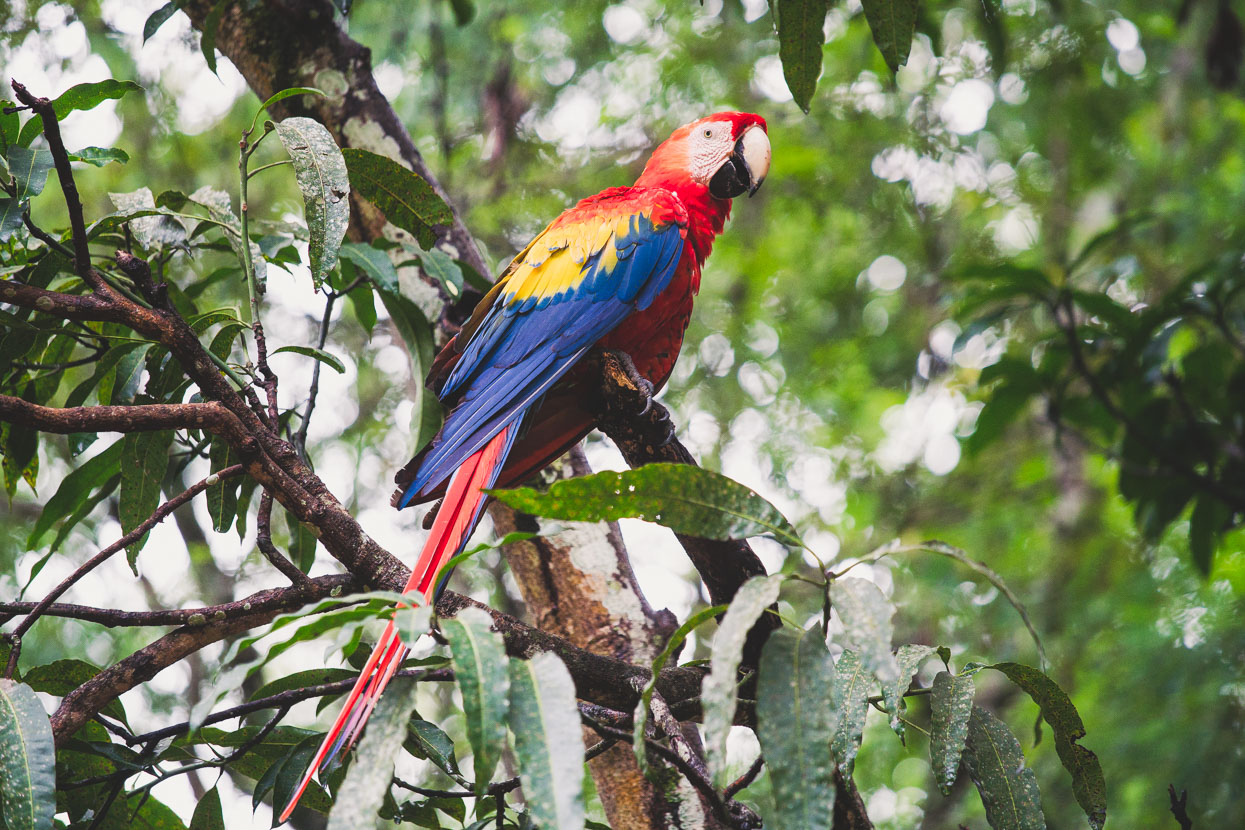 We were welcomed by a large flock of scarlet macaws, fed each morning near the site entrance by the park guards.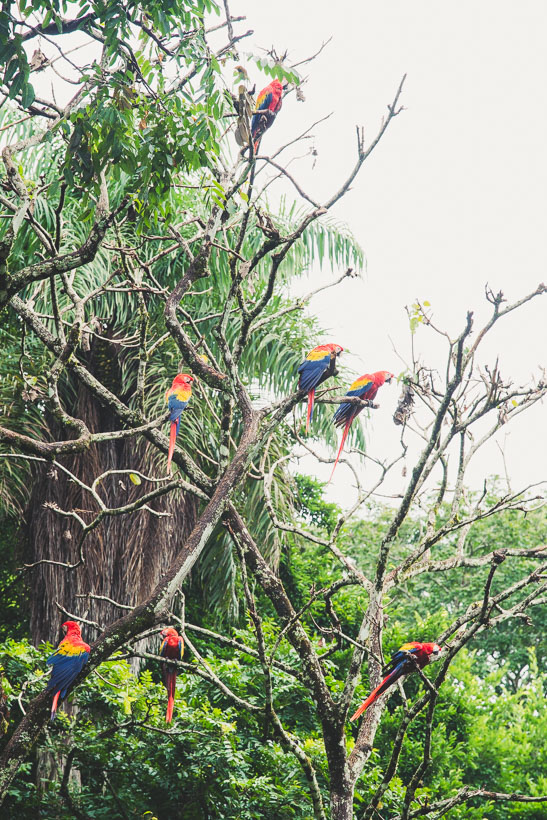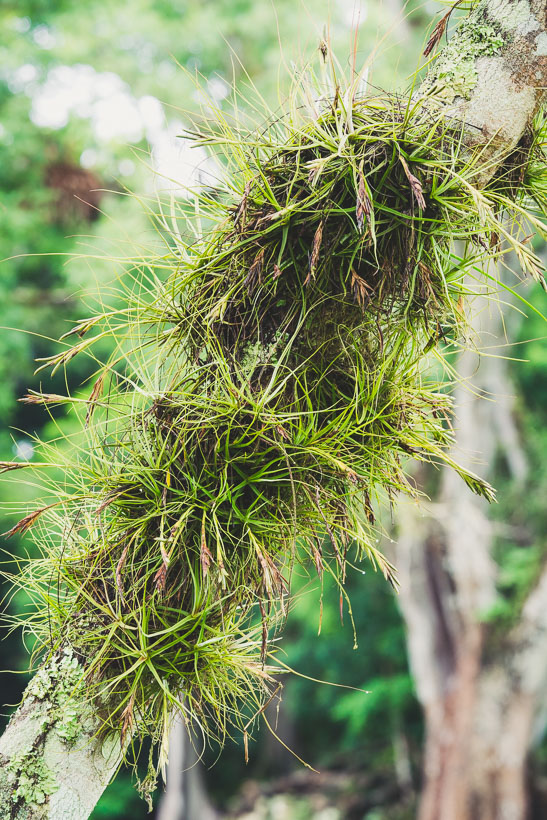 Copan was occupied for around two thousand years and was the capital of a Maya kingdom that was on the southern margin of Mesoamerica – the Pre-Columbian cultural region that included roughly from Central Mexico south through Guatemala, Belize, Honduras and Nicaragua. While Copan's ruins themselves aren't particularly spectacular in the way that Mexico's Palenque or Guatemala's Tikal are, they're famous for the quality of the carvings featured on stelae and temples. These richly detailed carvings tell some of the history of Copan and represent kings, Maya legends and various animal gods.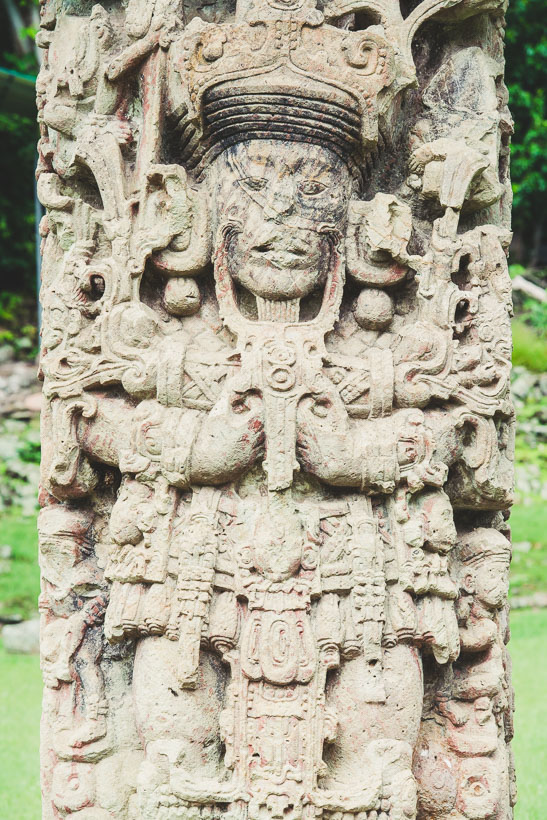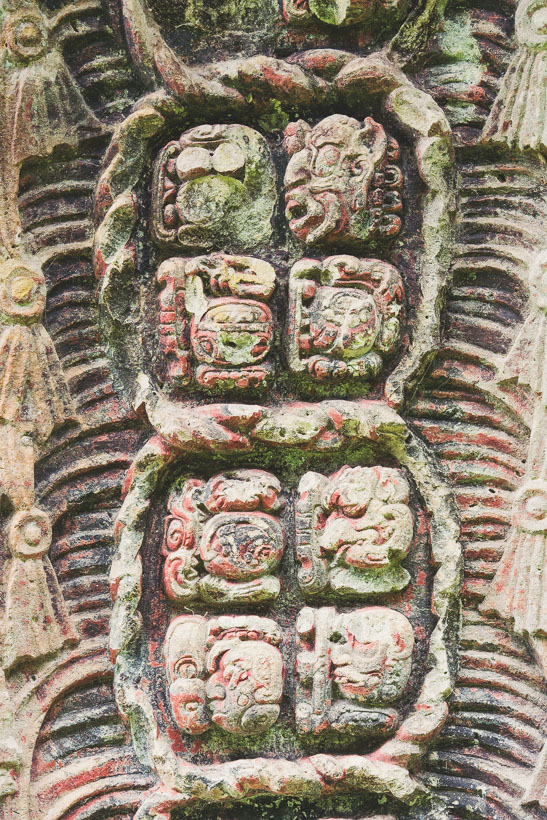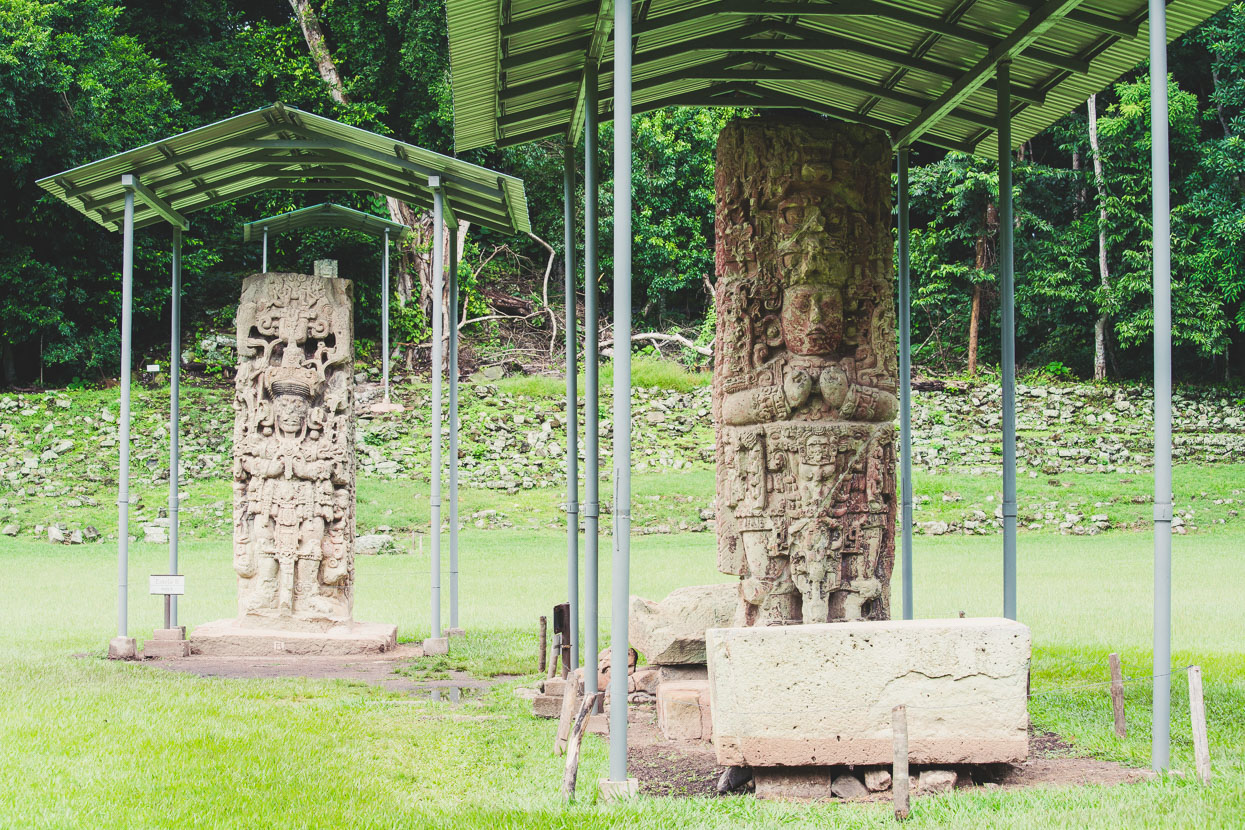 The main reason the stelae hare have survived so well it that they were carved into volcanic rock, unlike others at sites further north which were all carved into much softer limestone.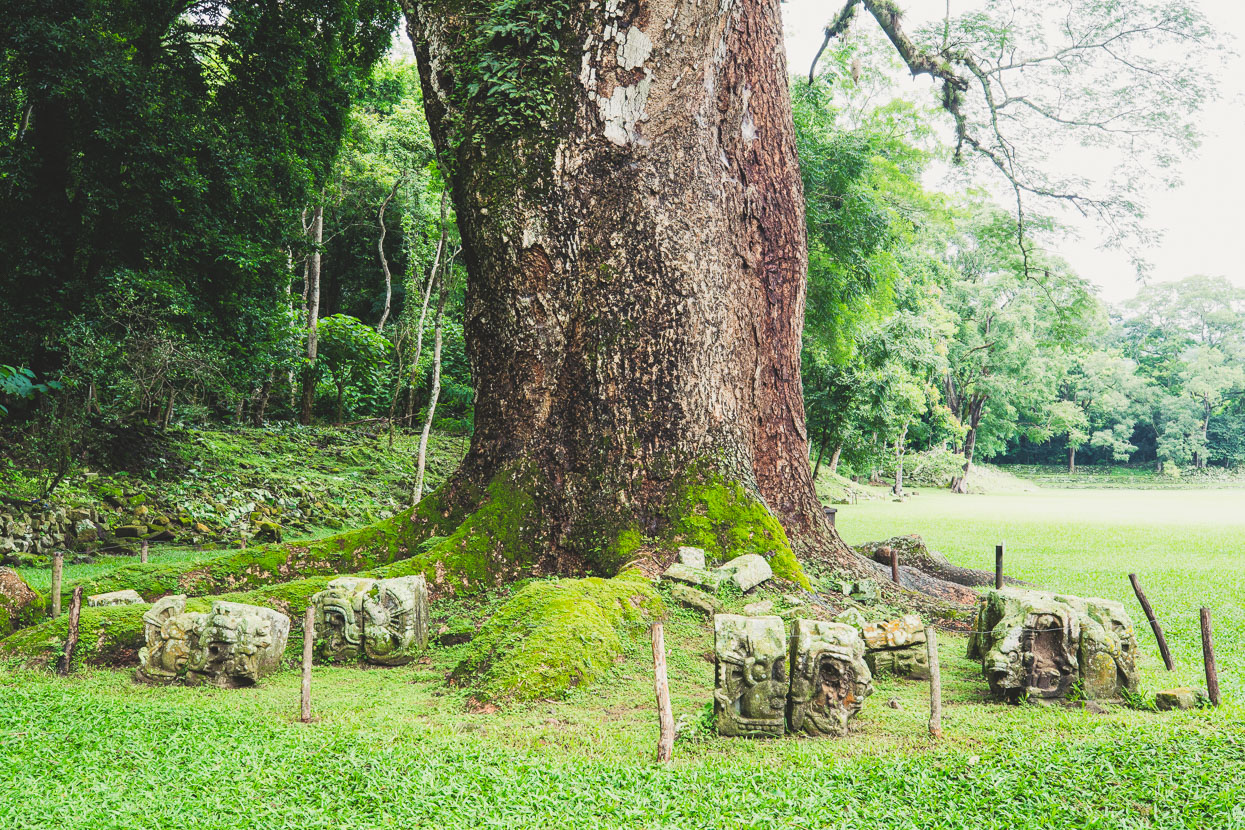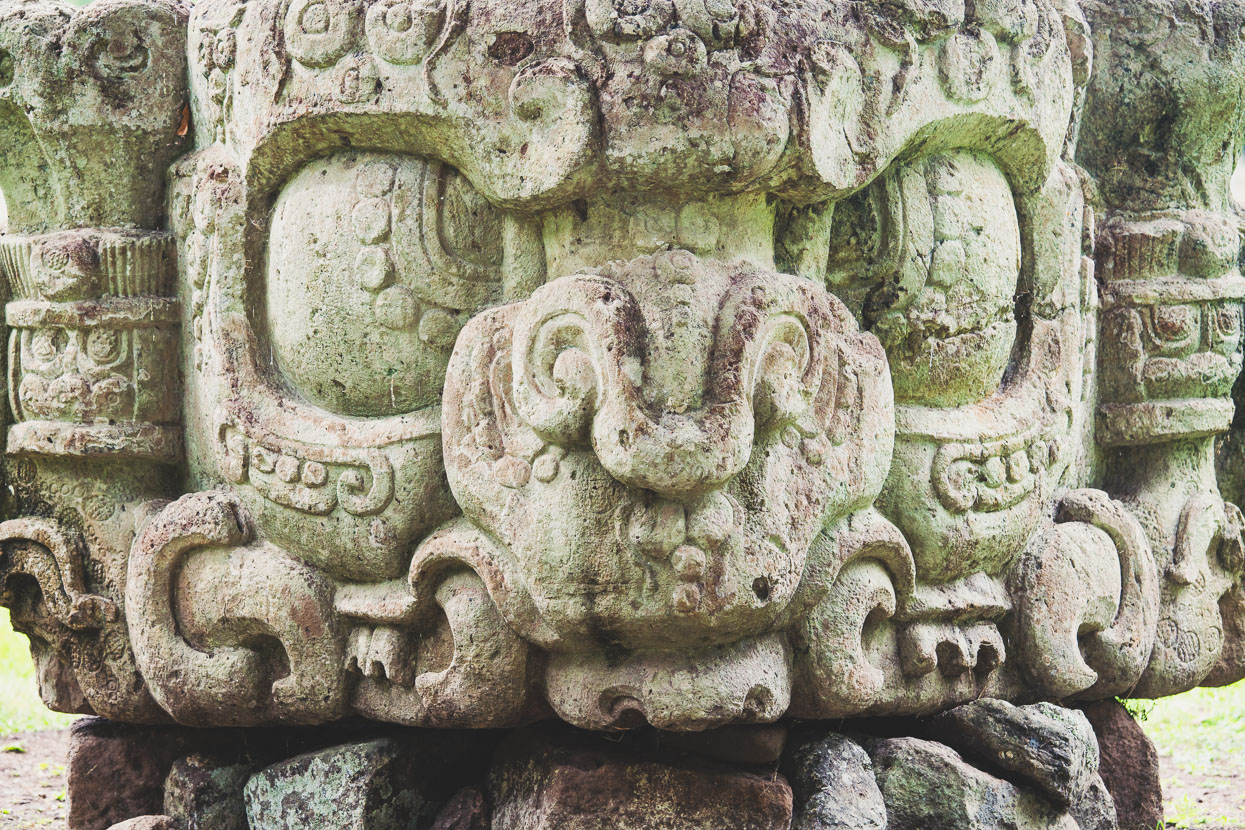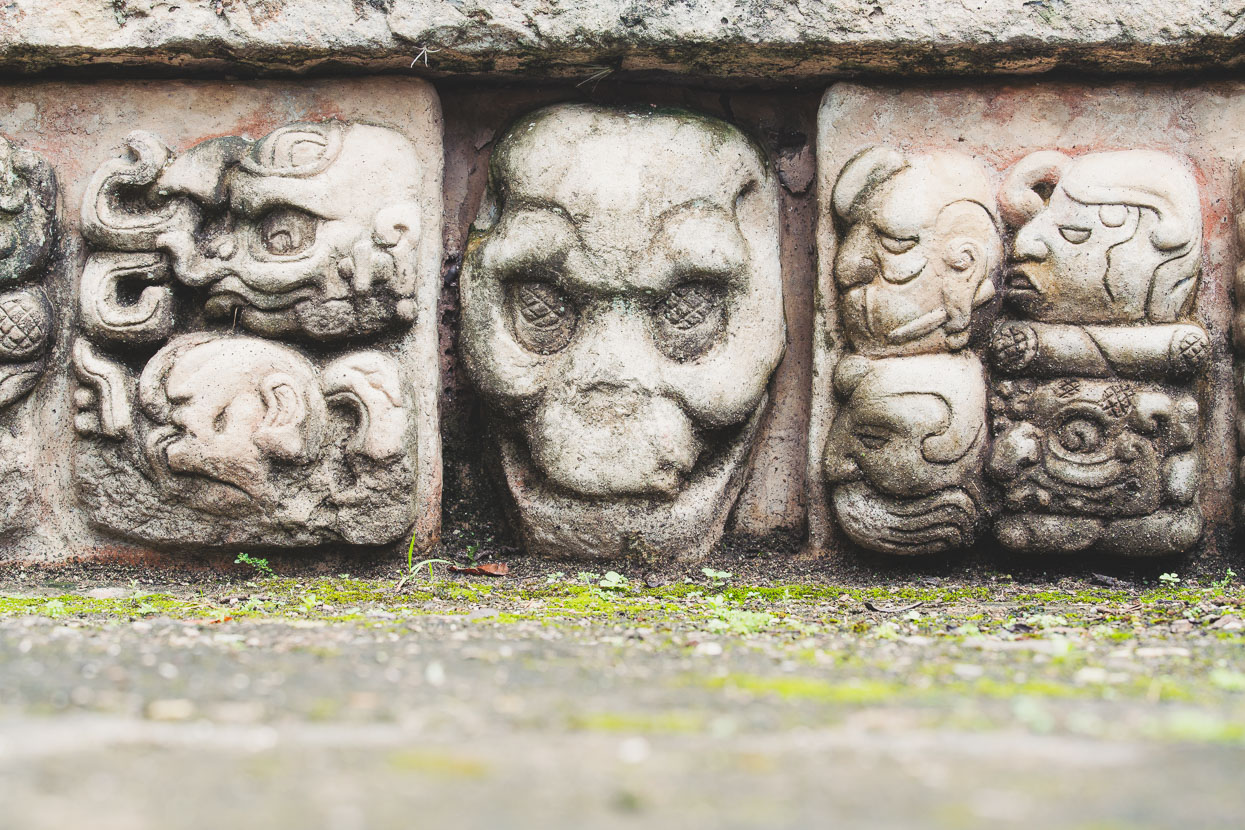 Plenty of skulls and creepy faces.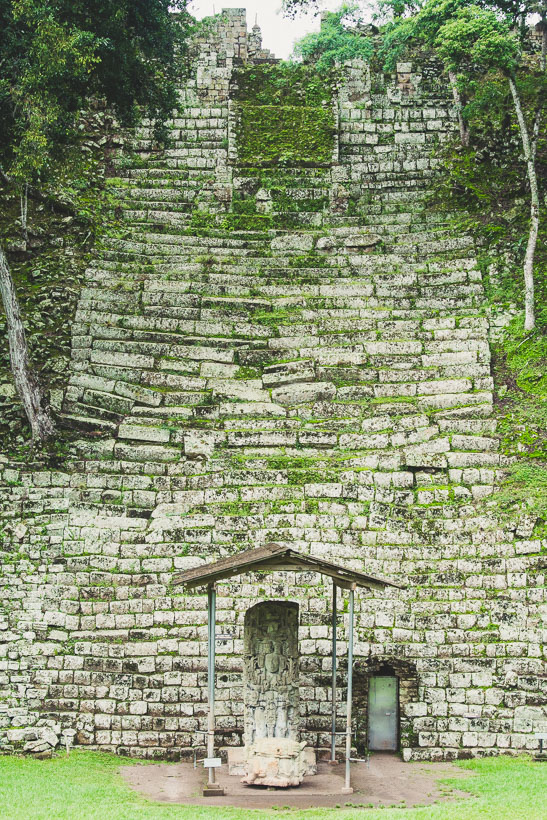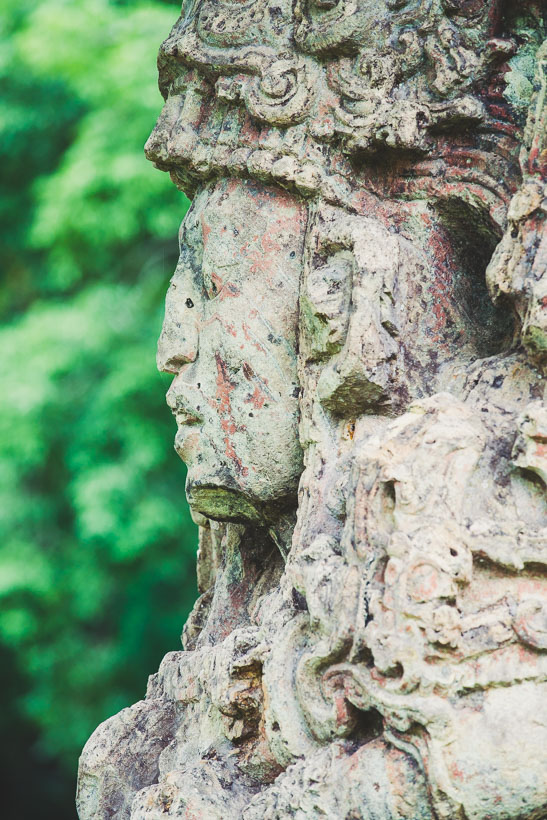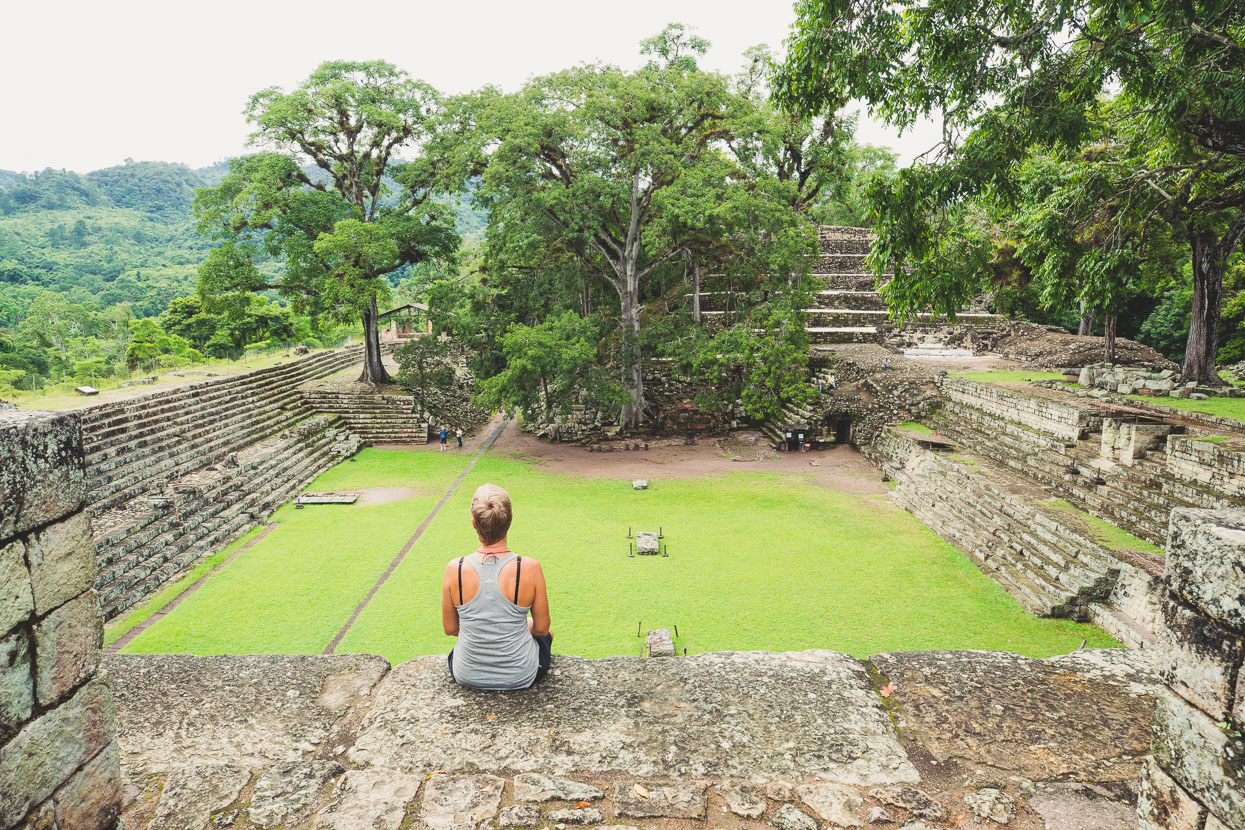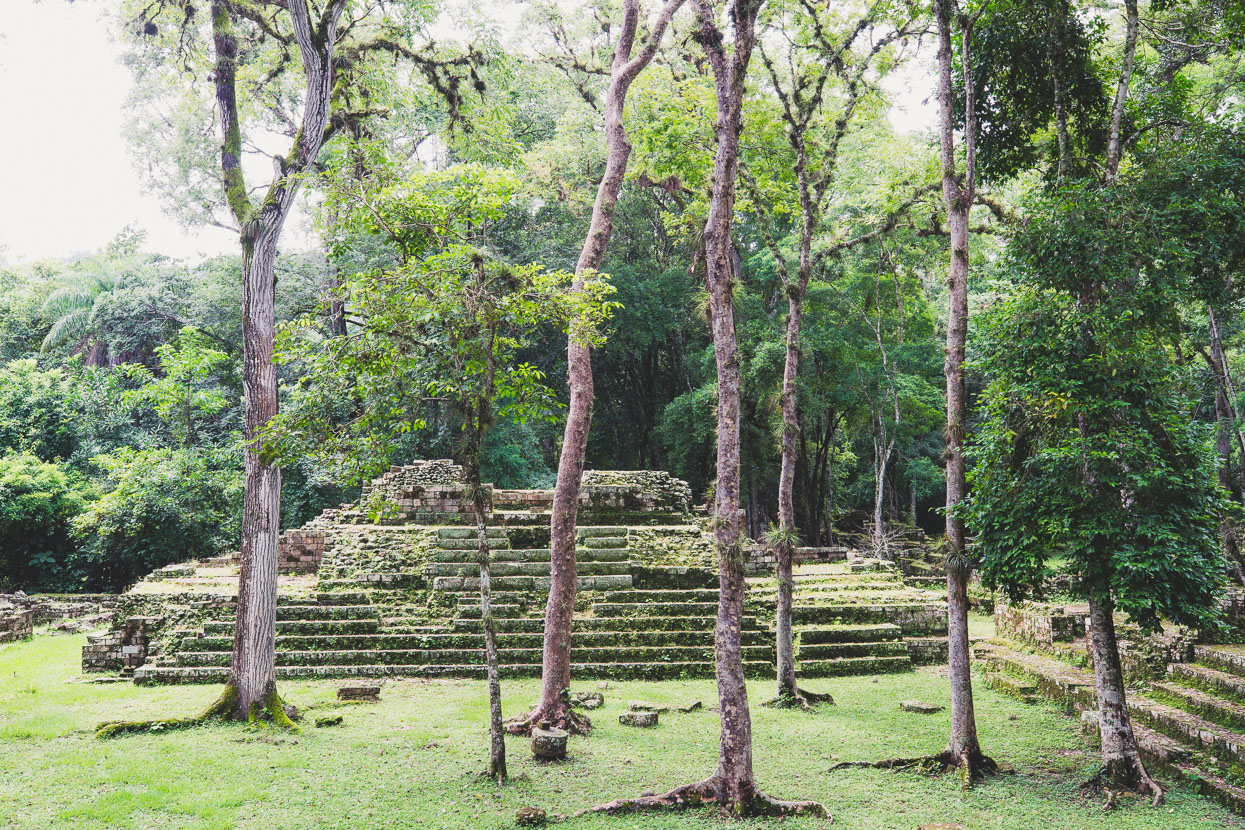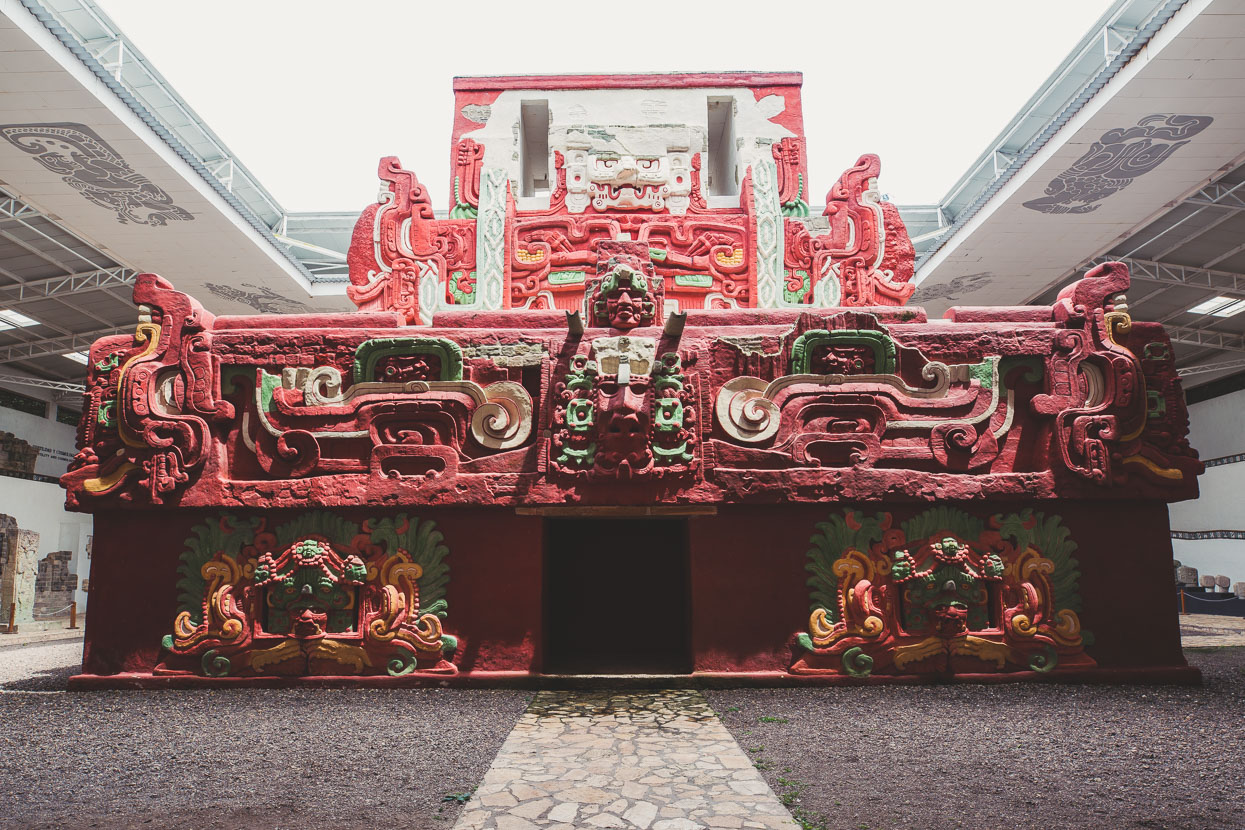 One of the common patterns of Maya expansion and architecture was to overbuild previous temples and structures, sometimes those already containing tombs. Archaeologists have undertaken some long term tunnelling projects at Copan, one revealing a richly decorated and unique temple completely built over by a much larger structure. This is a full size replica at the site museum.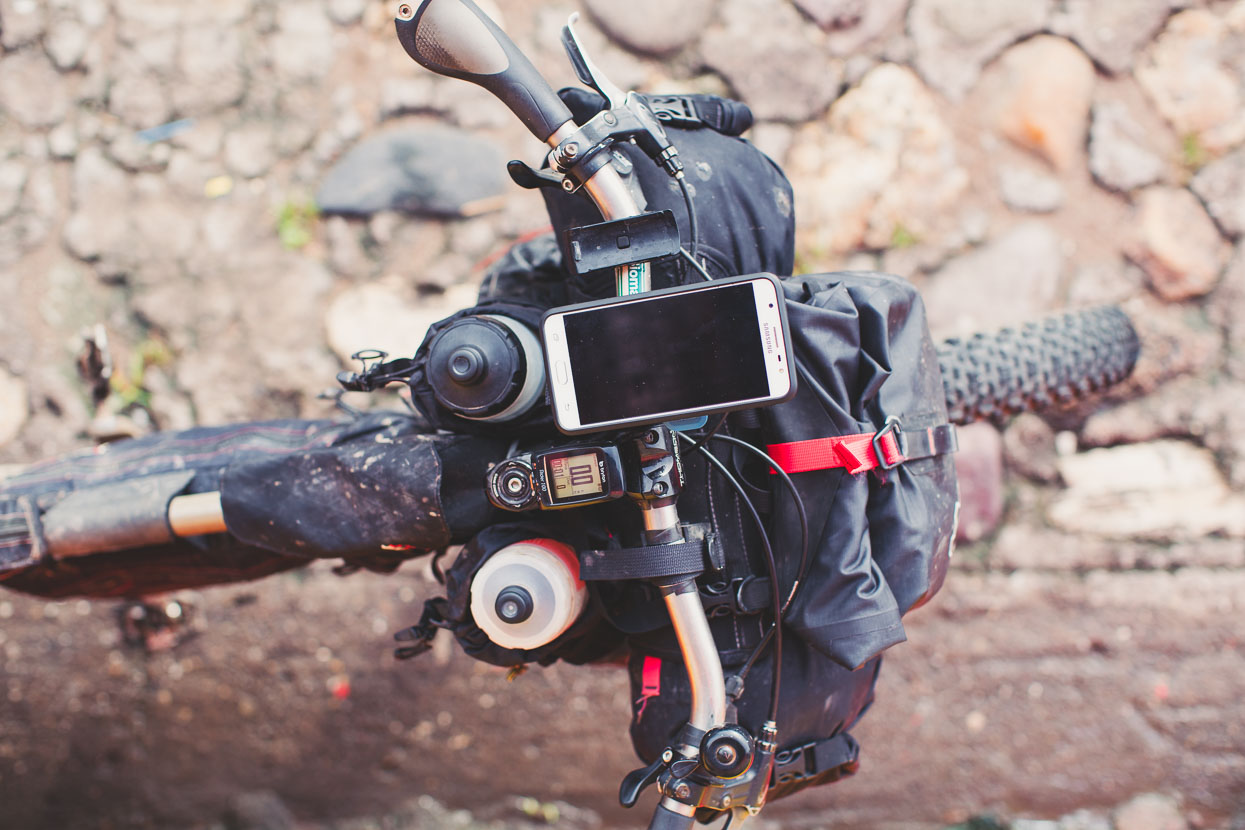 After a morning at the temples we spent the rest of the day planning a route north – to the Caribbean Coast via the backroads of the central highlands. More soon!
Do you enjoy our blog content? Find it useful? We love it when people shout us a beer or contribute to our ongoing expenses!
Creating content for this site – as much as we love it – is time consuming and adds to travel costs. Every little bit helps, and your contributions motivate us to work on more bicycle travel-related content. Up coming: camera kit and photography work flow.