Back to the Caribbean Coast.
With all the kilometres we've been putting in lately as we count down the days to our flight from Panama City to Cuba the blog's fallen well behind, but here's the first of two posts from Honduras to bring you up to date…
We spent quite a while in Copán, near the Guatemala/Honduras border mapping out ideas for a traverse of Honduras' highlands, and in the end settled on a plan that combined a mixture of remoter dirt roads and some highway riding – partly because the wet season was still in full swing and we were concerned about deep water crossings and mud and also because we're now ever mindful of time due to our late November flight. We knew little about Honduras on entering this country and it's been refreshing to see a different side of Latin American life after three months in Guatemala – much is the same but so much is different too.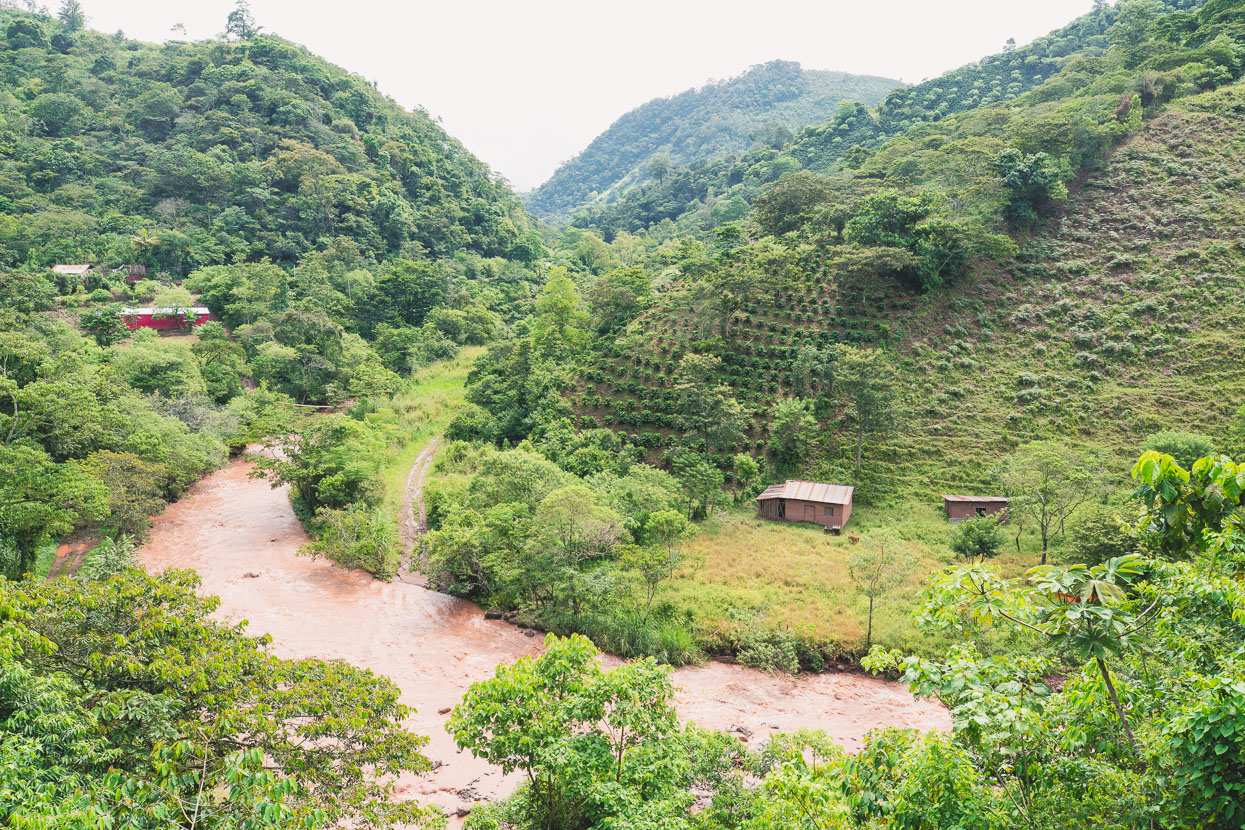 At first we followed the Copán River, chocolate brown with silt and fed with equally brown side streams. When the rain falls, which is most days for at least an hour or two, it's heavy. We passed washouts on the highway, damaged bridges and once flooded river flats with flood debris strung high in the trees; a theme that most of the ride would follow through to La Ceiba.
We weren't long on the pavement before we turned off onto a dirt road towards Dulce Nombre de Copan that passed endless coffee fincas (ranches) through steep hills. All about us the landscape lush and vibrant. As we headed onto this section of road a group of young men warned us that there had been robberies in the area and recommended strongly that we take the highway. We probed the situation for a while with the usual questions of 'When and where?' The highway was much less direct so were reluctant to change plans. The young guys could see our frustration, and after a few moments they said something along the lines of 'You'll probably be ok, but hide your phones and don't show off your camera'.
Carrying on, we found the usual curiousness from the locals and got no bad vibes, although the people along the road weren't as friendly as in Guatemala. We certainly didn't feel unsafe.
Coffee is a huge industry here and in Guatemala and much of the high country above 600 metres is dedicated to coffee cultivation. The fruit (which contains the sought after bean) turn red when they're ripe. Whole hillsides are stripped of trees for the coffee crop but in many places the valuable bushes are shaded beneath banana trees and sometimes pine.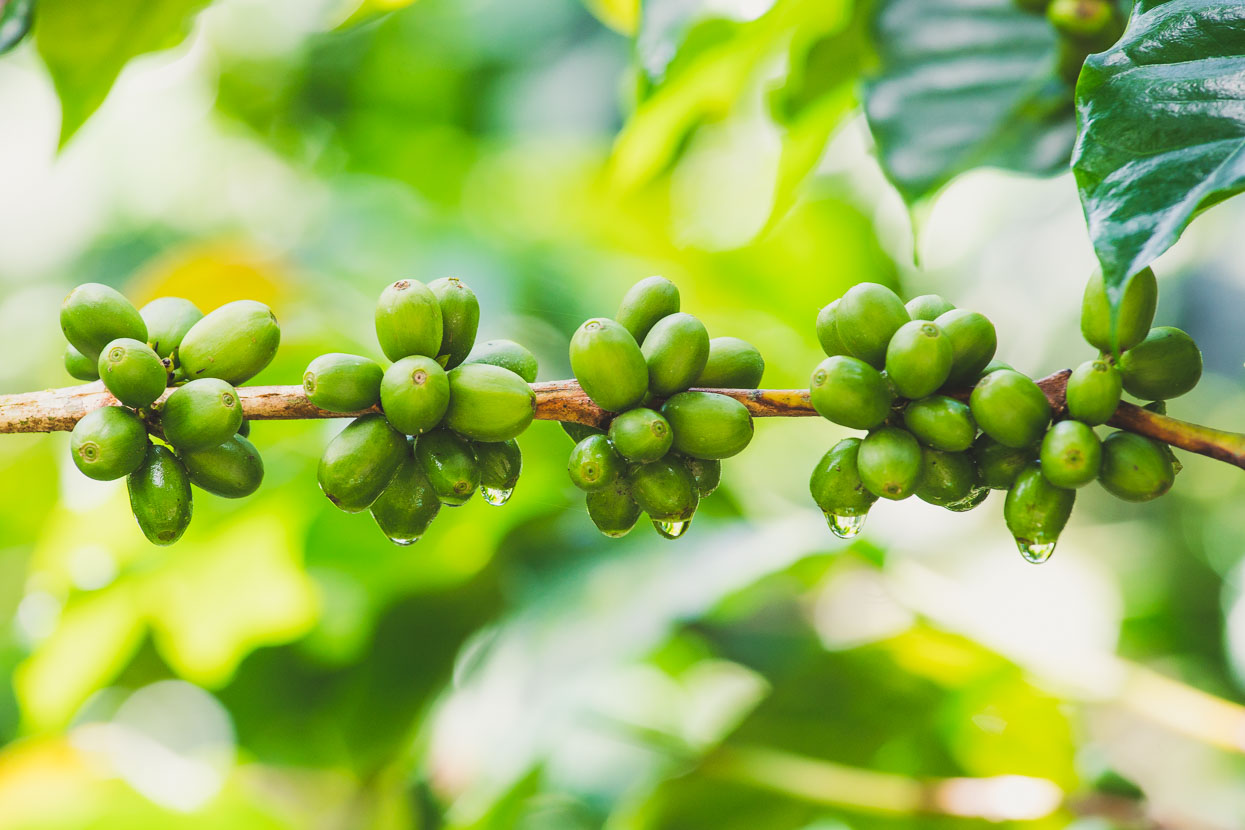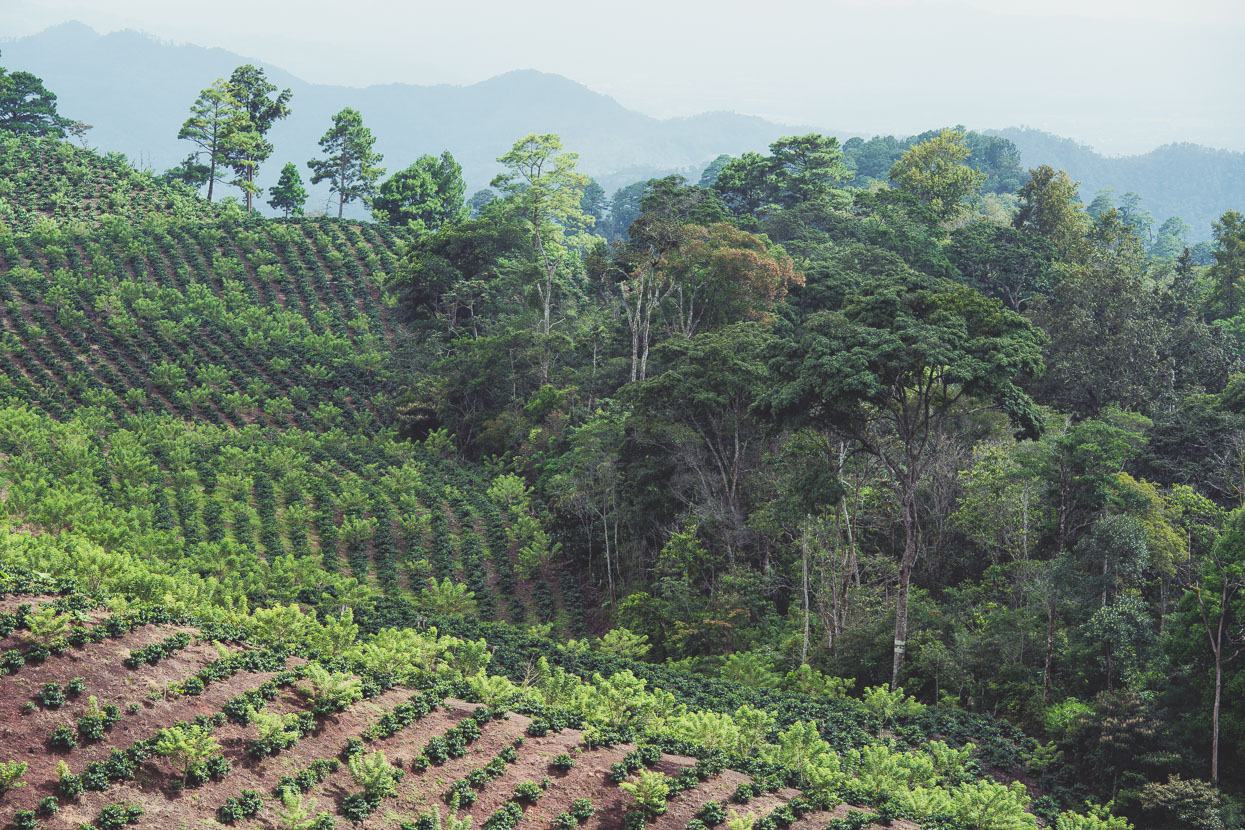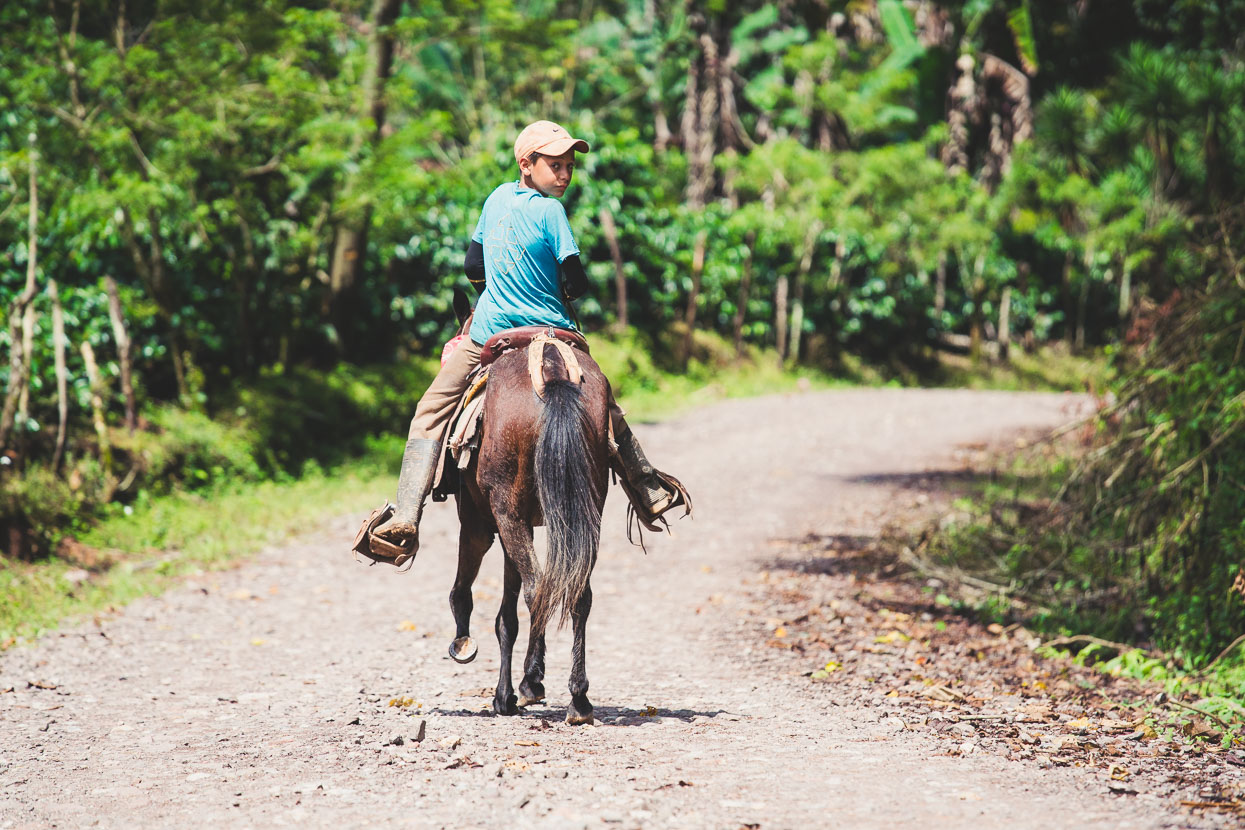 On the backroads where people are surprised to see us there's still always a polite exchange as we pass each other, but it's always entertaining to turn around sometimes because usually they're sneaking an extra glance to check out the gringos on bikes.
We were only about 5 kilometres from the highway finish into the city of Santa Rosa De Copan, riding on a wide dirt road, when a police pickup stopped and told us that the area was peligroso, (dangerous) due to asaltos. The officer gesticulated to us wildly with his arm to ride our bikes and then escorted us out to the main road. A slightly unsettling moment after the warning we'd had earlier in the day: once again, hard to weigh the warnings with reality.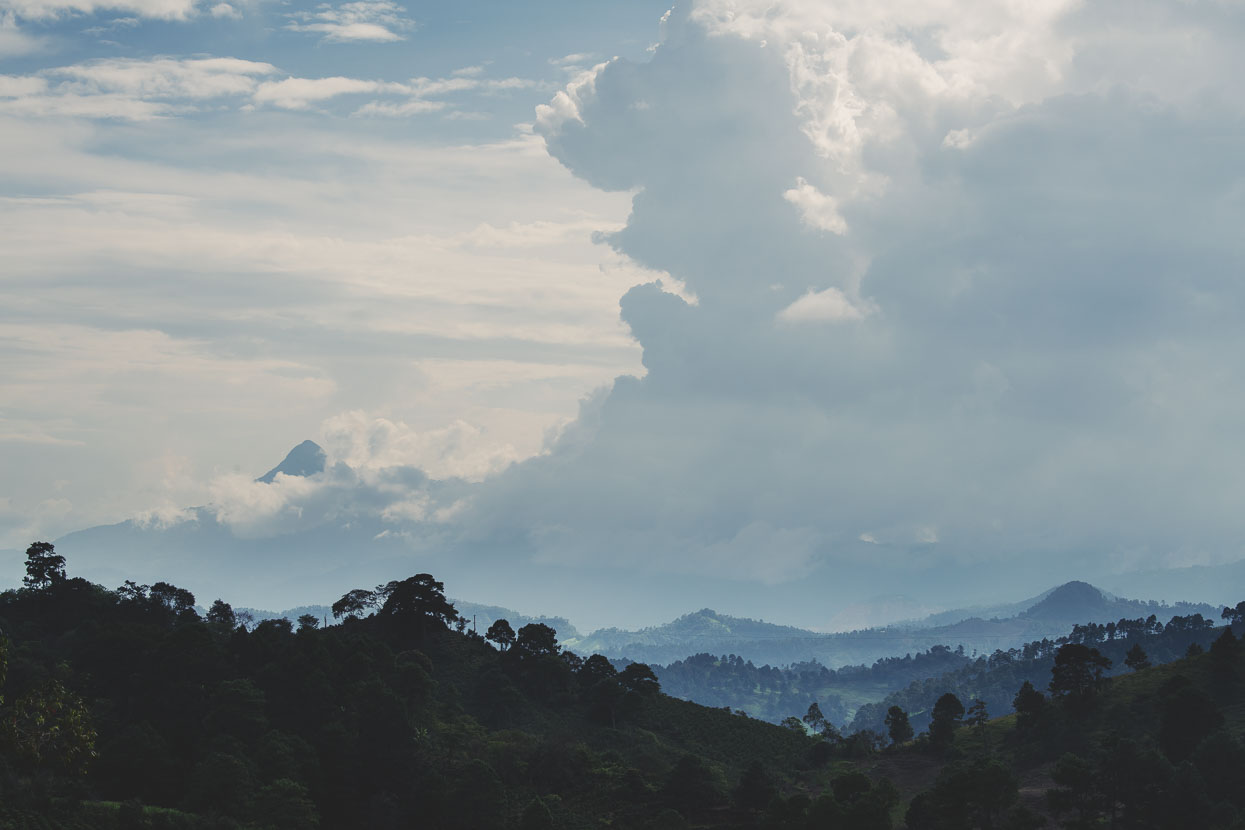 Much like Guatemala, Honduras' high country rolls away ridge after ridge. It's an atmospheric place to ride as the cloud builds through the morning; great columns of cumulus boiling up into the sky and inevitably bringing an afternoon downpour.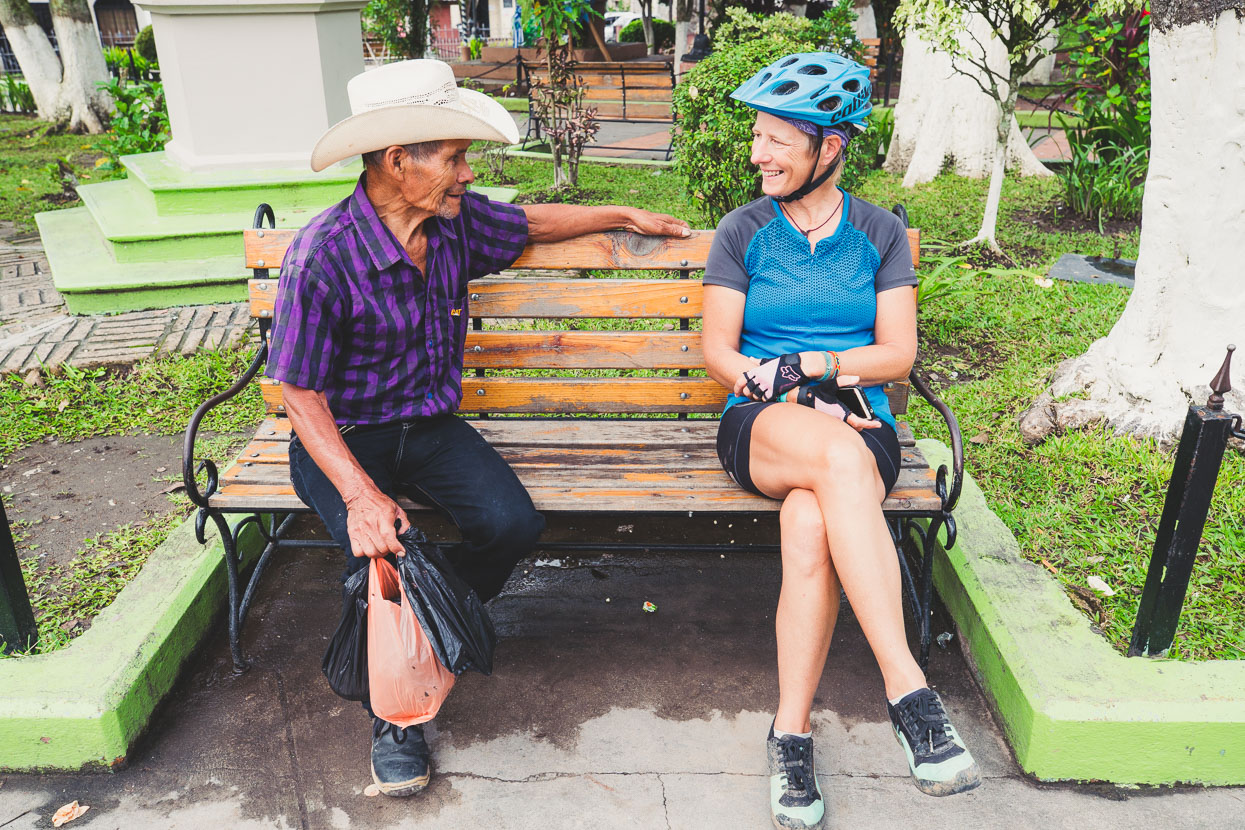 Certainly Hondurans like to stop and chat.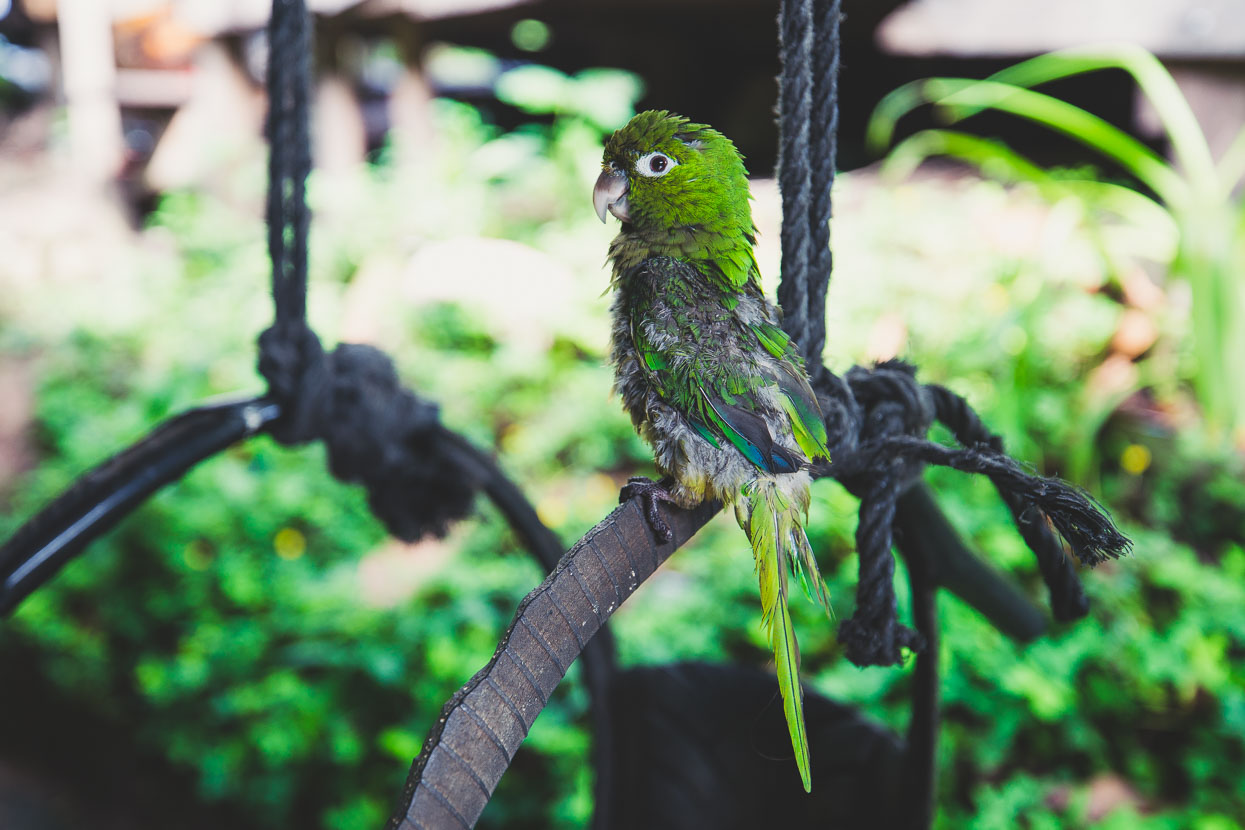 Even this guy, although we didn't understand his accent very well.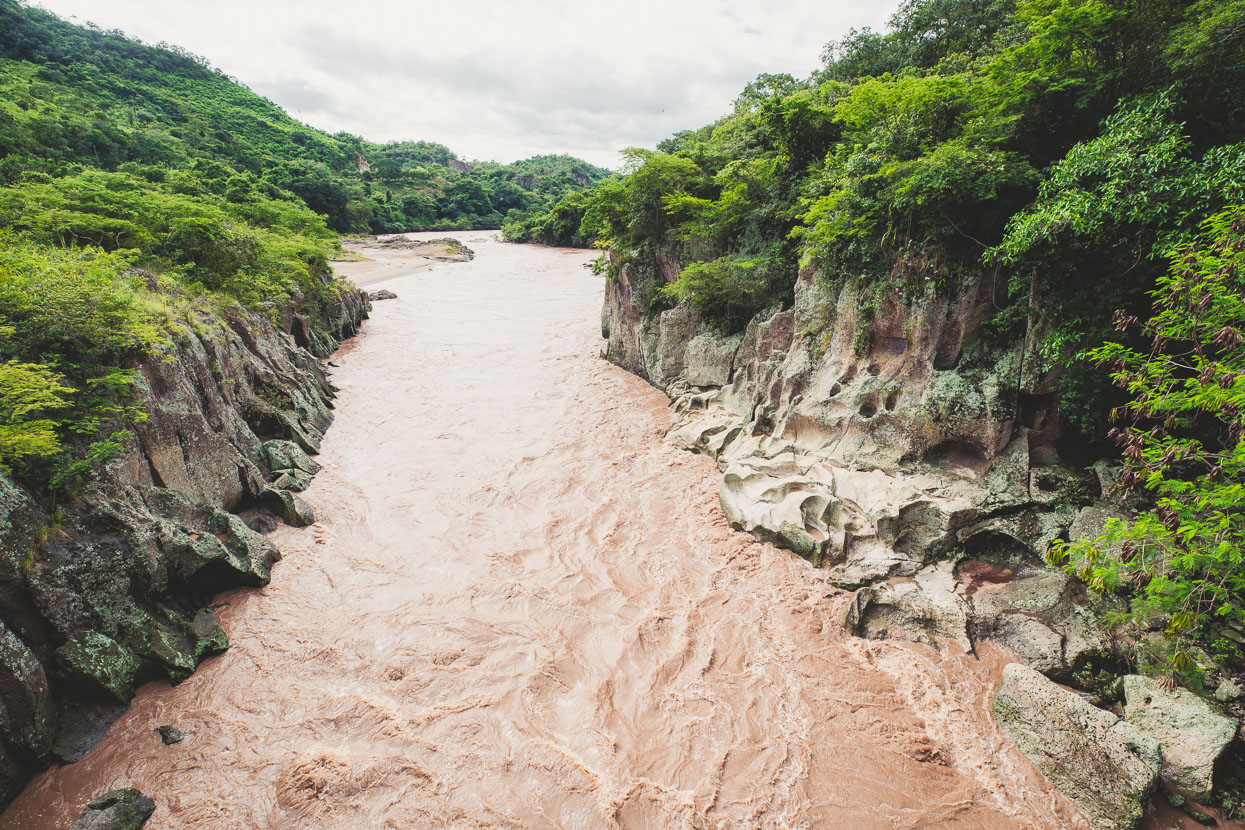 The ride from Copán Ruinas to Santa Rosa de Copán had been tough and we both had lingering stomach issues picked up the day before we crossed the border, so we took an easier paved route and a 10 kilometre detour to the town of Gracias – Honduras' best preserved Colonial-era township.
The region's volcanic origins are evidenced where the Rio Jucatuyo cuts through bedrock and the roadcuts through deep layers of tephra.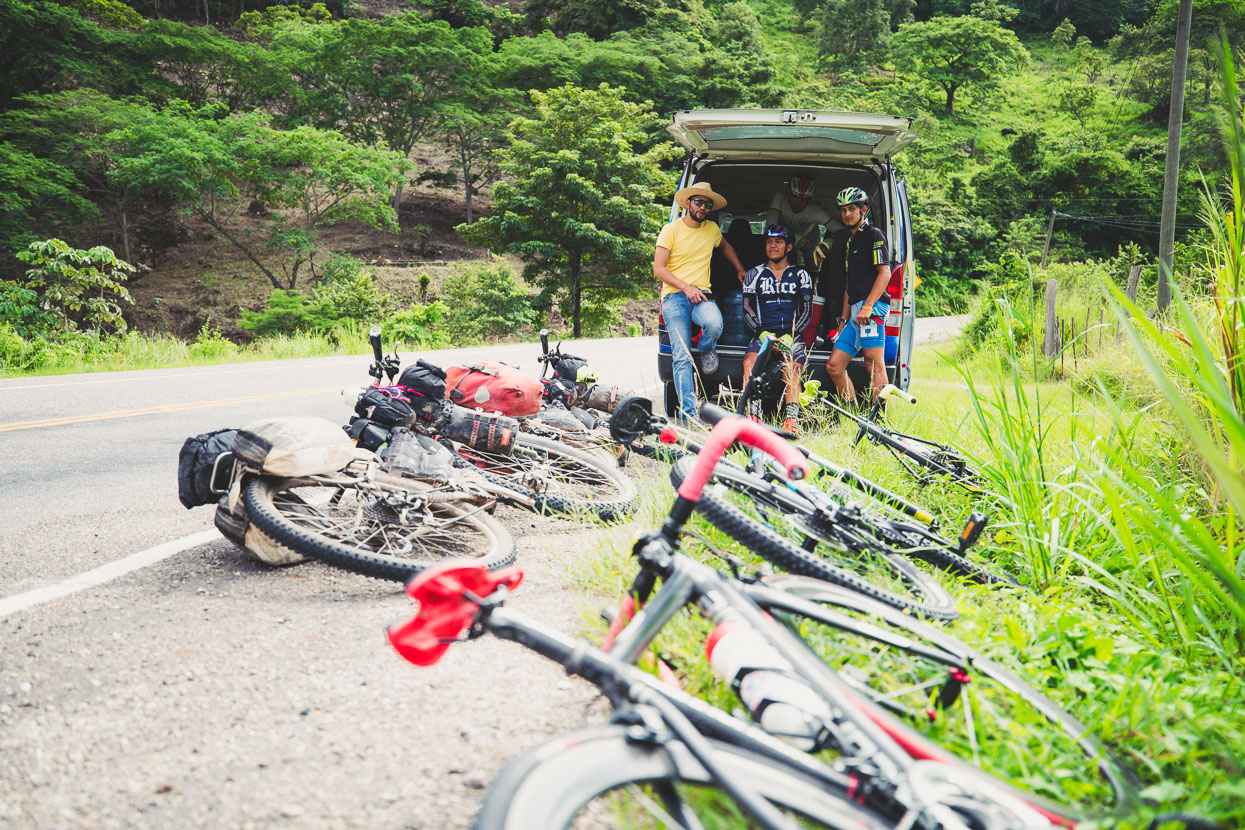 On the blissfully long and windy descent from Santa Rosa we met a group from a local cycling team, two of whom were training for the upcoming Tour of Guatemala. The team were riding a rag tag assortment of bikes, but the best were race-ready mostly carbon machines at home in any race peloton. We joined in and rode with the four riders, including their coach, while the manager shadowed us with the support vehicle. The perks included bananas, fresh melon and naranjas at the breaks and a soak in some hot springs at the end of the ride!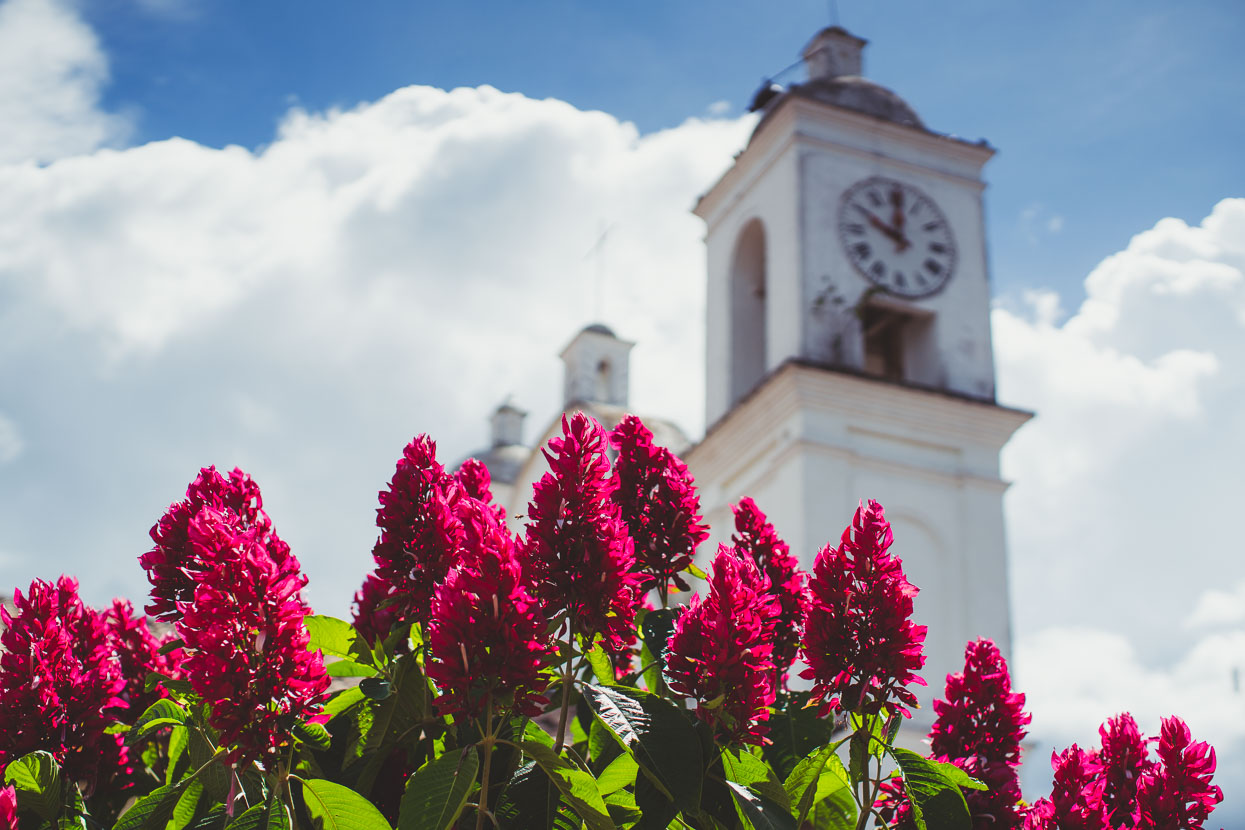 With its rough cobbled roads and squat single story colonial buildings Gracias was a nice spot for a day off (to recover fully from stomach bugs) but after the amazing historic towns of Mexico and Guatemala the town lacked the wow factor for us.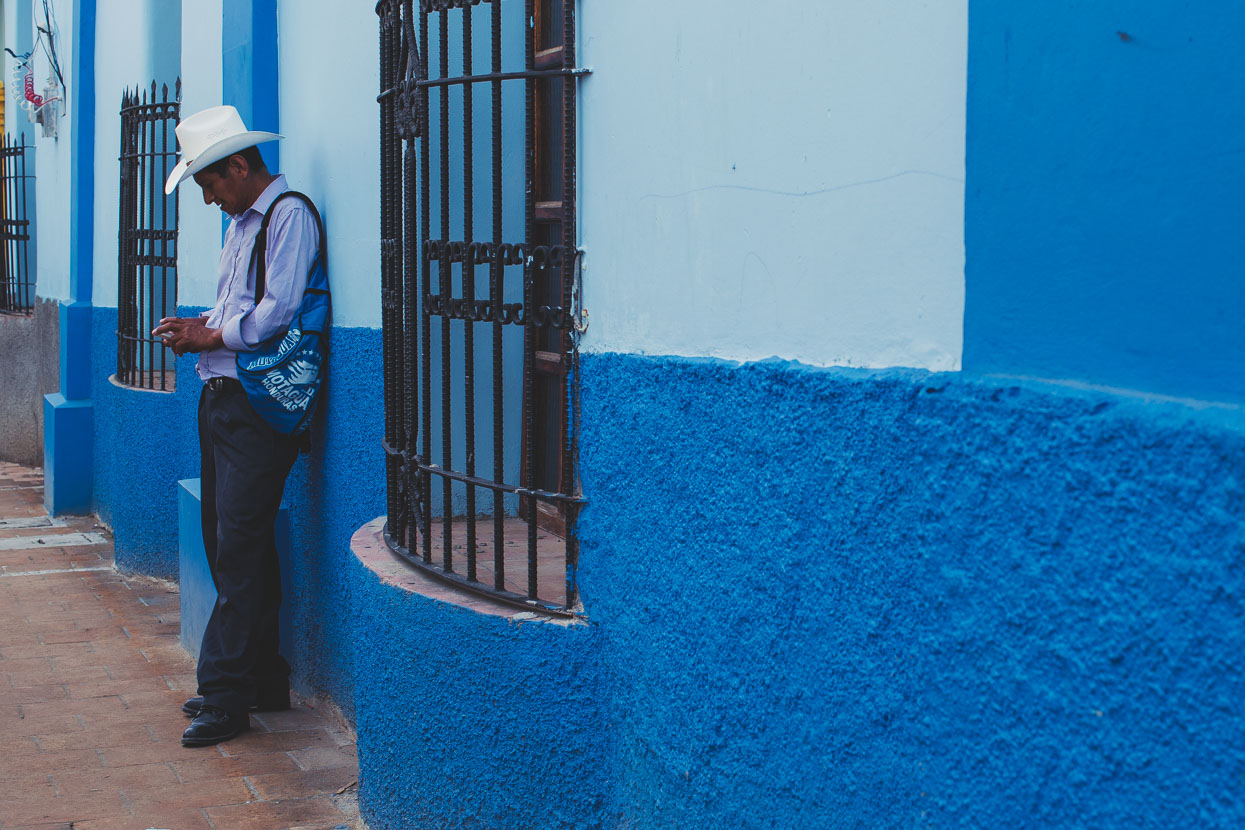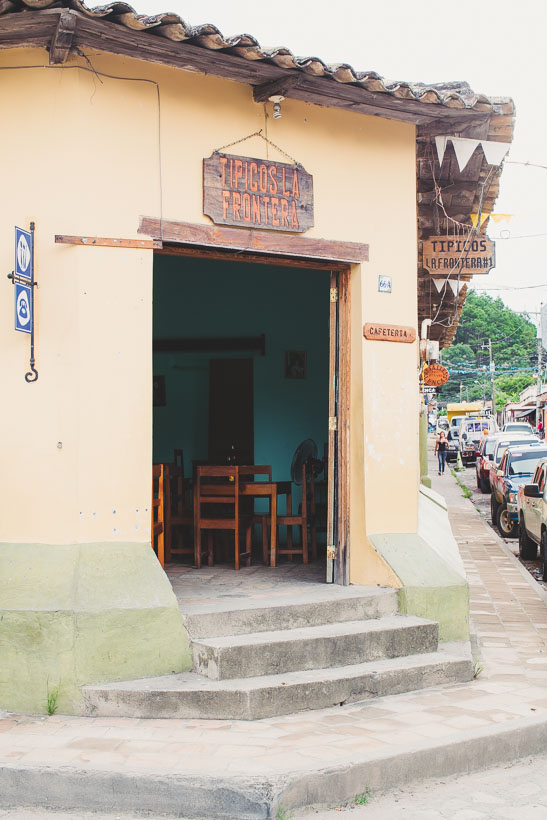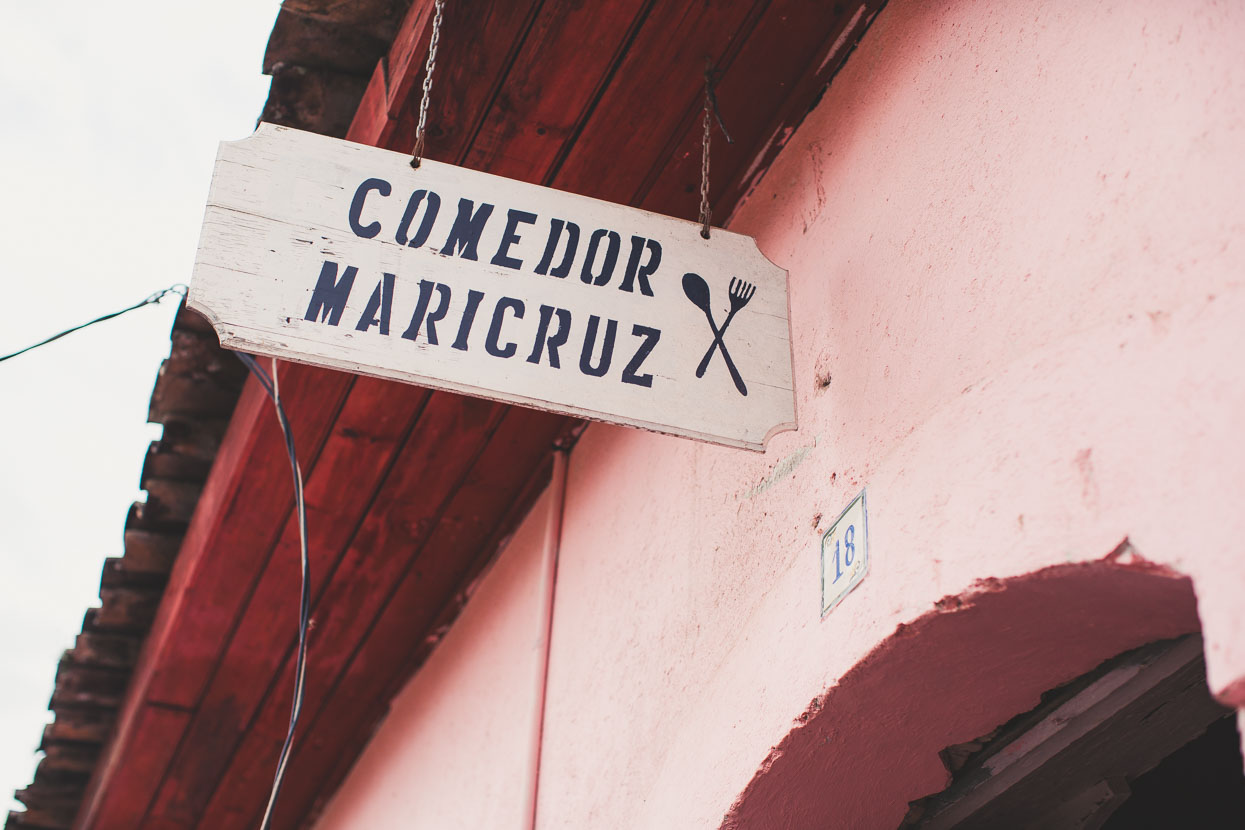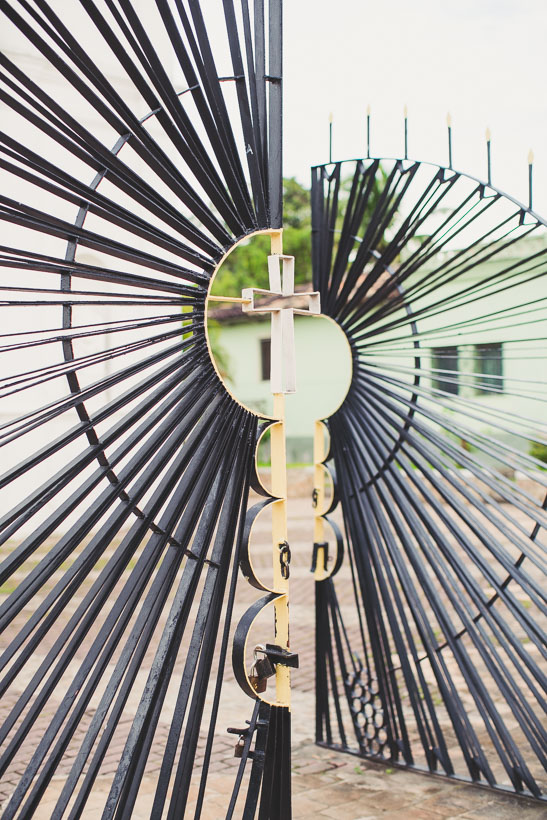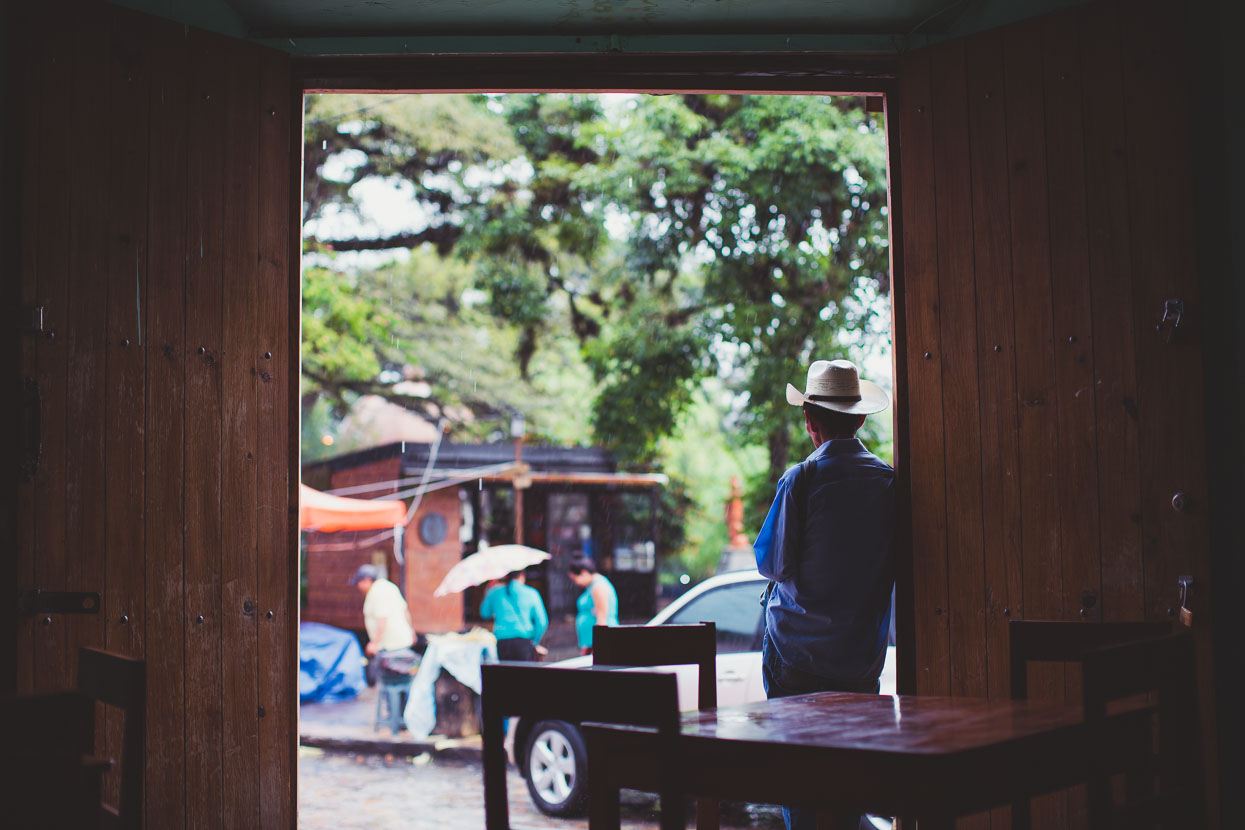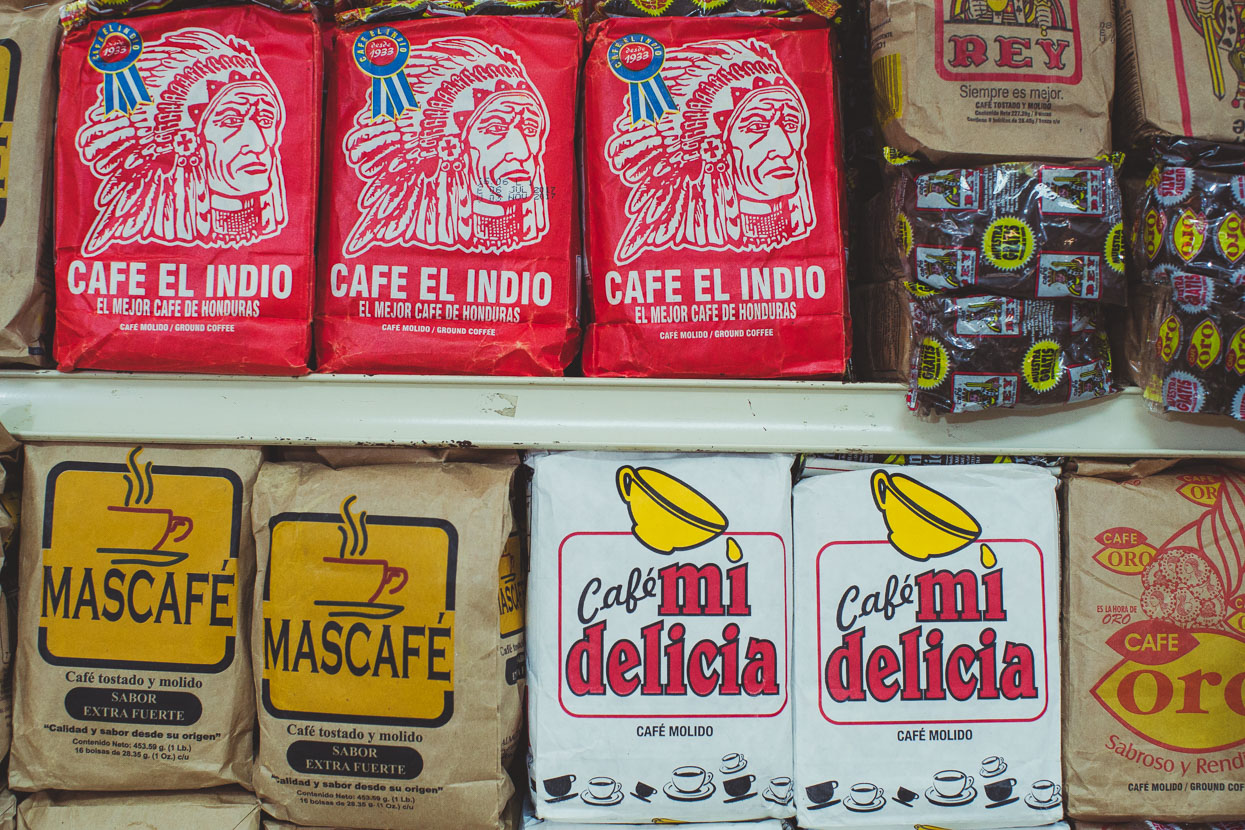 The supermarket shelves are full of Honduran coffee and at a cafe in the square we were served a latte up there with anything the best trained baristas can produce. By and large even the brewed Honduran coffee is really good, especially after the weak and sugar-laden brews we'd grown used to drinking in rural Guatemala.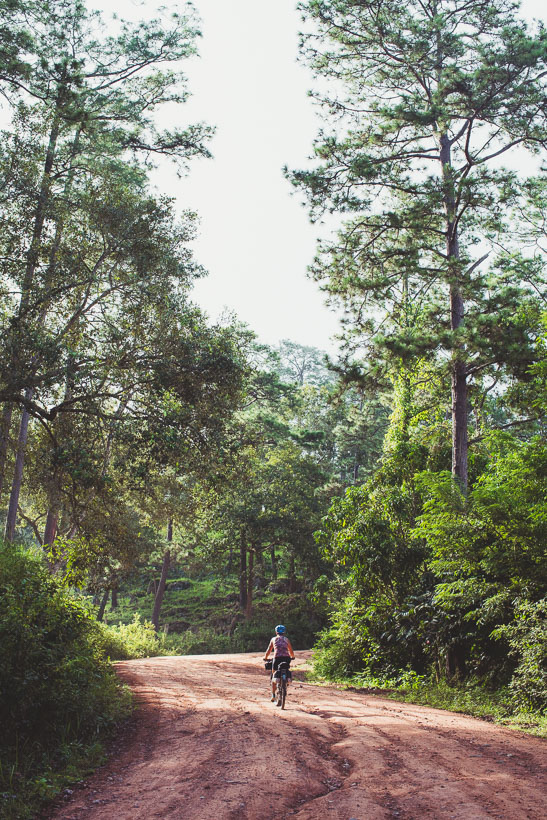 Following Gracias came one of our Honduran highlights: the ride over the Sierra de Puca, between two mountain reserves – the Refugio de Vida Silvestre Montaña Puca and the Reserva de Vida Silvestre Montaña Verde. Once again we were riding in coffee country but at higher elevation through craggy peaks, pine forest and, lower down, jungle. Elevation gain was 2700 metres that day, but the roads were a friendly gradient and busier with horses than vehicles.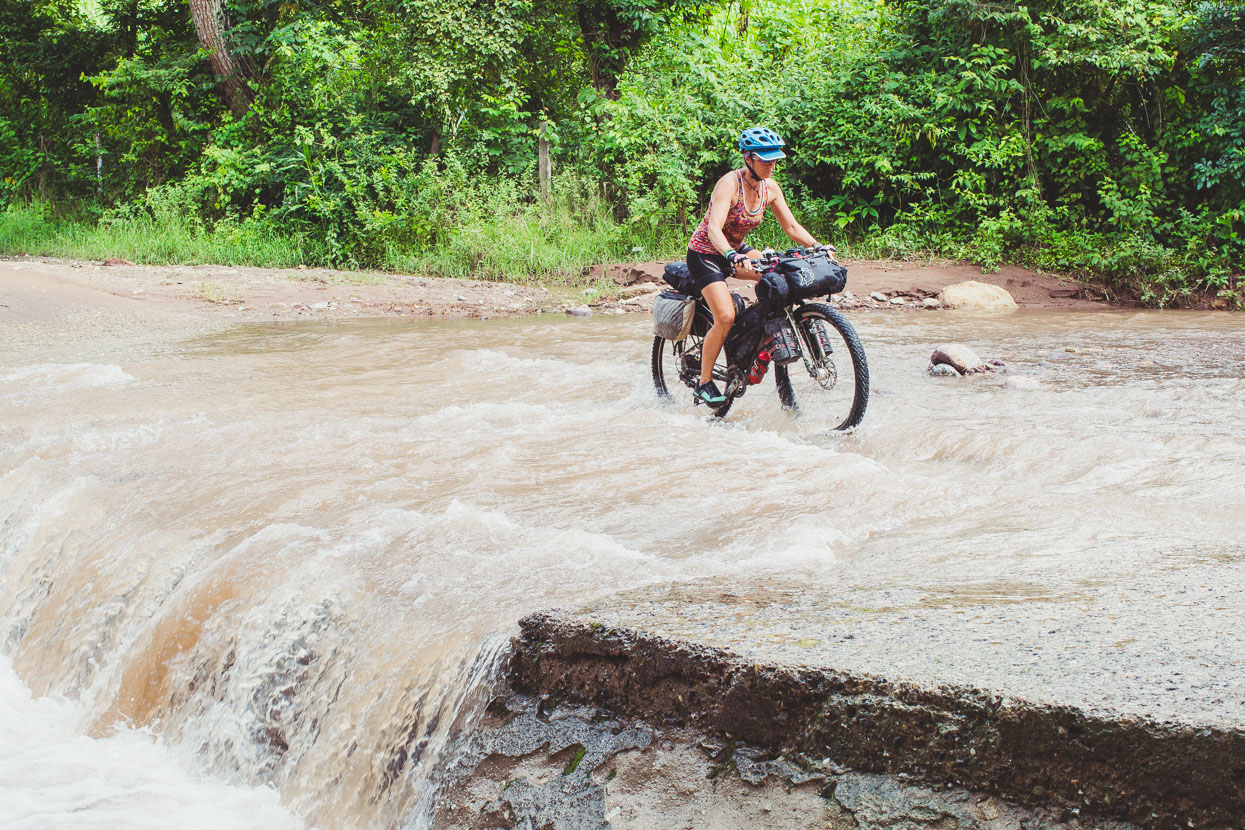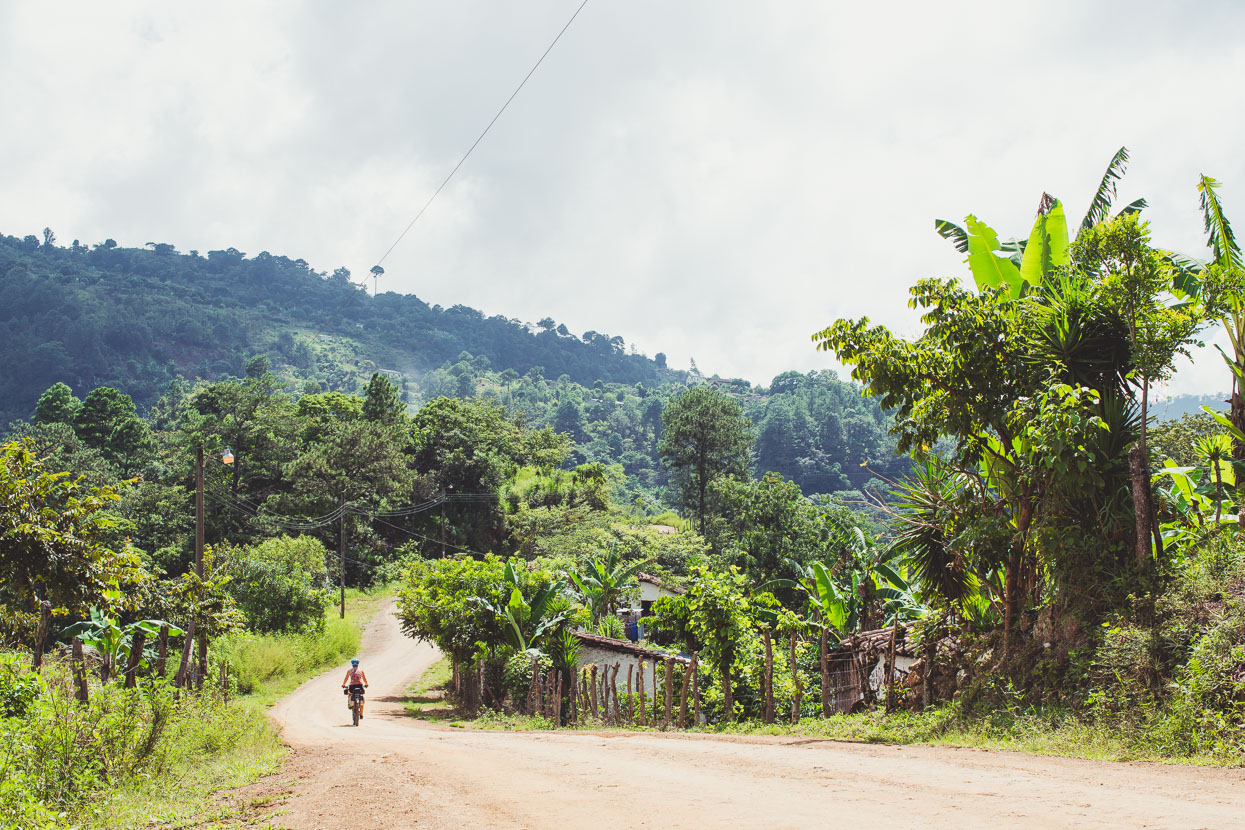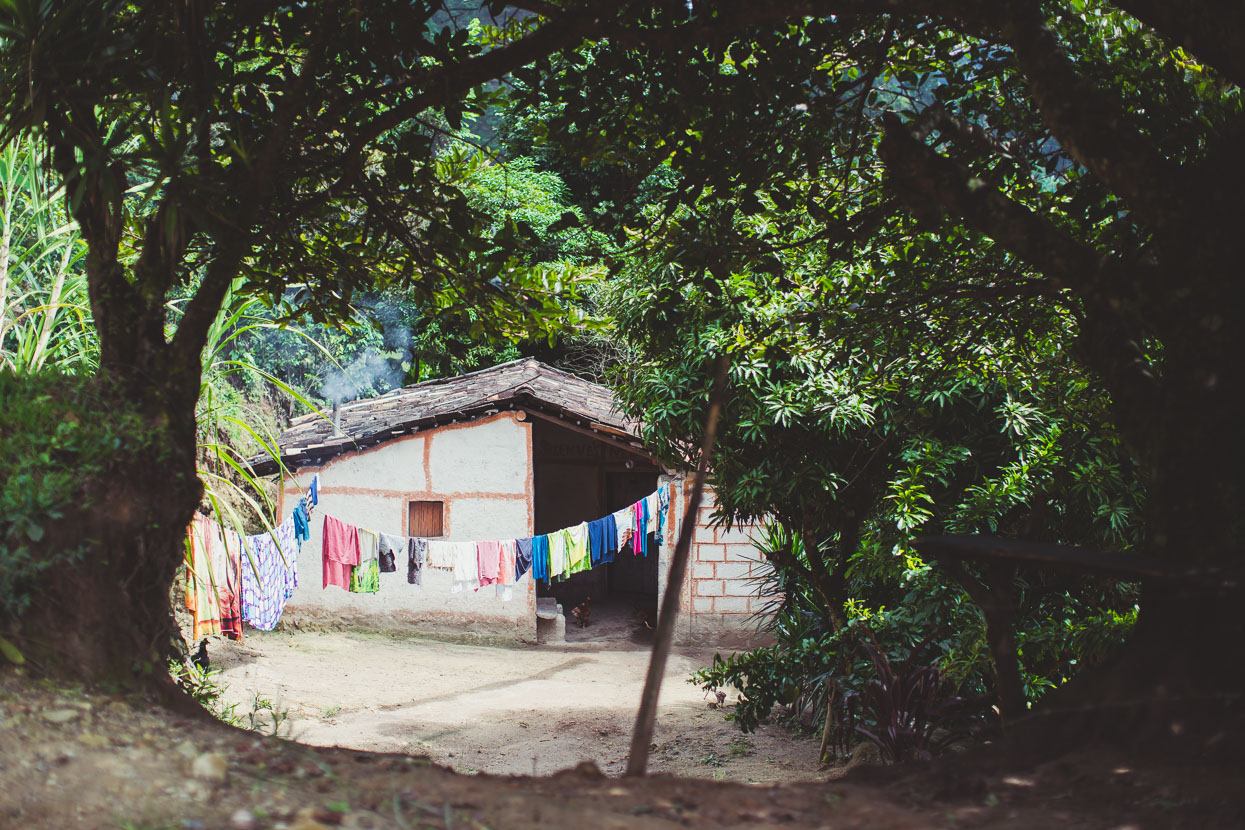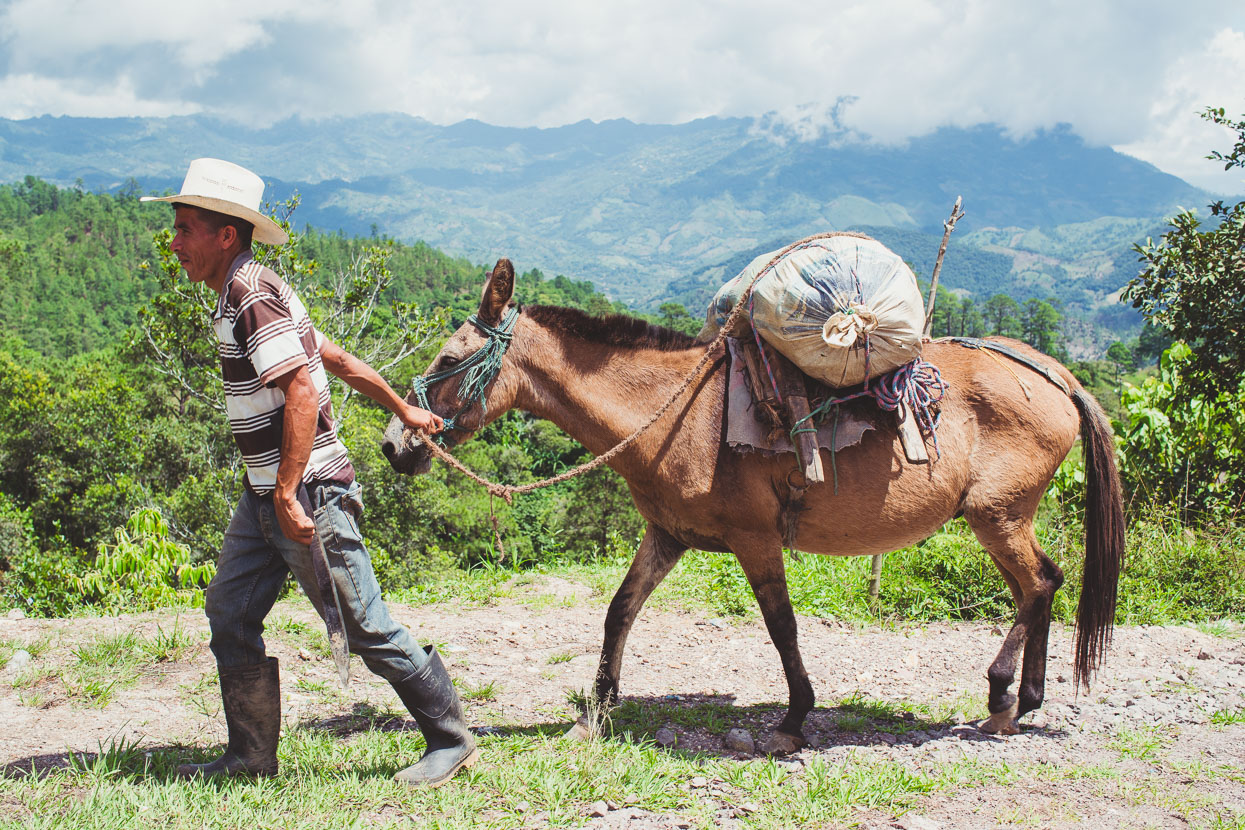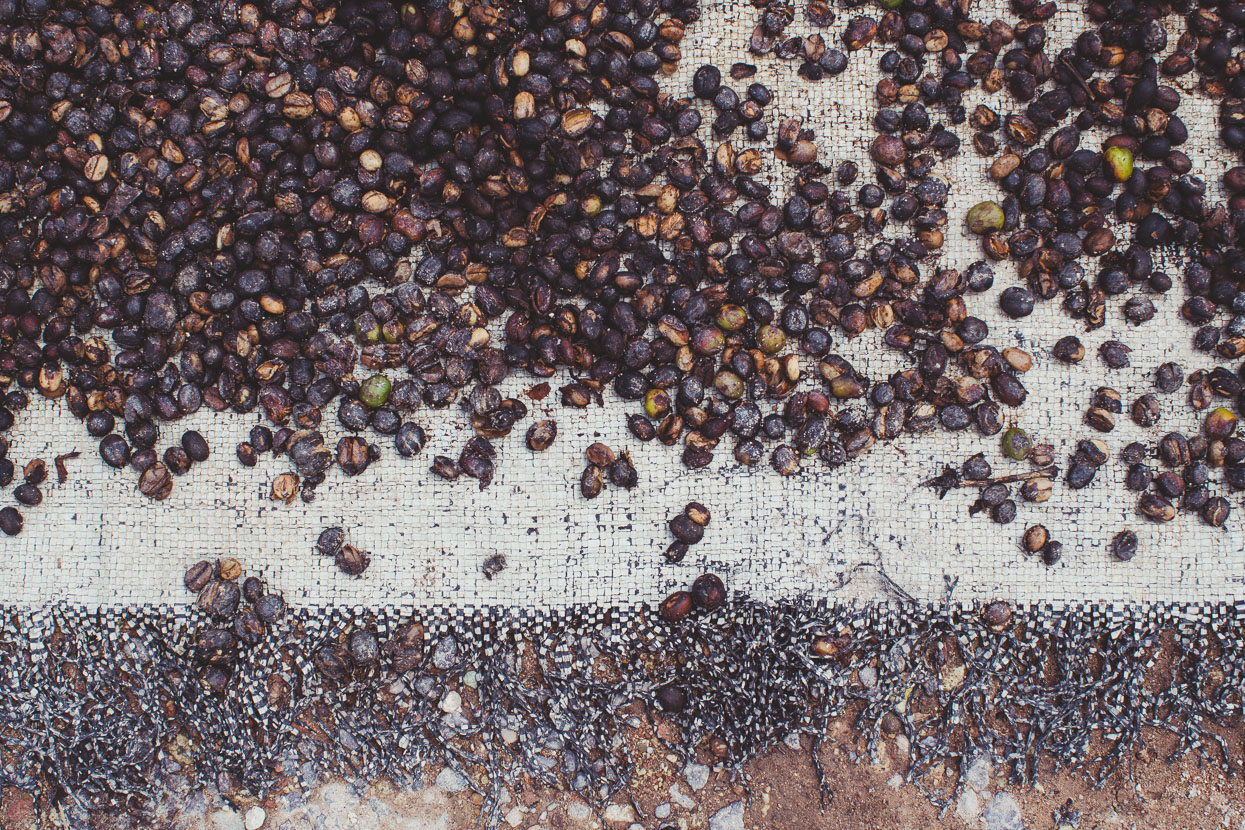 This area gave us a chance to see more of the coffee harvesting process too: here the coffee cherries are drying on sacking on the road. The next step is to soak them in a water bath until the fruit remnant separates easily from the beans.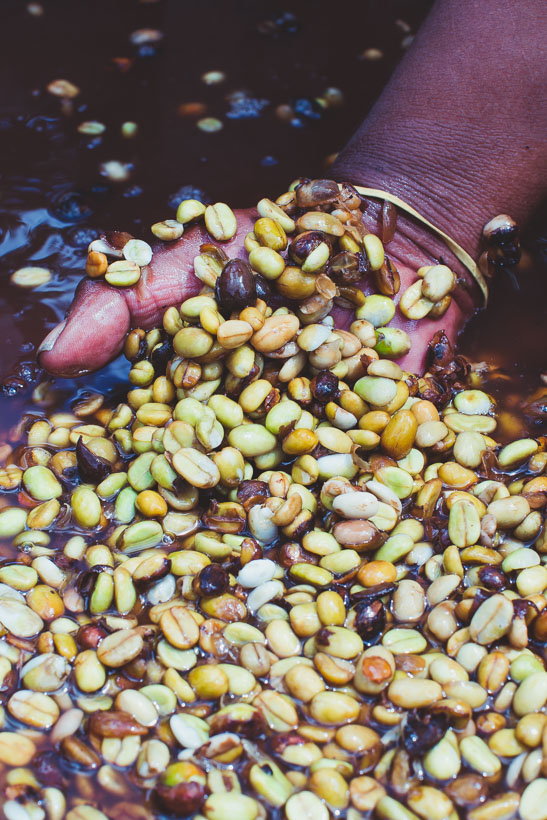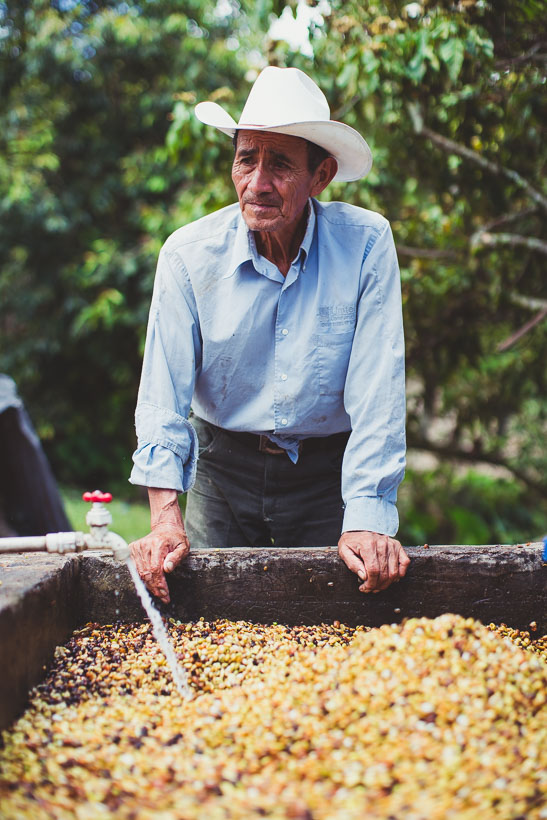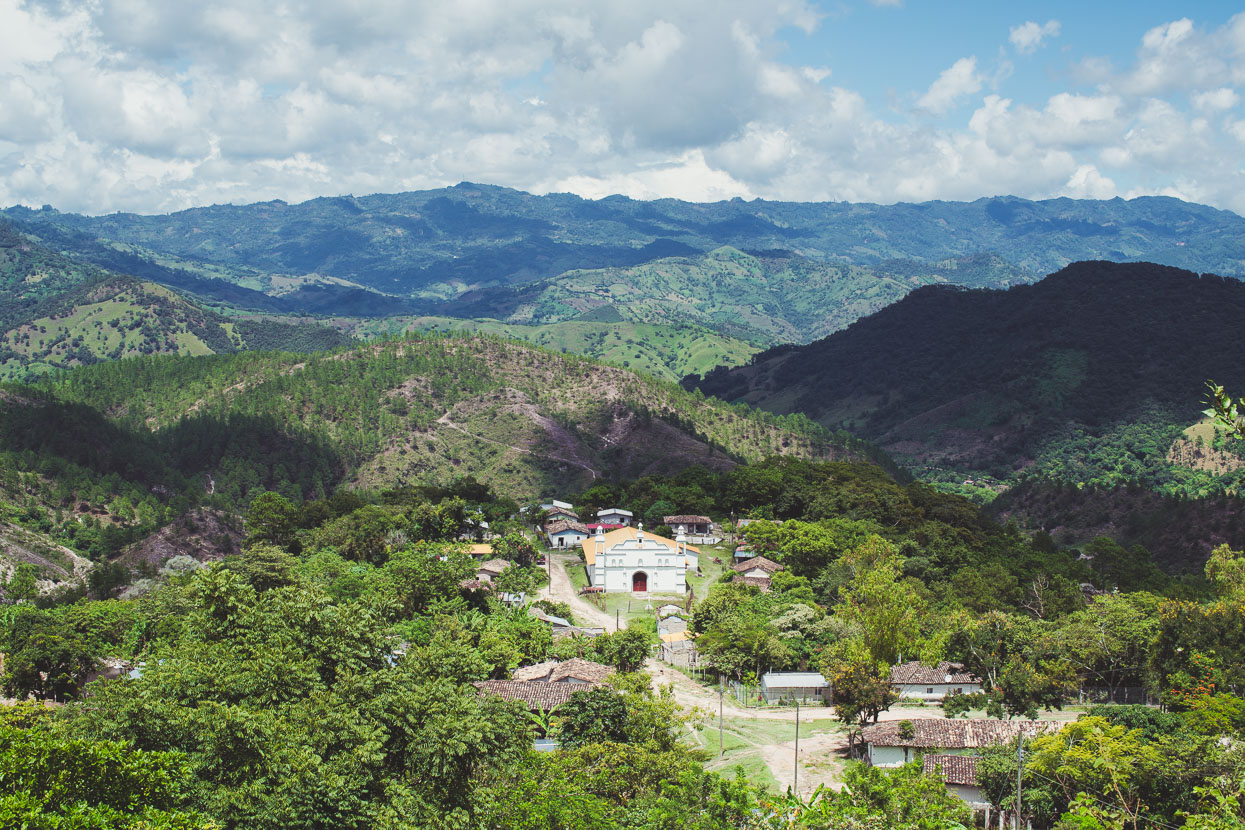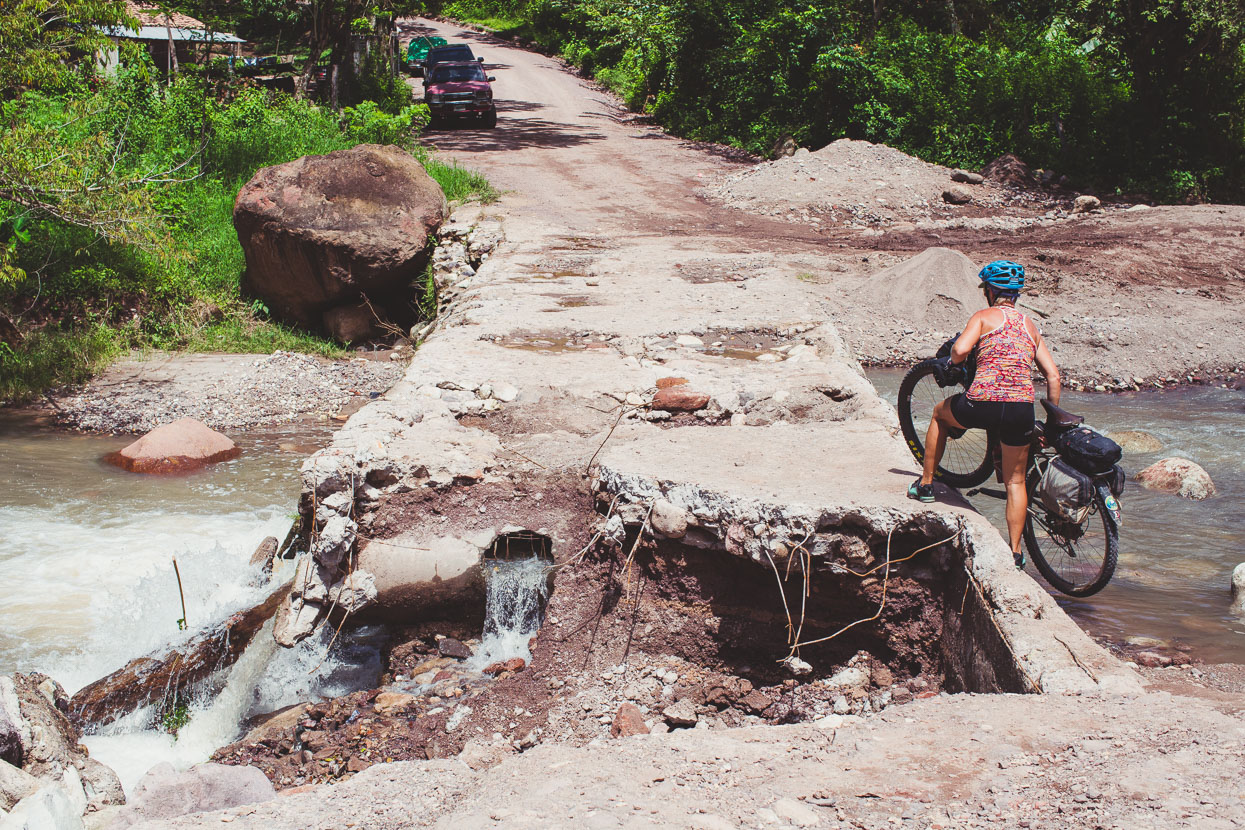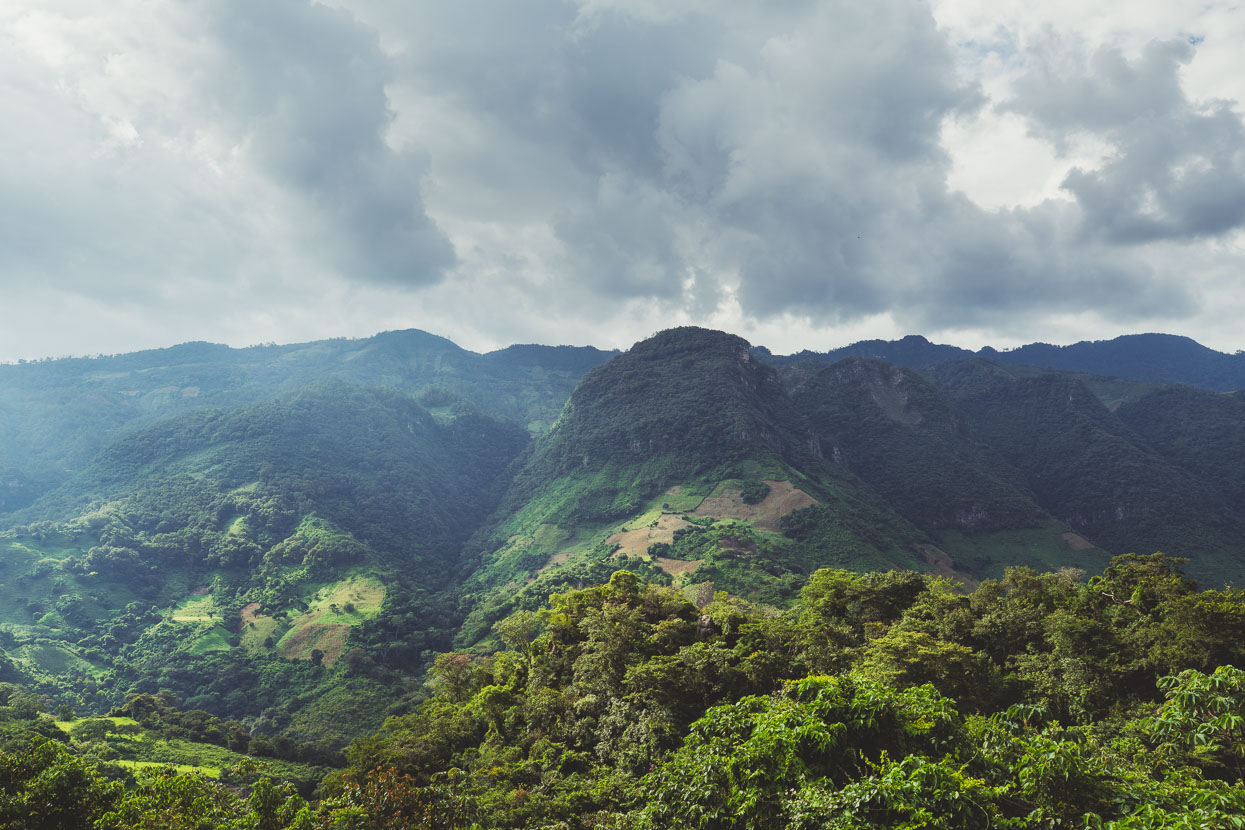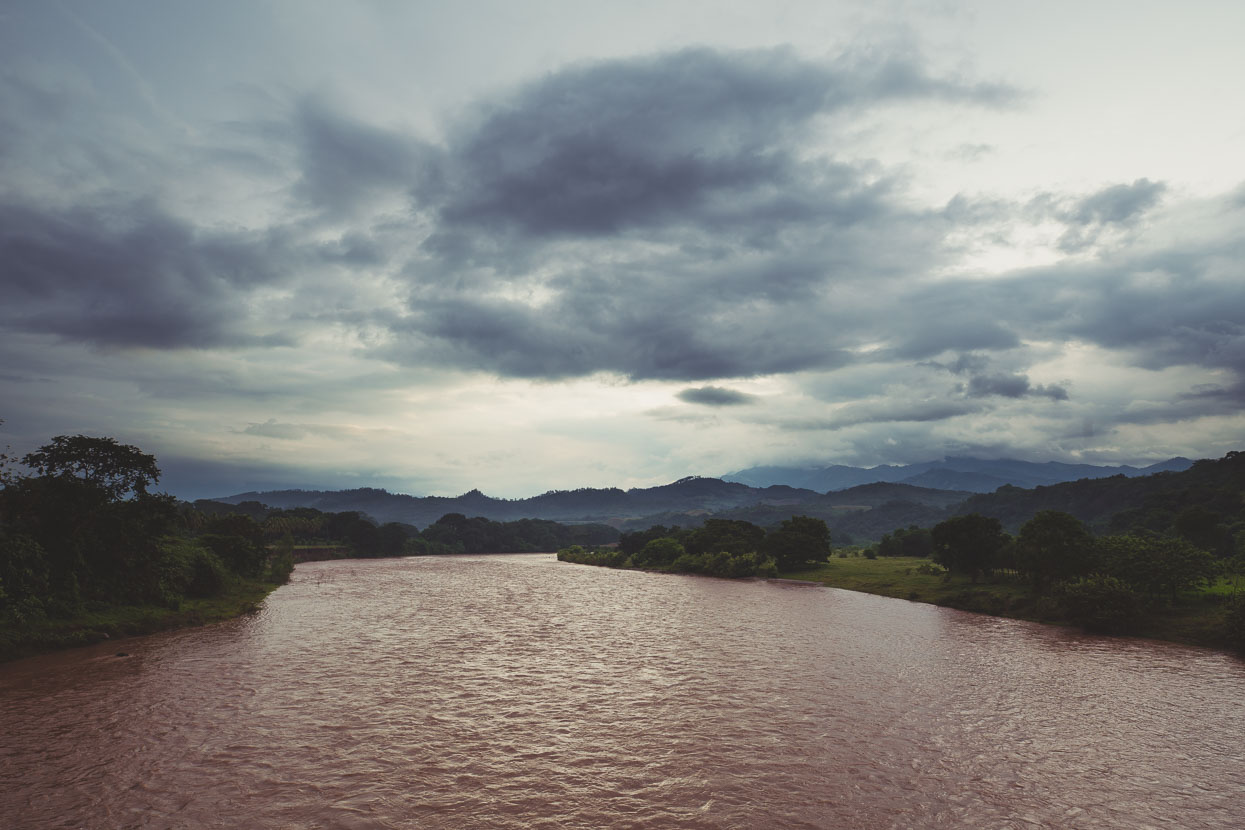 We dropped out of the mountains late in the day and crossed the huge Rio Grande de Otoro, just a few kilometres before Santa Barbara.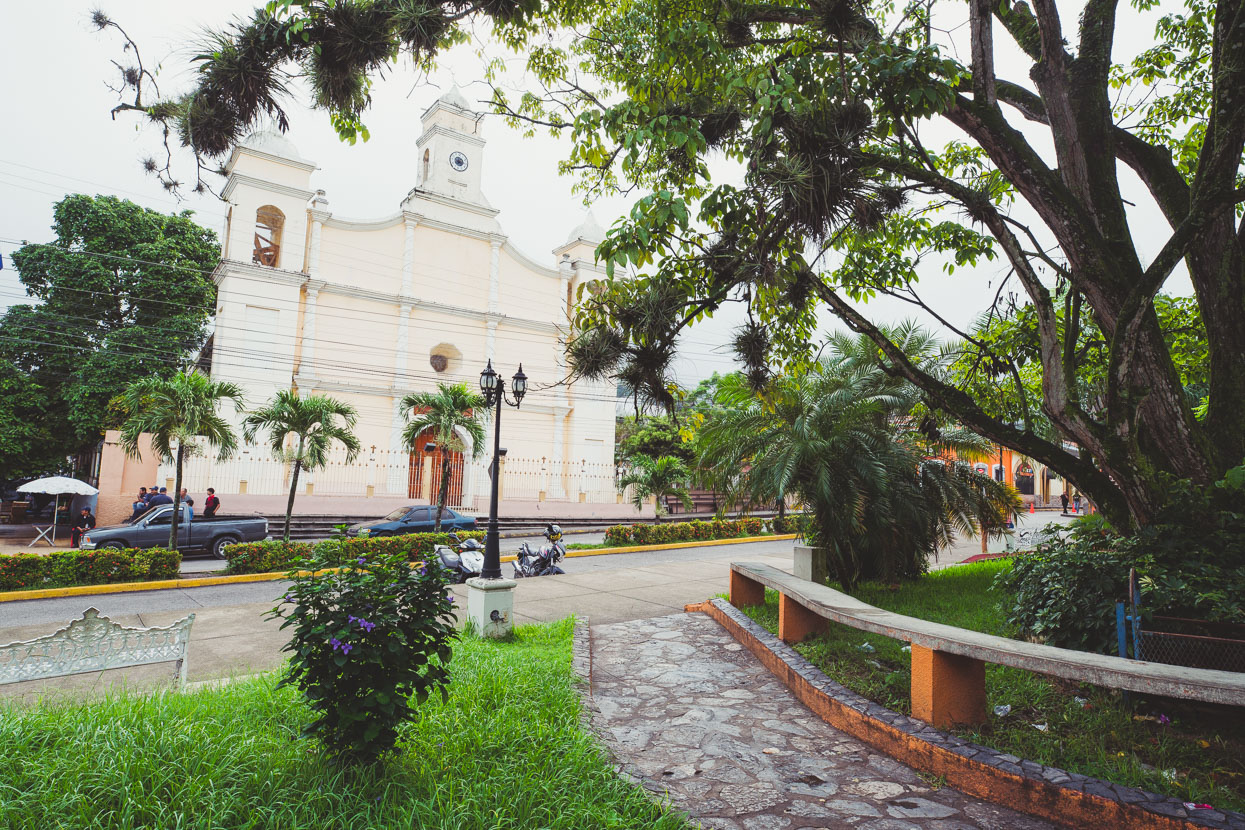 Of all the towns we'd seen so far in Honduras Santa Barbara was the most interesting, surrounded as it was in thickly jungled mountainsides that disappeared into cloud, and with a regal but equally scruffy appeal that reminded us of Mexico.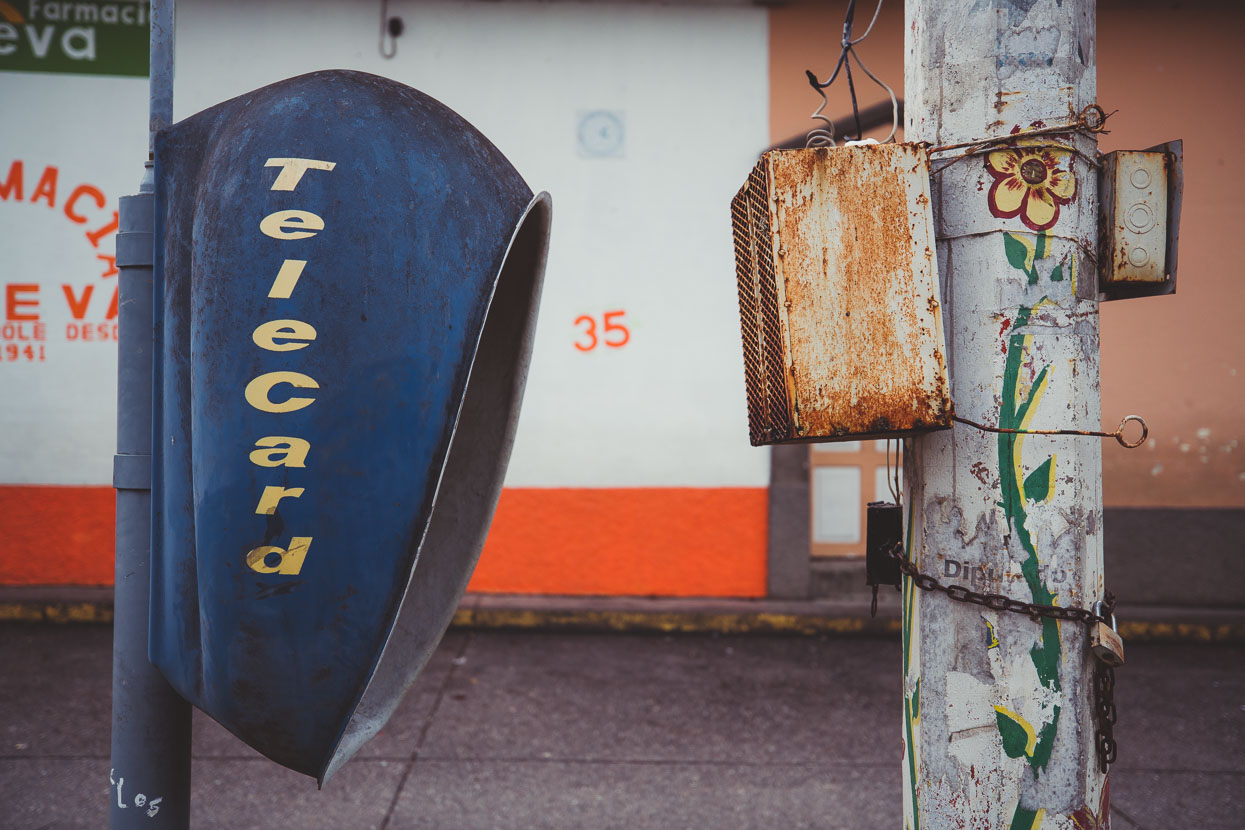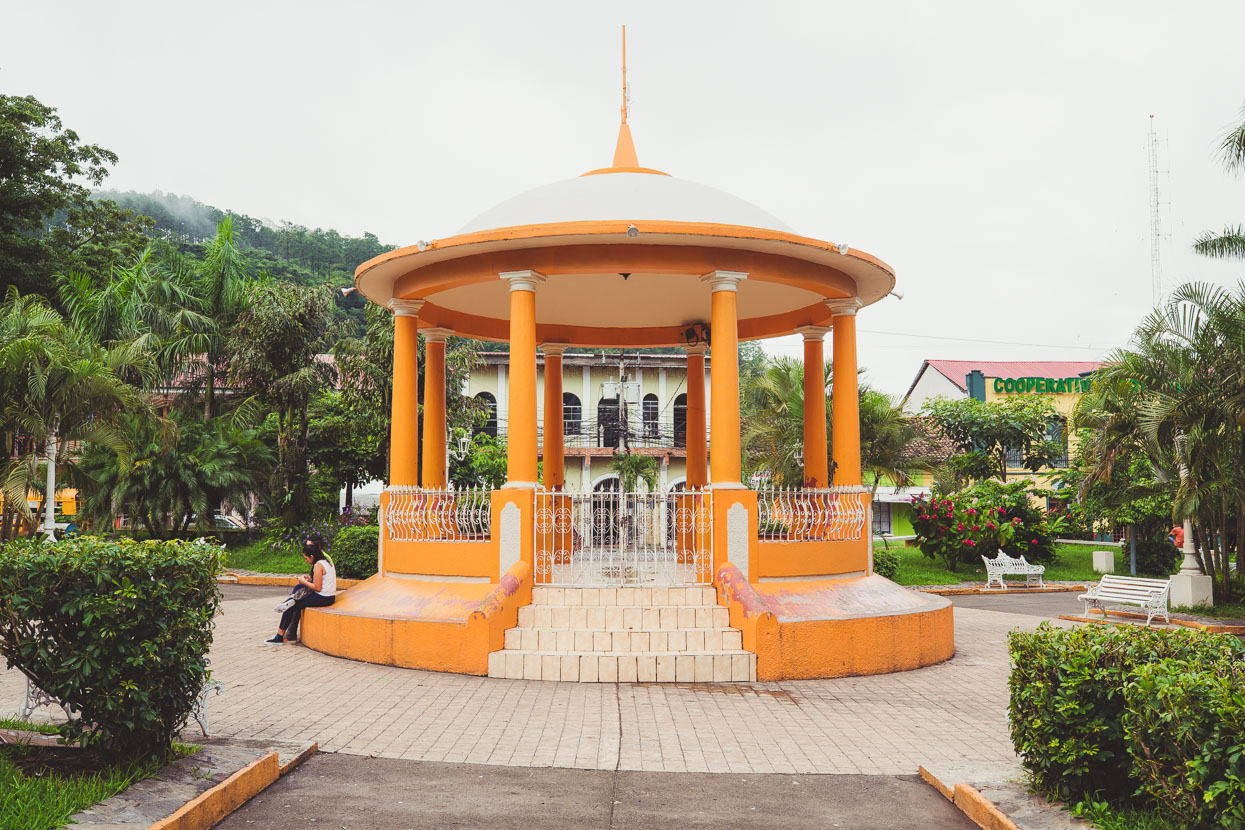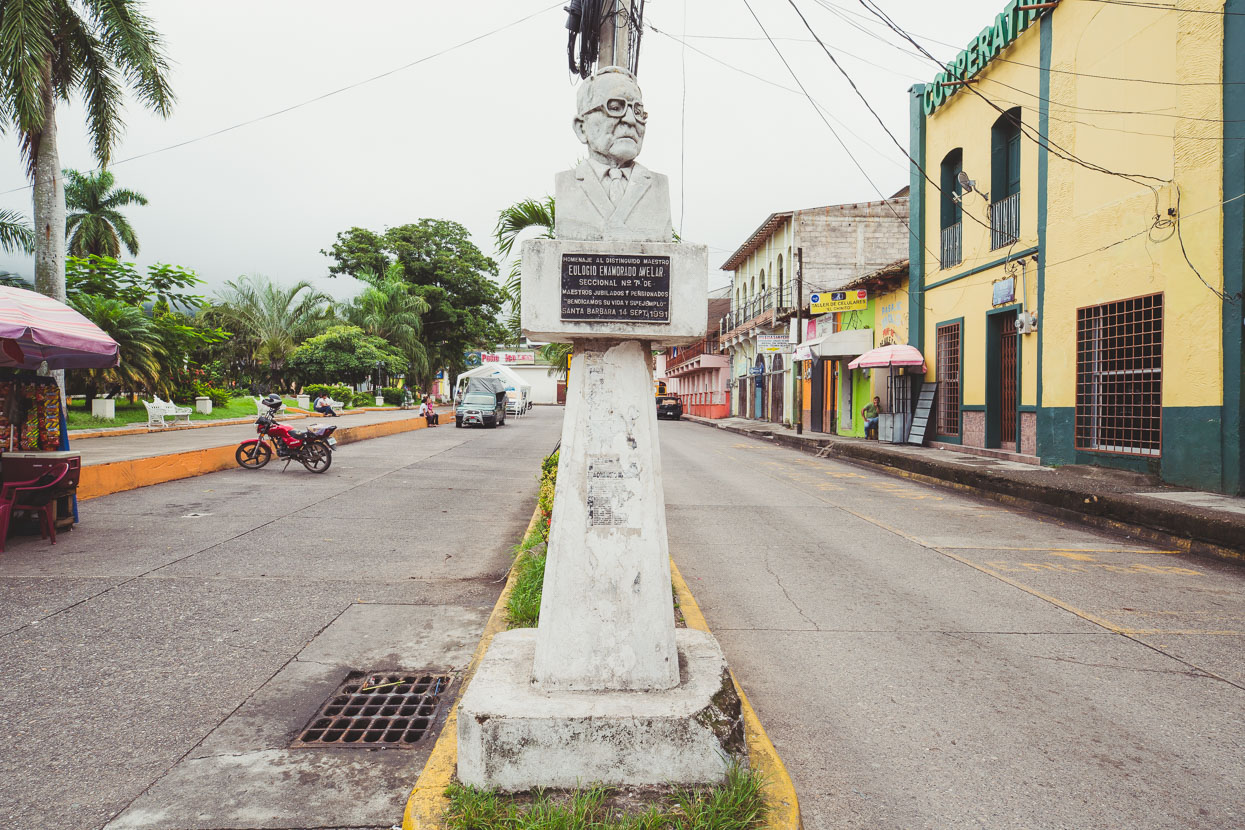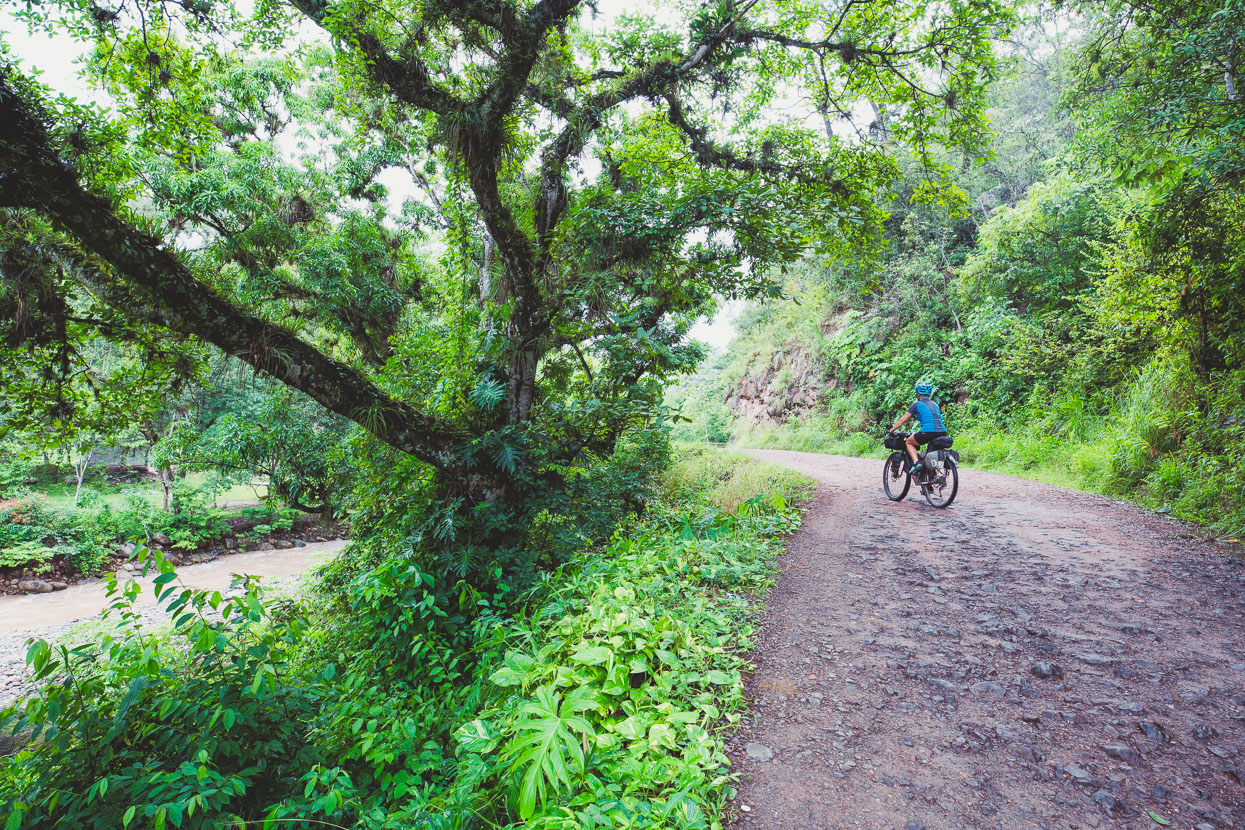 Some satellite map inspection back in Copán had revealed a mountain road that climbed temptingly high around the side of a great limestone massif: the Montaña de Santa Barbara. The road wasn't traceable with ordinary map routing so we drew a GPX track by hand, based off the satellite map and followed this out of Santa Barbara the next morning. Within a kilometre of the city centre the road turned into a narrow, sometimes rocky affair that climbed around the edge of the mountain for over 1200 vertical metres. Hard work, but a fantastic place to be riding a bike. After a small village near the start of the route, the ride was only punctuated by the occasional hamlet on the mountainside.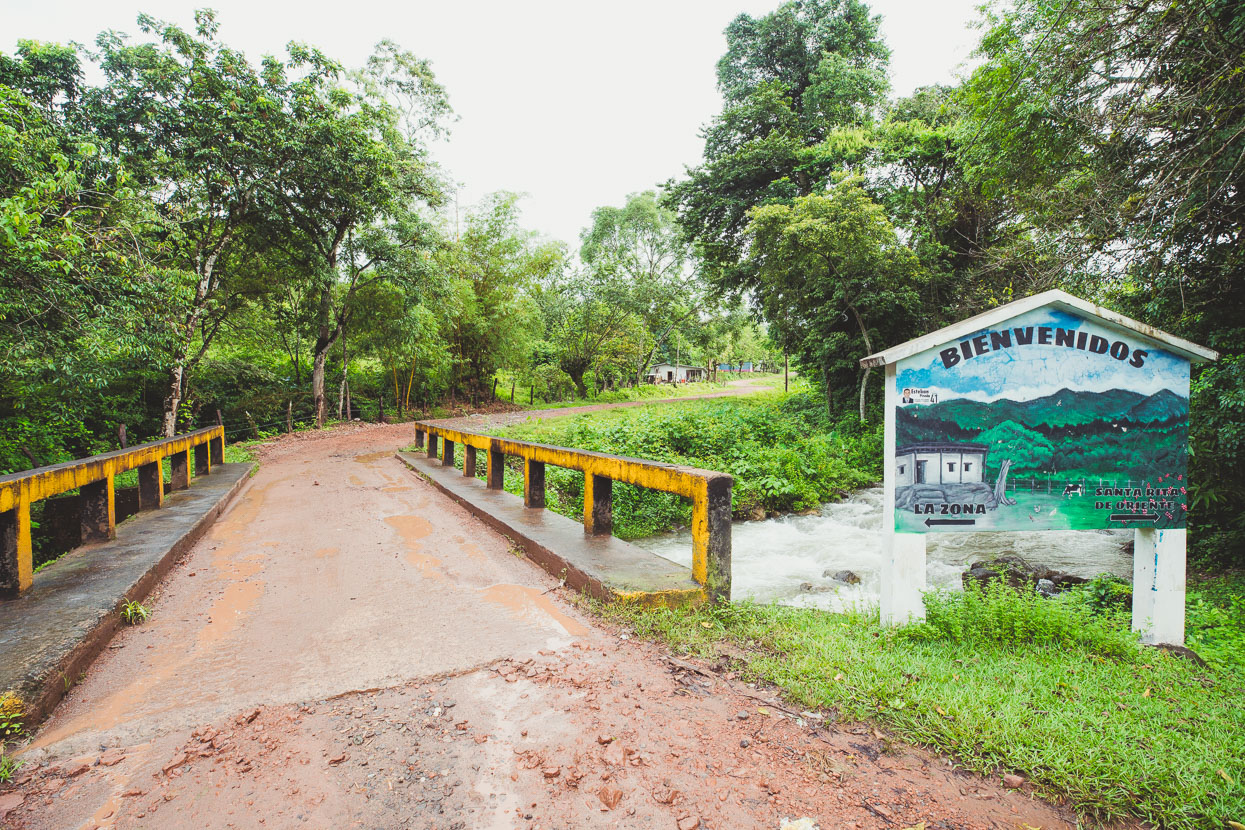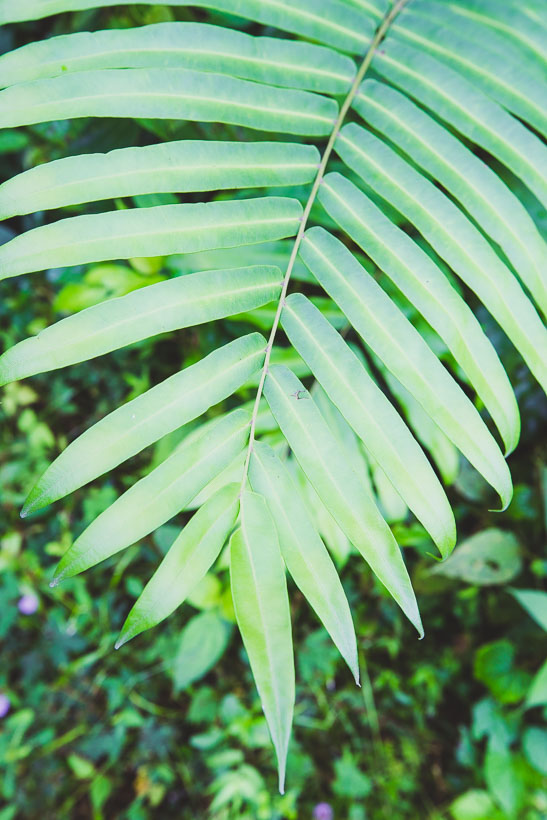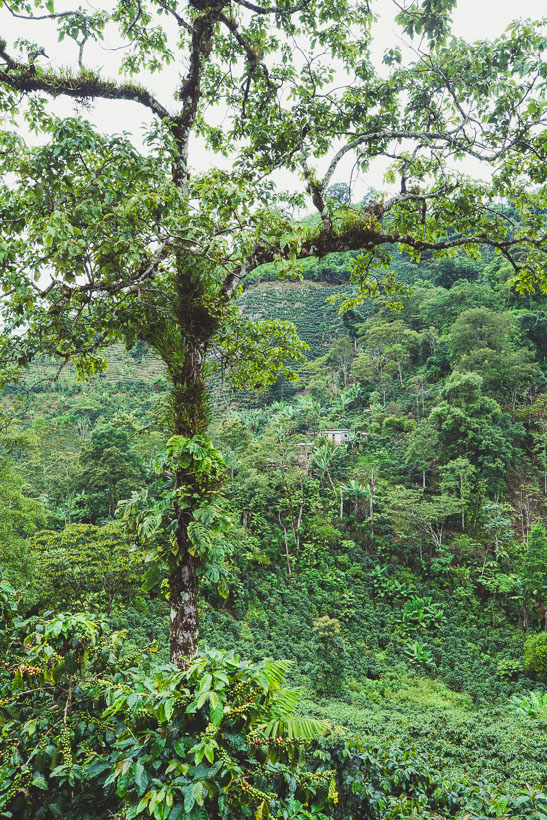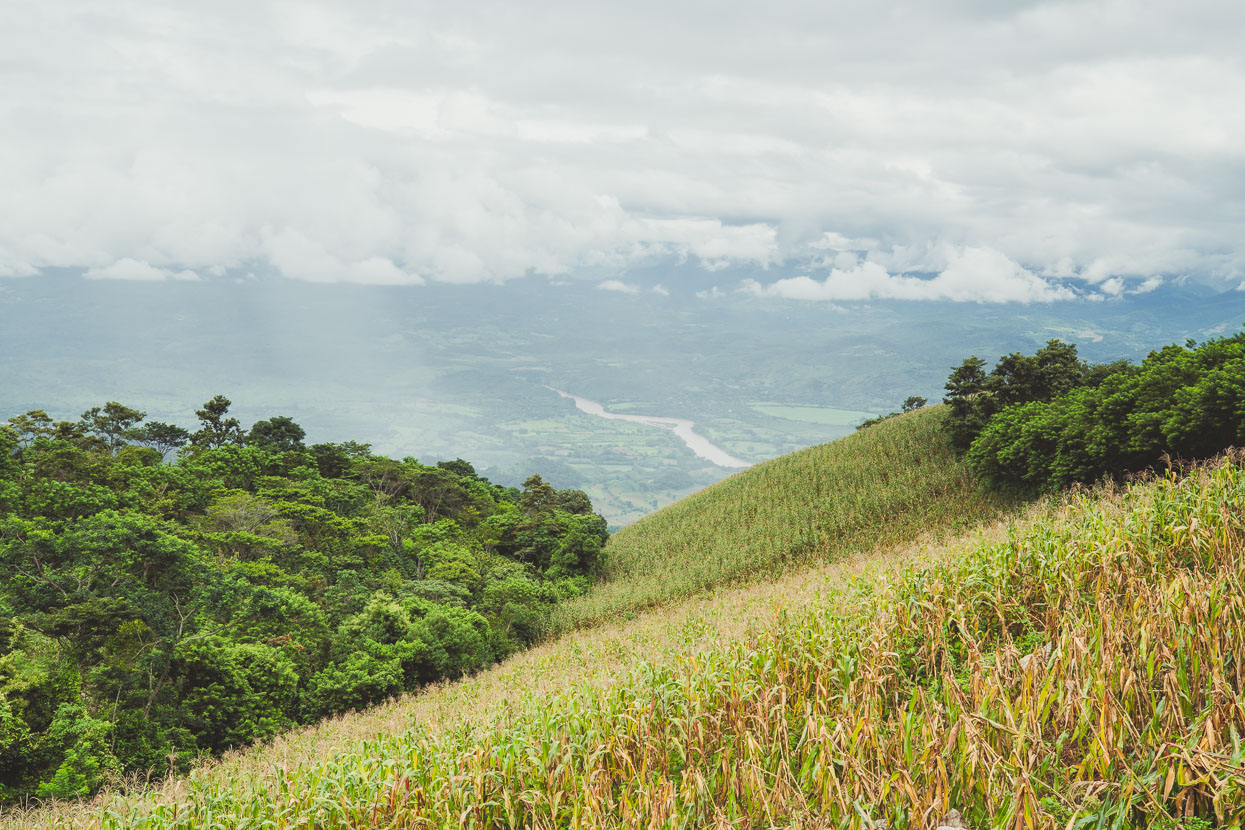 Mostly we rode surrounded by thick rainforest and sometimes pine, but at times broke out into maize fields where we we could catch views of the lowlands we'd left earlier in the morning. Persistent drizzle and cloud draped ranges added to the mood of this unique place.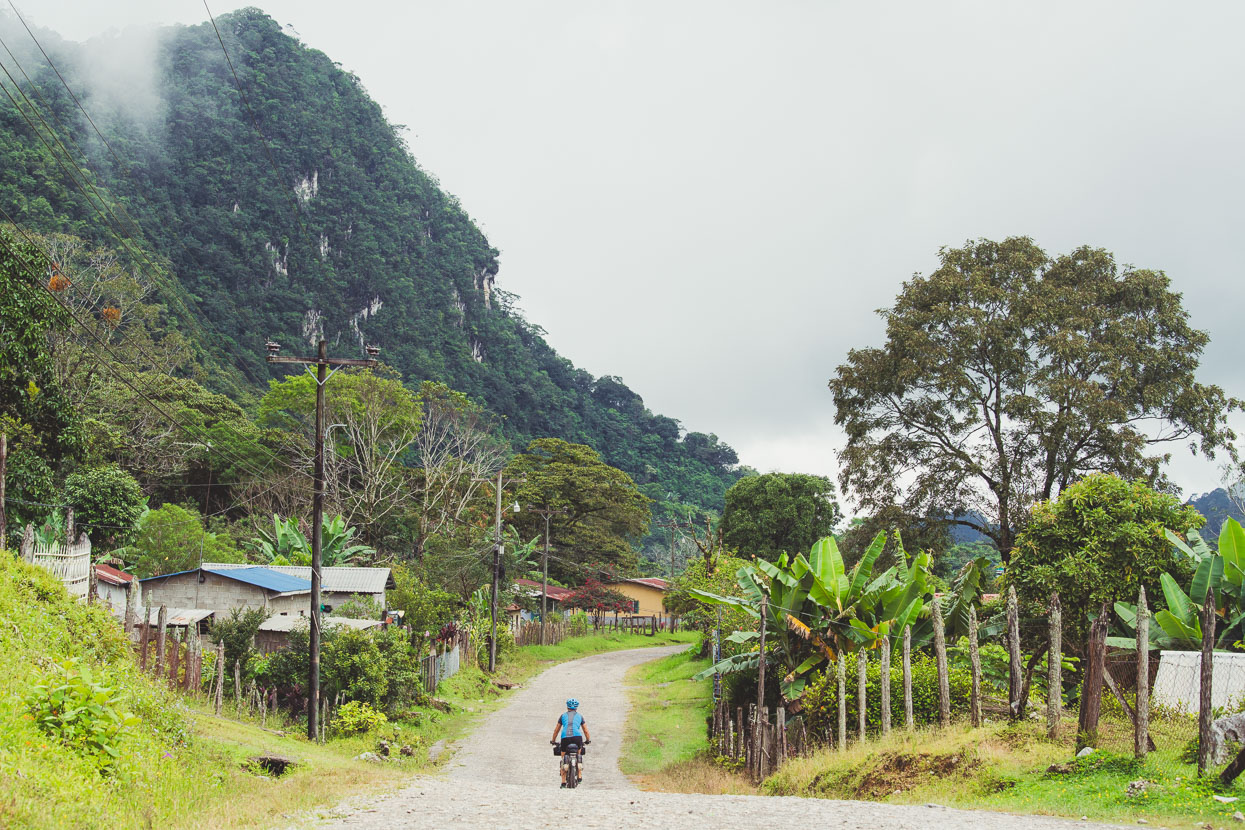 A bigger village – San Luis Planes – and the highpoint on the road before a long and steep drop down to Peña Blanca and Los Naranjos, where we made a beeline for the famous D&D Brewery (yes a brewery!) beside Lake Yohoa.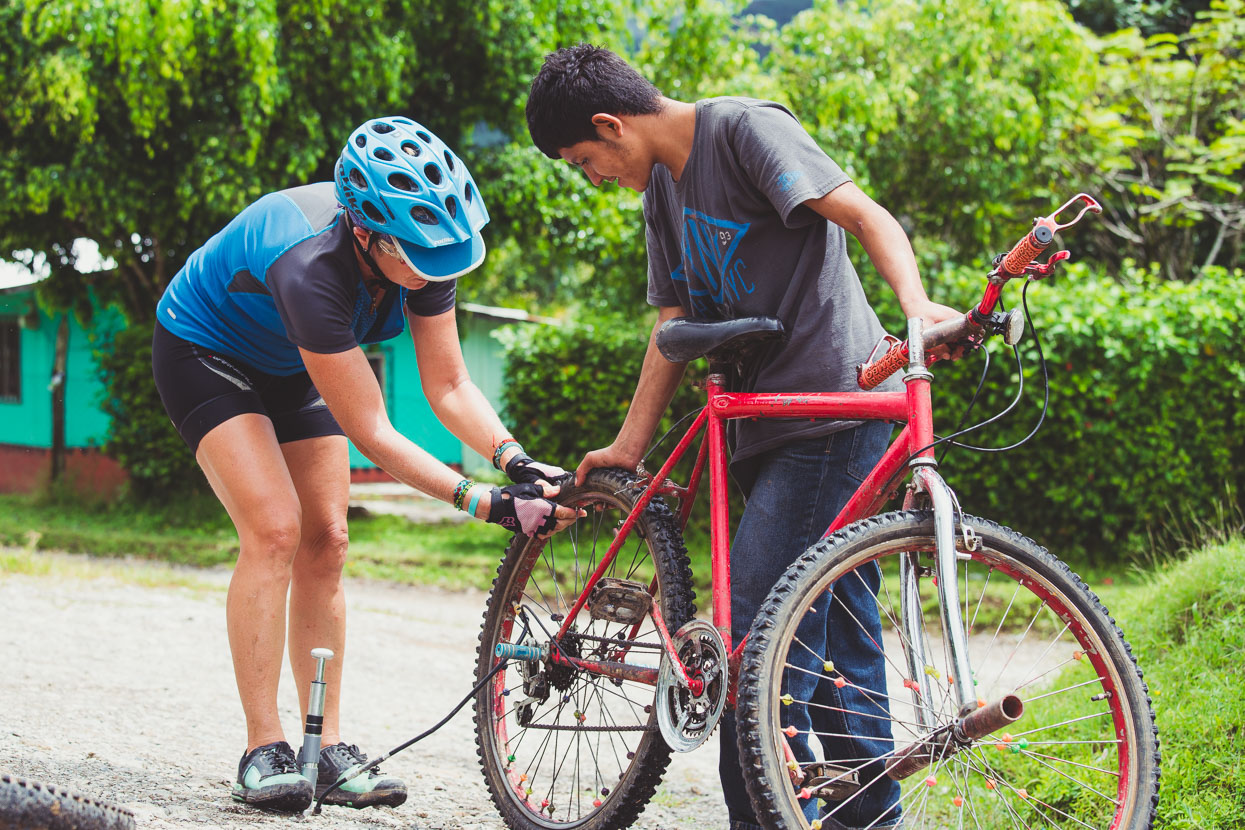 As well as turtle rescue, we do mobile roadside bike assistance.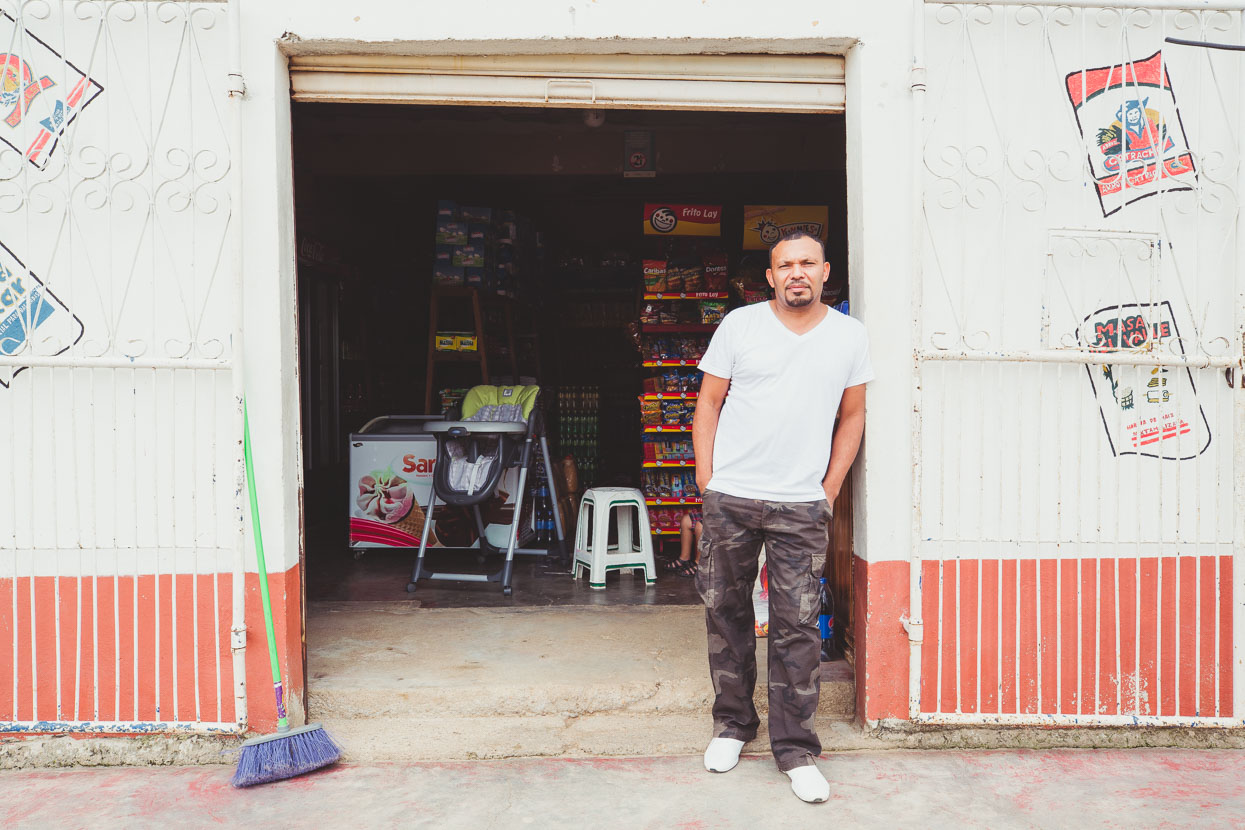 Some people from the road as we rode the pavement and then dirt 'highway' towards Olanchito: Elvis, outside his store in Punta Ocotoe. Like nearly every other hombre we've spoken to in Honduras, Elvis had worked in the USA and spoke pretty good English, which is much more commonly spoken here than in Guatemala, due to large numbers of itinerant workers who have returned from the USA. A large proportion of income to the Honduran economy comes from workers in the USA.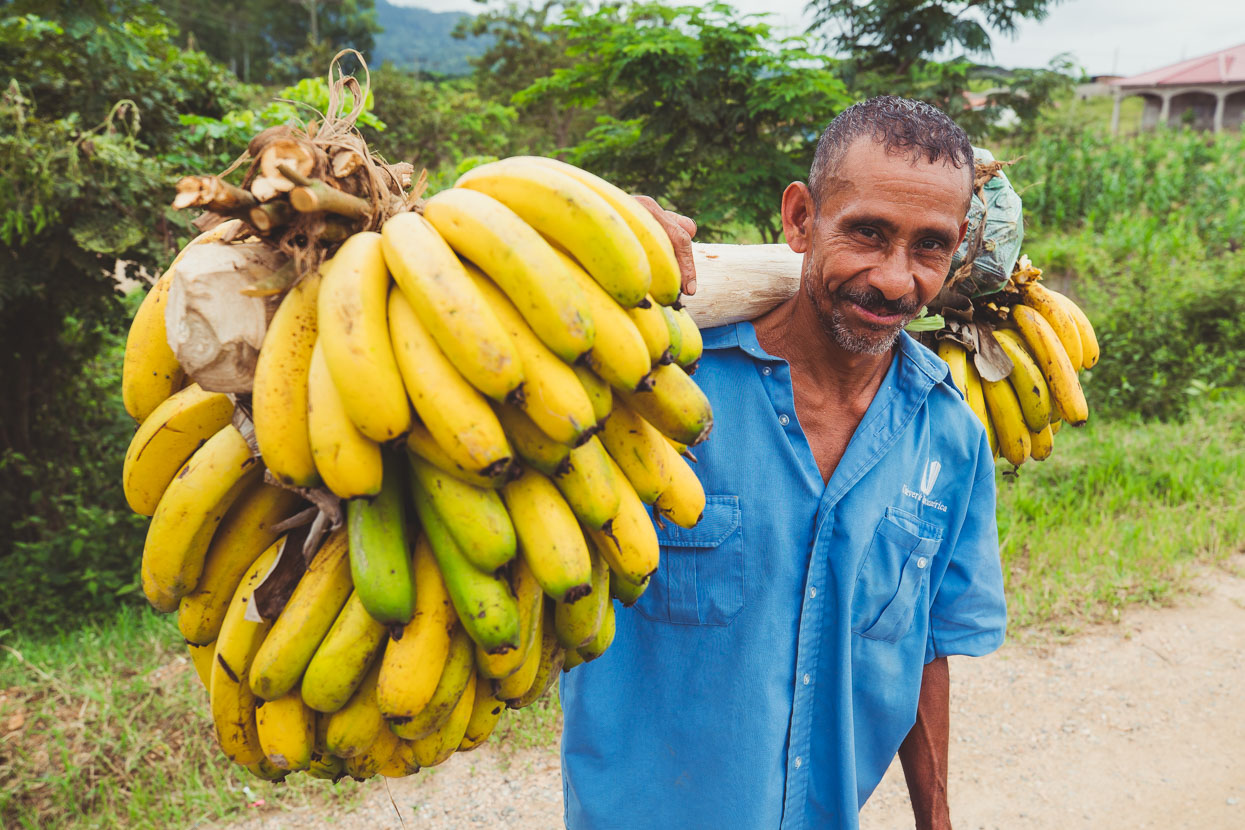 We bought a couple of bananas from this mobile roadside vendor who, like so many people here, ekes out a living in the most basic of ways.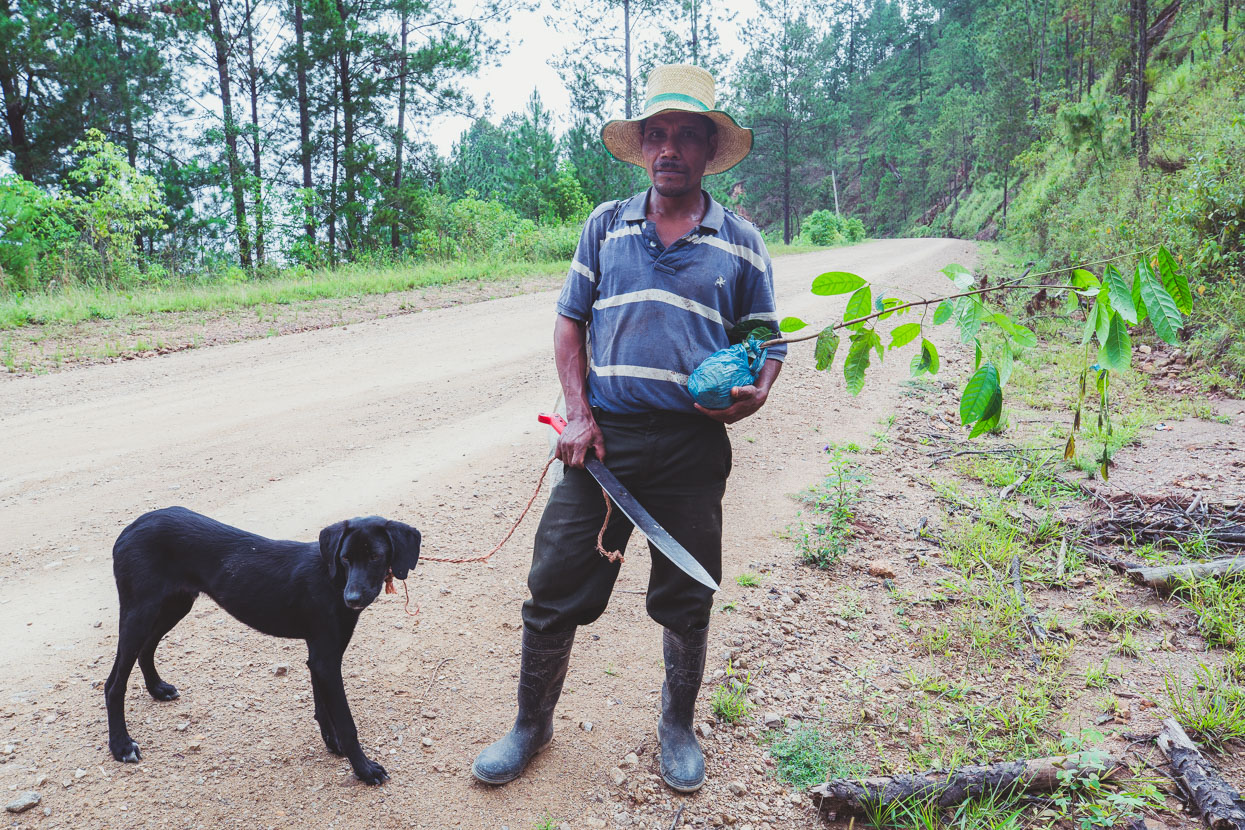 Late in the day before Jocon we sat on a rock on the roadside eating a quick snack when this man wandered past with a dog on a makeshift leash (a very rare sight) and a young sapling. We chatted a while and then he offered us some oranges from a sack on his back (for free) so we reciprocated with a small packet of biscuits.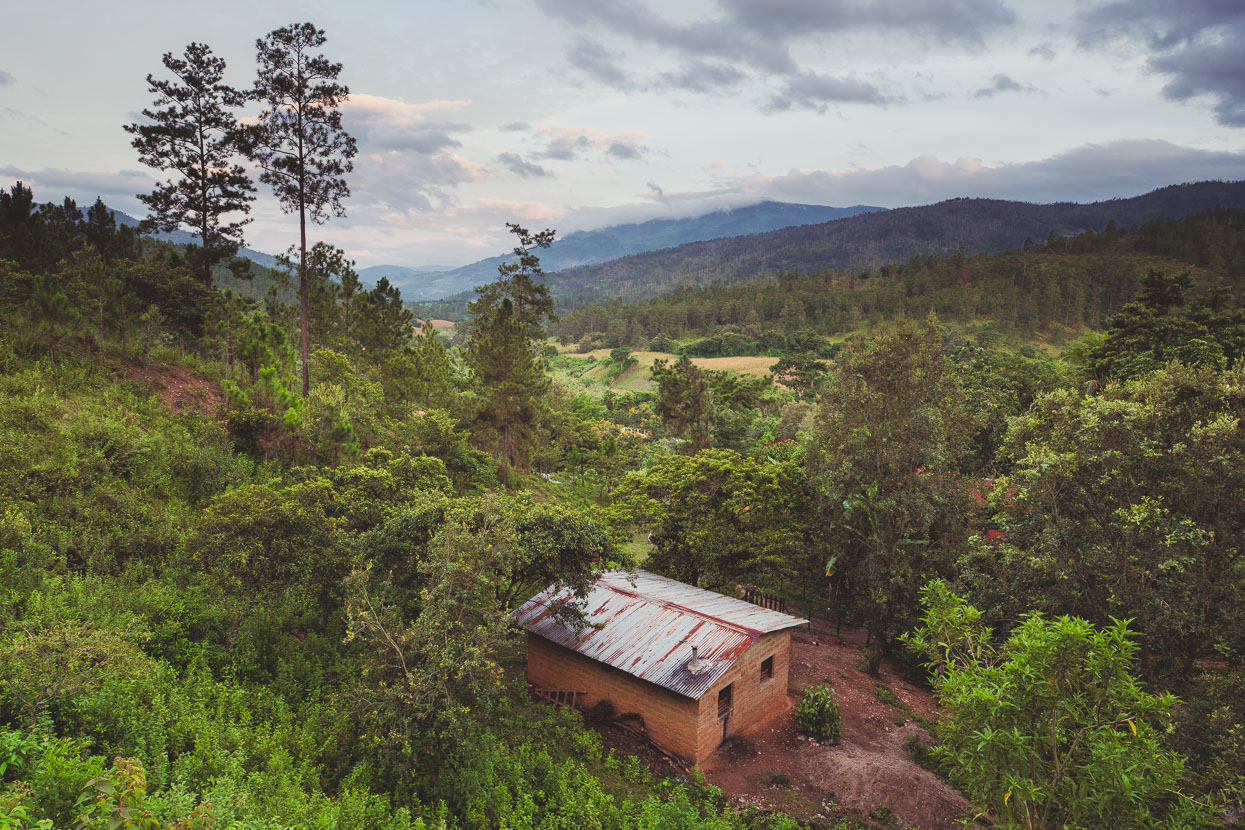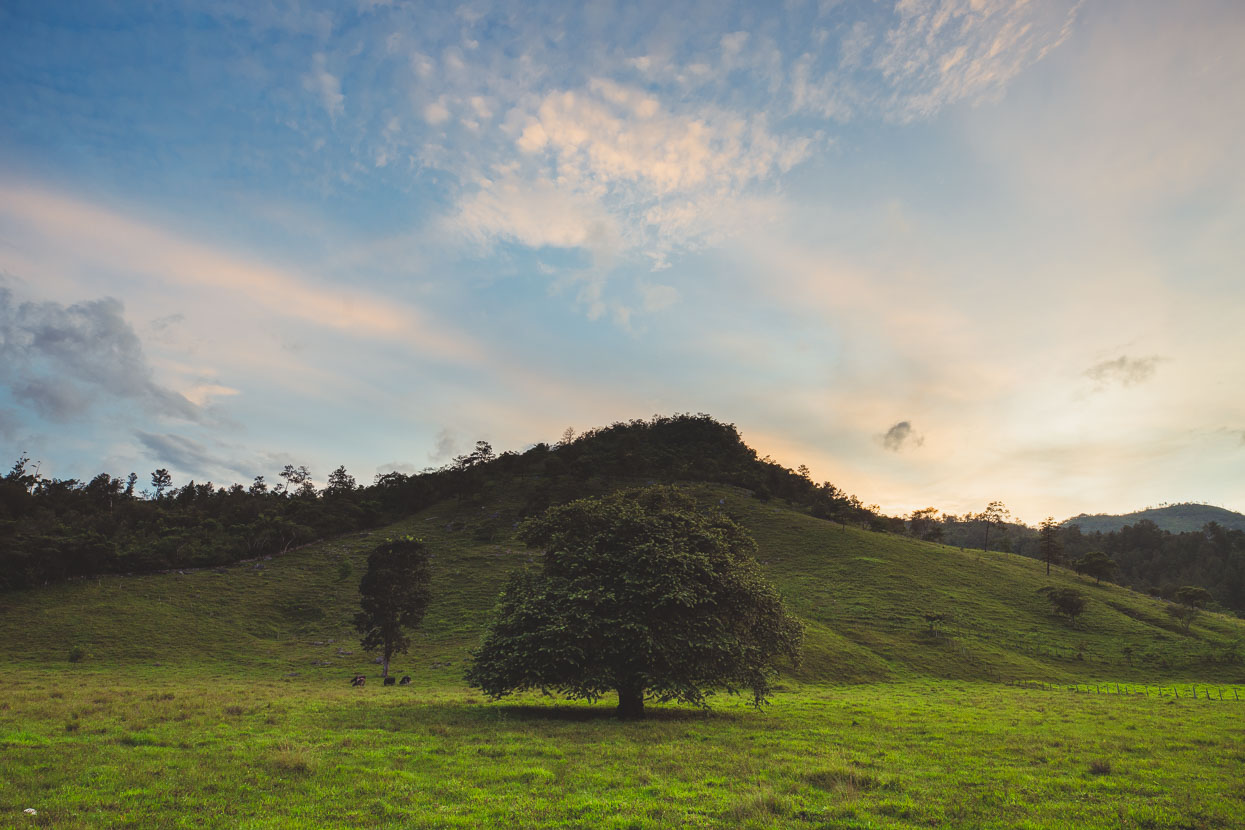 The end of day as we drop through beautiful country down towards Jocon.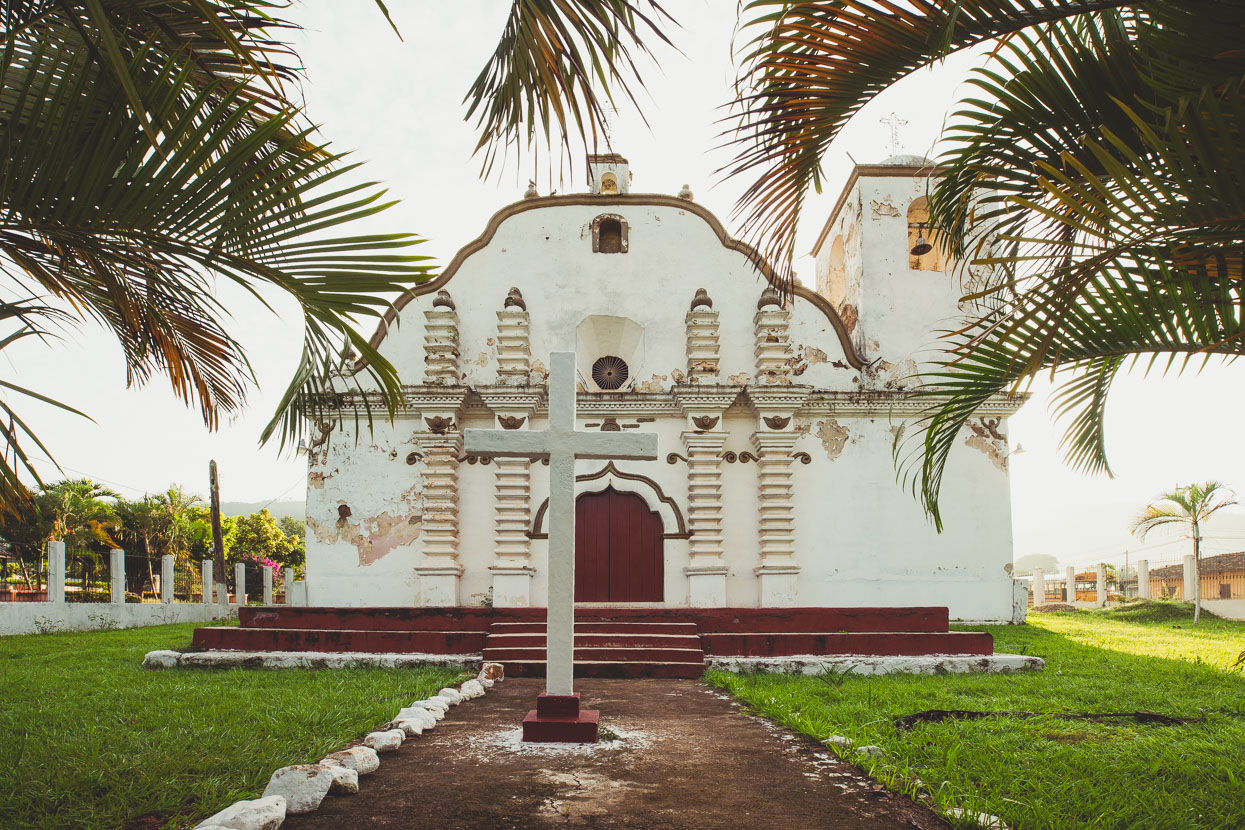 After passing through a string of decidedly uninteresting towns for a couple of days, the village of Jocón was a pleasant surprise. Surrounded by misty pine-clad hillsides and centred around a beautiful historic church this place had a very relaxed, content atmosphere.
The custodian of the church was friendlier than he looks and invited us to check out the inside of the rustic building, just as he was opening up for the day.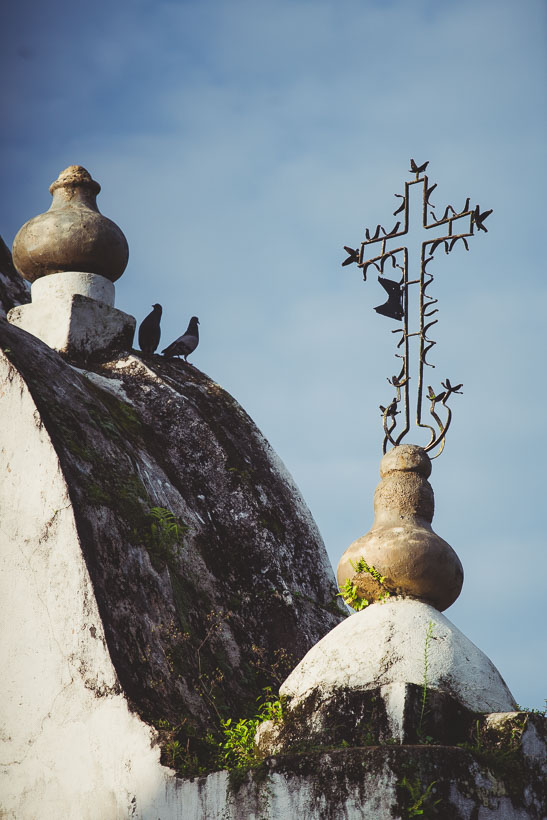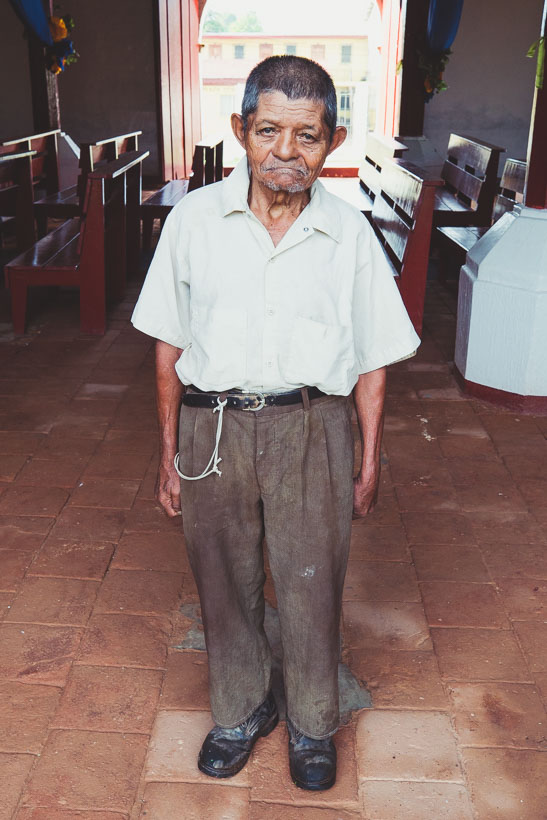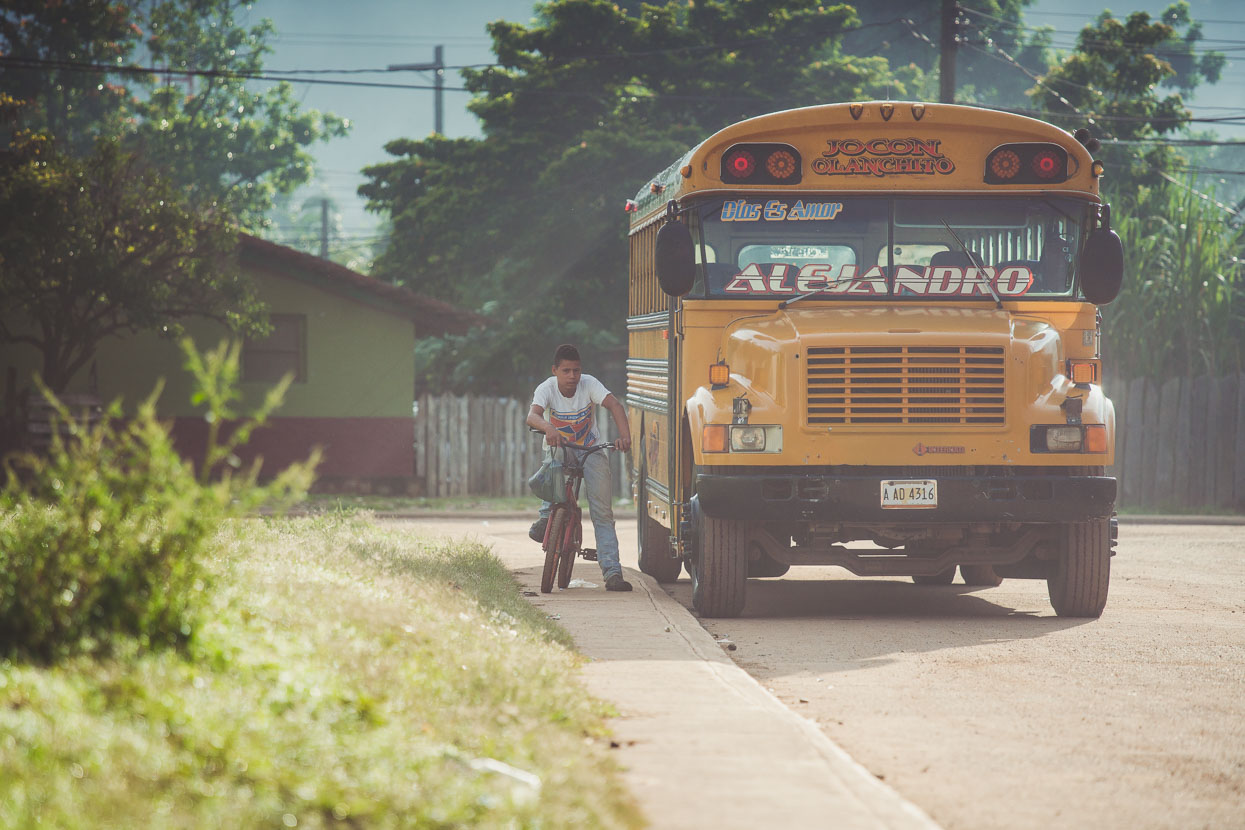 A yellow school bus and a kid on a BMX bike – could almost be suburban USA! As with Guatemala, the ex-USA school buses are the main public transport down here and often still have their original area of service in the US painted on the side.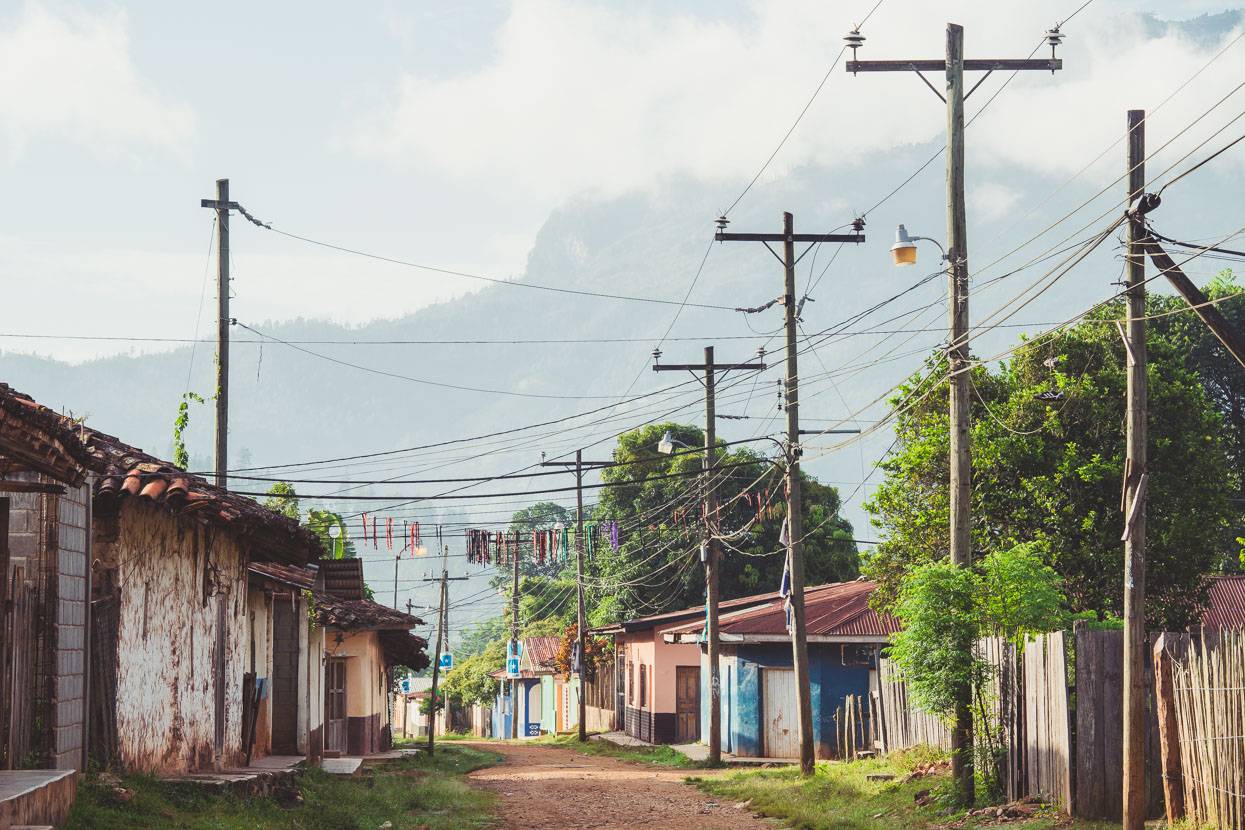 Definitely not suburban USA though when you wander the street just one block back from the square.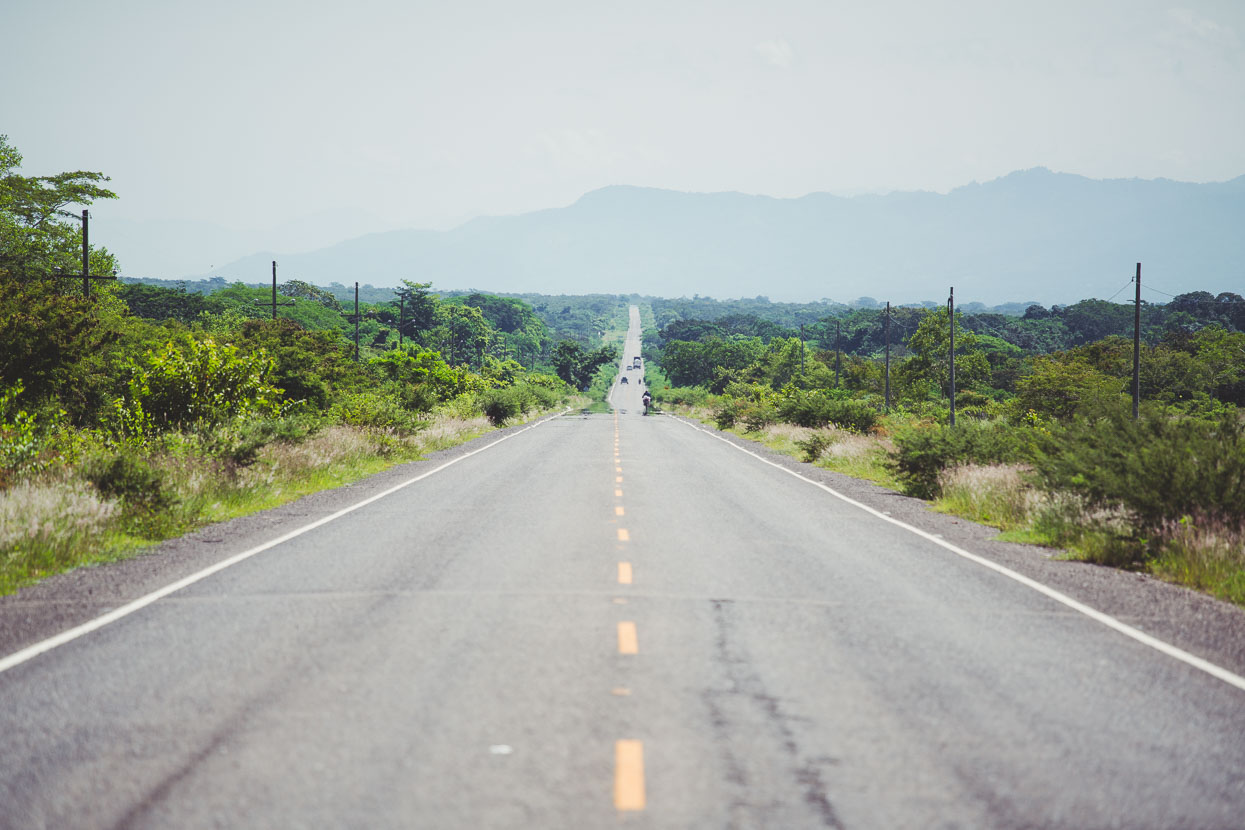 An easy valley ride followed as we came off dirt and onto pavement in the Aguan Valley, upriver from Olanchito. Only one mountain range separated us from the coast now.
With the lower elevation came cactus and soaring temps – 37°C by lunchtime on this day and not much below 30 at night.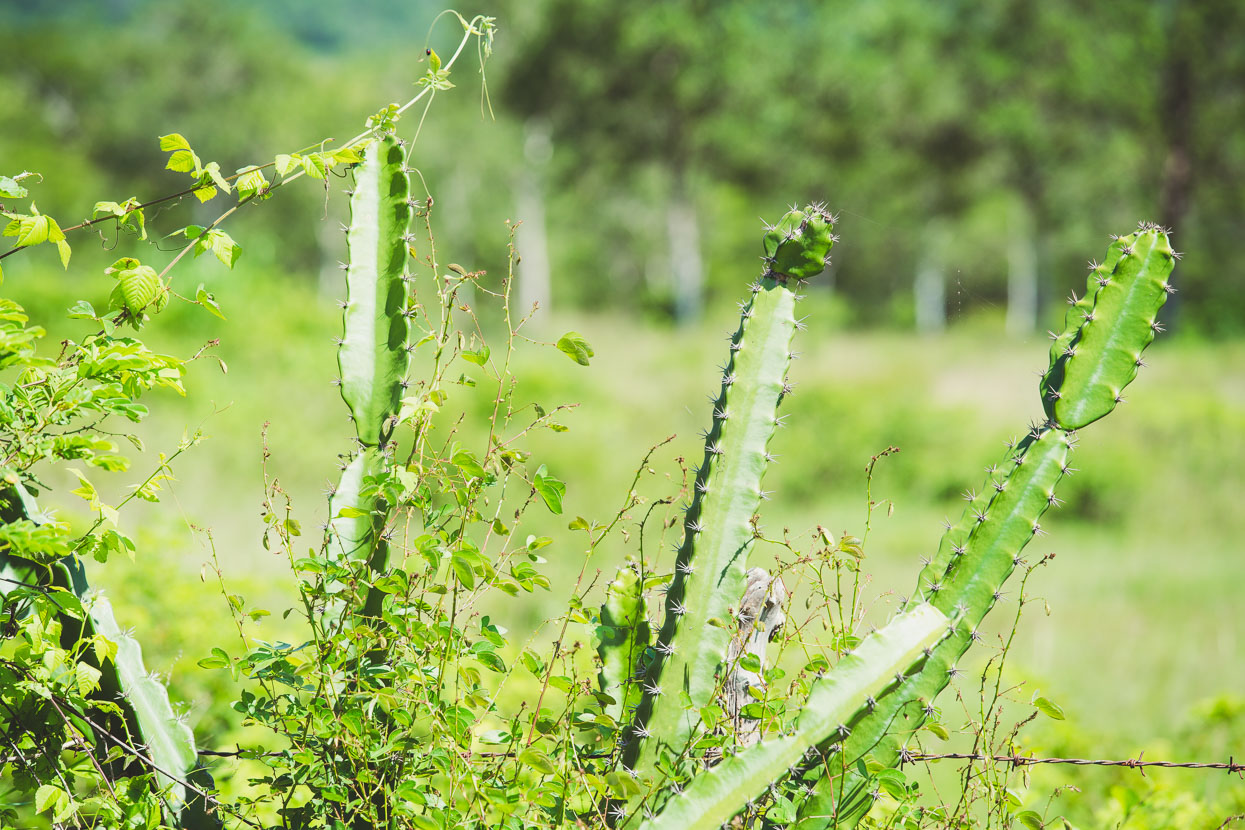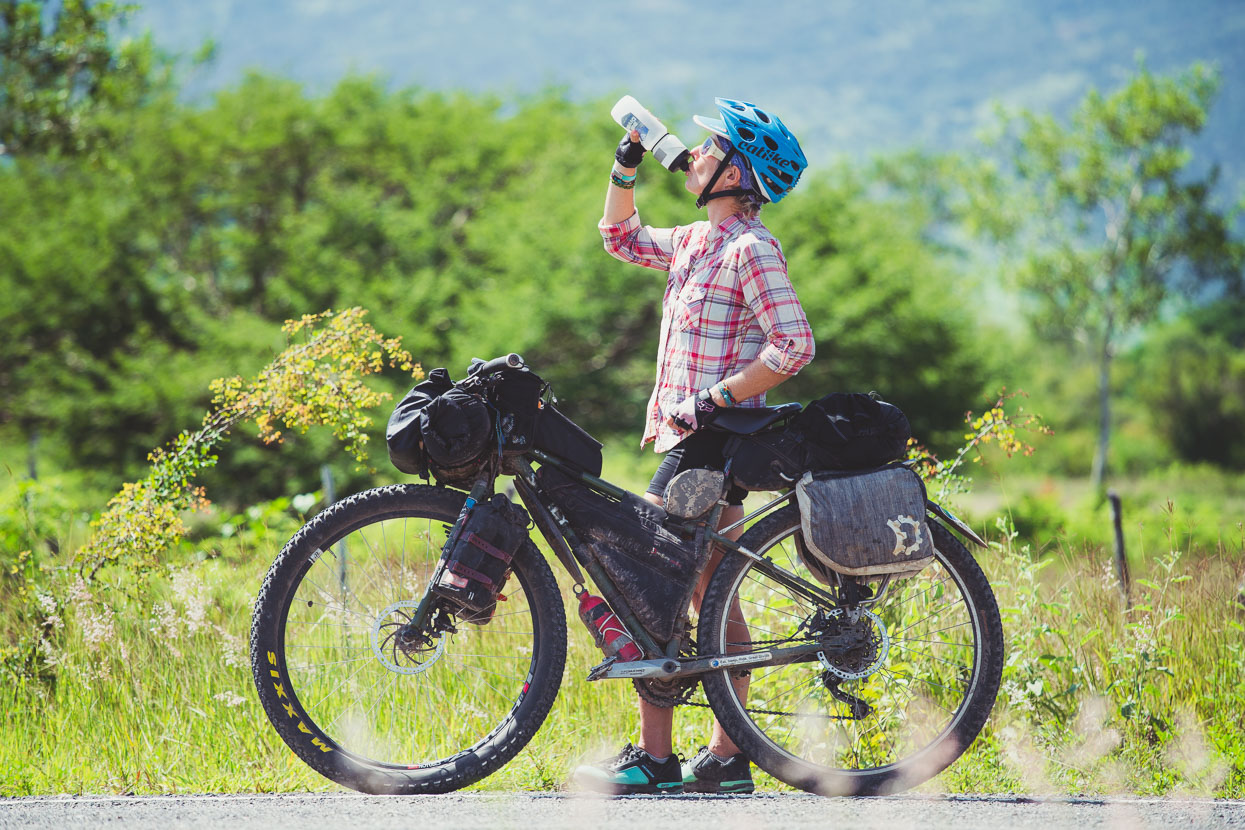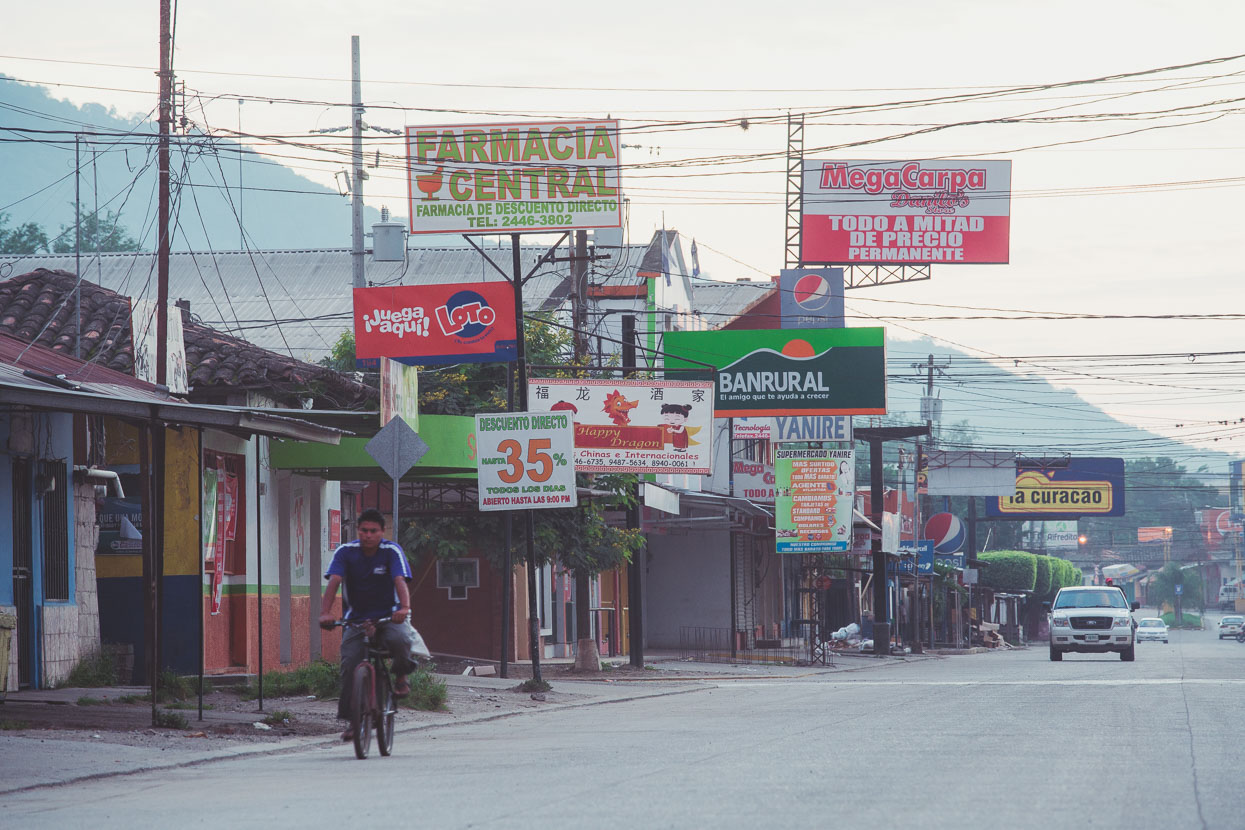 Olanchito didn't beg us to explore, it was just a place to find a meal and sleep for the night before a tough climb in the heat the next morning. Our starts have been getting earlier and earlier, but the morning we left Olanchito started a 4am wakeup trend that we have more or less stuck to for the weeks since. With slightly less than 12 hours between sunrise and sunset we find the afternoons short. Starting early means more riding in the cool of the morning and more milage before lunch, with plenty of time for photo stops. Riding a moving time of 5–7 hours we still fill the rest of the day most days and early finishes are rare.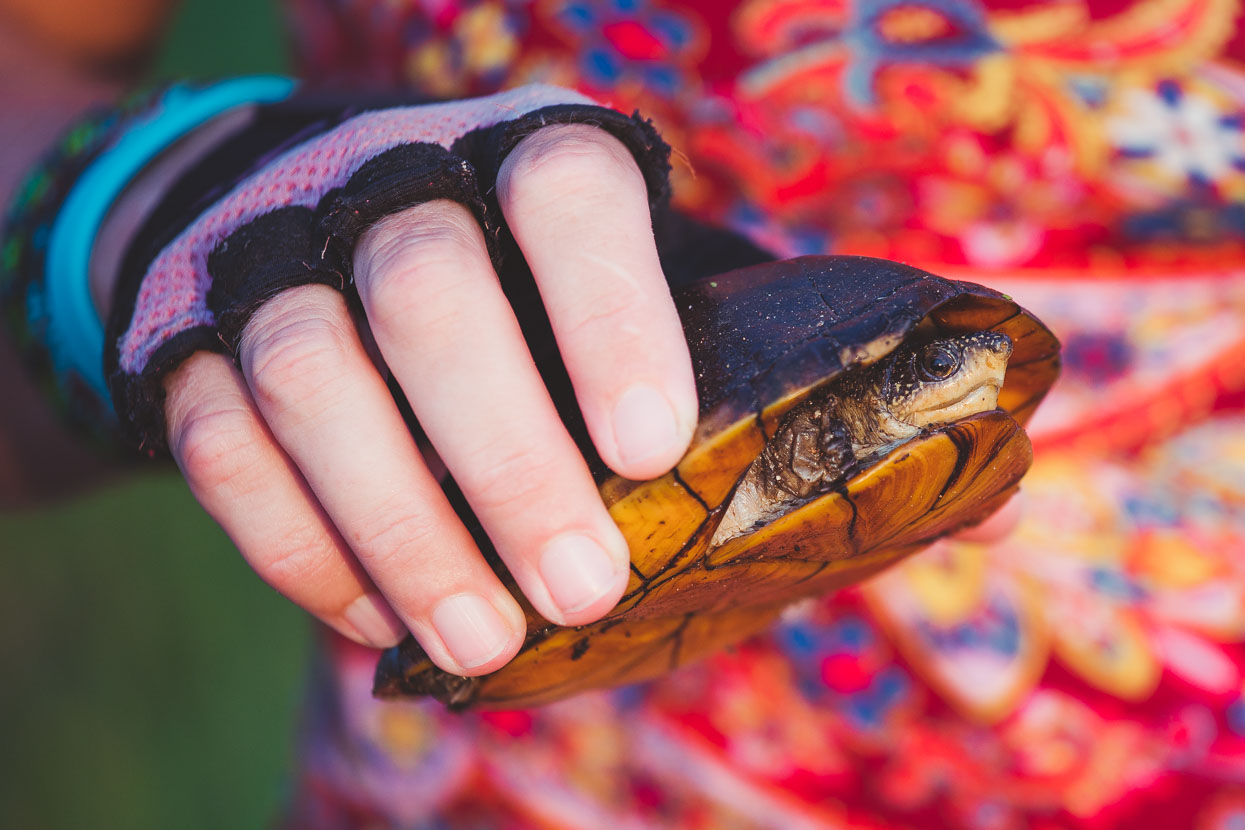 Turtle Rescue at it again… horrible seeing these cracked open on the highways.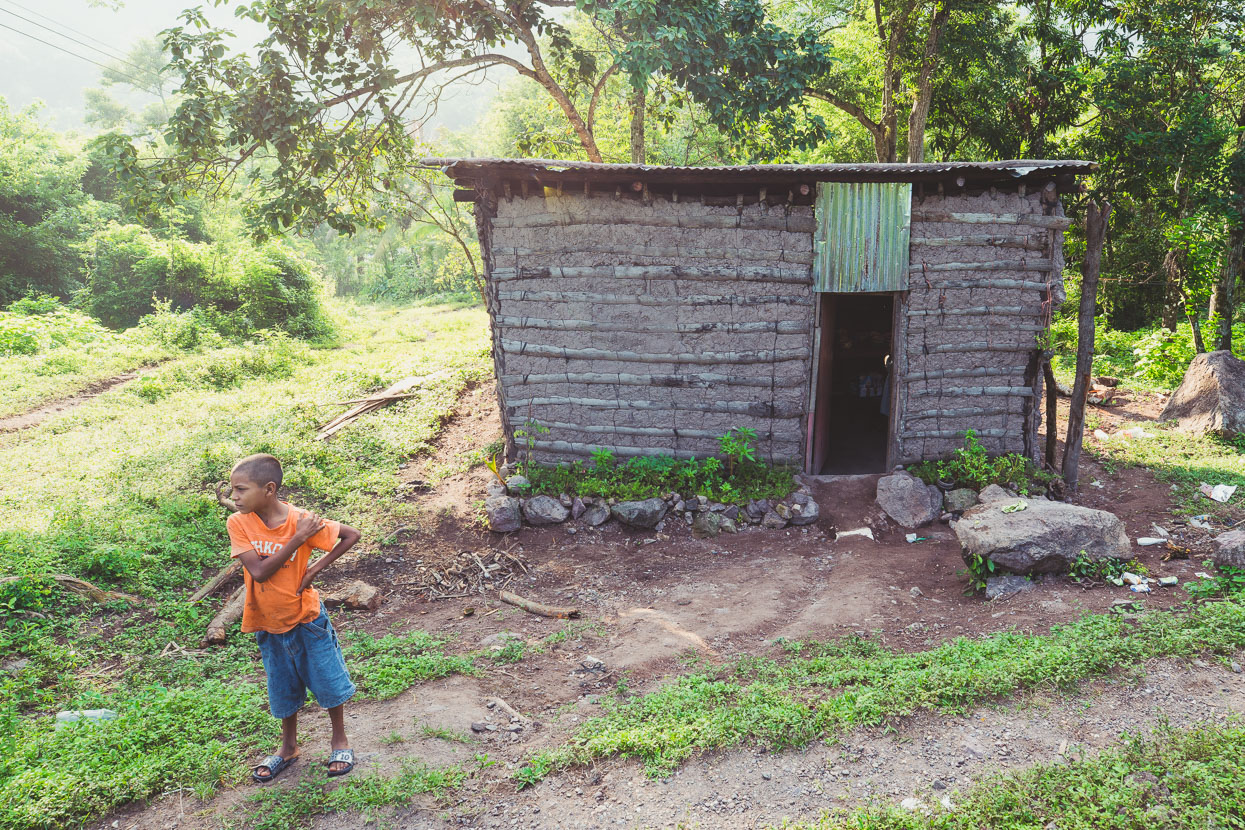 Our route from Olanchito over to the Rio Cangrejal and then La Ceiba took an abandoned bridle path once used by the banana industry (still one of Honduras' main exports). We backtracked from Olanchito about 8 kilometres and then took a right, heading into the hills once more. The road gradually deteriorates as it passes ever shrinking settlements for the first few kilometres. The most basic houses were walled with sticks and mud (common here) and roofed with corrugated iron.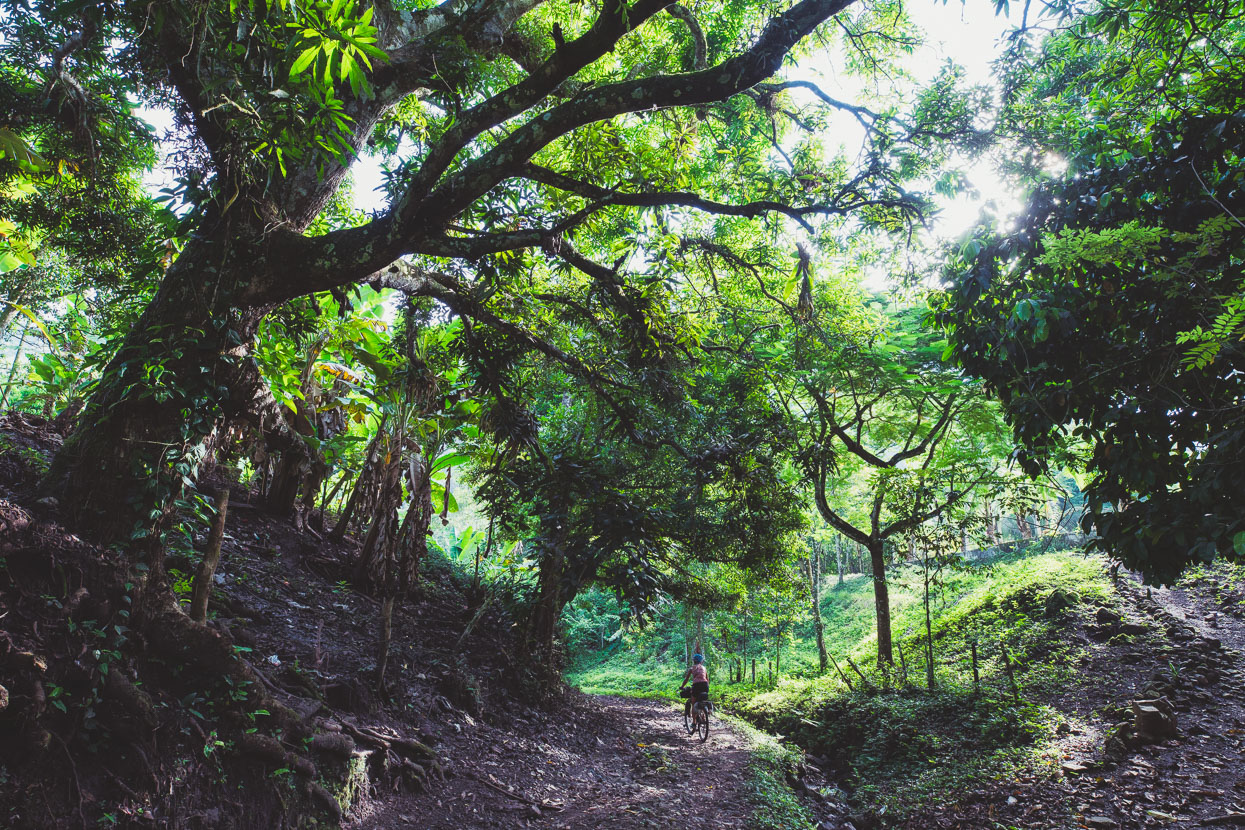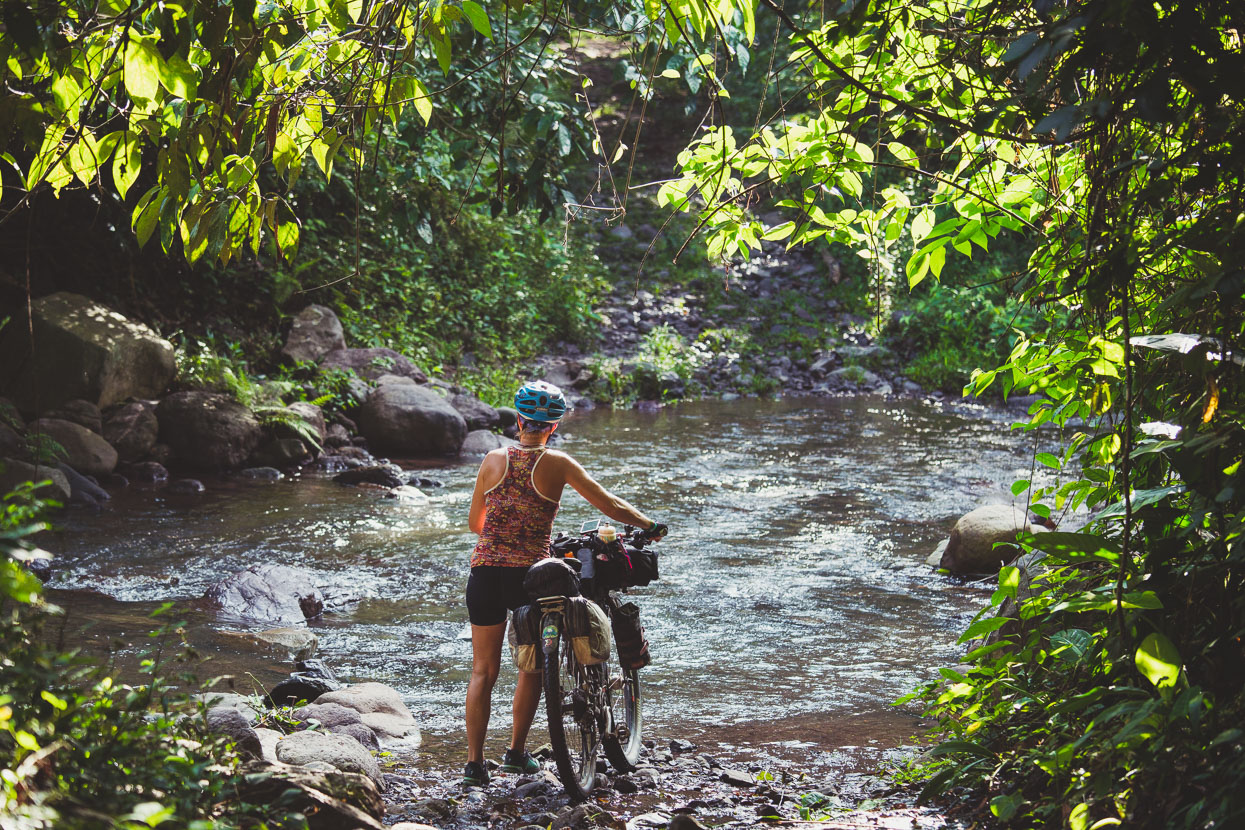 After a river crossing the road kicks up and climbs steeply, mostly as a single track on the grass covered road bed. The information for this ride was gleaned from the useful Cycle Central America guidebook by Ian Benford, which covers a fair bit of Honduras (including a lot of dirt road suggestions) and Cass Gibert's excellent While Out Riding blog.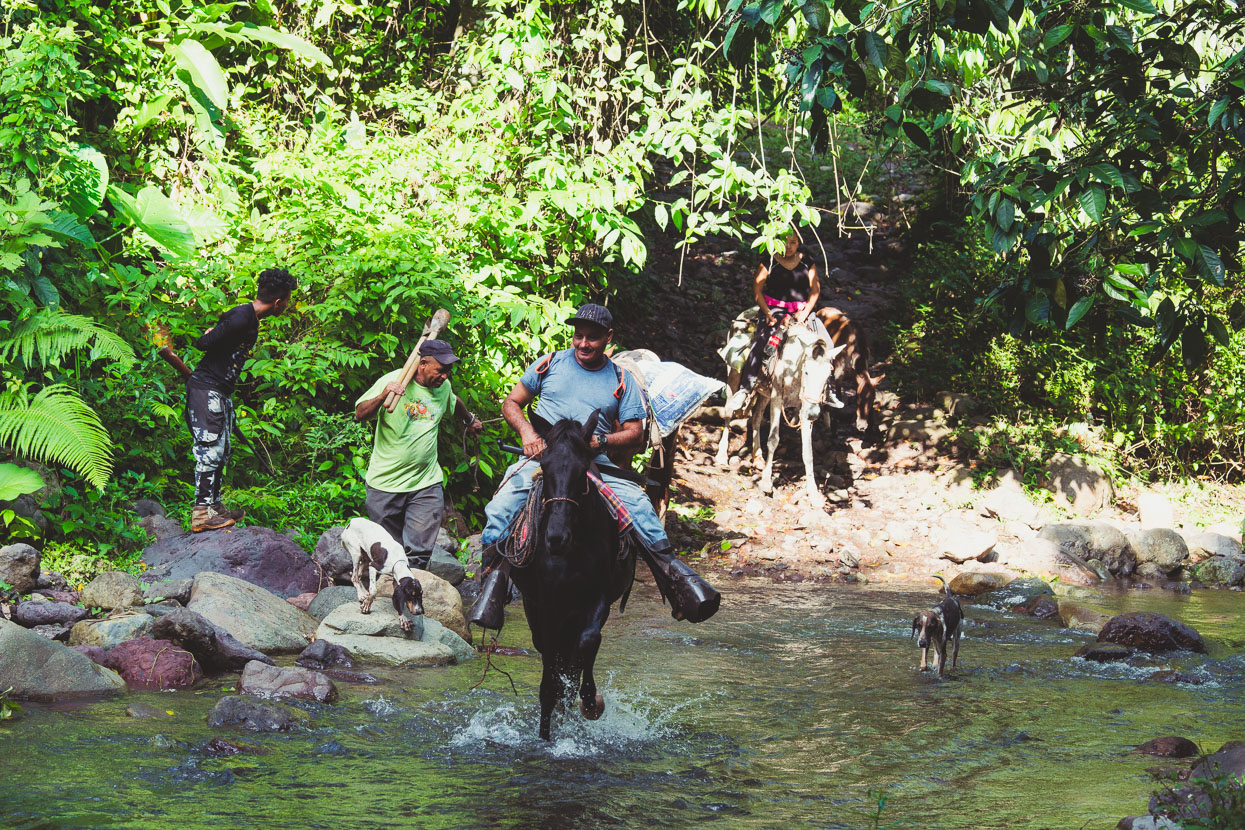 A group of locals followed us over the river, some on horseback and some on foot. They were armed with a rifle, but we couldn't tell if it was self defence or opportunistic hunting. They were headed to a settlement away from our route.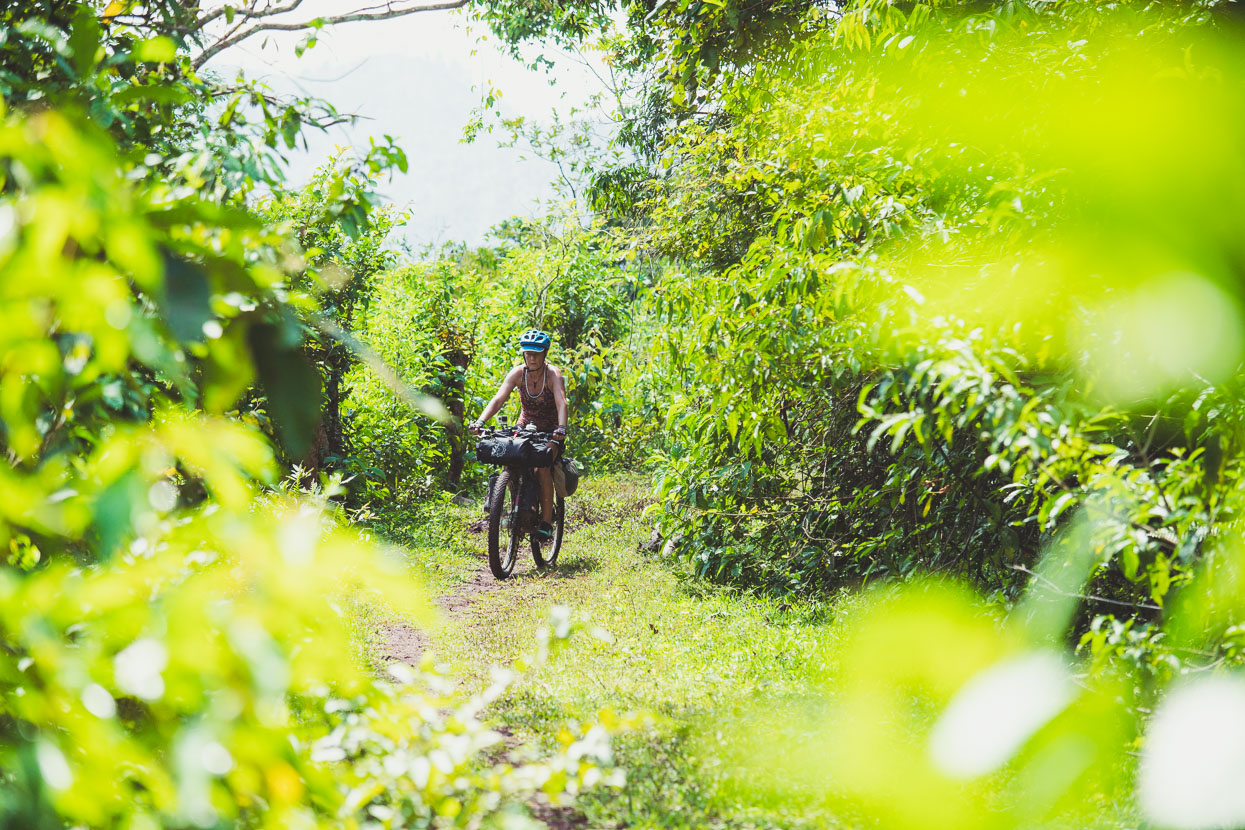 Sweat dripping off our elbows even at 7am in the morning we walked and rode up the steep climb, rewarded with views and a 'road' to ourselves. Eventually it tipped downwards and and we wove down single track through thick vegetation, chirping insects and swirling butterflies.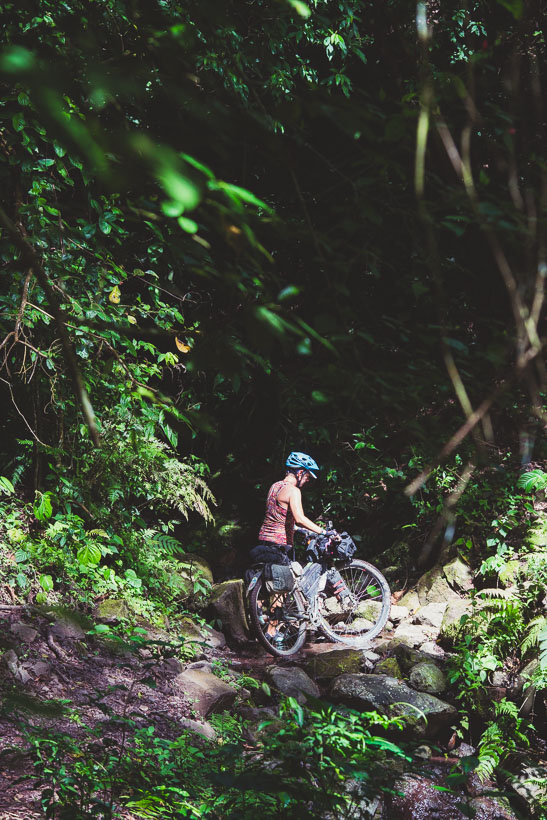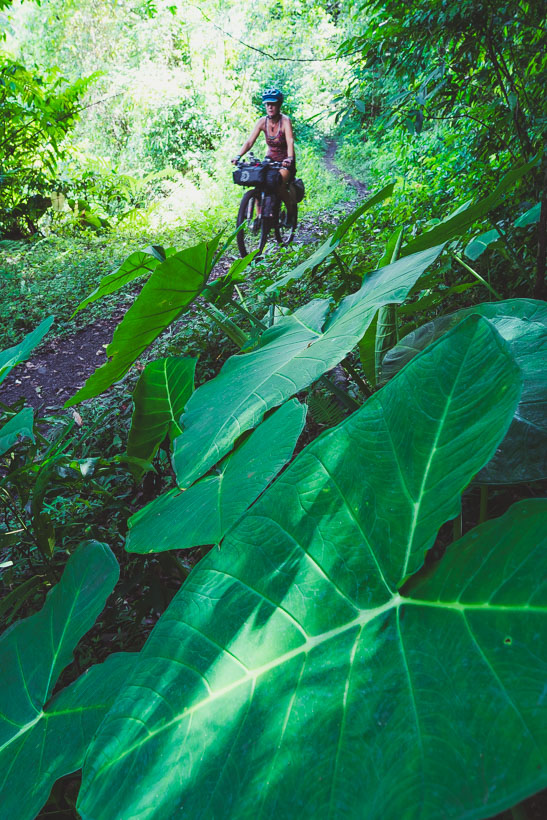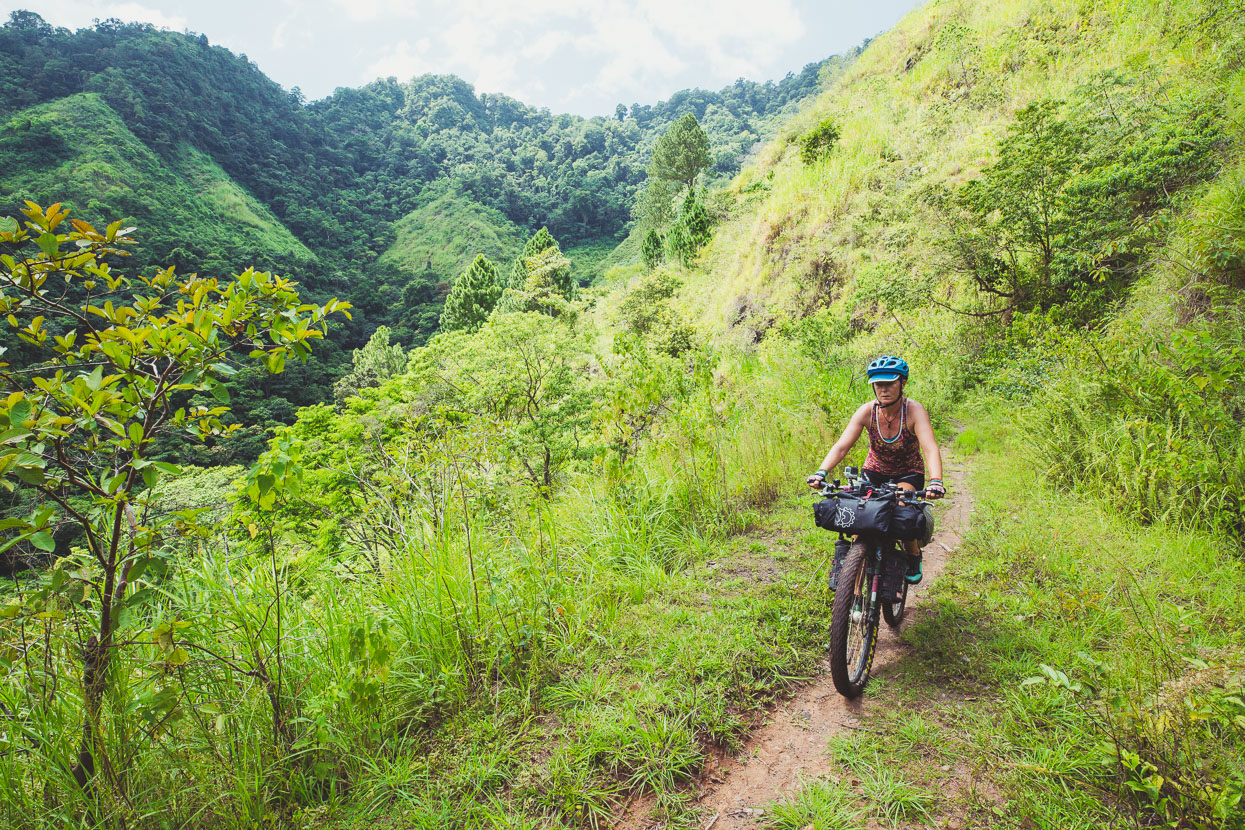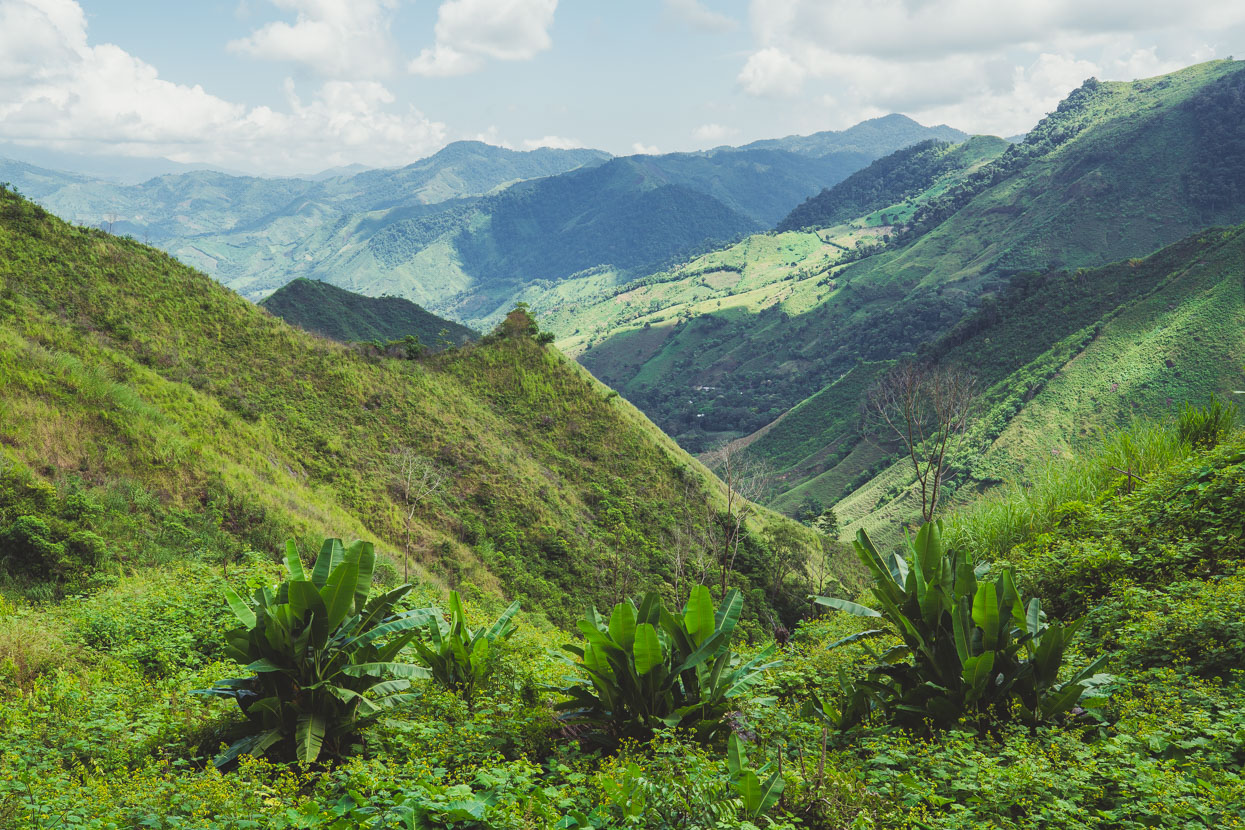 The forest was sadly denuded in much of the valley, but pockets are a reminder of how it once was.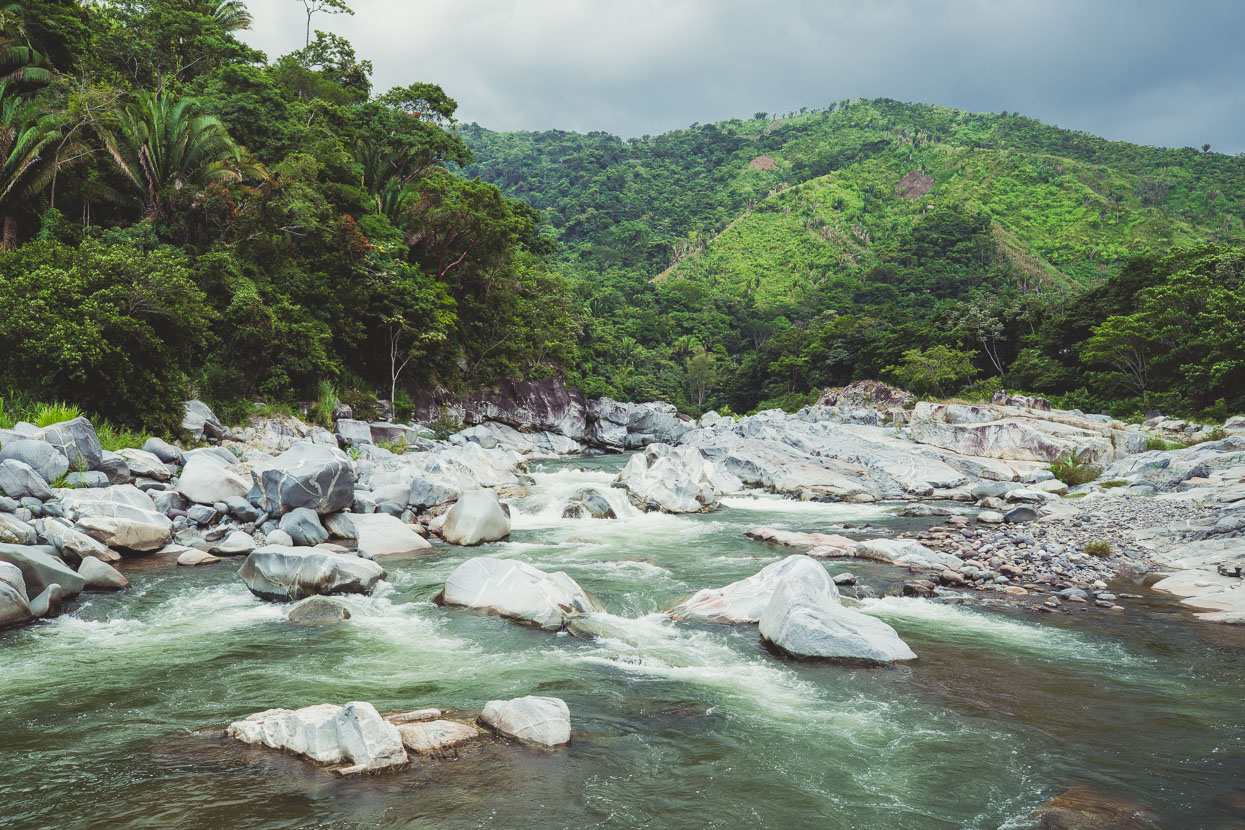 At Yaruca the track becomes rough dirt road, and onwards we sped until we met the mighty Cangrejal River which courses over granitic bedrock along the edge of Pico Bonito National Park. After the brown rivers of the interior of Honduras this clear river churning over polished boulders and framed with jungle was a beautiful sight.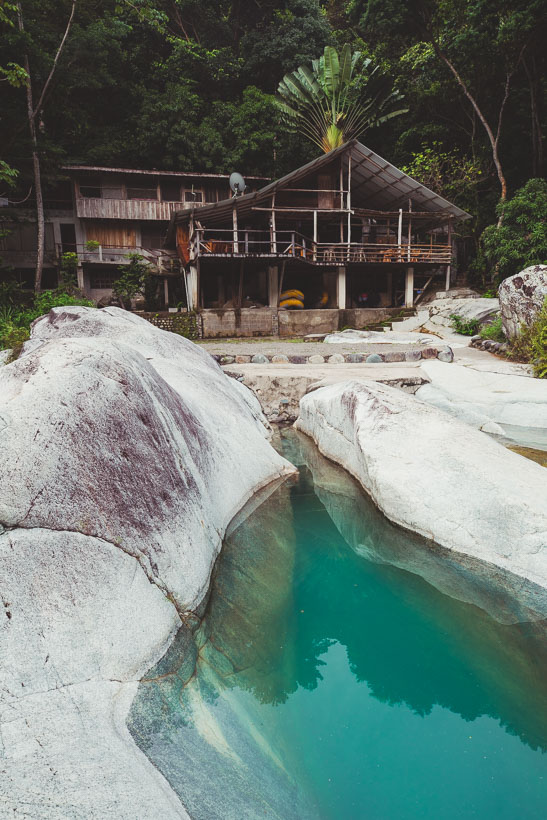 We stopped for the night at one of several jungle lodges alongside the river, just where it cuts through a corner of the park. A single dorm bed was more than we normally pay for a hotel room, but with that tempting river so close we didn't care. A perfect way to clean off after a long hot ride.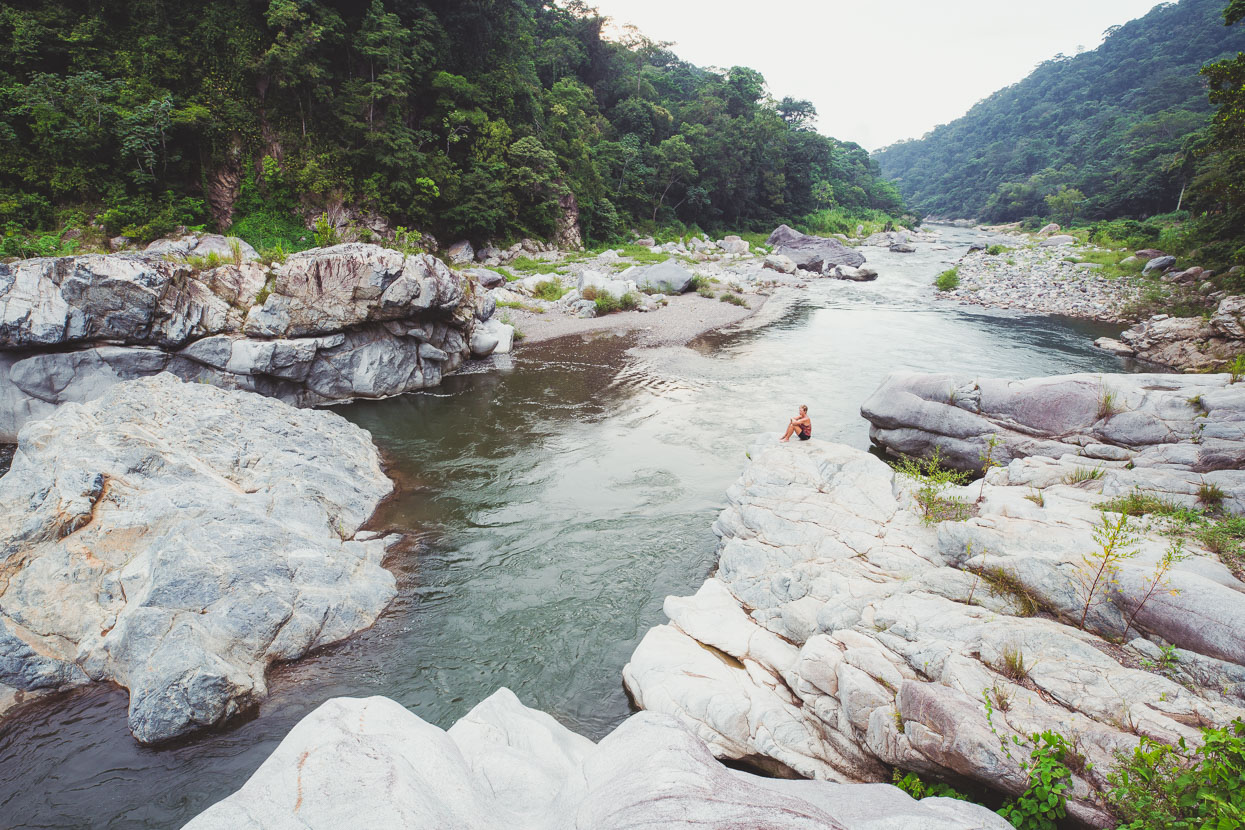 The company was pretty good too…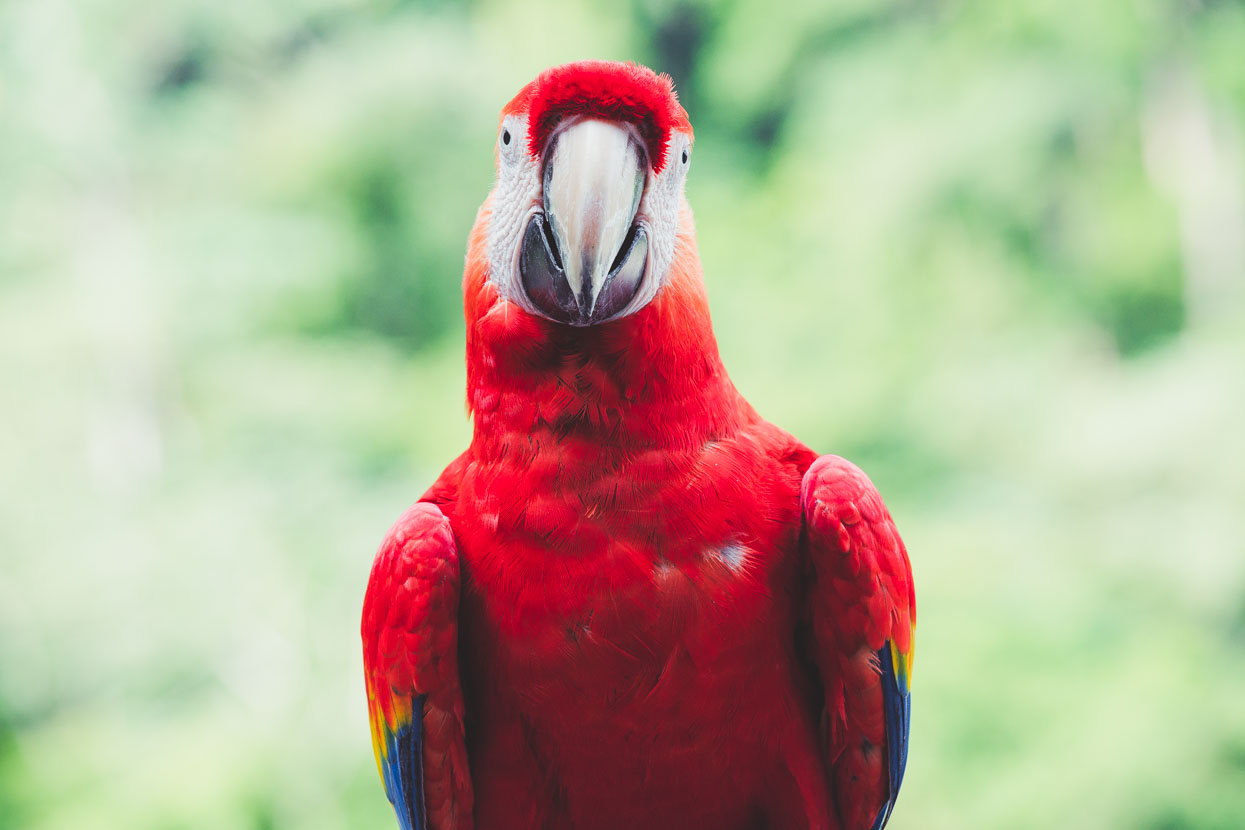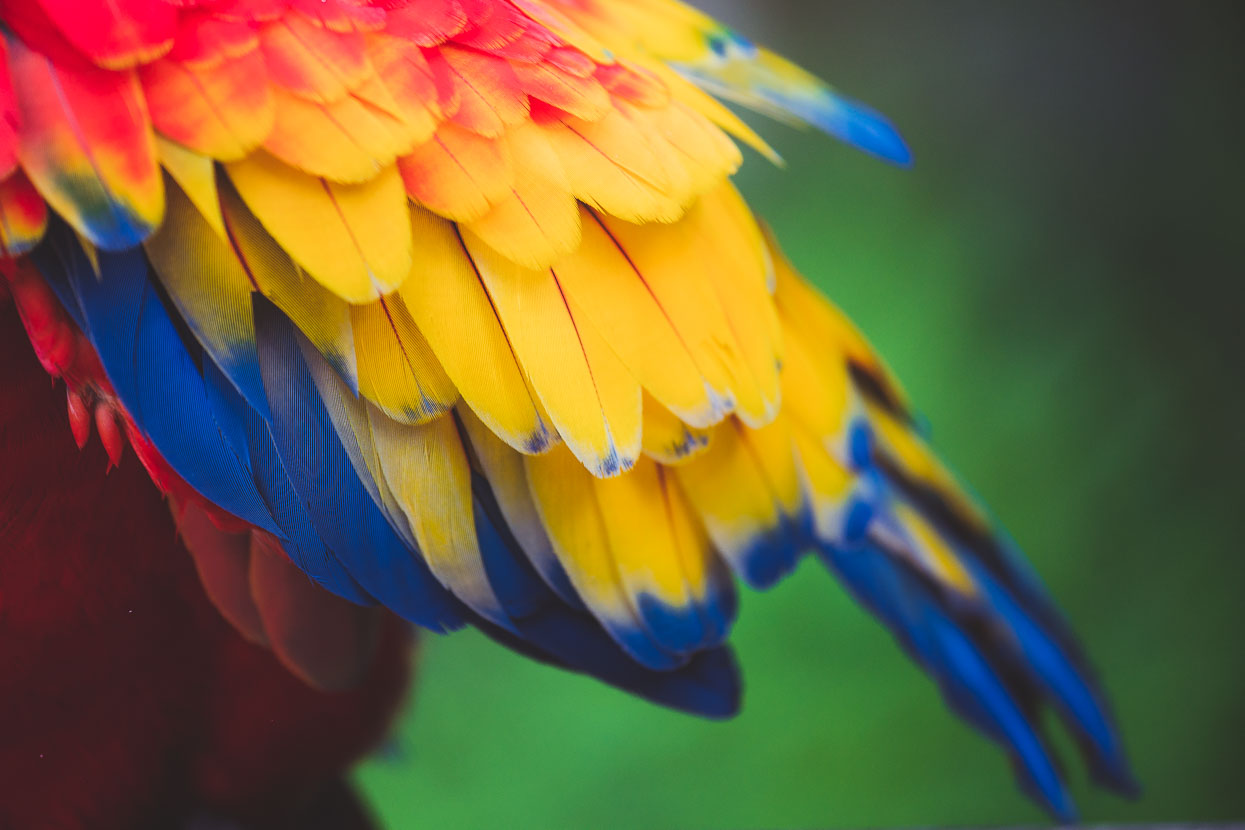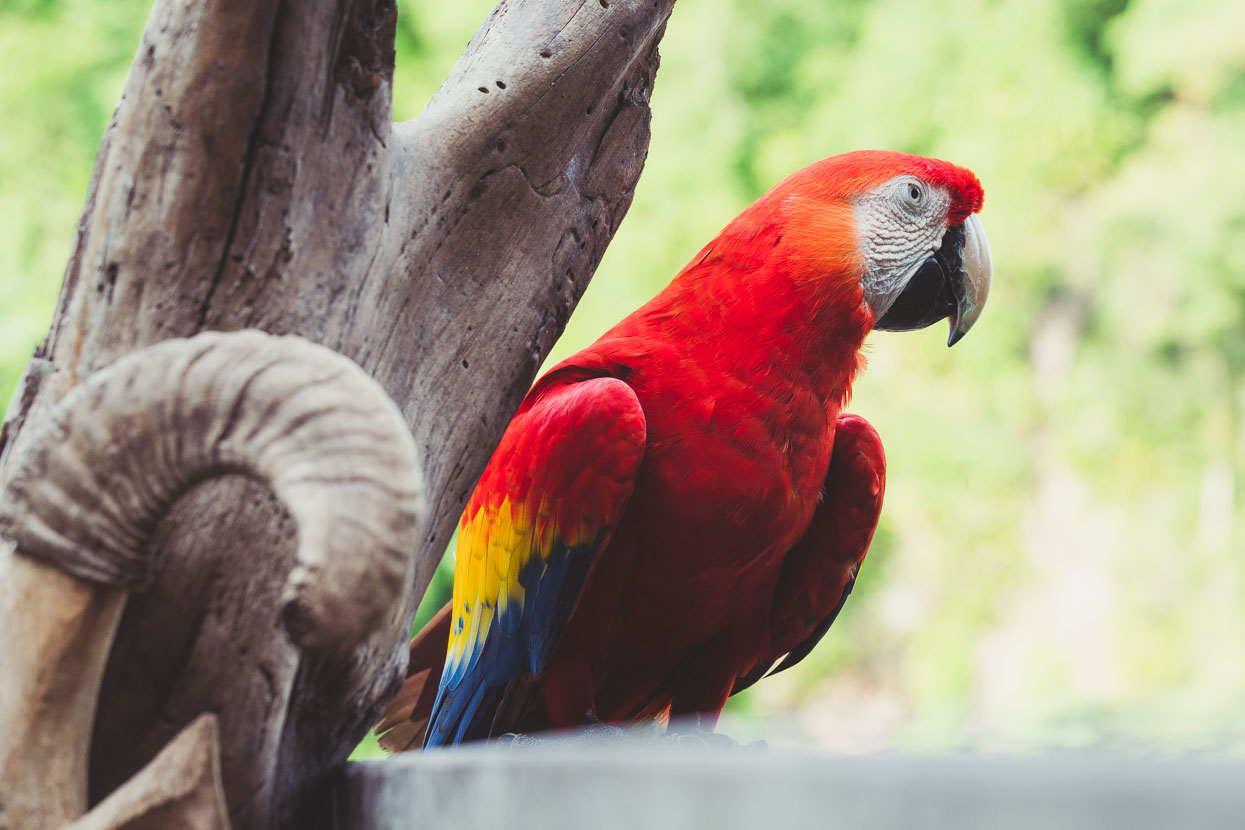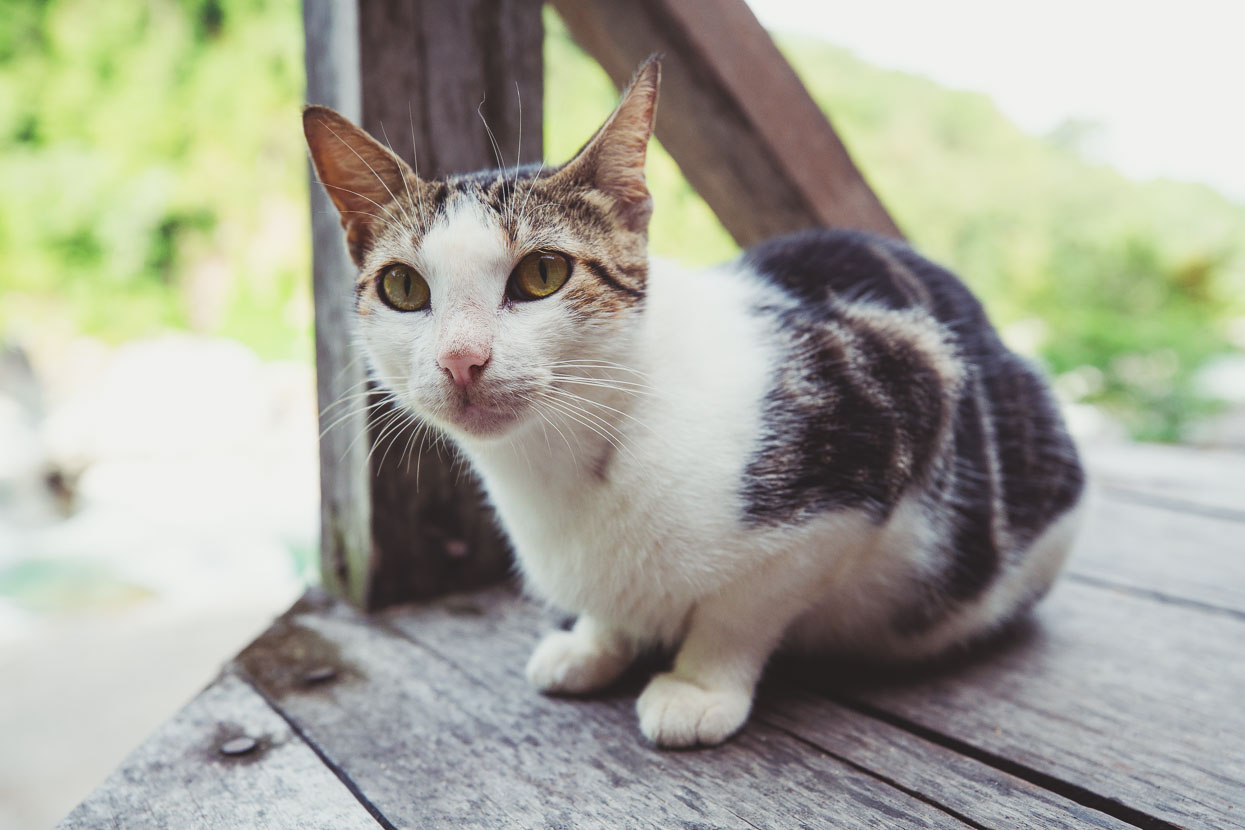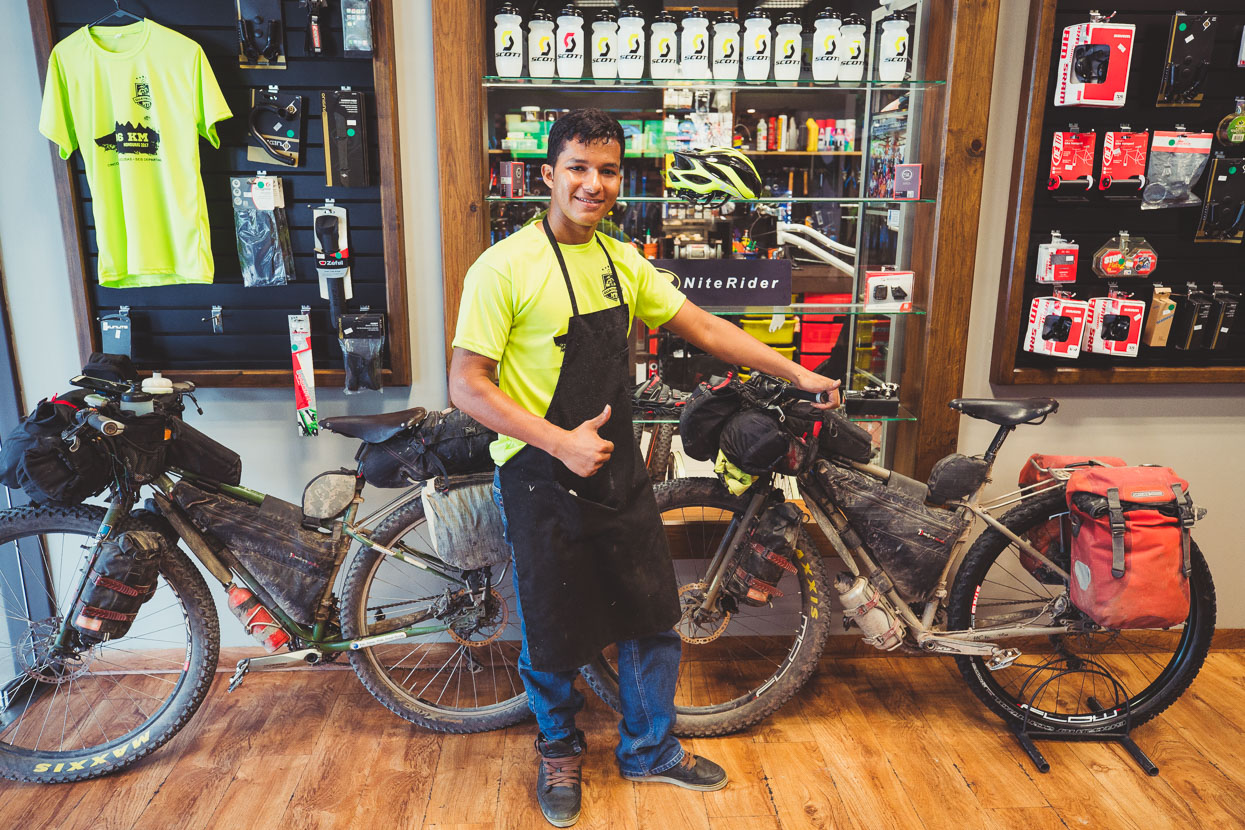 It was just short ride into La Ceiba in the morning, and we had pressing issues in the form of a failing bottom bracket and tyre to deal with. La Ceiba has a fairly robust mountain biking scene and there is one shop (G-bikes) with a skilled mechanic and high quality parts. In what seemed like a dream we sipped coffee and ate cake with air conditioning and good wifi in the attached cafe, while the mechanic (I forget his name sorry) prioritised work on our bikes. Replacing Hana's bottom bracket and giving me a pair of fairly worn but serviceable 2.3 inch tyres to replace the knackered 2.35 I had on the back (we thought it worth taking the pair as they both had sidewall damage but were better than what I had – always good to have a backup when you're headed somewhere remote).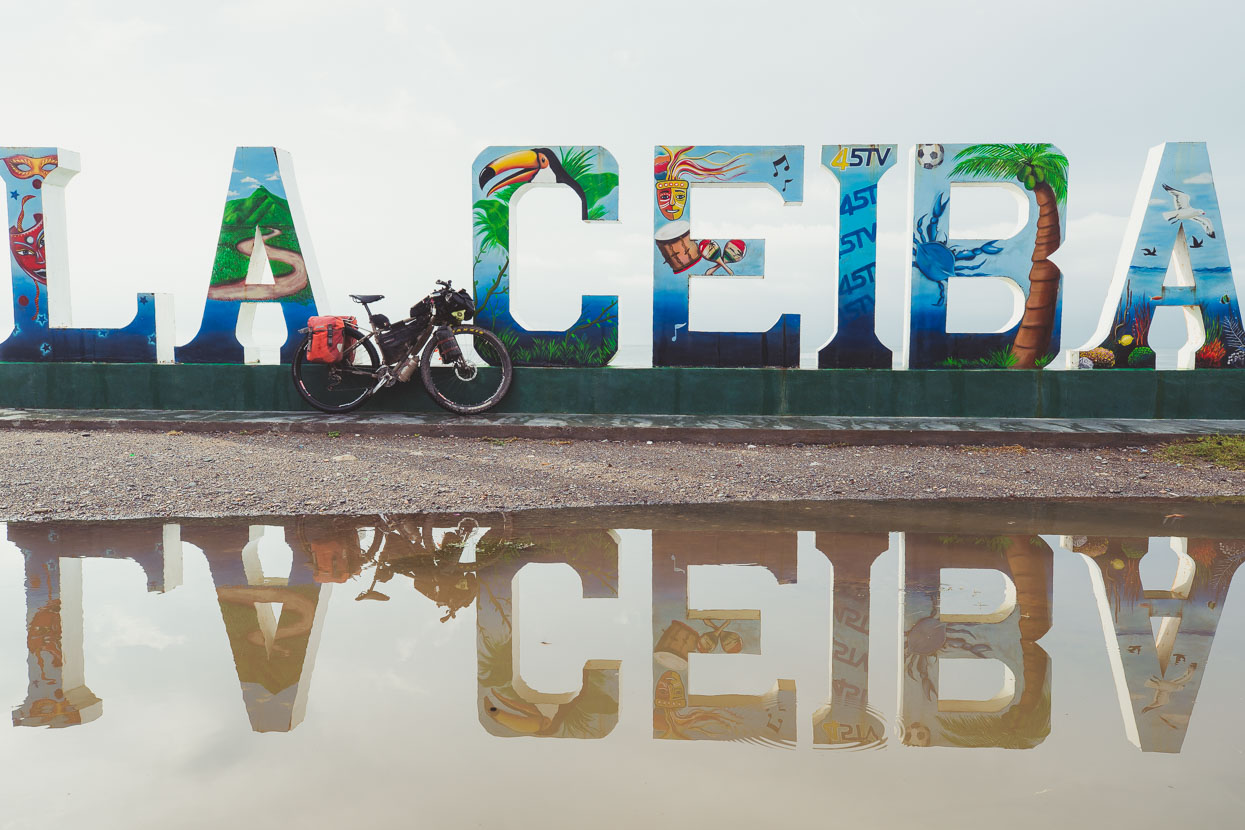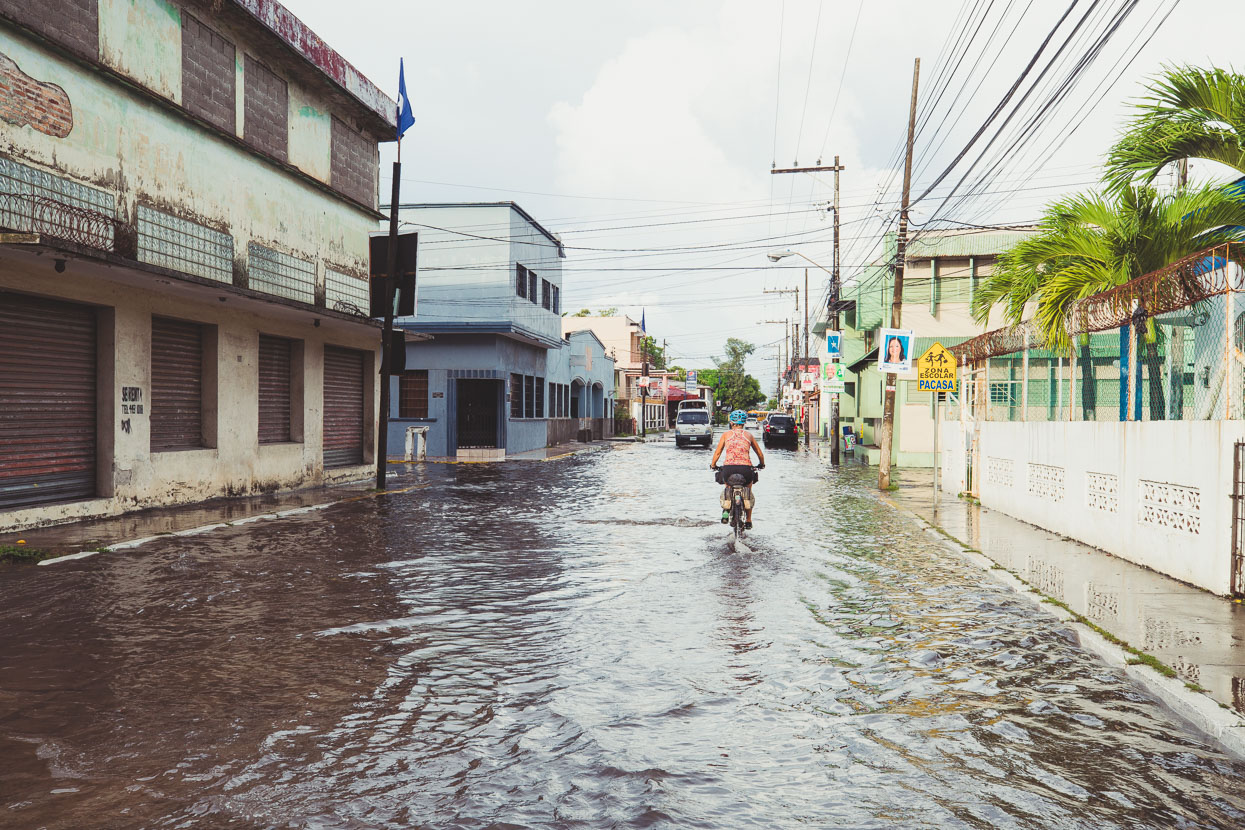 After the bike shop we headed to the foreshore but were greeted with a prolonged thunderstorm that flooded the roads. We sat it out in a restaurant for a while, which made a good chance to work on planning the next leg of the adventure: to head east along the coastal route towards Trujillo, then towards to Cusuna on the edge of the Gracias a Dios Province and then roughly south west past Sico and into the very long and barely mapped valley system that separates Honduras' two largest national park regions, if it works out this route will take us down into Olancho, regarded as Honduras' wild west province.
Later that evening we had the pleasure of meeting one of La Ceiba's Warmshower hosts Benjamin Garcia and his family. Benjamin met us at our hotel on his bike with one of his sons and his dog. We rode back to his place to meet the rest of his family and then headed back out on the bikes for a local meal and a night time tour of the city and malecon area were we stood and watched a distant thunderstorm throw forks of lightning over the ocean. We've struggled to find any information at all regarding the next section we have planned but it was good to get Benjamin's thoughts on safety in the region, which sounds like it has improved with much government (and USA) pressure on drug traffickers, for whom the region we were entering was once a major corridor. Thanks for a great evening Ben and family!
Do you enjoy our blog content? Find it useful? We love it when people shout us a beer or contribute to our ongoing expenses!
Creating content for this site – as much as we love it – is time consuming and adds to travel costs. Every little bit helps, and your contributions motivate us to work on more bicycle travel-related content. Up coming: camera kit and photography work flow.