This post is long overdue, but to update followers fully, we're currently biking the Great Divide Mountain Bike Route through the USA, a brilliant and challenging route that connects wilderness dirt roads and trails along the length of the Continental Divide from Banff to the Mexican border in New Mexico. I'll write more about this in coming posts, but for now, we've ticked the Alberta section and Montana and are cutting very briefly through the eastern corner of Idaho before entering Wyoming in a day or two.
A large chunk of September was eaten up by our hiatus from the bikes to attend Burning Man in Nevada and then a short roadie through California and Oregon with Hana's parents. Fall is well upon us, so we've swapped our summer-weight sleeping bags and down jackets for winter gear. Condensation regularly freezes inside the tent now and a layer of frost tickles our bikes in the mornings. Since we restarted riding on September 14th the days have been fairly warm, but the nights cold. But today as we crossed Red Rock Pass (2170m) into Idaho in steady rain, fresh snow lay only a couple of hundred metres above us and as we arrived wet and cold in Macks Inn snow flakes were blowing in on a frigid wind. Whether we'll be able to continue on the GDMBR through the heights of Colorado is in doubt, but for now we are taking things one day at a time.
The following images cover our eastward ride along Canada's Yellowhead Highway from Kitwanga to Jasper, starting at the beginning of August. Our 700 kilometre southerly ride on the Stewart – Cassiar had felt hugely transitional as the great rolling landscapes of Beringia and the Yukon were interrupted by the Coast Mountains. As we rode south the forests slowly became more diverse, richer and lusher due to the change in latitude and ocean-influenced climate, but the communities had remained very small – just travellers' rest stops and tiny service townships. Riding east along the Yellowhead felt like a return to civilisation: we'd finally left the remote north behind.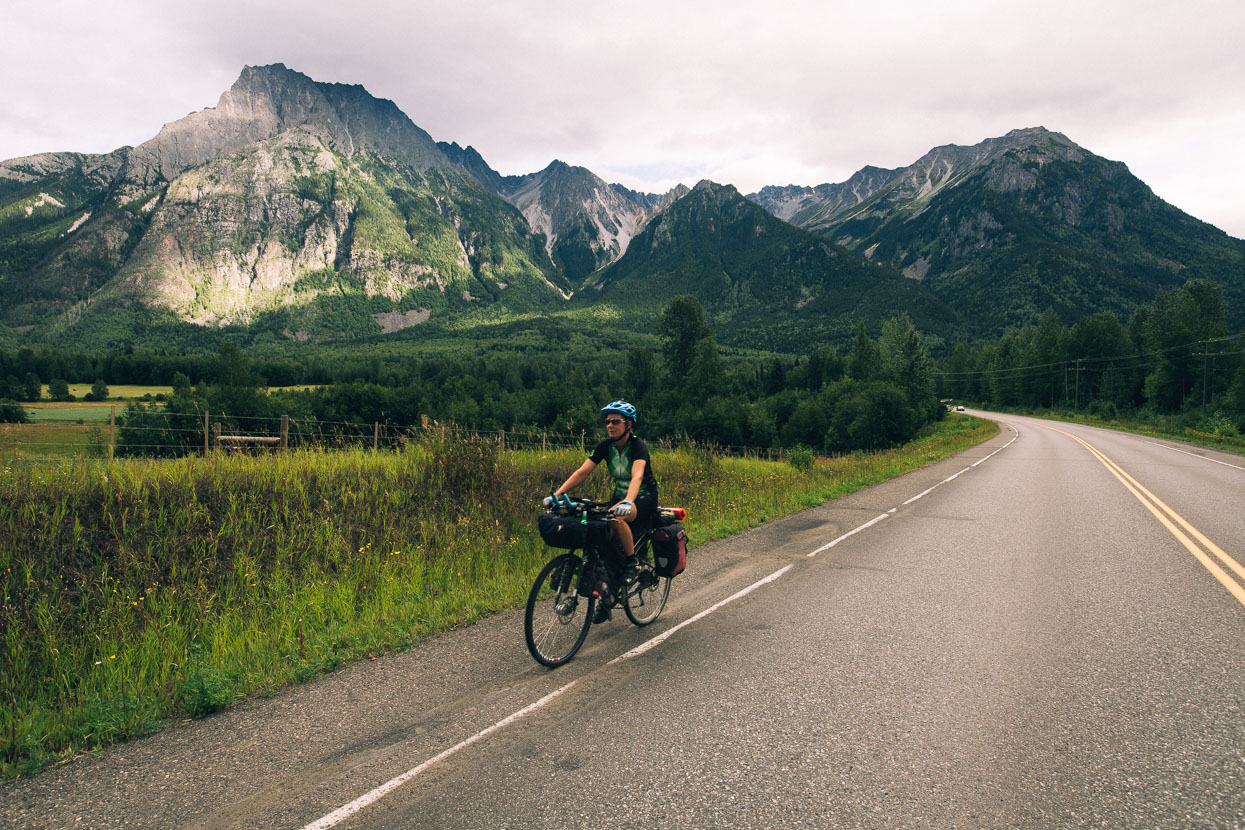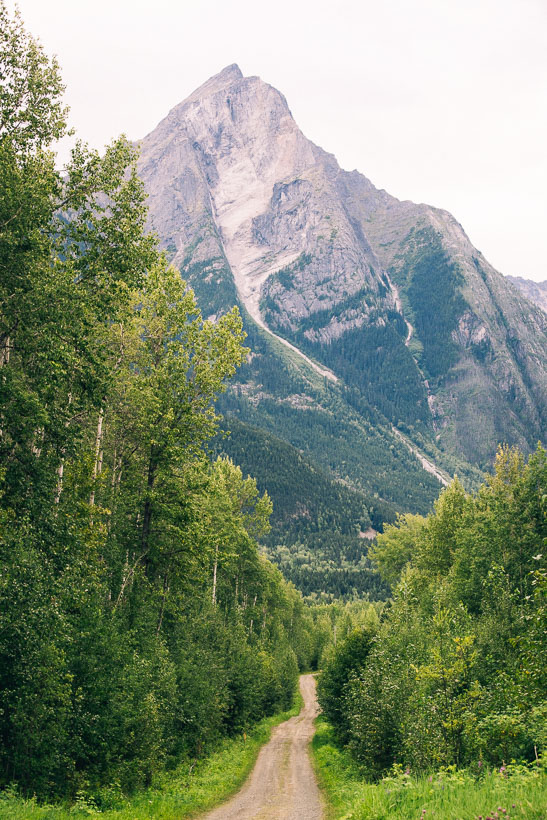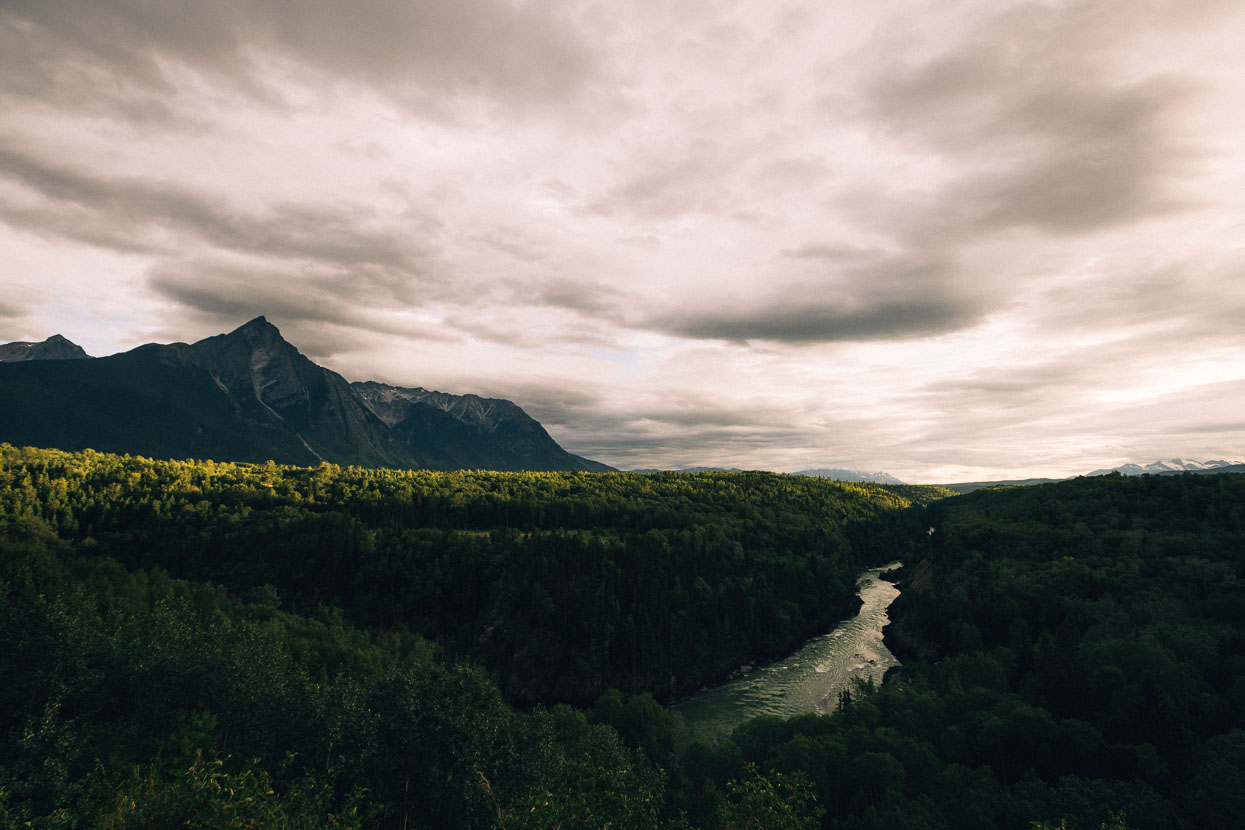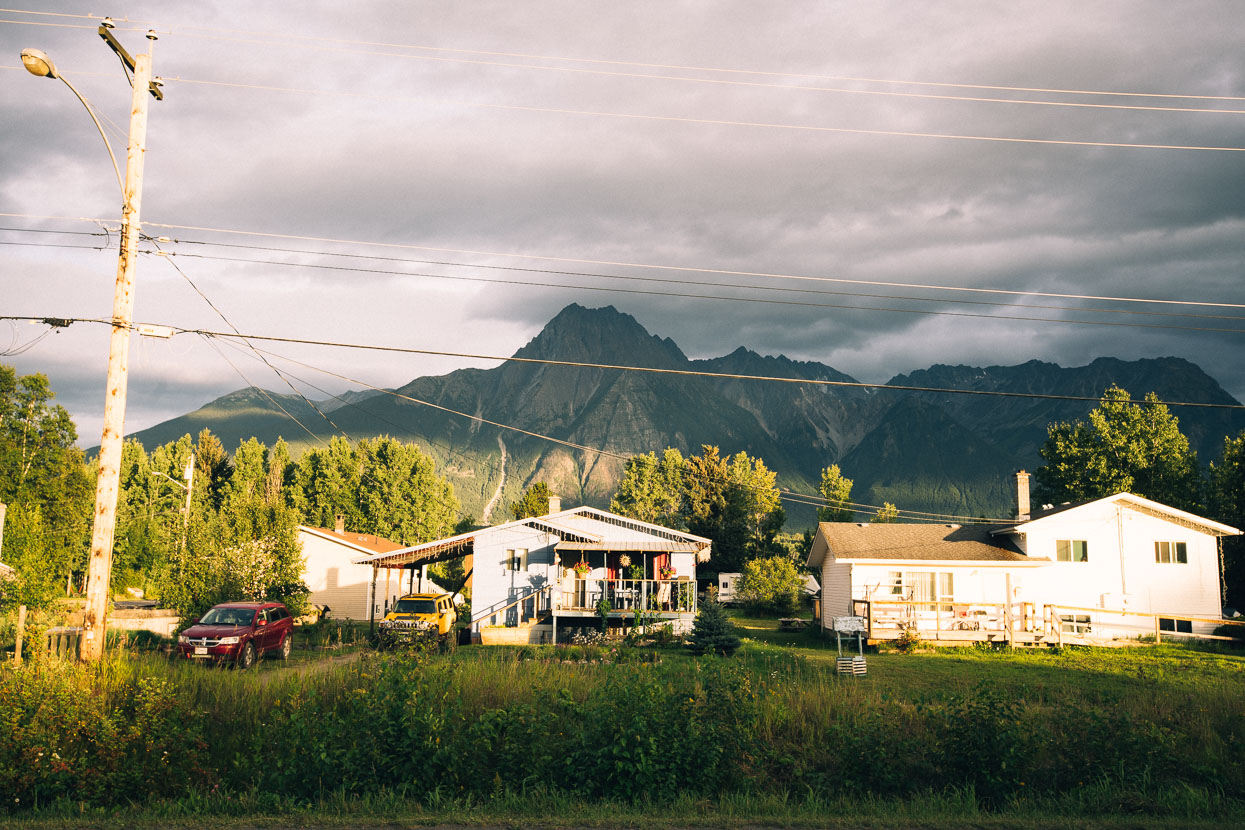 The first town we hit on the highway was Hazleton and Boston Pizza and Subway signs announced its arrival – signs we'd not seen since Fairbanks and Whitehorse. Faster traffic and a wider highway didn't feel particularly welcome, but the Chinese restaurant in town did – a first for this long journey south. We detoured to Old Hazleton for the night and camped in the First Nations-run campground there. Free and fast wifi was an additional bonus of our return to 'civilisation'. The great granite tooth of Hazwilget Peak makes an impressive backdrop to this area.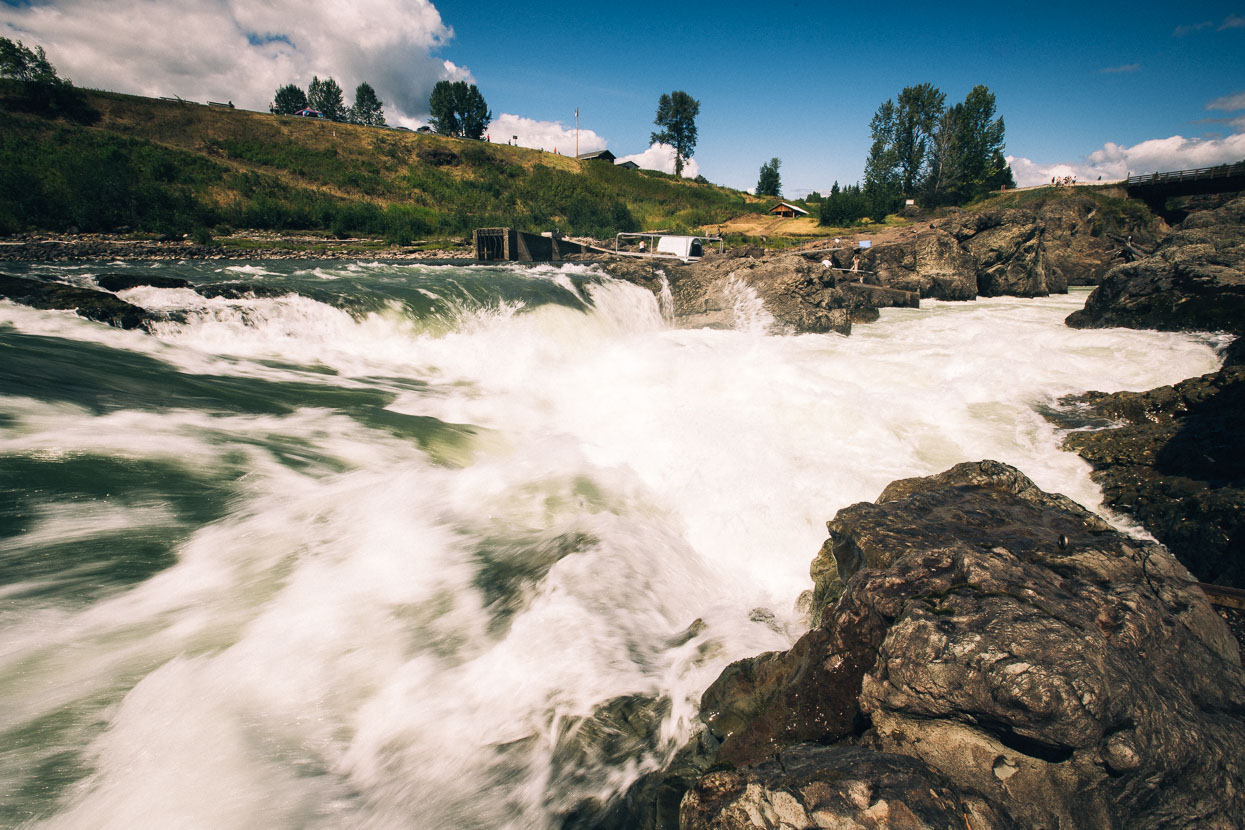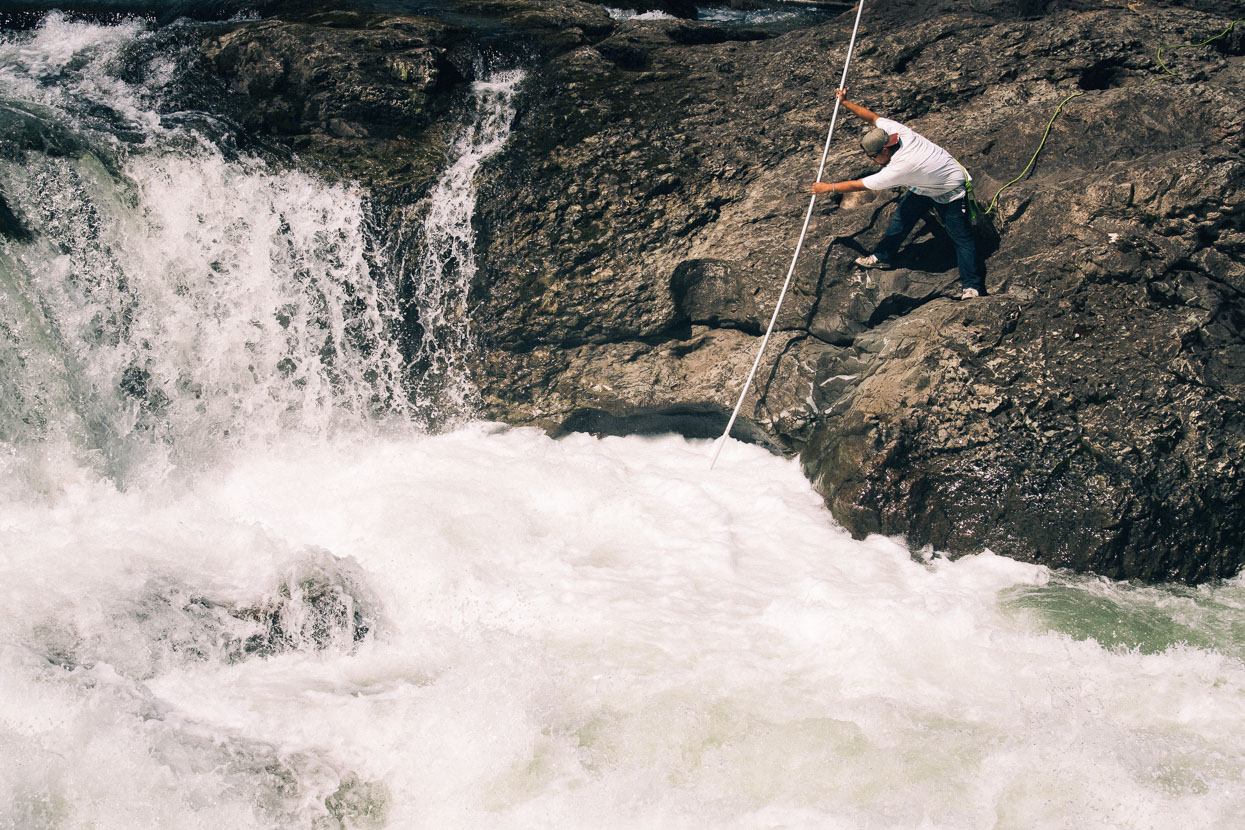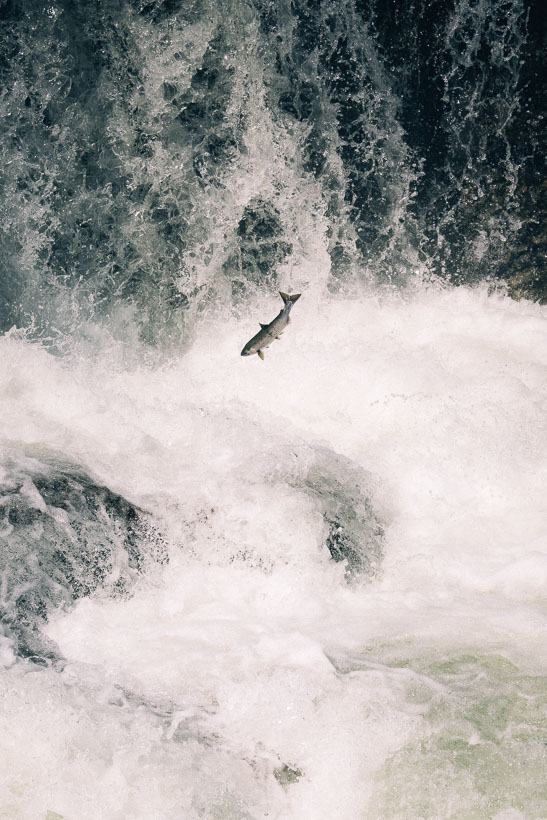 At Moricetown, a Wet'suwet'en First Nations village, we crossed the Bulkley River and spent a while watching locals catch spawning steelhead via dip net. The steelheads' upriver journey is barred by a gorge and waterfall in the river, making them a relatively easy catch for the stock assessment programme being run here. Now and then one of the fish would be clubbed rather than thrown back in so the locals must must have a catch-and-eat quota as well as catch-and-release. In a desperate bid to make progress the big fish would throw themselves free of the churning water from time to time, some making it a metre or two into the air.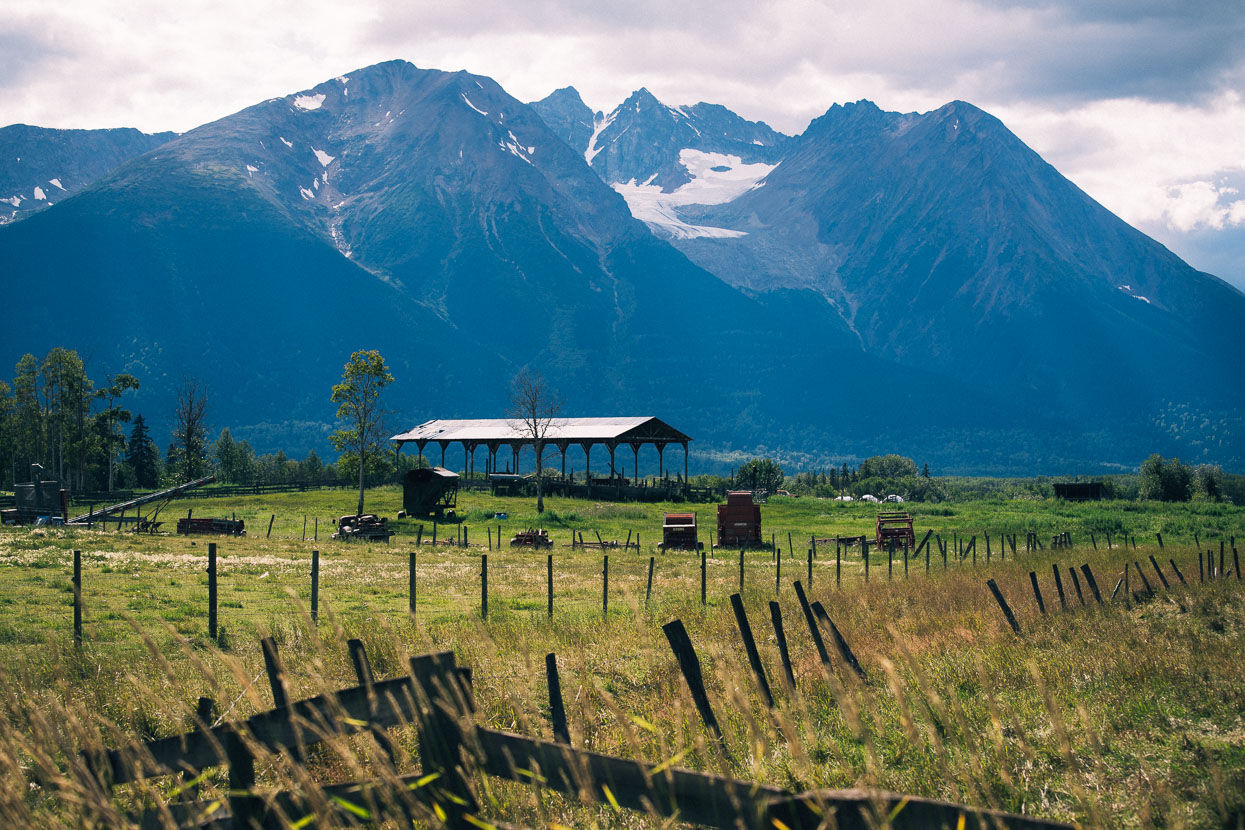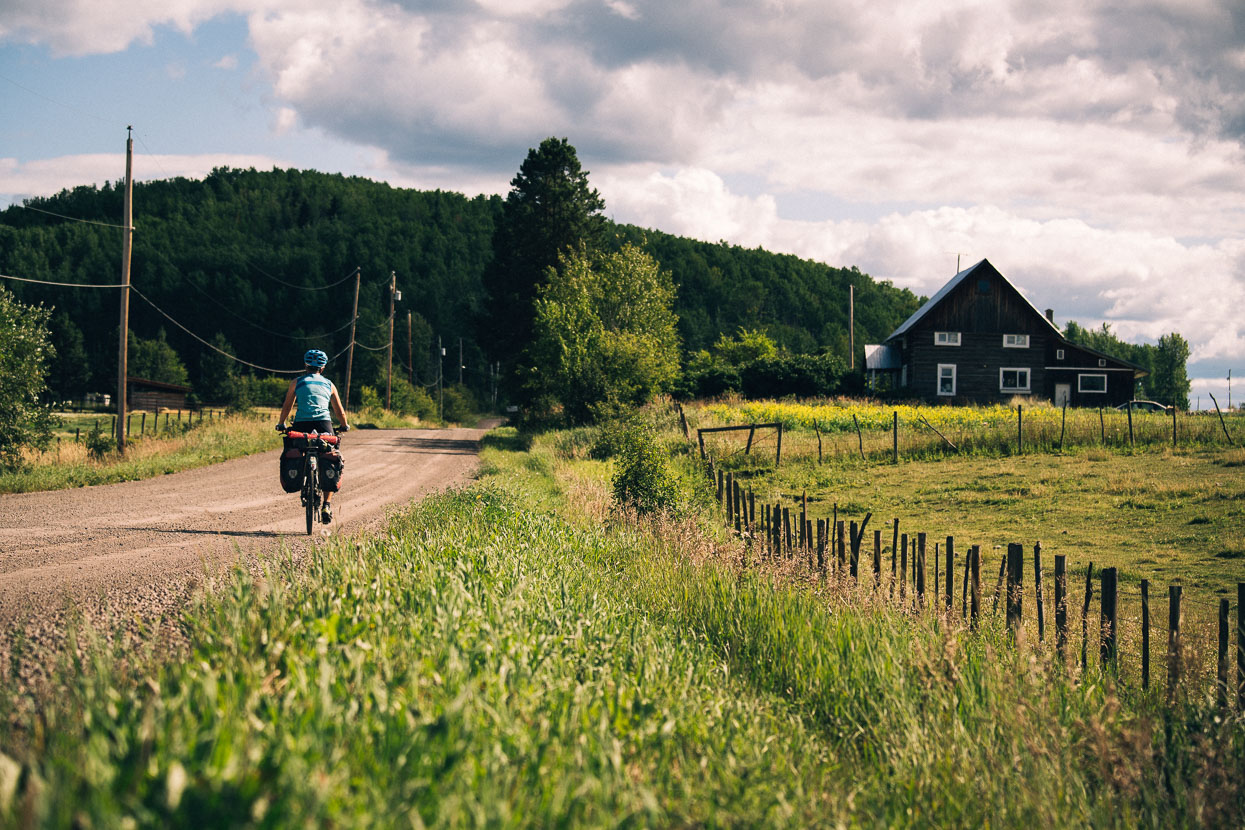 The Telkwa High Road made a pleasant dirt-diversion from the highway and was a nice quiet way to sneak into Smithers, the next town on the route, with great views of Hudson Bay Mountain along the way. Passing through cultivated farmland and grazing cattle for the first time in 4000 kilometres reinforced the observation that we'd left the wild north behind.
In Smithers we were very lucky to be offered the house of friend-of-a-friend Katie for the night, in her absense. The thought of being in a real house for the first time in weeks was exciting, so we stocked up at the supermarket so as to be able to make a real home cooked meal. After so long on the bikes, real towels, a couch, listening to music without headphones and decent wifi are all simple luxuries.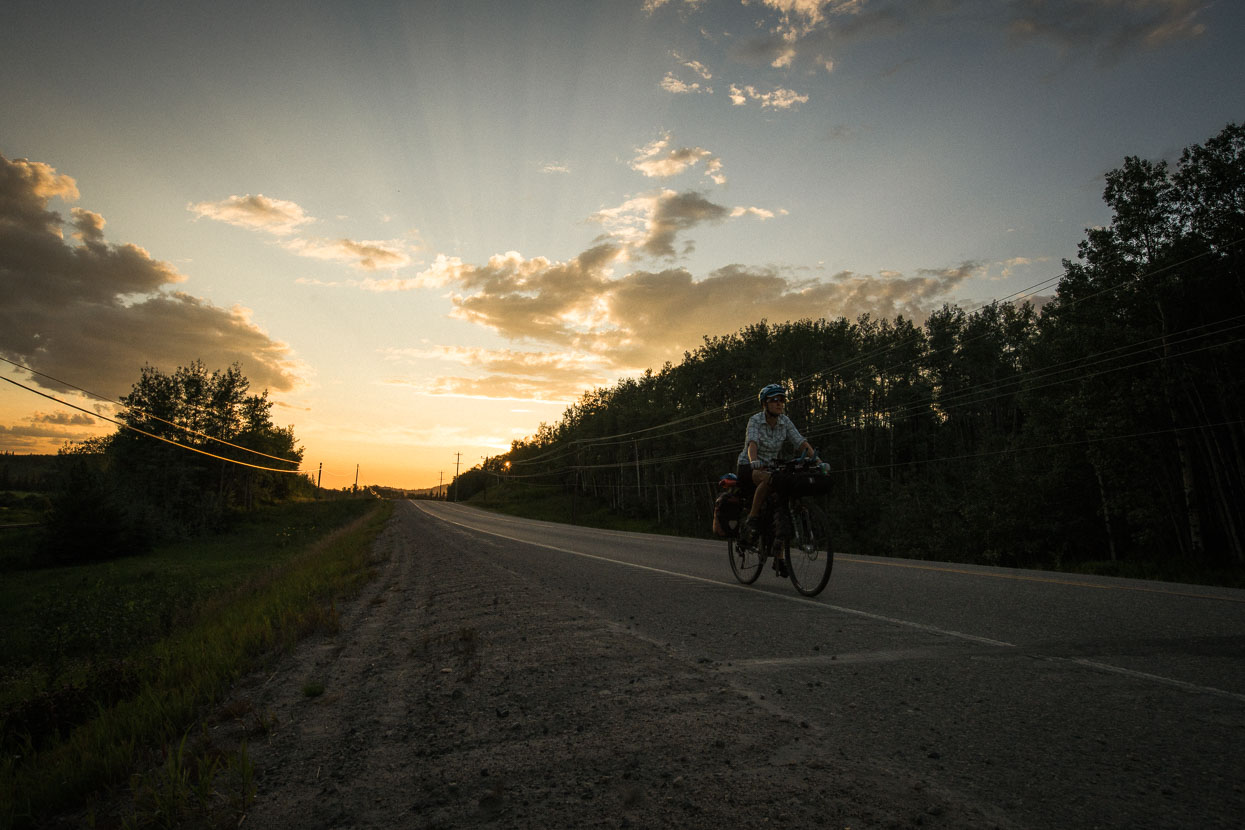 From Smithers we planned to ride east to Jasper as fast as we could. We wanted to spend extra time riding the Icefields Parkway to Banff (the start of the GDMBR) to allow for photography, and our deadline for parking the bikes and driving to Nevada for Burning Man was drawing closer. So we put in long days heading to the city of Prince George. The days were sunny and hot, which, while challenging, was better than the days of grey, drizzly weather we'd had on the Stewart – Cassiar: it felt like summer had peaked. We were loving the novelty of being able to stop and eat dinner in the small towns before riding on to camp, but after the quiet traffic of the northern roads the Yellowhead between Smithers and Prince George was a shock to the system.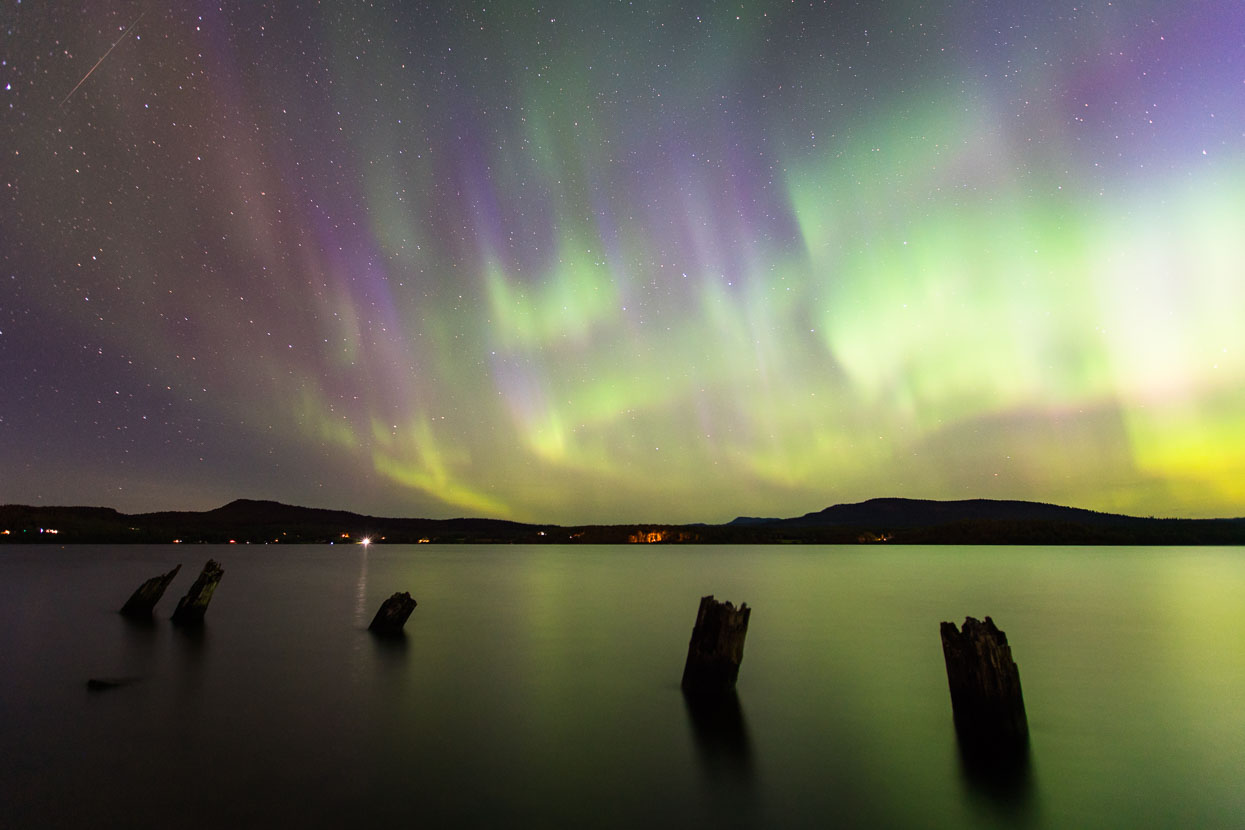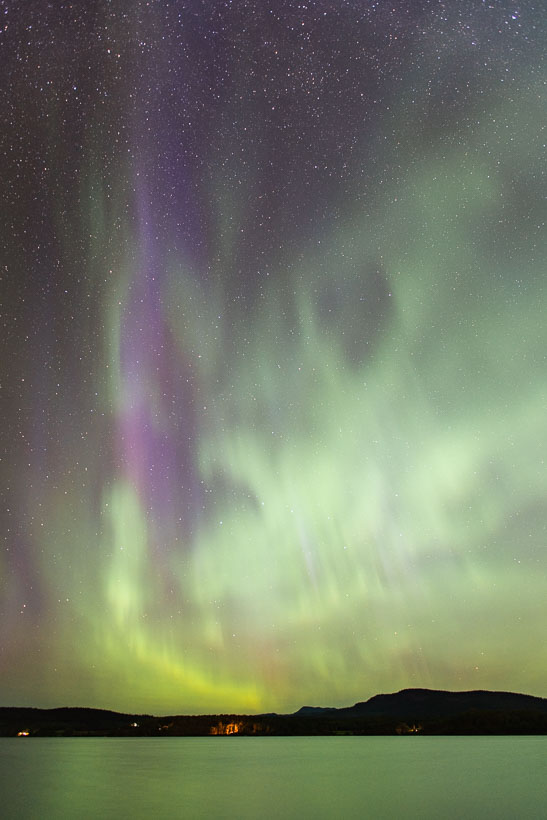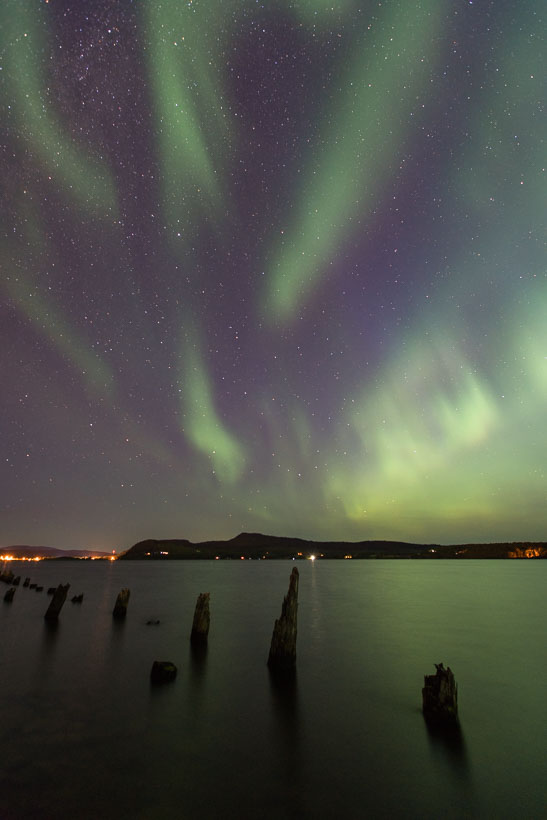 By far the highlight of this section of highway was witnessing the Auroa Borealis (quite by chance) from a campsite at Fraser Lake. Our transition from the 24-hour daylight of the Arctic to it actually being dark for a few hours at night was very slow. By the southern end of the Stewart – Cassiar we noticed night had actually become night and you could see stars finally. In darkness and beneath a canopy of bright stars at Fraser Lake I noticed an unusual 'sheet' of distant cloud, but went back to bed without really registering what it might be. By the time I rose some hours later to pee, the sheet of unusual cloud had changed into a flowing, morphing display of streaks and rippled curtains that stretched at times almost horizon to horizon. To the naked eye the display was mostly monochrome, although some colour was perceivable. In low light our eyes do not allow us to see colour well and they use a different mechanism to provide vision to what they use in brighter light. A digital camera's light sensitivity renders the scene quite differently; making visible powerful purple, green and yellow tones. The display (even with the subtlest colour) was something amazing and to see this ghostly, ephemeral movement across the night sky was quite mesmerising.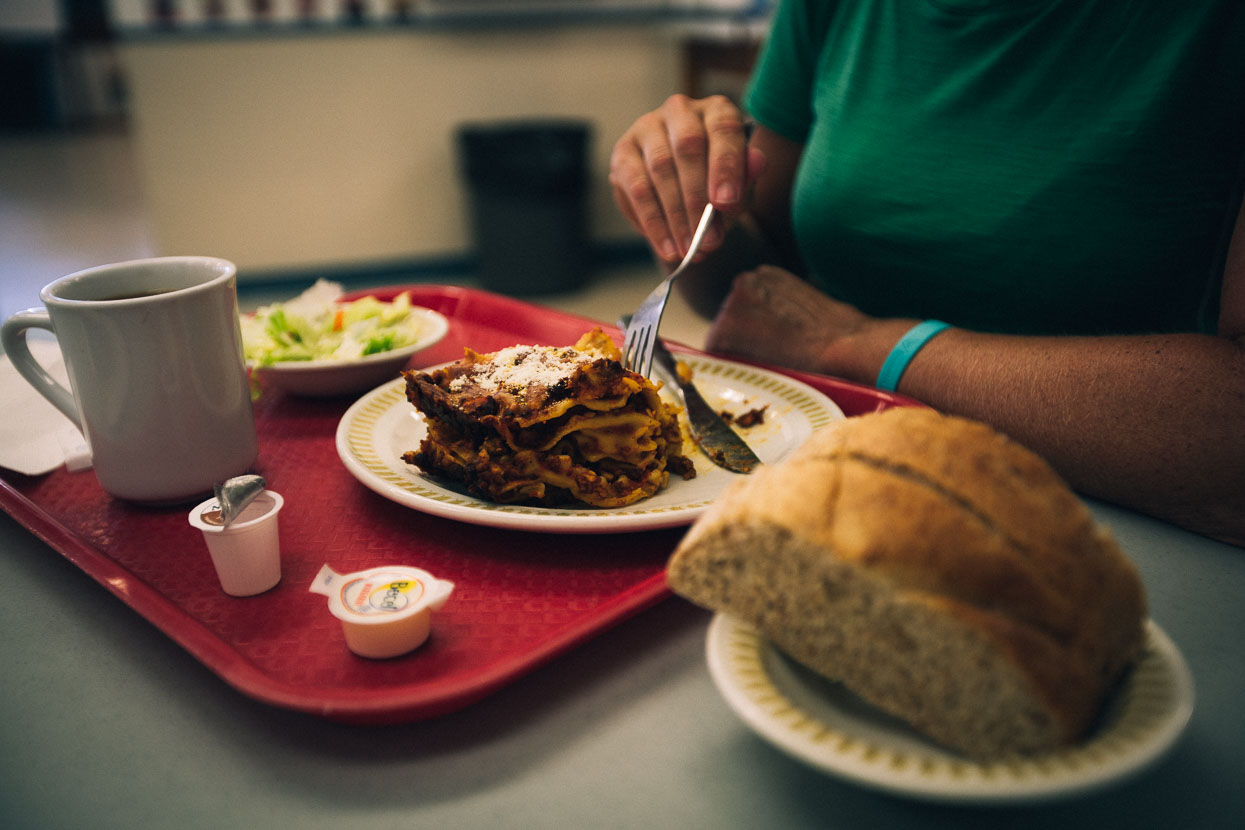 We blazed over 300km between Fraser Lake to Prince George in two days; wanting to get this busy section of highway over as fast as possible, heavily loaded trucks made most of the traffic and the verge was often littered with debris. It passed in a trance-like mechanical ride: we rotated 2km turns, drafting each other the whole way, compensating for the boredom with BBC documentary podcasts in the mornings and anything with a steady beat in the afternoon. At Prince George we checked into a cheap motel and took a day off to rest and shop for bike parts. We made a good move by asking a lady of post-retirement age where we could get a good lunch and she promply recommended her local senior citizen centre. There, we discovered, walk-ins of any age could get a hot lunch for $6.50. Cyclists take note!
Read Hana's short story about our Fraser Lake to Prince George ride.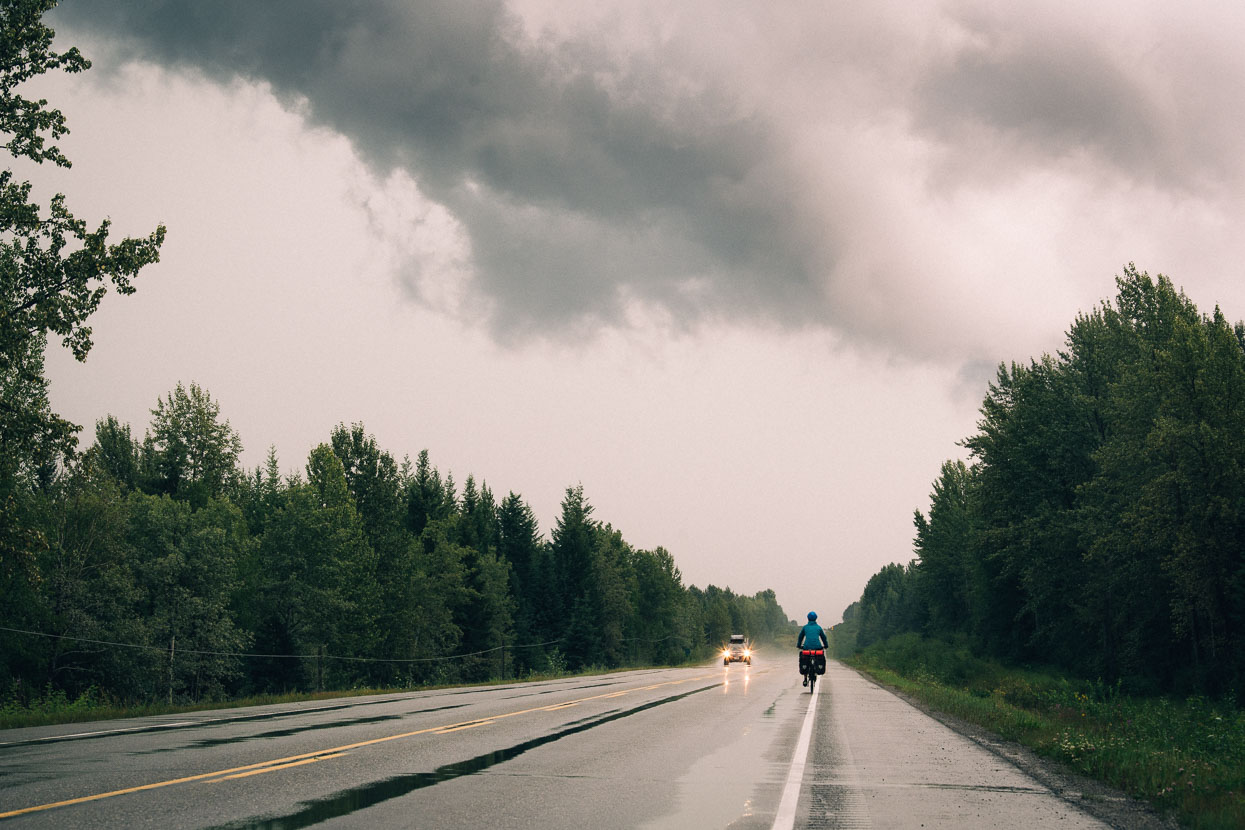 Beyond Prince George the Yellowhead Highway quietened significantly, and the plantation forest of the previous stretch returned to wilderness with longer distances between much smaller towns. We had two days of severe thunderstorms between Prince George and McBride, en route to Mount Robson. The first of which pummelled us so hard we had to get off the road and hide under trees: the rain drops seemed to drill through our jackets and the thunder, right overhead, was ear splittingly loud.
Wild camping at the Grizzly Den Sugarbowl Provincial Park trailhead. Nothing special, but there was a nice stream nearby, and we didn't get eaten.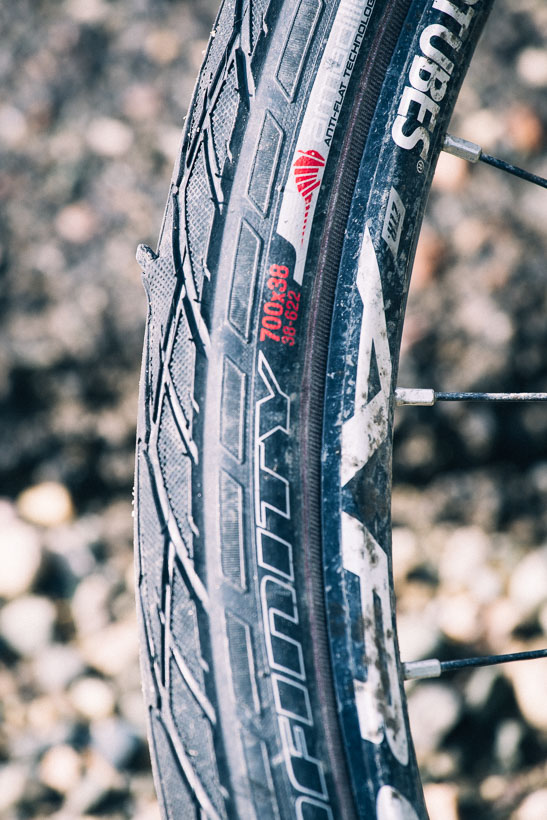 Punctures on this ride have been rare: we've had two from road debris, including this one which was from an arrowhead-shaped stone that embedded itself in my tyre. We set out from Deadhorse/Prudhoe Bay running 2.35 and 2.4 inch tubeless tyres (a mixture of Maxxis and Continental), which were perfect for the dirt and gravel of that highway and the rest of the ride through to Dawson City. Then at Whitehorse we swapped to 1.5 inch semi-slick tyres for the highway bashing through the rest of Canada to Banff – a good move. One of the tubeless tyres (Continental Race King) split at the bead towards the end of Alaska causing us to consider their suitability as a dirt touring tyre, however Hana is running one again for the GDMBR and has had no problems so far.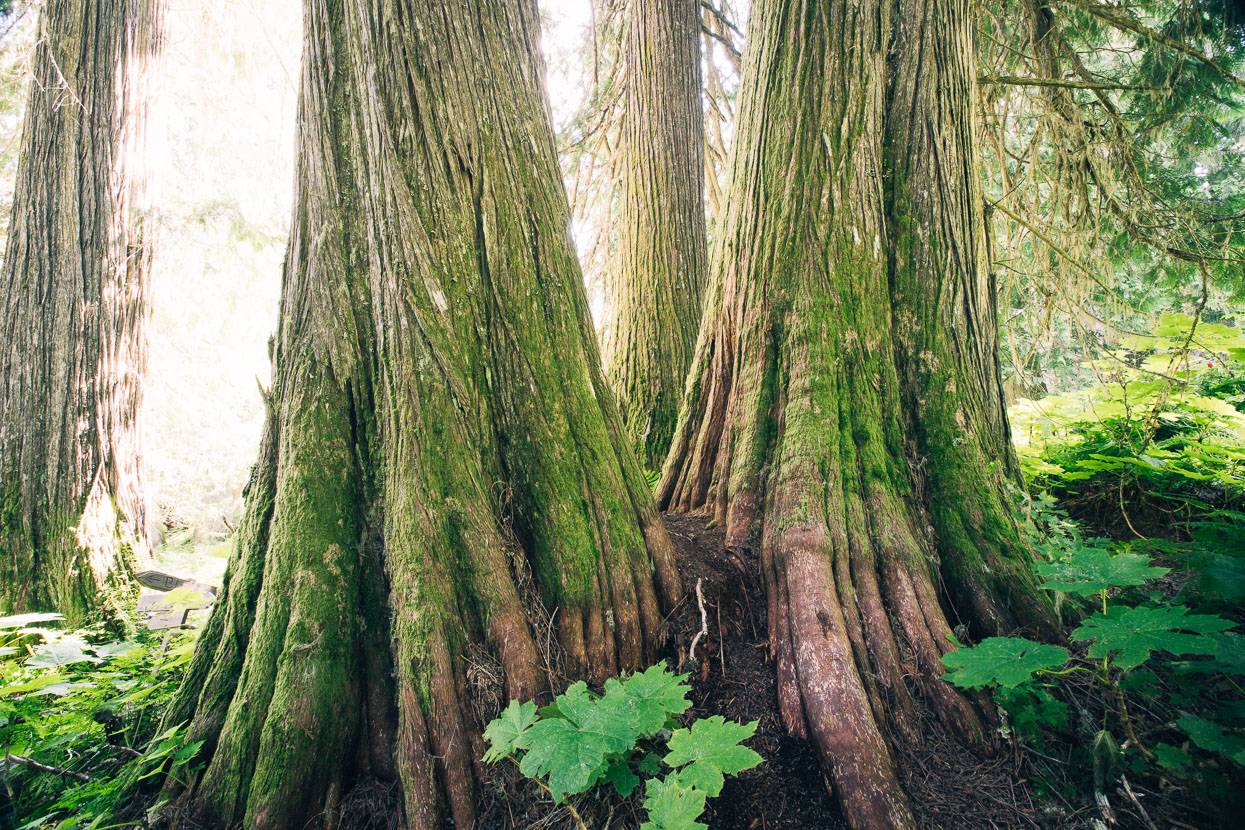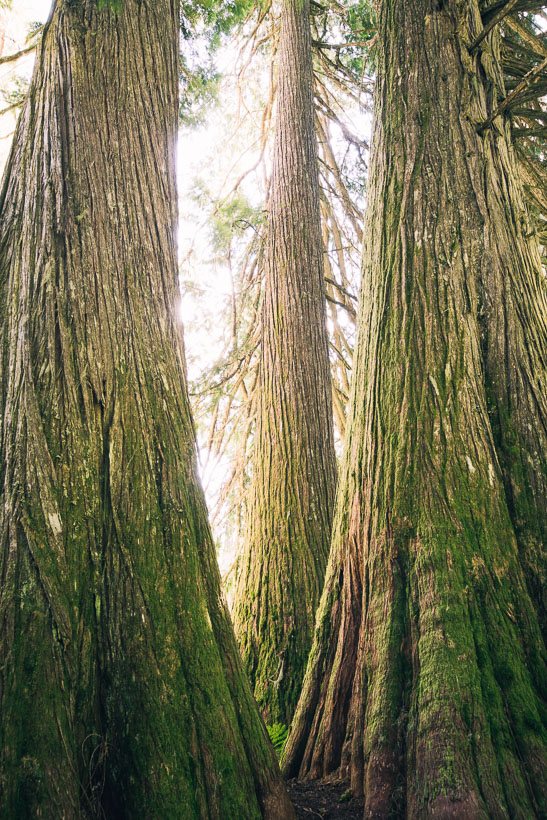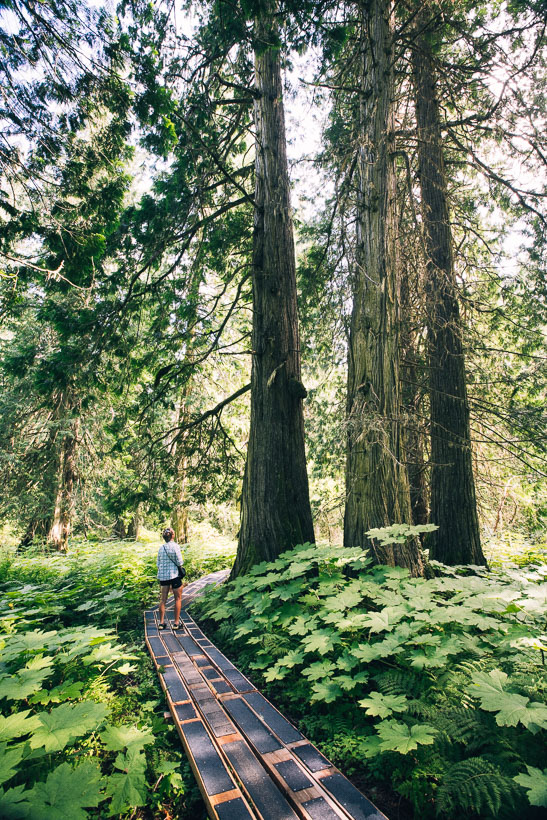 The Ancient Forest/Chun T'oh Whudujut Park and Protected Area right on the edge of the highway was well worth stopping at to see a good example of Canadian inland temperate rainforest. The tall western red cedar trees in this forest are up to 2000 years old. Coming from New Zealand with our own unique forests it's always interesting to see other forest ecosystems.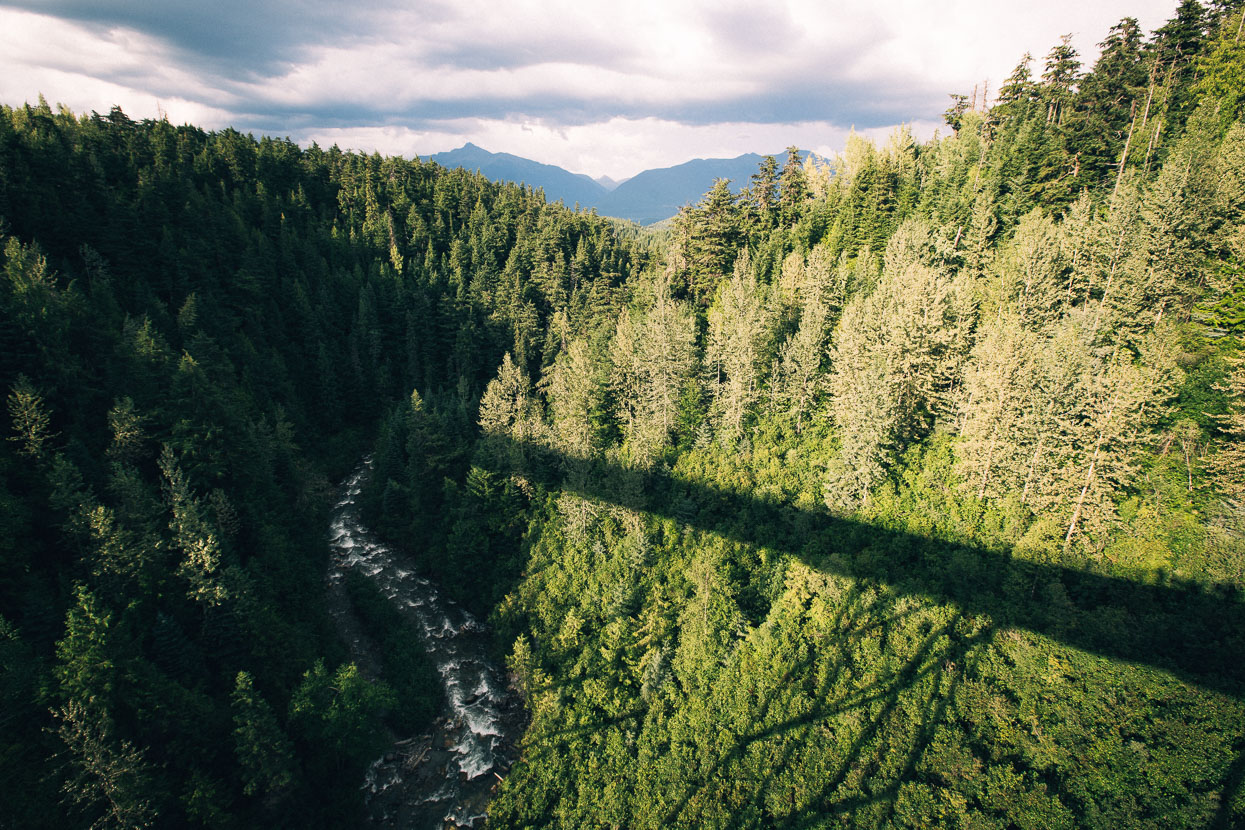 View from a highway bridge over West Twin Creek, Yellowhead Highway.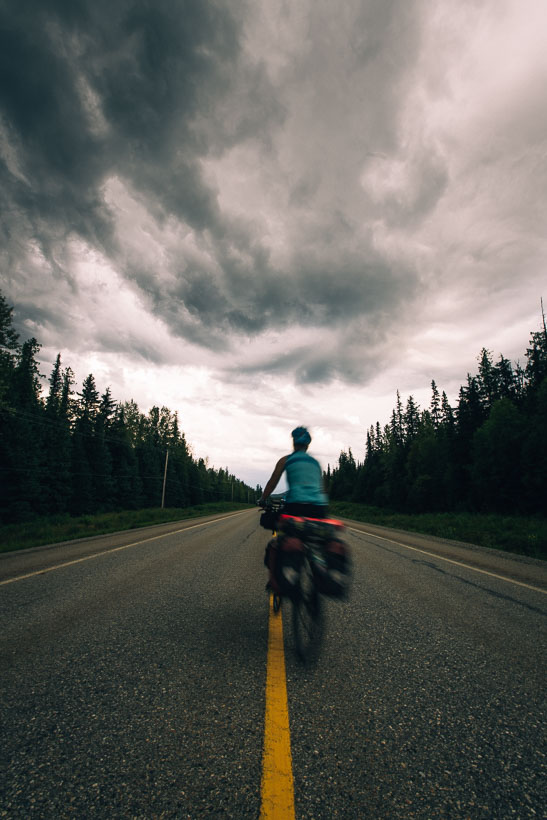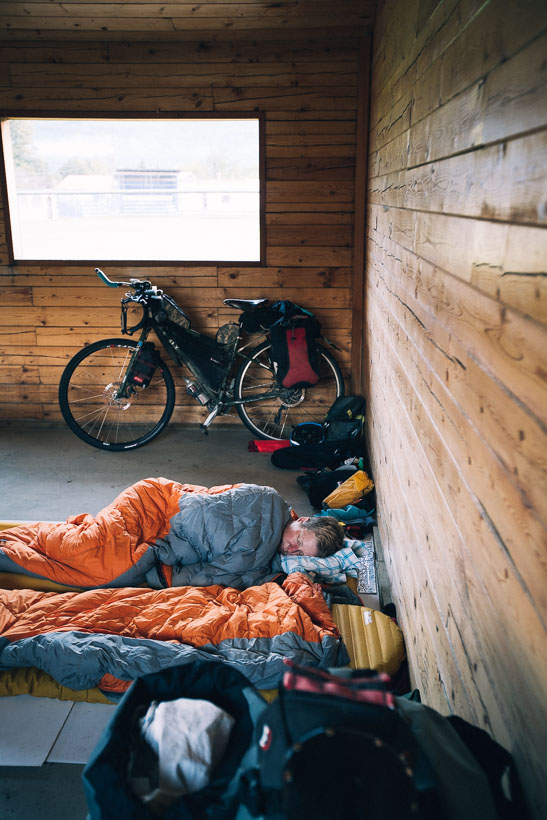 Trying to outride another building thunderstorm about two hours from McBride. We were lucky with this one, but gale headwinds on the outskirts of town nearly brought us to a standstill. The domain picnic shelter made a convenient bivouac for the night after we'd fed ourselves at the Gigglin Grizzly bar and restaurant.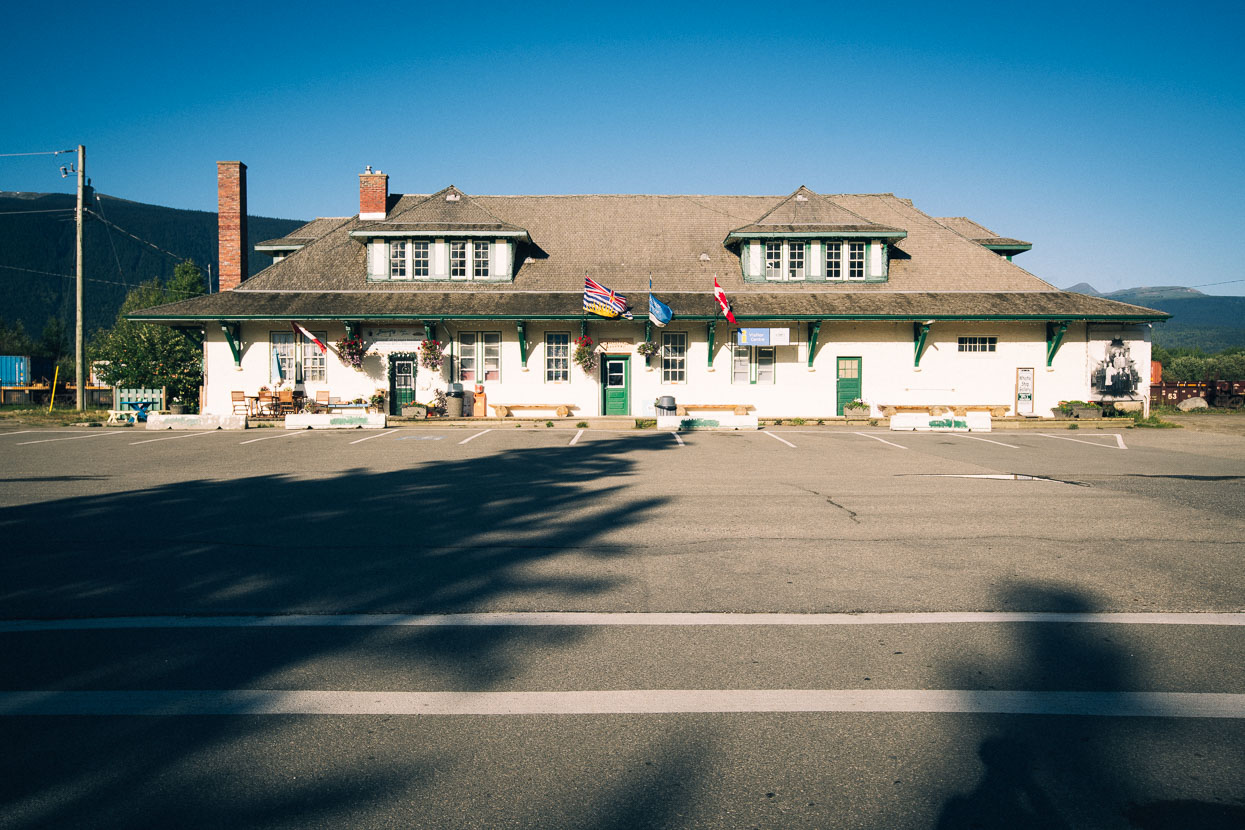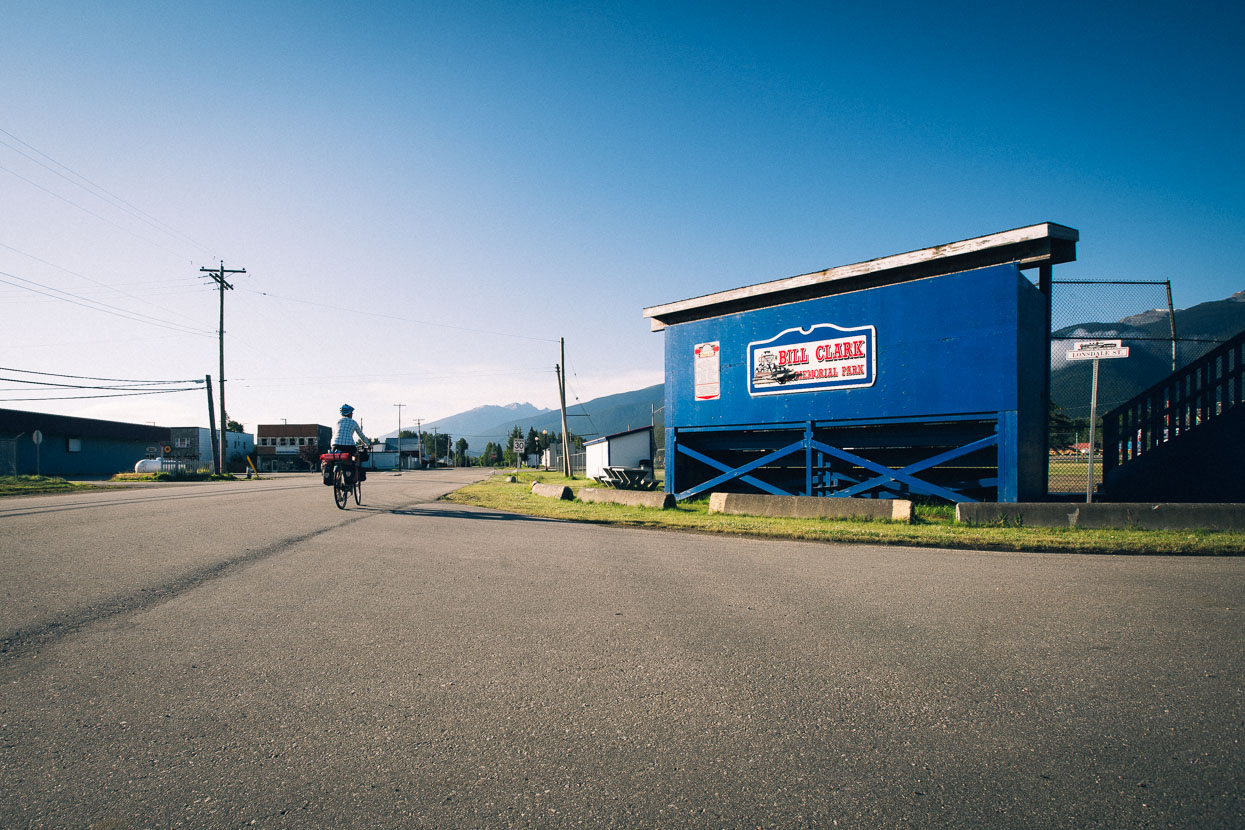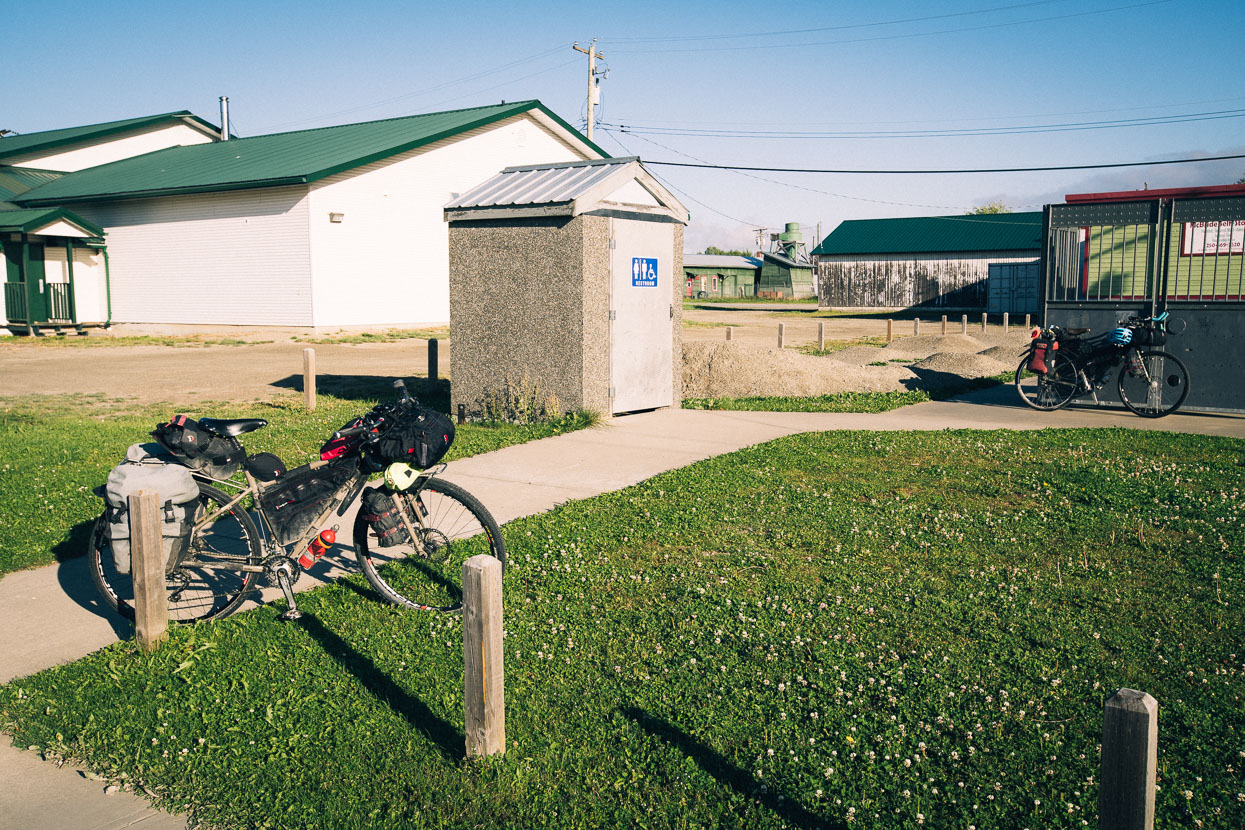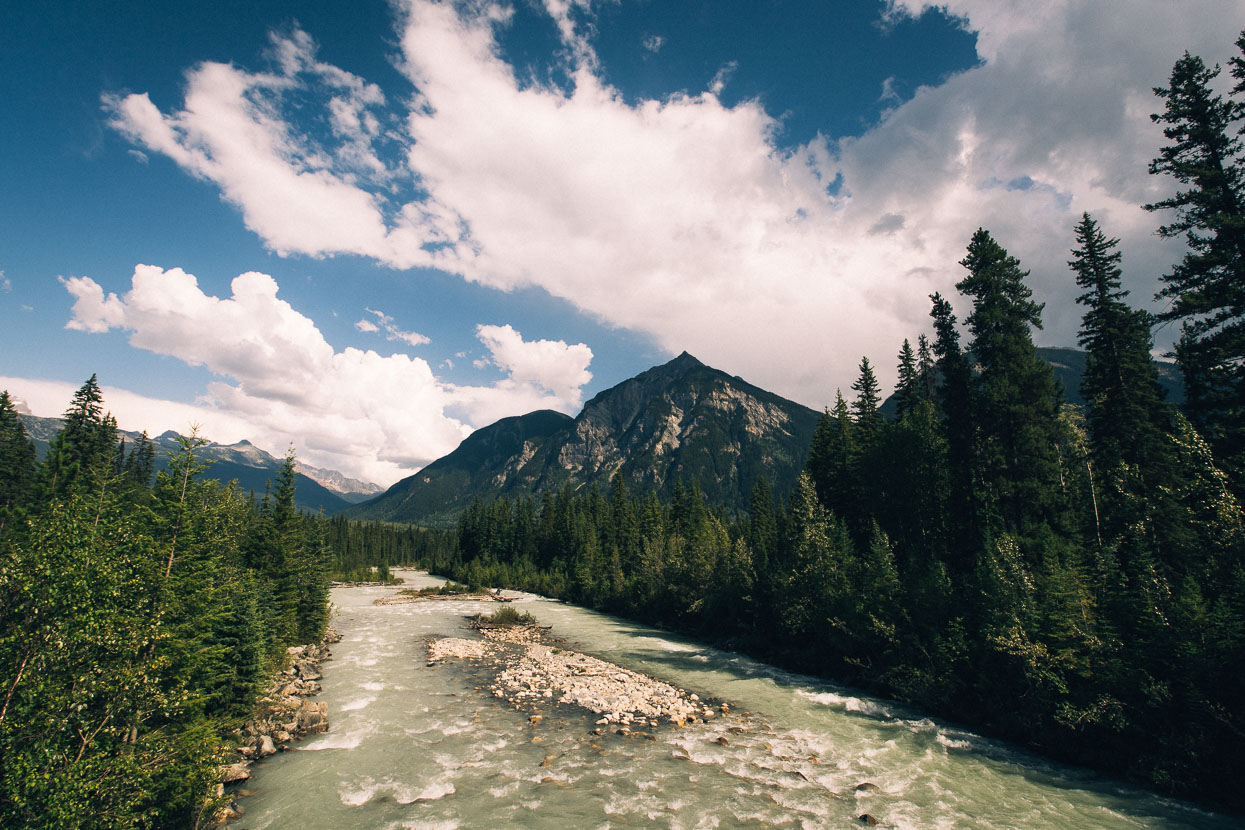 We were approaching Mount Robson with anticipation, having driven this way back in 2009 during a 14 month climbing/biking North American road trip. This time round we were looking forward to moving through the Canadian Rockies at a slower pace.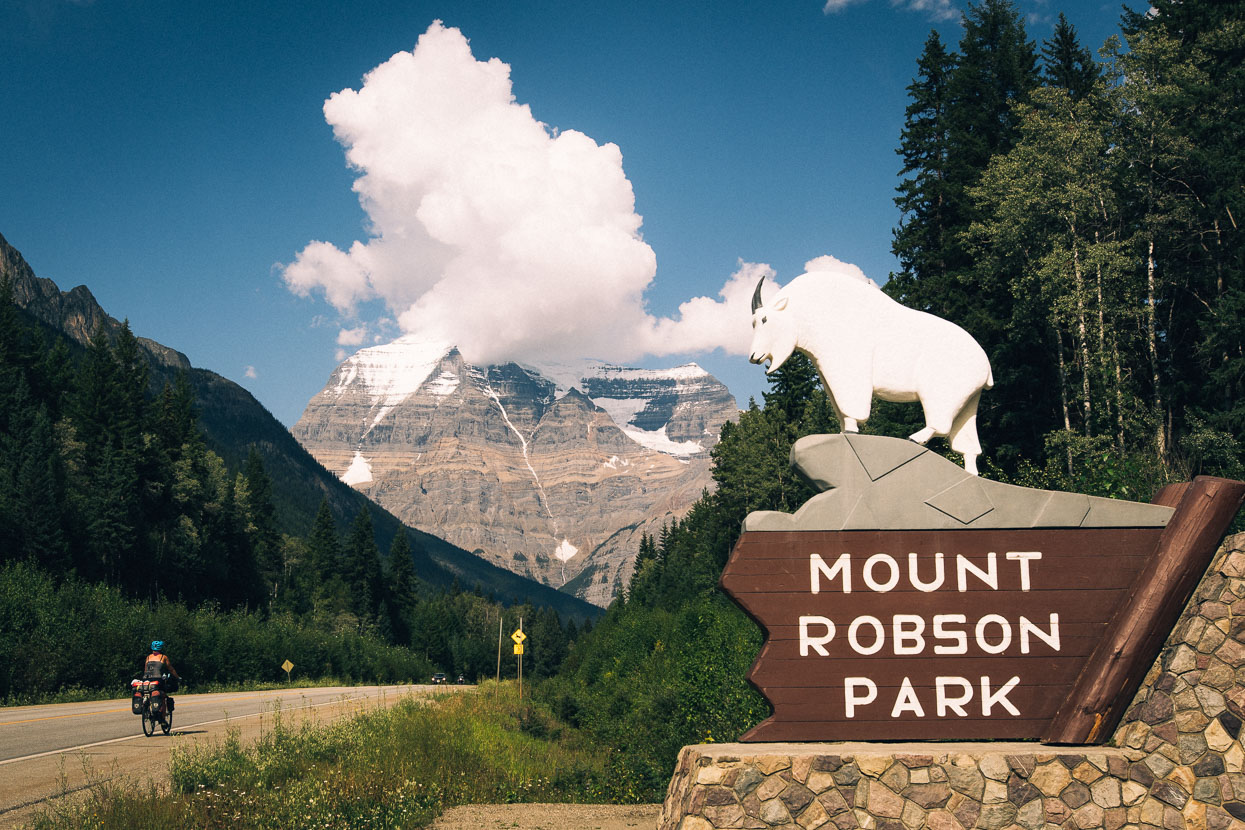 The classic view of Mount Robson (3954m) from the entrance to the provincial park. Robson is a mountaineer's mountain and seeing this great wall of heavily banded limestone, shale and quartzite before you is always a magnificent sight, even if it is from a highway!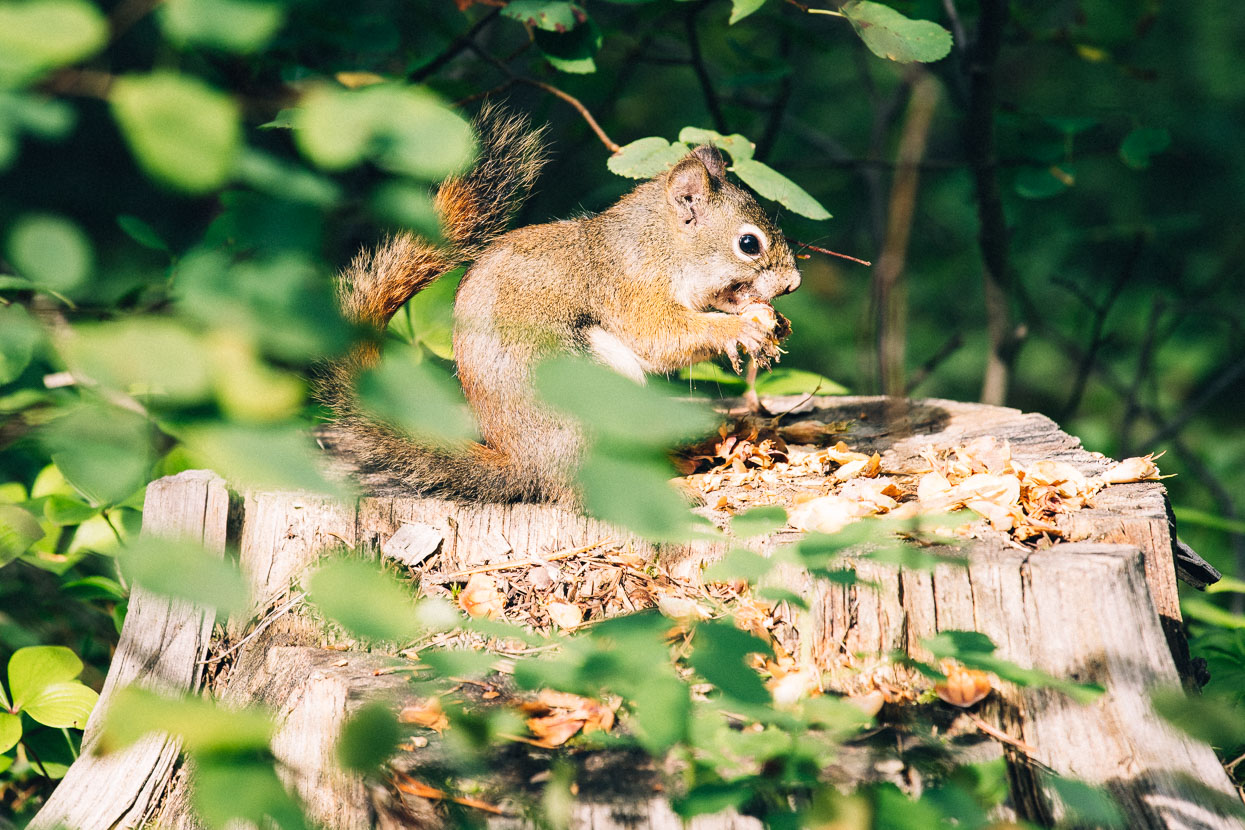 We'd hoped to ride into Kinney Lake and camp, but with the park's absurd pre-booking only system (booked up months ahead) it's near to impossible to get a site, so we ended up at the camping ground over the road from the visitor centre. We tucked into an early dinner in tandem with the site squirrel and then headed into Kinney Lake for an evening ride and shoot, planning to ride back out in the dark.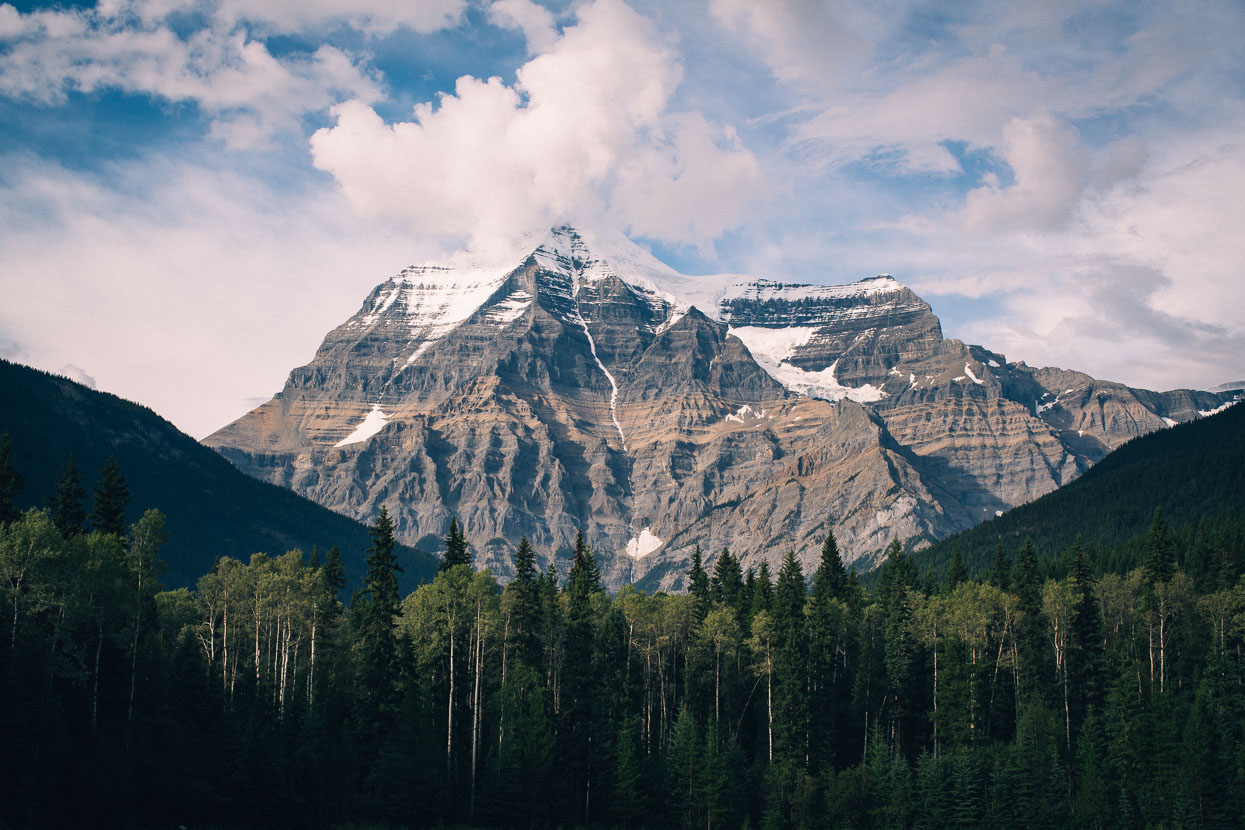 Mount Robson's South Face. This beautiful mountain has more vertical relief than any other mountain in the Canadian or American Rockies.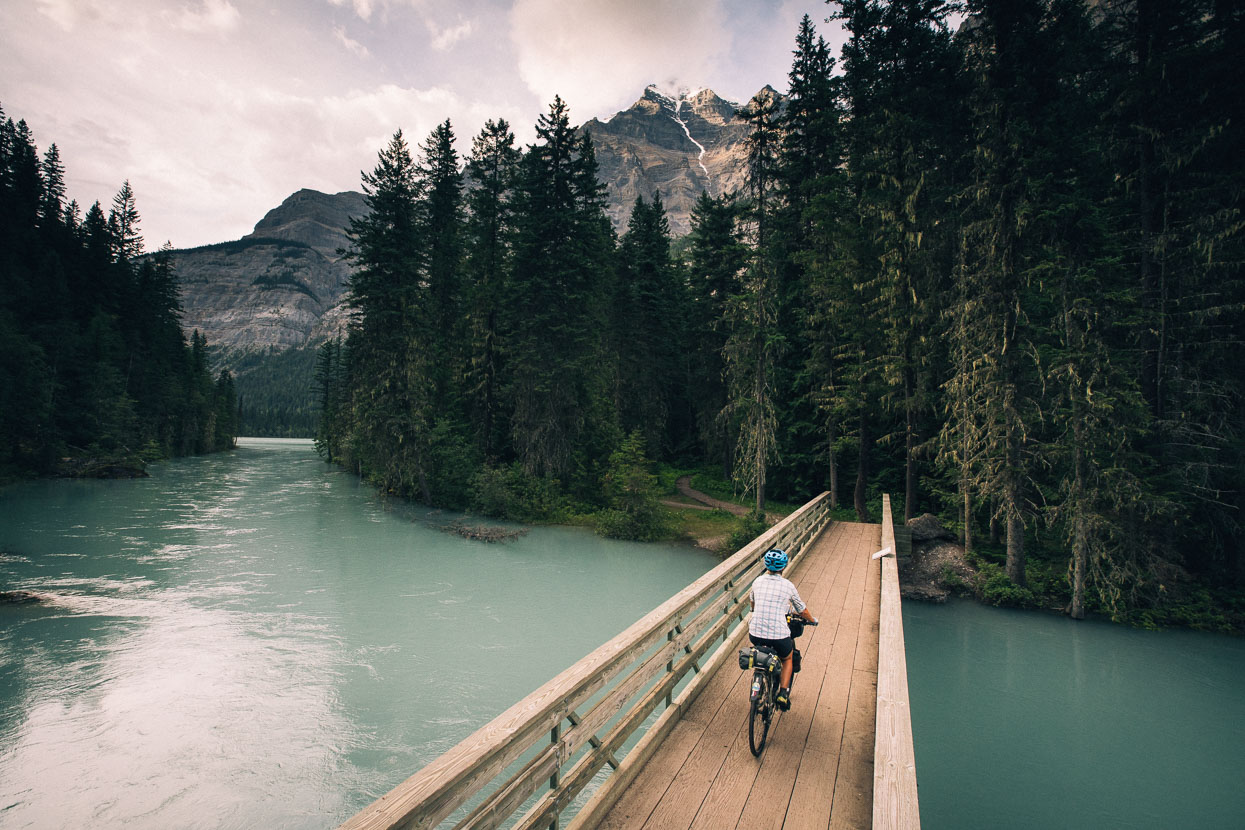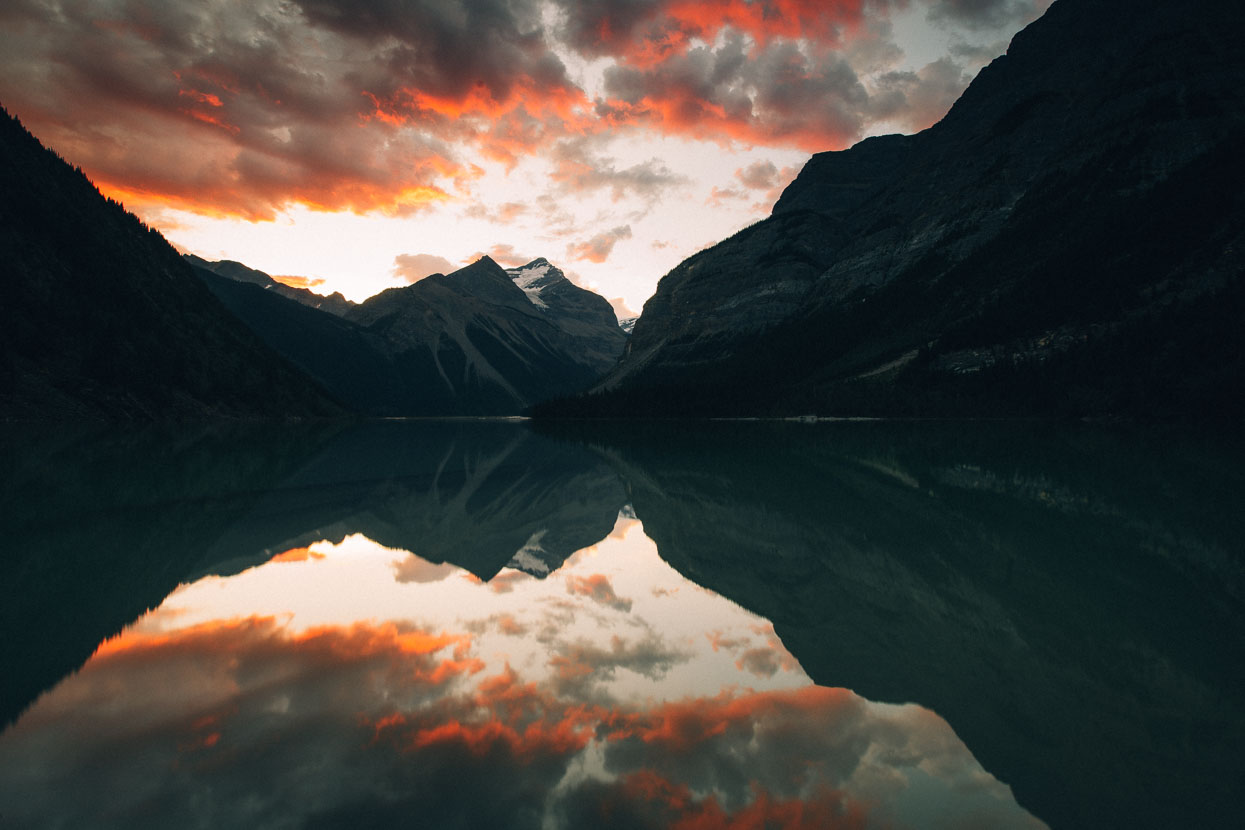 The Kinney Lake trail is a nice 5 km of forested double track that brings you right to base of Mount Robson. The trail continues (hiking only) to the famous Berg Lake, higher on the north side of the mountain. Evening brought a colourful sunset – looking north up the lake towards Whitehorn Mountain (3399m).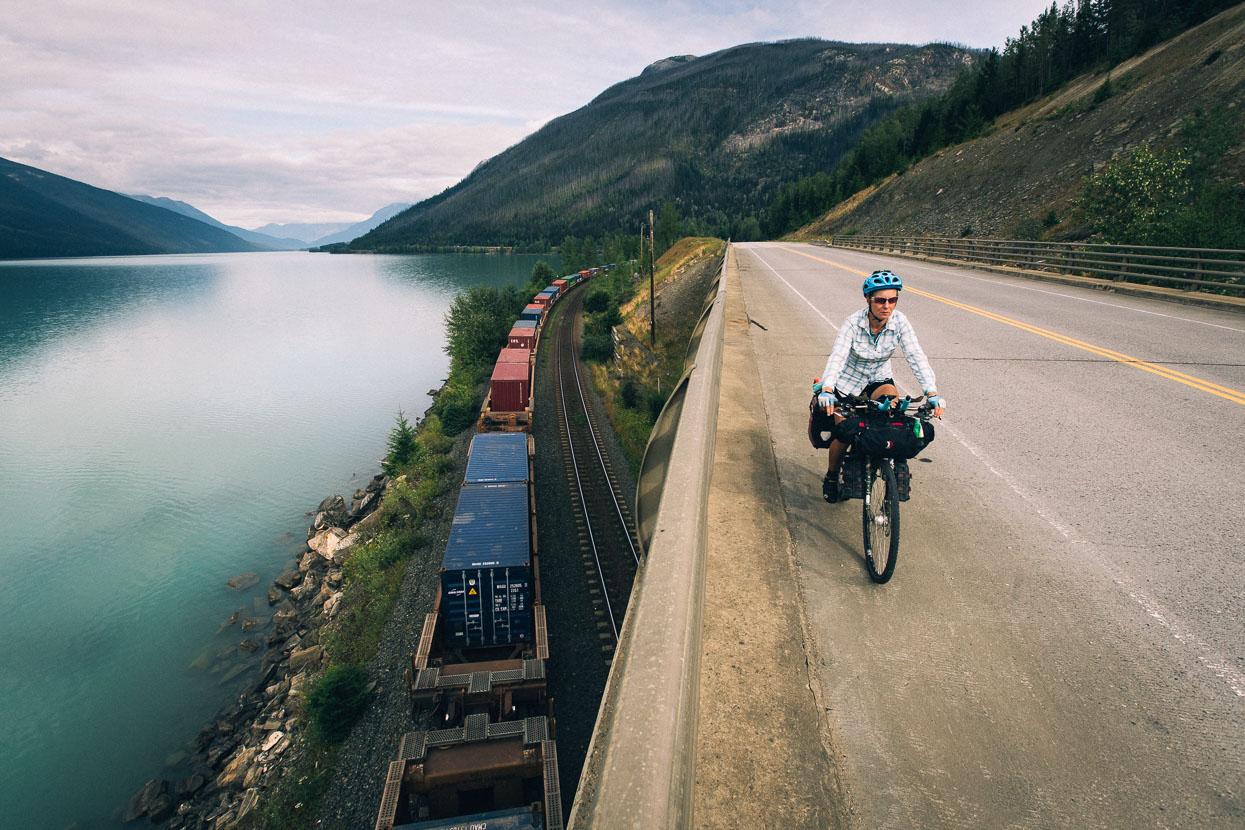 Back on the highway the next day, being passed by one of Canada's impossibly long trains. Rail heritage forms the foundation of European history in this area and the tourist town of Jasper, our destination for the day has been well known as a scenic rail stop since the Grand Trunk Pacific Railway was pioneered here in the early 1900s. As we leave Robson Provincial Park we enter Jasper National Park. Highways and large towns seem inconsistent with the concept of national parks, but Jasper was a a long established former fur trading post by the time the national park was formed in 1907 and was developed as a townsite after the rail reached it in 1912.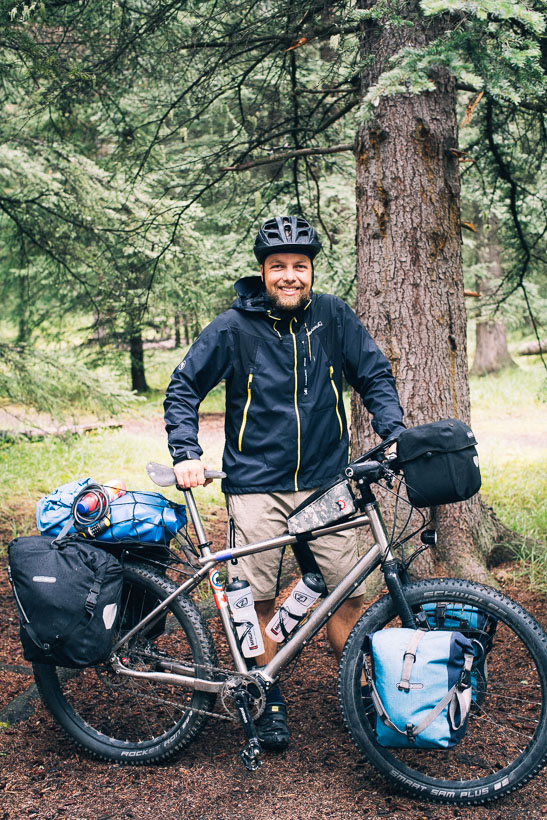 In Jasper we caught up with Alex and shared his site in the campground. Alex is also South America bound, on a fine custom titanium bike with a pinion (enclosed in bottom bracket) shifting system and 27.5+ wheels. We met Alex briefly in Dawson City and again in Whitehorse, but hadn't ridden with him. Read about Alex's journey here.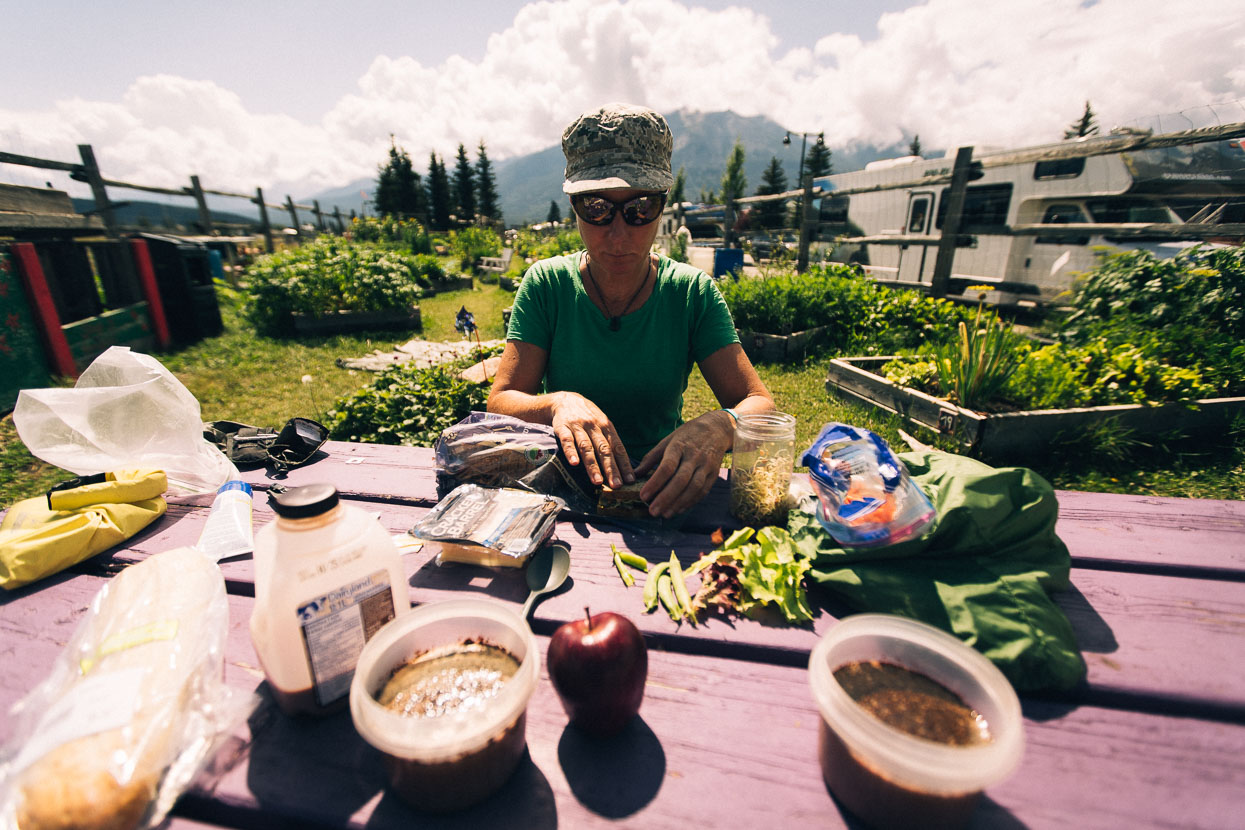 We had a few things to catch up on in Jasper so took most of the following day off (riding out of town in the late afternoon). At this point of the summer Jasper is very busy with tourists from all over the world – the most tourists we'd seen on the trip by far and almost overwhelming after the quiet and remote ride and small towns we'd experienced so far. We sought solace in the community garden to eat a bit of lunch.
Coming next: Icefields Parkway.
We're always open to questions! If you'd like to know anything about gear, bikes, life on the road, please fire away. I'll address them in a future post and/or via social media.