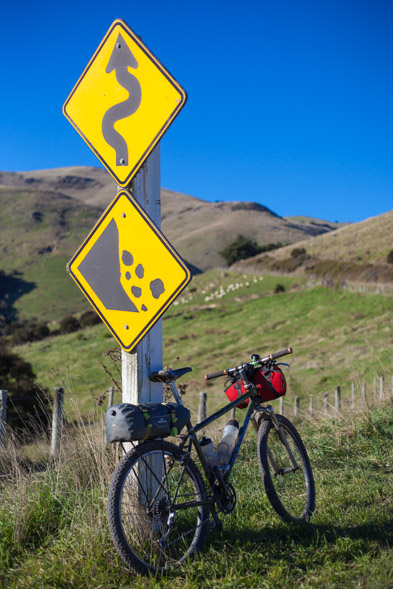 A hilly 95km mini-tour on Banks Peninsula (one evening and two days) with 3075m of climbing.
To usher in my 43rd year Hana and I had been planning to go ice climbing at Wye Creek, however, with raging gales, rain and snow forecast for the Main Divide and Canterbury High Country staying east seemed like a much more sensible idea.
North Westerlies normally = warm and dry for Banks Peninsula so at the last minute we got ourselves sorted for a mini bike packing trip on the penisula, starting with a Friday night ride over to a bivy at Port Levy and with a B&B booked in Little River for some Saturday night luxury.
Here's a route map.
[All photos shot with Canon 5DMKII and Canon 50mm f1.8]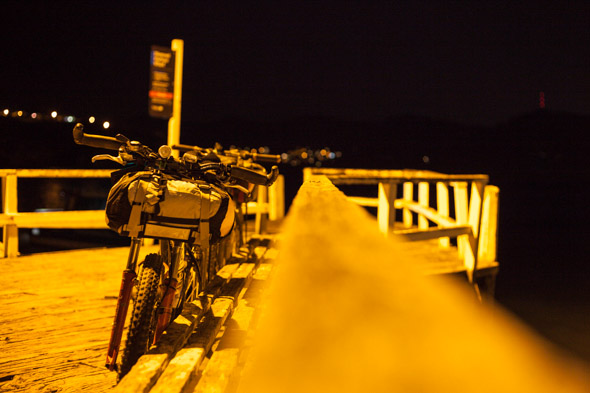 As with many great bike bike trips on the peninsula, this one started with a trip over on the ferry from Lyttelton. I love the fact that I can ride from the front door, roll down down the hill and literally ride right onto the boat only 90 seconds from home.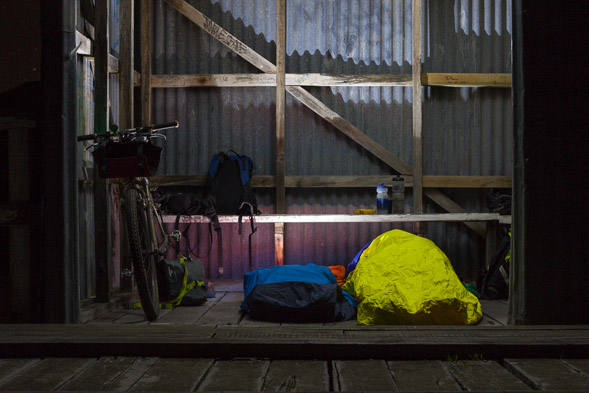 We rode over the Purau – Port Levy climb in the dark and then hopped over to Puari, a tiny settlement on the eastern side of the harbour. A sneaky overnight bivvy in the reserve at the end of the road is possible (there's a toilet and water), but conveniently the jetty there has a couple of corrugated iron shelters. Given it was forecast to blow a gale and rain in the morning, we took the latter option and were glad for the shelter when the showers came near dawn.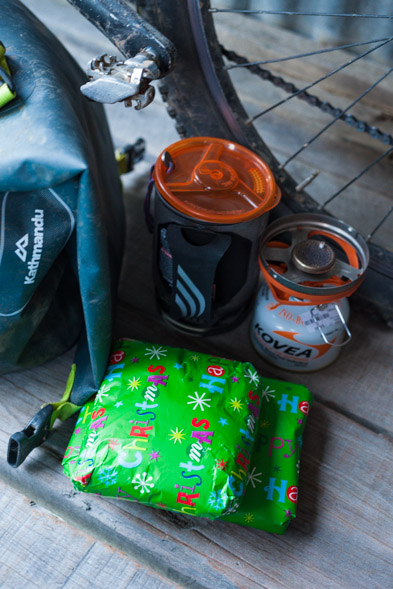 And as a bonus I woke up to a couple of birthday presents waiting on the bench. Thanks for the Bedrock t-shirt and new Fat Freddie's Drop album Hana!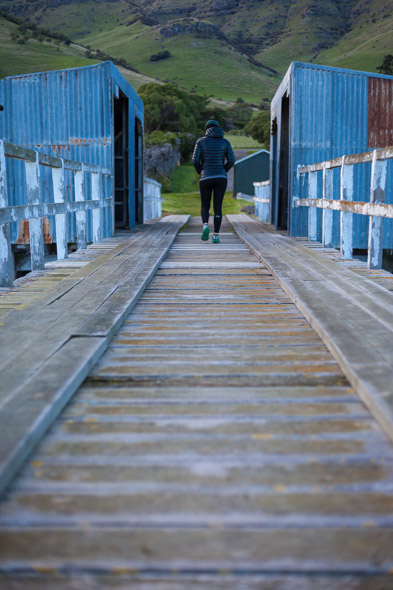 Shelter from the storm.
Horomaka Island, The Monument (711m) and Mt Herbert (931m). Previous evening's pass comes over just right of The Monument.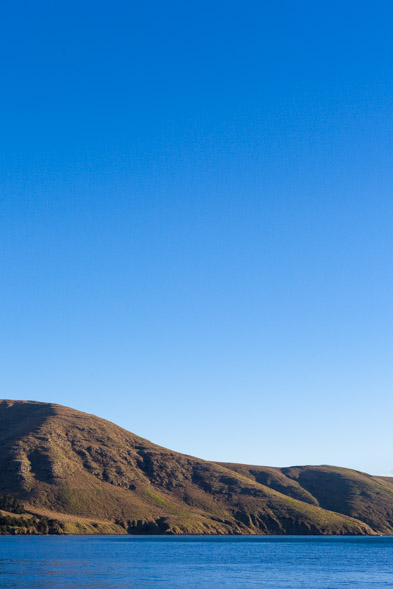 Western Port Levy heads.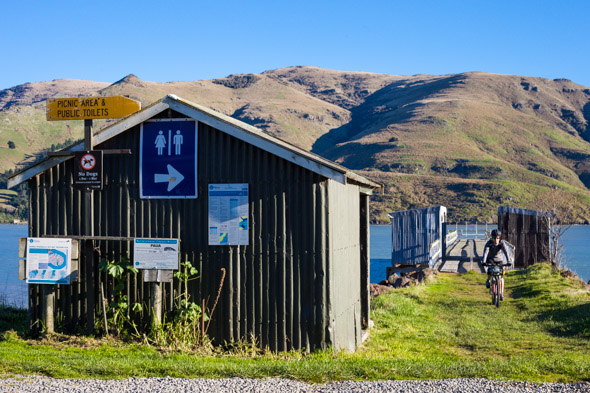 After a well-lazy start we got on our way about 10am.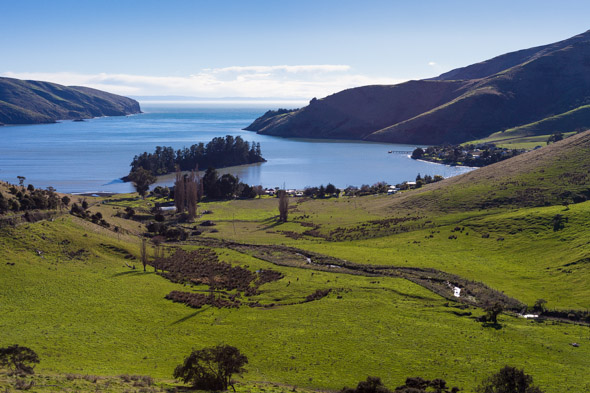 Port Levy and Puari. Jetty is in the upper right third of photo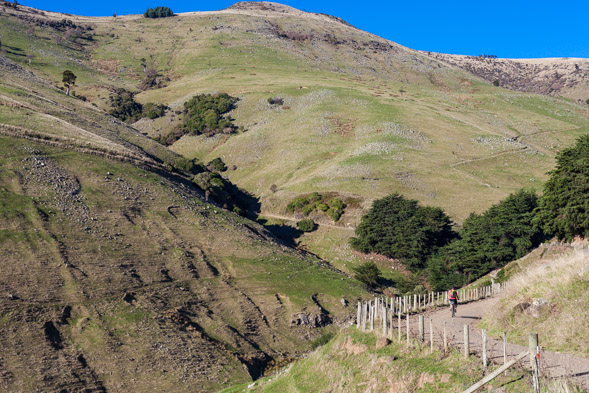 The climb from Port Levy over to Pigeon Bay is one of my favourite on the peninsula. It's always deserted, narrow and has a nice flow over the land's contours.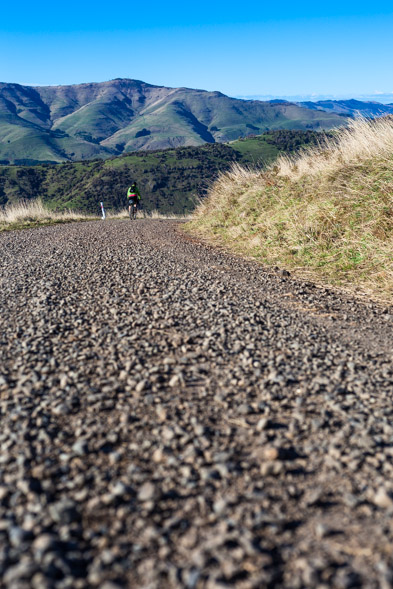 Dropping into Pigeon Bay from the saddle at 500m.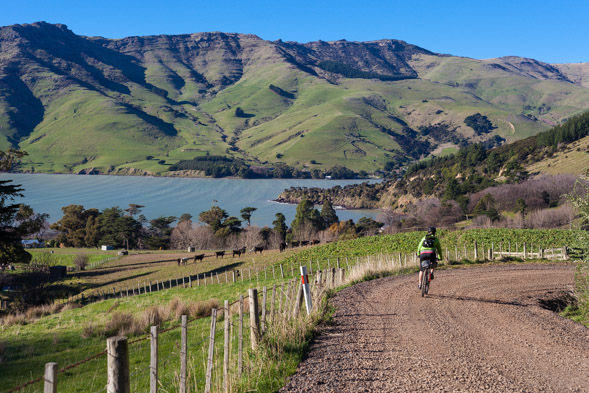 Down, down, down into the picturesque Pigeon Bay with all our cows in a row.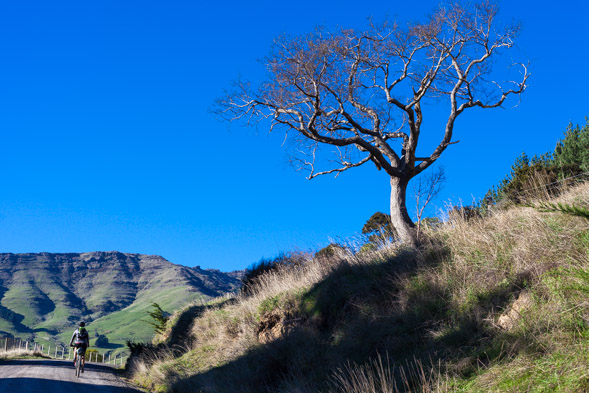 Haytor (594m) in background as we come into Pigeon Bay.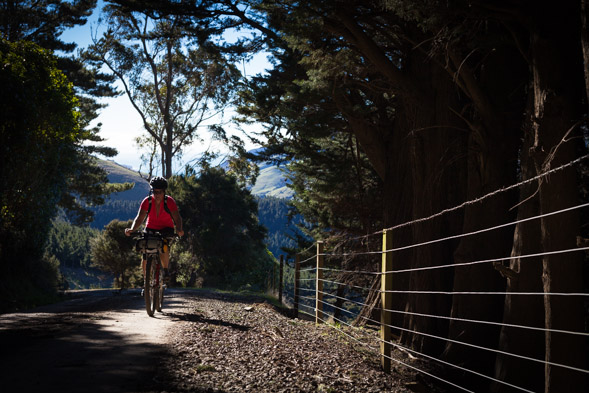 There's three options out of Pigeon Bay: the main road (sealed and easy); Pettigrews Rd (steep with some mellower bits) and Middle Rd (very steep). We took Pettigrews, which still makes for an honest ride, especially with overnight kit on the bikes.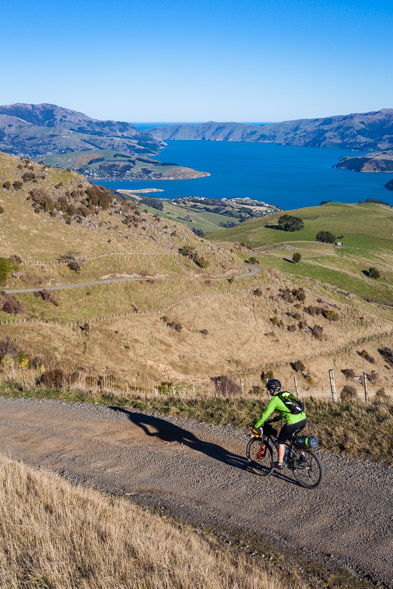 Pettigrews tops out on the Summit Road which we then followed north east for about 7km towards Duvauchelle Pk before dropping 500m down Pipers Valley Road back to sea level and the Duvauchelle store for lunch. That's Akaroa Harbour in the background.

After a late lunch of toasted sandwiches and lots of caffeine (the cyclist's friend) at the Duvauchelle store we headed off up Pigeon Bay Road, the 'short' climb of the day at about 370m. Great views of the Akaroa Harbour on the climb out.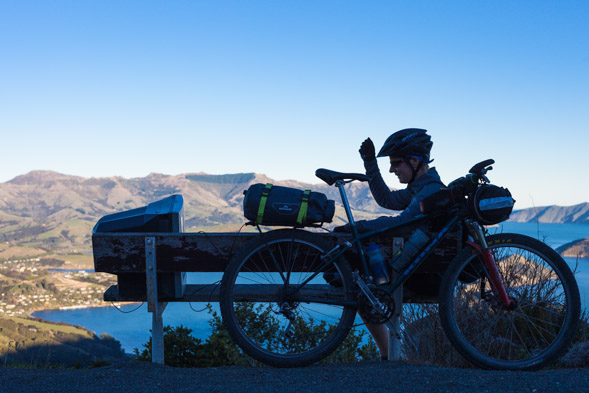 We didn't want to miss any Tour of course. Hana cheers Sagan on in stage 7!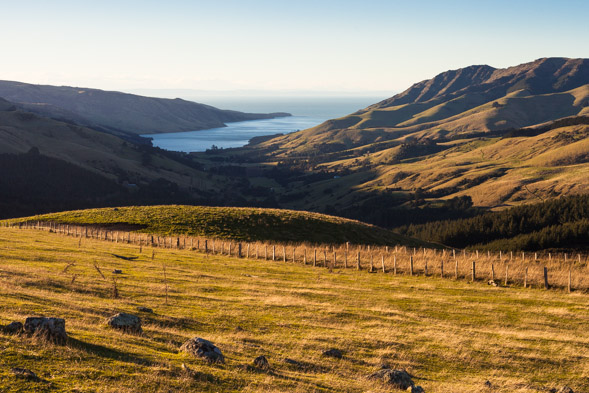 View into Pigeon Bay from Summit Road.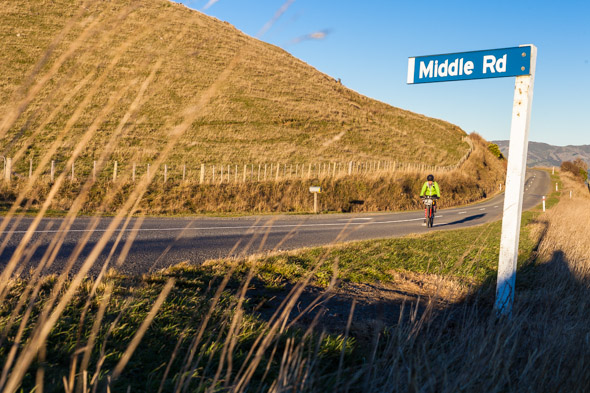 Late afternoon light as we back track some of the Summit Road towards Hilltop.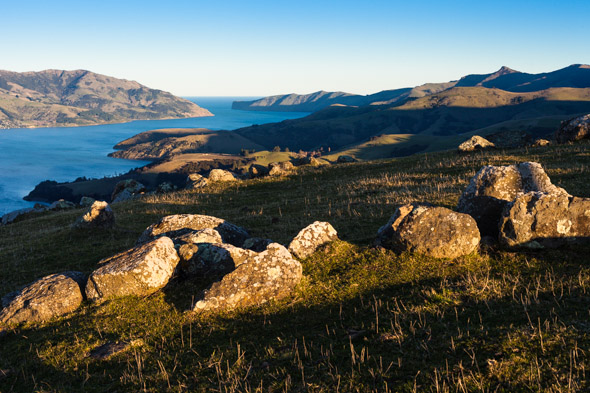 Akaroa Harbour and entrance from Summit Road.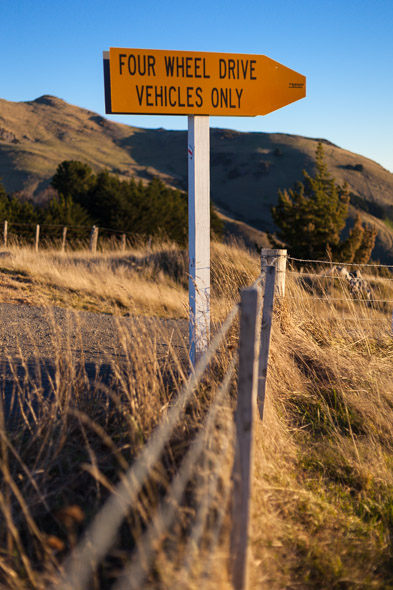 From Hilltop all that remained was the final descent of the day down the Harmans Track stock route into Little River.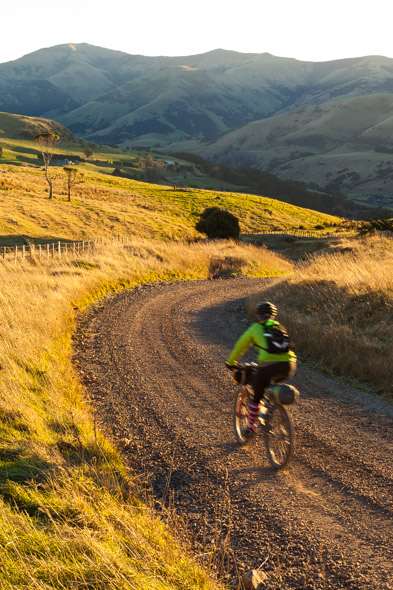 Enroute to our B&B in Little River.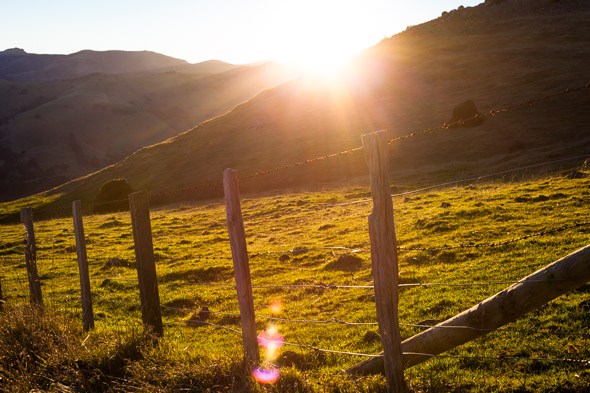 Last of the Sun.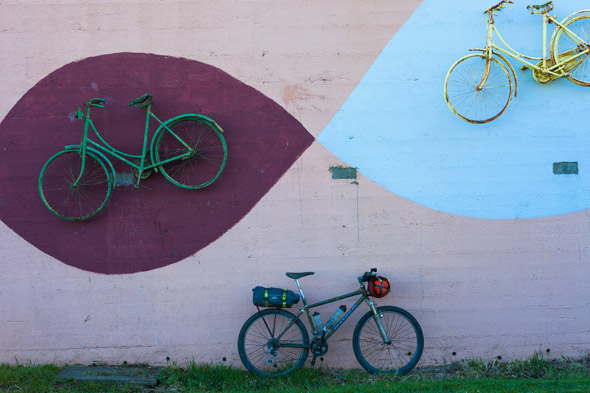 Little River. We spent the night at the Koa B&B ($125). They cooked us a fresh fish dinner too for an extra $20 each and gave us lots of snacks and a couple of beers. Great people and a cosy little spot to stay. The Little River pub (1.2km down the road) has giant icecream sundaes for $4.50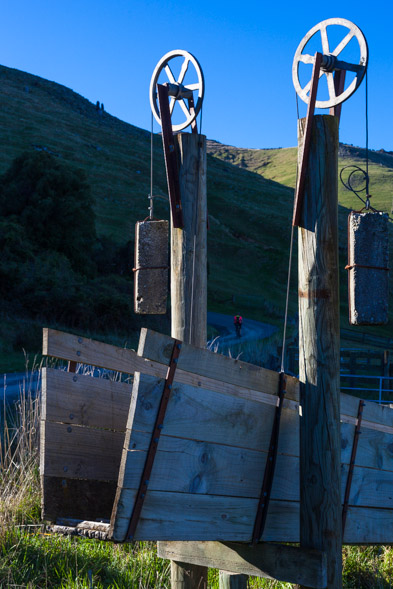 From Little River it was straight back into the climbing on Sunday morning with the 700m haul up the Little River – Port Levy Road (Western Valley Road). We weren't sorry to see that the first 1/4 of this has now been sealed – it's still steep enough to make you work hard!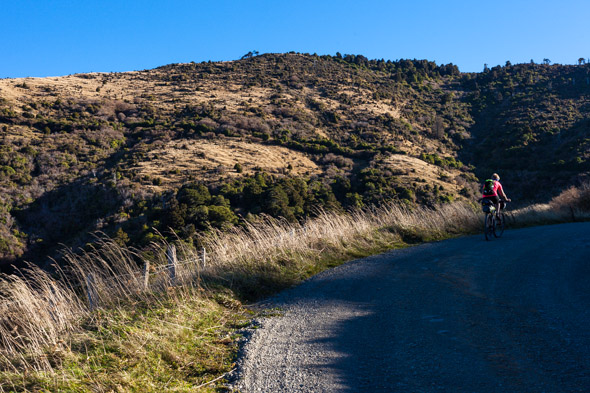 Up and up..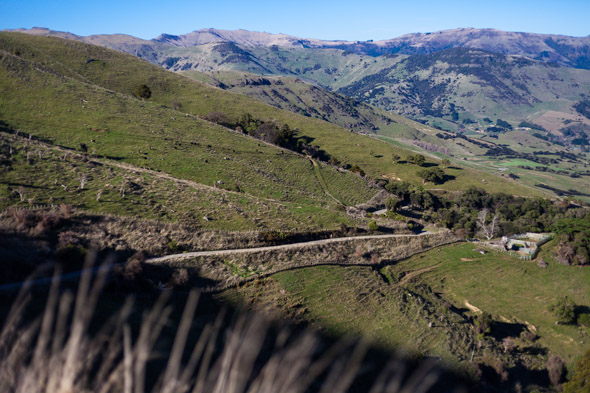 Looking back down Western Valley Road towards Little River.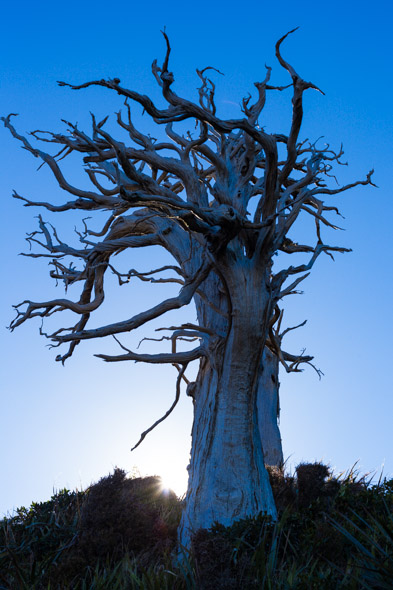 I love this Medusa-like totara skeleton near the top.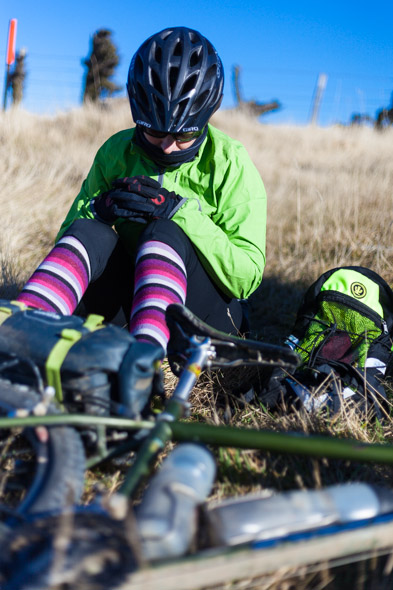 A strong cold wind was buffeting the top of the hill, so we flagged plans to bike over Mt Herbert and headed down to Port Levy instead, with a final 519m climb remaining back over to Purau, Diamond Harbour and the ferry.
Picturesque Purau.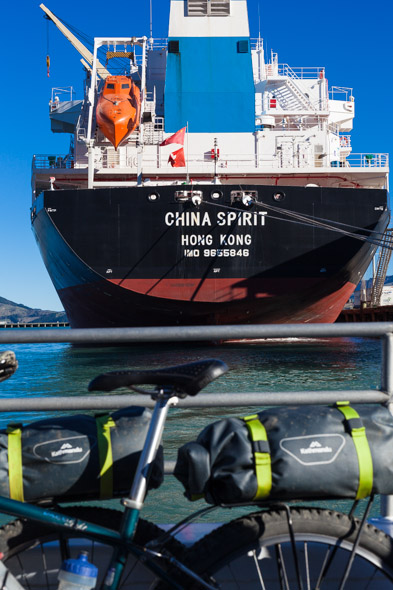 Dwarfed by freight vessels on the run back into Lyttelton Harbour. All that was left was a short ride up the hill to home…