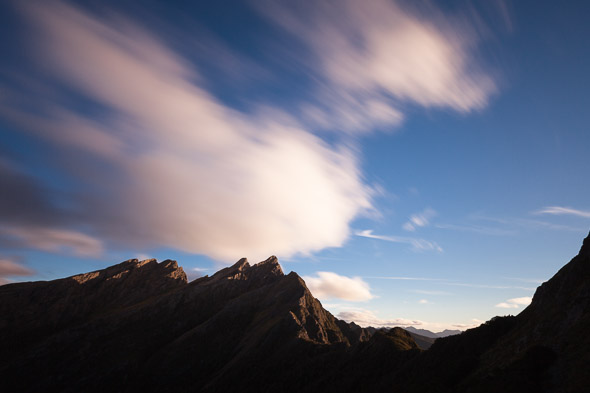 A trip that's long been on my hit list is the Dragon's Teeth High Traverse in Kahurangi National Park, a high traverse of the Douglas Range from the Aorere Valley to the Cobb Valley. For Easter this year we'd originally been looking at the Gardens of Eden and Allah in the Adam's Wilderness, but with a dubious forecast we decided head further north instead.
Starting Easter Monday we walked up the Anatoki Valley (behind Takaka) to Anatoki Hut, day two we headed to Adelaide Tarn Hut via Yuletide & day three was a pit day. Day four we took the High Traverse route (really a sidle) to Lonely Lake and day five onto a camp on the Lockett Range. Day six we traversed the range to Sylvester Hut with just a quick walk out left for day 7. Here's a route map.
It's fantastic country to tramp in – like a slice of the Olivines in places – and we were surprised by the quantity of bird life. The High Traverse is by far the crux of the trip and has a reputation for gnarliness and failed attempts. A review of the hut books indicates that there are less than two successful parties on it per year, on average. It's best done north-south and it seems there might be a couple of routes people use to climb the crux cliff onto the Anatoki Spur. Our line followed a steep drainage with rock climbing and plant hauling in places and the rope (we had a 30m x 8mm glacier rope) was called for in a couple of spots. I'd be interested to hear how other parties have tackled this section.
DOC's description of the low traverse and some of our route is here. Click here for full set of photos and captions.