One of the prize jewels in Kahurangi National Park's crown is the Heaphy Track. I last rode this track 17 years ago (back before the park was gazetted), and finally last weekend got around to riding it once again in the company of a bunch of good friends. The 78.4km-long Heaphy is one of NZ's Great Walks – rightly so – and it's also open to mountain bikers from the 1st May to 30th Sept. This year is the final year of its mountain biking trial period.
What's destined for the future I'm not sure, but hopefully its immense popularity and the extra revenue provided by bikers using the huts during the off season is enough to convince DOC to make it a permanent fixture. It's a formula that seems to work and will hopefully prove that other riding-suitable tracks can be opened to bikers in other national parks.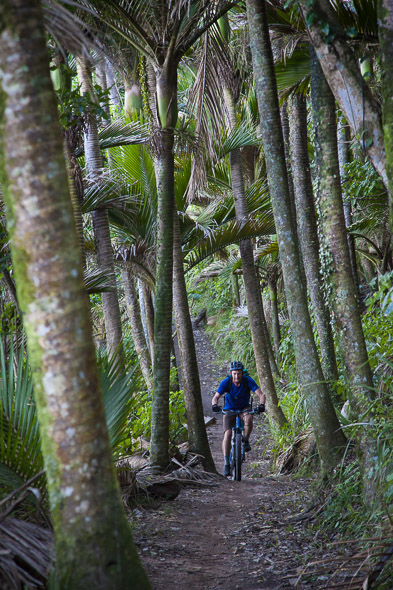 Mountain bikers typically ride the track in anything from 1-3 days. We rode the track north-to-south over three days (two half days and one full day), spending nights at Perry Saddle and Heaphy Huts (which must be booked and paid for in advance). As a ride it's pretty much peerless: the riding itself is awesome. Though it's been tamed a lot in 17 years, it's still technical enough in places to keep it interesting and because it's consistently hilly one's mind seldom gets a chance to wander very far. The main climb is 100% rideable and the main descent is 700-odd vertical metres of swooping, windy single track. The riding is only half of the event though. The balance is created by the incredibly diverse flora and landscape: from lowland podocarp and silver beech, through alpine tussocklands, goblin forest and dracophyllum groves to nikau and harakeke. Then there's the rock: granite, limestone and sandstones and ever changing topography. Mountains to the sea. The birdlife's not bad either.
Tam unfortunately suffered some misadventure on day two, when she crashed and split her knee open to the bone on the descent to Lewis Hut. She soldiered on to Heaphy Hut, but needed stitches and was in no shape whatsoever to be riding any further the next day, so we called 111 (there's mobile reception on the beach) and within an hour she was on her way to Nelson Hospital. Kate didn't fare too well either on the Lewis descent – putting a decent cut in her forearm that needed steri-strips. After a night at Heaphy Hut it was a morning's ride out to Karamea the following day.
Logistics
Transport: You can either choose an entry point and ride in for a day or two, then back out, or do a through trip. We opted for the latter and started by driving to Karamea. We then used one of two air services (Adventure Flights Golden Bay, Mit Brereton) and flew to the upper Aorere Valley, landing just down valley from Brown's Hut (at the northern terminus of the track). Once at the southern end of the track we rode 15km of flat rural road back to our car at the Karamea airstrip.
Bikes & Kit: The track is suitable for basic mountain bikes, but you'll you have more fun on something with full suspension & disc brakes. We all carried small backpacks and bundles on a single rear rack, and Hana and I also used homemade handle bar tacos for bulky light stuff. The huts are modern and well insulated so you can get away with the most minimal of sleeping bags, even in winter. There's some useful info re logistics and gear at MFLA and hut bookings etc at DOC.