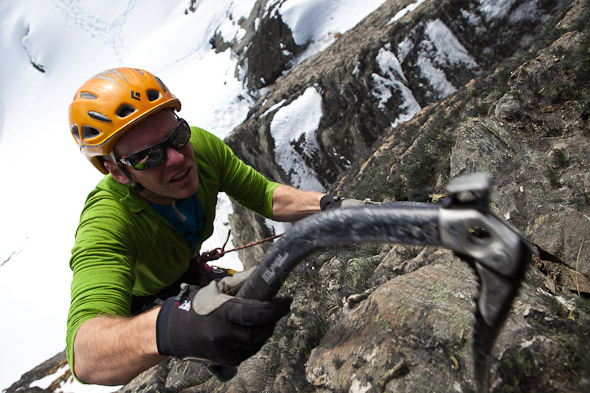 Couple of weekends ago (August 16-19) I headed to Queenstown to take photos at the inaugural Remarkables Ice & Mixed Festival. Brainchild of psyched climber Daniel Joll and organised by himself, Craig Jefferies and Ben Dare the festival was created to bring together the top winter alpine climbers in NZ, advance and promote modern mixed climbing, showcase new and existing route potential, and to share local knowledge and help climbers form new climbing partnerships.
The festival was incredibly successful on all counts with 115 people in attendance, including 30 women. Many climbs were repeated or saw first winter ascents and the ice and mixed instruction sessions were very popular. Additionally $8500 was raised for the NZAC expedition fund. A race over the Double Cone – Single Cone Grand Traverse on Sunday saw Steve Fortune win in a blazing one hour 29 minutes, closely followed by Reg Measures (1:32) and Daniel Joll in third (1:35). Steve was also named Black Diamond Alpinist of the Year after sending the hardest route of the festival. Di Drayton won of the Cactus Hardest Repeat and Macpac Hardest New Route by a female climber awards.
The Remarkables feature in the mountain book I'm currently working on with writer Paul Hersey and the festival provided a great opportunity for me to get some fresh climbing action shots (you'll have to wait for the book for those). Thanks to the organisers and also to the climbers who helped fix ropes for myself and the other photographers Troy Mattingley and Fraser Crichton.
In the meantime, here's a set of images from three days of the festival. For more about the festival, check out: Remarkables Ice and Mixed Festival. It's running again next year.