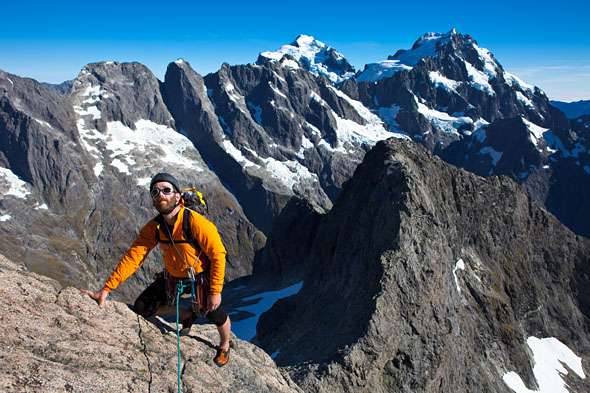 Back in February this year I headed into the Central Darrans with John McCallum, Tom Riley and Alan Thomas. We were on a mission to get into Turner's Eyrie, an eagle's perch of a bivouac on the North West Face of Karetai Peak. Plan was to climb some rock, bag some peaks, get tangled in the bush, lie in the moss and hang out in the unique primordal landscape that is Fiordland.
We flew into Turner's Biv and walked to Lake Turner and then the Eyrie and over the following five days managed to tick all the boxes, using the Eyrie as a base for five nights, with ascents of Mt Tarewai (traversed on the way in); Mt Te Wera via the North Ridge; Karetai Peak via a new route (The Brown Spider, 18, 7 pitches) on the NW Flank and Mt Underwood via the Taoka Icefall. Dave Vass and Richard Thomson joined us after a couple of days after they topped out their first ascent on the Donne Face of Karetai. We exited via Patuki Col and the Taoka Icefall via a couple of raps and then down the rarely visited Donne Valley.
Check out the full story and photos here.
View stock photos, digital downloads and fine art prints from the Darran Mountains.