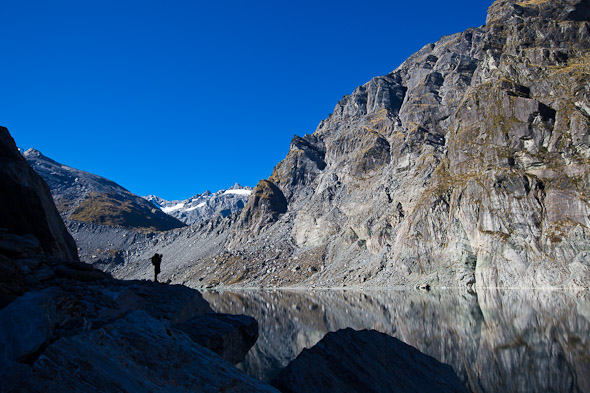 Here's some photos from an amazing Westland trip I did back in April with Hana and our regular West Coast mission tramping partners Anna Pilbrow and Tom Riley. I'd wanted to get to the remote and historic Harper's Rock Bivouac, at the head of the Douglas Valley and tucked under the shadow of the Main Divide, for a long time. AP Harper was one of the founders of the NZ Alpine Club and a prolific early West Coast explorer and discovered the prominent rock bivouac during his exploration of the surrounding valleys and passes. With the recent clearing by DOC of the lower valley tracks and the route to Conical Hill it seemed like a good time to get in there. To top it off we had a perfect weather forecast and a full moon aligning nicely.
The trip:
Day 1: Road end to Conical Hill camp.
Day 2: Conical Hill to Horace Walker Hut via traverse route.
Day 3: Horace Walker Hut to Harpers Rock Biv via Douglas Lake and Glacier.
Day 4: Harpers Rock Biv to Christmas Flat Hut via Douglas Pass and The Gladiator.
Day 5: Christmas Flat Hut to Cassel Flat Hut.
Day 6: Cassel Flat Hut out.
Keep an eye out for my feature story on this trip in the September issue of Wilderness Magazine.
For full captions, check out the photos on my SmugMug page.