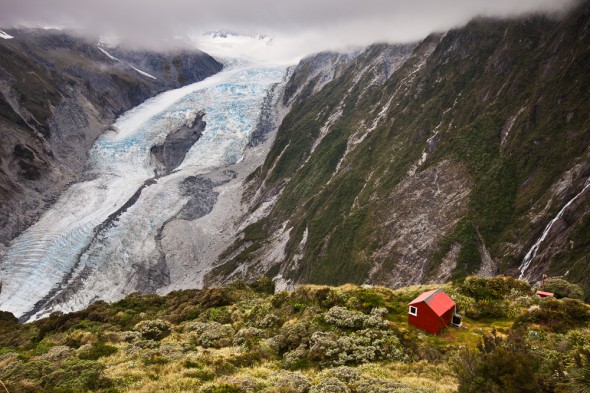 It's been a long time since I last posted on this blog. My priority for the last few months has been shooting for the Our Mountains book project I'm working on with author Paul Hersey. That's entailed constant trips away to photograph the book's 15 mountains (all over the country – from Northland to Stewart Island). It's been an amazing, rewarding and sometimes exhausting time.
Now that the manuscript and images are with the publisher I'm finally getting a chance to catch up with processing photos I shot earlier in 2012 and getting some more images into stock agencies and out to magazines. I've been doing a bit more commercial photography lately for a couple of clients and working on the odd design project. I'm planning to have prints of my work available in an online shop in the next couple of months too.
These photos are from a trip I made back in Feb 2012 to Castle Rocks Hut, perched high above the Franz Josef Glacier on its true left, just past Cape Defiance. I headed in there both out of a curiosity to check out the hut, and also to hopefully shoot Mount Tasman and the Main Divide. While the light and cloud never really quite combined for the shots I'd hoped for, it was a fun trip and a spectacular spot to check out.
Thanks for visiting. If you enjoy my photos, you can subscribe to receive email notification about new posts in the field right of this post.