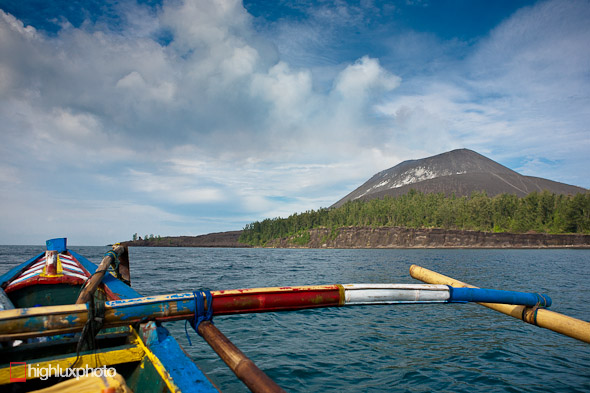 We had a couple of days spare in Kalianda before we were due to get a ferry across to Java and then onwards to Jakarta before flying back to New Zealand. Smoking (and sometimes rumbling) away in between the islands of Sumatra and Java lies a group of volcanoes, of which Anak Krakatau (in Indonesian) is the most well known. It's apt to say that – most of time – volcanoes dominate the landscape in Sumatra and for probably half our trip we'd been cycling on landscapes wrought from eruptions.
Though small in stature now, Krakatau has a big reputation and is infamous for an 1883 eruption in which over 40,000 people were killed either by pyroclastic flows that crossed 40 kilometres of open water, or ensuing tsunamis that were reported to be up to 40 metres tall! The explosion is considered to be the loudest sound ever heard in modern history, with reports of it being heard nearly 5000km away.
The island of Krakatau mostly collapsed into the sea during the eruptions, but in 1927 fishermen began to report that a new cone was emerging from the ocean at the same site. That cone is now roughly 2 kilometres in circumference and has a high point around 324 metres above sea level – and growing 5 metres each year. It was this 'child' volcano that we were off to visit on an overnight trip.
We arranged the trip in Kalianda for around NZ$350 for three people (with food included). The trip across from the Sumatran mainland took about 4 hours, with a brief stop to snorkel in a beautiful island bay. Later, we stopped at a second island to check out a bat cave. The island was uninhabited by humans, and devoid of human influence save for some Japanese bunkers from WWII. A scramble ashore among the boulders took us up to the cave where we unwittingly interrupted three or four large monitor lizards who were hanging out at the cave catching and eating bats. A huge python was in on the action too, but slithered halfway back into its hole before our guide grabbed its tail. In the commotion of monitors running around with a bats in their mouths and untold squealing from bats on the wing a startled lizard sprinted from the cave, weaved between our legs and over Hana's feet (eliciting a Hollywood quality scream from her) before tumbling over the boulders and leaping into the sea. A great little insight into the jungle island's ecosystem!
We spent the night under a tarp on the beach of this island, thankful that our mosquito net could keep the resident scorpions away. We were right opposite Krakatau and could watch the volcano's smoke glow a dull red from the activity in its crater. In the morning we woke to a grey dawn and constant rumblings – only a few kilometres distant. Our boat crew brought us fresh crab for breakfast, and we later set sail again, 360-ing around the volcano before heading back to Kalianda, with a couple of swims on the way.