Day 215: Bukittinggi – Solok (375m) 78km. 250m climb and then a long descent past the lake to Solok.
Day 216: Solok – near Surian (800m) 96km. 700m climb to lakes and then rolling/descending down valley towards Muaralabuh.
Day 217: Surian – Kersik Tuo (1450m) 110km. 2085m total climbing on quiet roads up the flanks of Mount Kerinchi (3805m).
Day 218: Kersik Tuo – Tapan (30m) 111km. Descend to Sungai Penuh @ 895m then valley riding, a climb to 1455m and a rough, long, wet descent to coast.
With our visa extension finally sorted in Bukittinggi (it took 2.5 days), our legs rested and our glycogen levels topped up we were eager to hit the road again after a fun stay in the closest thing we'd seen to a tourist town in Sumatra. Only four days of riding remained before we'd see the coast again, but between us and the surf lay a 3805 metre-high volcano that we were keen to check out.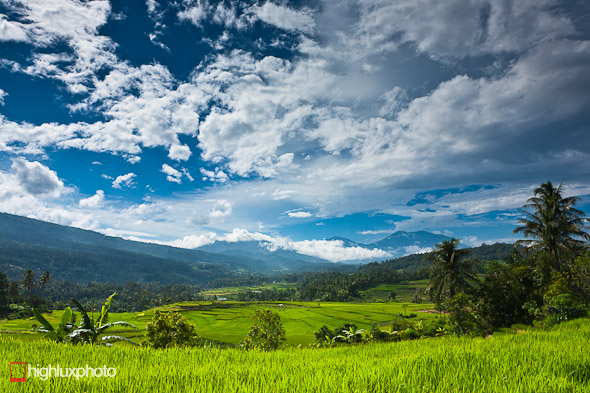 The ride out of Buikittinggi climbed slowly for a couple hundred metres through the city's fringe and then emerged into lush rice paddies and bush clad slopes, all under the shadow of the region's famous volcanoes.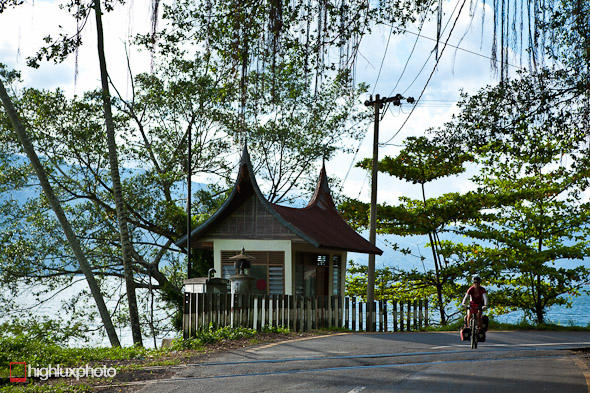 Past the Padangpanjang turnoff the road then dove downhill for a twenty kilometre plunge to Lake Singkerak; the shores of which we followed as we headed towards Solok. The road sometimes crossed the tracks of a colonial railway installed by the Dutch a century or so ago. Despite its delapidated signals, twisted tracks and defunct barriers the rail still operates as a tourist service (mostly local tourists) once a week.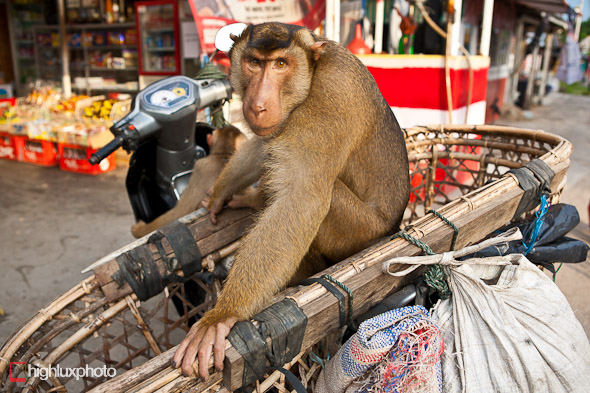 Soon it became apparent that this part of Sumatra was actually run by monkeys.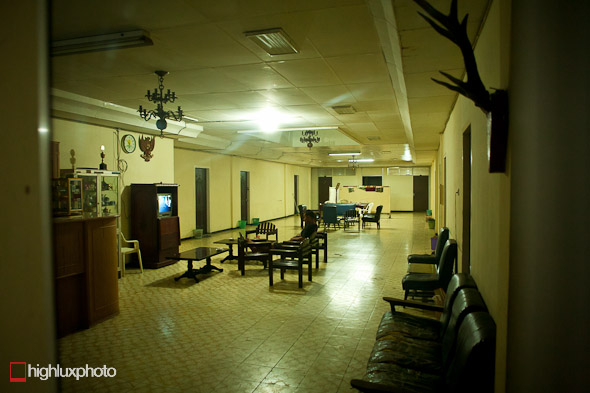 In Solok we struggled to find a guesthouse that was affordable and spent at least an hour biking around the hectic city following one set of directions after another. Eventually we ended up in a place that was primarily a hangout for long distance truck drivers, with squalid rooms and its forecourt packed Tetris style with trucks.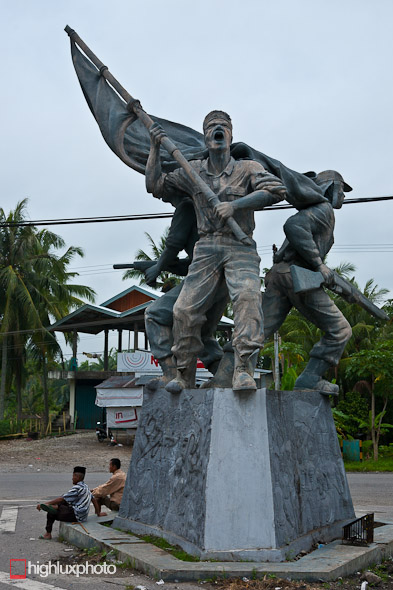 The next morning we headed out of town, climbing almost straight away, as we pedalled towards another volcano; Mount Talang (2599m). This revolution monument reminded us of being in Vietnam.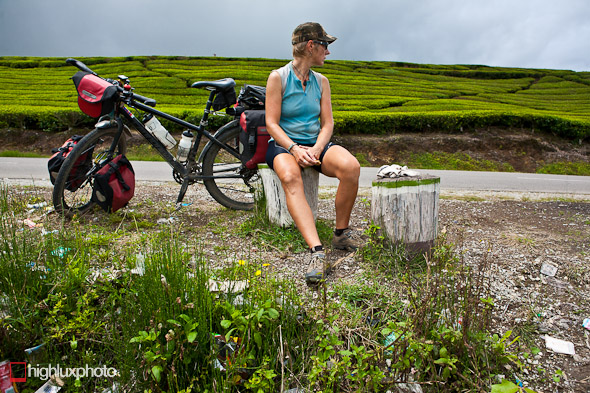 The pleasant 700m climb took us into cooler temps and tea growing territory; the surrounding hills covered with the neatly trimmed low-lying shrubs.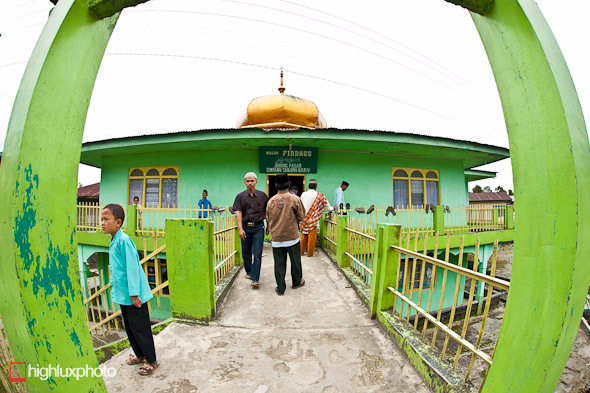 And always through interesting little villages with their omnipresent mosques. Unfortunately what began as a good day turned pear-shaped when I started vomiting and the afternoon turned into a nightmare of increasing dehydration (bordering on total exhaustion) as we still had to ride quite a way to find accommodation, while I spewed constantly; unable to hold down even water.
We passed through village after village with nowhere to stay and eventually found a restaurant with attached losmen. At first we were told we couldn't stay there (presumably because they wanted to keep the beds for locals, or maybe they though we wouldn't like it) but when Hana pointed out how sick I was they finally acquiesced and gave us a bed for the night. Despite not being far from the karaoke set up it was heaven after an afternoon of vomiting.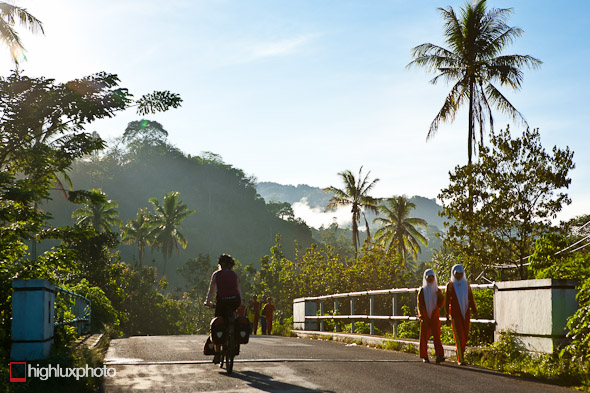 By the next morning my guts had settled but I still feeling pretty weak as we sauntered off down valley. We had a long day ahead of us: over 2000m of climbing and 100+km as we headed towards Sumatra's highest mountain, Mount Kerinchi (3805m).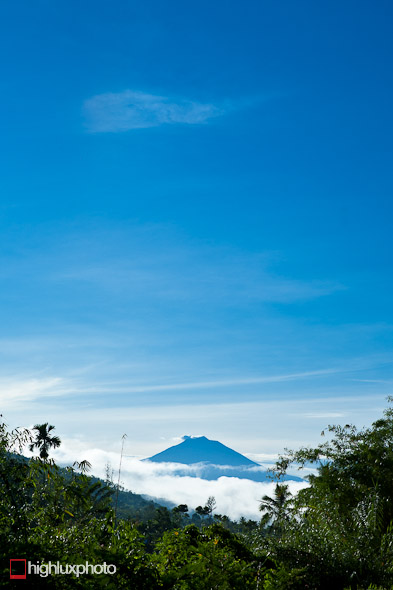 Its peak puffing clouds of steam as it beckoned us on.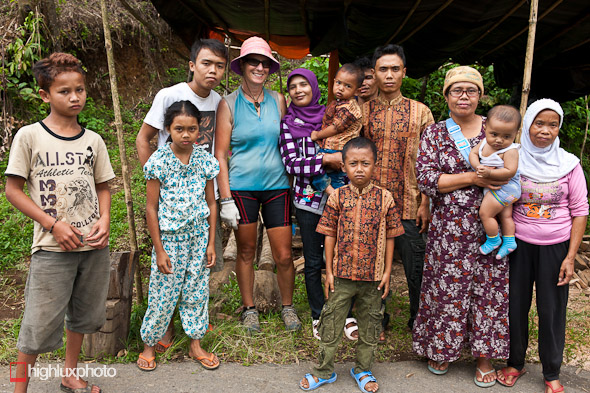 After leaving the mellow valleys the road weaved its way around the mammoth volcano and in and out of small villages where anytime we stopped a small crowd would gather to check us out.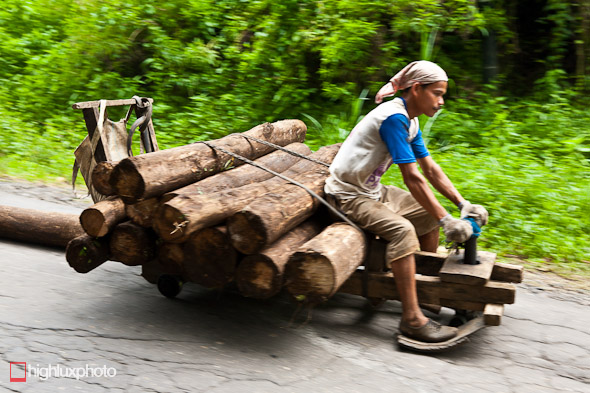 Logging seemed to be the industry that was keeping these communities alive and they had engineered some unique vehicles for taking timber down the mountain's roads. This cart simply had bearings for wheels, a tiny handlebar and foot-operated braking pads made from old truck tyres.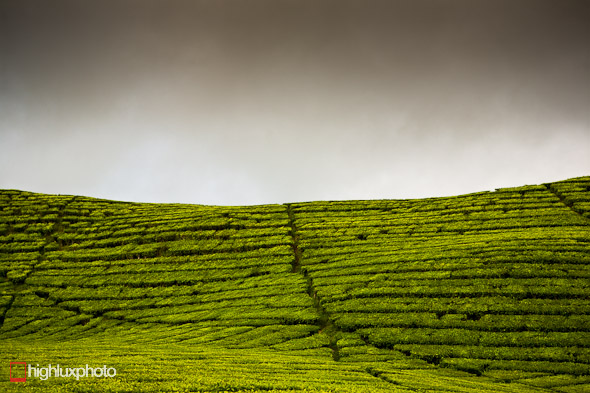 Beyond the forests the slopes were covered in tea plantations.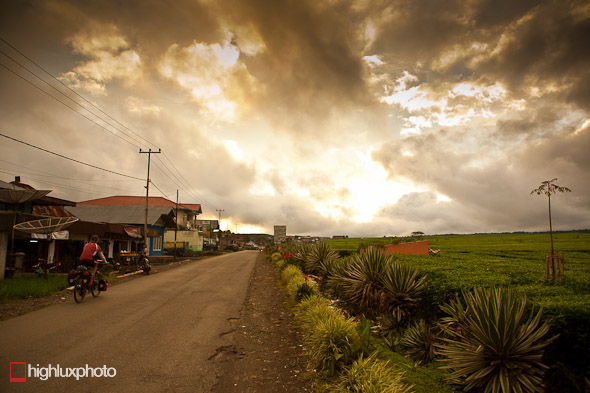 After what was for me the hardest day of the entire trip (the previous day's vomiting had left me completely depleted and devoid of energy) we finally arrived in Kersik Tuo late in the afternoon. It's a barren but beautiful spot, with the town arranged along only one side of the street …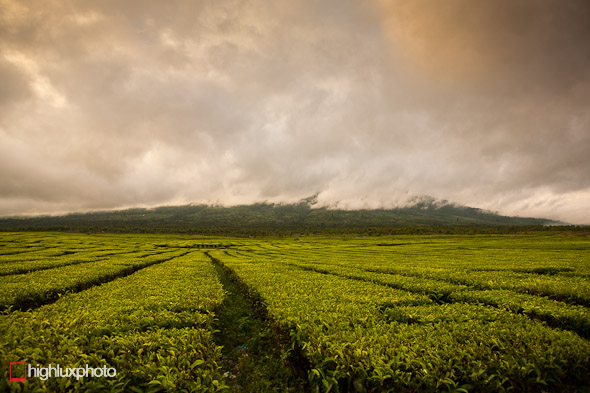 … and tea plantations and the volcano on the other.

Around sunset the clouds finally parted and gave us a view of the summit. The mountain and surrounding park is noted for its biodiversity, but the area it threatened with illegal logging and the dwellings that seem to be creeping further up its flanks.

Pretty awesome spot for sunsets though.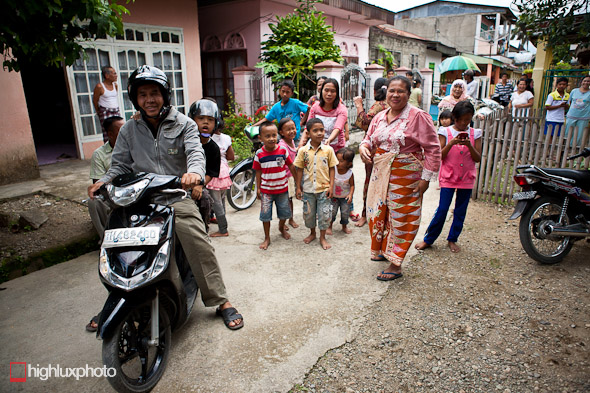 From Kersik Tuo we had only a day's riding left to get to the coast. The road dropped off the volcano and down into a long valley heading south east towards Sungaipenuh. As we neared town we were befriended by a local teacher who scootered alongside us for 10km with his grandson on the back of his bike. Soon we were invited for coffee at his cafe, then to his house to meet the family and then to the local language school to meet some English teachers.
His generosity was overwhelming but we were under pressure to get over another range of hills between us and coast before dark – a concept that seemed lost on his family as they kept inviting us to stay and eat and visit the hot pools etc. In the end we escaped, but the teacher still insisted on escorting us a further 10km to the junction we needed to cross the next mountain range.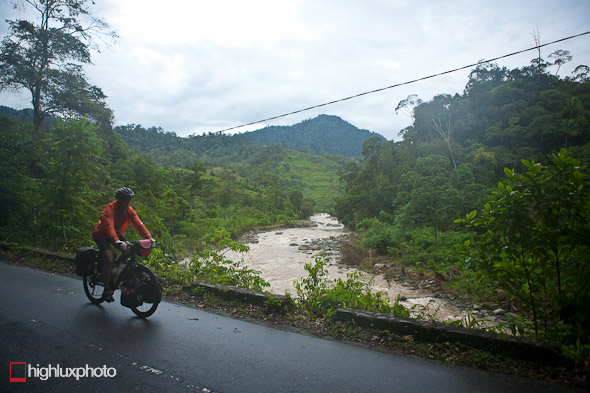 And cross the range we did. Unfortunately a full tilt thunderstorm kicked in as we neared the top and made the long, rough steep, descent to the coast kinda epic as we shivered our way through the corners with numb hands and feet. As we hit the plains at the bottom the road improved and soon we were speeding towards the coast as the sun dipped.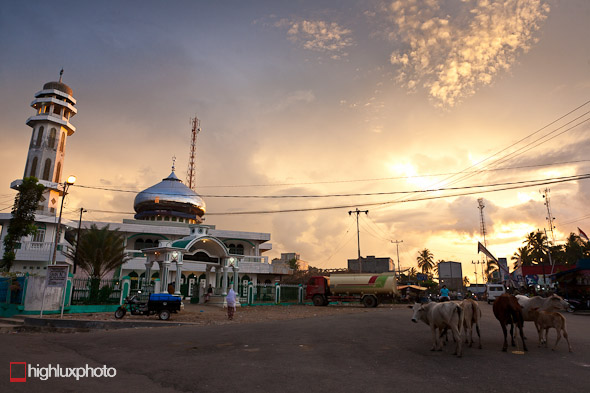 We popped out in the coastal village at Tapan, our first time back at sea level in a month.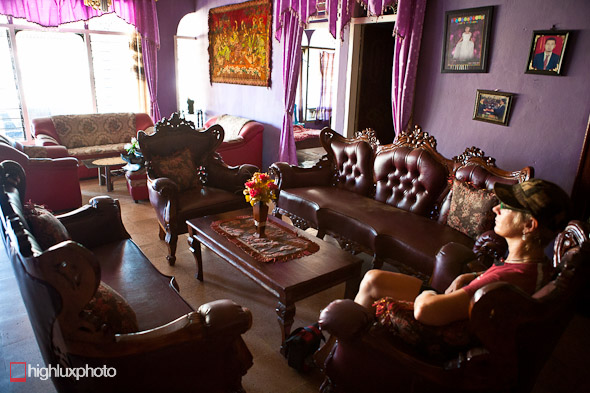 The guesthouse we found for the night had by the far the most well appointed lounge, but unfortunately the bed did not compare and Hana was eaten alive by bedbugs that night.