Day 219: Tapan – Mukomuko (20m) 70km. Flat and hot day with short, steep rollers at first.
Day 220: Mukomuko – Seblat (30m) 147km. 885m total climbing on steep, rolling terrain. 39 degrees at midday.
Day 221: Seblat – Bengkulu (20m) 130km. 730m total climbing on steep, rolling terrain at first, then flatter. Sometimes very rough/poor road surface.
Day 222: Rest day in Bengkulu.
Day 223: Bengkulu – Pasaralas (10m) 111km. 790m total climbing on quiet rolling road. Good surface.
Day 224: Pasaralas – Bintuhan (20m) 110km. Another 39 degree day on rolling roads.
Day 225: Bintuhan – Krui (5m) 122km. Rolling then a very steep climb to 400m and descent back to flat & rolling roads. 40 degrees!
Day 226: Rest day in Krui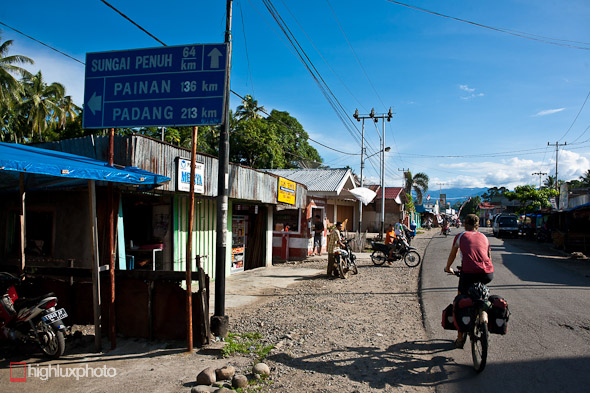 Our push through the mountains from Bukittinggi had left us pretty wrecked and we were glad to be on the coast finally. The small city of Bengkulu was three day's ride away, so we decided to make a beeline for there before taking a rest day and were hoping for decent roads down the coast.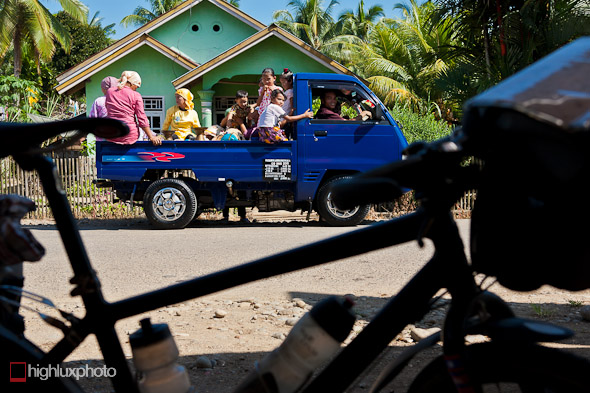 The ride took us through the usual small communities, where we caught lots of hellos and stares.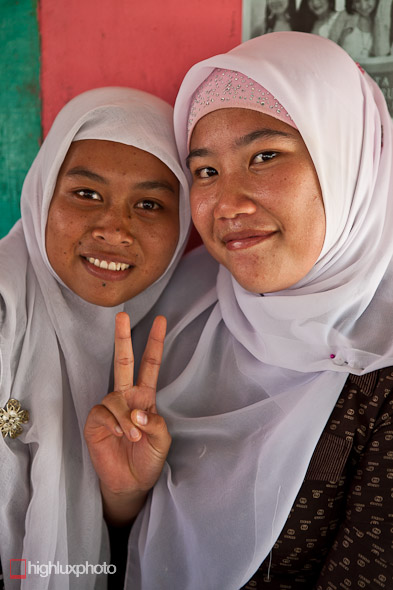 Sumatrans are never shy about asking to take our photo, but are always surprised (and flattered) when we want to reciprocate.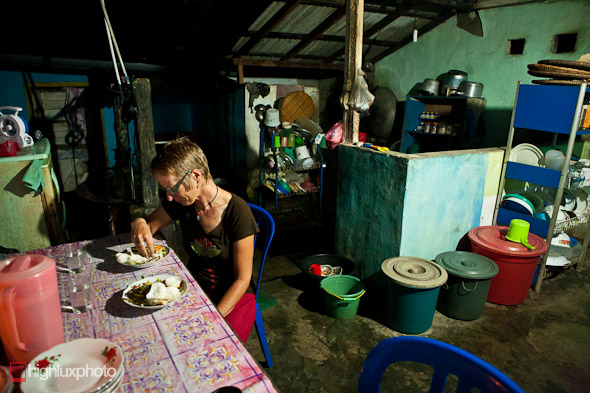 Two nights out of Tapan we arrived in the tiny town of Seblat on dusk and in pouring rain after a 147km day of abruptly rolling highway. Soaked to the skin we pedalled into the first losmen (guesthouse) we saw and found it packed with local drivers who also had had enough of the conditions and decided to call it a day. The owner kindly found us a small room, and we were doubly stoked to find that we didn't even have to go back out into the monsoonal downpour to find food – it was all part of the package.
There seems to be a general assumption among the locals that we (a) won't like their food, and (b) that their accommodation is too basic for our tastes. What they don't realise is that to two exhausted cycle tourists anywhere to lie down that has a mattress is a great thing when it's dark and pouring rain, and that seven plus hours in the saddle gives one an insatiable appetite – even if it is crusty dried fish and stodgy rice.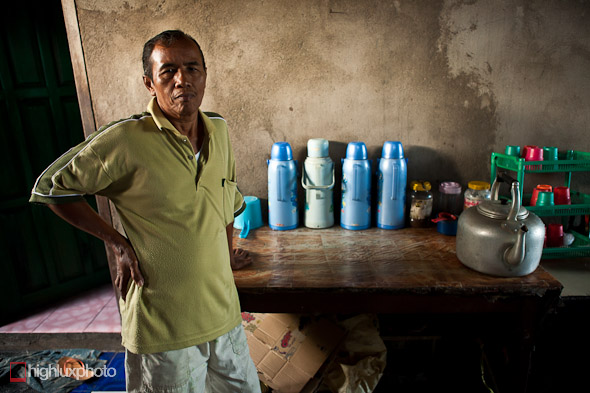 The owner had his hands full with hungry truck drivers but he was keen to see we were looked after.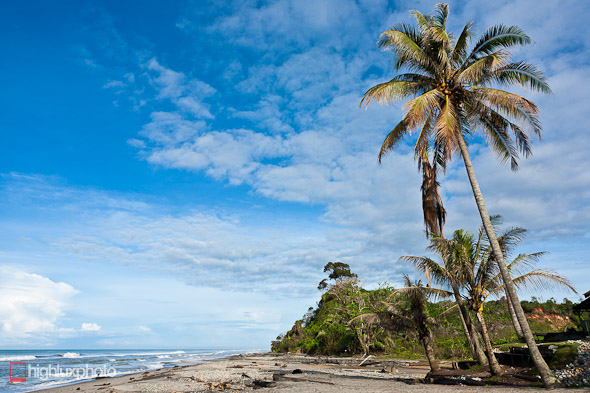 We were glad to be on the coast and having a change of scene, but the downside was that the temperature soared to 40 degrees. That coupled with the fact that the road was constantly rolling made it all pretty hard work still, and a lot of the time the highway simply coursed through uninspiring palm oil plantations.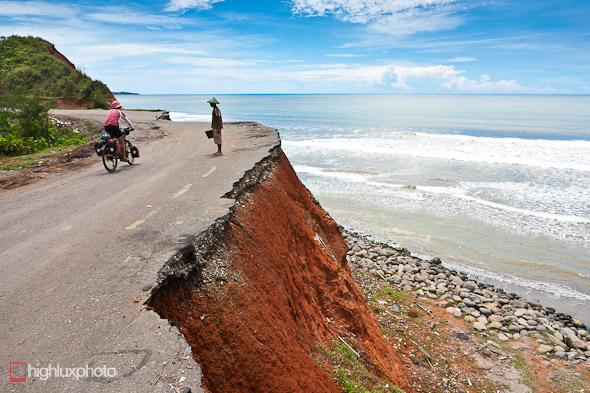 And in some places the road was simply falling into the sea…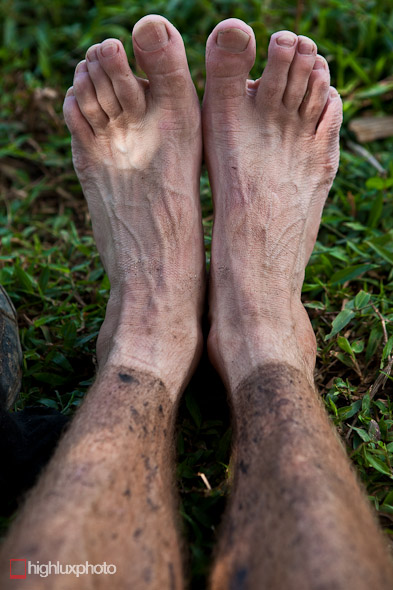 My feet and legs during a 130km day riding between Seblat and Bengkulu. The road consisted of constant short, steep rolling sections and had been chewed apart by trucks carting coal and palm oil. The dust from those, combined with diesel fumes had left us totally black. That afternoon we made it to the historic town of Bengkulu and were glad to find a cheap and comfortable guesthouse for our day off.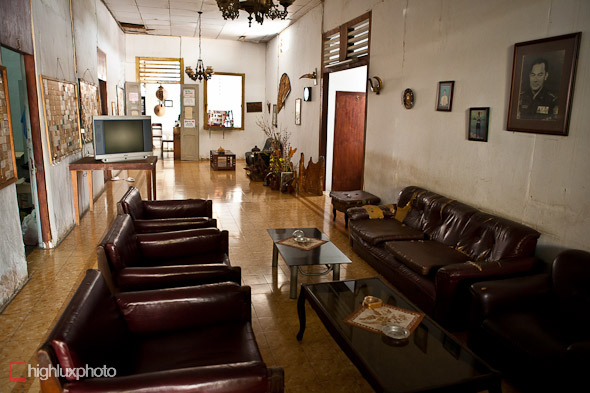 The guesthouse we found felt as if it was locked in a time warp, with its dated decor and pin boards covered in ancient business cards. The elderly owner spoke fluent English but seemed reticent to divulge many details of her past while we made small talk.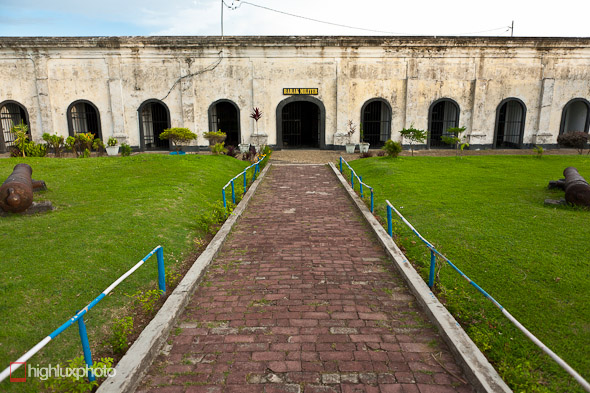 Bengkulu was a colony of both the British and the Dutch at different times and is famous for its well preserved fort. Fort Marlborough was built in 1714 by the English and occupied for 150 years, before it was ceded to the Dutch who in turn held it until after WWII.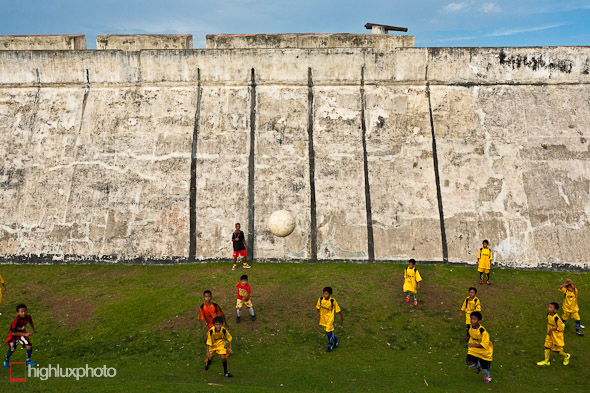 These days it's used a soccer practice ground by local kids and sees a trickle of tourists passing through; mostly local.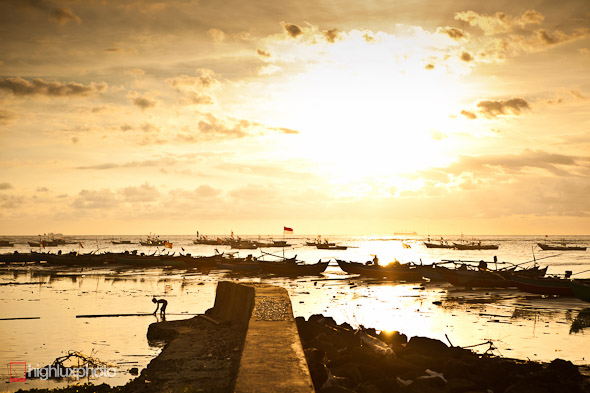 Our wanders around town took us around the fort and down to the waterfront, packed with small fishing boats.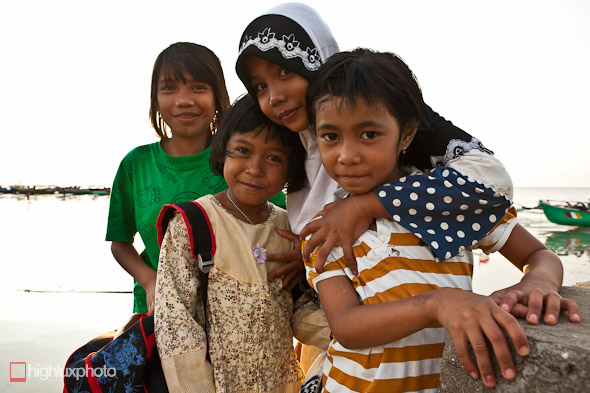 Inevitably some local kids overcame their shyness and came to check us out.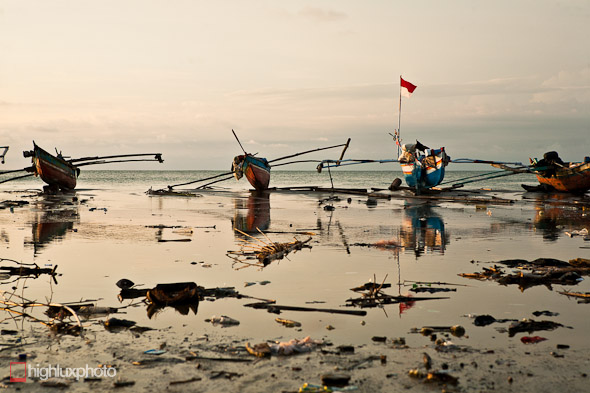 Local fishing outriggers.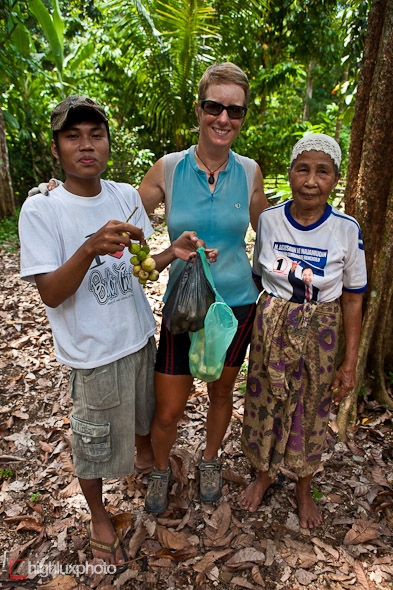 After a day off we got back on the road, now only one week from the end of eight months of constant cycle touring.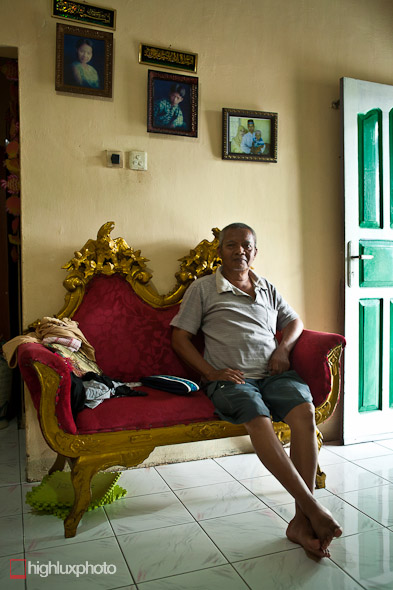 Late in the afternoon we were sitting outside a small shop, pondering our next move in a guesthouse-less town, when this man wandered over and made some basic small talk in broken English. Within a couple of minutes he'd invited us to stay at his house, and with no other options on the table we gladly took up his offer.
Fortunately his son-in-law (who was immediately called over) spoke very good English and we spent a great evening hanging out with the family and being fed. There was a wedding on in the town the next day so Hana was dragged off that evening to hang out with the women and check out the cake…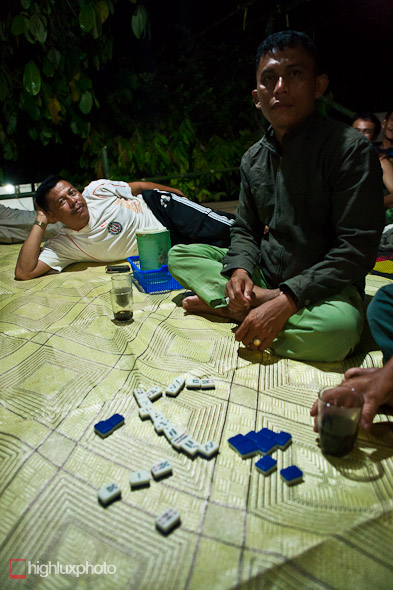 …while I got to go and hang out with the men and play dominoes!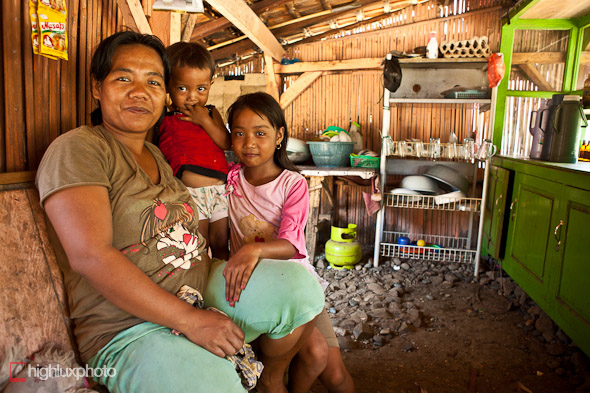 Small roadside stall.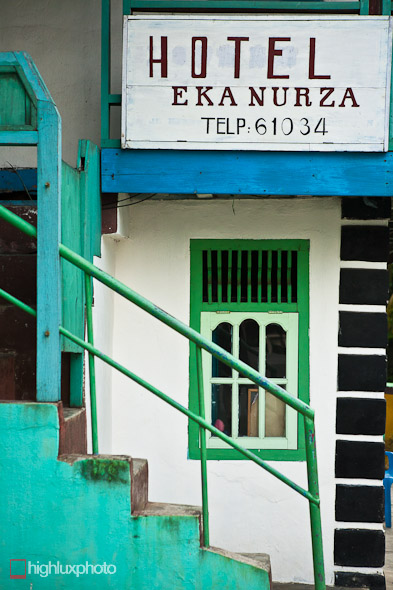 The guesthouses (when we could find them) were consistently ramshackle and ancient.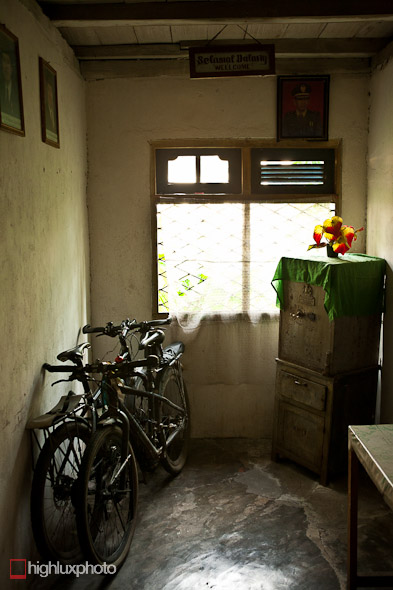 Sometimes you'd swear we'd gone back in time 50 years.

After Bengkulu the road had flattened out a lot and the surface improved. Being quite narrow, but with very light traffic, it made for perfect cycle touring.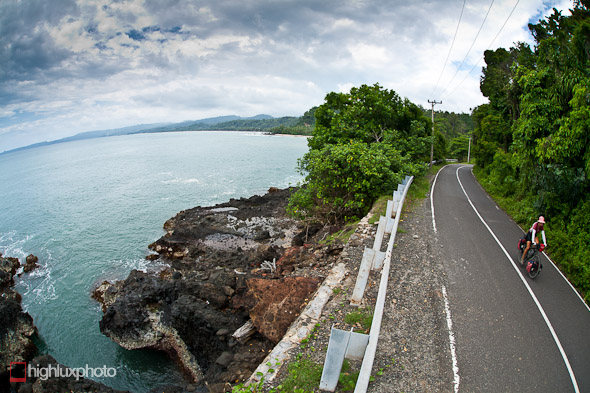 The palm oil plantations were far behind us now and we were loving the riding as the road weaved over jungly headlands.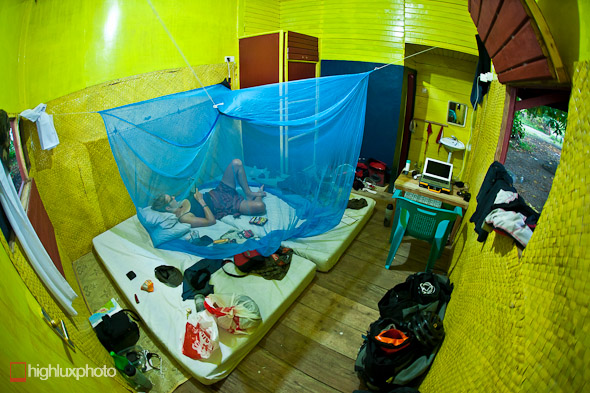 Krui's a well known surf spot, but being early season there was only one surfer in town so it wasn't hard to find ourselves a comfy (but basic) bungalow within earshot of the breaking surf. The perfect spot for a day off and a rare chance to even up our hideous cycle tourist suntans.