Day 208: Danau Toba – Tarutung (905m) 95km. Rolling downhill with 400m total climbing.
Day 209: Tarutung – Padang Sidempuan (300m) 112km. 1270m total climbing, mostly through jungly valleys and villages.
Day 210: Padang Sidempuan – Kota Nopan (400m) 117km. First day on Trans-Sumatra Highway. Traffic moderate though and road narrow. 820m total climbing through jungle valleys and villages.
Day 211: Kota Nopan – Lubuk Sikaping (400m) 107km. 770m total climbing with quiet road and forest reserve.
Day 212: Lubuk Sikaping – Bukittinggi (950m). 77km. Quiet rolling jungle roads, then 700m climb to Bukittinggi.
Day 213 – 214: Rest, day tour and visa renewal in Bukittinggi.
After our brutal day of riding climbing up the side of the volcano that cradles Danau Toba we were happy to be coasting down the other side two days later, headed for the highland city of Bukittinggi – five days' ride away.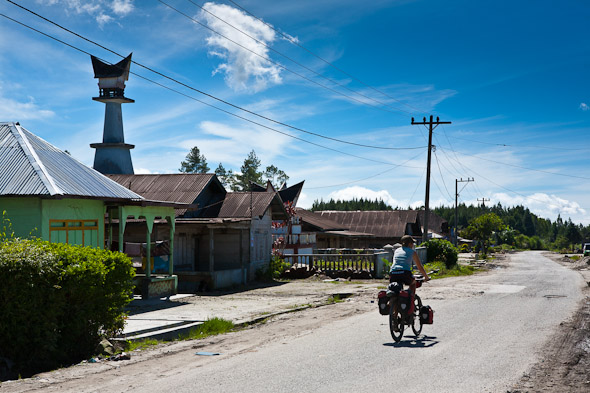 Passing through small Batak villages.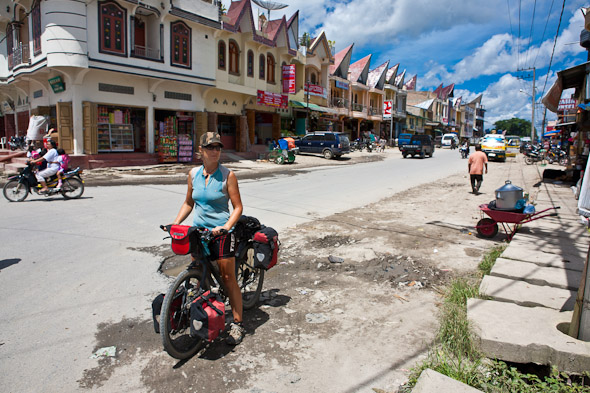 Some towns are places for us to stop and eat or buy water, others are simply places on the map that we pass slowly through; deciphering the signs and dodging motorbikes as we warch out for vital junctions.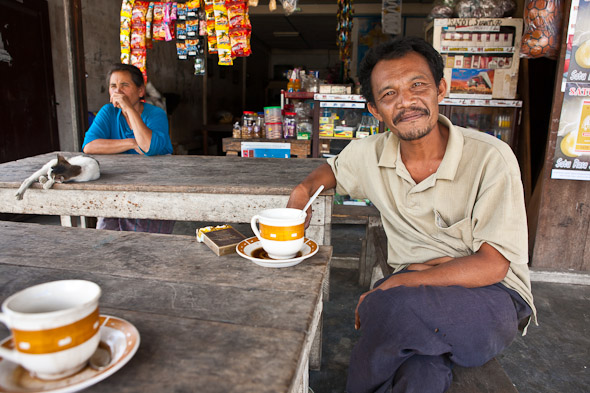 When we do stop, curious locals are an inevitability and it's rare that we stop anywhere without people stopping to chat, sometimes in English and sometimes in Indonesian: 'What's your name?', 'How old are you?' 'Where are you going'? 'How many children?' 'Do you smoke?'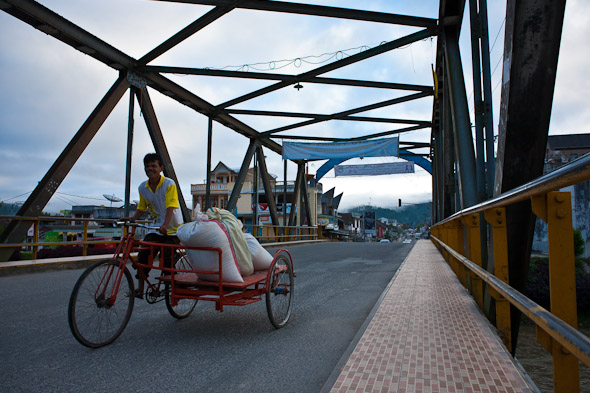 We arrive in small towns by mid afternoon, with time left only to nap, eat and then sleep. By 6.30 most mornings we're rolling out of town again.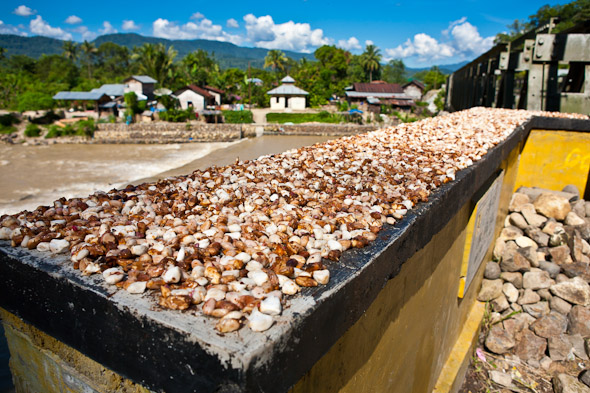 There are three main cash crops in these parts – among the incredible range of plants that flourish in this climate. This one's cocoa. The beans are fermented and dried before cocoa solids and butter are extracted.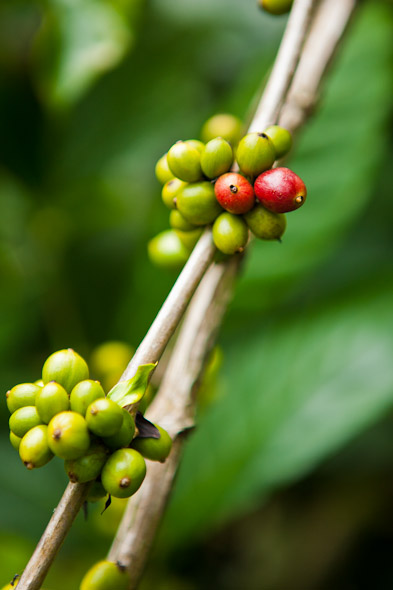 Another is coffee…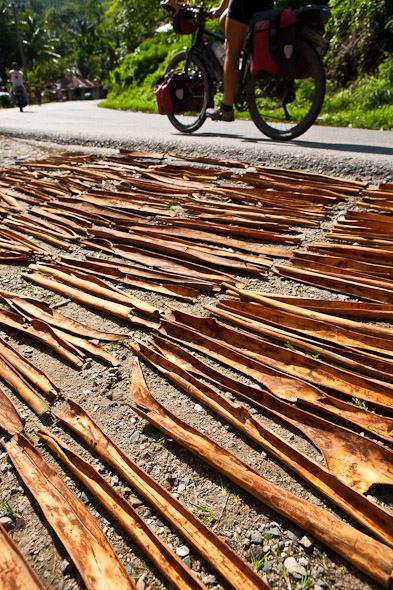 … and cinnamon.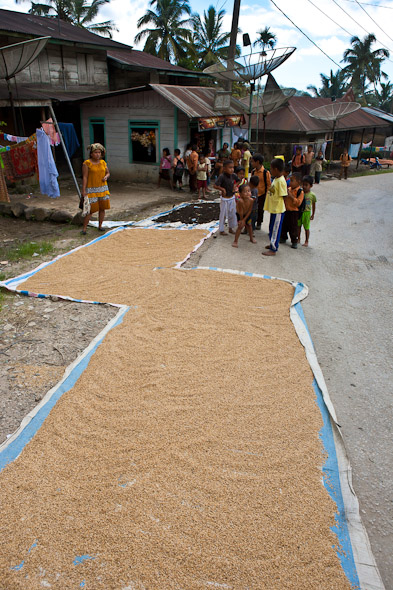 Gotta watch out for rice drying on the roadside too.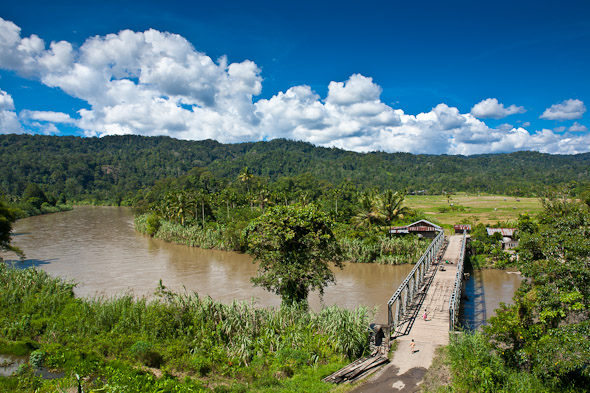 After a day of dropping down the flanks of the volcano our route mostly followed verdant valleys for the next four days, lush with rice paddies, plantations and jungle.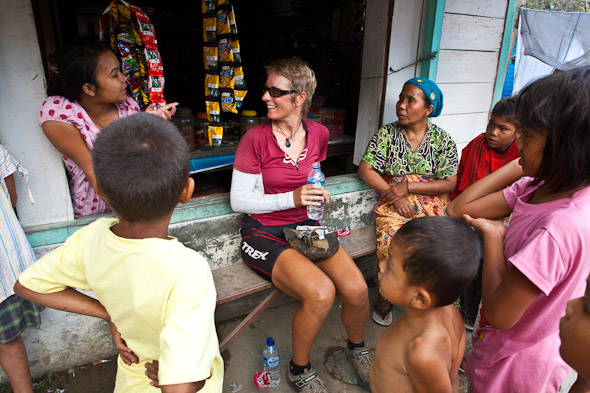 Hana's short, blonde hair catches a lot of attention, as do our uneven tans and hairy arms!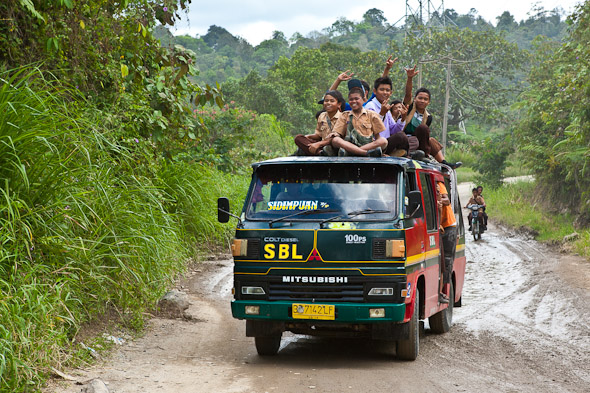 School kids are exceptionally raucous.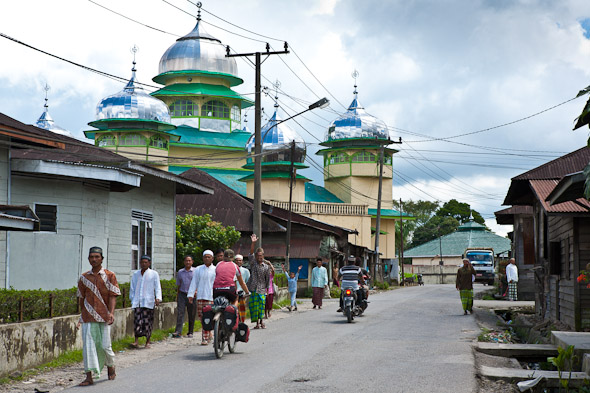 As we near Padang Sidempuan we completely leave the Batak enclave behind and mosques become a unmistakable feature of the landscape again.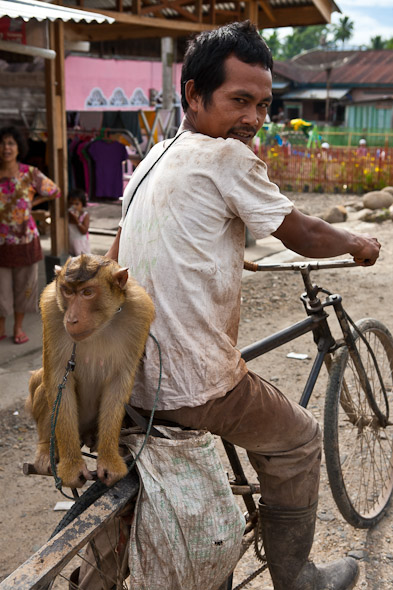 We often see tethered monkeys – they're trained to climb palms and detach the coconuts.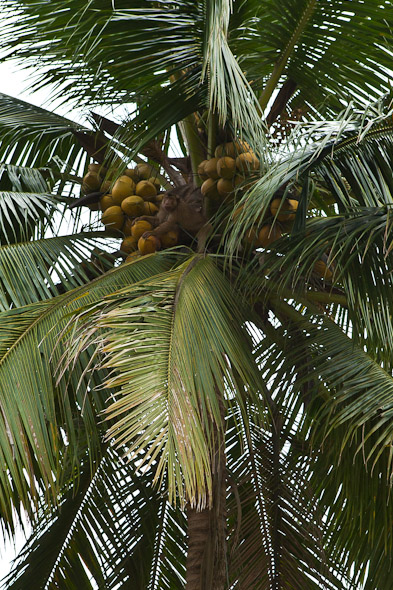 Sent up the tree on the end of a rope …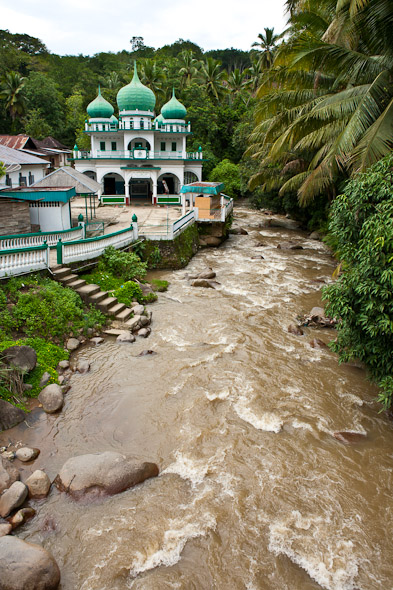 Just another striking mosque.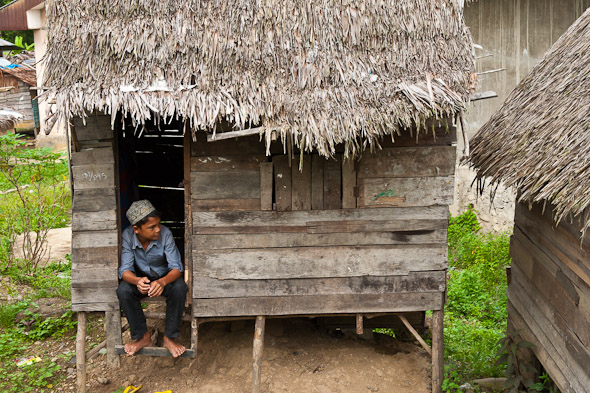 This village was full of muslim boys of all ages – sent to live like monks and study the Koran.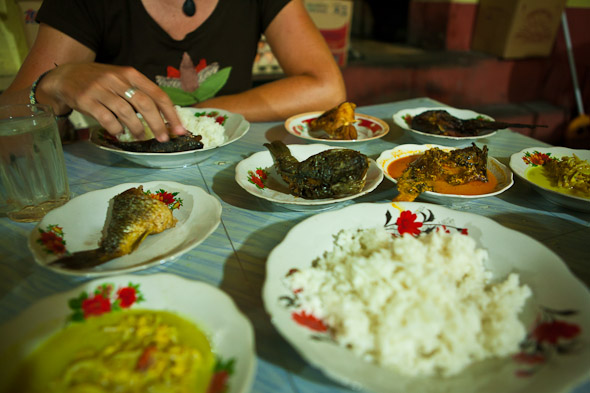 Typical 'Padang Style' evening meal – curried fish, dried salty fish, and dried up bits of chicken, with some random vegetables. All served cold and from unrefrigerated cabinets and eaten with the hand. What you don't eat is returned to the pot.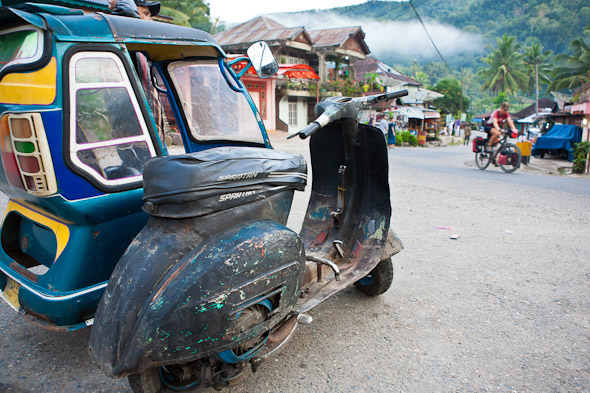 There's a lot of ancient vespas around.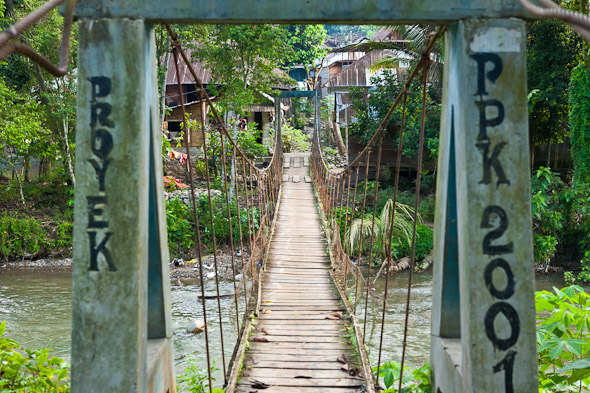 Motorcycle- and pedestrian-only bridges lead from the road to cosy riverside villages.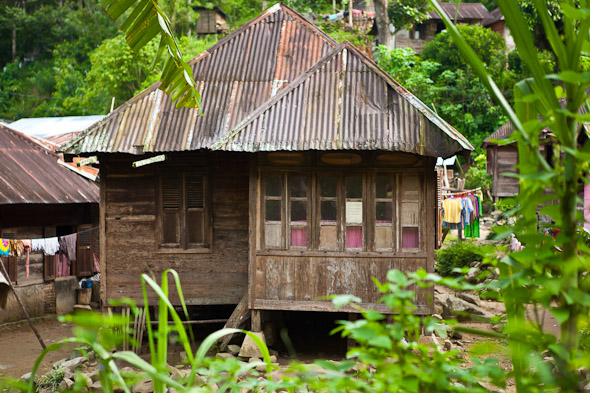 Homes are generally pretty basic.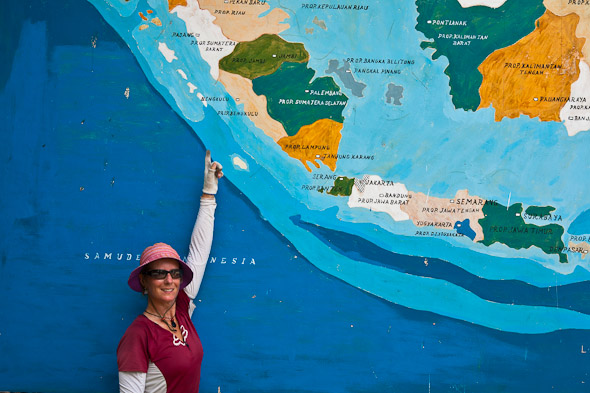 We're here!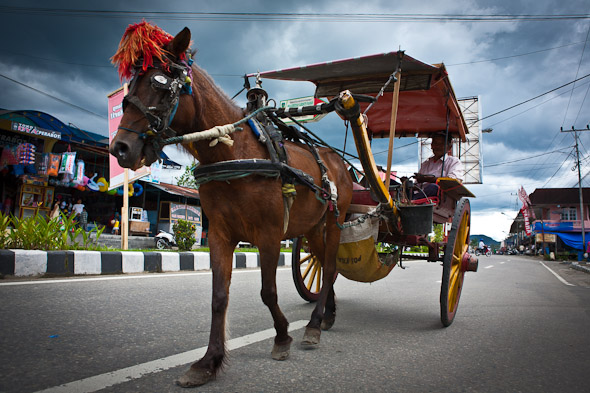 Lubuk Sikaping had some pony cart taxis – no doubt from Dutch influence, and not just there for the tourists.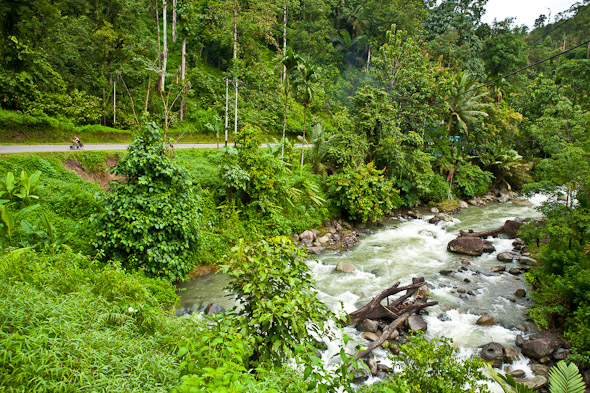 From Padang Sidempuan onwards we'd been on the Trans-Sumatra highway for the first time, but it wasn't too bad: still lightly trafficked outside of the towns and very scenic.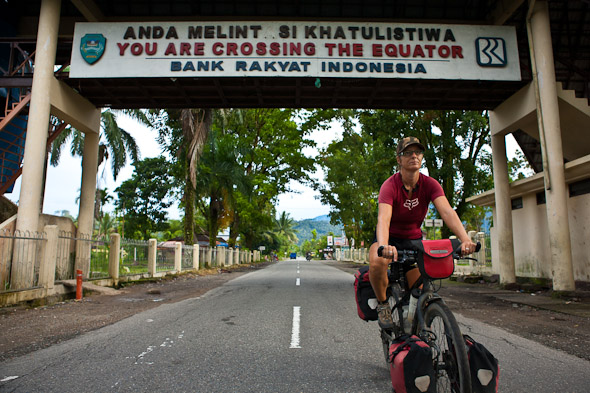 Crossing the equator took us back into the Southern Hemisphere for the first time in over two and a half years.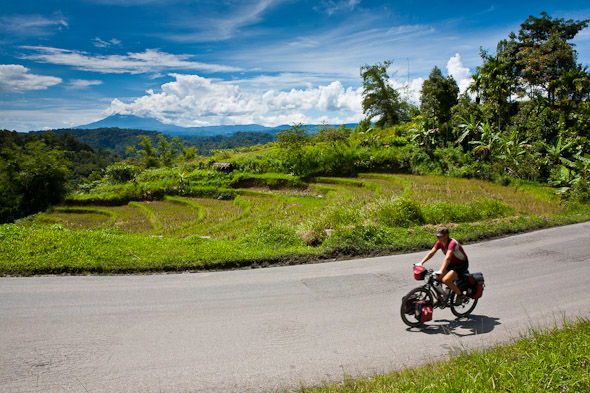 Bukittinggi's famous volcanoes started to mark the horizon as we climbed up towards the city at 950m.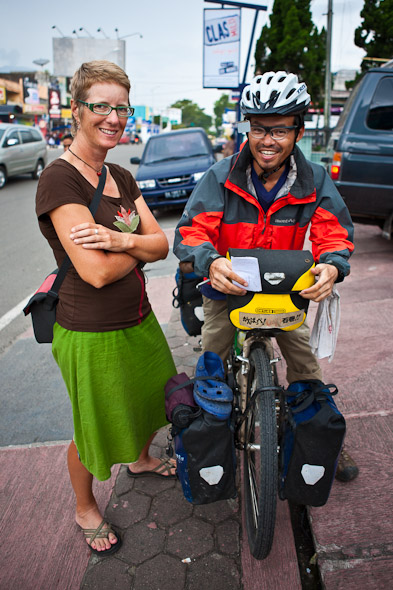 Our main mission in Bukittinggi was to get our visa extensions sorted out. On our way back from the visa office (it was going to be a 2.5 day wait) we bumped into Kenta – the first cycle tourist we'd seen since saying goodbye to Bex and Ryan in KL. Kenta's riding from Bali to Istanbul. We hung out and shared stories over pizza and beer in a rare 'western' restaurant in town.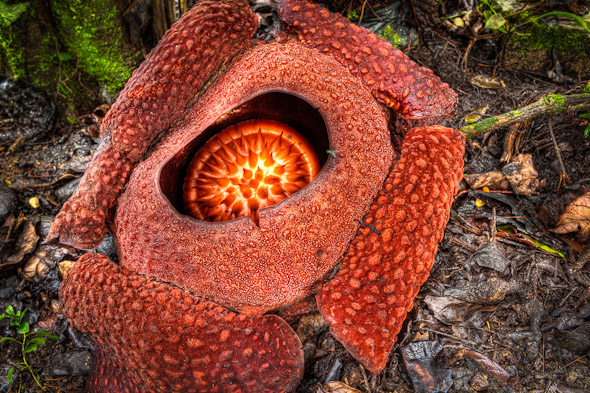 Sumatra has incredible biodiversity and one of the more famous members of its plant community is the Rafflesia flower (Rafflesia Arnoldii), which grows up to one metre in diameter. The fly perched on this one might give you a sense of the scale.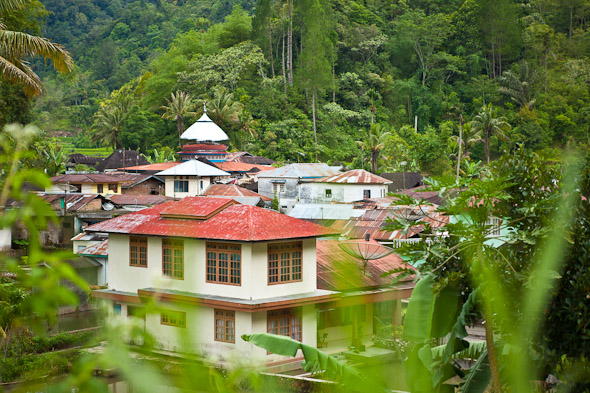 We had two days off in the city; one kicking around doing bugger all and the next spent on a very worthwhile day tour, checking out rafflesia flowers and local communities and architecture. We booked the day through the Canyon Cafe in Bukittinggi and the guide we had was excellent.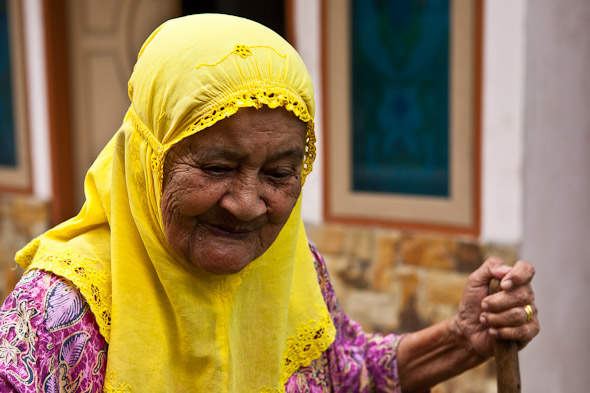 The tour was a good way to hang out in the villages a bit more with out the hassle of bikes and language barriers.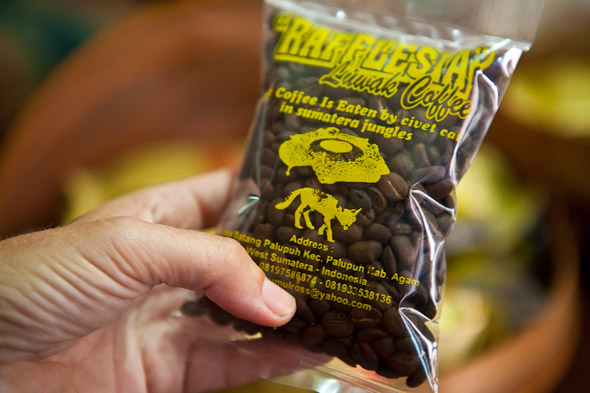 A local specialty is coffee luwak; roasted with beans that have passed through the digestive tract of the civet cat. The 'process' imparts a unique flavour to the beans and seems to strip away some of the bitterness. The beans are ridiculously expensive – even here – so we settled on sampling a cup each and were suitably impressed.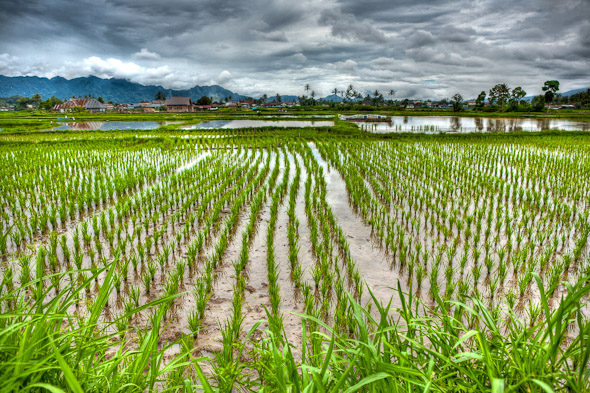 Bukittinggi sits in a rich and fertile volcanic basin, dotted with outlying villages, rice paddies and lakes.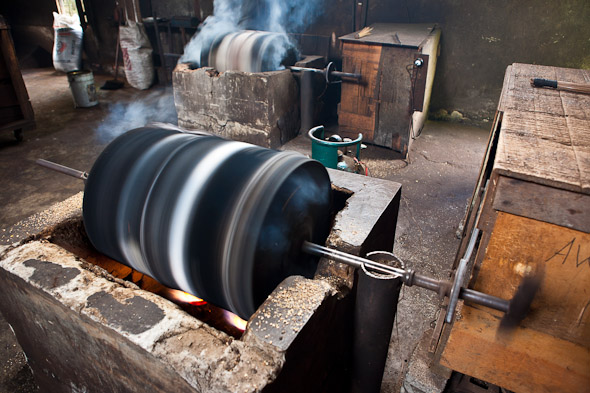 Regular coffee is a big industry here and while on the tour we dropped into a local roastery. Western connoisseurs would be horrified though. The beans seemed to be more burned than roasted …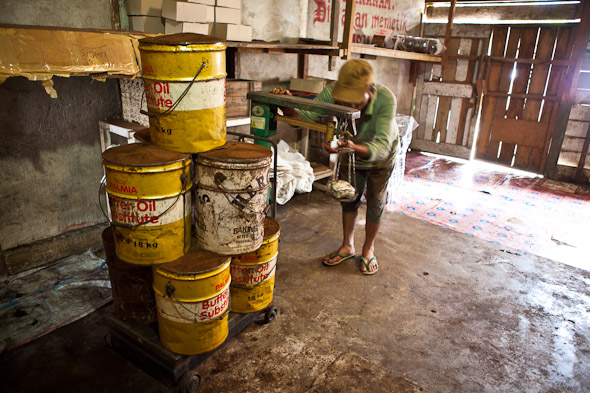 Before being tipped into some industrial grinders and ground to espresso consistency. The coffee's then packed into cans for weighing …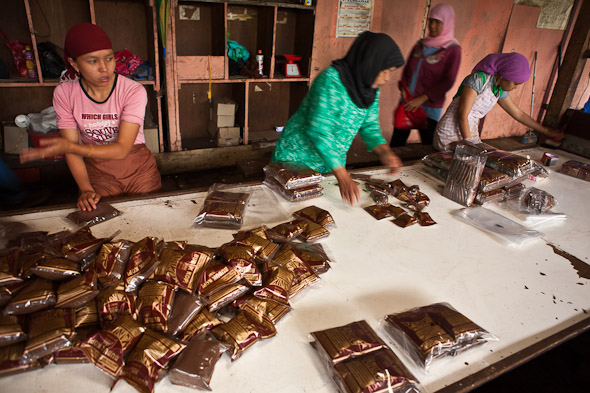 … and packing and distribution.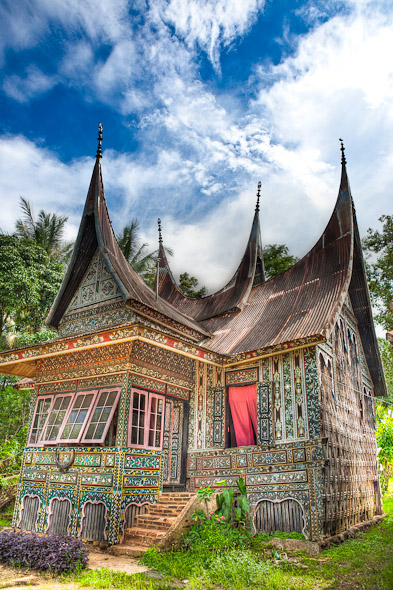 Another unique style of architecture appears around Bukittinngi – that of the Minangkabau people.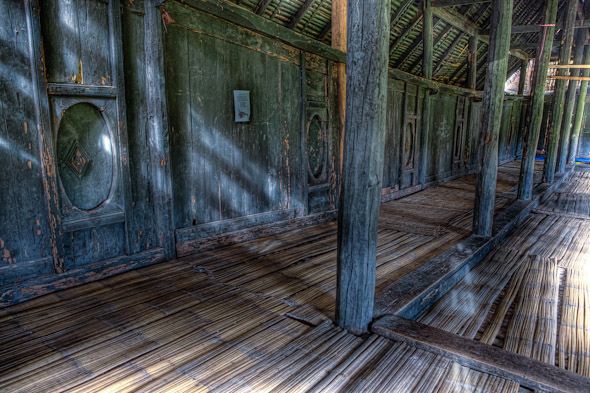 Traditional Minangkabau house, with individual rooms for the women in a family. Their culture is matrilineal, with property and land passing down from mother to daughter, while religious and political affairs are the responsibility of men.