Day 205: Ketambe – Kuta Buluh (700m) 111km. Rolling descent down river valley and then climb to Kuta Buluh. Approx 1000m total climbing. Quiet roads.
Day 206: Kuta Buluh – Pangaruran/Lake Toba (840m) 132km. Fast descent to 350m, then rolling, then 50km climb to Tele at 1750m then descent to 840m. 2105m total climbing. Good narrow roads and quiet all day. 8.45hr pedaling time!
Day 207: Rest day at Lake Toba.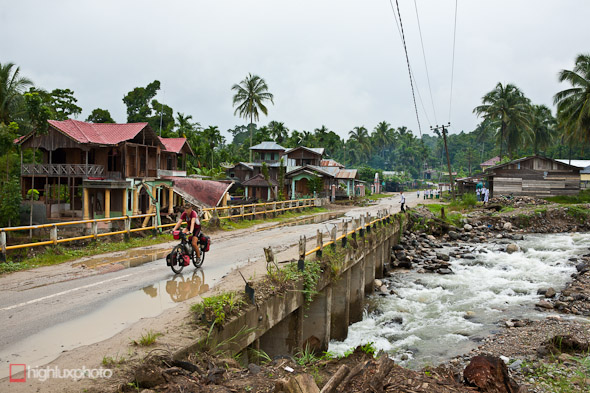 We left Ketambe for the super-volcano of Danau Toba – two days ride away – feeling slighly recovered from our day off and stoked at having seen wild orangutans. We continued down valley, passing small villages and dodging potholes.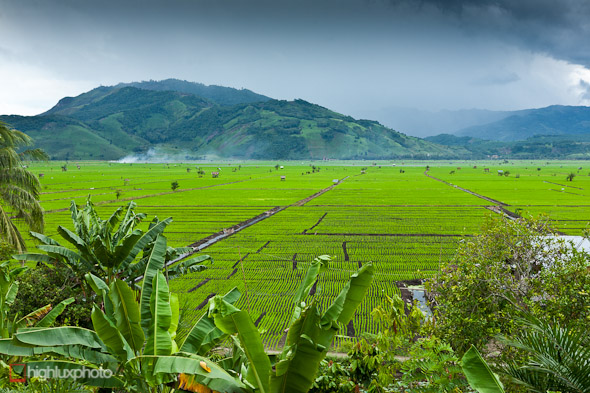 Later crossing some broad plains.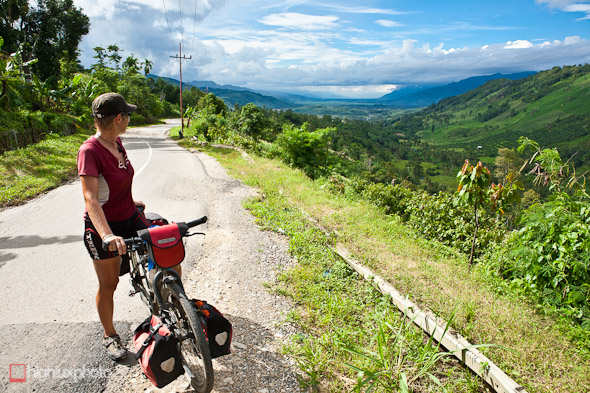 And then heading up again as we began climbing the flanks of Mt Siluatan where the giant volcanic crater lake of Danau Toba sits.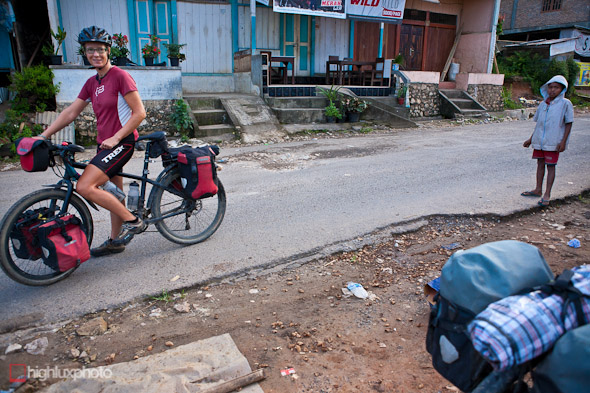 We arrived in Kuta Buluh – a small junction town perched on a hillside – after a long day and discovered there was no losmen (guesthouse) there.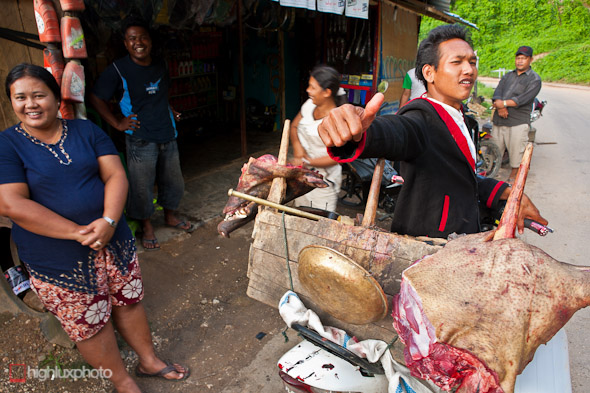 But after a bit of asking around and making ourselves look forlorn and desperate (which wasn't at all difficult after 100km and 1000m of climbing) we were pointed to a 'cafe' a short distance up the road.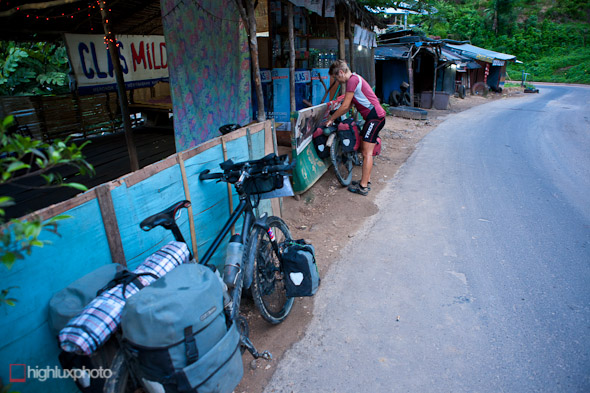 The 'cafe' was a flimsy bamboo and pole structure perched on the edge of a steep hillside above town. The only things for sale seemed to be bottles of water and tea, but there were a few people hanging around smoking and playing cards.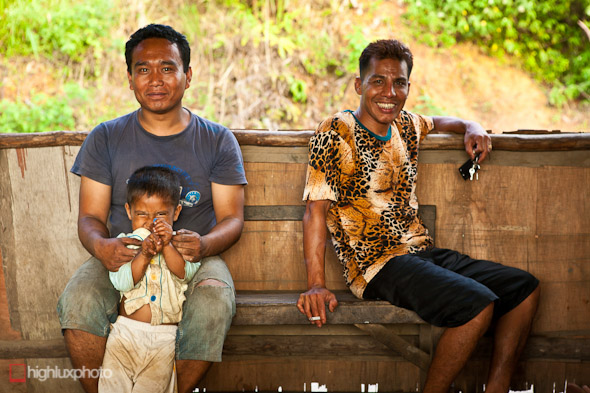 The owner (the guy on the right) seemed quite happy to take us in for the night and we ducked under the red fairy lights as he ushered us into a tiny curtained room in the corner of the structure. There was a mattress on the floor and a few dusty clothes and a sack of rice in the corner of the room. With no other options available we happily accepted his offer – when you're as tired as we were anywhere where we can lie down and hang our mosquito net is as good as a four star hotel room.
Unfortunately for me, this – it turned out rather forward chap – had a keen interest in males and as soon as Hana's back was turned he told me 'I like you,' put his arm round me, and made an agressive grope for my crotch! With some Elvis hip swinging I avoided his grab and briskly walked away to get the rest of my panniers – hoping that my swift rejection might be the end of it. Soon after he and his sister shared some food they had with us for dinner and then we spent the rest of the evening awkwardly avoiding offers of a 'massage' in the shack's other room. I slept on the far side of the bed from the door that night, but in the morning nearly fell prey to another grope for my groin. Thank God for padded bike shorts!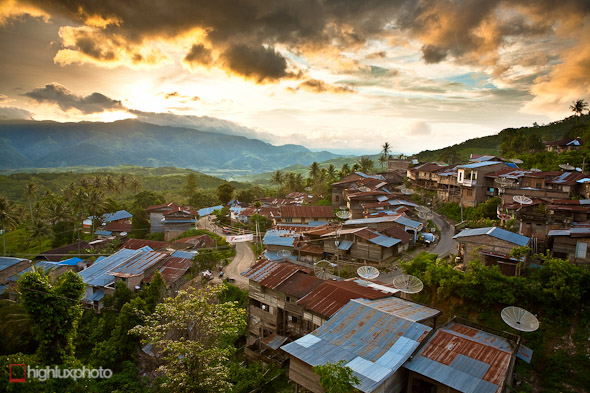 Despite the owner's dubious intentions, the shack had a pretty sweet view of the town's shaky buildings and rusty tin roofs.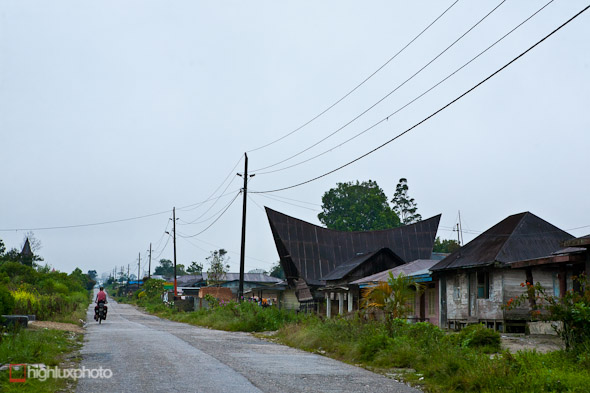 The following day we left Kuta Buluh smartly, and dropped about 500m to find a village for breakfast. The road rolled for a while over gorges and streams and then began a 50km climb up the flanks of the mountain towards the lake. This region's home to Sumatra's long isolated Batak people who have a very separate culture to the rest of the island. All afternoon we passed though villages featuring their distinctive architecture.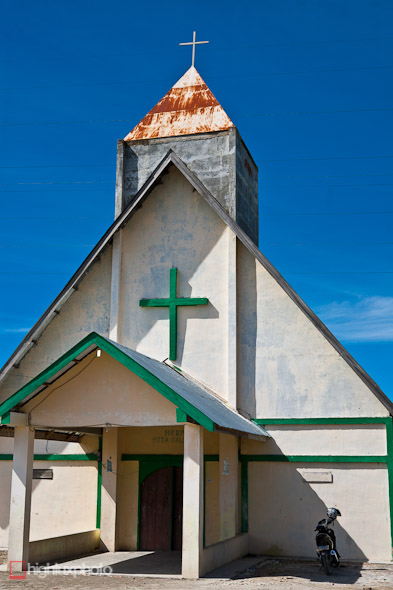 They're an enclave of christianity too.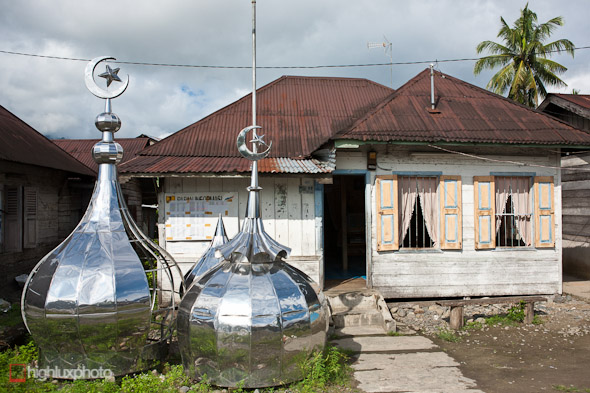 Surrounded by a very prominent muslim culture.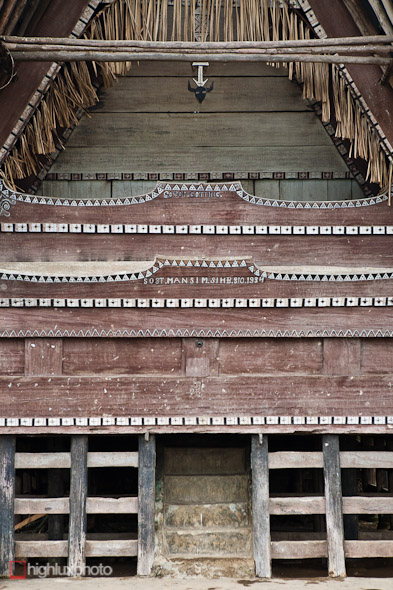 Batak meeting house.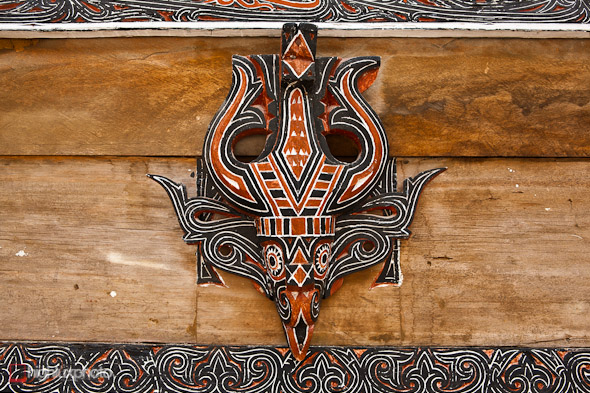 We were starting to feel at home, with the almost polynesian style of the Batak carving and colours reminding us of New Zealand's Maori culture.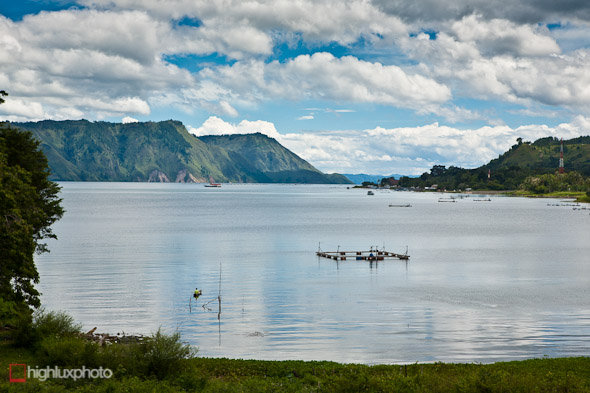 This shot's taken the day after we arrived at the lake. The previous day had turned into a 2000m+ climbing/130km epic that had seen us arrive in Pangururan – a village on the western lakeshore – long after dark. Our maps have always been unreliable, which that day had resulted in 30km more riding than we thought (three hours when you're climbing at 10km/hr). The day's riding had ended with a sinuous 900m descent in the dark down the inside of the crater and a bumpy ride round to Pangururan, a small town on the lake's central island.
Lake Toba occupies the crater of a 'super volcano' that exploded 69,000-77,000 years ago in a massive, climate changing event and is thought to be the largest explosion anywhere on Earth in the last 25 million years. One scientific theory holds that the explosion killed most humans then alive on the planet and created a population bottleneck in Central East Africa and India that affected the genetic inheritance of all humans today. The eruption ejected an estimated 2800 km3 of pyroclastic material – blanketing parts of Malaysia in 9m of ash and covering the whole of South Asia. Despite those sort of statistics, it's a pretty mellow spot for a rest day!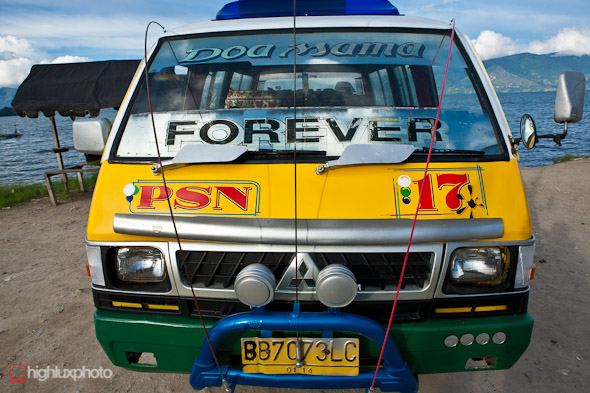 We got a local bus (minivan) over to Tuk Tuk on the other side of the island on our rest day.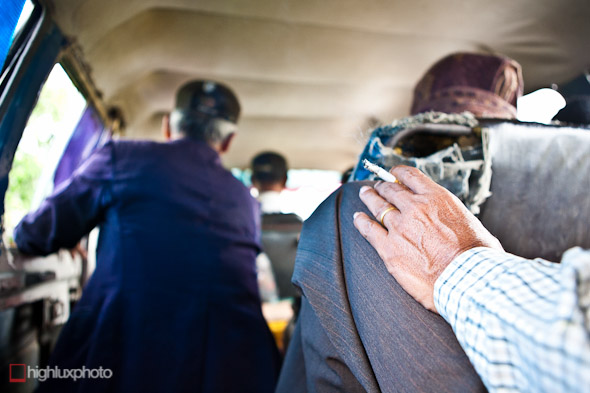 Rammed in with Batak men chain smoking kreteks and women chewing pungent mouthfuls of betel nut.

Tuk Tuk's where most tourists stay and was apparently the spot to go on the backpacker trail 20 years ago, a vibe that it still retains.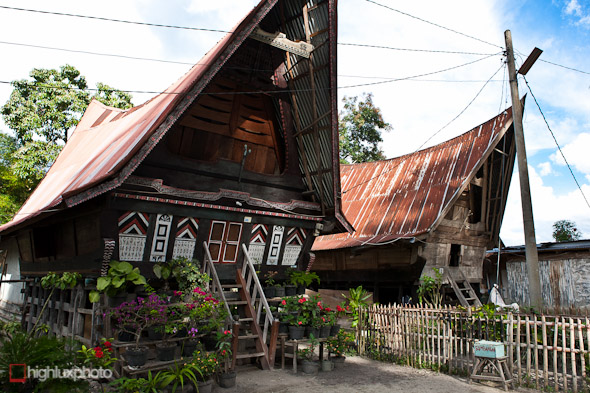 The whole area is Batak and there's lots of cool houses to check out.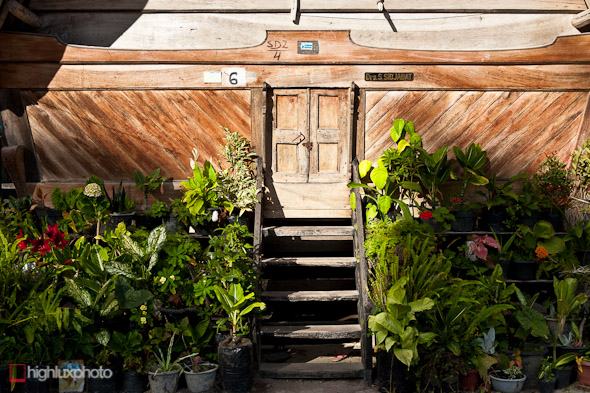 With their Hobbit doors.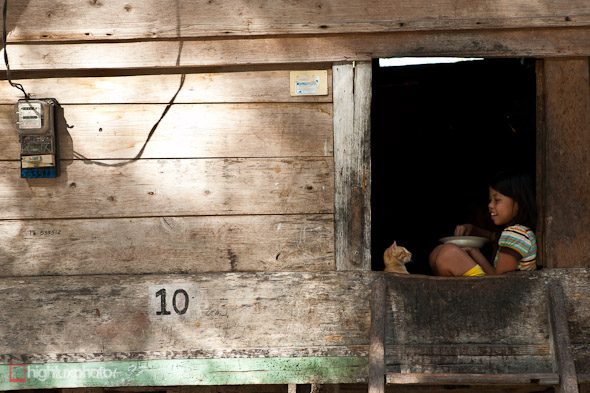 Good spots for capturing everyday scenes.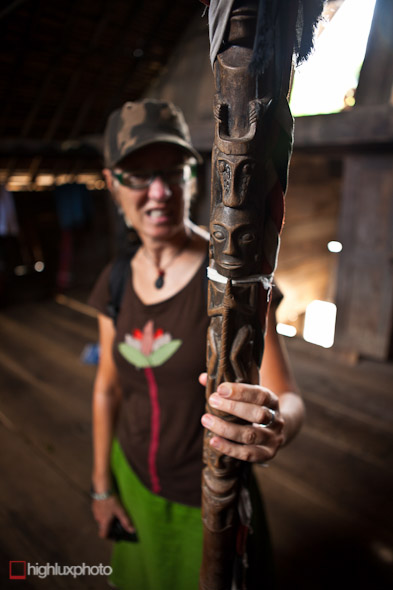 There's also museum relics …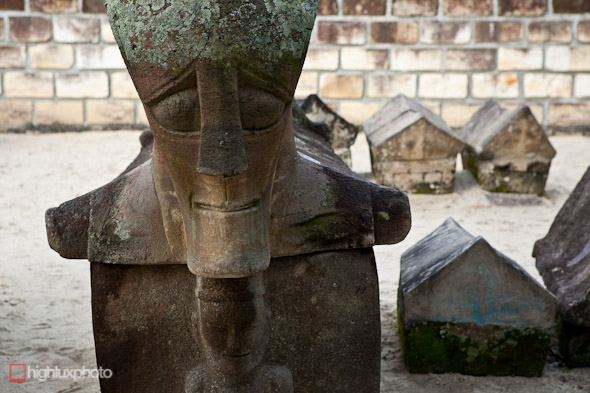 …and tombs.

Signs in Tele, the village on the crater rim.