Day 202: Takengon – Lumut (440m) 89km. Nicely graded climb on good road then rolling descending on sometimes dirt roads. Total 1485m climbing.
Day 203: Lumut – Blengkjeren (875m) 73km. 29km climb to pass then descent and rolling valley. Good roads, but sometimes ultra steep. Total 1985m climbing.
Day 204: Blengkjeren – Ketambe (350m) 74km. Climb and then steady but rolling descending into the national park. Narrow & good road. Total 990m climbing.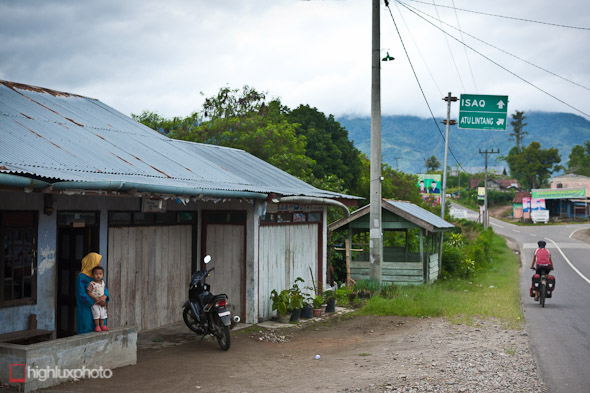 Although we'd only ridden a little over 200km in the last three days, we'd done over 4000m of steep climbing and it was on tired legs that we rode out of Takengon after one night in this small highland town. With 2000km to ride in Sumatra still and limited time we had to limit rest days and the next one we had planned was still three more days ride away in the national park village of Ketambe.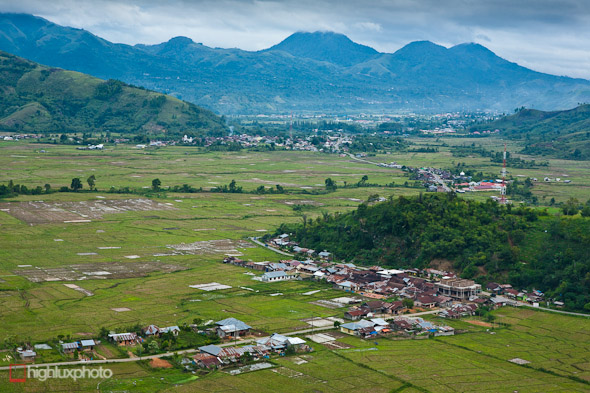 A few km out of Takengon we left the highland basin behind and climbed into the hills again.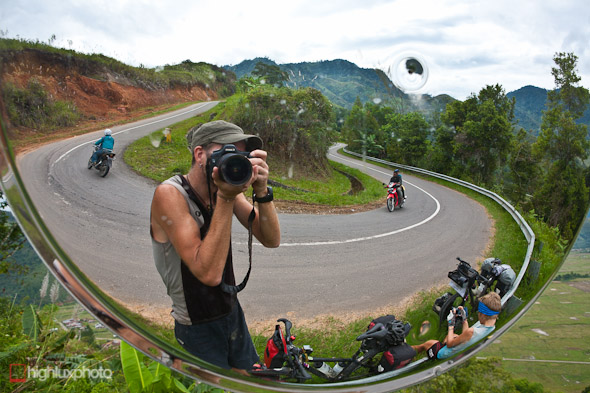 Back into the switchbacks. Mercifully the road was nowhere near as steep as the past two days as we climbed to 1800m (700m climb) through scrub and then virgin jungle.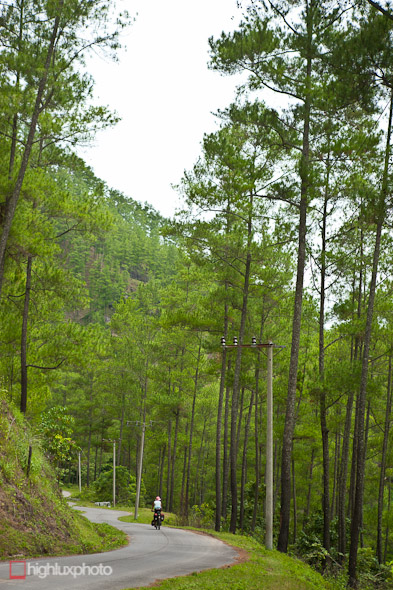 A 900m descent to Isaq followed, bizarrely emerging from the jungle into tall, open pine forests. This forest dominated the landscape for most of the rest of the day as we rode through rolling country on quiet, narrow roads – sometimes zipping through small villages.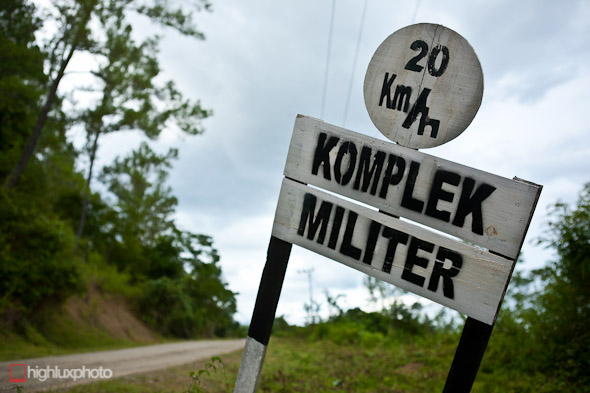 We pass a lot of infantry bases; quiet these days, but not long ago this region was under direct control of the Indonesian army as they tried to quash Acenese militias.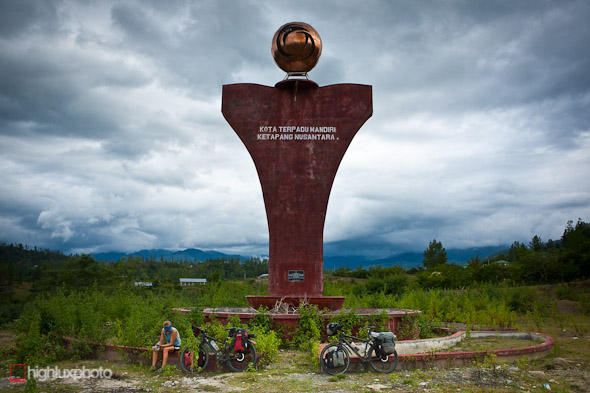 The 90km day was hard work on tired legs, despite the fact that our destination, Lumut, was nearly 750m lower in elevation.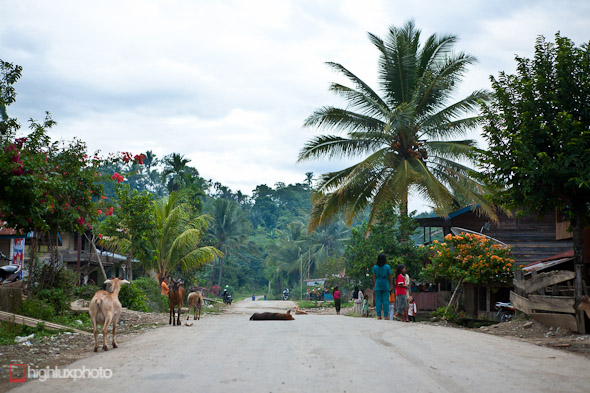 We knew Lumut was without a guesthouse (losmen or wisma as they're called here), but it was the biggest of a string of occasional villages along this section of road and the best place for us to try our luck.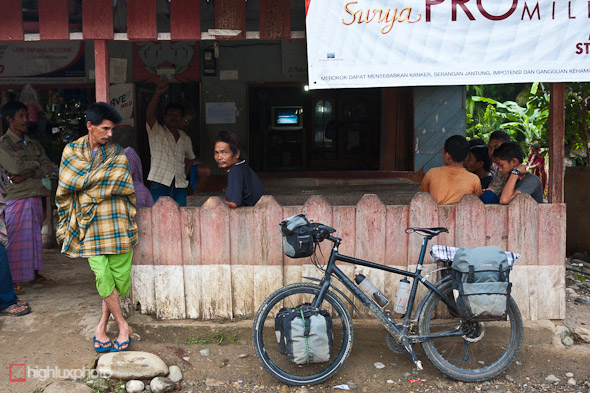 Fortunately the owner of this general store/cafe (the only one in town) was happy to take us in and feed us, and we spent the night on the floor in their spare room/attic.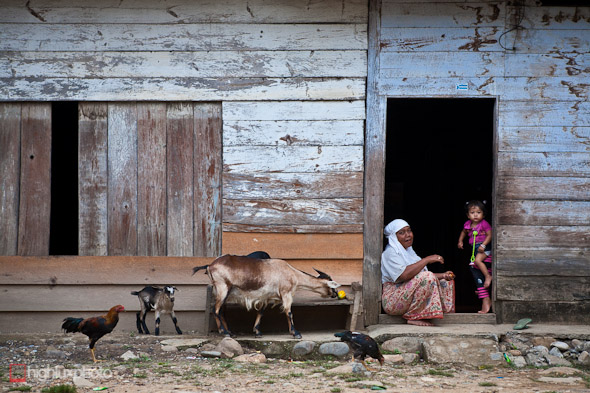 Walking about the village we were met with loads of smiles (and a lot of stares!)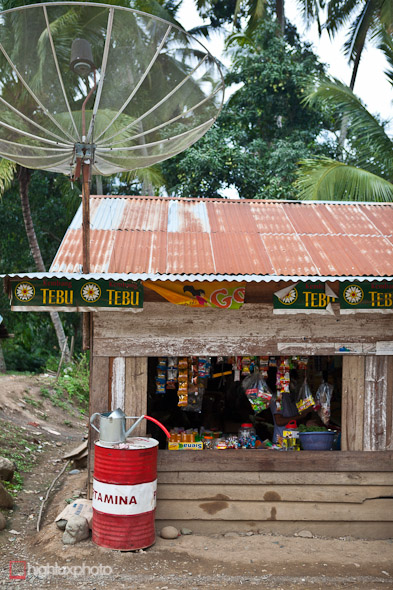 Village store and petrol station. The satellite dishes are ubiquitous here. All but the poorest or remotest houses have them.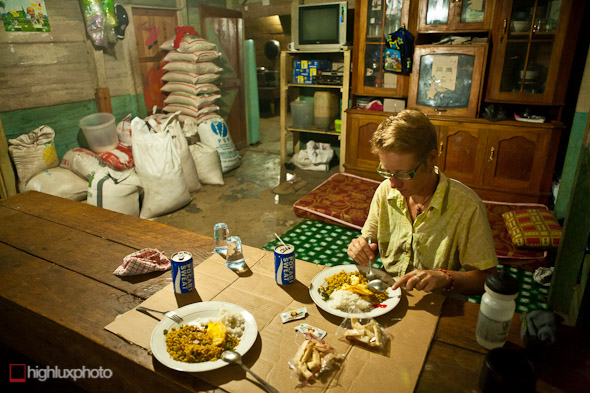 Cafe/dining room/lounge/warehouse/bedroom all rolled into one. Later in the evening half the villlage crammed in here to check us out and to watch TV.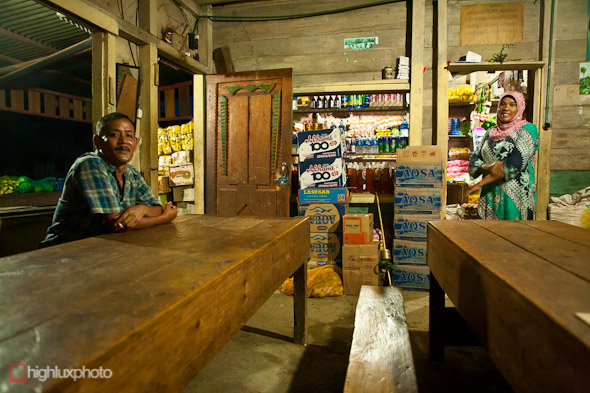 The owners were really nice people and keen to see that we were looked after.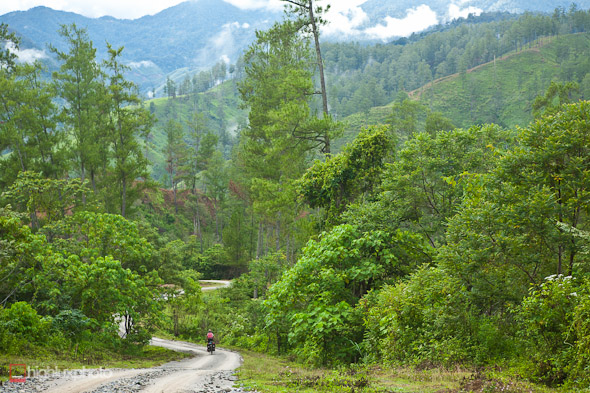 Next day we were straight back into rolling terrain for a while and then began a 29km/1400m climb to a pass.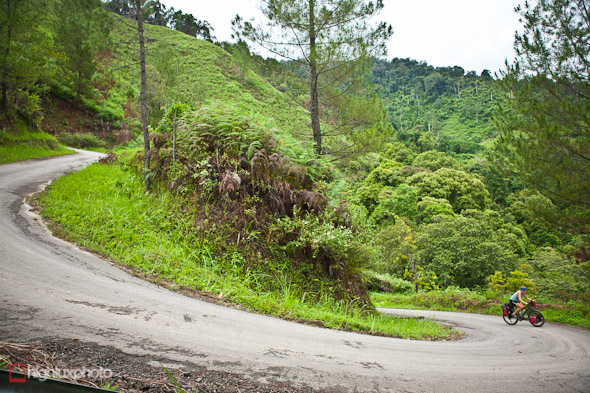 Mostly it was a reasonable gradient compared with the ride to Takengon, but the hairpins were pretty savage and we were starting to get sore knees from so much climbing on loaded bikes the past few days.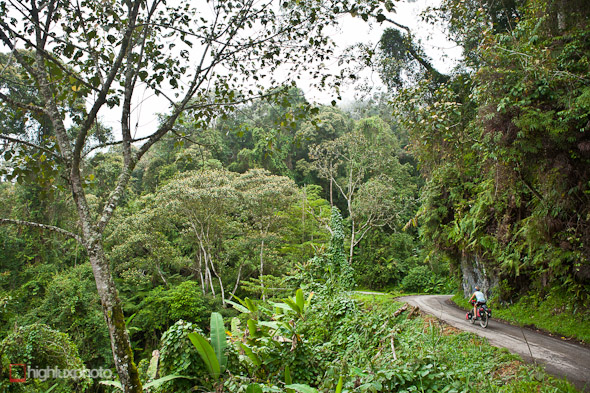 As we climbed higher the road gradually narrowed to a one lane track (sometimes unsealed) and we were surrounded with lush jungle and ferns. It was absolutely beautiful riding and the altitude and mist kept us at a nice temperature. As with other jungly sections here we saw many macaques and Thomas Leaf monkeys.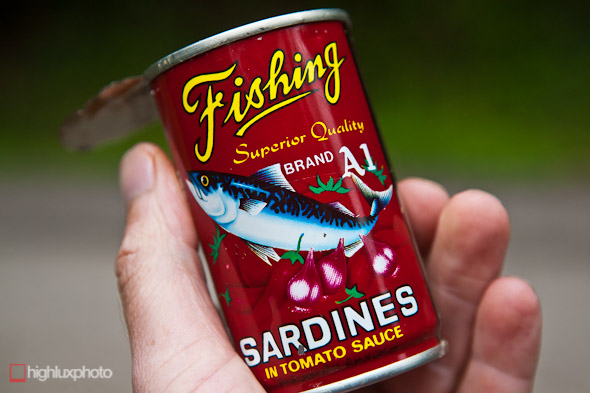 The sardines we'd carried went down a treat at the pass.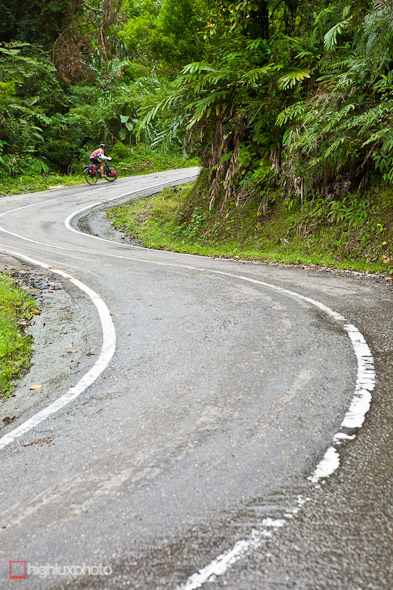 And after a couple more short steep sections along the ridgeline …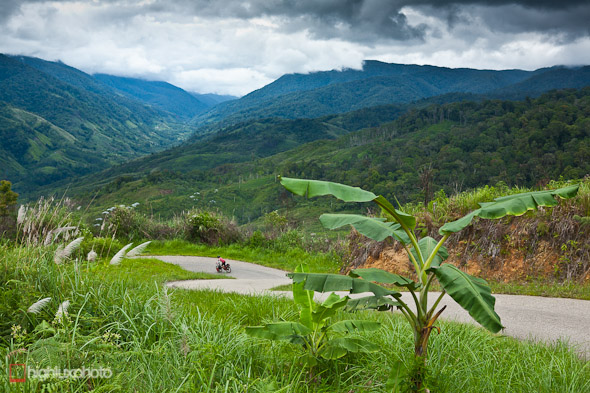 It was down, down, down…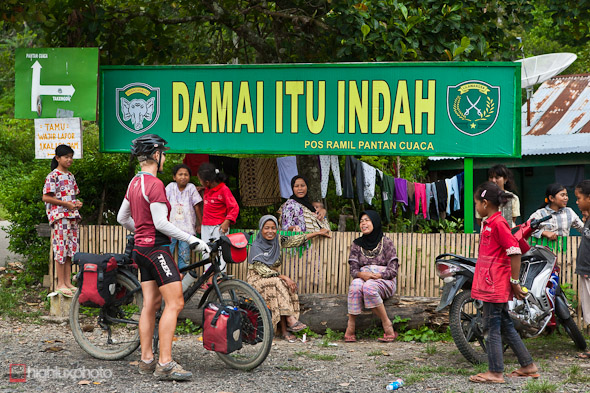 Through the odd village…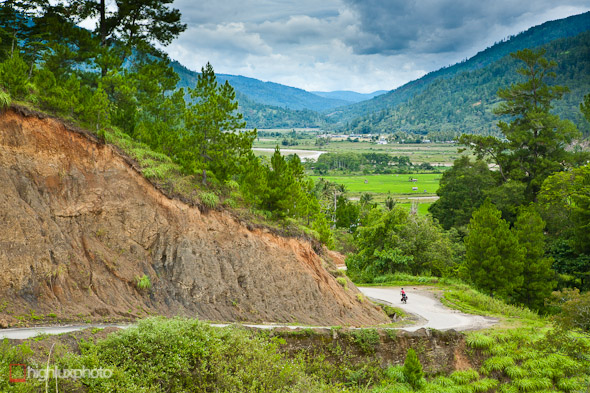 … and finally into the valley bottom at Rigit Gaib. From there just 20km of easy rolling valley remained to Blengkjeren where we spent the night.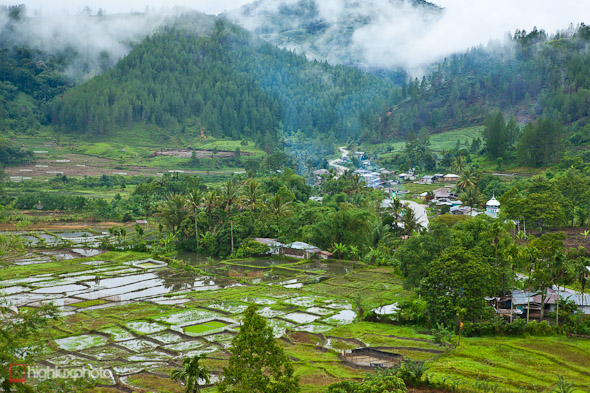 More great climbing followed the next day as we headed out of Blengkejeren for Ketambe 74km away. Misty rice paddies and small settlements made for nice highland scenery as we first climbed to a pass and then gradually descended a long valley into Gunung Leuser National Park; home to a huge range of wildlife including orangutans.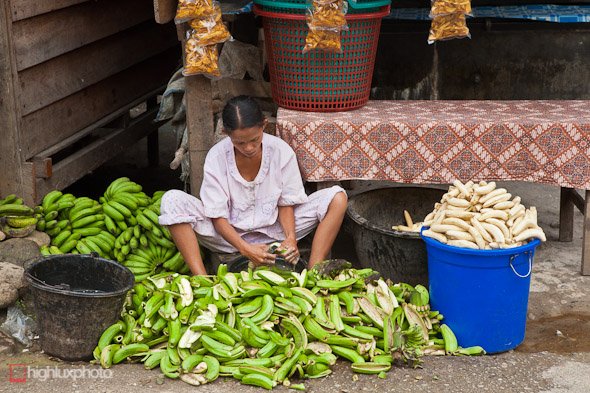 Fried bananas were a specialty in one village we passed on the way.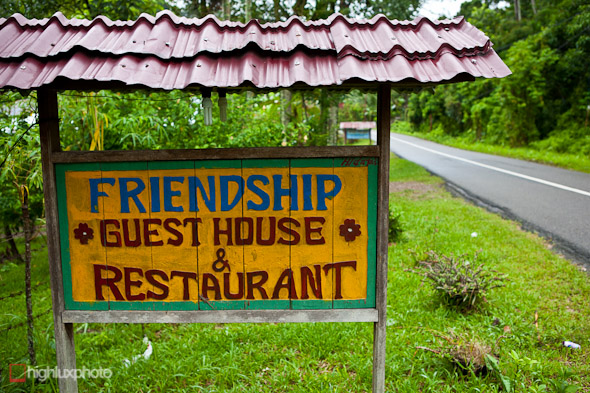 Ketambe's a tiny village within the national park that has developed in very low key way to host the few tourists who pass through here (there was only one other small group of tourists there – the first we'd seen since leaving Banda Aceh!). Most people come to trek for a few days in the hope of seeing orangutans and other more elusive wildlife. We took a day off here to go for a half day jungle hike with a guide – in the hope of seeing an orangutan – and were loving the slightly western menu available at the guesthouse!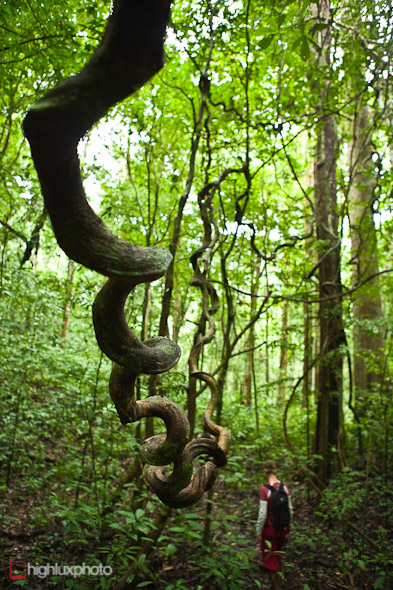 With our guide sorted we headed off to hopefully see an orangutan (found only in Sumatra and Borneo).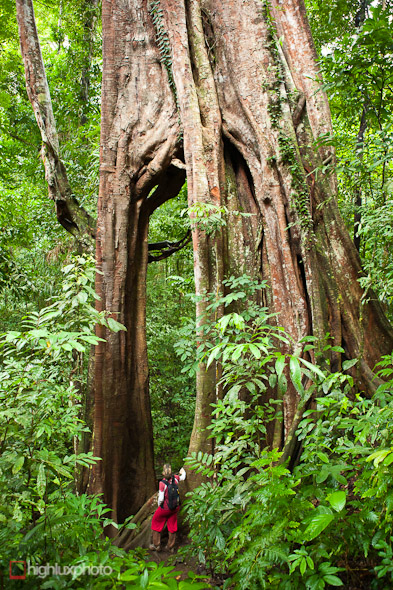 Passing through some pretty awesome jungle on the way.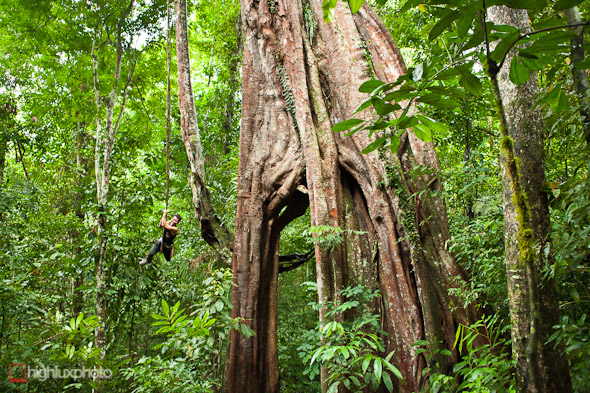 Our guide John fancied himself a bit of a Tarzan. I had a turn swinging on this awesome vine too – a committing swing over a 15m drop.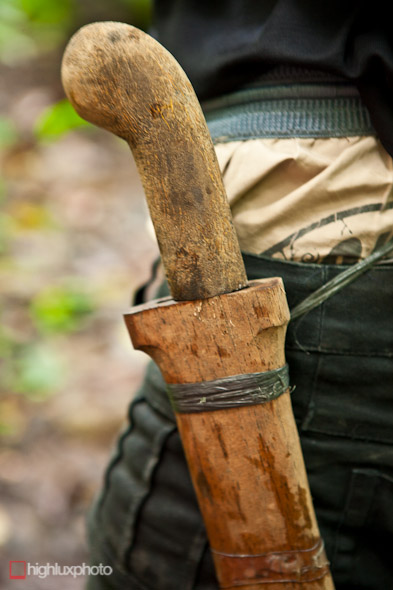 Most men we see walking on the roadsides carry large knives like this; essential for fighting off tigers and pythons and – more importantly – slicing mangoes.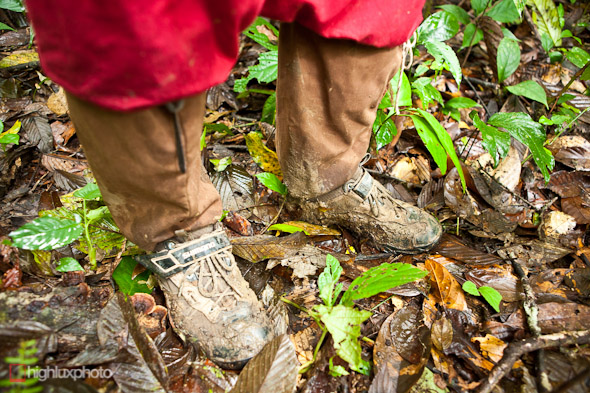 There's billions of leeches here, so no one goes out without leech gaiters on to stop the evil suckers getting in your shoes and up your trouser legs.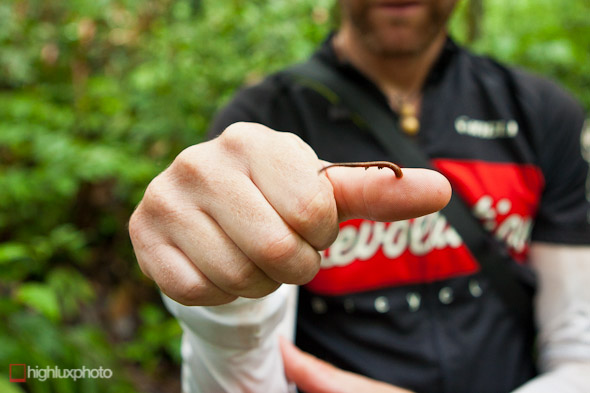 They love me unfortunately.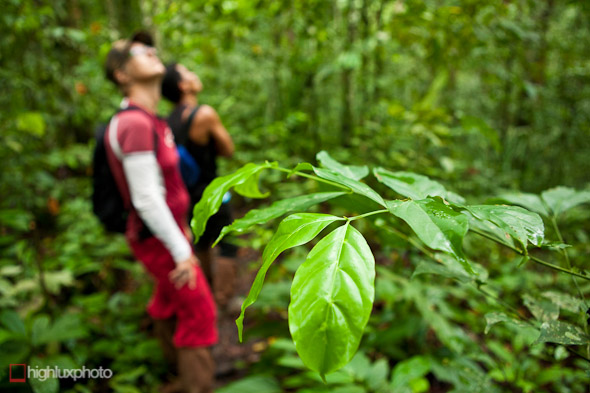 We spent a lot of time craning our necks…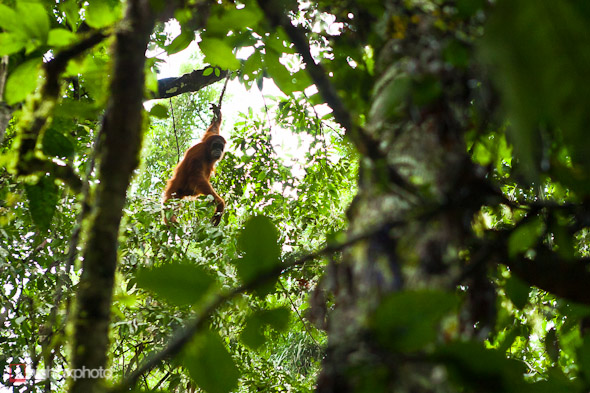 … and got lucky. Within an hour of walking we spotted a mother and baby pair of orangutans high in the canopy above us. This is the best I could do with only a 24-70mm lens, but they were a wonder to watch – gracefully passing from tree to tree, the mother sometimes making herself into a ape-bridge so the baby could cross safely.