Day 152: Anlong Veng (Cambodia) – Resort near Prasat (80m), 121km. Hana's 40th birthday and our first day in Thailand.
Day 153: Resort – Chok Choi (100m) 155km. Flat and gently rolling on the 4-lane highway 24.
Day 154: Chok Choi – village near Khao Yai National Park (400m). Flat then steady climb over 545m pass on back roads.
Day 155: Village – Nakhon Nayok (85m) 110km via Khao Yai National Park and 765m pass.
Day 156: Nakhon Nayok – Ayutthaya (45m) 105km on highways and minor roads.
Days 157-161: R&R in Bangkok.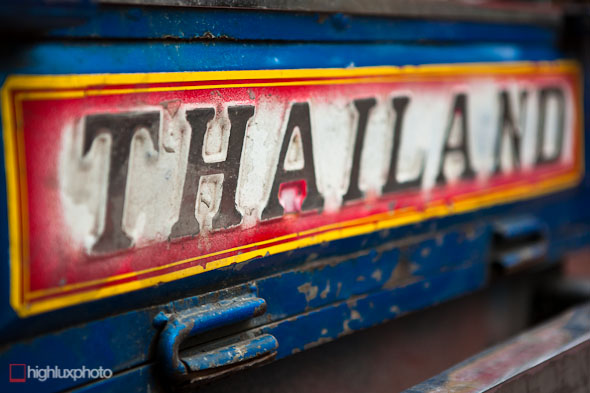 Thailand!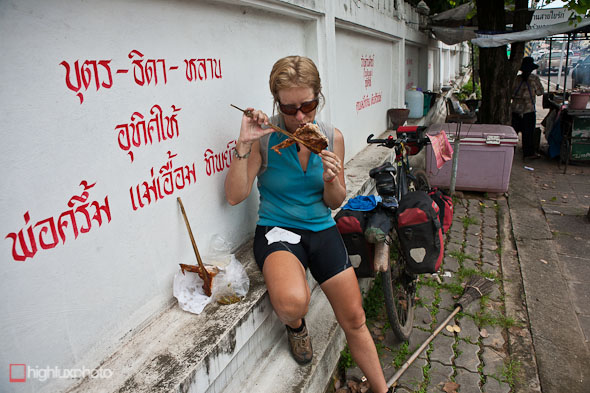 Our first few days in Thailand were a harsh contrast to the rural quiet and isolation we'd experienced in Northern Cambodia. The Lonely Planet guide reported that the area of Thailand we were to enter at the border was 'remote'. The author must have a different definition of 'remote' to us though as we don't generally consider 4-lane highways with 7 Eleven's, regular towns with mains power to be 'remote'. At first we were a bit overwhelmed by the traffic, noise and size of the roads, but we decided to smash it towards Bangkok and put in some big days. Big days means big appetites and BBQ chicken on a stick goes down pretty damn well.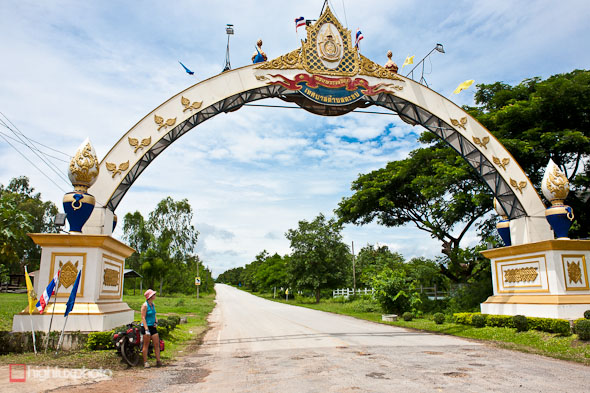 Ornate archways are a trademark of Thailand's roads – even the quieter ones. They're usually emblazoned with massive portraits of the King and Queen.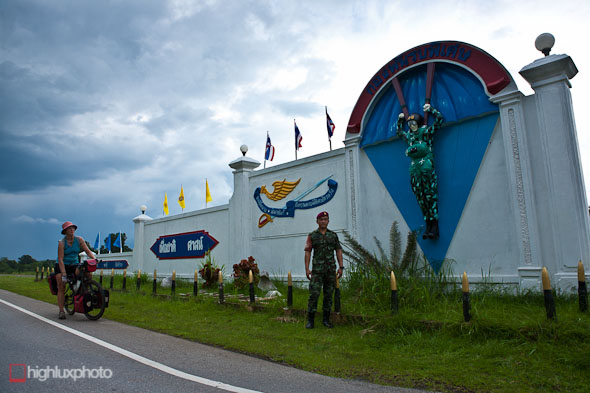 After belting down highway 24 for a few hundred kilometres (we rode 690km in 6 days) we turned south west and made a beeline for Khao Yai National Park in the hope of fresher air, more scenery and quieter roads. We got all three, and passed this Thai Airborne base on the way. The soldier who'd painted the entrance gate even came out to chat to us.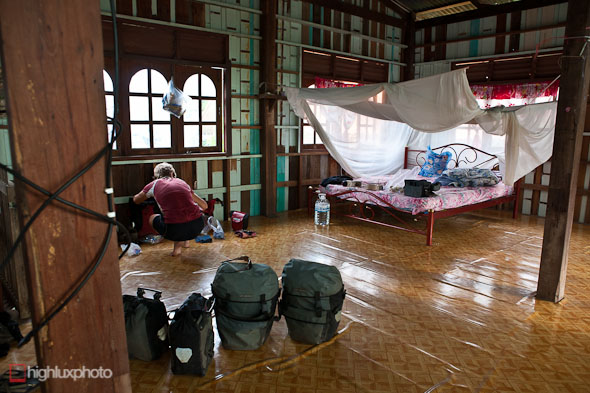 Strangely, guesthouses and hotels are hard to find in Thailand's non-tourist towns, while they were a dime a dozen in China, Laos, Vietnam and Cambodia. This one was unmarked and was run by a lady from the local general store.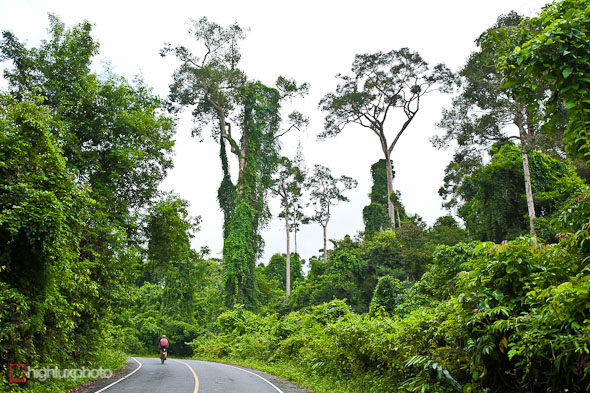 We spent one day cruising through Khao Yai National Park, making a 23km detour to check out some massively flooded waterfalls (the water was the highest in 40 years apparently) and generally enjoying the peace of the jungle.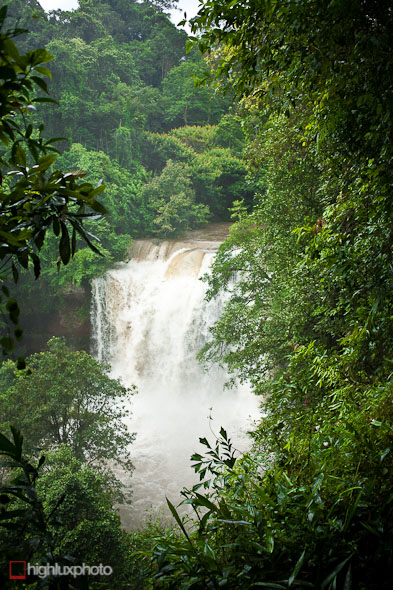 Heo Suwat waterfall is normally a lush aqua colour…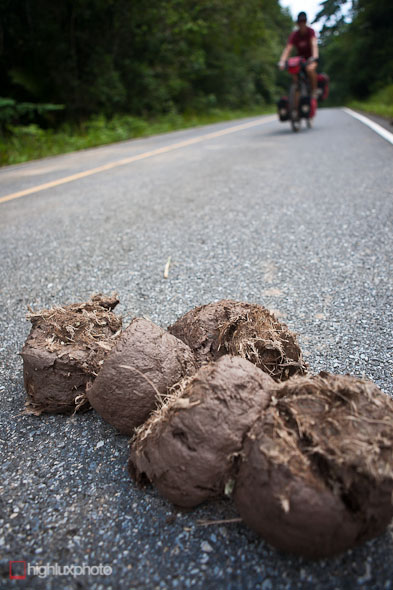 Elephants are common in the park, though we only saw their massive dung piled on the road.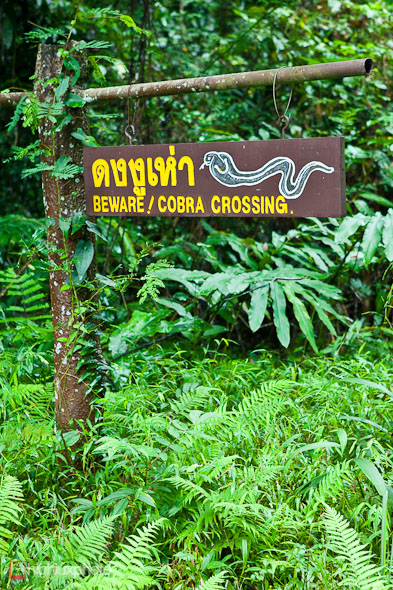 Cobras too…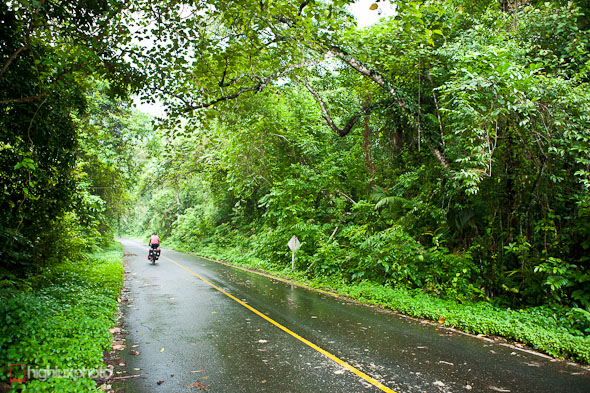 To reach the park entailed a climb over a 765m pass – the first decent climb we'd done in ages. It meant a very quick return to the plains on the other side of the park too.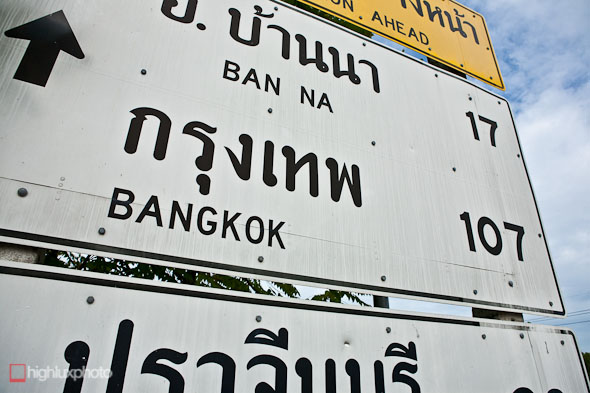 Nearing Bangkok…

Chengdu, months back, was the last time we'd seen roads this size.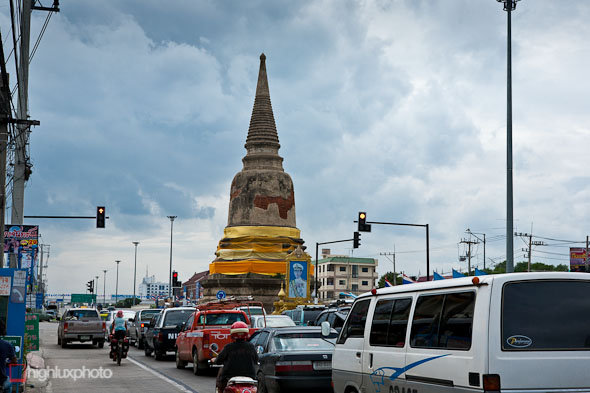 Instead of heading directly into Bangkok on the bikes we decided to base ourselves out of Ayutthaya, 80km to the north and catch the train to Bangkok from there. When we returned we planned to head west towards Kanchanaburi.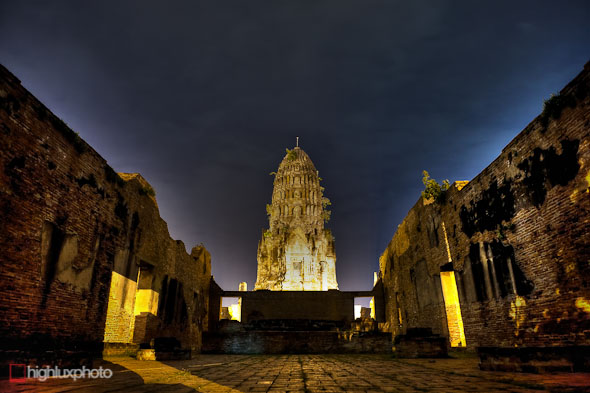 Ayutthaya's an ancient Thai capital and riddled with temples and spires, some of which are spectacularly lit at night.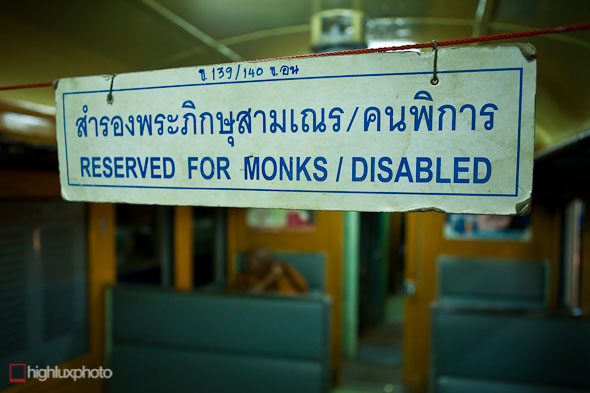 On the train from Ayutthaya to Bangkok.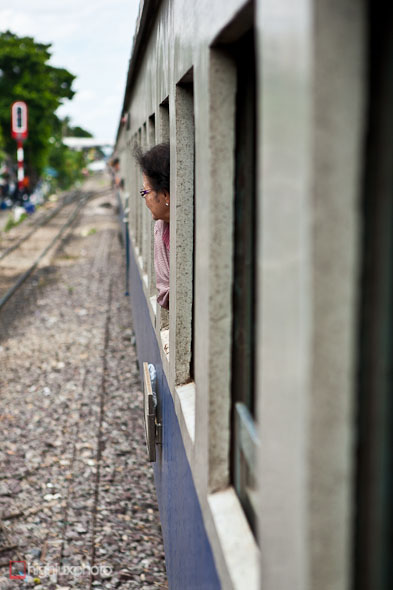 Ayutthaya – Bangkok train.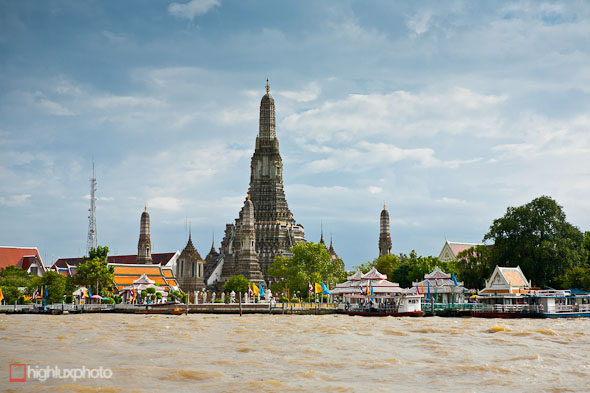 Bangkok temple (somehow without highrises in the picture..)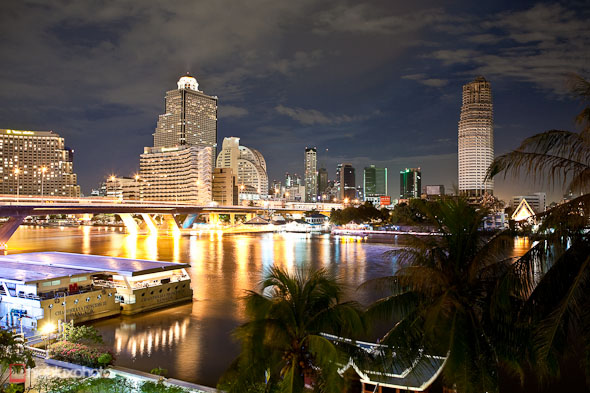 We were in Bangkok 5 days. Once the main mission of getting the bikes serviced at Pro Bike (new bottom brackets, chains, cassettes) was sorted out plenty of time was left for eating, shopping and chilling out. The MBK shopping mall was an experience with its massive camera shops and all the latest electronics. It's a great place to pick up secondhand iPods and the like and we spent at least a couple of hours picking through the stalls looking for a killa deal.
A chance interaction on Flickr led us to make contact with a couple of UK cyclists Rebecca and Ryan who are riding from the UK to Singapore overland, and then onto Australia and NZ. Being in Bangkok at the same time we arranged to meet at their luxury condo (Ryan's parents had rented it) and spent a fun evening sharing stories over some beers and G&Ts. This shot's taken from their condo balcony. We've made plans to try and meet up for some riding further south.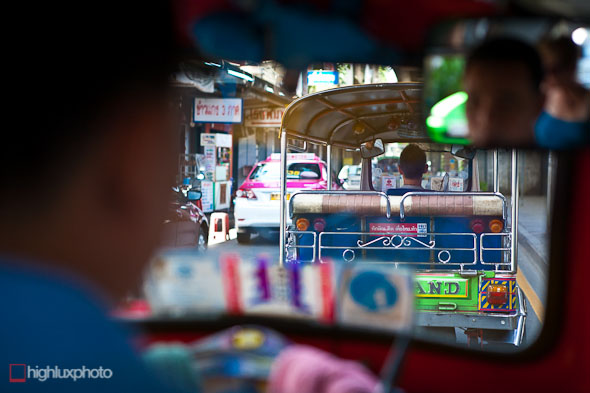 Tuk tuks make a nice change from bicycles sometimes.

Homeless boy on the street just round the corner from the infamous Khao San Road.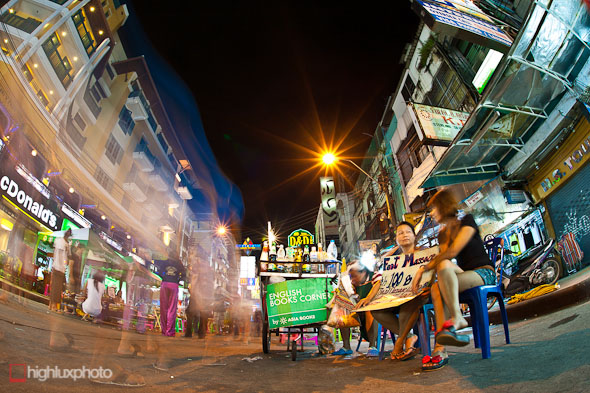 This was my first visit to Bangkok and I was suprised to find Khao San Road far more agreeable than the travel guides make out. It's busy and vibrant but suprisingly chilled at the same time. It's a great place for cheap tee shirts, tattoos and international travel vibe.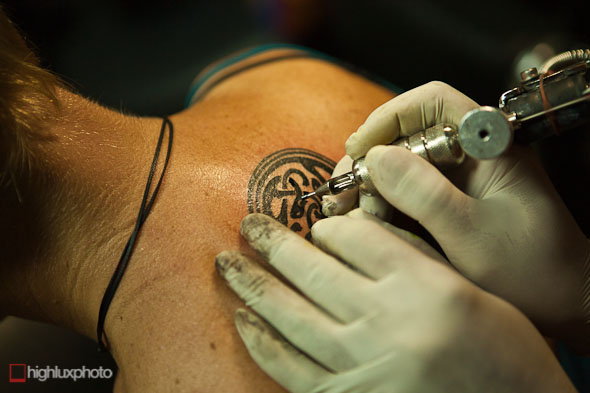 Tattoos are cheap here, so Hana took the opportunity to get a design she's been wanting for a few years for her 40th birthday present.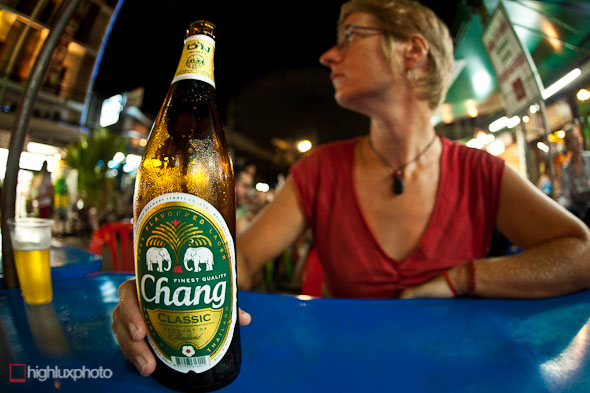 Enjoyed a few Changs there too…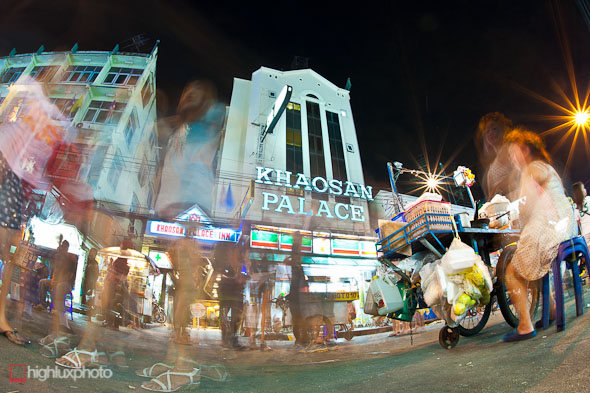 Another Khao San Road shot.