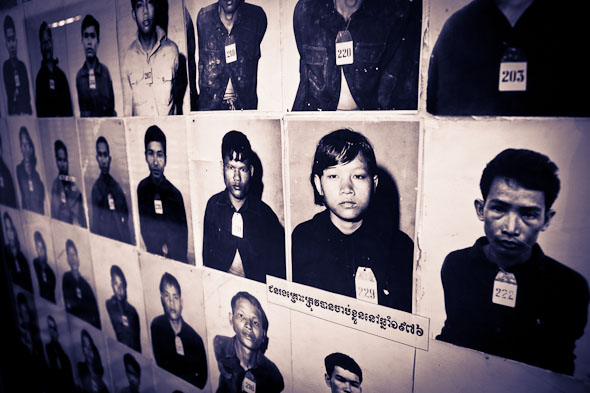 This stark set of photographs is from the Tuol Sleng Genocide Museum in Phnom Penh, known to Cambodia's Khmer Rouge cadres in the mid seventies as Security Office 21, or S-21.
Formerly a central Phnom Penh school, this collection of plain three story buildings enclosing a courtyard was taken over in 1975 during the relocation of Phnom Penh's population to the countryside by the Pol Pot-led Khmer Rouge regime.
The Khmer Rouge converted the school into a prison and interrogation centre – responsible for the deaths of thousands – and it has become one of the more well known symbols of the terror, oppression and senselessness the regime represented.
Meticulous record keepers – like the Nazis – the Khmer Rouge photographed every prisoner to pass through their doors, and it's this haunting collection of images that forms the most powerful impressions during a visit. A gamut of emotions are portrayed: anger, fear, confusion, resignation, and sometimes even calm confidence.
Prisoners – if they didn't die during interrogation and torture at S-21 – were taken in trucks once every couple of weeks to be executed at Choeung Ek, 15 kilometres from the city, where they were then disposed of in mass graves. Execution was usually by clubbing, to save precious ammunition.
By the time Phnom Penh was 'liberated' in 1979 by Vietnamese forces, the prison's operators had been responsible for the deaths of more than 17,000 people, many of whom had been arrested simply for being 'undesirables', including school teachers, doctors, engineers, intellectuals, monks and those of varied ethnic backgrounds.
A mere seven survivors were discovered there, whose talents as photographers or painters had kept them alive.
Today the prison is open to the public as a museum and, save for the installation of the photo galleries, is much like it stood in 1979.