Day 137: Phnom Penh – Kampong Chhnang (50m) 97km (plus 18km around village). Highway 5, Flat with moderate traffic.
Day 138: Kampong Chhnang – Pursat (60m) 120km. Flat with moderate traffic.
Day 139: Pursat – Battambang (60m) 111km. Flat & straight with moderate traffic.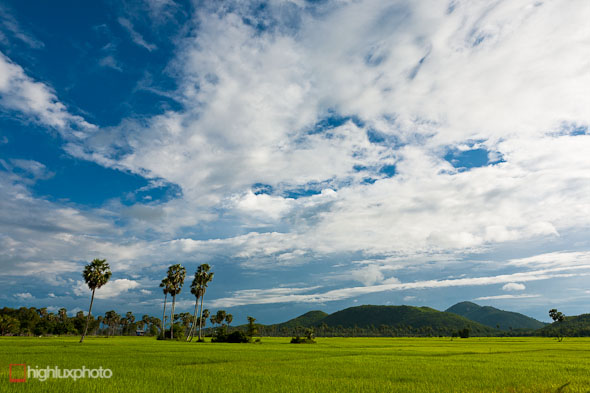 Between Phnom Penh and Battambang we cycled a little over 100km each day for three days in a row, starting by 6am each morning and usually finishing the riding for each day by early afternoon. The road was flat, traffic mostly light and scenery largely unchanging: rice paddies lush with wet-season rain, sugar palms, distant hills and the occasional town.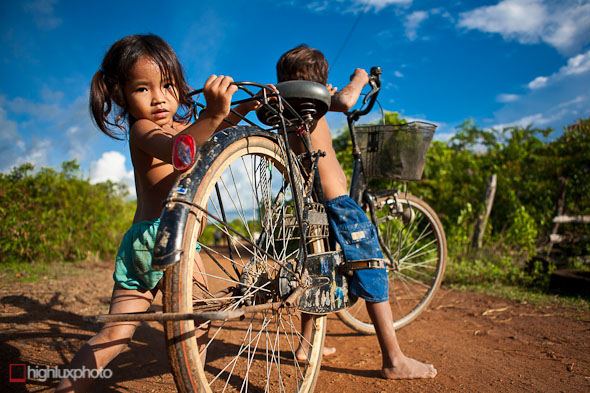 Couple of kids we bumped into one afternoon on our way to see a local village that's known for its pottery.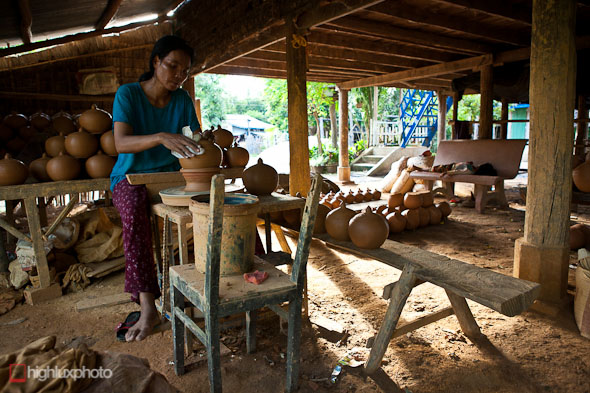 Piggy banks seemed to be the number one item being produced in the village, and we saw several small workshops like these, with women working hard forming and finishing pots.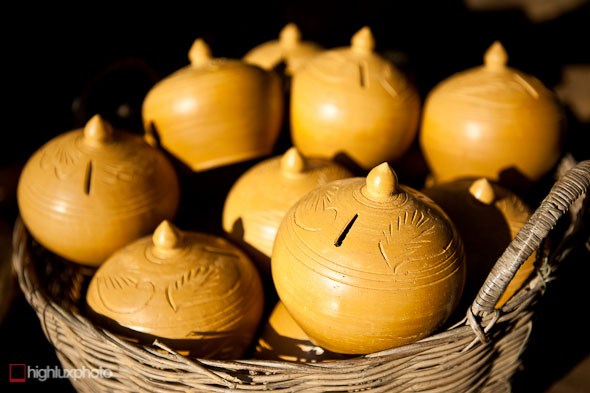 Ready for market.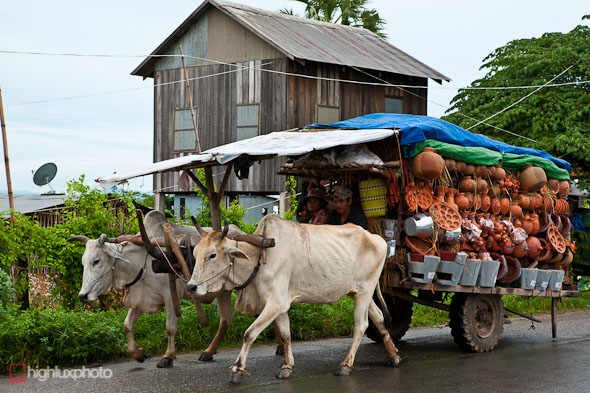 Mobile pottery markets like these are an everyday sight.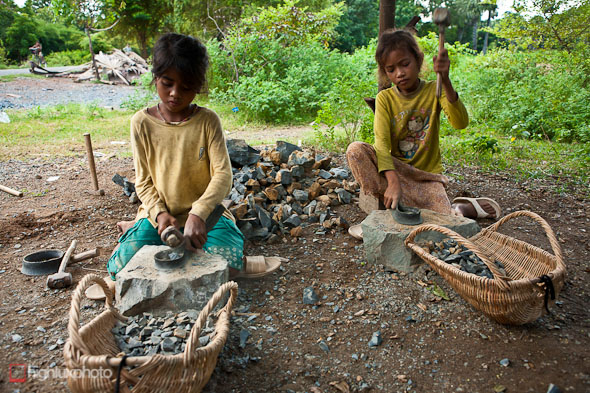 Crusing through another village later the same evening we came across these two girls; both recruited to break chunks of marble into small pieces. The 'holders' are made from a bit of recycled truck tyre. Hate to think how many kids have their eyes damaged doing this.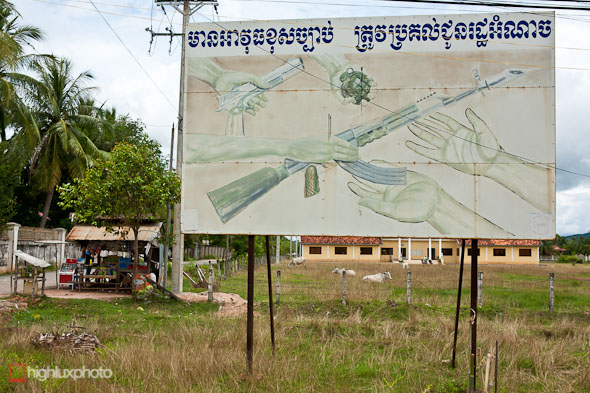 Reminders of Cambodia's violent, and not-so-distant past appear sometimes.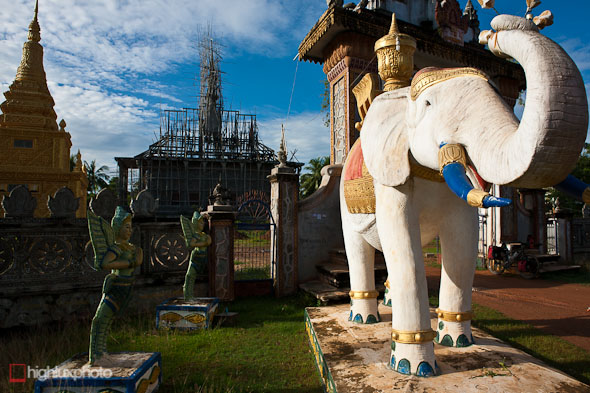 Wat under contruction. The rickety thatch of bamboo scaffolding the workers had erected looked pretty frightening!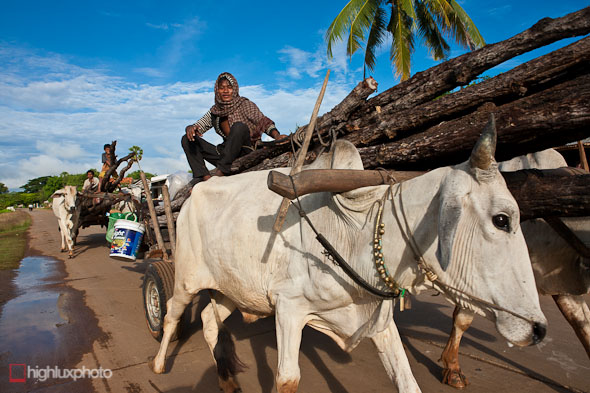 Back to basics…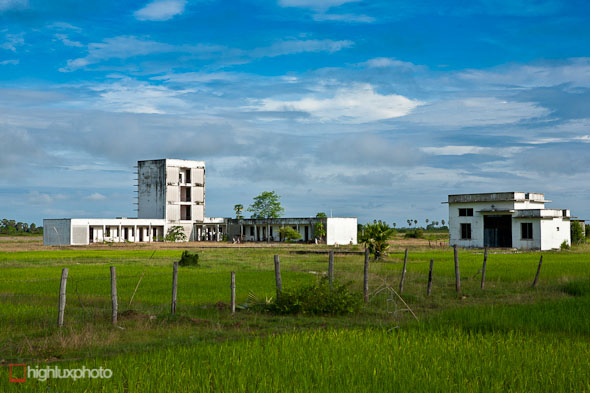 Among the creepier sights we've seen on this trip was the Kampong Chhnang Airport, a short detour from Highway 5.
The desolate runway and buildings here were constructed by slave labour under the Khmer Rouge in the late 1970s. The project was overseen by Chinese engineers and consequently was very well made (unlike many other Khmer Rouge projects). Today, despite zero maintenance, it's still in perfect condition. The price, however, was the lives of over 10,000 everyday Cambodians who either died of malnutrition and disease during the project, or were murdered enmasse by the Khmer Rouge as Vietnamese forces closed in after their 1978 invasion.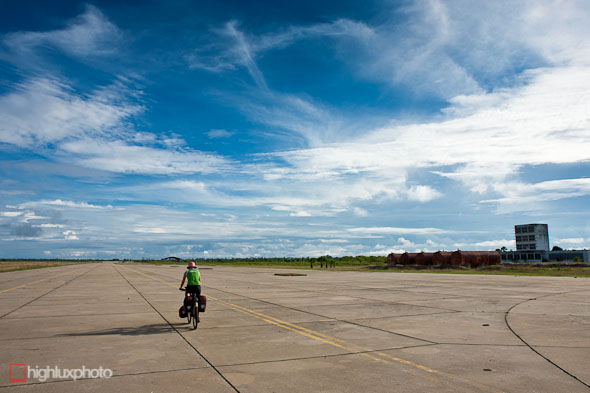 In 1999 the New York Times reported that a foreign entrepreneur was considering reviving the abandoned airport and turning it into an international cargo hub. Over a decade later this project has shown no signs of progess and the empty runway sits here still, 'guarded' by a motley crew of locals and providing a curiosity for the occasional passing tourist. For more see the New York Times article – it's a shocking read.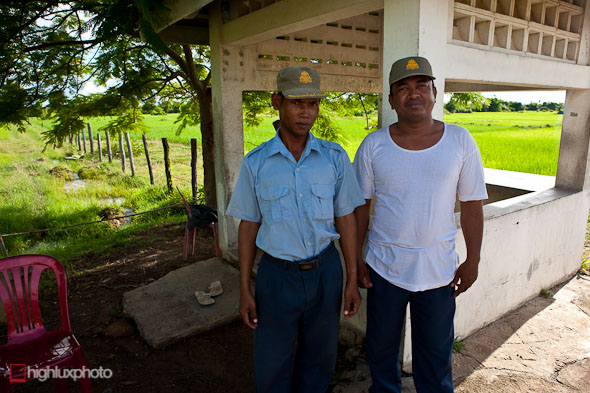 These guys were tasked with the no doubt incredibly tedious job of 'airport security' (aircraft very rarely land there). On the way in we'd been stopped by a man who called himself the Airport Commander and told us that we were allowed 15 minutes and could take three photos only. We spent our 15 minutes zooming down the runway pretending to be planes and then chatted to these guys (in very broken English) on the way out. They were far more concerned with whether we could give them any cigarettes or not than they were about how many frames I'd shot! In the end we tipped them a dollar each, and they gave us some soggy steamed peanuts.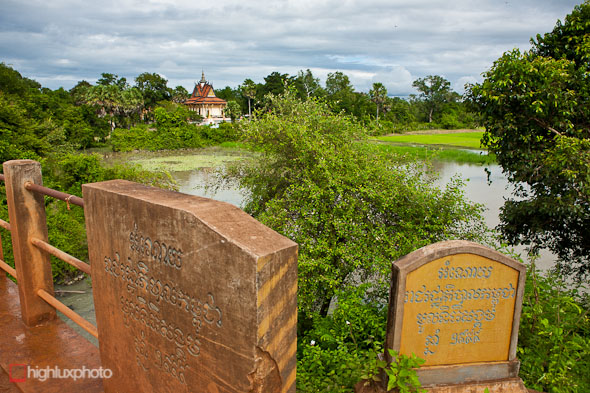 Despite the weirdness of the airport visit our route provided a 30km or so detour from the highway and took us past some cool sights hidden in the trees…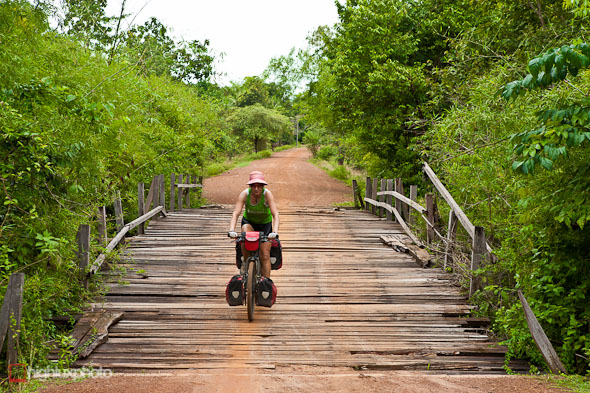 …and over some pretty rickety bridges.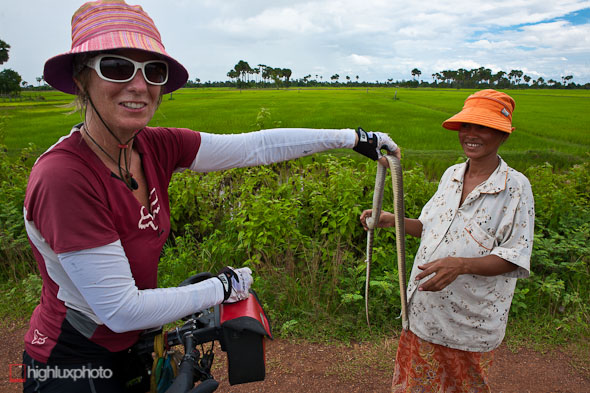 Back on Highway 5 the cycling was dead flat and sometimes straight for kilometre after kilometre, but there were always curiosities to see on the road side. This woman's morning forage in the rice paddies had provided a snake that she was no doubt on her way home to cook for the family.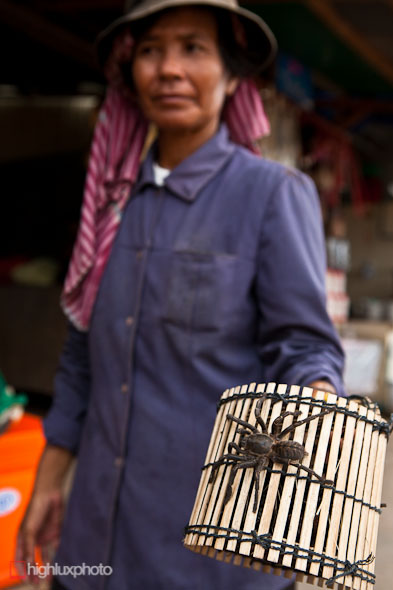 Further down the road we came across a lady selling live tarantulas.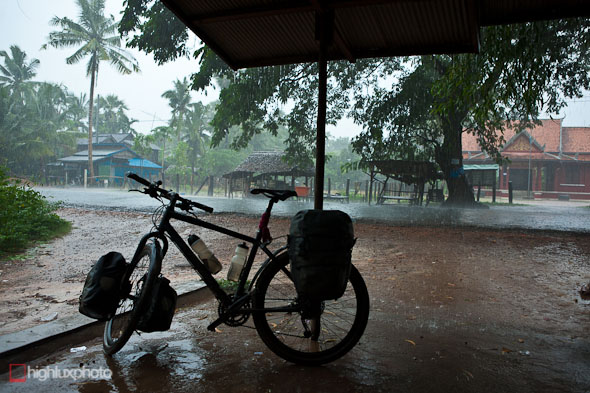 It's coming into peak rainy season here in Cambodia and intense, but shortlived, thunderstorms occur most afternoons. We usually sit them out for 30 minutes or so, taking the opportunity for some food or coffee.

Three days out of Phnom Penh we reached Battambang, one of Cambodia's biggest towns. Like Kampot, in the south, Battambang's a raw provincial town, unsullied by tourism, where everyday Cambodians go about their business. It's the kind of place we tend to find far more interesting than the more touristy places. There's a couple of hotels and some restaurants with westernised menus, but apart from that it's the real deal. We stayed a couple of nights to check out a nearby hilltop wat and an ancient Khmer temple.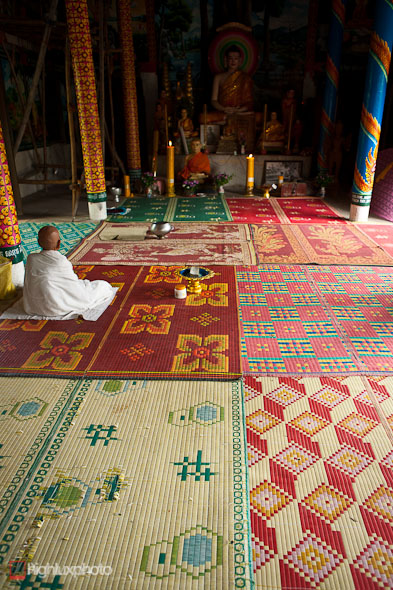 Only a short tuk tuk ride from town is Phnom Sampeau, a hilltop temple. Aside from being a beautiful complex with several statues and awesome views, it's infamous as the place where Khmer Rouge soldiers systematically murdered thousands of people, by first clubbing them and then hurling them into a deep limestone sinkhole.
The room pictured here, on the top of the hill and near the cave, was originally a temple, then a Khmer Rouge prison, and is now being repainted and restored.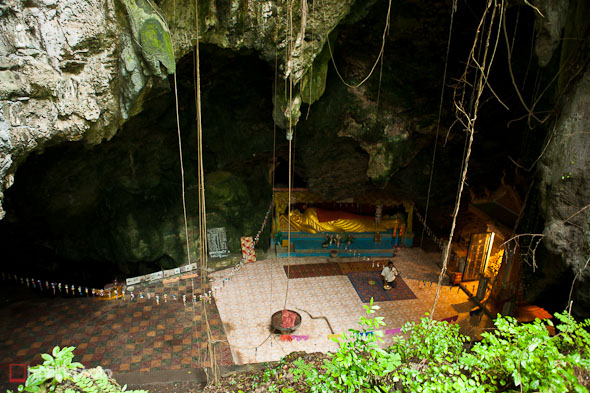 The cave is now a site of pilgrimage, with a skeleton-filled shrine and a reclining buddha.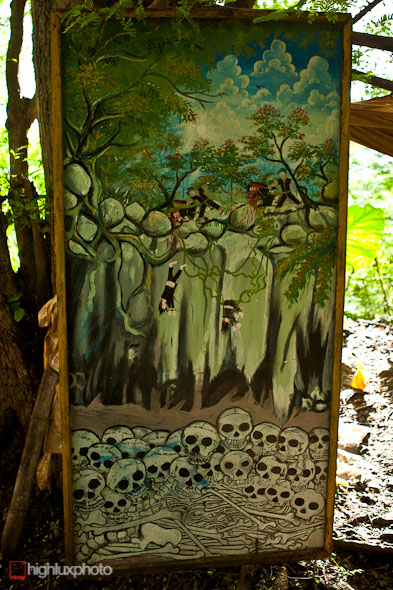 If one's imagination is not sufficient to picture the Khmer Rouge atrocities, this painting near the cave's entrance provides a full explanation.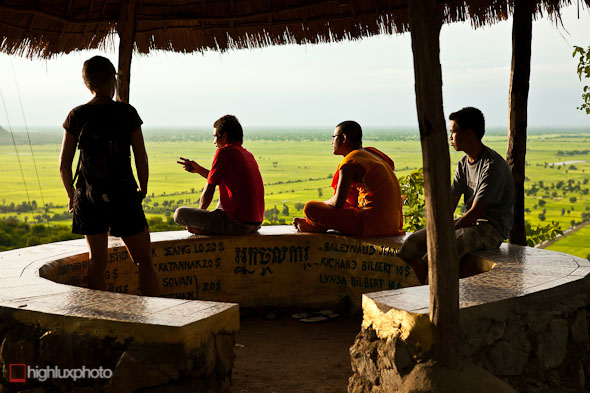 An awesome view of the surrounding plains, studded with the occasional limestone massif.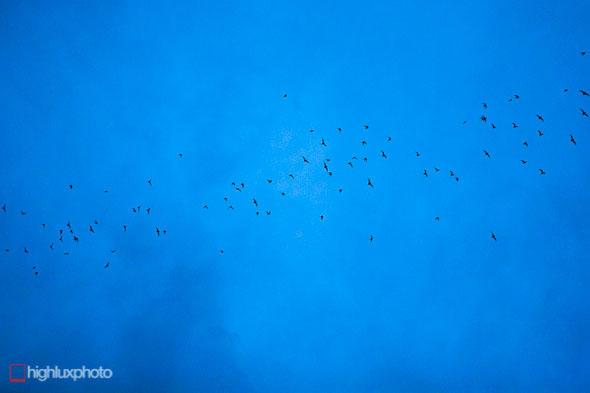 Every night hundreds of thousands of bats spend about an hour pouring from the entrance of a cliffside cave; heading into the night to feed. They return to the cave shortly before dawn.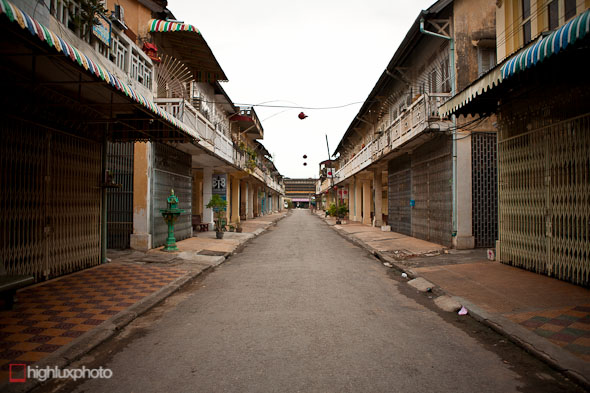 French Indochina-era shophouses in Battambang.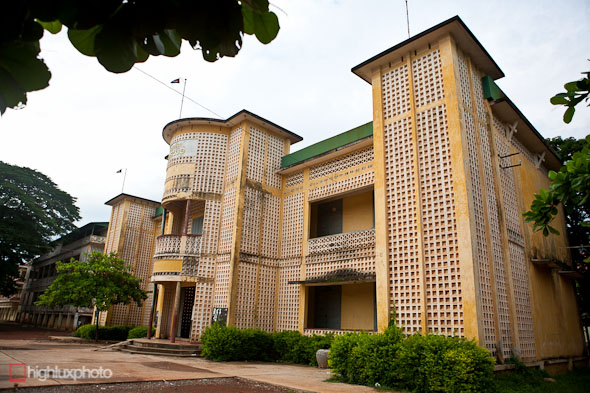 Not sure of the era of this building (late French colonial?), but the architecture's distinctive and quite common for Cambodia.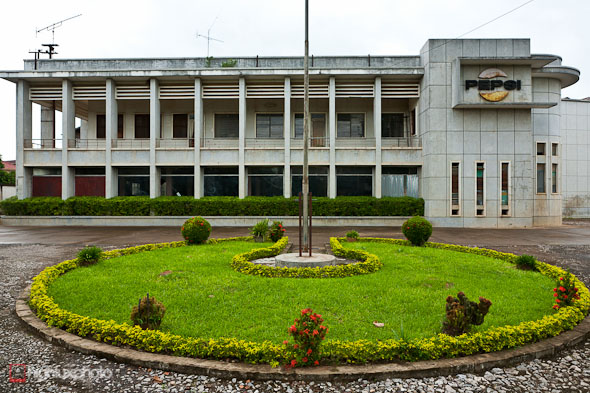 The grounds of Battambang's Pepsi bottling plant are immaculately kept, but the plant itself has not operated since the fall of Phnom Penh to the Khmer Rouge in 1975. It's now home to families of Cambodian squatters.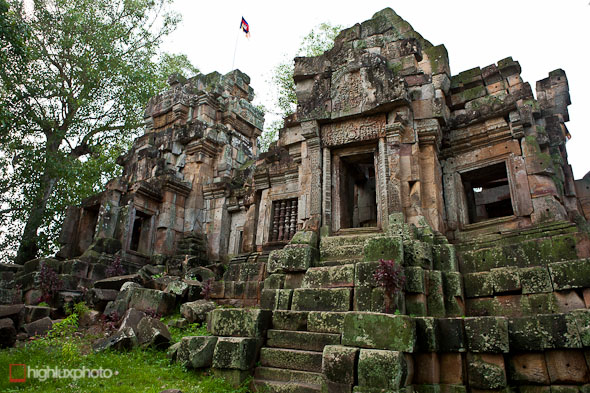 Wat Ek Phnom was our 'warmup' temple prior to checking out the Angkor temples near Siem Reap. While not as restored (or jungle covered) or as famous at the latter, it's a well worth checking out and was a flat half-hour ride from Battambang.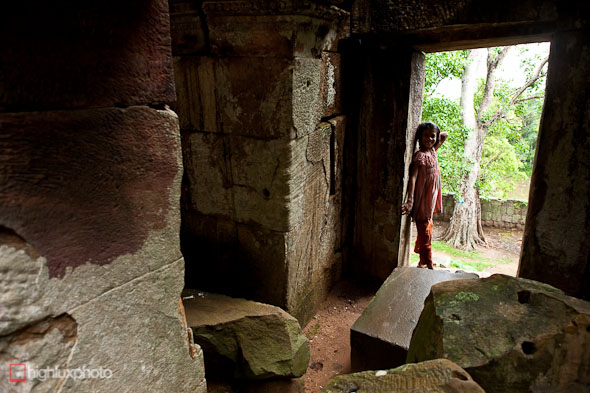 A ten-year-old girl from a nearby village appointed herself as our 'guide' while we scrambled around the ruined temple, pointing out details that we might have otherwise missed and providing a bit of local company. She didn't hide her disappointment though when the tip we gave her was less than that of wealthier tourists.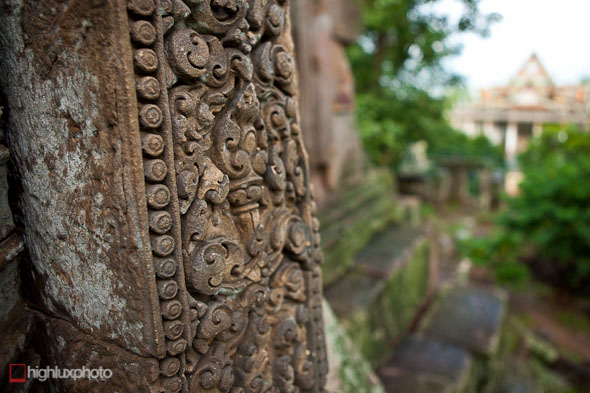 There's some intricate carving to check out…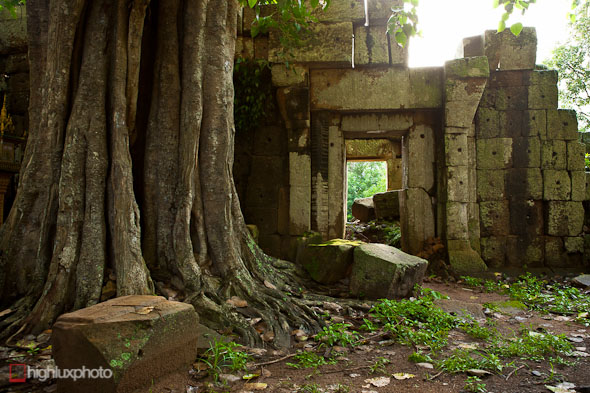 …and passageways to explore.