Day 131: Kampot – Souphi (20m) 107km. North towards Phnom Penh via dirt road 41. Flat
Day 132: Souphi – Phnom Penh (20m) 54km. Flat.
Day 133-136: 4 days sightseeing & waiting for Thai visa in Phnom Penh

After a pretty sifty first couple of days in Cambodia we were itching to get on the road and see a bit of the real country (away from the tourist areas that is). What better way than to head north towards Phnom Penh on 100km of mostly dirt back road?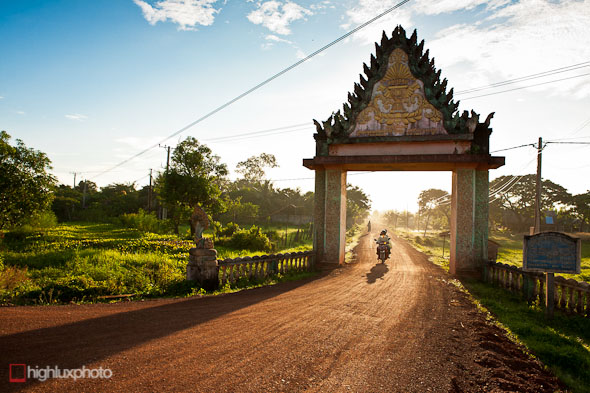 An awesomely clear morning greeted us as we headed out of Kampot bright and early. Being the wet season the daily theme is often heavy grey skies with occasional clearances and afternoon thunderstorms. We've been lucky to have a really good run lately, with little rain – but it's now peak monsoon as we head into Cambodia.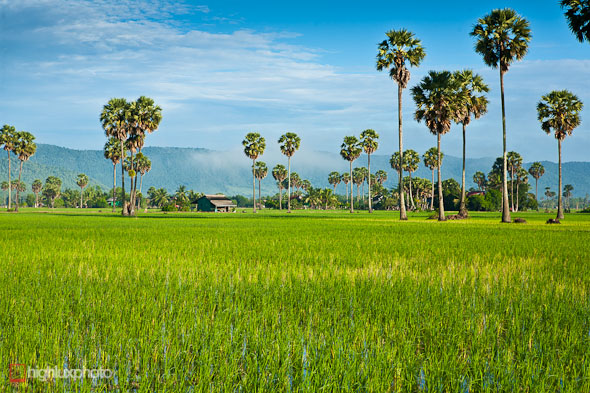 Lofty sugar palms are an iconic feature of the landscape here, conjuring up memories of Dr Suess stories.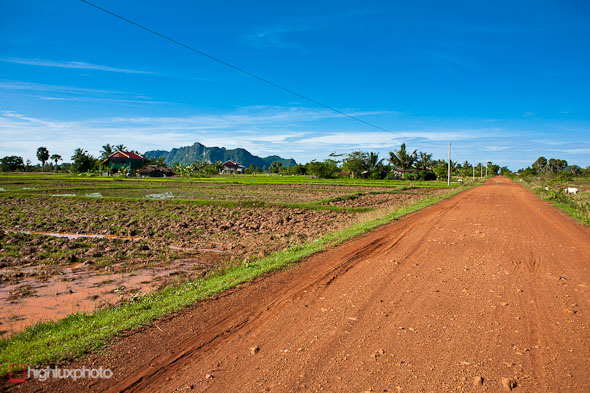 We rode out of Kampot on highway 3 for about 20km and then turned onto highway 41 (which was marked as highway 124 on our Reise map). It's a dead flat, dead straight, dirt road that's mostly trafficked by motorbikes, bicycles and beast-drawn carts and was a way better way to head north on than the busy sealed highway. Like the quieter areas of Vietnam and Laos we turned heads at every village we passed through. Despite being the wet season the road surface was sweet, with just the odd puddle.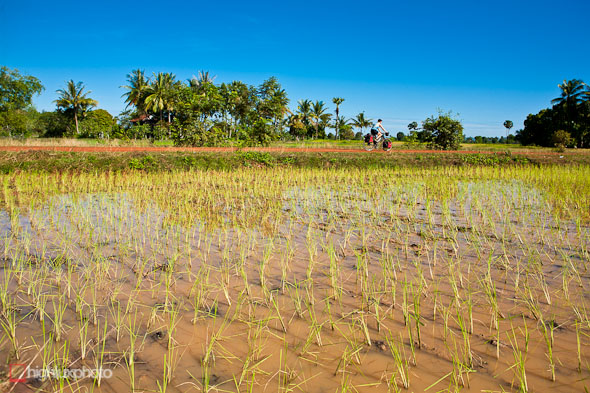 Really nice touring…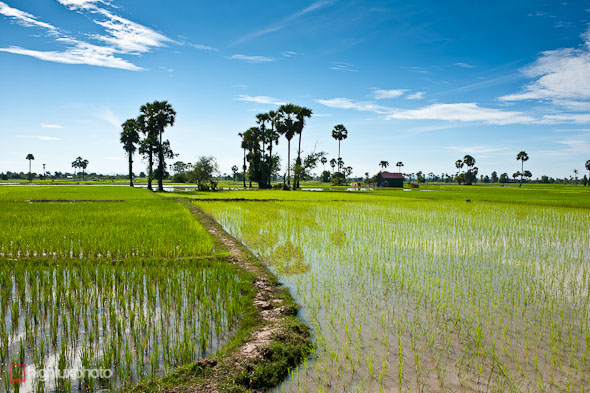 Isolated rural homes nestled among rice paddies and sugar palms.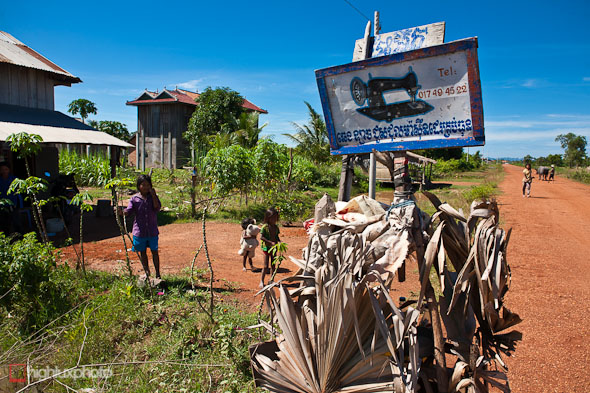 Nice to know there's sewing services readily available in these parts!

We took a siesta at a temple complex in a small village and snoozed away while monks sat around chatting in the sun. It clouded over after a while and after a full tilt downpour we got back on the bikes again. This man was curious as to what we were all about and wandered over to check out us and the bikes. I wondered what stories he had himself; old enough to have been in his twenties during the Khmer Rouge years.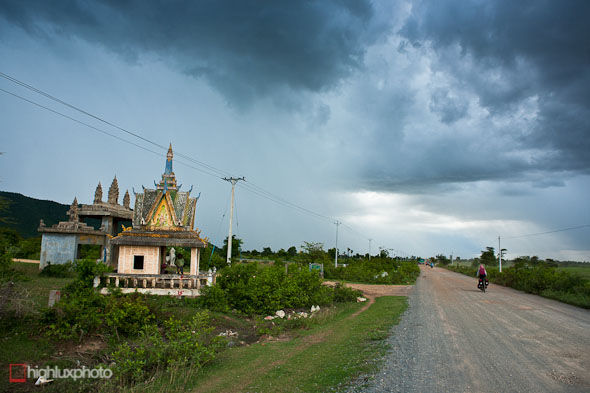 The last couple of hours on the road got very grey though and when more downpours started we exited the dirt and pedalled east towards the highway on a bumpy and flooded road.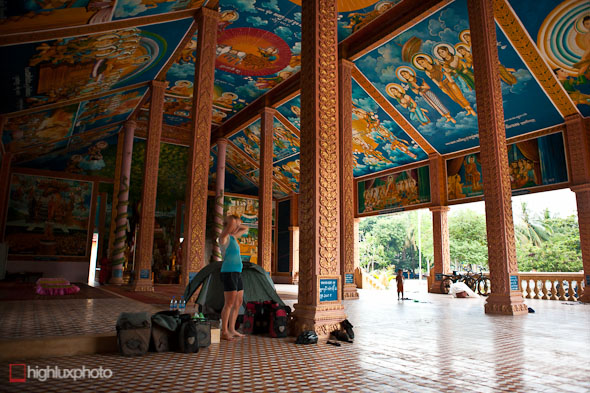 We ended up in Souphi, a small town on the highway. There was no accommodation there, so we cruised into the local wat and mimed a request for a spot to sleep for the night. The monk in charge obliged and let us pitch our tent in one of their temples. After rustling up a feed at one of the shacks in town we returned to find a family had taken refuge there too; their mosquito nets strung out between the pillars.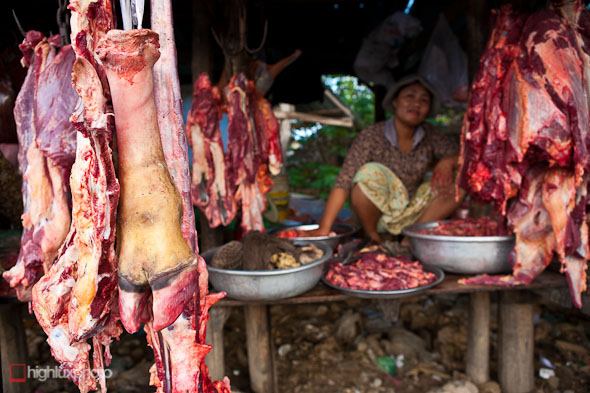 Meat stall in the town of Souphi. Highway 3.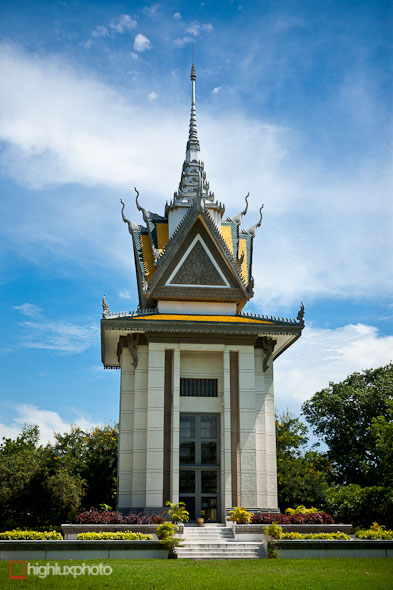 In the morning we rode about 40km towards Phnom Penh and stopped off at the Killing Fields of Choeung Ek.
This Khmer Rouge mass burial site was an former orchard and Chinese graveyard prior to 1975. The Khmer Rouge regime executed about 17,000 people here between 1975 and 1979. After the fall of the reigime mass graves containing 8,895 bodies were discovered – many of the dead former inmates in the Tuol Sleng prison in Phnom Penh (see future post).
Today, Choeung Ek is a memorial, marked by a Buddhist stupa. The stupa has glass sides and is filled with more than 5,000 human skulls.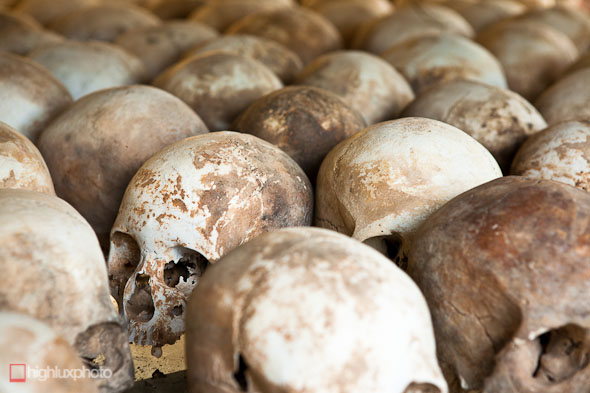 Skulls of Khmer Rouge victims at the Choeung Ek mass grave site.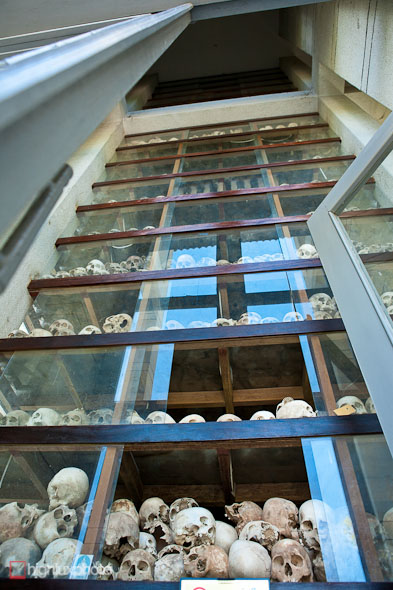 The memorial is filled with an almost incomprehensible amount of skulls, towering above you.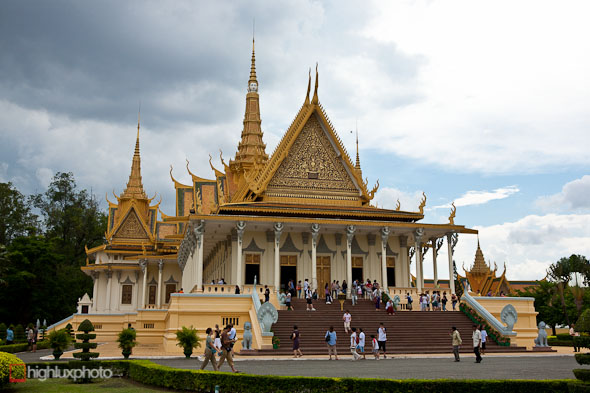 We took a couple of days to check out the Royal Palace, the National Museum and the former Khmer Rouge prison in central Phnom Penh – Tuol Sleng/S21 (see next post). This shot's at the Royal Palace. It was rammed with tourists, but well worth the time to check out.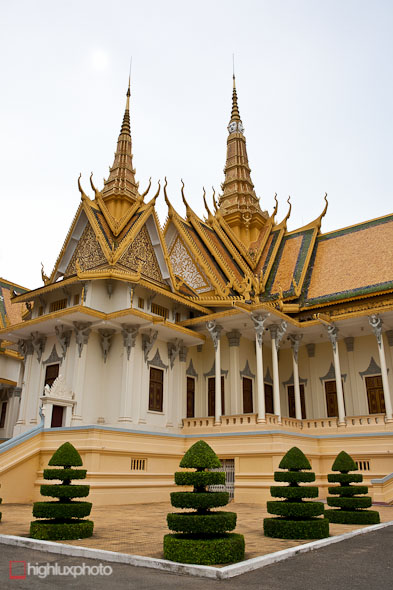 Manicured details…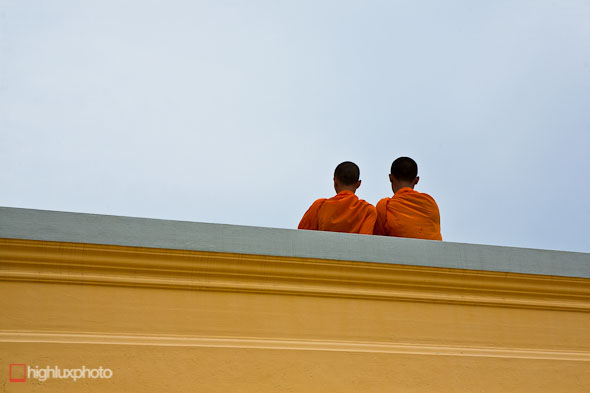 It's a good place for monk spotting too.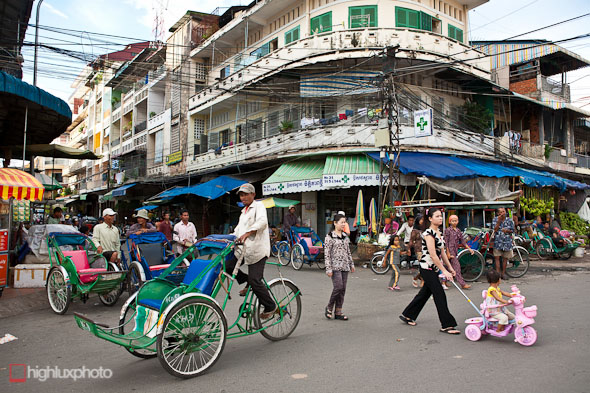 After a morbid morning we were in Phnom Penh by early afternoon and found a cheap hotel (they are plentiful) to hang out in for a few days. We had some sights to see and a Thai visa to arrange. We enjoyed Phnom Penh; it's like a lightweight, more liberal Saigon, with cheaper beer, great food deals and a great mix of old and new. The boom that Cambodia's economy is going through is very apparent here.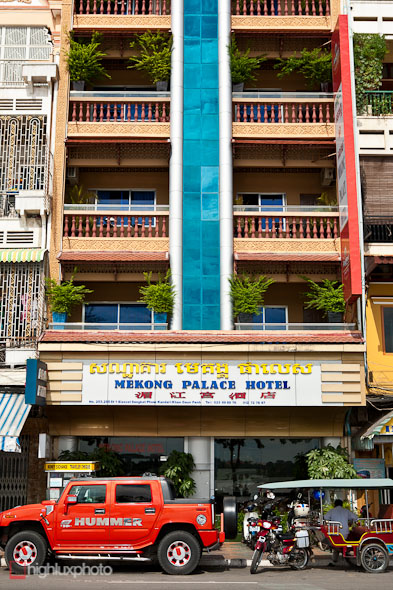 There's even Hummers on the streets…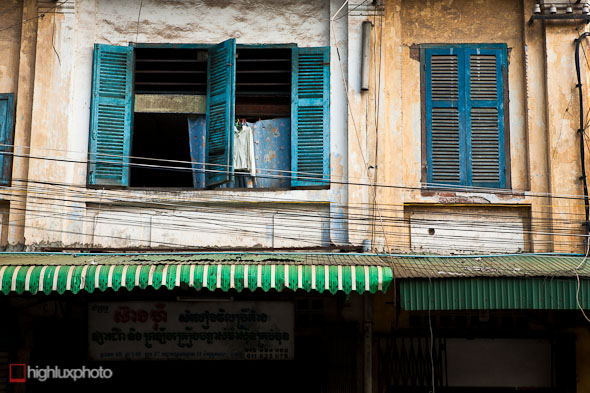 juxtaposed with run down colonial apartments…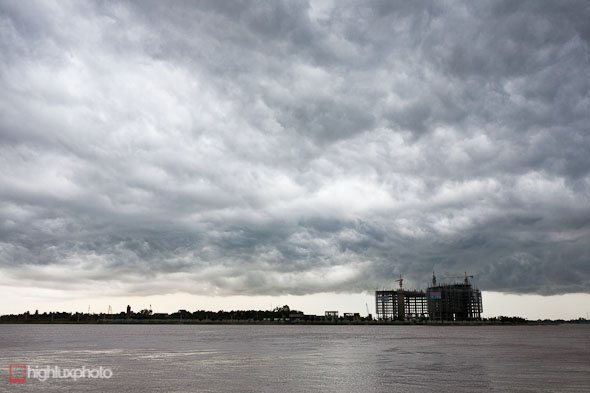 and new apartments being constructed that will change the river bank skyline forever.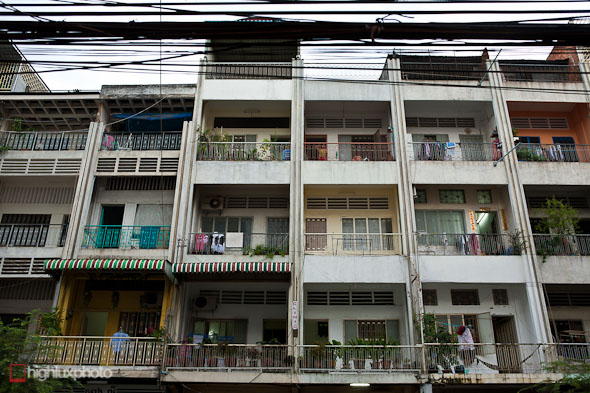 Compact Phnom Penh apartments.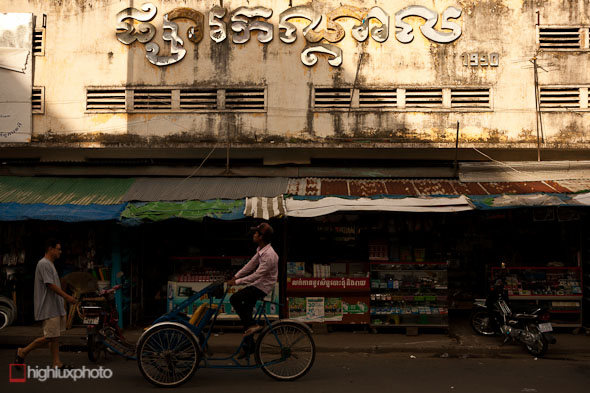 Market building.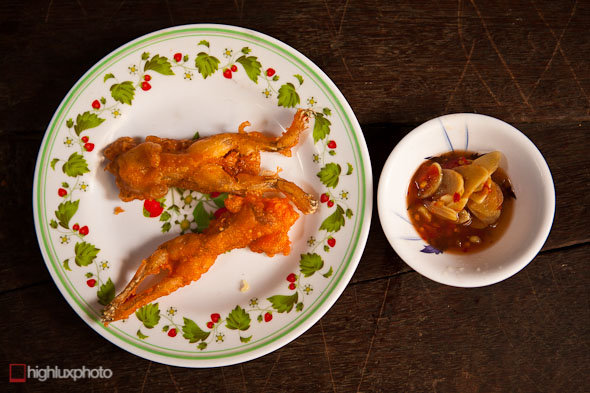 We found the deep fried frogs to be tasty…

Never any hassle finding bananas for breakfast.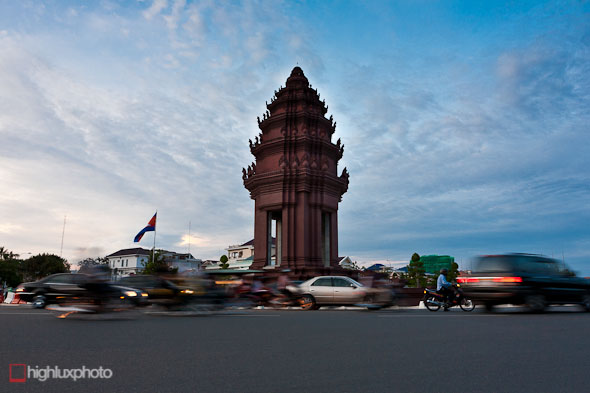 Independence monument in Phnom Penh.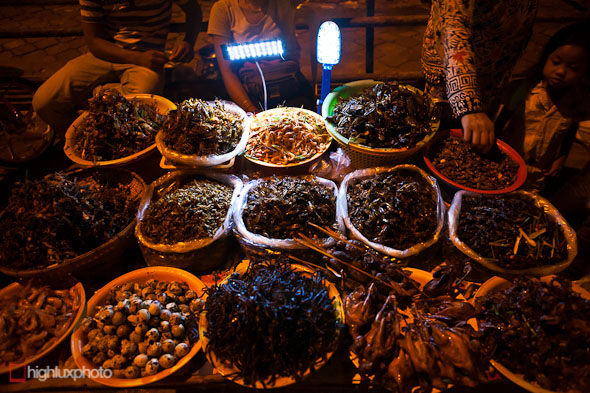 This table contained a cornucopia of exotic treats: tarantula, crickets, grubs, beetles, tiny birds, frogs, snails, unidentifed eggs and various other insects.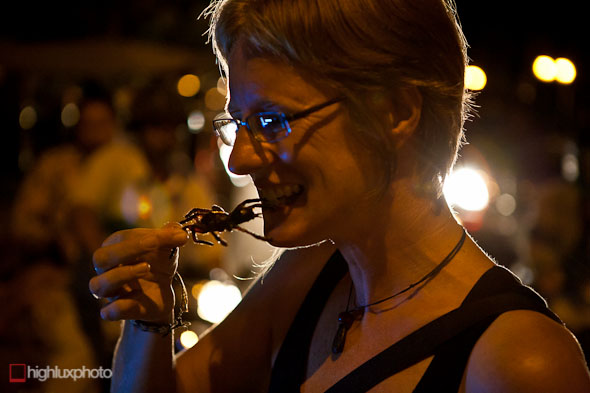 But the tarantulas are quite fibrous…