Day 127: Chau Doc – Ba Chuc (10m) 46km. Canal-side back road. Flat.
Day 128: Ba Chuc – Kep (5m) 105km. Flat. Canal-side back road to Ha Tien/Prek Chak (border crossing).
Day 129: Rest Day in Kep (Cruise out to Rabbit Island).
Day 130: Kep – Kampot (5m) 26km.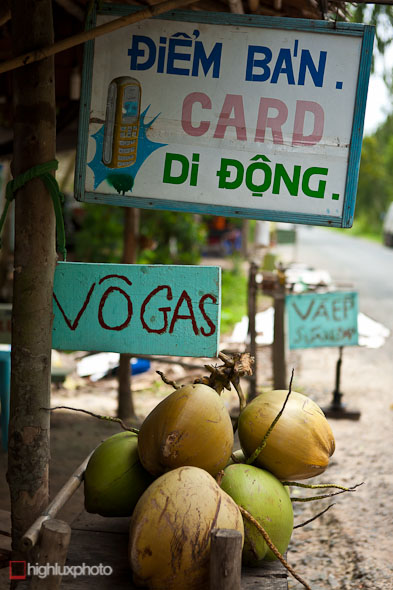 After Katie and Charlotte sailed off up the Mekong, we had nothing left to do but meander towards the Cambodia border, two days away. We'd had a late night saying goodbye (for us) so just made a cruisy afternoon's ride out of the first day, heading for Ba Chuc. Just one more day and we'll be grappling with the fourth language of the trip.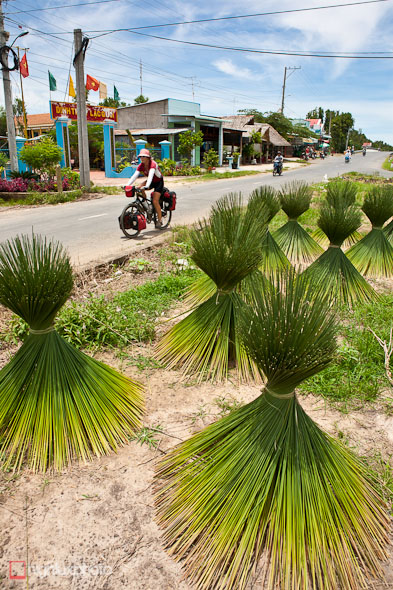 Harvested plants drying, to be made into mats later. From Chau Doc we followed an excellent back road that parallelled a canal for over a hundred kilometres. Small villages, little traffic and generally nice riding.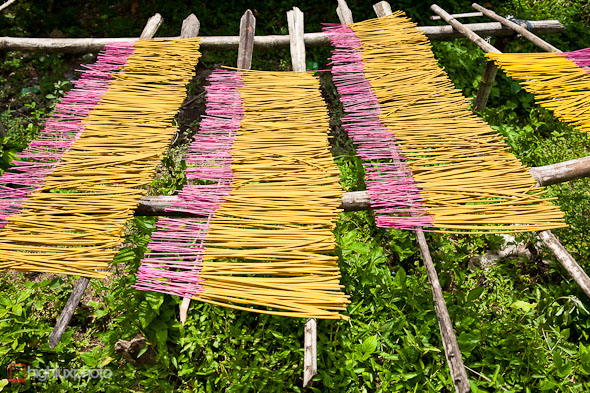 Incense drying outside a small factory. Ba Chuc.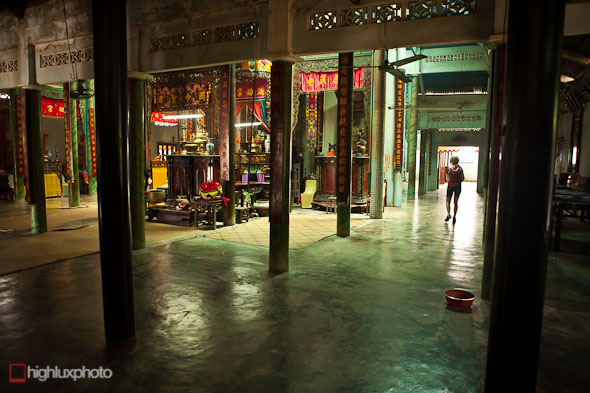 Temple at Ba Chuc. This beautiful village, nestled among granity hills has the tragic distinction of being one of the few Vietnamese towns the Cambodian Khmer Rouge attacked during their cross-border invasions in the late 1970s. Over 3000 people were massacred here. This temple is a pilgrimige site and has a number of buildings, a small (and shocking) photo exhibit, and a memorial full of skeletons.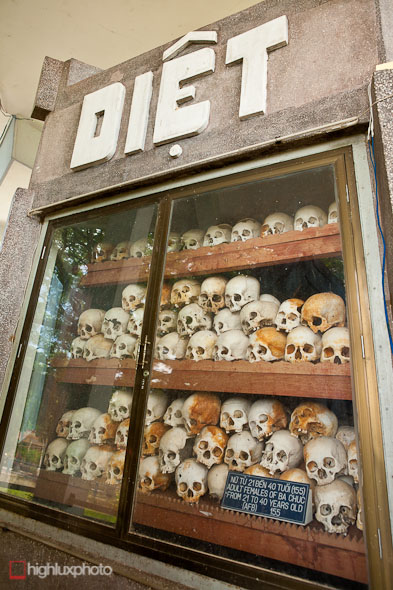 Khmer Rouge massacre memorial at Ba Chuc. Our first taste of what's to come in Cambodia.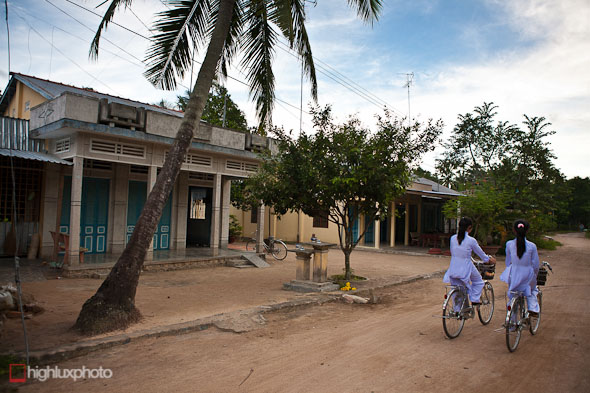 Girls returning home from school in Ba Chuc, dressed in the traditional ao dai garment – which is standard school uniform here too.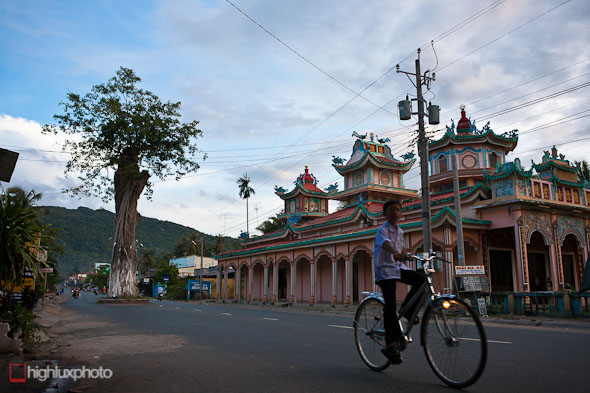 Main street in Ba Chuc.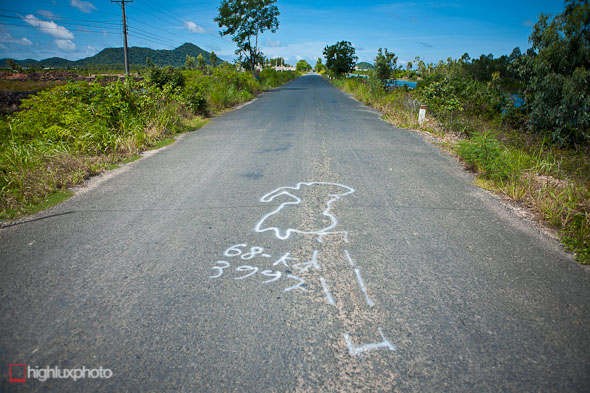 This is an outline of a motorcycle, painted post-accident by the police. We've seen dozens of these every day in Vietnam – pictorial insight into the scale of Vietnam's road accidents. One evening near Hue we saw two motorcycle accidents with unconscious victims prone nearby in the space of 10 minutes.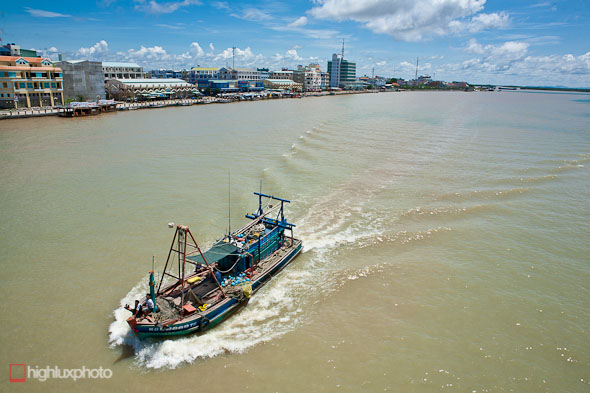 After spending a night in Ba Chuc we were back on the canal road and soon hit the coast at Ha Tien, the Vietnamese border town. Like Ba Chuc, this town was destroyed by the Khmer Rouge in the seventies and is only just bouncing back, with many of the buildings brand new. The border here has not been open long, but it has brought a lot more commerce to the region.
Ha Tien was auspicious not only for the fact that it was the last town before the Cambodia border, but also for the fact that it was the first place someone has genuinely tried to scam us – after making it all the way through Vietnam without being ripped off.
As we entered town on our bikes a very friendly Vietnamese guy rode up to us on his motorbike, introduced himself as a history teacher (in good English) and said he'd like to chat to us and practice his English. This is something that has happened to us many times – in Mexico, Laos and Vietnam, and we're happy to give people a few minutes. The man (I'll call him Mr Ninh) offered to show us a good restaurant – so we followed him a short distance to the market and set about ordering some food and making small talk. He was full of advice about Cambodia, and good to talk to and the conversation eventually came round to money (we needed to get some out and change it to Cambodian riel).
Mr Ninh said he'd show us where the ATM was and even take us to someone who could exchange our dong for riel for a good rate. You may think we were falling for this guy's scheme hook, line and sinker, but exchanging money on the street is pretty normal in this part of the world and we'd done it coming into Laos without any scamming. Mr Ninh was pleasant to talk to, full of questions and seemed like a nice enough bloke.
So after paying for an unusually expensive lunch (maybe Mr Ninh took a cut for bringing tourists to this market eatery) we rode with him to the ATM, then to a dingy corner shop on the end of the town's main street. Mr Ninh took us inside and we asked the shop owner if we could exchange our dong.
'Yes, yes no problem' he said, his wife hovering nearby with a fat purse of cash (In Vietnam, women are the financial controllers). We pulled out our stack of dong, totalled it up, and the shop owner (let's call him Mr Dinh) whipped out his phone and made a calculation. Mr Ninh was peering over his shoulder and exclaimed 'That's a good rate'.
Truth is, we had no idea what the going rate was, as we hadn't checked it beforehand, so we were – stupidly – placing full trust in these guys.
We were given a total and were handed a big wad of riel (which we counted), and walked out into the baking midday sunshine. Mr Ninh then gave us a final Cambodia tip 'At the border, the fee is US$20 only – do not pay any more – it will be a bribe!'. We thanked him for his help, and as I walked to my bike I thought 'I should get this guy's photo'. I pulled out my camera and asked Mr Ninh if I could take a shot. 'Sorry' he says, 'In Vietnam we no like photos'. At that moment the penny dropped, and before I could say another word he hopped on his bike and bolted. After 6 weeks of cycling in Vietnam and photographing people every day, this fellow was the first person, not only to deny me a shot, but to claim that the general attitude towards photos was negative. My bullshit alarm started ringing.
Hana and I looked at each other with a 'Did we just get ripped off' expression, and decided to find an internet shop to check the rate out. Online, we realise we've been scammed US$36. A pretty heavy exchange rate by anyone's standards! It's not a massive sum, but in this part of world is worth 5 nights accommodation.
Braced for a confrontation we biked back to the corner shop and walked inside. Mr Dinh wasn't there, but his wife eyed us somewhat knowingly and got on her mobile. About 5 minutes later Mr Dinh returned to the shop. 'Is there a problem?' he asked. 'Yes' I said, 'What sort of rate have you given us? You've made $36 out of this transaction. Maybe you made a mistake'.
Without further discussion Mr Dinh disappeared out the back for a few minutes, then returned and called someone on his phone (he appeared to be checking the rate). He hung up, and after a few taps on his calculator handed us another $25 in riel. No explanation was offered and, cash handed over, he busied himself in the store again.
Satisfied, but suprised to get our money back so easily, we suggested he be more careful with his calculations next time and walked out to our bikes. At that moment Mr Ninh appeared on his bike, and looking a bit suprised to see us, asked what was up. 'Your friend gave us a VERY bad rate' we said. Mr Ninh then rushed into the shop and exchanged a few words with Dinh (whether this was for show or not we have no idea), and then came back outside and said 'So everything ok now, yes?'
'Yes, we got our money back' we said, and at that he hopped on his bike again and was gone without a word.
We'll make sure we check the going rate next time!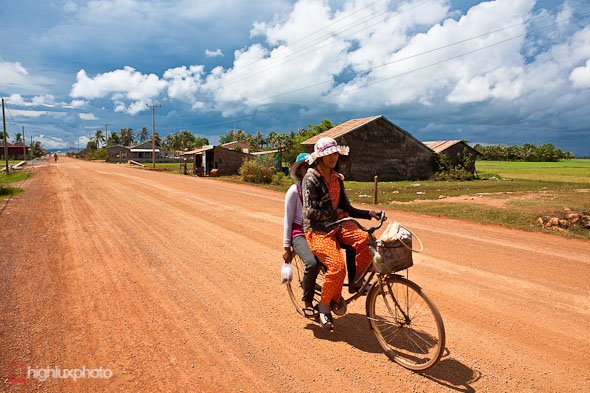 We were feeling quite pleased with ourselves for not totally falling for the Ha Tien Money Exchange Ripoff and pedalled off down the road a few kilometres to the border. While the Vietnam side was an ostentatious concrete monstrosity, the Prek Chak Cambodian border post by contrast was two small huts. The border officer responsible for issuing our visa was asleep in a hammock and it took a few raps on the window to wake him up. Cheekily he charged us $22 for the visas instead of the regulation $20 (we'd even put the $20 notes in our passports when we handed them over) but I wasn't in the mood to argue as he might well find some spurious reason to deny us our visas.
After 30 minutes or so of border formalities we were on our way, and some differences between the two countries were immediately obvious: the road was no longer sealed, the 'housing' of a much lower standard, and the classic conical hat was gone, replaced with the krama – a loosely woven check scarf.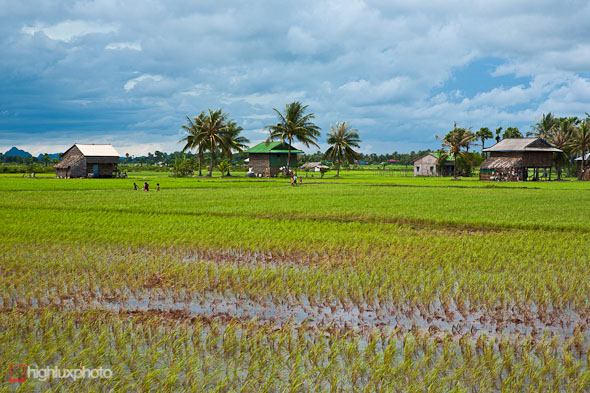 Rice paddies and typical Cambodian houses just over the border from Vietnam.

One conical hat and just about everybody else wearing kramas – the multipurpose Cambodian head scarf, neck scarf, baby sling, sarong and sheet rolled into one.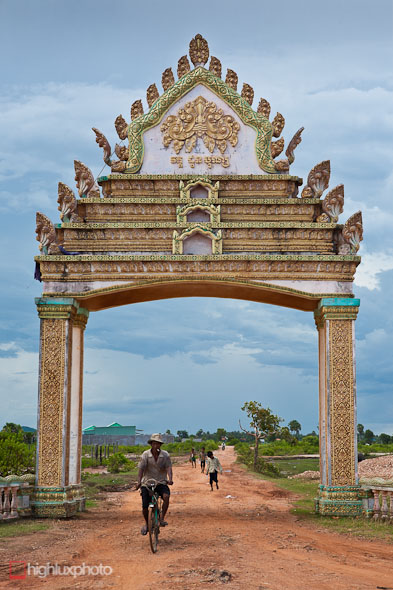 Different villages and hamlets are denoted by these grand entranceways, this one adorned with cobra-like imagery.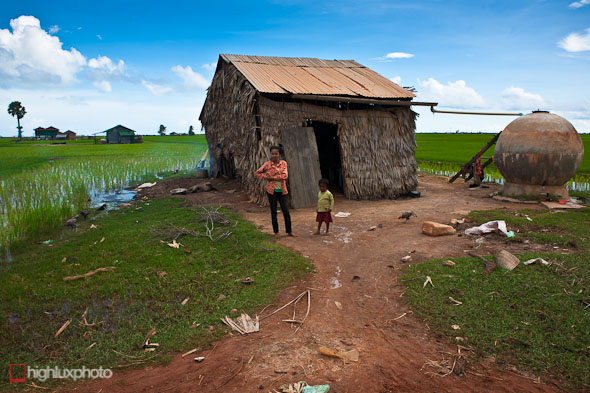 Most of the housing we've seen so far is better than this, but Cambodia is clearly in a whole different situation to Vietnam.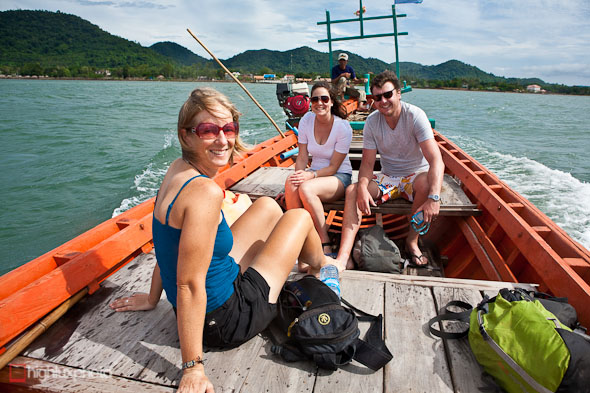 We ended day one in Cambodia in Kep – a tiny town on the country's south coast. It was once a coastal retreat for French colonialists and later a resort town for the Cambodian elite during the 1950s and 60s.
Next day we took a boat (thanks Ally and Andrew for sharing it with us) out to Rabbit Island – a 20 minute trip – to hang out for the day and swim and sunbathe.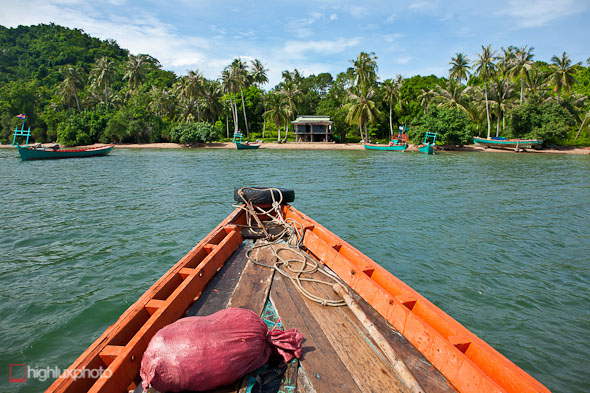 Rabbit Island – an awesome spot to spend a day off the bike.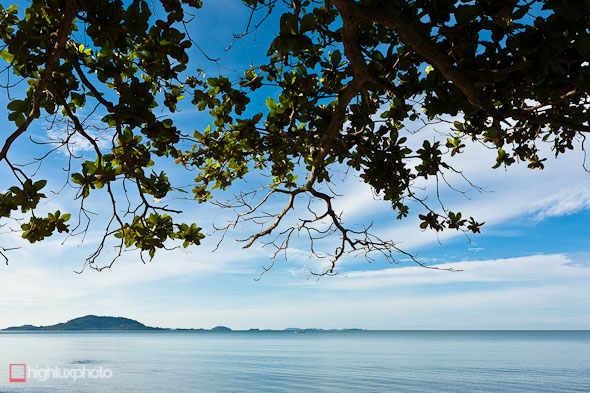 Looking out to Rabbit Island (and other offshore islands) from the Kep township.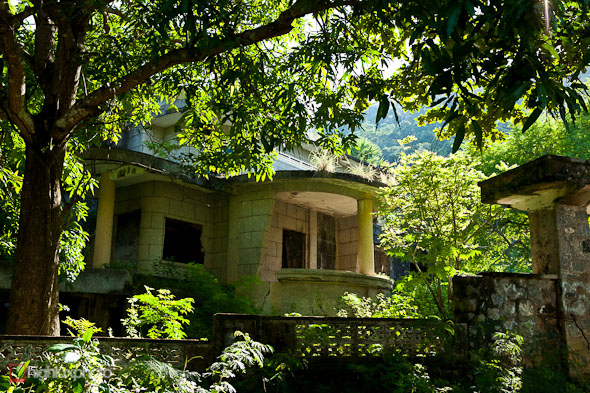 Interestingly, Kep is dotted with once-opulent villas that fell into disrepair during the Khmer Rouge years (1975-79). No doubt each has its own tragic story. Nowadays they're mostly uninhabited and are slowly being reclaimed by the jungle, though squatters and keen investors sometimes keep the vines cut back.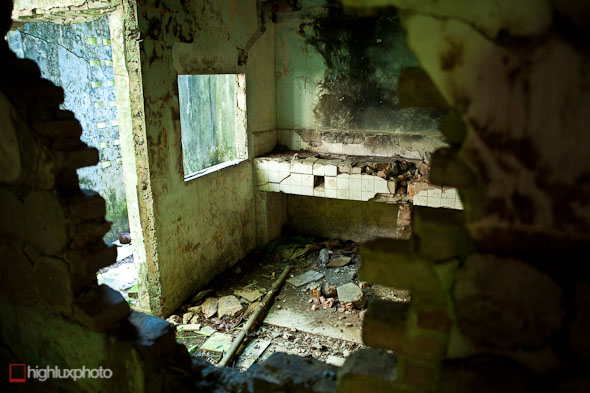 Inside one of the many Kep villas abandoned and looted during the Khmer Rouge.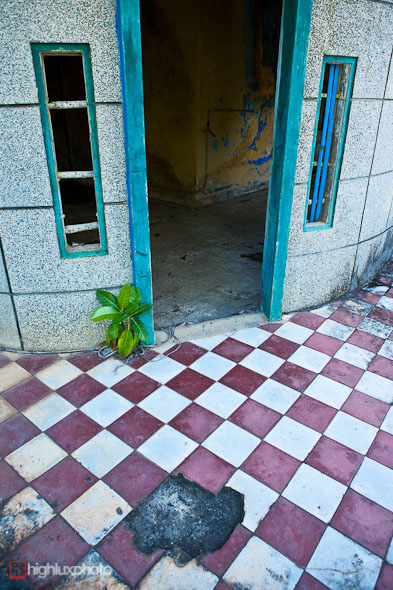 The abandoned villas feature some pretty cool architecture and decor, hallmarks of their 1950s-1960s heyday.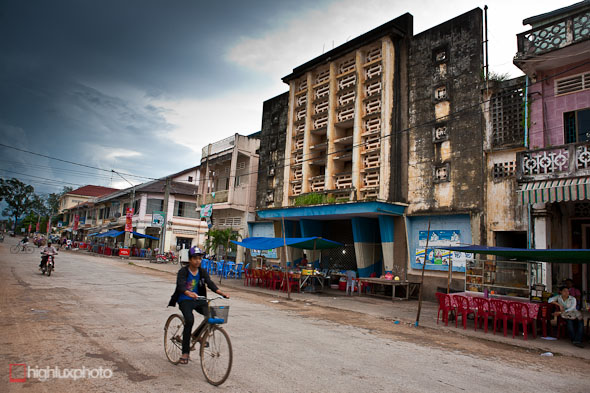 After a day hanging out on Rabbit Island we pedalled a quick 26km to the town of Kampot the next day and hung out there for the afternoon, checking out some of the freaky architecture. Kampot, to quote Hana '… is like a ghost town that was reinhabited only about a year ago.' And that about sums it up! There's a lively and quirky guesthouse and backpacker scene there and it's a popular base for checking out nearby temples and limestone caves.

Old colonial-era French shop houses in Kampot.