Saigon – My Tho (10m) 80km. Flat ride out into the fringes of the Mekong Delta.
My Tho – An Binh Island/Song Tien (10m) 79km. Flat and fast riding through Delta backroads.
An Binh – Cai Rang (10m) 80km. Flat Delta backroads.
Cai Rang – Can Tho (10m) 7km! Relocation and rest day in Can Tho.
Can Tho – Lap Vo (10m) 73km. Scenic and quiet Delta backroads. Flat.
Lap Vo – Chau Doc (10m) 85km. Scenic and narrow Delta backroads and villages. Highlight of the Delta ride and one of the best days in Vietnam.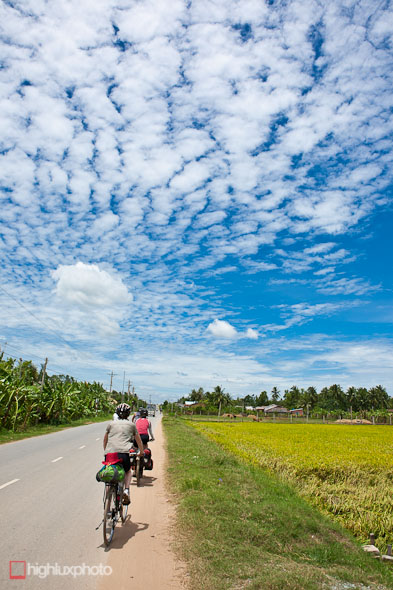 For the final leg of our tour through Southern Vietnam we were joined by Kiwi friends Katie and Charlotte. They were already travelling independently around SE Asia and – thanks to the speed of visa applications these days – made last minute decisions to join us for a week of cycling through the Mekong Delta. We planned to ride together through to Chau Doc (400km from HCMC) where Katie and Charlotte would then hop on a boat through to Phnom Penh and Hana and I would ride our last couple of hundred kilometres in Vietnam to a border further south.
We organised bike and pannier hire for the other two in Saigon/HCMC and did as much research as possible to unlock a route through the maze of roads and waterways that is the Mekong Delta. We wanted to find a route that would get us off the beaten track as much as possible, but one that would not see us getting lost at every turn. In the end, our route was probably about 50/50 busier roads and quieter pathways and we saw some great vignettes of everyday life in the delta. We got lost a few times too, but always worked things out by asking the locals.
After 4 months of touring on our own and with very little social contact it was awesome to have a couple of friends along for a few days: people to share the drafting, the food and more than a few laughs with. Thanks Katie and Charlotte!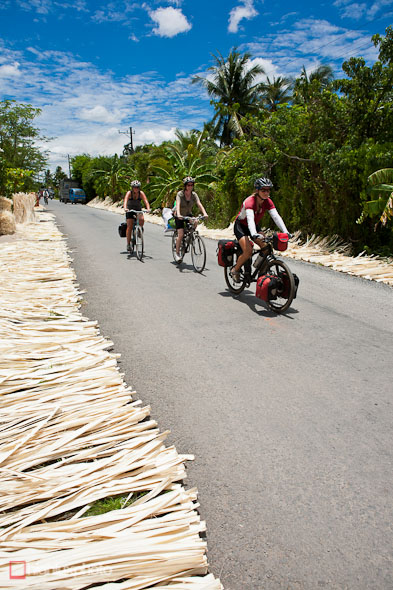 Out of Saigon/HCMC we followed highway 1A as far as Tan An (about 60km out of the city) and then deviated onto quieter back roads. Highway 1A wasn't too bad traffic-wise, and we made good time despite dodging trucks, motorbikes and potholes, but it was whole lot more pleasant on the back roads. We'd sussed out a route on Google Maps, but on the ground it turned out to be pretty hard to follow due to roads appearing that weren't in Google's database and a total lack of signposting. We made it to Tan An with only one short backtrack and some cool local industry in the way of hat weaving. Drying on the side of the road here are palm leaves, waiting to be turned into these …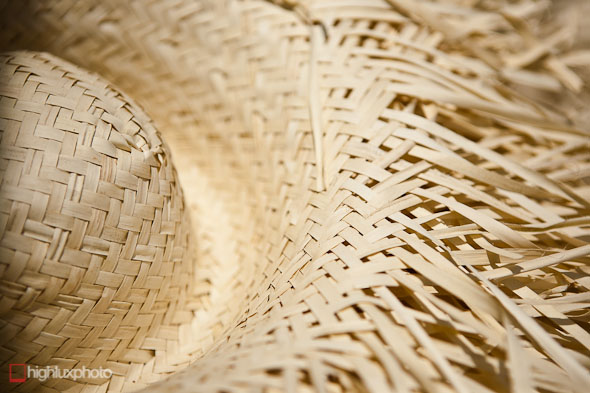 Stacks of them!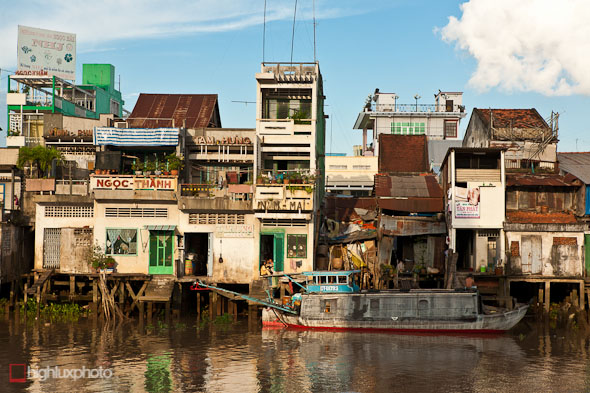 Stilt village in My Tho, our overnight stop.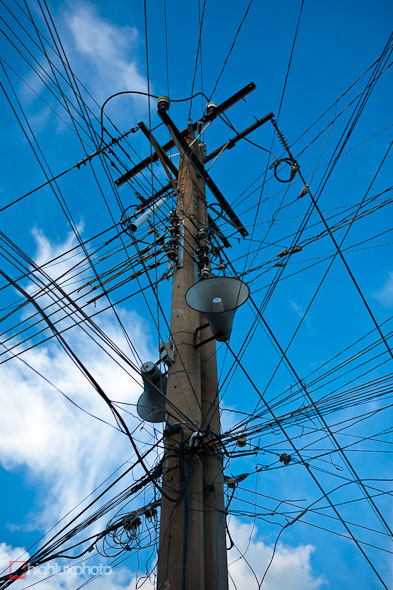 A ubiquitous sight in Vietnam is the village tannoy – a kind of communist icon I suppose. Most commonly heard broadcasting national radio – with a good measure of white noise in the mix – around dawn and dusk.

Old men hanging out in their PJs on the streets of My Tho.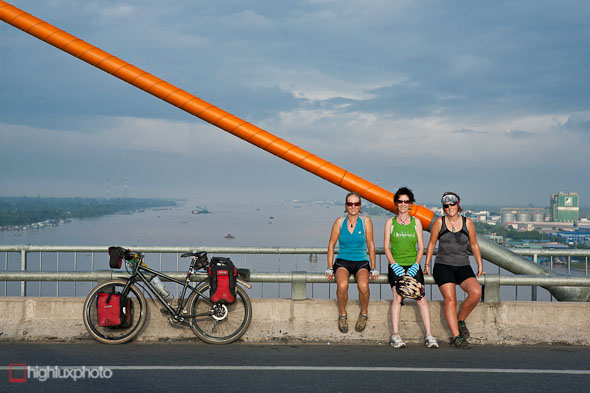 Next morning we rode over as close as you can get to a mountain on the pancake-flat Mekong Delta – the new bridge linking the island of Ben Tre to the mainland. Many of the Delta's 'segments' are now joined in this way and only a few years ago were accessed by ferry only.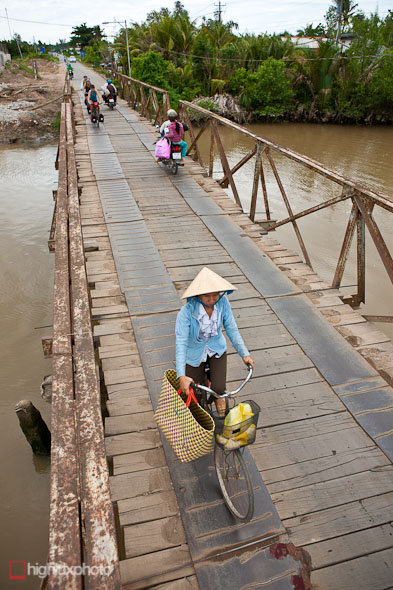 There's still plenty of rustic one-lane bridges to be crossed too though.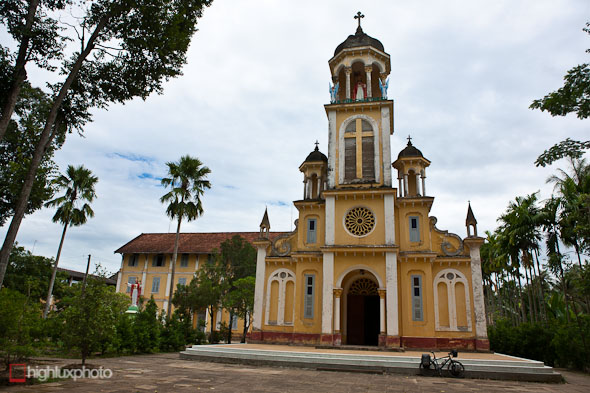 We saw a few strongholds of Catholicism in the highlands (only 8% of the population is Christian, most of the rest being Buddhist), but one of the finest churches we saw was this one in Ben Tre province. Katie revealed yet another of her many talents when she started to chat to the pastor in fluent French.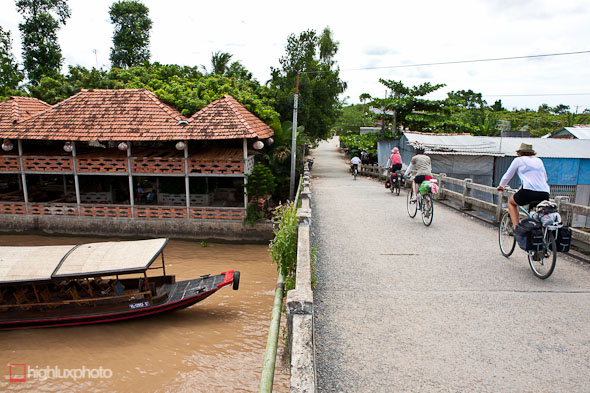 We spent the second night on An Binh island, where we'd made a (very rare for us) booking at a 'homestay'. It turned out to not be a homestay at all, but had basic bungalow huts set among the mangroves and fruit trees and some great food and hospitality by the staff.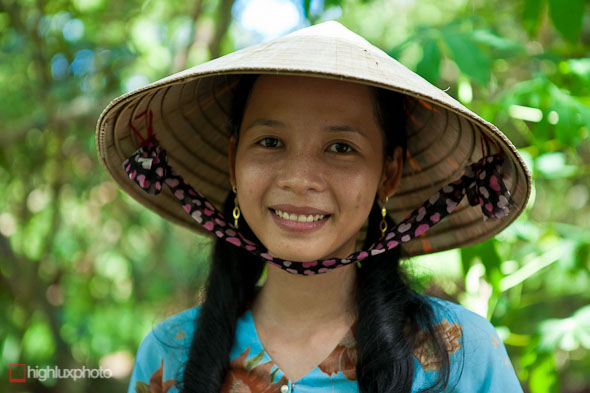 Vietnamese girl at the homestay on An Binh island.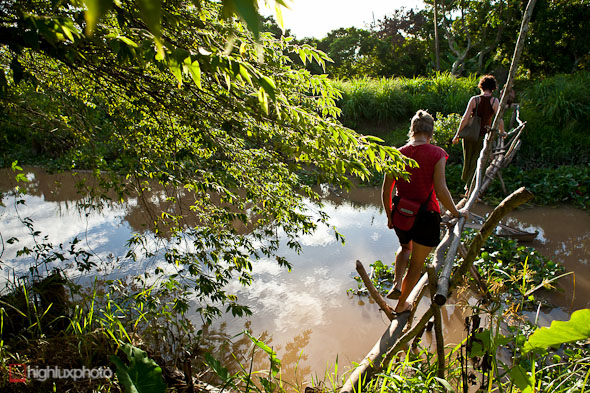 We spent a couple of hours in the evening wandering around the mangroves, crossing rickety bridges and checking out the local lifestyle.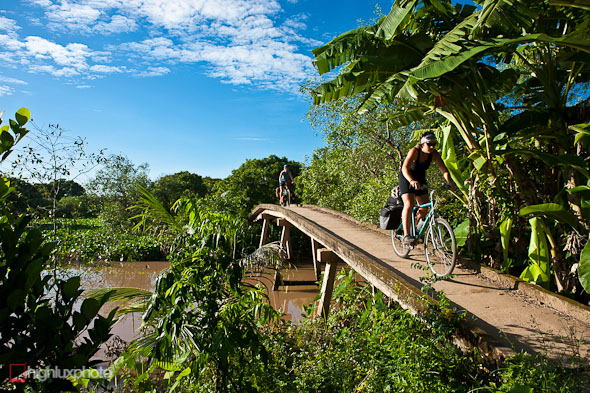 Next morning we biked back out from An Binh island and over to the ferry crossing that would take us over to Vinh Long.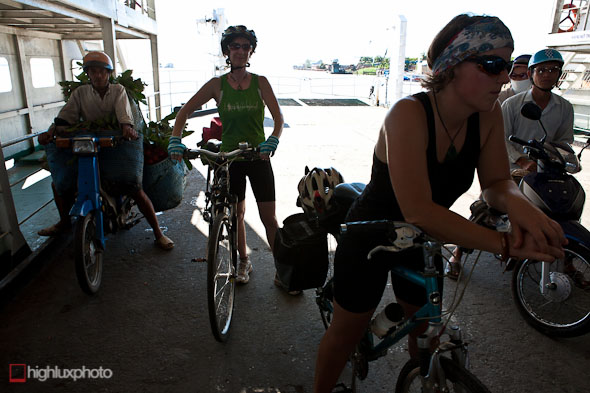 Vinh Long ferry crossing. Only 6 cents for the 10 minute trip!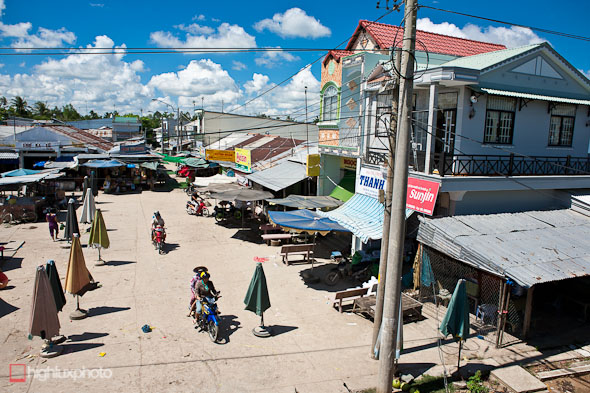 Back on the road we headed across the island towards Tra On, passing small villages on the way …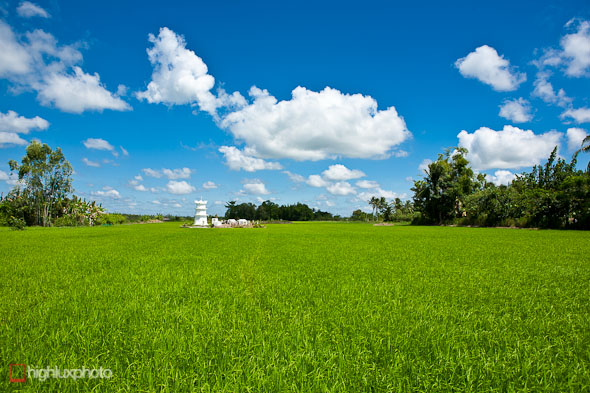 … and endless rice paddies. About 80% of Vietnam's rice is grown on the Delta.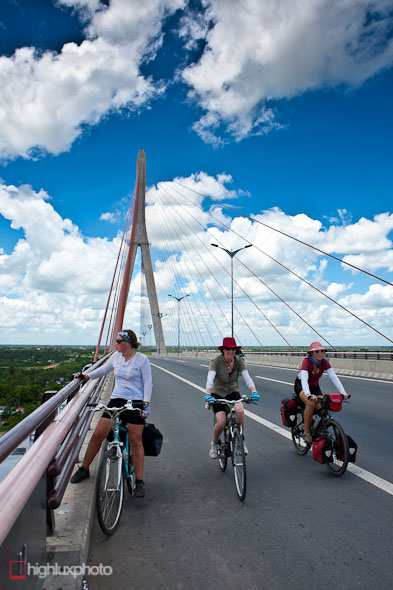 Headed for Can Tho, we had to cross yet another massive modern bridge. Quite incongruous among a flat landscape of rice paddies, fish farms, rivers and canals.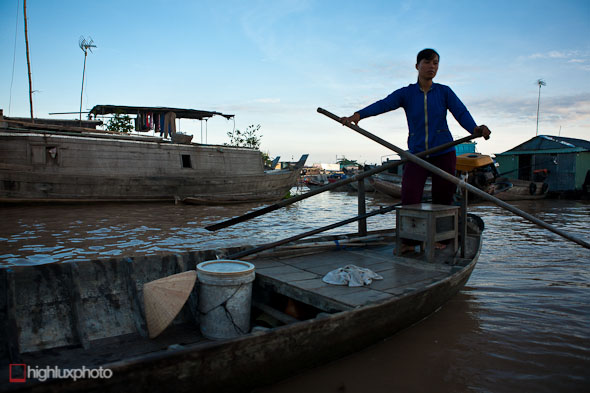 A must see for many tourists to the Delta is its famous floating markets. We spent the night in Cai Rang (which didn't have whole lot going for it) to get an early start for checking out the market there. Many tourists base themselves in Can Tho for this and pay a premium for river tours to the market about an hour upstream. We opted for the budget option instead and hired a leaky boat (plus pilot) in Cai Rang itself. I was kept quite busy bailing it as we puttered around the river, weaving in and out of the market boats and plush tourist vessels.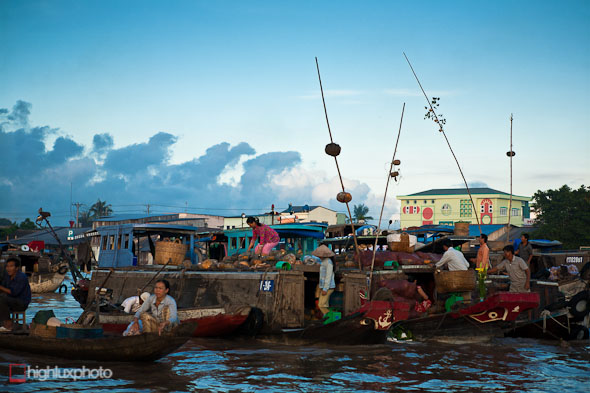 We found the market a bit underwhelming on the whole though. It was Sunday and there was not as much going on as we expected. Still cool to check out the totally riverine existence these people live though. The bamboo poles are used to advertise each particular product these merchants sell.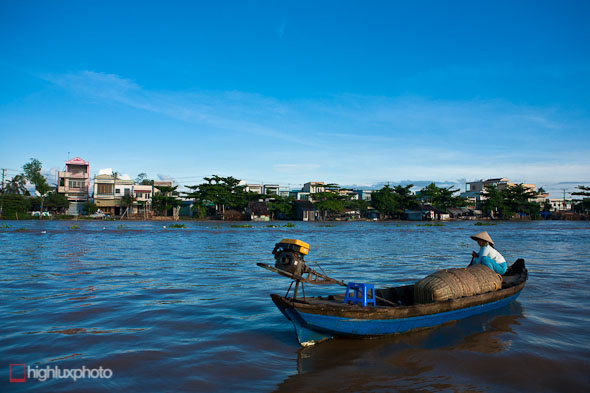 Early morning on the river at Cai Rang.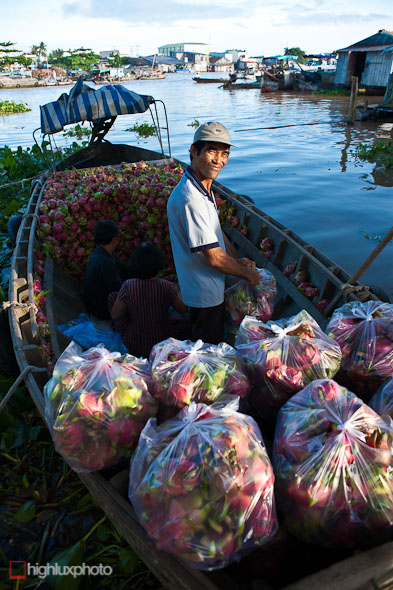 Early morning on the river at Cai Rang.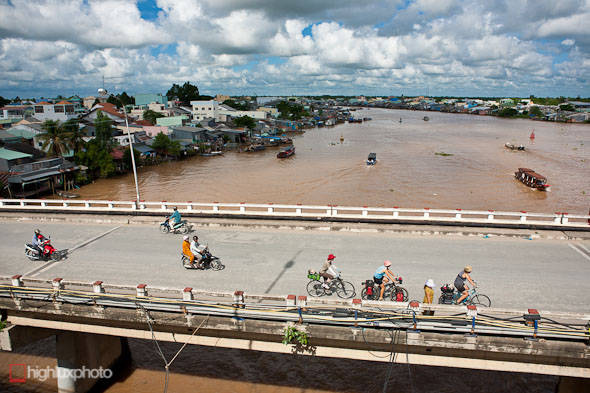 We decided on a transitional stage that day and after the market pedalled an epic 7km into the city of Can Tho.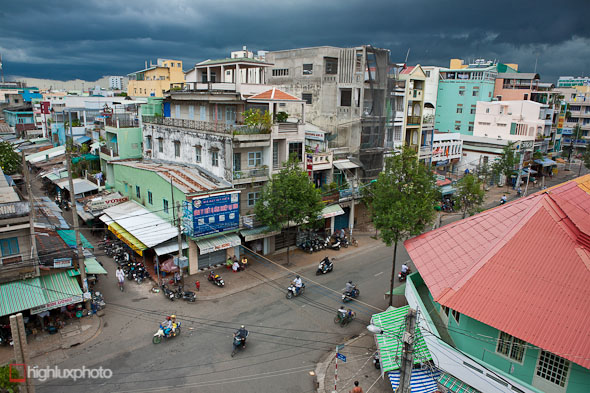 Some towns have it and some don't. I'm not averse to dusty dead-end places in the middle of nowhere, in fact; I love them. Cai Rang had little to hold our interest though and it was good to see the contrast in Can Tho: a bustling street market scene, hotels with character and a quirky mix of architecture.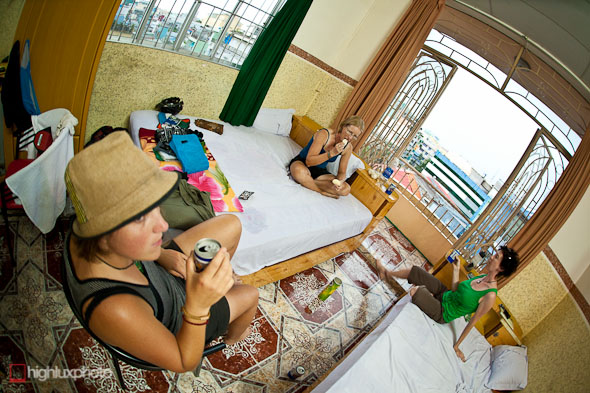 A great place to while away the afternoon with beer and chips.

The following morning we were back over the epic bridge to Vinh Long and heading north west towards Lap Vo and eventually Chau Doc – two day's ride away.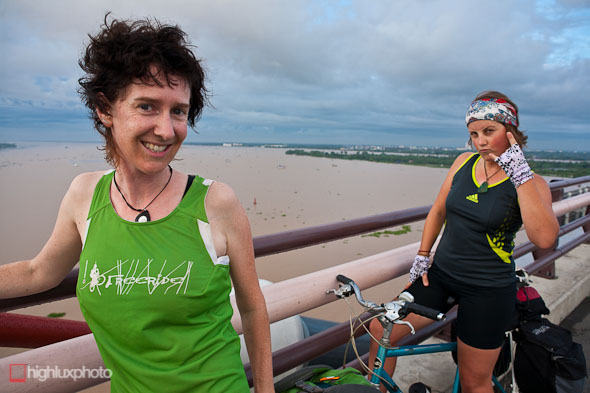 Katie and Charlotte. Awesome company for seven days on the Delta.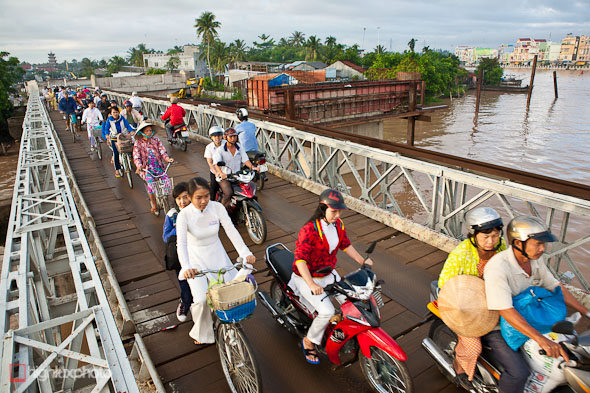 We hit the first village of the day during morning rush hour (6am) and got to check out some very real everyday life on Vietnam's roads. Few tourists pass this way.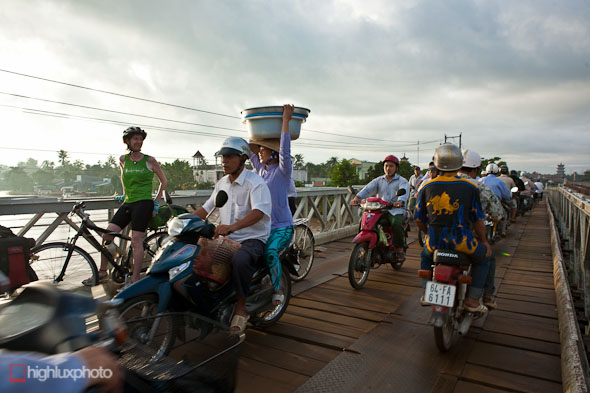 As per usual they stared at us as much as we stared at them.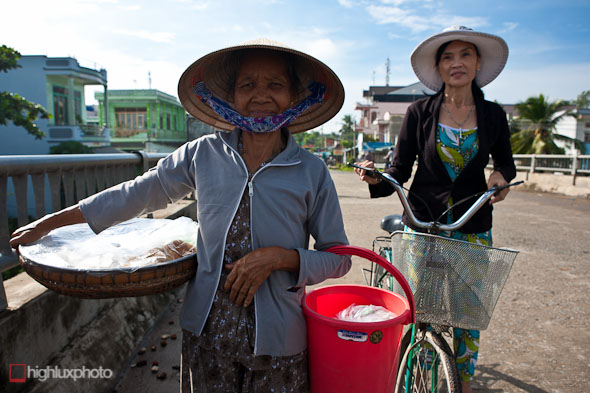 In the next village these two ladies approached me and insisted I take their photos!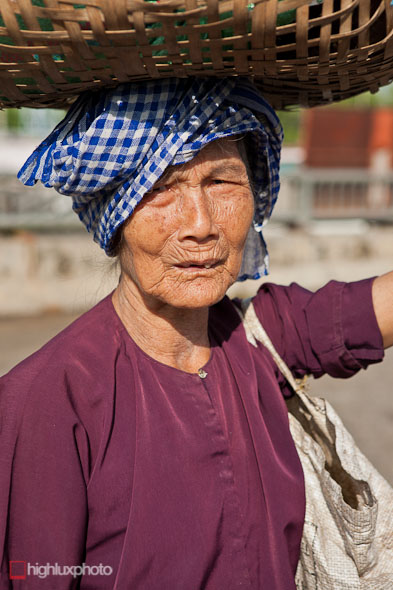 Lot of great characters around in these parts and they were amazed to see a guy with three wives cruising down their roads on bicycles.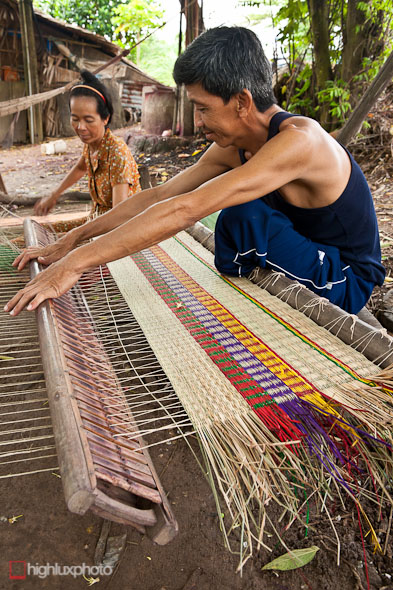 One village was full of weavers making mats. This husband and wife team working away by hand …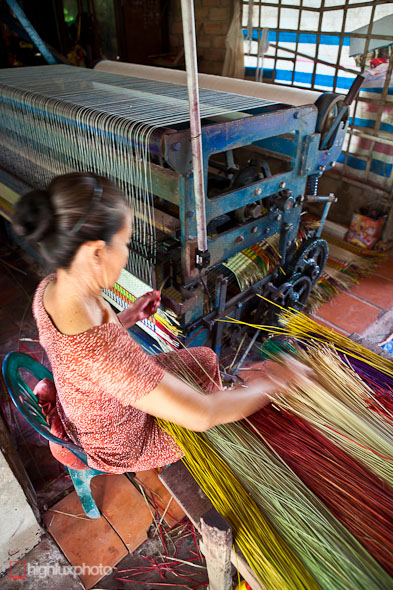 … and this woman doing it the mechanical way.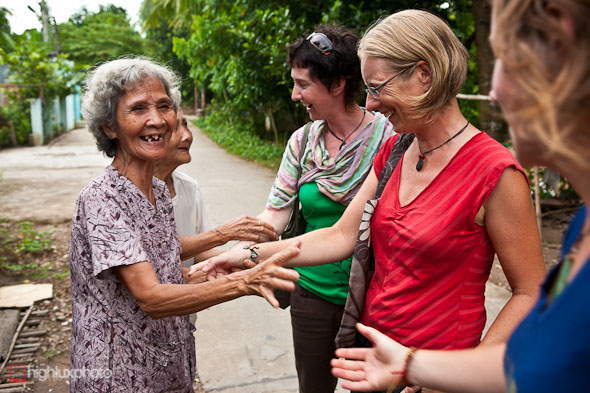 Lap Vo, where we ended the day is one those dusty dead end towns that does hold interest, but we weren't expecting to get treated like royalty when we went for our evening wander along the canals. Passing one house, these two old ladies rushed out and seemed ecstatic about our presence – shaking hands endlessly and touching the girl's faces.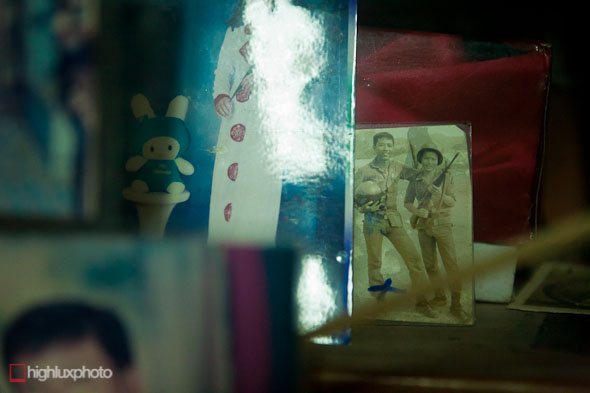 We were invited inside and one of the women proudly showed us her family photos, pointing out one shot in particular of her in South Vietnamese Army uniform and holding an M-16. The smiling man standing beside her, her husand. I suppose she hasn't seen a lot of white people since the Americans withdrew in 1972.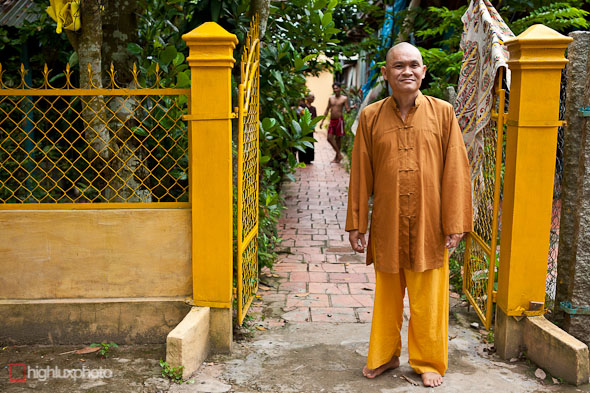 Not much further down the road this monk ushered us into his small temple for a prayer session and a feast of biscuits and dragonfruit.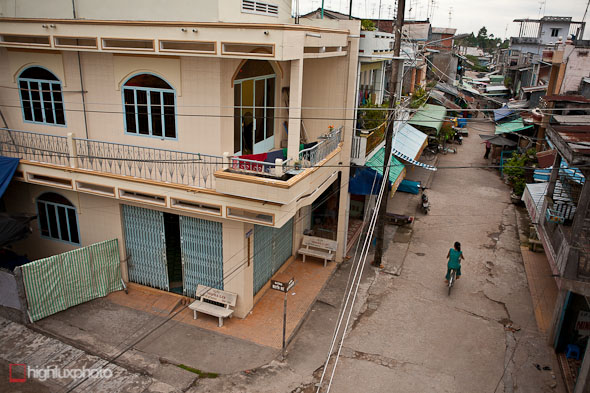 Streets of Lap Vo.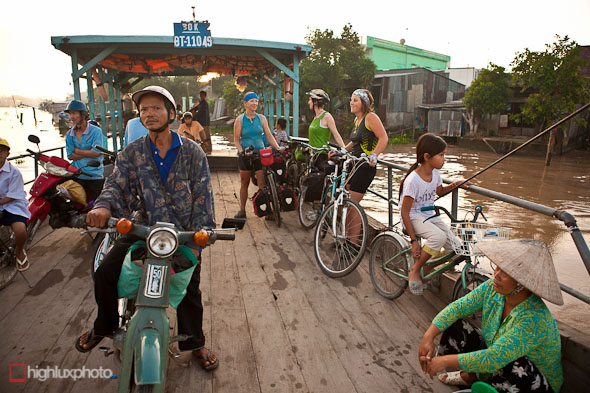 Ferry crossing near Lap Vo the following morning.

Just one of those totally random scenes you sometimes see while cycle touring.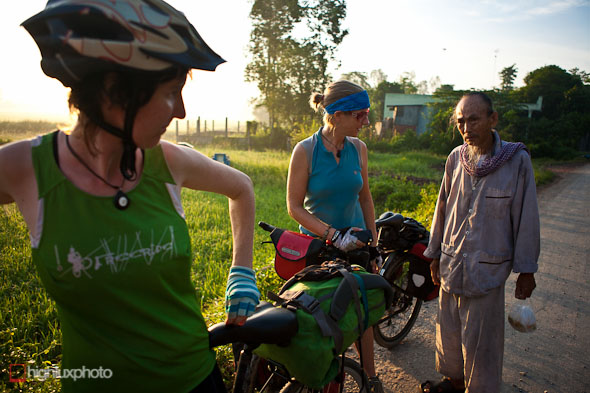 This old man was very interested to check us out and looked us and the bikes up and down while nattering away in Vietnamese – breaking into laughter periodically as he realised we had no idea what he was saying.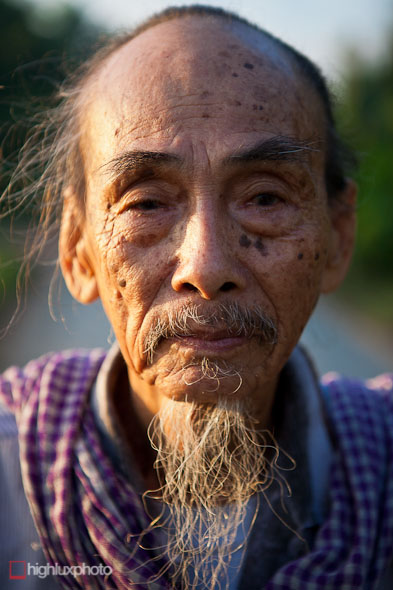 Bet he had some stories though …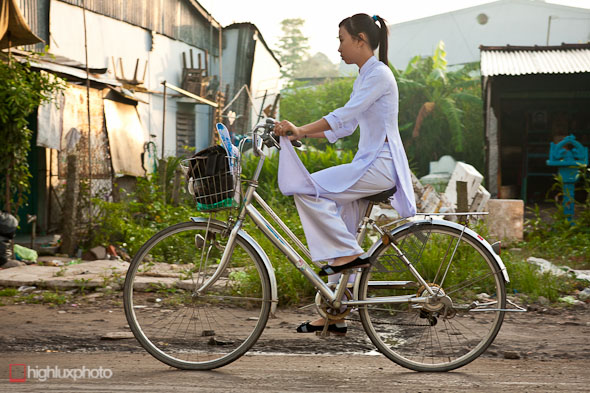 A two wheeled world. This school girl wears an ao dai – a traditional Vietnamese outfit.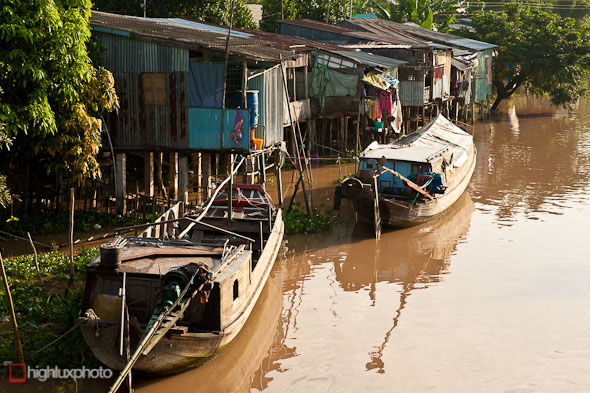 Fishing boats and stilt houses.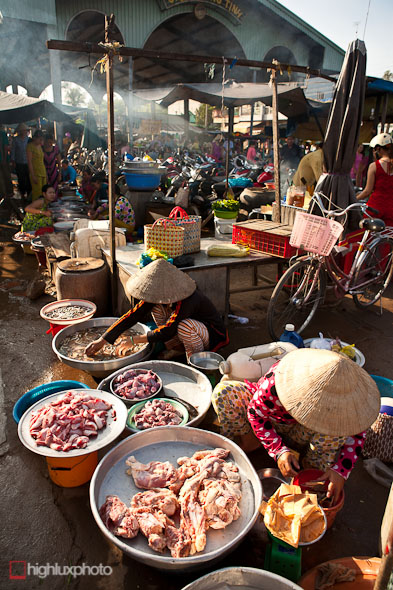 Market scene in An Giang province.

Fabric trader.

Another awesomely friendly local.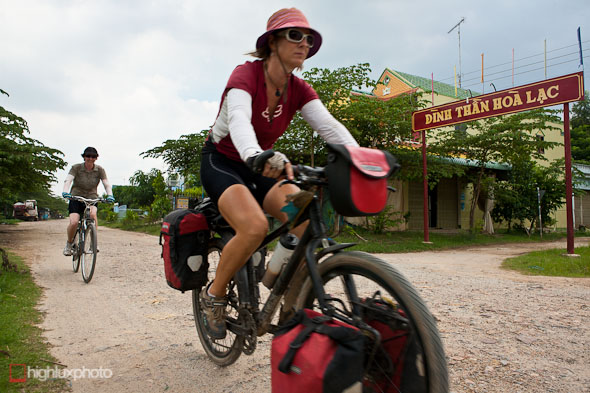 We got on some really good back roads as we edged along canals and rivers towards Chau Doc.

Passing though Cham minority villages …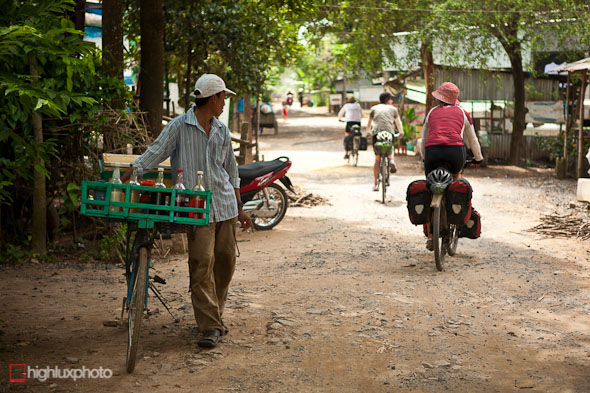 and always catching the gaze of bewildered locals …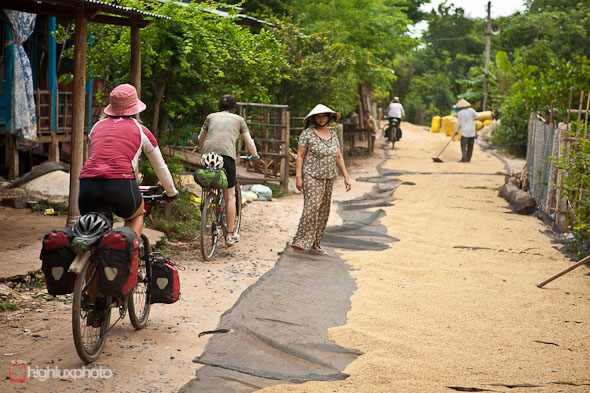 When we arrived in Yunnan three months ago rice was just being planted. Now as we arrive in more southern climes it's the midst of the harvest and rice is frequently scattered on the roadside to dry before being dehusked.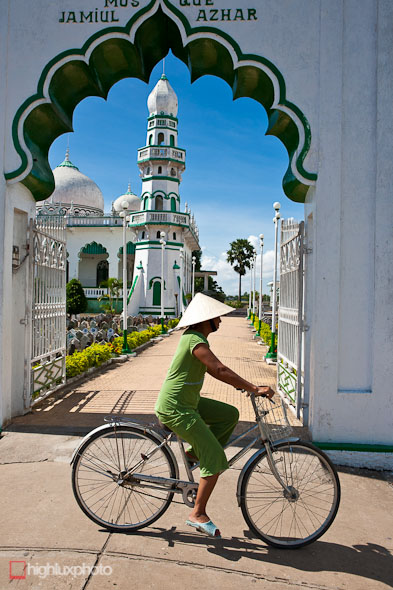 Most of Vietnam's Cham minority people are Hindu, but in this region – which was at one time part of Cambodia – they are Muslim. Hence this amazing mosque which was quite a constrast to the Buddhist pagodas and Catholic churches we'd seen.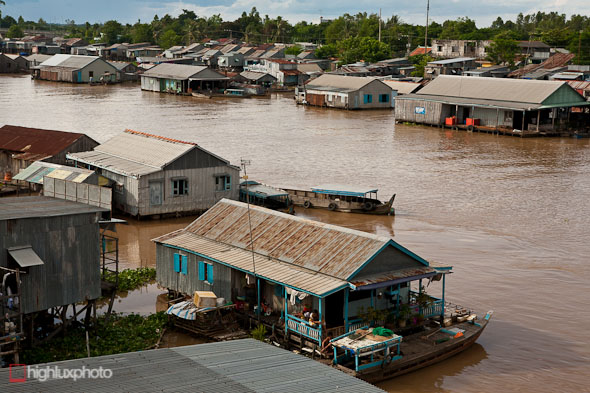 Our trip with Katie and Charlotte ended in Chau Doc, famous for its floating villages. After a fun 400km of exploring in the Delta they were headed for Cambodia via boat and we headed towards Ha Tien on the coast – a couple of day's ride away.