Mui Ne – La Gi (10m) 91km. Rolling and flat ride mostly along coastline backroads.
La Gi – Ba Ria (20m) 111km. Rolling and flat along coastline and coastal plain (slept in town 14km past Ba Ria)
Ba Ria – Saigon/Ho Chi Minh City (20m) 80km. Rolling and busy roads into the heart of the city.
(5 Days) R&R in Saigon
Our plan from Mui Ne was to ride further west towards Saigon, hugging the coast on a series of minor roads before heading inland to Saigon/HCMC where we were planning to hang out for a few days, sightseeing and waiting for two Kiwi friends Katie and Charlotte – who would be joining us on the Mekong Delta for a few days – to join us.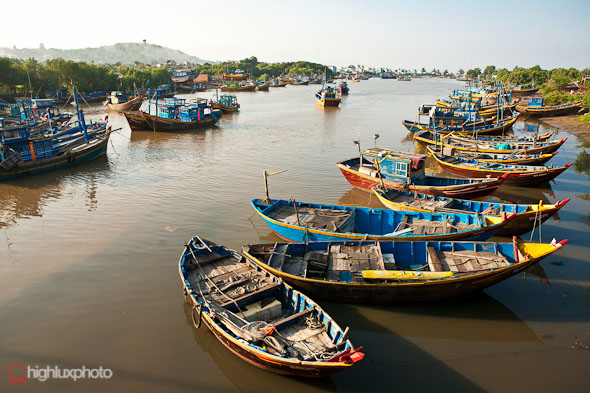 Shortly out of Mui Ne we passed through the fishing village of Phan Thiet. There's a pretty standard paint scheme for Vietnamese fishing boats!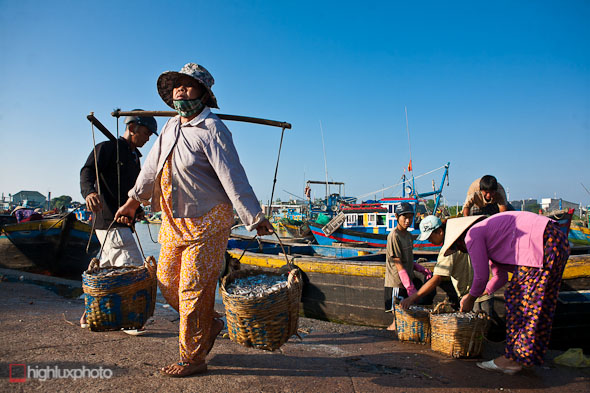 The scene at Phan Thiet's port was in full swing – boats unloading their catches and people sorting net-loads by fish type. It was a stinky, sweaty, bustling place as people worked fast to get catches and purchases off to local markets.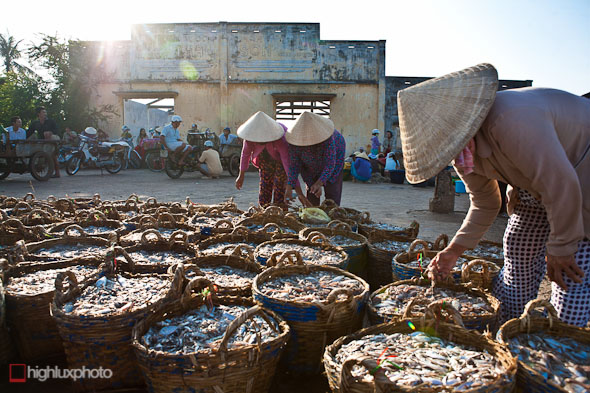 Sorting out thousands of tiny fish.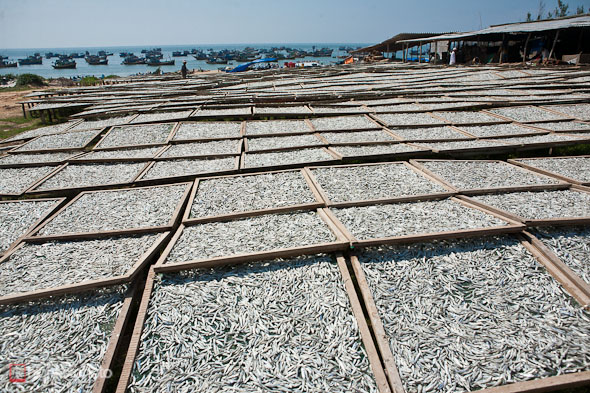 Later in the morning we were cruising along quiet coastal roads and happened upon a giant open air fish processing operation. These tiny fish were being cooked by some sort of steamer and then being carried out in huge stacks to be left to dry out in the sun. Possibly to be made into fish sauce – we weren't sure…
Offshore a huge flotilla of fishing boats bobbed in the sea.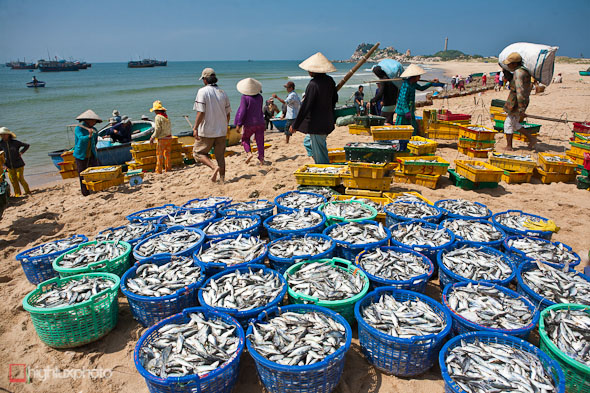 On the beach furious activity was taking place as people laboured unloading fish from boats, moving crates about and sorting the day's catch. It was stiflingly hot. Those on breaks were sitting under the shade of tarpaulins drinking ice tea and coffee while a soundsystem played traditional vietnamese music at a volume that could be heard 500m down the beach. The scene had a timeless, almost medieval feel to it, and I guess in a way what we were witnessing were practices little changed in hundreds of years.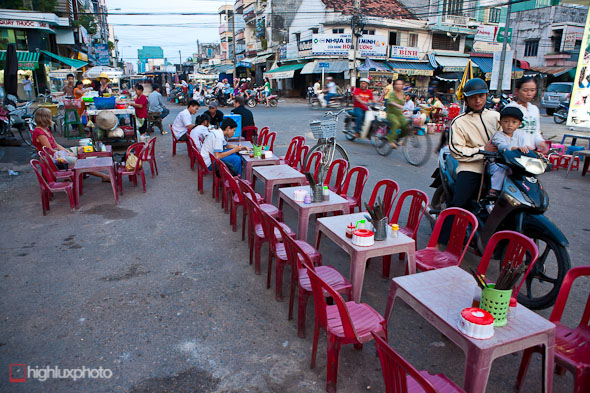 We ended the day in the bustling river side town of La Gi. Another place pretty much dominated by its fishing port.
One constant in Vietnam is transience. Like many eateries, this street restaurant appeared from nowhere around dusk, served people food for a few hours and by midnight was packed away on a cart – ready for the following evening. In its place; a cart selling banh mi (filled baguettes). This sort of scene is repeated in every town and village we have passed through.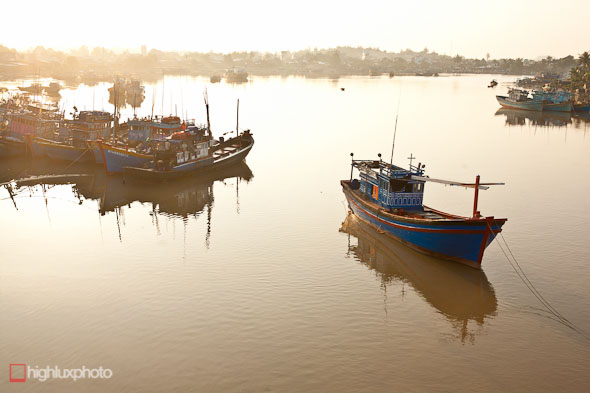 More fishing boats, these ones on the river at La Gi.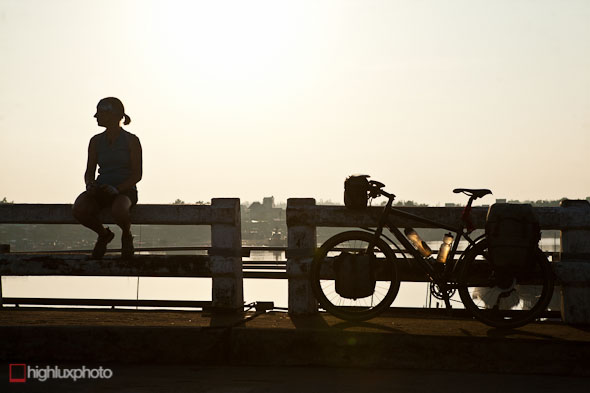 Dawn on the La Gi bridge.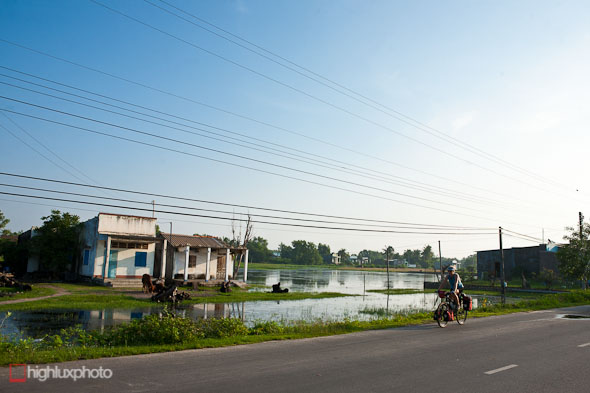 Flooded coastal plains and rice paddies outside La Gi.

Dogs destined for the dinner table.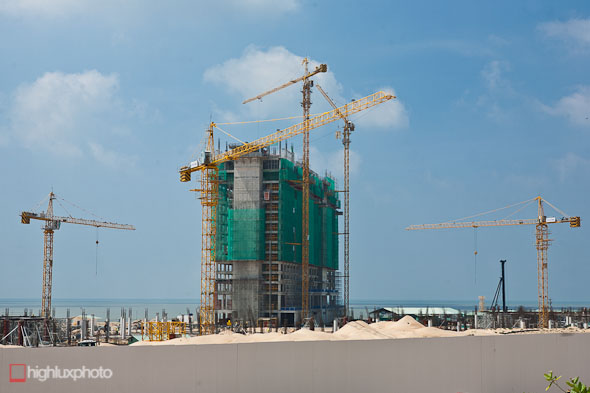 We followed deserted coastal roads south west towards Long Hai. The sandy beaches were unfortunately broken in places for hideous resort developments such as this.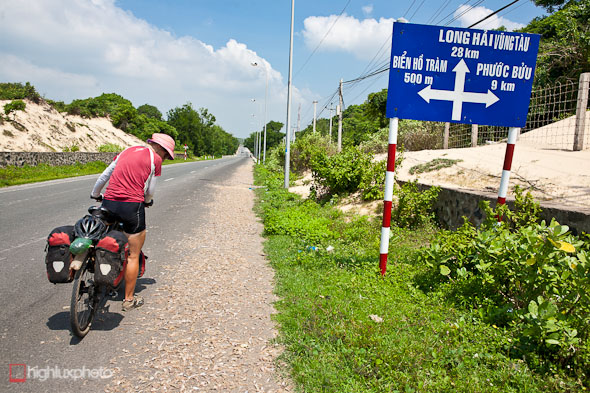 Inland a bit it appeared to be common practice to dry fish on the roadside. What its future was I don't know… Fish sauce probably!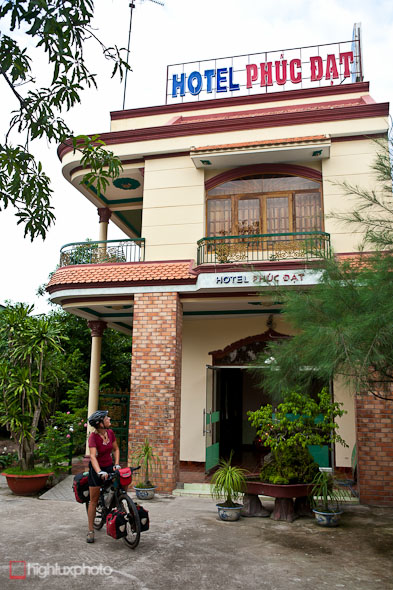 Just three hour's ride from Saigon we checked into this choicely named hotel for the night.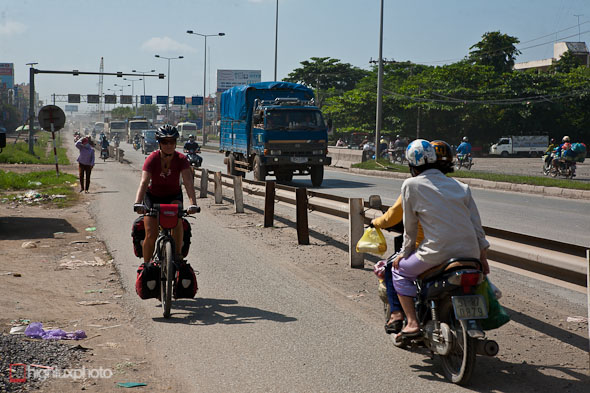 Entering the hectic outskirts of Saigon: noise, dust and endless traffic.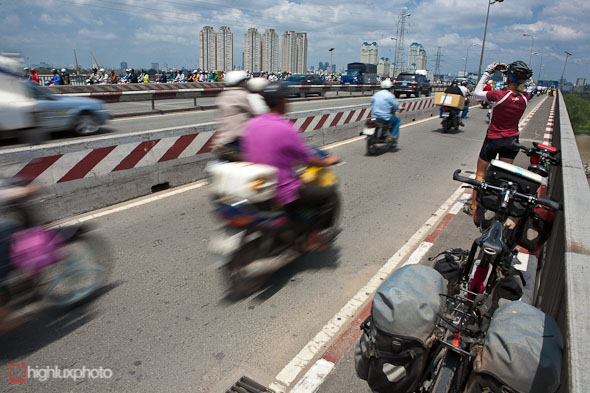 After time-trialling towards the city amongst a peleton of motorcycles we stopped on this bridge to check out the view. Getting into the heart of the city wasn't too bad in the end: the traffic is mostly motorbikes, and though we move a bit slower, we sit slighly higher – so visibility is really good. Everyone watches out for each other too.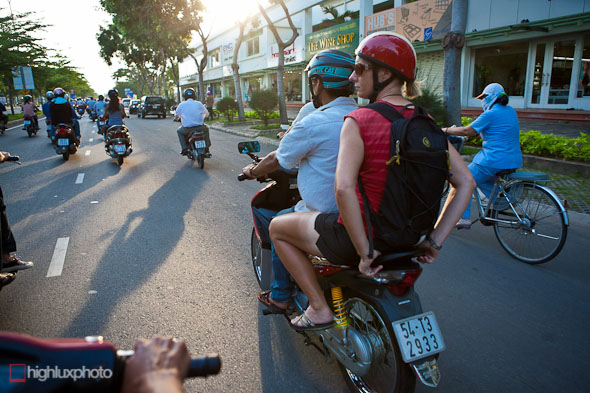 Once we got ourselves a room sorted in District 1 (the tourist/hotel district) our first mission was to drop the bikes into a shop for their 6000km service (hub, headset & pedal bearing checks + some new jockey wheels). We'd found a place via some internet searching that's tucked away in an apartment block and runs a full bike repair service with a very experienced mechanic and quality Shimano parts. Next we hired a couple of motorcyle drivers to take us to another bike shop that stocked SPD cleats and Finishline chain lube (as well as loads of other parts).
Saigon/Ho Chi Minh City bike shops:
Mr Tri, Vo Van Tan 285, District 3, Saigon/Ho Chi Minh City
(Bike repairs/servicing, some parts)
Saigon Cycles
Shop 51/1 Sky Garden 2, Phuong Tan Phuong, Phu My Hung
District 7
Ho Chi Minh City
Ph: +84 85 410 3114
(Bike sales/servicing, some parts & components, clothing)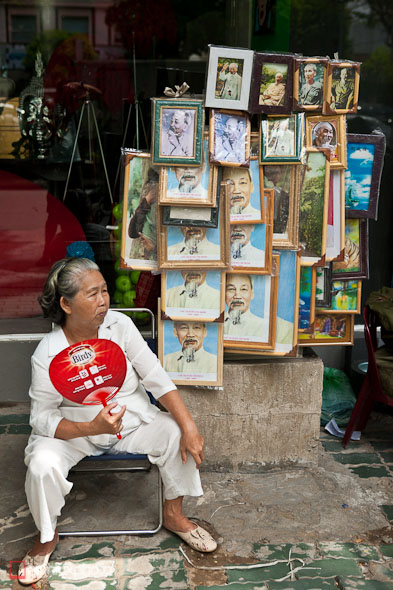 Framed Ho Chi Minh photos for sale on a Saigon street.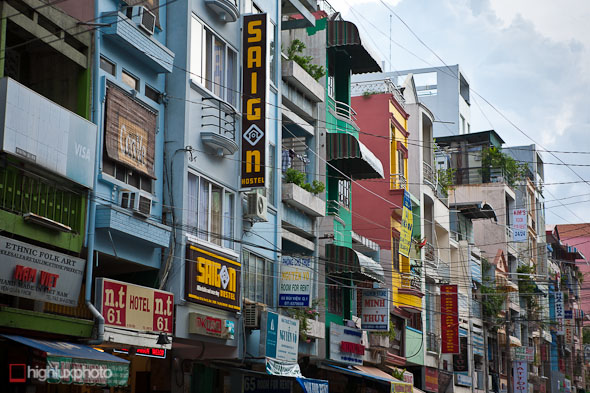 District 1, Saigon. Home to most of the hotels.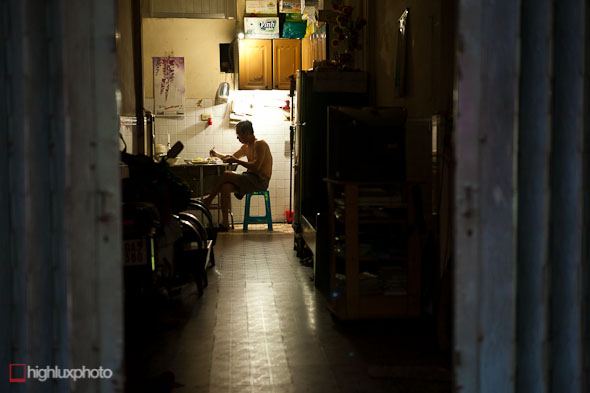 It's a great city to wander around, exploring the alleyways and seeing a sample of daily life in one of SE Asia's biggest cities.

Modern skyrise building in Saigon.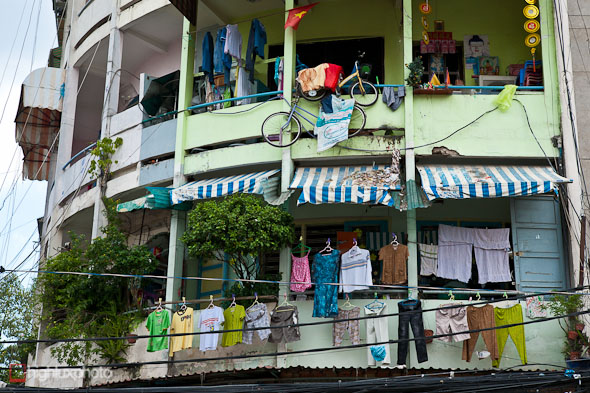 Saigon apartment life.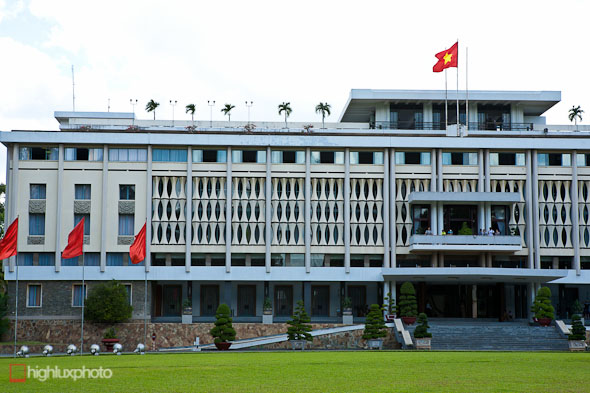 We spent 6 days in Saigon altogether, catching up on computer time, checking out museums and sights, eating some great food and generally relaxing.
The Reunification Palace (formerly the Presidential Palace) was once such sight. Tanks rolling through the ground of this building in 1975 heralded the fall of Saigon and the end of three decades of war and America's failed campaign to thwart communism in Indochina.The palace has been preserved pretty much as it was then, with the original kitsch 70s decor and furniture, communications equipment, war rooms and planning charts all able to be seen.
We also checked out the War Remnants Museum which focuses on war crimes perpetrated by the South Vietnamese and US during the Vietnam War. While heavily propagandist there is an undeniable truth to the torture, genocide and use of toxic agents conveyed in the exhibitions. There's also a very good exhibition about Vietnam war photographers and their work.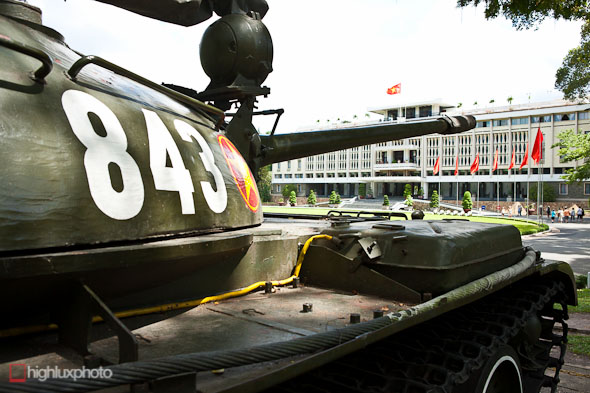 Two tanks, of the same model that burst through the palace gates in 1975, sit in the grounds.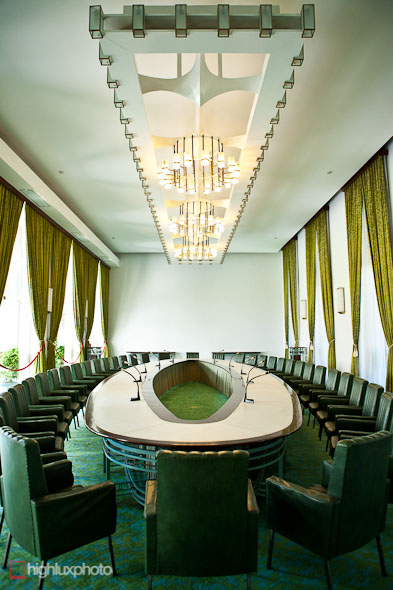 Presidential meeting room, Reunification Palace.

Old comms equipment, Reunification Palace.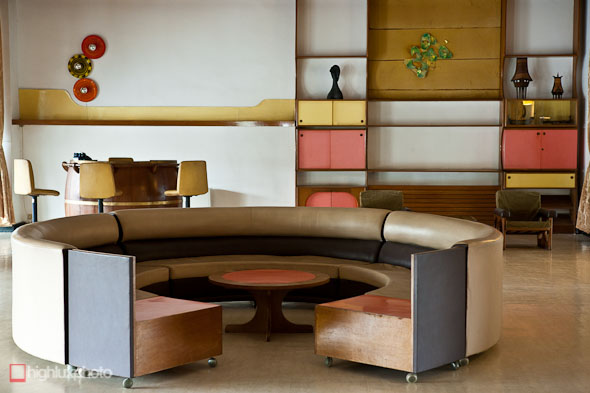 Lounge bar, Reunification Palace.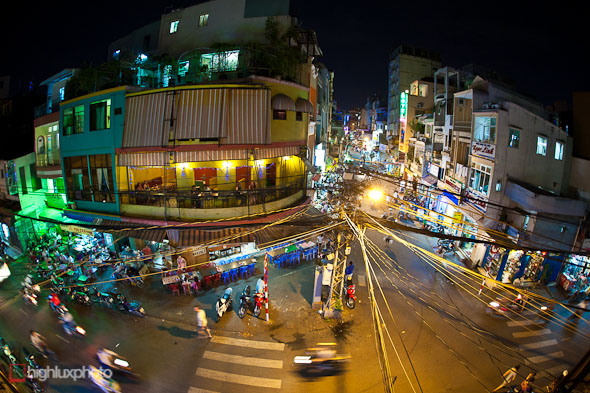 Downtown, District 1, Saigon/Ho Chi Minh City.