Day 105: Buon Ma Thuot – Jun Village/Lak Lake (445m), 56km. Gently rolling hills.
Day 106: Jun Village – Nam Ha/Dinh Van (865m), 119km. 1370m total climbing over two main hills.
Day 107: Nam Ha – Dalat (1495m), 50km. Flat then a 630m climb.
Day 108: Dalat (rest day)
Day 109: Dalat (rest day)
Day 110: Dalat – Di Linh (1000m) 79km. 990m descending, 500m climbing on rolling road.
Day 111: Di Linh – Mui Ne (Sea Level) 118km. 500m total climbing, 1495m descending then flat to the coast.
Day 112: Mui Ne (rest day)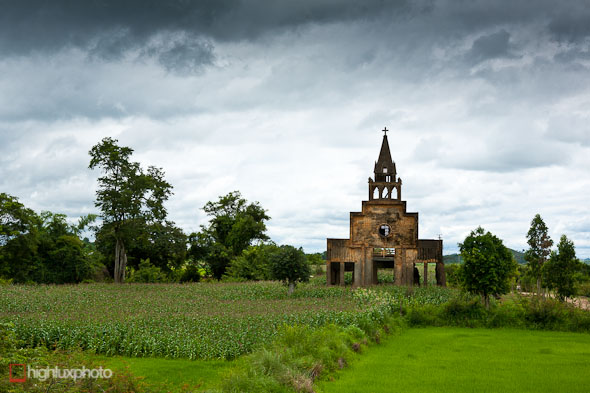 We left the Central Highlands city of Buon Ma Thuot on a drizzly day, headed for a village at Lak Lake, only 56km distant. En route we passed this ruined church – apparently destroyed during the Vietnam War.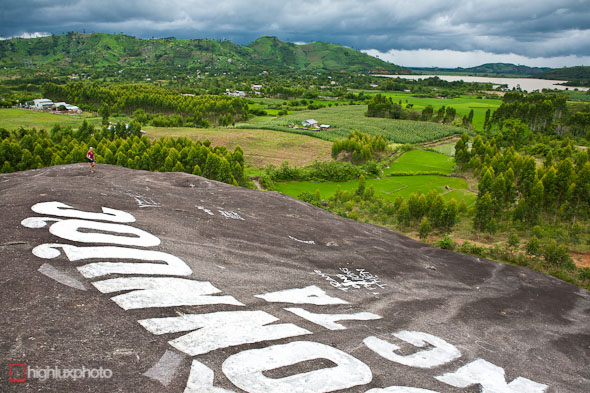 The landscape changed from constantly rolling hills to flat plains of orchards and rice paddies interspersed with granity domes and ridges. We wandered up to the top of one granite whale-back to check out the surrounding hills.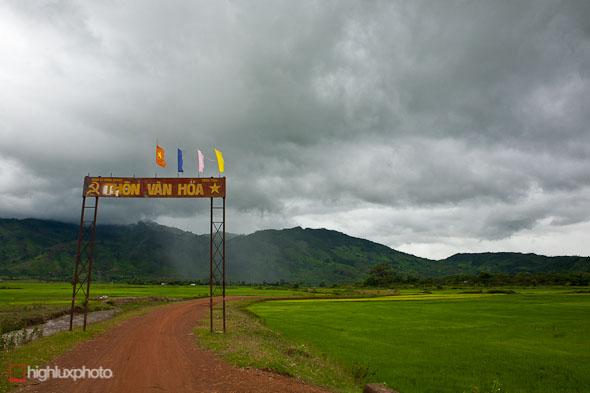 Village entranceway near Lak Lake.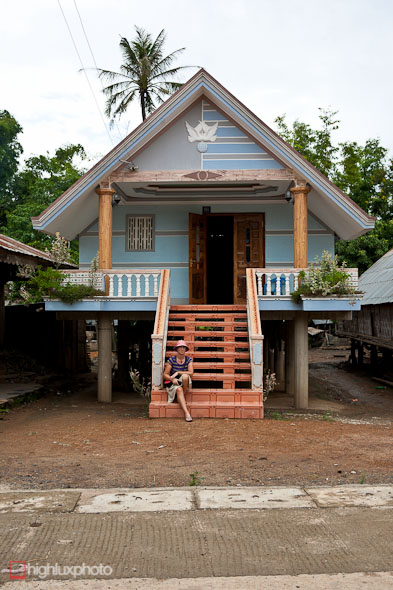 We ended the day in Jun Village, a tiny settlement of minority people living on a small peninsula that juts out into Lak Lake. Homestays are available here, so we decided to check one out for the night. It was a pretty good deal for US$5 each and it was good to not be in a typical hotel or guesthouse for a change. On the downside, we didn't get any interaction with the family at all as dining happens at a 'cafe' near the village entrance. That's our spot for the night in the picture.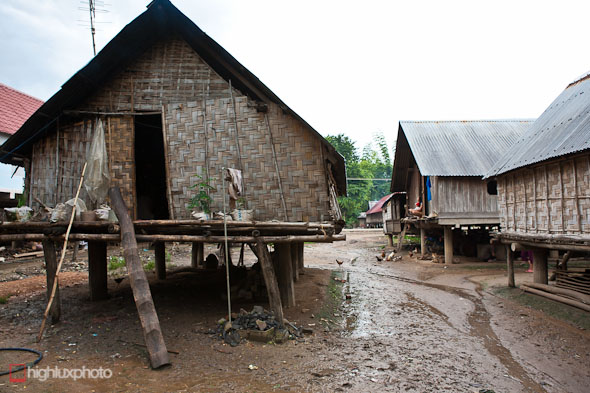 Many of the houses in the village are still traditional materials though.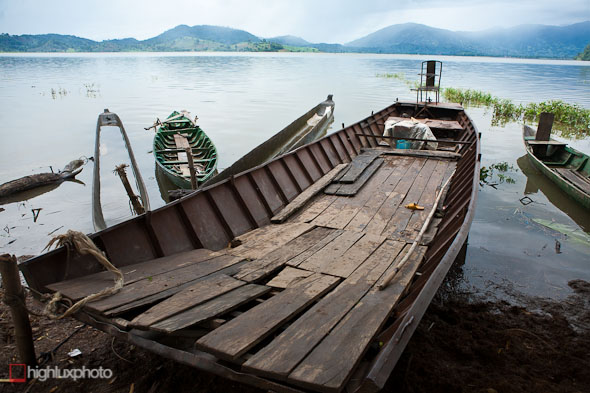 It was a good spot to wander around checking out village life, fishermen, decaying fishing boats and mist rolling around on the hillsides.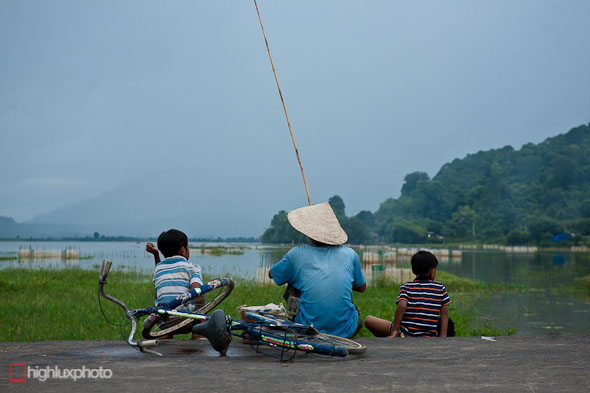 Fisherman at Jun Village.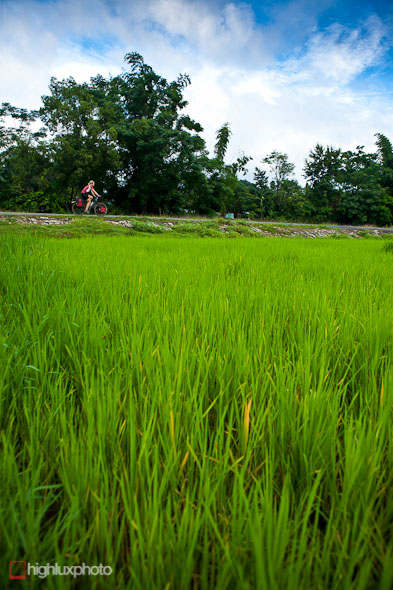 We had a big day the next day, riding 119km in the direction of Dalat. The day started out with rice paddies, then entered rolling hills and two large back to back climbs.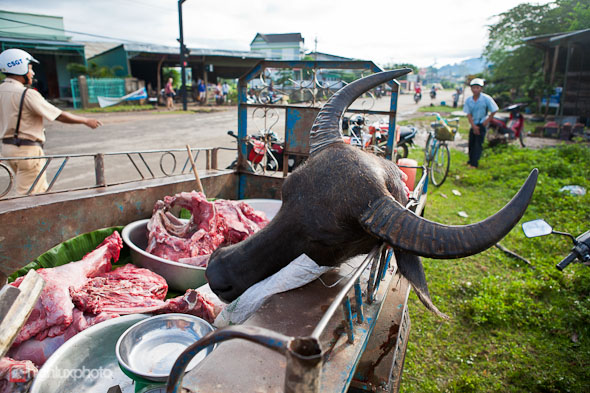 We passed through this village early in the morning. Some villagers had butchered a water buffalo and were selling its meat on the roadside. I'd just hopped off my bike to take a picture when the police came along and promptly moved them on.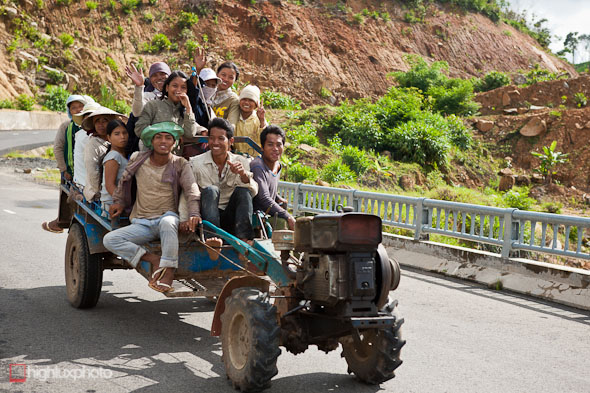 We raced this team of workers through the hills for a few kilometres. We were faster on the climbs and descents, but then they'd catch us on the flat sections, and yell and wave as they passed by.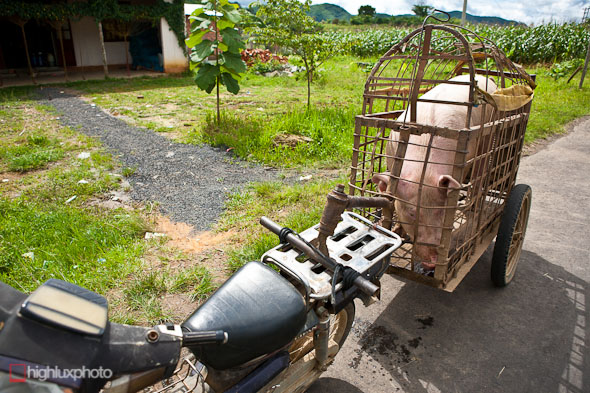 This pig's chariot ride probably ended at the market.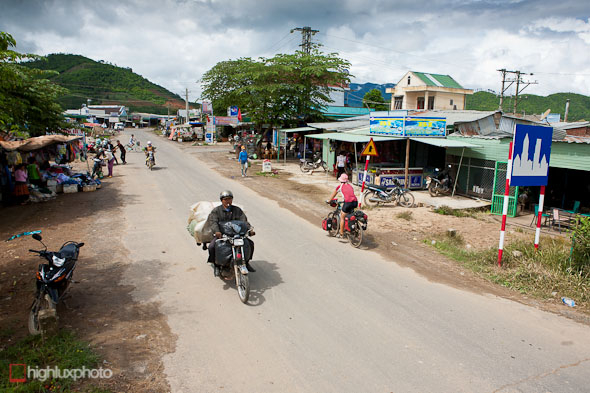 Cruising through another small Central Highlands town.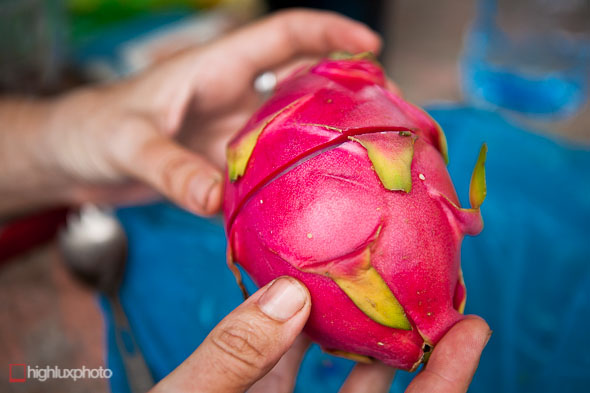 We hadn't tried dragonfruit until this day…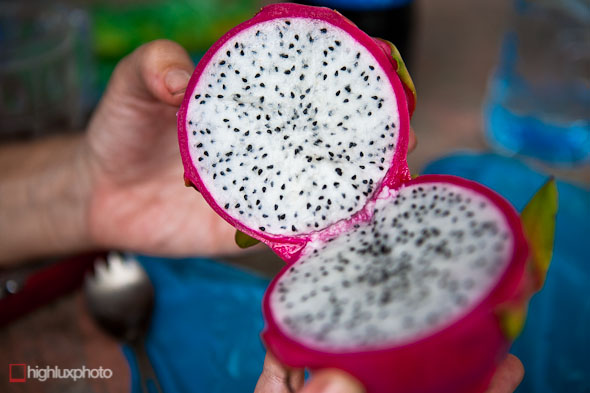 They look awesome, but the flavour's nothing amazing unfortunately.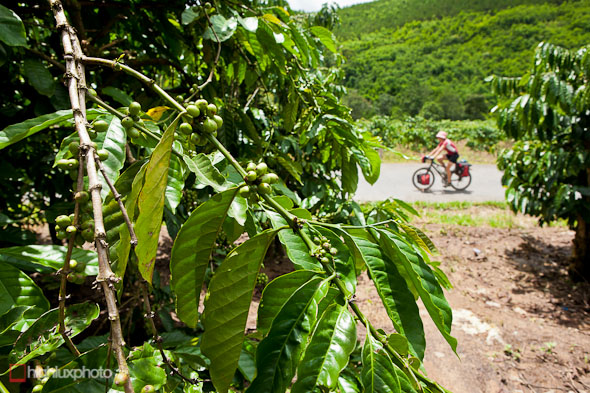 Coffee grows round here too.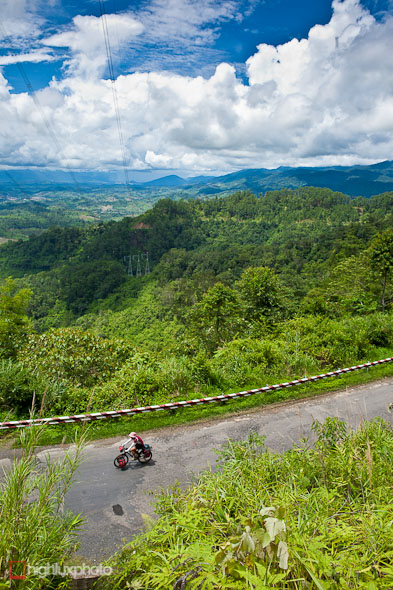 Climb number one of the day. We caught this one in the heat of the day and suffered a bit for 600 steep and rough metres.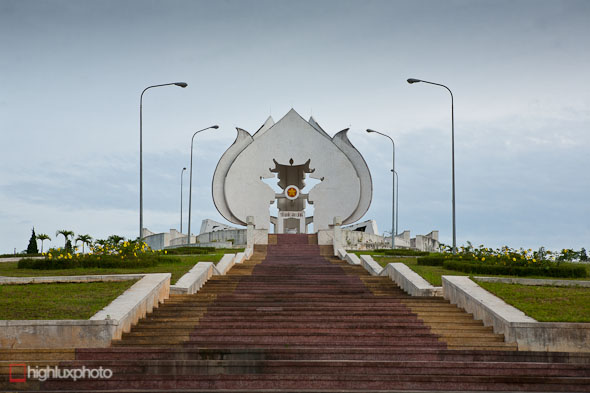 Lotus flower-inspired war memorial in Nam Ha/Dinh Van. We spent the night here after a long and fast descent into the valley from the ranges.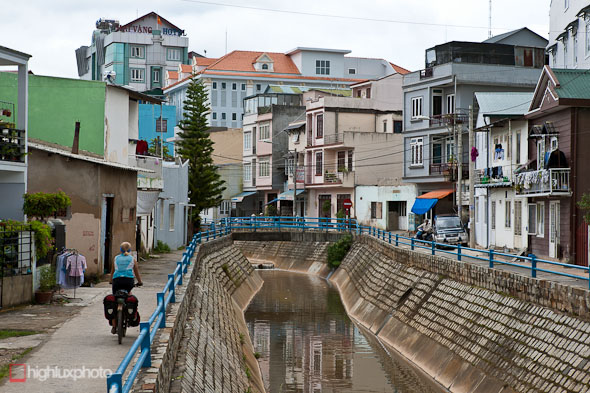 Next day we rode down the same valley for 30-odd kilometres before making a 630m climb up to Dalat, our absolute highpoint in the Central Highlands at 1495m. Dalat's quite heavily French influenced and was settled by them as a cooler alternative to the lower, hotter towns and cities. It's a very popular holiday spot for Vietnamese tourists from Saigon as well as foreign tourists. Its character is quite unlike anything else we'd seen in Vietnam, and sometimes we though we were back in NZ's Wellington, with the city's drizzly weather, hills and windy roads.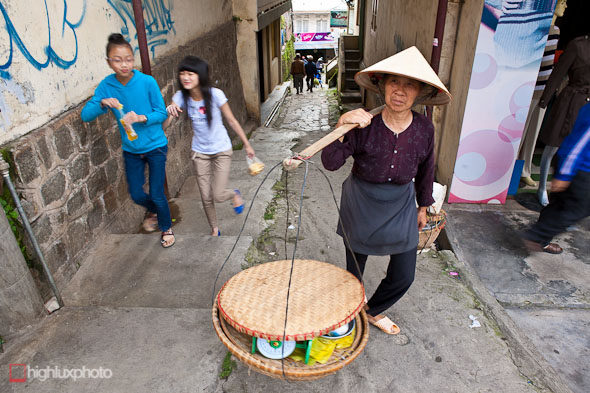 Portable retail on the streets of Dalat.

Motorcycle and scooter helmets are mandatory here, and are quite the fashion item.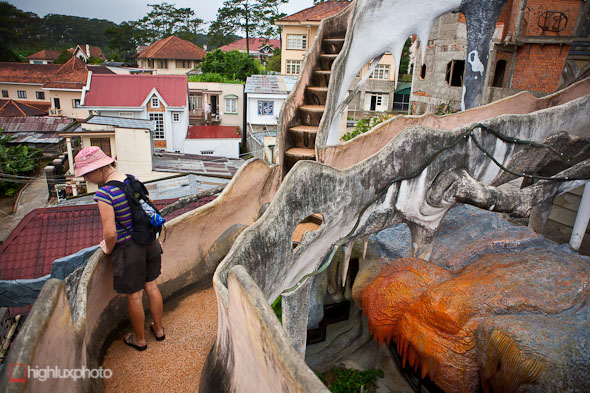 We didn't check out a whole lot of the 'attractions' in Dalat – finding it all a bit touristy, but the Crazy House did pique our interest. It's a Dali-esque concrete fantasy house that was designed by a famous Vietnamese architect who gained a PhD while studying in Moscow and went on to design a number of notable buildings in Vietnam.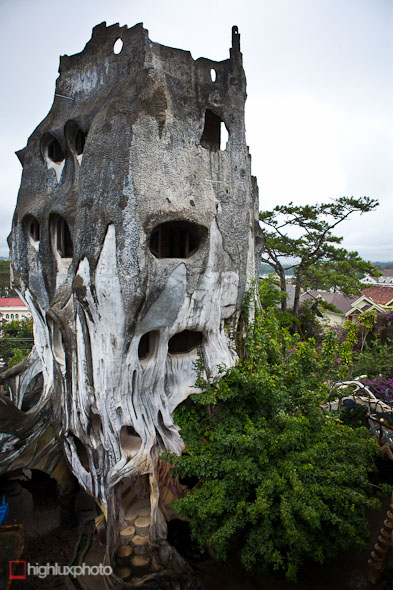 The house features towers and connecting walkways and is very much a work in progress – with some ladders ending in mid air and this tower still unfinished. Inside are rooms that can be rented for the night, as well as a couple of local hand craft sellers.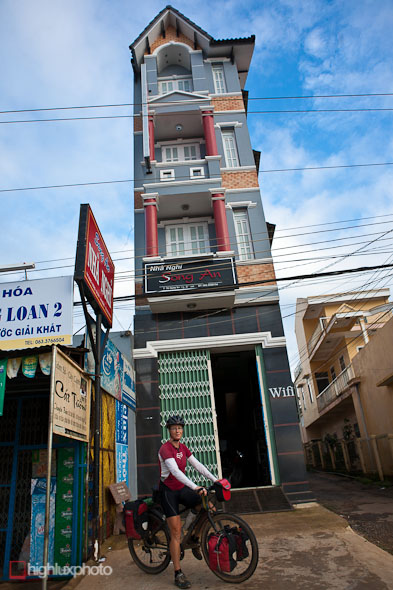 The first night out of Dalat we slept in this hotel that just seemed way too narrow…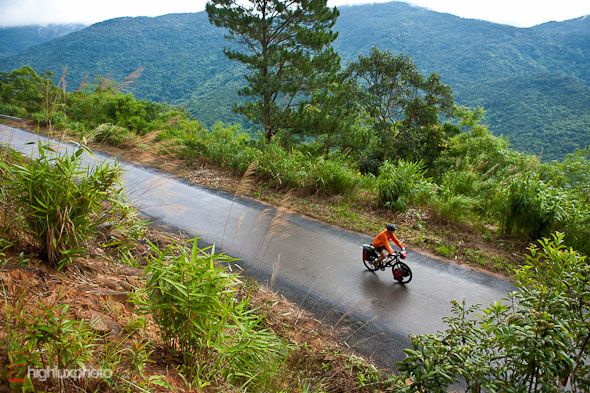 Headed for Mui Ne, a resort town on the coast. We just had one day of riding left in the highlands and it couldn't have been better: we had nice narrow roads, zero traffic and one of those endless twisty-turny descents that just leaves you smiling.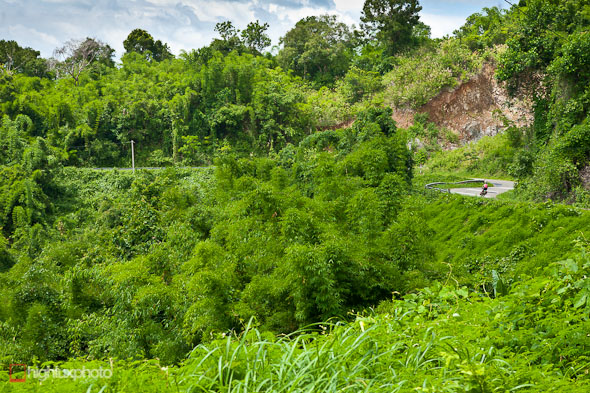 A narrow road, no cars, hardly any villages and lots of corners = fun.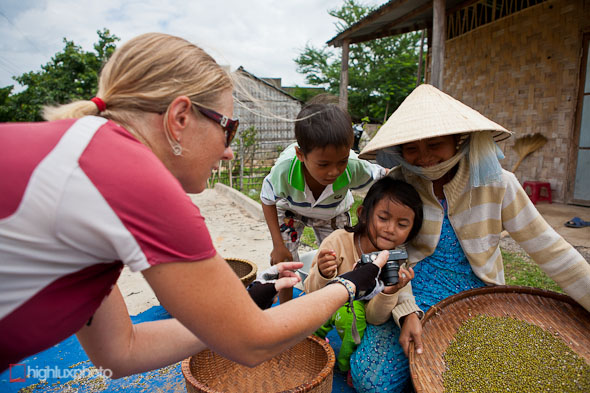 Back down on the flat the local crop seemed to be mung beans.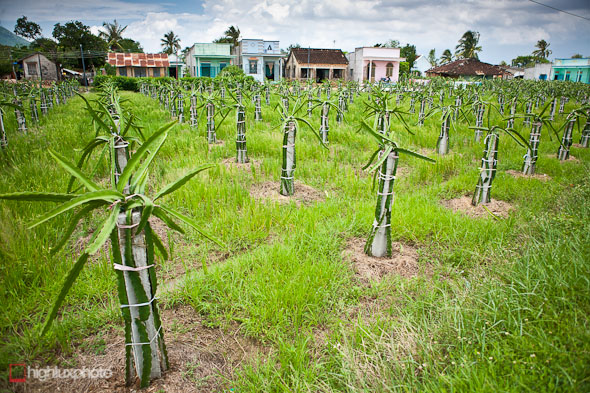 Dragonfruit plantation on the plains as we headed towards Mui Ne.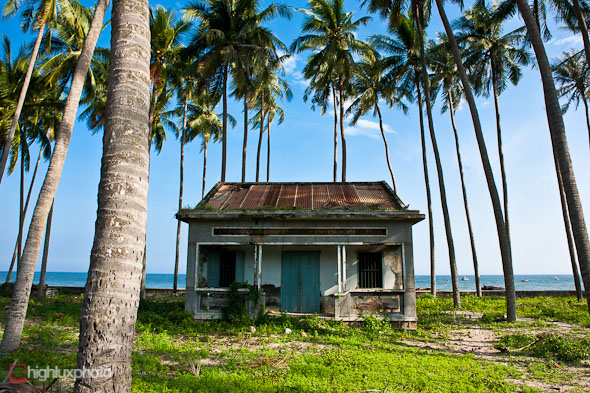 Mui Ne's a popular resort town about 2 days ride from Saigon. It's all a bit, well … resorty and expensive, but we did manage to find a cheap room at the Saigon Cafe (east end of the resort strip). I won't bore you with photos of resorts, but I did like this abandoned house.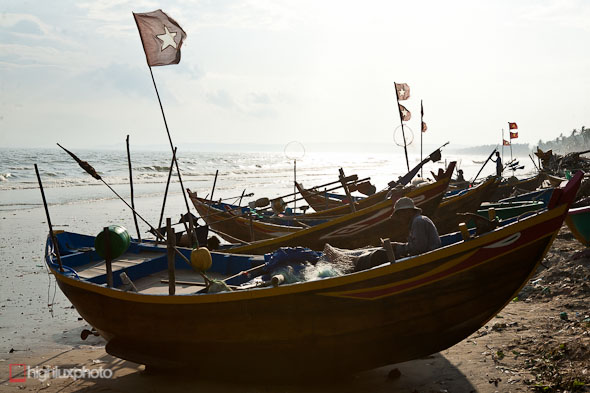 Mui Ne is a really good spot to check out local fishermen and fishing boats though. The afternoon is maintenance time for boats and fishing nets, after early morning starts to fish.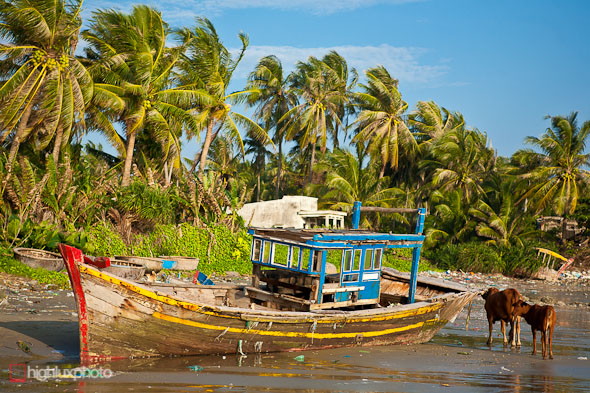 One of the not so seaworthy vessels…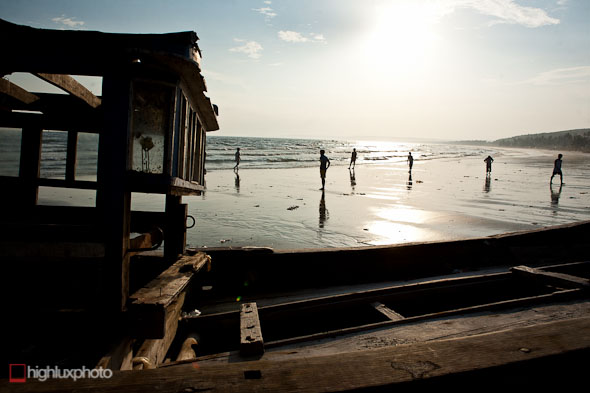 Dusk football match on the beach at Mui Ne.