Day 94: Hue – Lang Co (sea level) 92km, via Thuan An. Flat and easy riding with short passes near end.
Day 95: Lang Co – Hoi An (50m) 78km, via Danang & China Beach. 496m climb over Hai Van Pass, then flat.
South along the coast of Central Vietnam…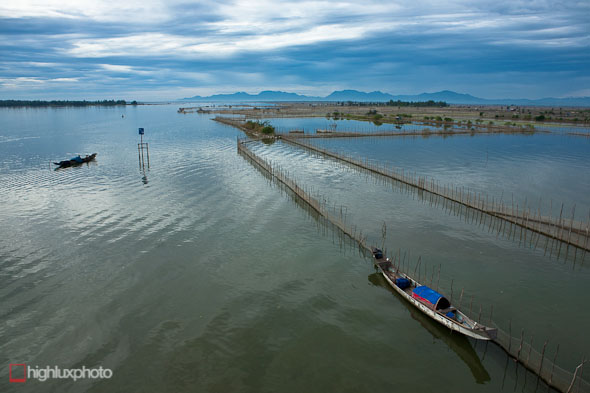 Back on the bikes after two days off in Hue, we headed south via highway 49 and 49b to Thuan An, a long and narrow strip of island that runs parallell to the coast south of Hue for 40km. It offers a great alternative to the trucks and noise of highway 1 and passes occasionally through small villages and past fish farms. The highland ranges sat in the distance across the flats – we'd be heading back into them in a couple of days.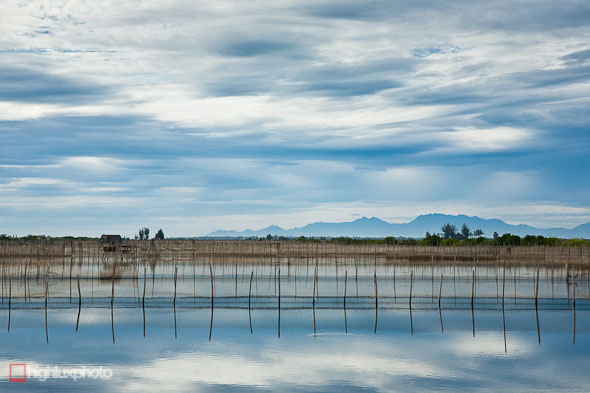 Fish farms on Thuan An, south of Hue.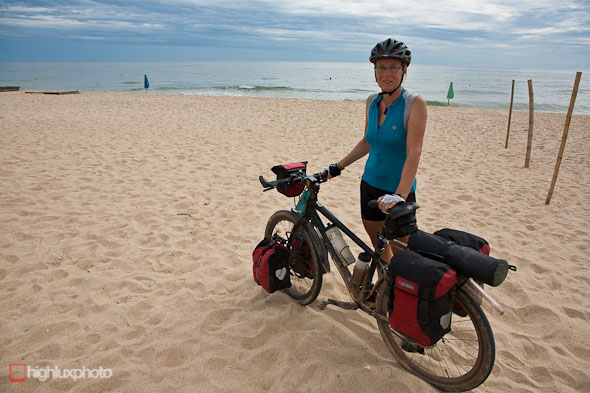 For the first time since leaving Dieppe three and a half months earlier we were at sea level again – quite a novelty!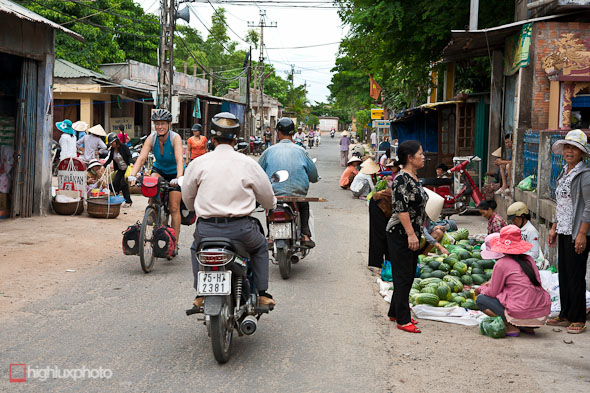 The road along Thuan An was very quiet, but villages always offered a brief jostle with motorbikes.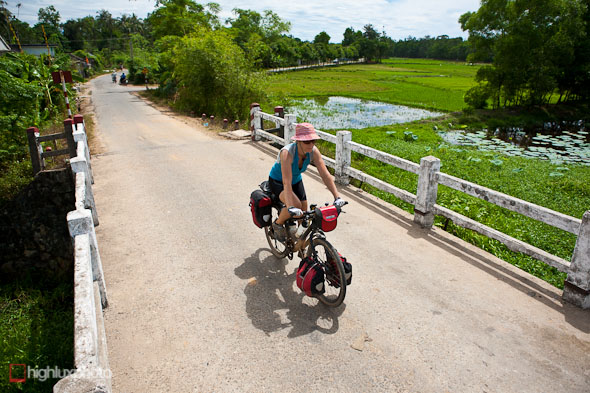 Mellow flat riding and lush wetlands.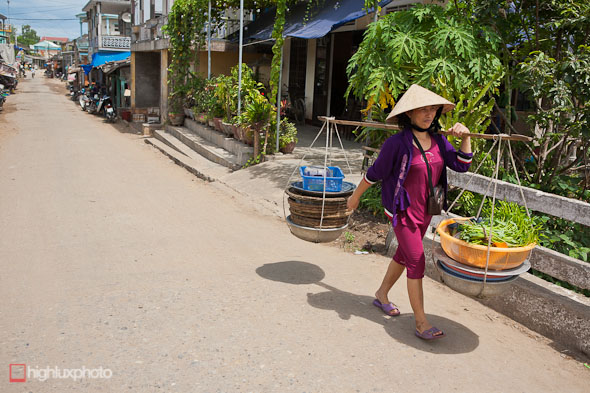 The standard method for carrying any sort of load in Vietnam.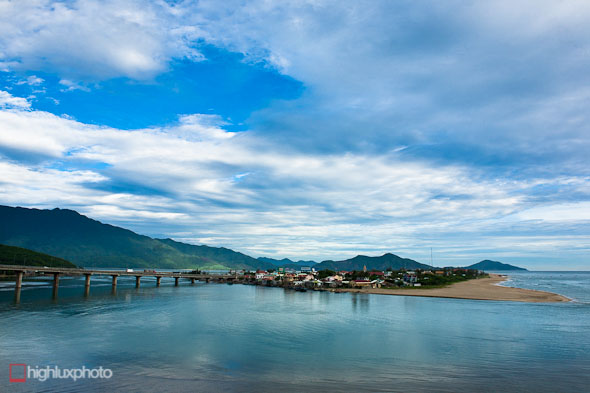 After 69km on back roads we rejoined highway 1 and nipped over two small passes and 23km of flat riding to spend the night in Lang Co (pictured). It was the first of the more 'resort' style coastal spots we'd seen in Vietnam and a sweet spot to spend the afternoon and night.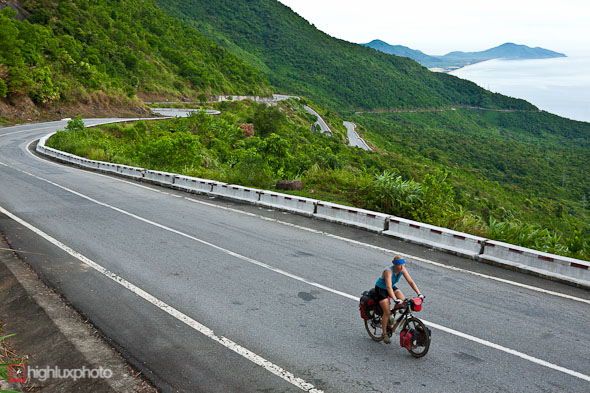 Next day we were straight into the 496m climb over Hai Van pass – a 10km climb. It's still highway 1, but there's a tunnel for all the trucks and coaches so it was just us and motorcycles on the road. It's a really nice climb and gives awesome views down the coast (which reminded us a lot of NZ).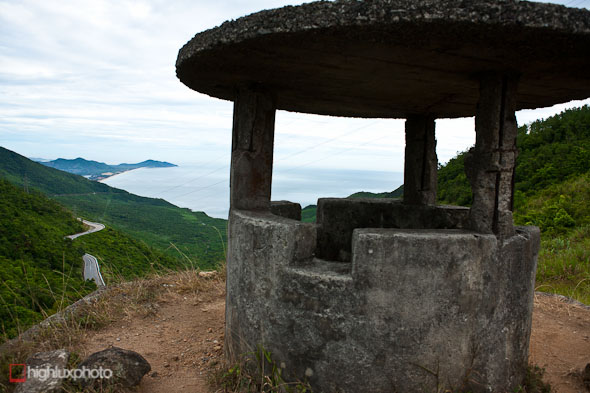 The pass is dotted with old bunkers and observation posts from both the French and the Americans.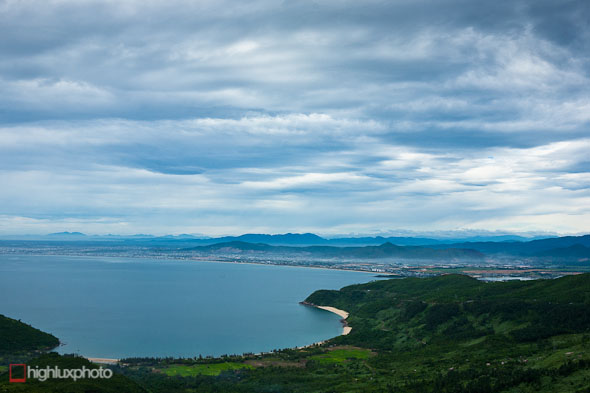 The view north towards the city of Danang and China Beach, and beyond Hoi An – that's where we're headed. The beach in the foreground is the spot where the first US Marines in Vietnam arrived via landing craft in March 1965 – the first US combat troops in the country.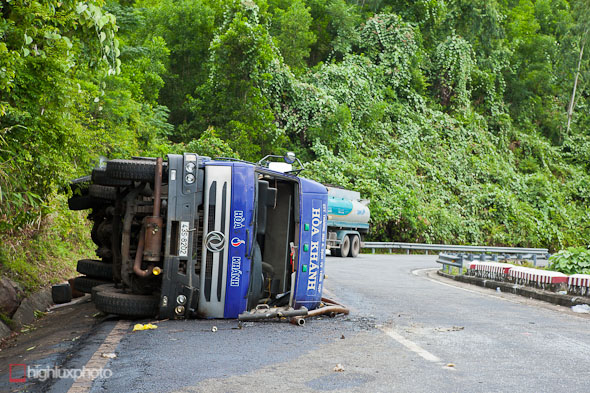 An all too common sight on the roads …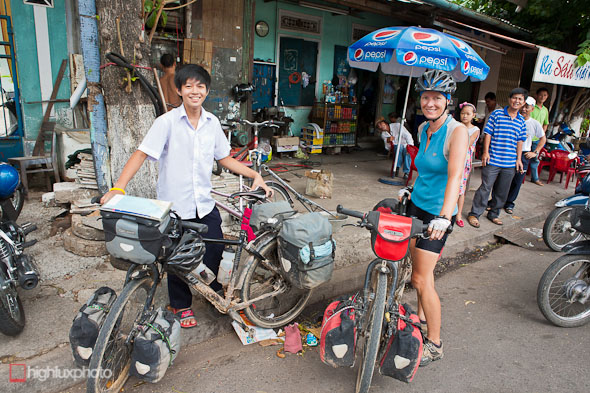 We battled some impressive motorcycle hoards as we came into Danang, and after asking around at three different bike stores were given directions to a guy who might have some Shimano 9-speed compatible chains (we've been changing them every 2000-2500km). His businesss was all conducted on the footpath, and he happened to have a couple of just the chains we were after too – sorted.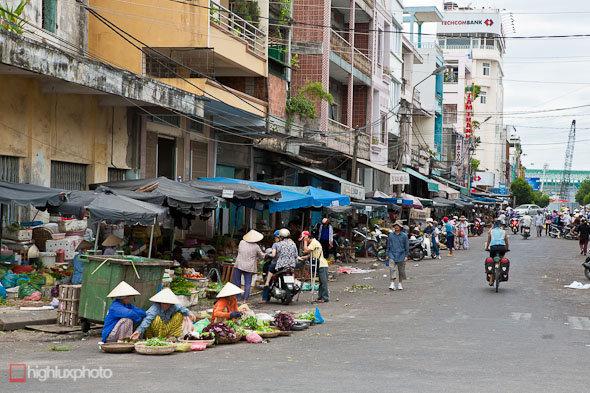 Next we navigated to the market area (several blocks of it!) and got ourselves sorted out with some lunch.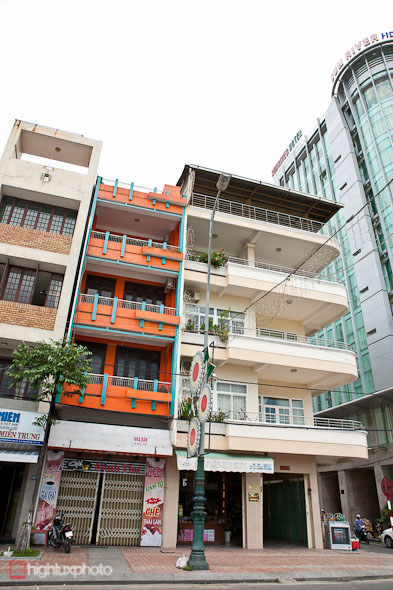 Typical downtown apartments. We've noticed lots of building here prescribe to the one-room-wide school of architecture. When they're standing on their own they look like they'd blow over in the next gale…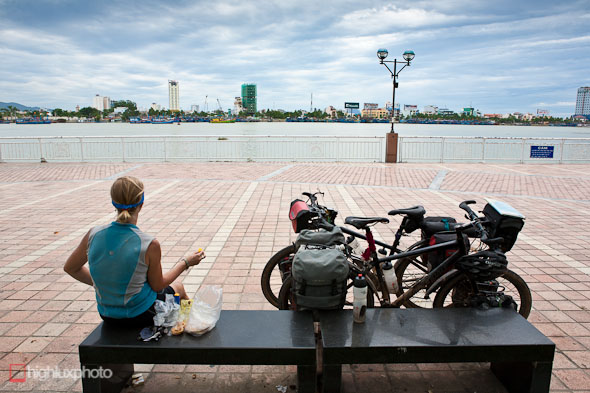 Hanging out eating our market bakery stuff and pineapple for lunch in Danang.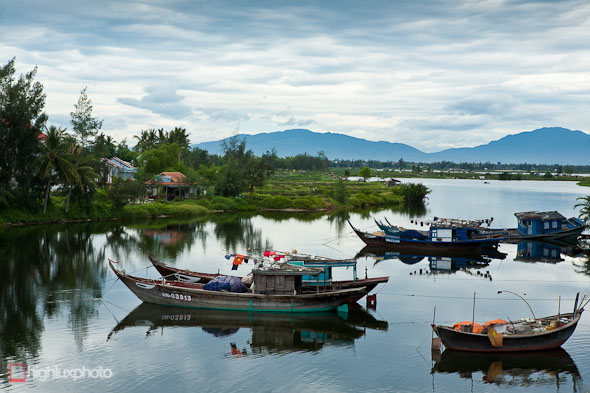 From Danang we rode out to China Beach (a nice beach, but hideously developed) and along to Hoi An, passing small waterways and fishing villages.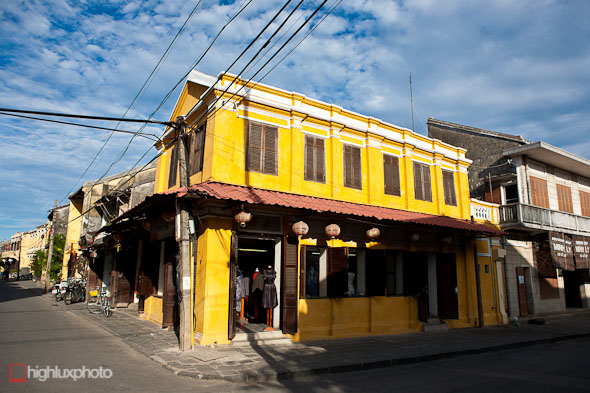 Hoi An, a World Heritage Site, is an ancient Cham market town and between the seventh and 10th centuries had it's heyday as a spice trading centre. These days it's one of those living museum types of places, with the town's original architecture preserved (with a few buildings being particularly notable) and craft and souvenir sellers taking the place of traders. It was a little too overrun with tourists (with consequently inflated prices) for our tastes, but it's still an awesome spot to spend a day or two checking out.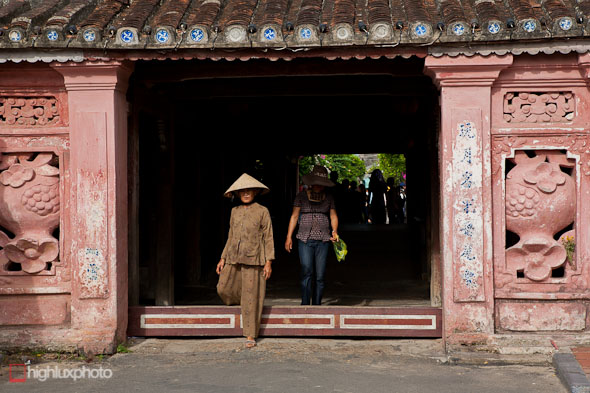 Hoi An was also settled by Chinese, Japanese and Dutch. For a time it was a divided town with the Japanese settlement across the Japanese Bridge (pictured), which dates back to the 16th-17th century. The bridge is a unique covered structure built by the Japanese, the only known covered bridge with a Buddhist pagoda attached to one side.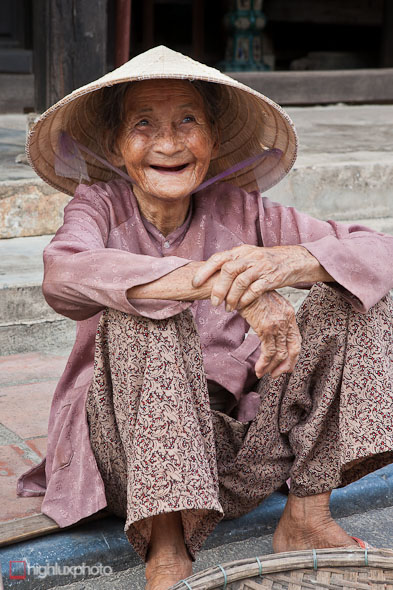 Some of the locals looked as ancient as the city walls.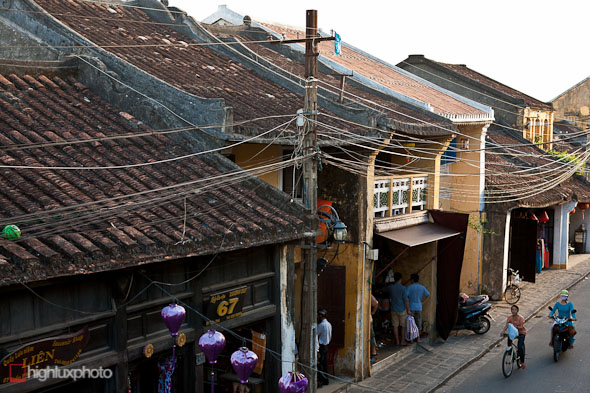 The Chinese influence is apparent with the choice of roofing materials and styles.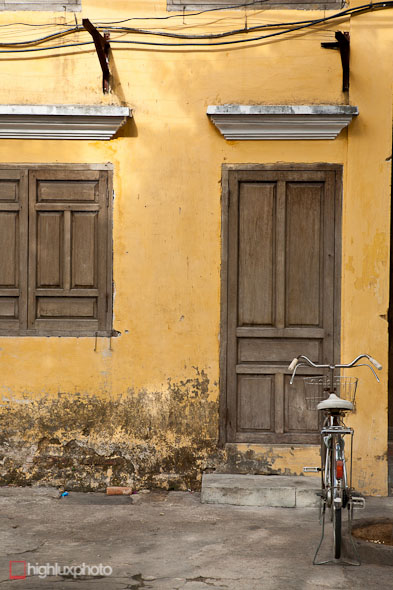 Yellow's a popular colour in town…