Day 96: Hoi An – My Son (50m) 39km. A short, flat day for a change!
Day 97: My Son – Thanh My (65m) 56km. Flat and rolling.
Day 98: Thanh My – Dak Glei (675m) 122km. 1875m total climbing.
From Hoi An our travels took us back inland 40km to the ancient Champa site of My Son, the most important archaeological site in Vietnam and – though it's a poor comparison – Vietnam's version of Angkor Wat. From there our plan was to ride back onto the spine of Vietnam; the Central Highlands and work our way south towards Dalat, before dropping down to the coast and on to Saigon. In the highlands we'd mostly follow the Ho Chi Minh Highway (highway 14) which we rejoined at Thanh My.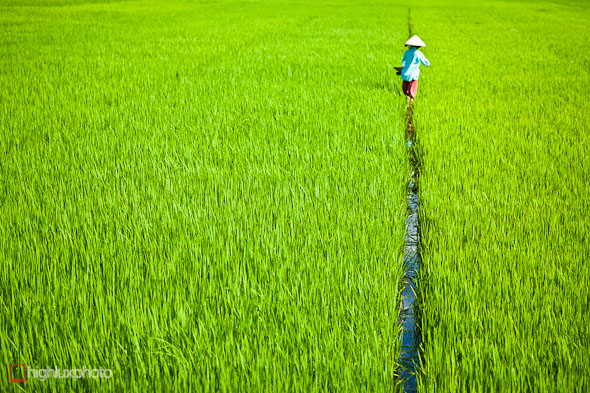 Before leaving Hoi An we spent a morning in the air conditioned confines of our hotel room updating the blog, servicing the bikes' drivetrains and replacing the chains (we've been keeping a schedule of replacing them every 2000km to prevent the whole drivetrain from breaking down).
In the afternoon we escaped the tourist hoards and rode out of town on a fun network of back roads and mini motorcycle-only-roads that nipped through the rice paddies.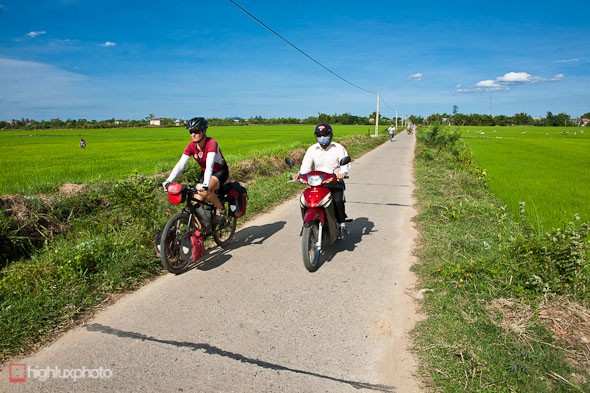 Jockeying for position with the motorcycles on a Hoi An motorcycle path.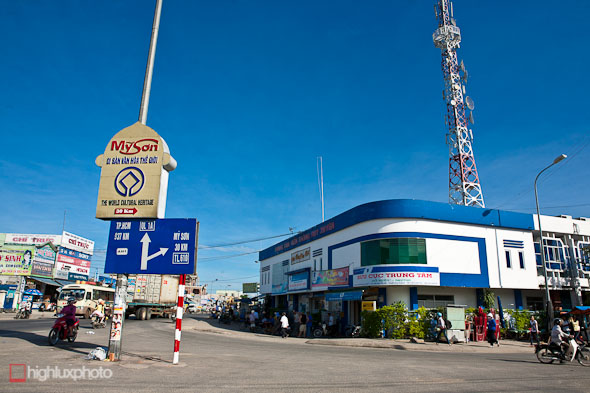 At the small town of Nam Phuoc (highway 1) we turned off and headed towards My Son, where we'd heard we might find a guesthouse for the night. The guesthouse turned out to be only 2km from the site entrance and NZ$5.60 bought us a fan, a mattress on the floor and a bucket of water to wash with. Ideal after the inflated prices in Hoi An! Dinner at the restaurant next door did not cost a lot more…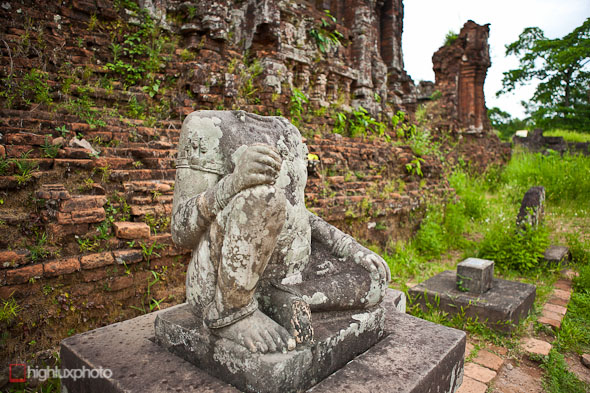 We got into My Son bright and early to get better light and beat the tour buses. Like Hoi An, My Son (pronounced Mee Sun) is a World Heritage Site and was a religious and intellectual centre for the Cham people from the 4th to the 13th century. Lacking agricultural areas, the Cham Kingdom was semipiratical and conducted attacks on passing ships. They were in a constant state of war with the Vietnamese to the north and the Khmers to the southwest. Much Indian influence is visible among Cham culture due to ancient trade between the civilisations.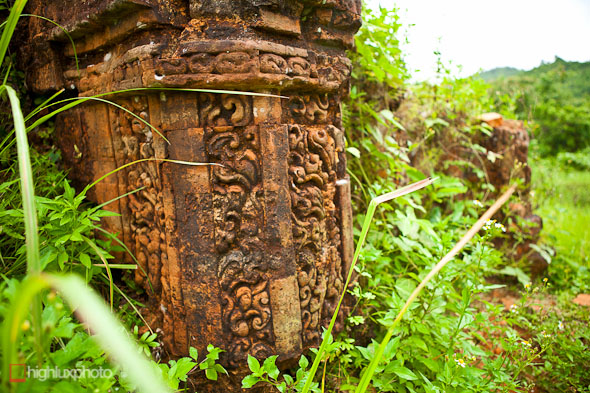 The tragedy of this site is that of the 68 towers that once stood here, only 20 remain and they are mostly very ruined, not due entirely to the passage of time, but due to American bombing during the Vietnam War. The Viet Cong used the site as a hideout and consequently much of it was destroyed.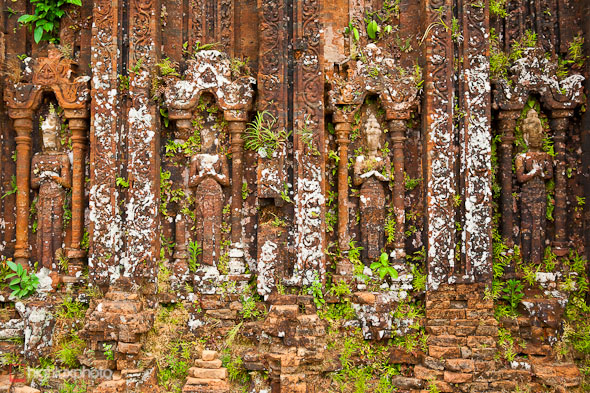 There's several structures still standing impressively though and enough carvings left to hold your attention for a couple of hours.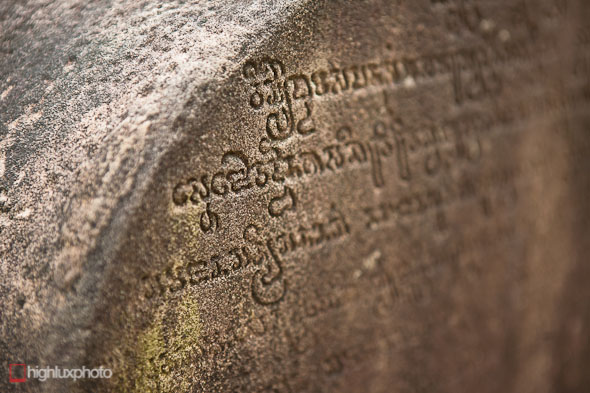 Fine script on a stela at My Son. One side of this stela was divotted with bullet holes.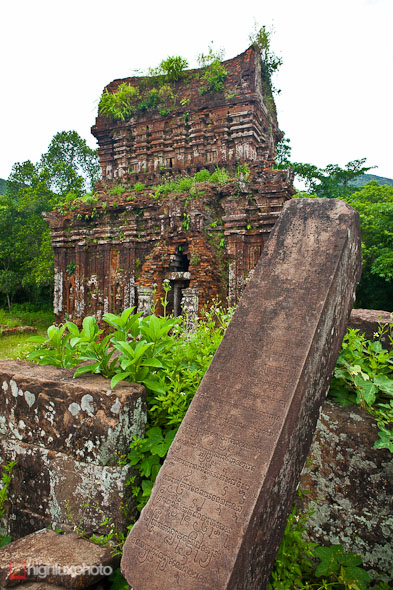 Probably the finest remaining tower.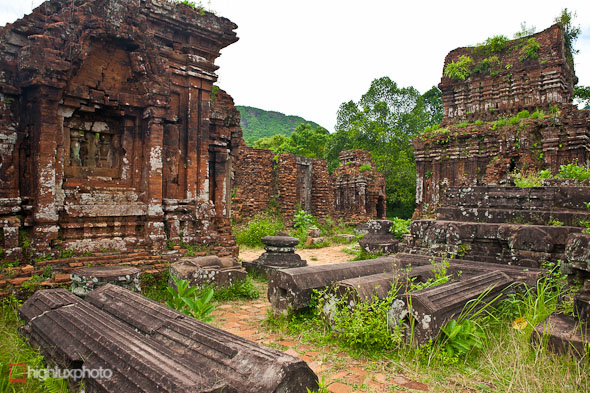 The site was 'rediscovered' by the French in the 19th century. They moved some of the best artefacts to a museum in Danang and undertook research and restoration on some of the ruins.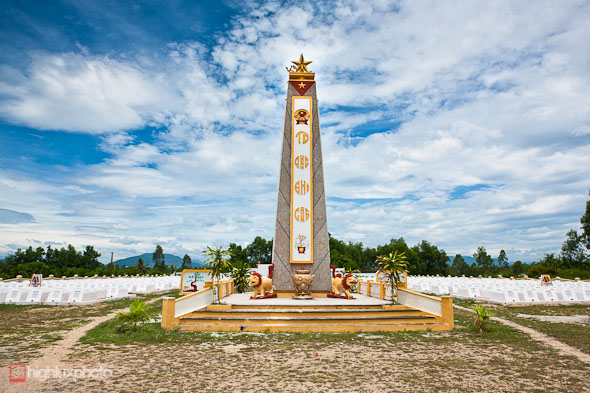 As always; if there was fighting there will be a cemetery nearby – this North Vietnamese one just down the road from My Son.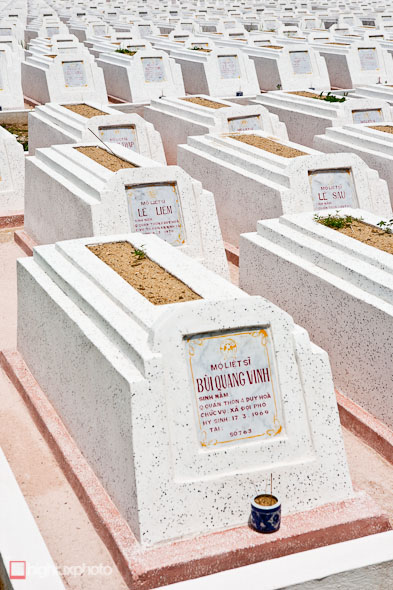 Packed with graves…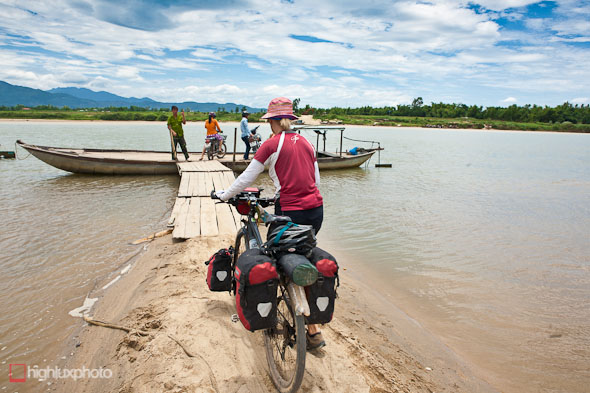 After spending the better part of the morning poking around My Son we rode off through a network of small villages and rural roads hoping to find a road that would take us up the valley towards the highlands. We had to get across this river first though.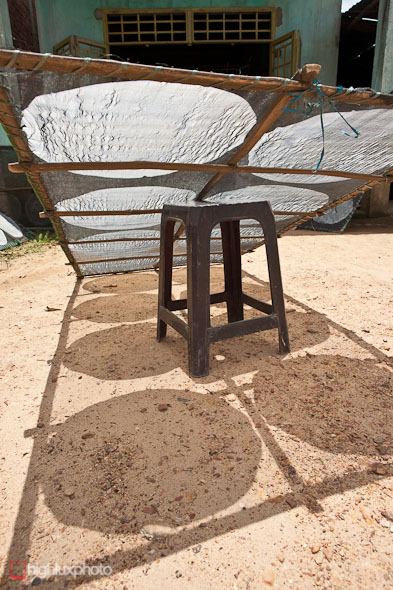 Popular round here are poppadom type breads, but made from rice. Cheap and super tasty!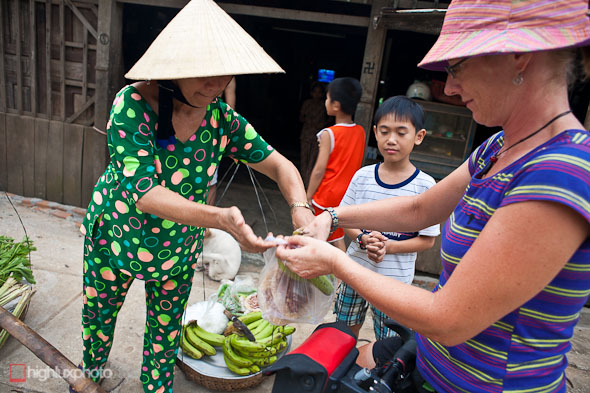 Also popular – all over Vietnam – is the acrylic pajama suit, usually in garish colour combinations or with freaky geometric patterns. They seem to be the standard dress for middle aged married women. Quite a contrast to Laos, where you rarely see a female in long trousers and the traditional sarong-style skirt is worn by almost all.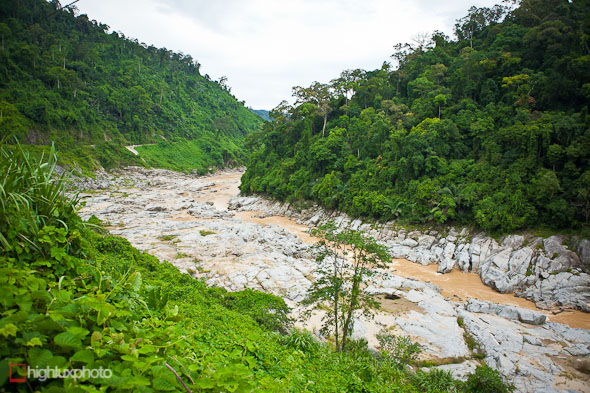 After a night in the small town of Thanh My, back on highway 14 , we headed off early anticipating a long ride to Dak Glei – 122km away. The day started off on ever-quiet roads, and for a change the hills were clad with jungle.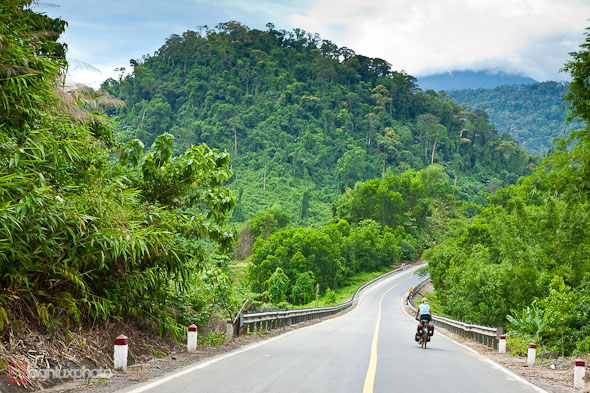 A rolling road and gradual climbing took us deeper into the hills.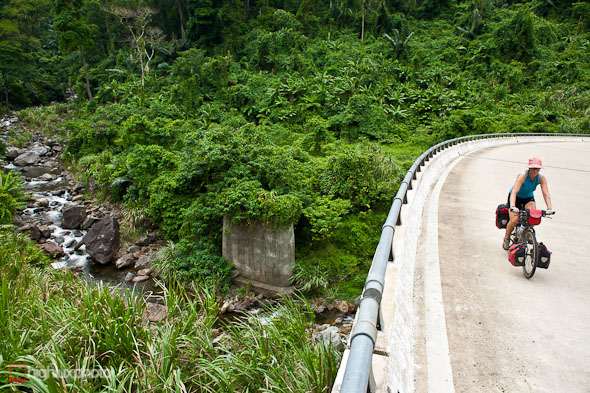 Our 1:600.000 scale map lacks enough contour lines or details to give us much idea of what to expect out of a day's riding. It's very inaccurate too – with towns misplaced (or not there at all) and roads misrepresented.
This day we were counting down the km's towards a town named on the roadside milestones (but not on our map) – and as the final kilometre flicked past our hunger pangs and thirst increased in anticipation for the shop that was surely around the corner – we weren't carrying any spare food and hadn't eaten for a couple of hours.
All that was 'round the corner' though was a 10% Grade sign with an arrow pointing ominously upwards.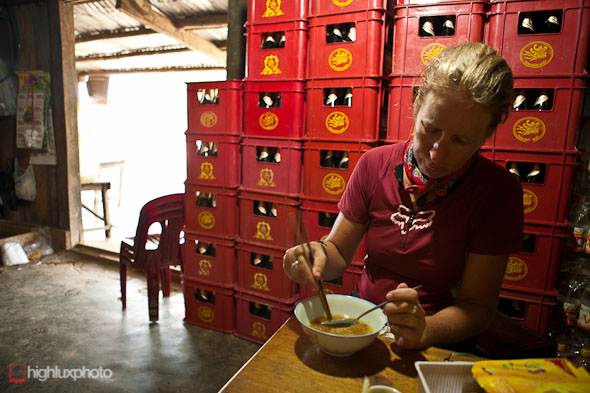 To cut a long story short – we climbed, and climbed, and just when we thought we might fall off our bikes, climbed some more and finally arrived at a drizzly 1100m pass – thankfully with a tiny shop on it. The woman there kindly made us some instant noodles and we devoured a packet of biscuits to get some juice back in the legs for the remainder of the ride (which turned out to be steep rolling climbs for the next 20km).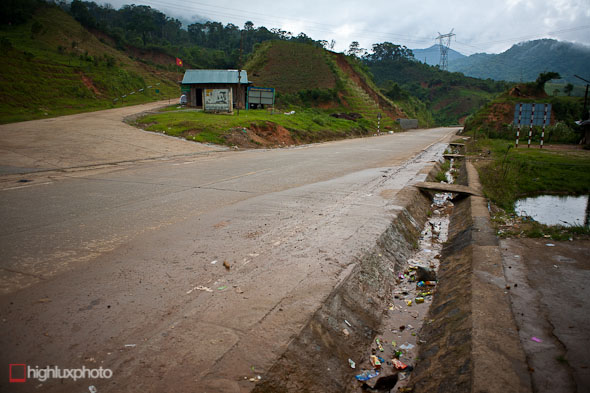 Looking back (north) down the pass. The hut on the left is an army/police post for monitoring traffic on the roads leading into minority villages. Visitors to these villages are usually required to have a permit. Due, according to the government, to unrest that has taken place in the highlands.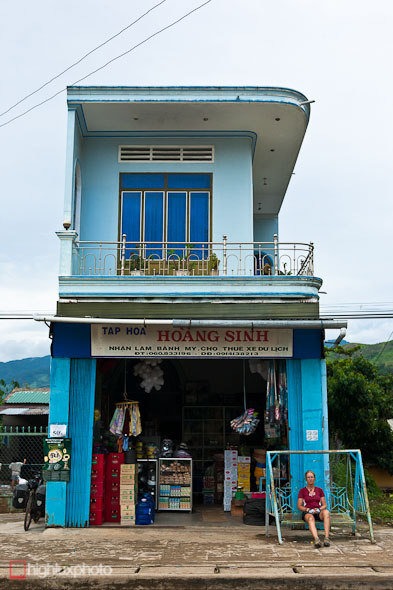 Eventually, after 7.5 hours pedalling time, we rode into Dak Glei and after coca cola and bakery goods went in search of a guesthouse.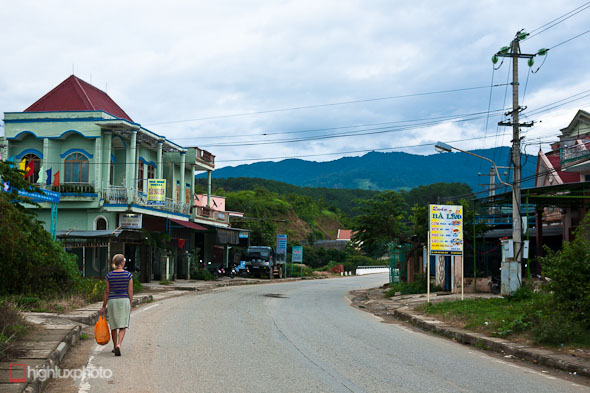 Wandering back to the guesthouse after a dinner of pho (pronounced 'fur' – rice noodle soup) for about NZ$1.50 each.