Day 99: Dak Glei – Plei Kan (640m) 55km. 400m total climbing on rolling roads.
Day 100: Plei Kan – Kon Tum (500m) 77km. 730m total climbing on mixture of rolling seal and dirt (via highways 14c & 695)
Day 101: Kon Tum (rest day)
Day 102: Kon Tum – Chu Se (650m) 90km. 775m total climbing on rolling highway & busier traffic.
Day 103: Kon Tum – Buon Ma Thuot (495m) 150km. 1215m total climbing on rolling highway. Longest distance in a day so far.
Day 104: Buon Ma Thuot (rest day)
WARNING: content may disturb dog-lovers!
After our seven and a half hour ride getting to Dak Glei we took it easy the next day and cruised 55km into Plei Kan, a small regional town set among rolling hills. Our plan from there on was to try and get off the Ho Chi Minh Highway (HCMH) for a while and see some more out of the way villages. We'd originally considered taking highway 14c south for about 60 kilometres, before rejoining highway 14 (HCMH) to the east. This dirt road is very close to the Cambodian border though and parallels it through a remote and sparsely populated area. I'd love to get down that way, but we decided that without a guide or permit there was too much chance of getting turned back at a army post and with the weather being rainy it could turn out to be a total mud fest.
Another shorter and less risky option on our map looked tempting, but when we went to inspect the road on Google Maps we discovered that it didn't actually exist!
In the end that left us with a brief 77km hiatus from the HCMH via part of highway 14c, which we then deviated from via some sometimes-rough dirt roads to join highway 695, rejoining HCMH at Kon Tum. The detour was well worth it.
From Kon Tum on to Buon Ma Thuot the road was bigger and busier and less scenic so we busted out a couple of big days to get ourselves closer to Dalat before our visas expired.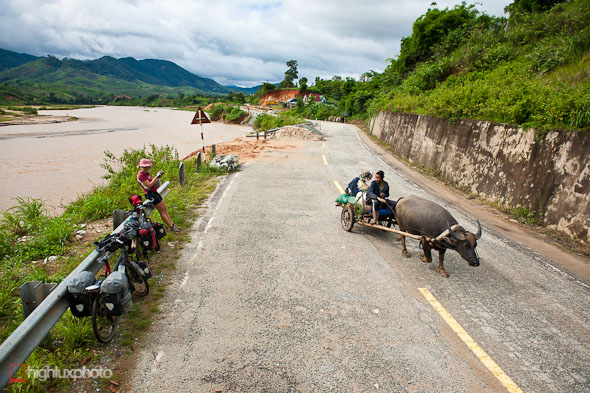 Old School versus New School on the highway between Dak Glei and Plei Kan.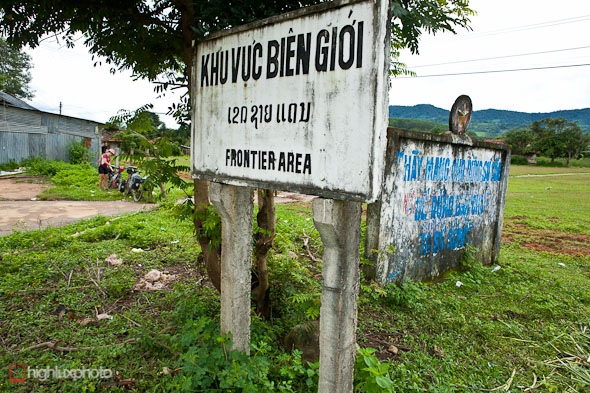 At this point along the Ho Chi MInh Highway we were only a couple of clicks from the Cambodia border.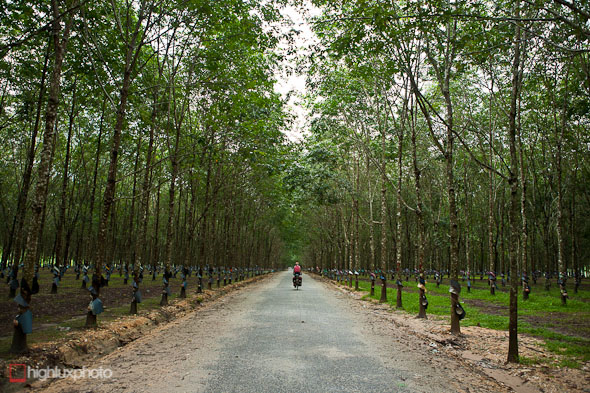 We spent a night in Plei Kan and the next morning started out on the backroad of highway 14c. After 12km we turned left and followed an even more minor road as it wove through rolling hills covered in rubber tree plantations. There was widespread fighting in this region during the war and consequently much of the original jungle and forest cover was destroyed, hence plantations like these are very common.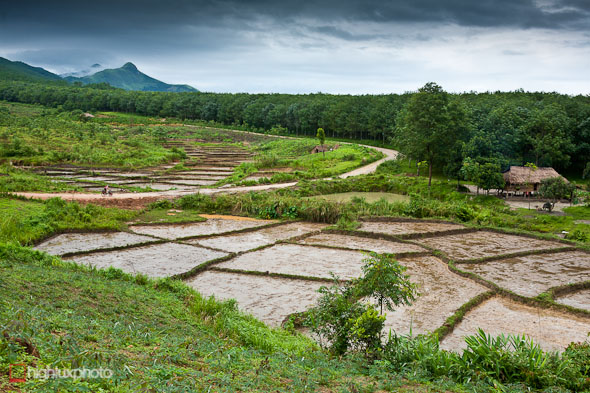 The seal ended after a while but the road suface was mostly pretty sweet as we wove through some really nice countryside. Spot the rider…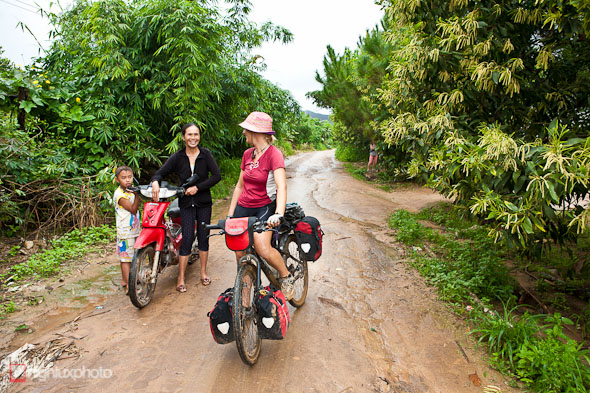 Our Vietnamese is very limited, but we have become adept at asking 'Is this the road to … ?' It always offers the chance for some fun interactions with locals too. At this point we were thankful that the overnight downpours had stopped.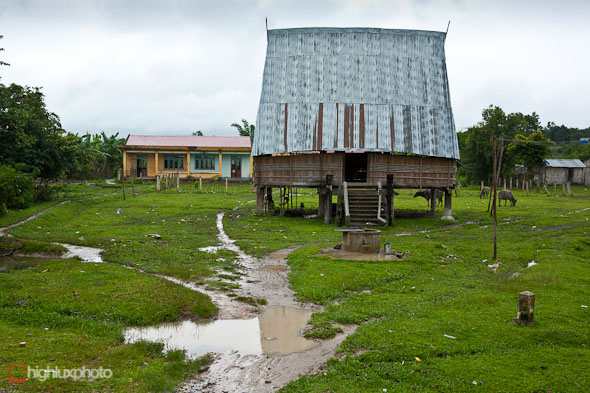 Traditional rong house (meeting house) of the Montagnard (Central Highlands mountain people). They're often seen with thatched roofs too.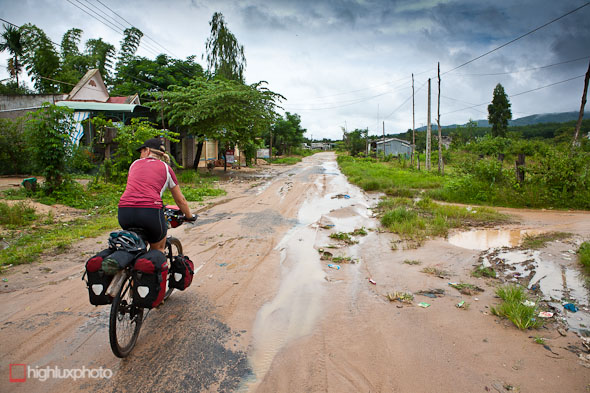 Much of the road, even where sealed, was silted from monsoon downpours and burst creeks and rice paddies. Montagnard minorities are marginalised by the Vietnamese government (historically due to their allegiance with the South Vietnamese and US during the Vietnam War), consequently their communties receive little funding or support.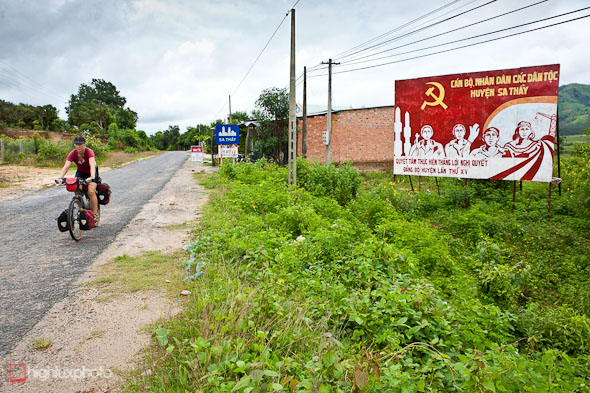 A very common sight on the road sides are propagandist billboards – and in the more 'rebellious' highlands they seemed to be everywhere. Socialist themes of union and equality are the voice, and military might, industry and peace are usually symbolised.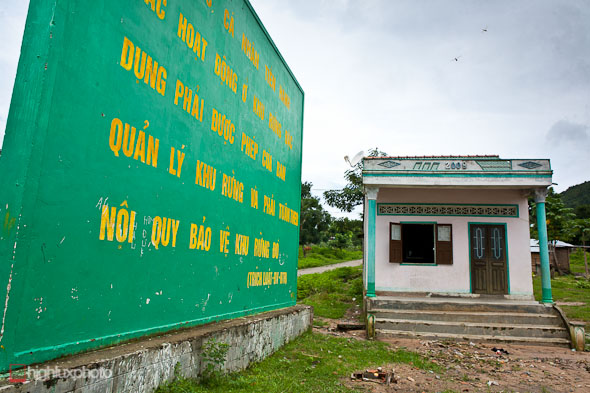 Typical village house. These single story, one-room-wide dwellings remind us of Sydney townhouses.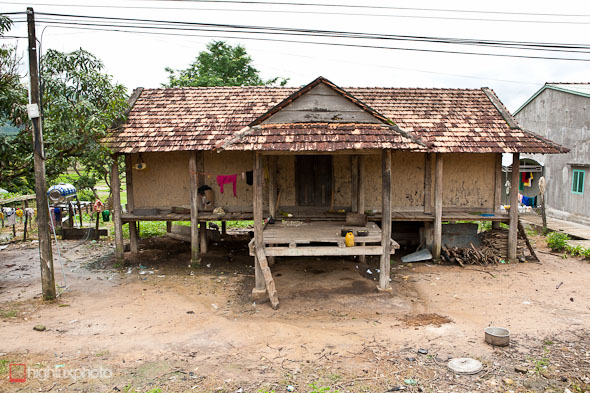 This 'traditional' mud walled house (probably French influenced in architecture) was opposite.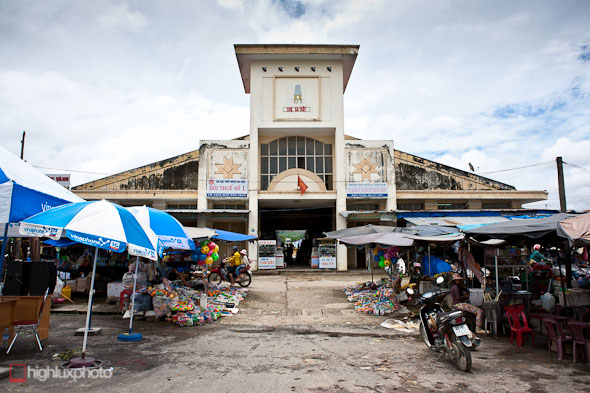 Imposing market building in Sa Thay, on highway 675.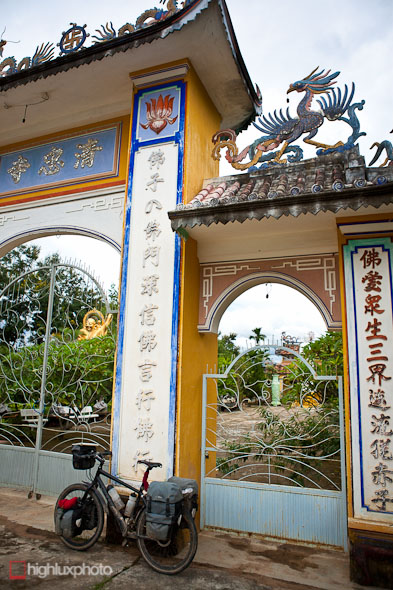 Many buddhist temples dot the countryside too.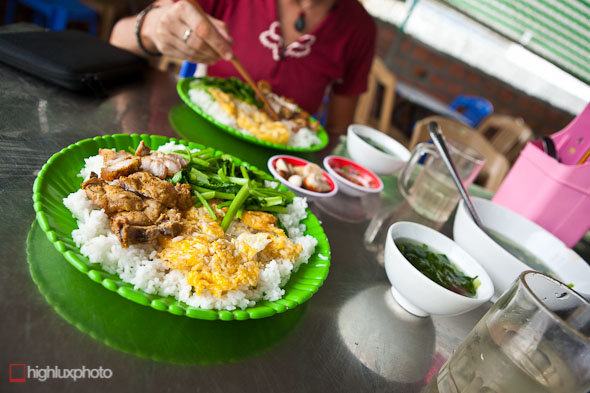 Another bargain lunch of pork, chicken, spinach, egg, rice and soup for NZ$1.15.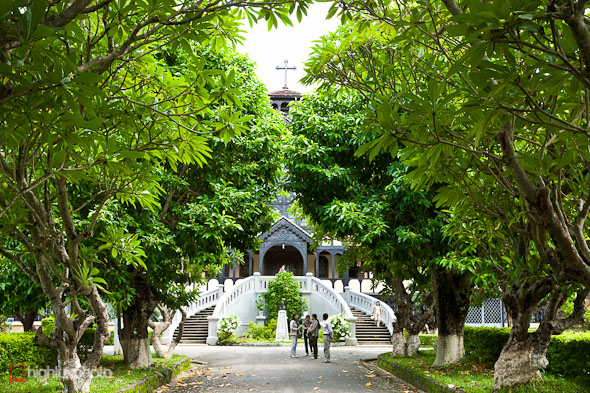 We took a rest day in Kon Tum, one of the bigger Central Highlands cities. The town retains some of its French influence in the form of this impressive Catholic seminary. There's a beautiful wooden cathedral to check out in the city too, as well as a couple of traditional Montagnard villages on the city's fringe.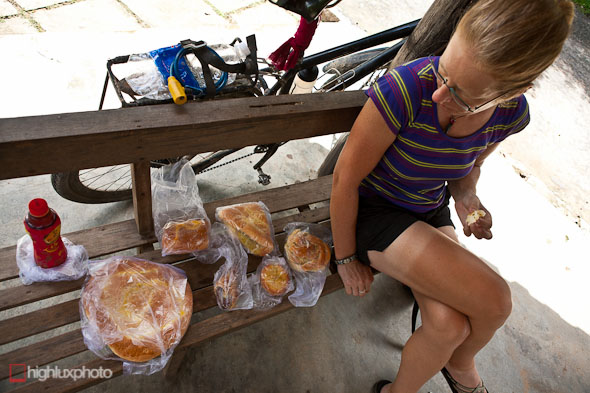 We hit the bakery pretty hard that day too …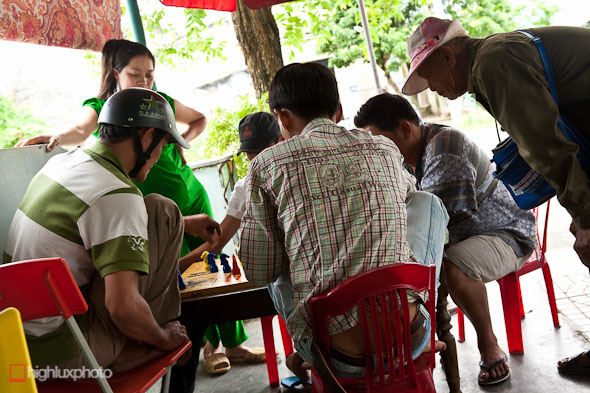 This chess game was drawing a few onlookers in a Kon Tum cafe.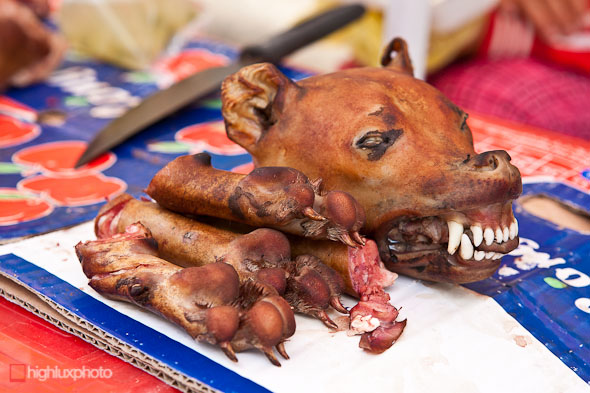 Kon Tum is also where we came across meat of the canine variety for the first time. I believe it's more common in the north. Still, this section of market had 4 stalls – all selling dismembered dogs, including the paws!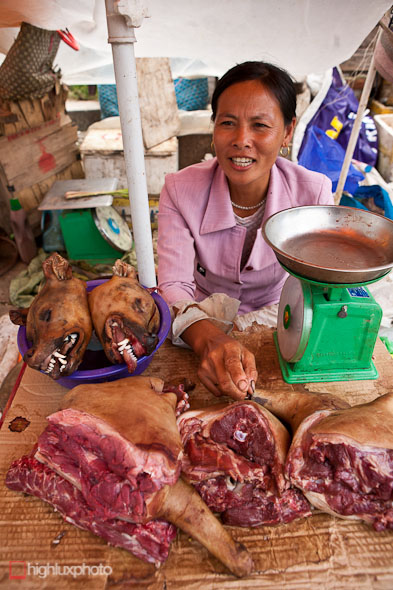 Admittedly it's a rich and tasty looking meat.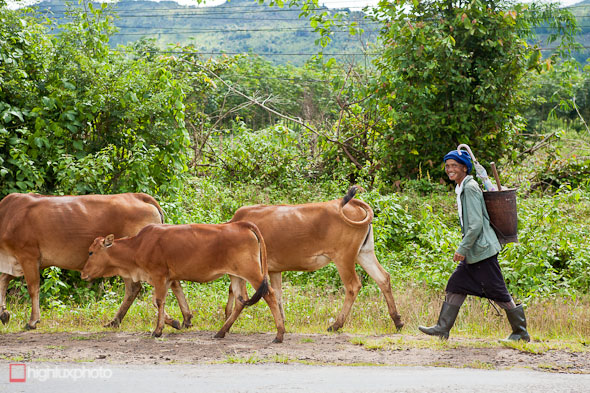 Next day we rode to Chu Se, 90km distant.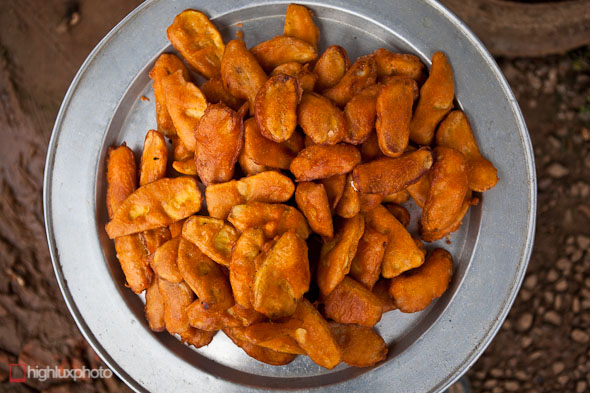 Deep fried banana and sweet potato. A bag of these goodies kept us going for hours.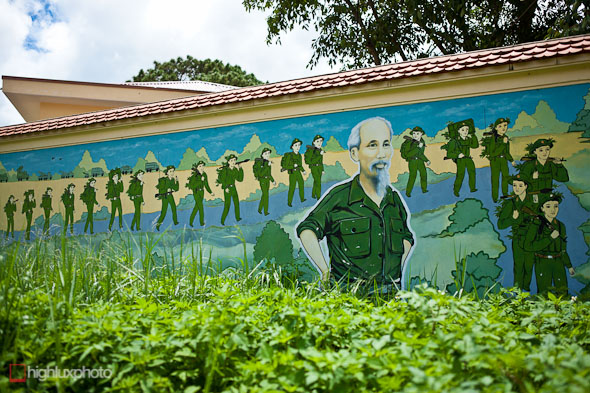 The larger town's military bases are usually muralled with themes of the North Vietnamese Army's toil and eventual victory over the south. I'd tried to photograph one the day before but the AK47-armed guard became very agitated and came out of his booth to tell me off. I was more successful sneaking off this shot the next day. It represents Ho Chi Minh, the founder of the Vietnamese Communist Party and leader of the North Vietnamese during the Vietnam War surrounded by loyal troops and supply trucks as they traverse the Truong Son Strategic Supply Route (aka the Ho Chi Minh Trail).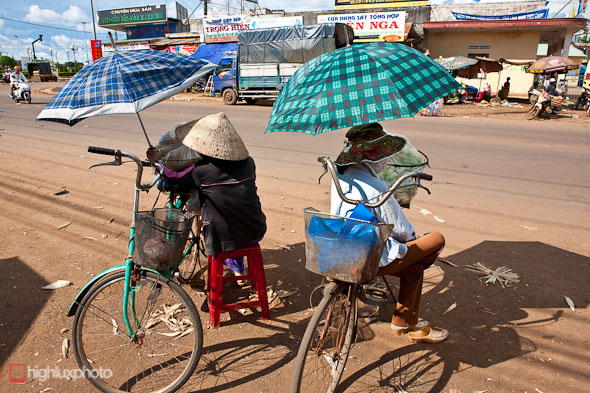 Street vendors in Chu Se. We stopped there for the night and checked into a hotel with decent wifi so we could catch Cadel Evans on streaming video as he crushed the Schleck brothers in the final time trial of the Tour De France.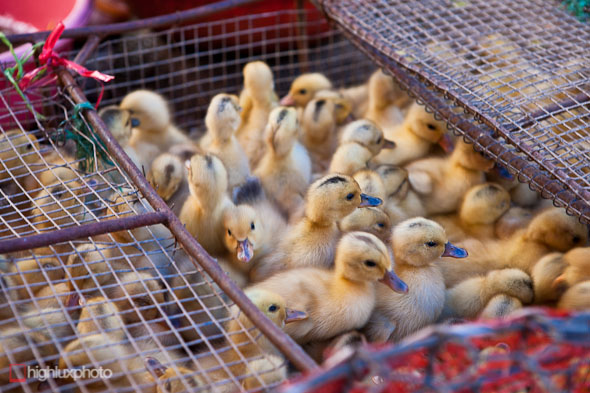 Ducklings for sale in a Chu Se market.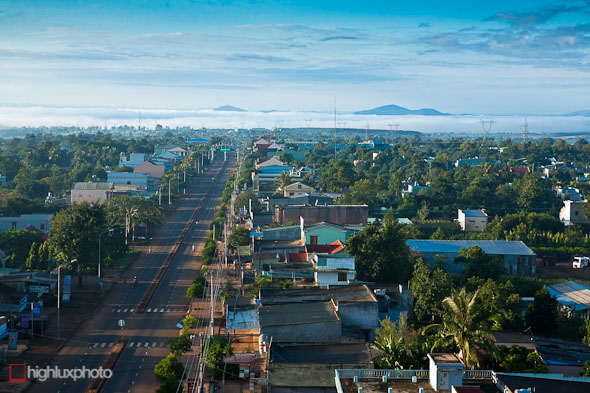 Streets of Chu Se just after daybreak from the roof of our hotel. Shortly after, we pedalled off into the inversion cloud as we began a 150km day riding to Buon Ma Thuot.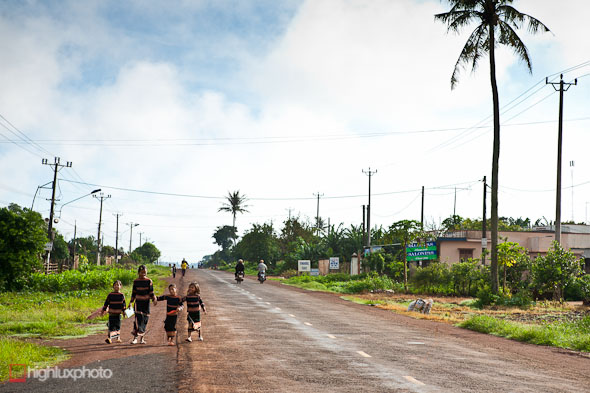 After being quite busy between the previous big towns, traffic quietened on this section of highway. It was a Sunday and as we rode through the frequent villages, montagnard people were heading to church in their traditional garb.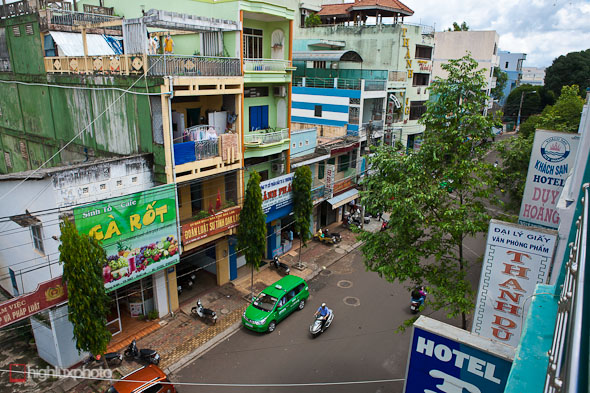 Downtown Buon Ma Thuot from our hotel room.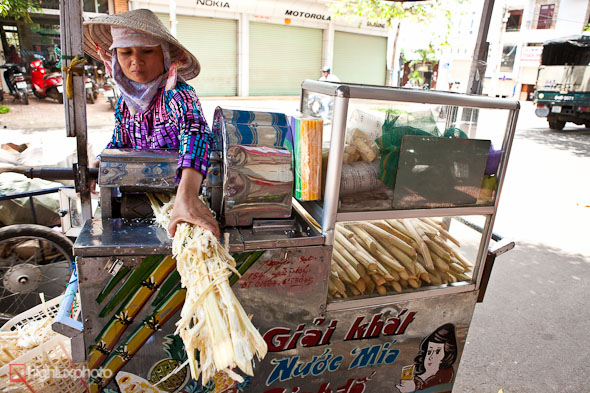 One of our staples has been nuoc mia, or sugar cane juice. Freshly squeezed, flavoured with lime juice and plenty of ice, it's available everywhere for about 30c a glass. Yum.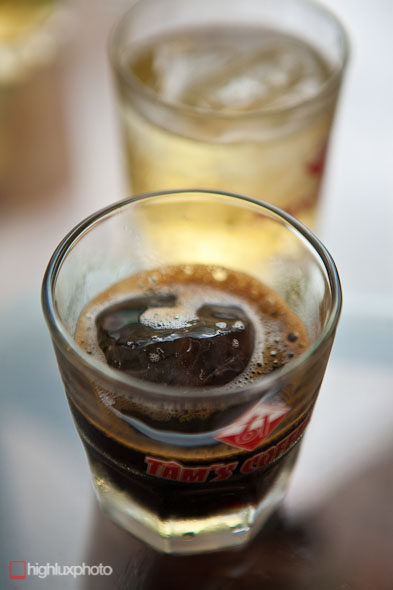 Another of course, is coffee. Buon Ma Thuot is a major coffee growing region and some of what we buy back home in NZ comes from Vietnam. The beans here are roasted in butter though which imparts a distinctive sweetness to the roast and reduces bitterness. Coffee here is almost always served with a glass (or jug) of ice cold green tea too.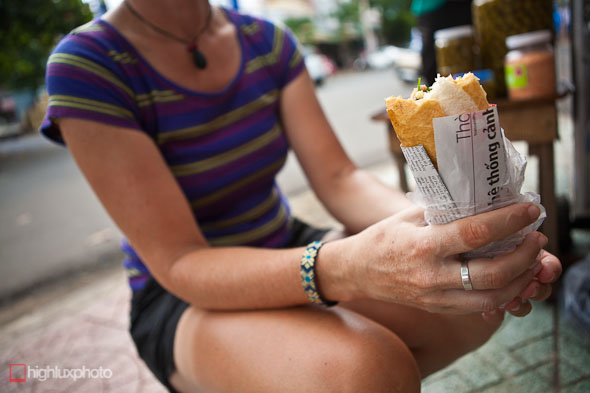 On the topic of staples – we eat banh mi (bread rolls filled with meat or fried egg and salad) almost daily too. These are common on the street and set you back about 60 cents.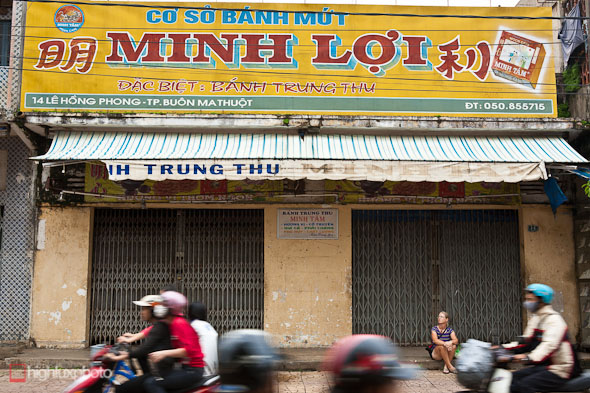 Hanging out in Buon Ma Thuot.