Day 90: Khe Sanh – Aluoi (565m) 109km. 1110m total climbing, mostly on rolling road with steep climb about 20km before Aluoi.
Day 91: Aluoi – Hue (50m) 71km. 6km to junction on highway 14 then highway 65 down to Hue – a very nice minor road with no traffic.
Day 92: Hue (DMZ tour – see next post).
Day 93: Hue.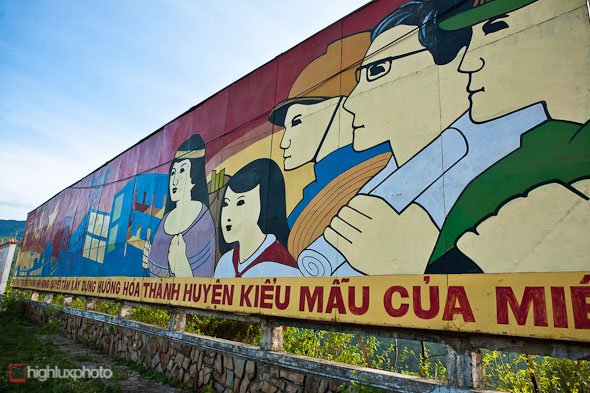 Socialist mural on the outskirts of Khe Sanh. Reminders that one is in a vigorously communist country are constant here – with murals like this frequently on the roadsides. After China and Laos (both communist also) socialist messages are much more in your face here; I suppose because it's only a generation since the communist victory over the South Vietnamese.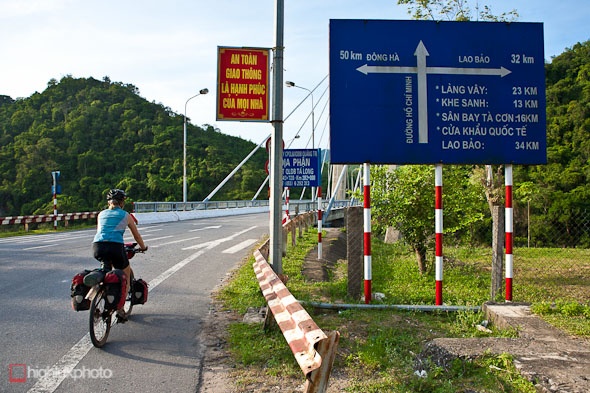 From Khe Sanh it's a smooth roll down a long hill to the Da Krong Bridge (why I didn't get a picture of the actual bridge I don't know), but any rate; it's the famous entry point to the A Shau Valley up which North Vietnamese forces infiltrated South Vietnam from the Ho Chi Minh Trail during the Vietnam War. It's also home to several groups of minority peoples.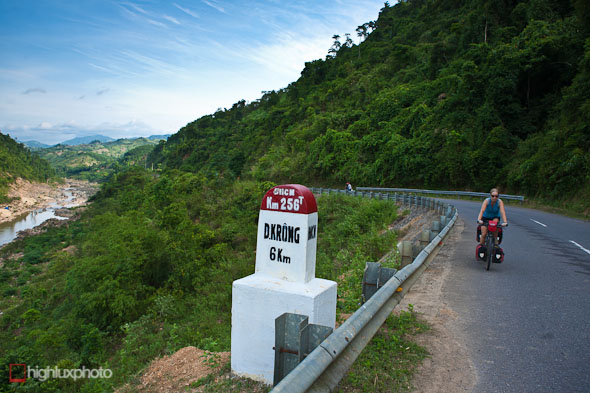 Looking back down the A Shau Valley 6km from Da Krong bridge. The valley was really nice riding: a very quiet road, scenic and dotted with occasional villages. The jungle took an absolute beating from napalm, bombing and exfoliants during the war – but it seems to be slowly regenerating in places.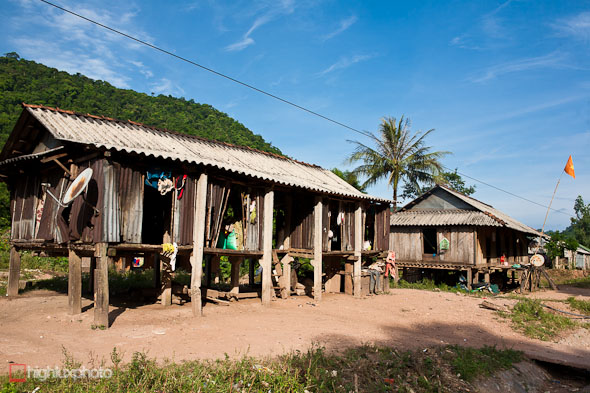 Bru homes on the side of highway 14 through the A Shau Valley. No more Laos-style bamboo huts here – things are a little sturdier, if not just as basic.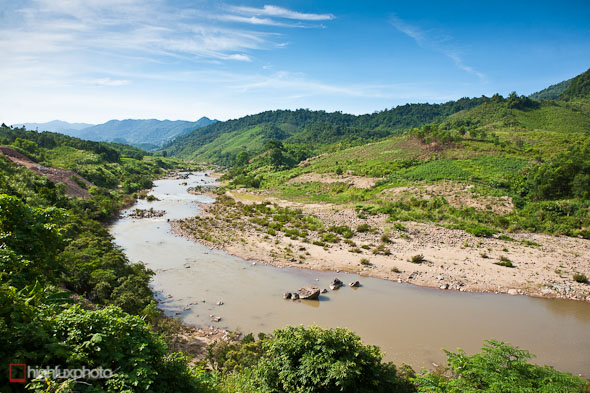 A Shau Valley.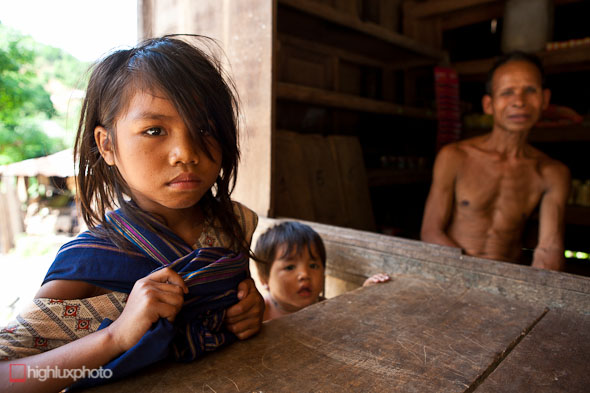 Bru people in a village we stopped in for a break. Travellers' stories about how Vietnamese people are full on, not as friendly as such and such, hard to bargain with, aggressive and so on are rampant – and from our two days of experience so far – completely unfounded. People have been as relaxed and friendly as anywhere we've been so far.

We stopped for the night in Aluoi, a small regional centre with a couple of guesthouses and a few restaurants. It had been a long and sweaty ride getting there, despite starting at 6am from Khe Sanh. Unfortunately the long climb of the day came right at the end of the ride – in midday heat – so we got cooked, ran out of water and generally suffered.
During the early days of the Vietnam War US bases established in the area were overrun by the North Vietnamese and it became a PAVN trans-shipment centre for supplies coming off the Ho Chi Minh Trail. Hamburger Hill, site of an infamous and vicious Vietnam War battle is not far from here.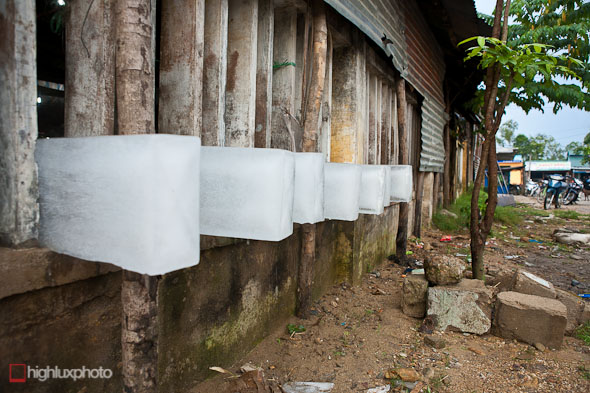 Reportedly, ice in Laos and Vietnam is safer to have in your drink than in other SE Asian countries because they were taught to make it hygenically by the French. I'm not so sure about the storage practices though…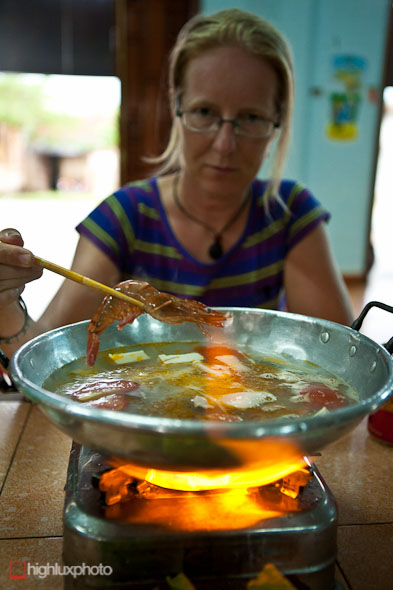 Our quest for interesting (and preferably cheap) meals is never ending. This seafood hot pot restaurant was a good discovery in Aluoi and a bargain at NZ$9 for two (which is actually at the upper end of our dinner-spending bracket!)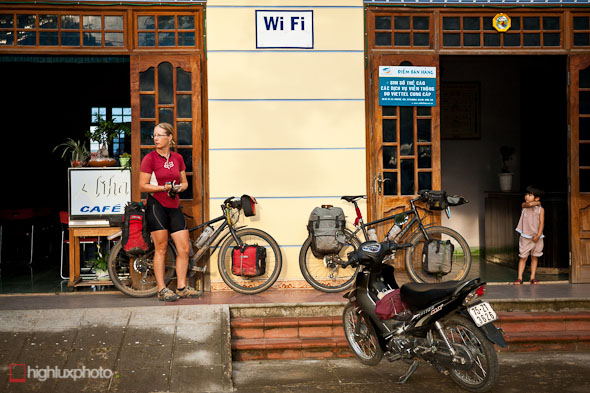 Gearing up to roll out of another cheap hotel. Note the prominent 'wifi' sign; here it's much more common than in Laos or China.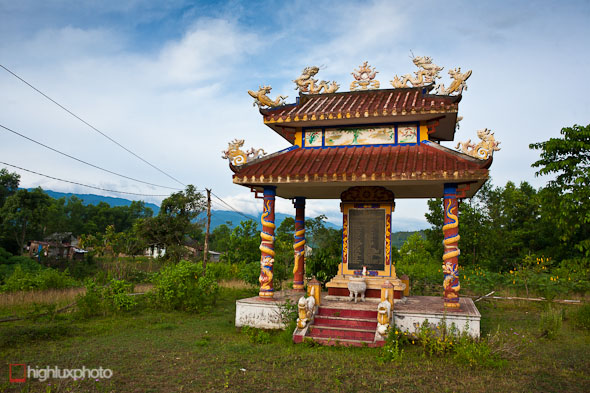 War memorial just down the highway from Aluoi. The range in the background is where the Hamburger Hill battle was fought during the Vietnam War, and Laos lies just behind that.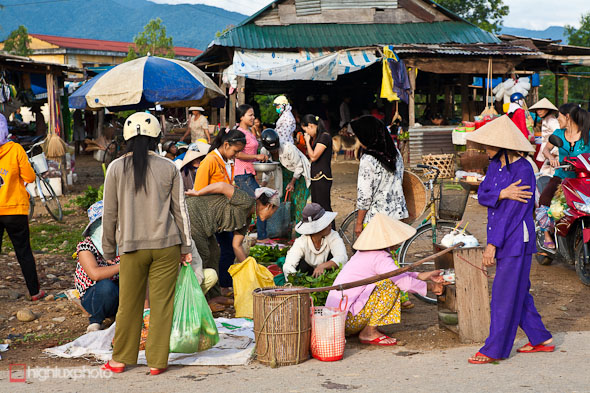 Market scene in a small village down the highway from Aluoi.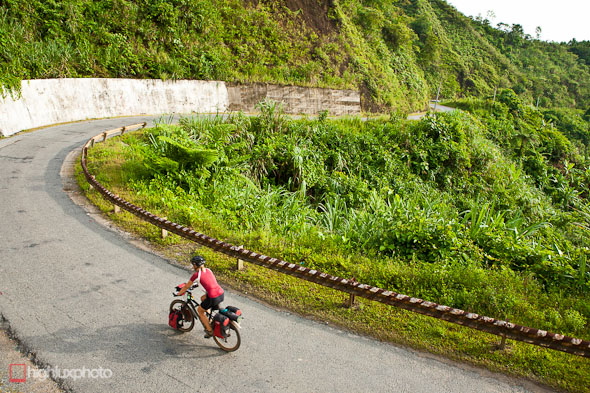 About 15km down the highway from Aluoi we departed from highway 14 and the highlands and took a minor road (highway 49) down through the ranges to the coast. We were making a beeline for the famous city of Hue, where we planned to hang out for three days or so before heading down the coast and then back into the highlands.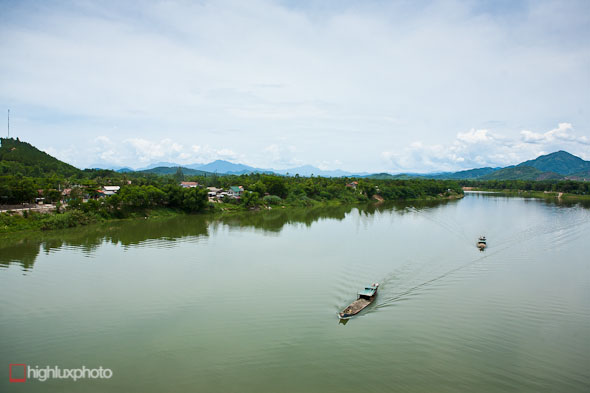 Lowlands and river on the outskirts of Hue.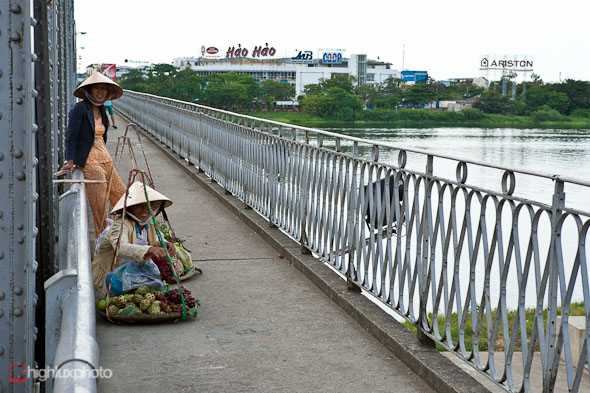 Hue was the biggest city we'd been in for nearly two months and came as a small shock to the system. It's bustling, but suprisingly not overrun with tourists and seems to maintain a cool fusion of traditional Vietnam and urban modernity.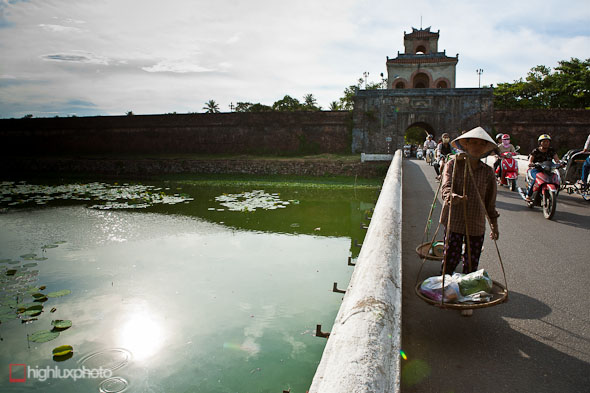 The highlight of Hue is the Kinh thanh Hue, or the old imperial citadel, a massive walled city within the city. It bears the scars of war with the French and was again fought over during the Vietnam War when North Vietnamese forces briefly captured Hue during the 1968 Tet Offensive. The citadel dates back to the early 19th century and contains the Imperial Enclosure as well as number of pagodas and churches and is a cool place to explore.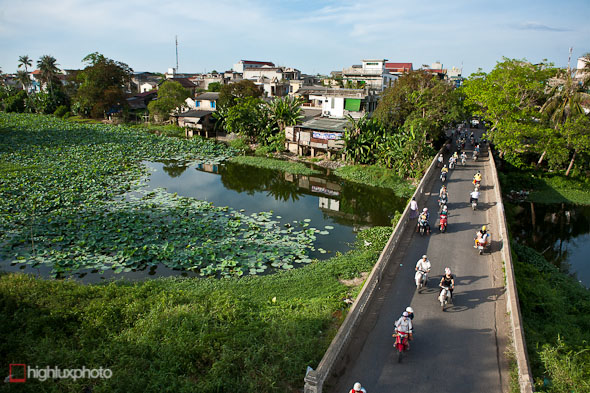 View from one of the citadel watchtowers. The citadel has a 10km boundary and moat.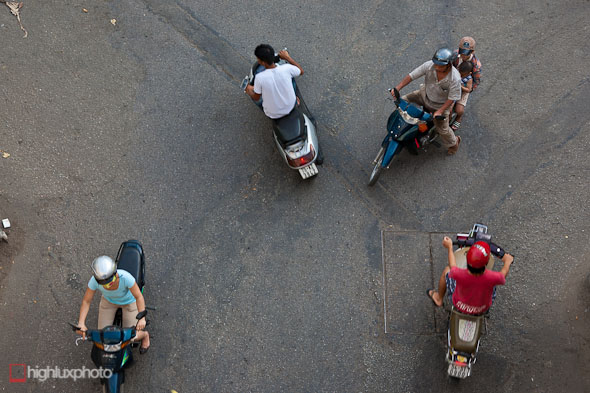 Hue is a motorcycle frenzy.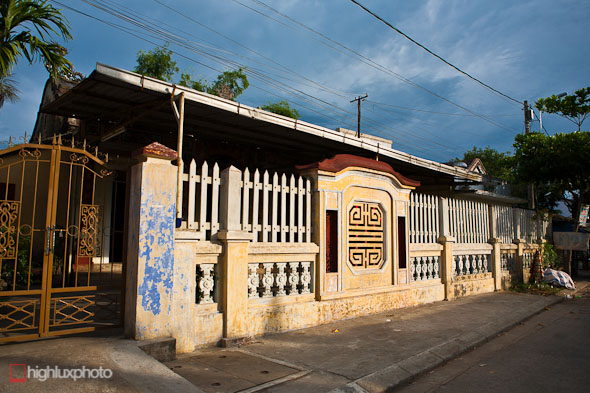 House within the citadel. As well as the tourist attactions of the citadel, thousands of people have homes, shops and businesses within its walls.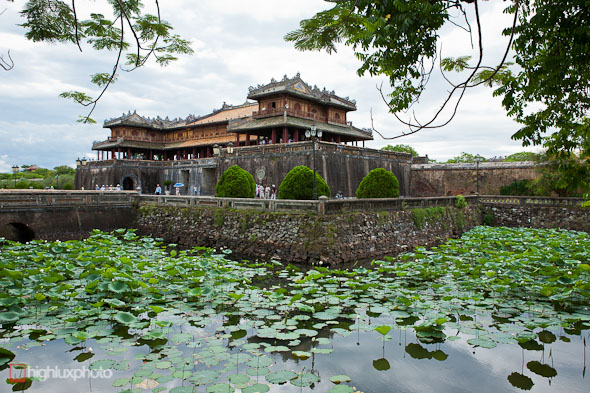 The entrance to the Imperial Citadel's Royal Enclosure.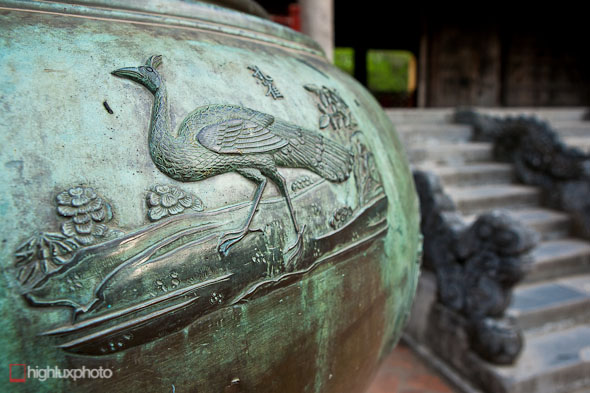 Detail of a bronze urn.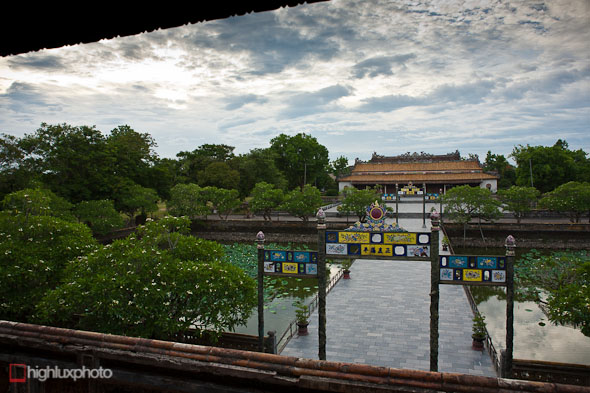 Inside the Royal Enclosure, Kinh thanh Hue.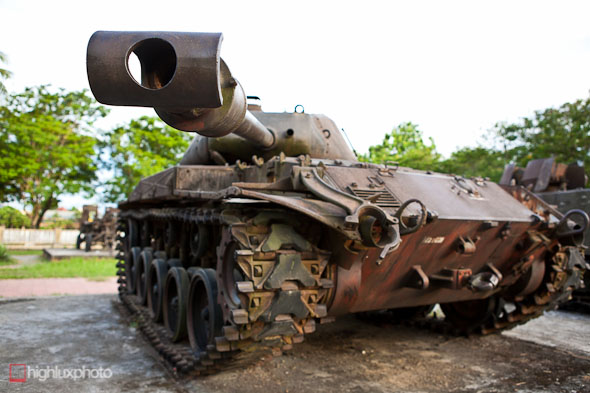 Captured US tank on display with other military hardware inside the citadel.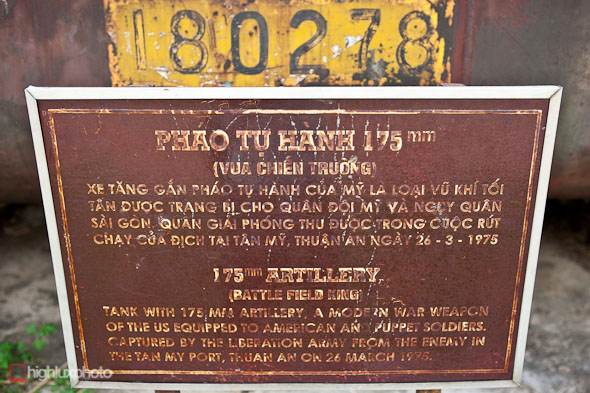 Explanations and captioning regarding anything of a military nature here is heavily propagandist: this one refers to the South Vietnamese as 'Puppet Soldiers' of the US, and the North Vietnamese as 'Liberators'.

One of Hue's many alley ways; this one a convenient strip of cheap restaurants and hotels that became our universe for three nights there.