Vientiane – Nongchan
Day 78: Vientiane – Thabok (170m) 112km. Sealed 20km, then 25km dirt road alongside Mekong, then sealed highway. Flat.
Day 79: Thabok – Paksan (160m) 58km. Flat.
Day 80: Paksan – Viang Kham (160m) 91km. Flat.
Day 81: Viang Kham – Lak Sao (500m) 110km. 1200m total climbing through awesome karst landscape.
Day 82: Lak Sao – Thalang (500m) 53km. Sometimes muddy dirt road through paddies and jungle. 385m total climbing.
Day 83: Thalang – Nongchan (165m) 123km. 25km rolling dirt road, then descent and sealed highway to Nongchan near Vietnam border.
From Vientiane onwards our plan was to follow the main highway south – paralleling the Mekong river – for a couple of hundred kilometres to Viang Kham, and then east towards the Vietnam border before turning south again onto a back route we'd been recommended by a couple of French cyclists. The route – probably once part of the Ho Chi Minh Trail – promised more karst landscapes and jungle, 75km of dirt road, and virtually zero traffic. At some point though we'd have to pick which route exactly to take to get to the Lao Bao border crossing into Vietnam.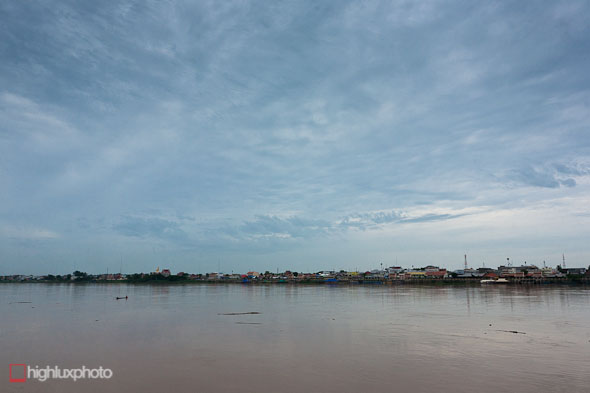 For the first 45km out of Vientiane we follow the Mekong River, 20 km to the Friendship Bridge, then 25km of dirt to rejoin Highway 13. Now and then the broad and brown expanse of the river appears – offering a view to Thailand on the other side.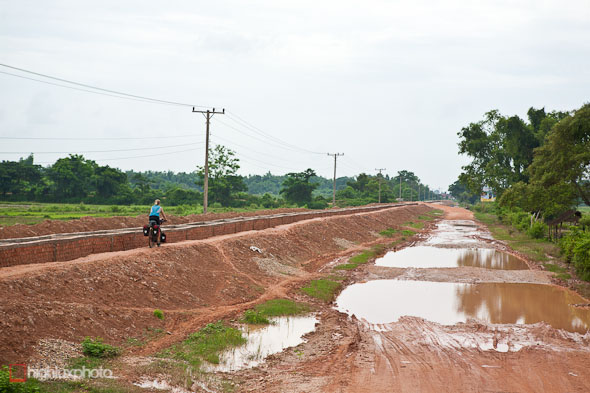 The heavy rain of the past four days has left things a little damp.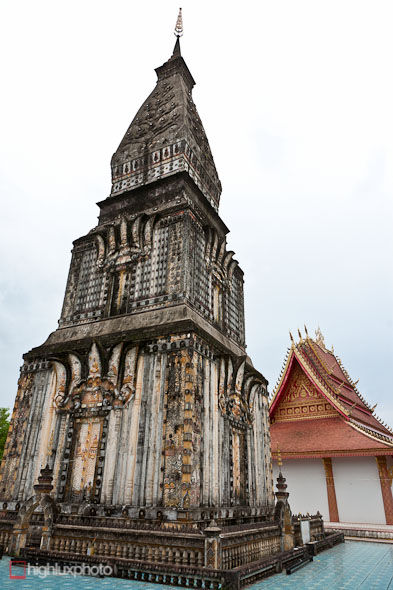 Back on the main highway we stopped to check out Wat Phabat Phonsone, a famous temple where a cow-sized depression in the sandstone rock is recognised by buddhists to be Buddha's footprint.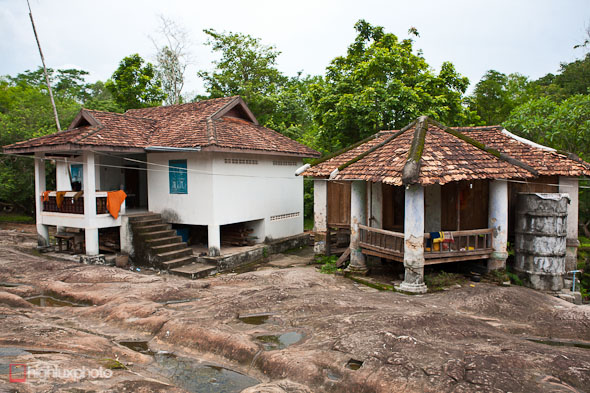 Monks abodes.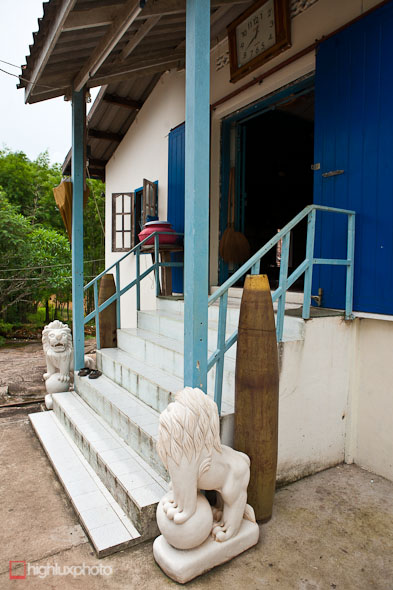 Even the monks aren't shy about displaying unexploded bombs that have been recovered nearby.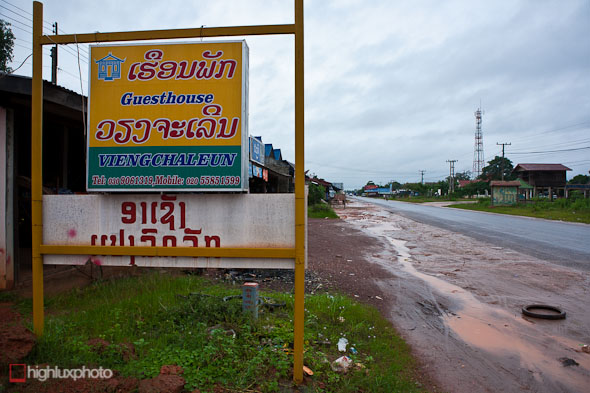 A day's ride out of Vientiane we discovered that our bottom brackets bearings had dramatically and simultaneously self destructed (too much water and sandy roads).
With not much hope of seeing a decent bike shop until Ho Chi Minh city (about 2000km away!), we decided to get the 7am bus back to Vientiane and try our luck at a shop we'd noted down in case we needed it. It seemed like a long shot, but worth a try. We were in Vientiane by 9.30 and managed to find the shop without too much trouble, and were amazed to find a English speaking European mechanic who said 'Yep, no worries. I'll have them both done by 11.30'! By 2.30 we were back in Thabok with time left to pound out a few km on the highway before dark.
The shop by the way is: Top Cycle Zone, 47 Dong Palan (not far from the city centre). 021263871.

Dinner stop: pick your meat from the covered trays, then it's barbequed and served with a plate of rice.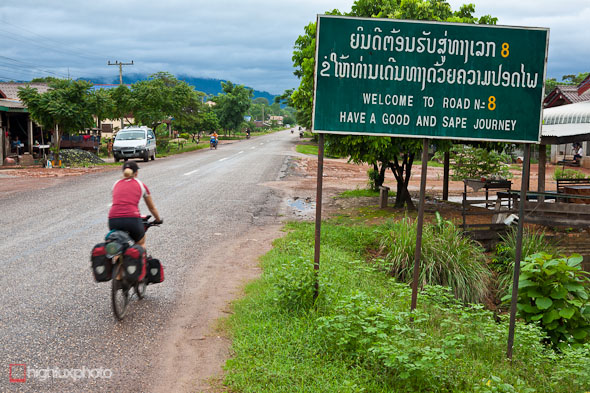 After a night in Viang Kham at the junctions of highway 8 and 13S we turned off the next morning and headed east into Bolikhamxay Province. The plan being to head to Lak Sao and then south, on a dirt road, through to Khammouane province.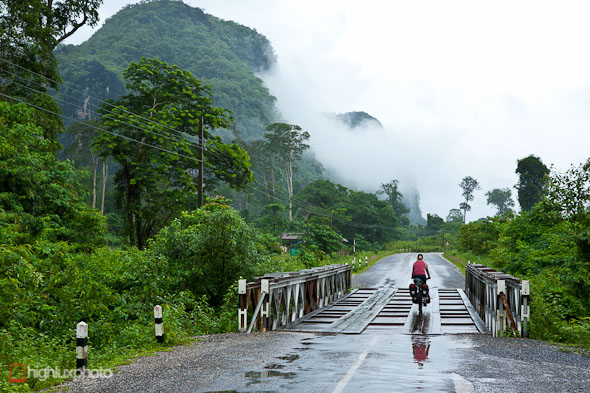 Despite being yet another wet day the ride east was awesome, especially after the flat terrain of the trip south from Vientiane. The mist rolled around to reveal karst landscape and the road had a couple of nice climbs through lush jungle.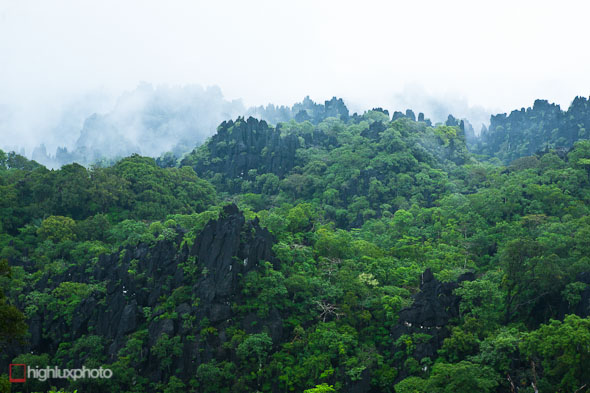 Spiny ridges emerging from the mist.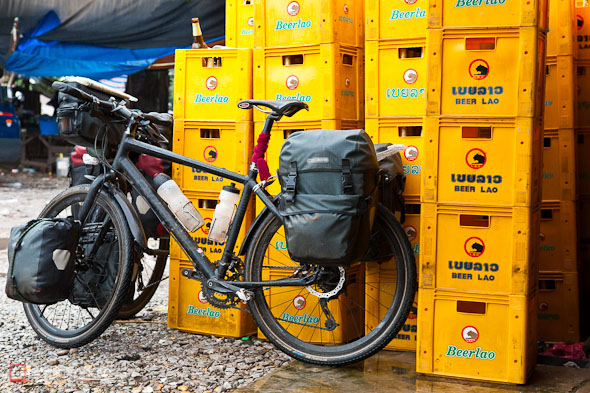 The Laos staple.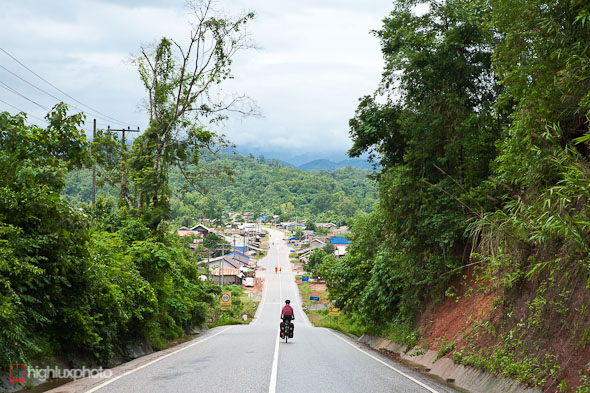 Fortunately it seemed to get drier the further east we got.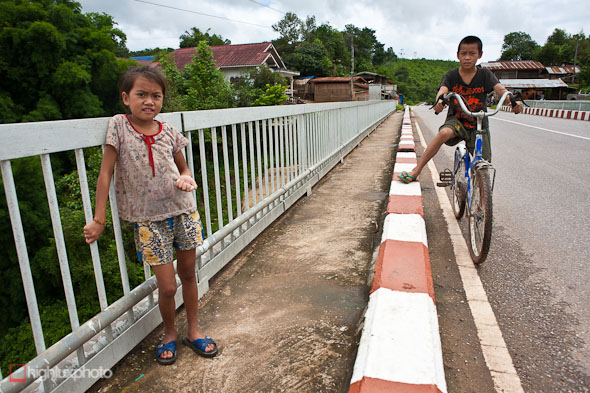 We stopped on a bridge in the tiny village of Nam Theun and these two kids came to check us out. The girl especially was just fascinated by us.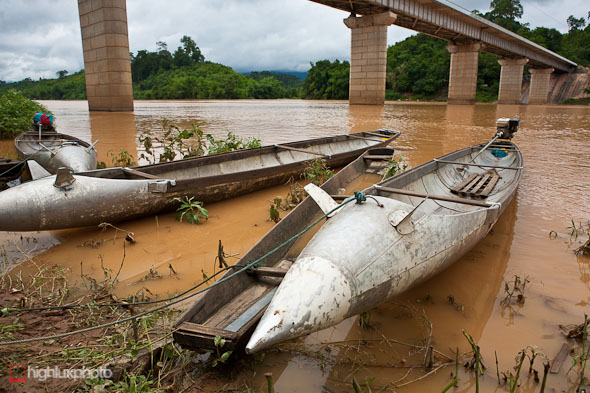 These boats in Nam Theun are recycled from long range fuel tanks jettisoned by US fighter bombers over 30 years ago. They're quite a common sight and come in a few different styles, depending on the type of fuel tank and the province in which they were dropped. Bolikhamxay and Khammouane provinces were ruthlessly bombed by the USA during the Vietnam War to disrupt North Vietnamese troop and supply movements along the Ho Chi Minh Trail, most of which lay in Laos. Traces of the bombardment abound.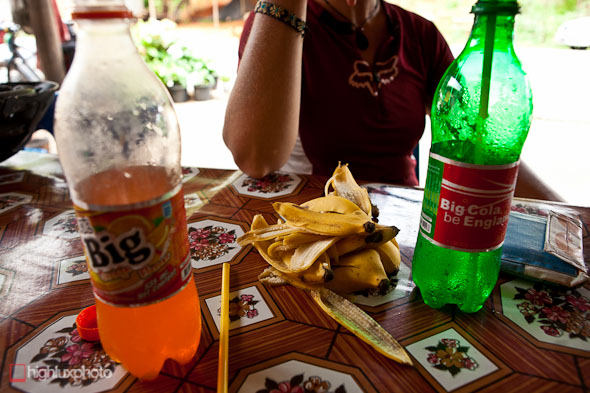 Afternoon tea.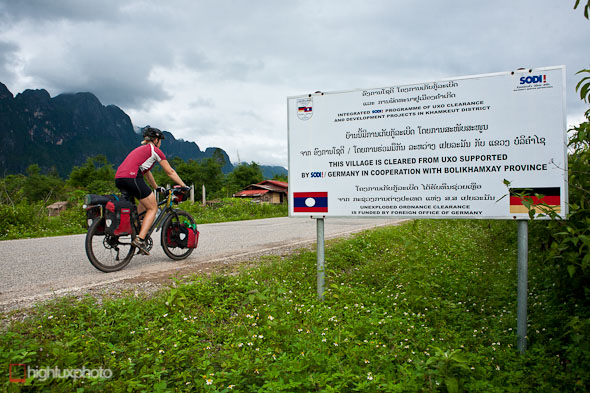 As with the Plain of Jars region, unexploded bombs are a major problem in this region (over 30% of dropped US ordinance did not explode). Villages are slowly being cleared one by one, and anywhere outside of a village or off a road is considered to be extremely risky.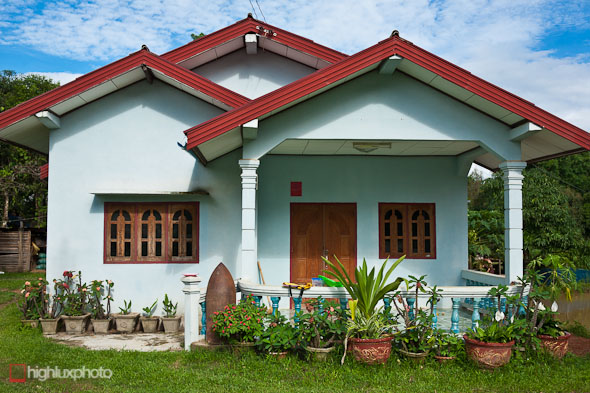 Spot the warhead.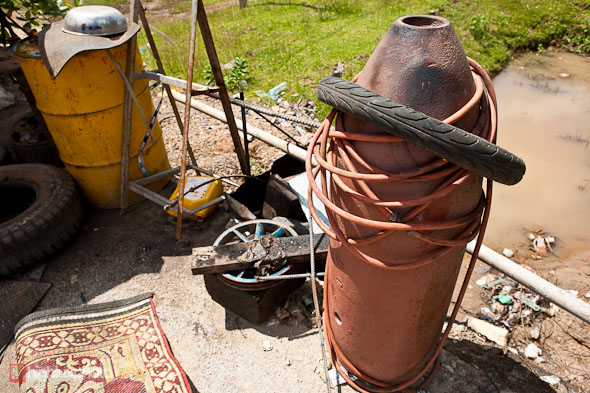 This unexploded bomb has been put to practical use outside a garage. Many end up adorning driveways, or as fenceposts. Recycling of UXO and war scrap is very common here – more on this in the next post.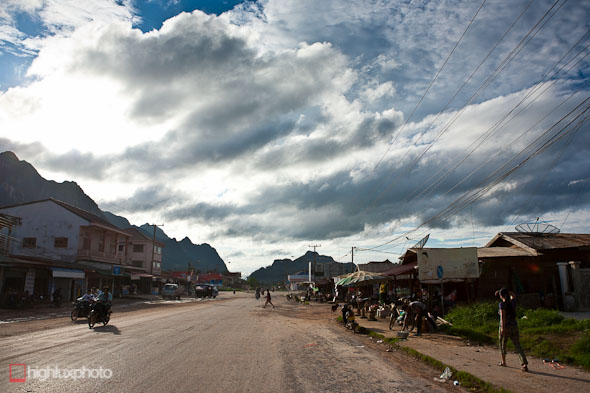 Lak Sao's a dusty and slightly wild feeling town only 20km or so from the Vietnam border. Many of the bigger towns in this region were flattened by bombing and rebuilt with little thought or planning, and often with Soviet architectural influence. From here we turn south again, onto a minor road that's unsealed for the next 75km.

The sun sets behind limestone peaks in Lak Sao.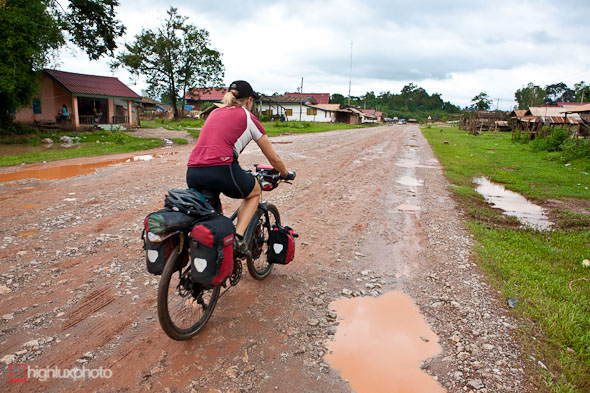 Heavy overnight rain ensured that the surface was nice and soggy in the morning.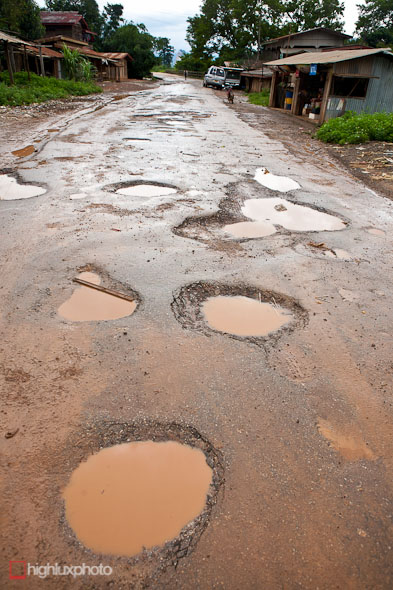 With some choice potholes thrown in for good measure.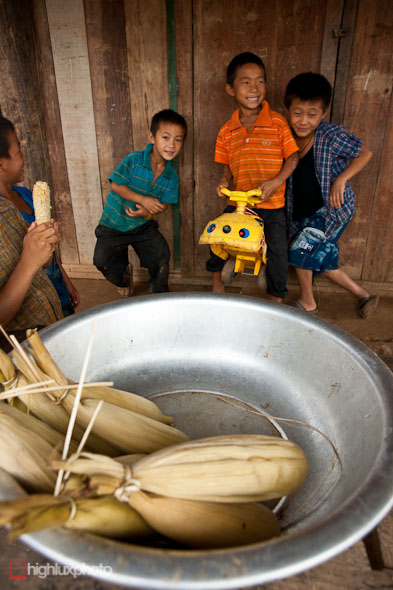 We bought a couple of cobs of corn from these boys for morning tea – which they found absolutely hilarious.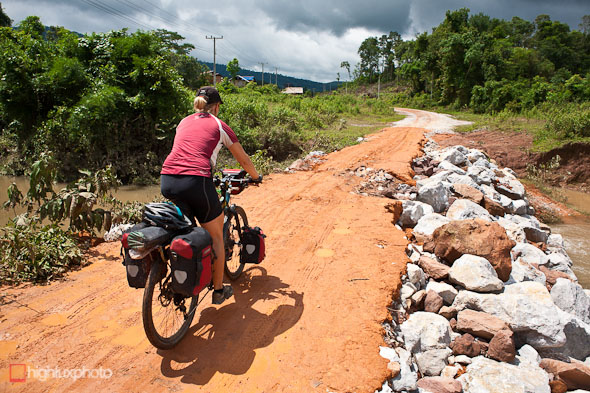 Some of the 'bridges' were just piles of rocks, with a layer of clay over the top – which the wet season downpours were quickly eroding away.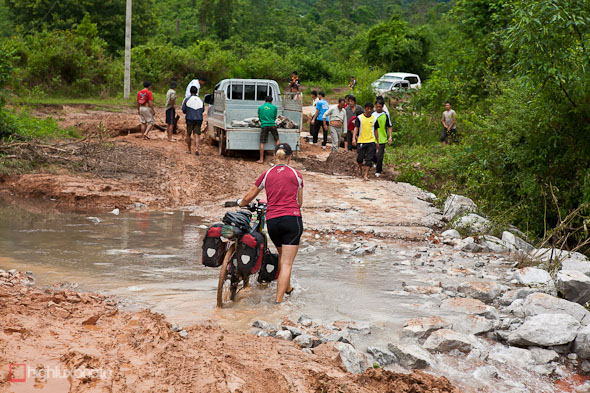 Like this one … Before long the road left the flooded rice paddies, narrowed, and wound over some ranges (only 385m elevation gain) and through some quality jungle. The riding surface improved to hard-pack clay and stretches of limestone cobbles. Definitely worth the detour.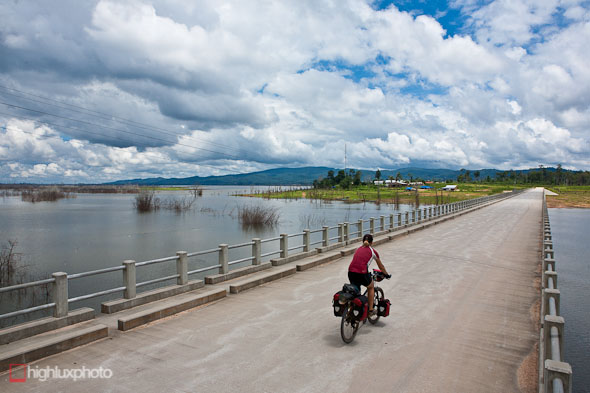 Eventually we popped out at the Nam Theun Reservoir – recently created to power a substantial hydro project. Hydro is one of Laos major sources of income, with substantial amounts of electricity sold to its neighbouring countries. We stopped at a sweet guesthouse (called Sabaidee, Thalang village) just on the other side of this bridge. The owner speaks english and is very friendly. Good food and great staff too.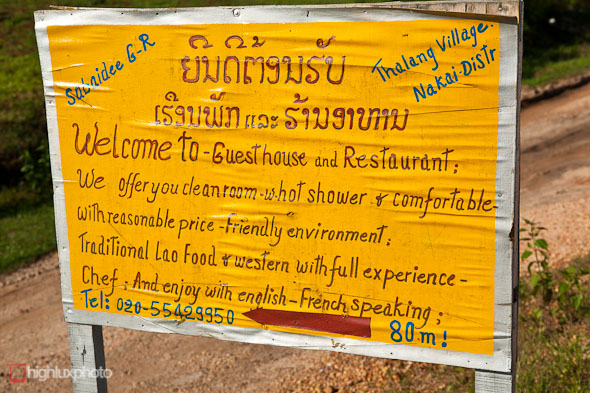 Sounds perfect…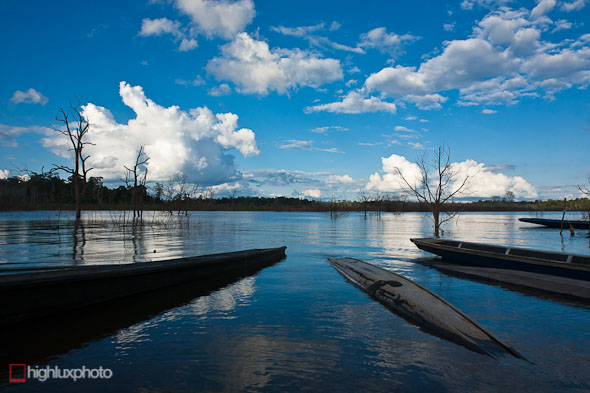 It's a very chilled place to hang out for an afternoon. No traffic, a tiny town and not a whole lot going on except for the odd fishing boat putting out across the reservoir.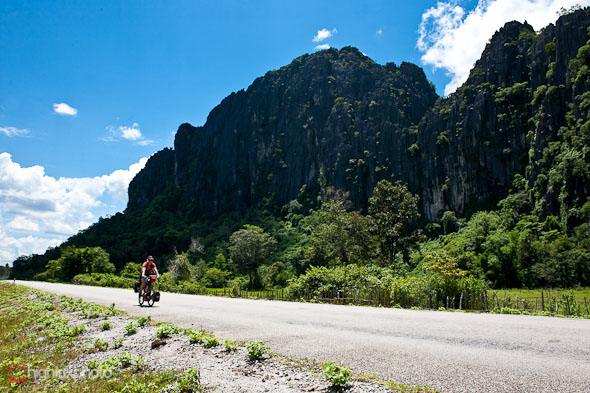 From Thalang village we rode 25km of rolling dirt road and then dropped down past the dam to Gnommalat. Here we decided to ride further east back to near the Vietnam border and take a tempting looking dirt road that wound through the ranges parallel to the Vietnam border for about 120km. Historically the route would have been part of the former Ho Chi Minh Trail and promised remote villages, traces of the Vietnam war, and some awesome scenery. We had no idea of the quality of the road though and whether or not it would be traversable in the wet season. It was a shot in the dark…
First we had to ride to Nongchan, a town we knew nothing about (once again we were – quite intentionally – in a Lonely Planet black hole) that was near the border. As it turned out the ride there was awesome – quality karst mountains and wetlands – and a high quality road that was deserted save for the odd Vietnamese goods truck rumbling past.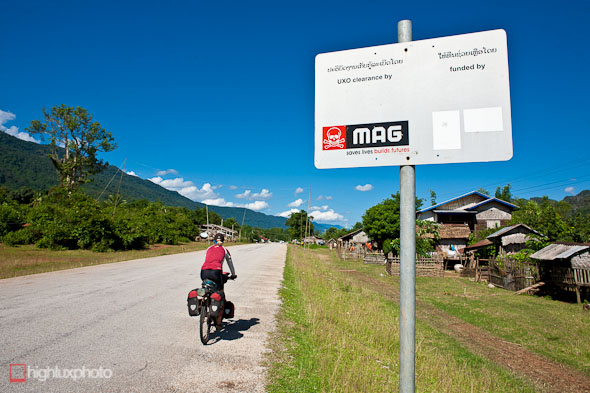 Mines Advisory Group signs were present in every village along the route – indicating they are UXO clear.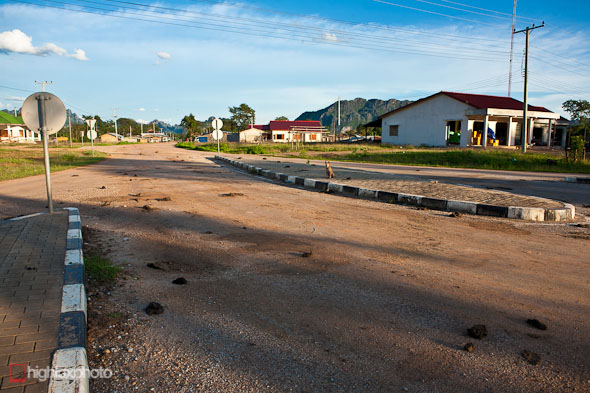 Nongchan was an odd little spot it turned out. More cattle than cars on the streets, very run down, and a mostly Vietnamese population. We were the freaks in town though; very few tourists use this border crossing and even less would stop in town. The town itself is postioned on a beautiful plateau, ringed with limestone peaks. The rain had finally stopped too!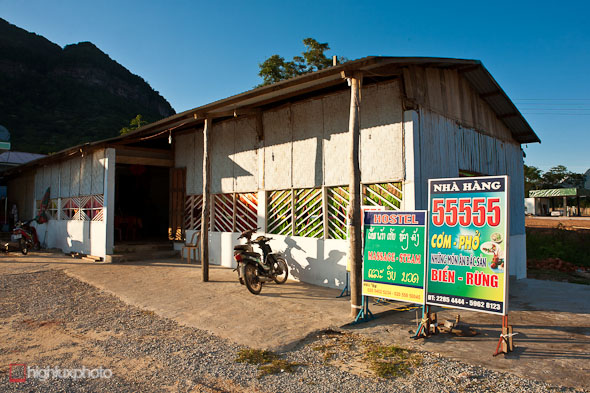 The only hotel in town offered 'massage' services, along with overpriced rooms. The food wasn't bad though.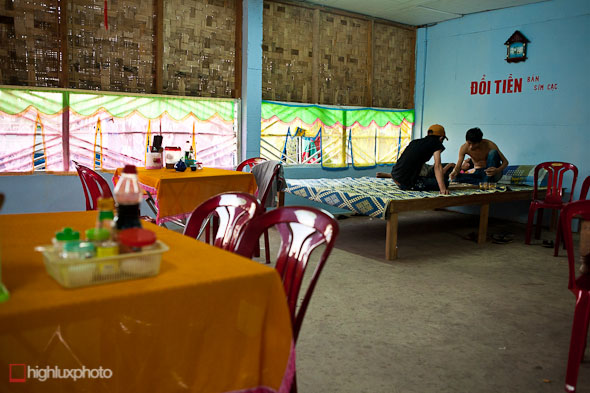 Very Vietnamese.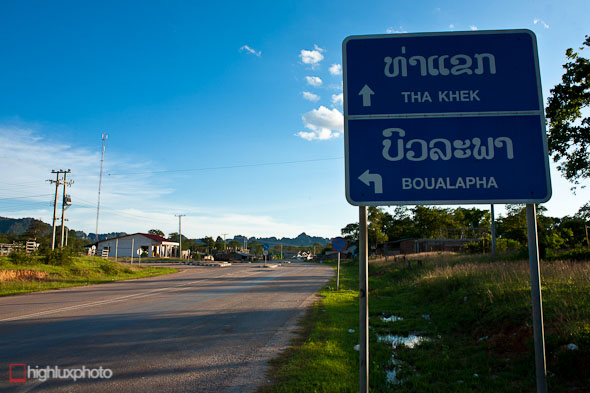 Boualapha was our next destination – apparently. Curiously this town, the only one signposted out of town, was not even marked on our map!