Luang Prabang – Houaphanh Province
We'd arrived in Luang Prabang intending to only spend three days, and in the end it was a fortnight before we got back on our bikes again. It's one of those places that's hard to leave; not only for its luxuries (luxury is a relative term of course: for us luxury is reliable internet access and a menu we can read!), but also for the infinite opportunities to explore the surrounding sites and provinces. With Jewel Travel Laos we'd taken a day-long mountain bike ride to some isolated villages, and a further opportunity to do a trip with them came about when we saw an advert outside their office: People wanted for exploration trip to Nam Et Pho Louey National Park. 5 days: river trip, kayaking and exploring.
After chatting with the guys there a bit more it turned out they were researching for a new trip they wanted to offer and basically making a dry run at the same time. The trip would take us (via minivan) back north and across to the west to the Houa Phan and Xieng Khouang provinces to make a 2 day boat trip with local Hmong people up a river into a relatively new national park. There was a chance we might see some wild animals, as well as a whole lot of Laos that we had not expected to see (such is one of the limitations of travelling by bike). They also planned to kayak a section of the Nam Neun river that had only ever been traversed by local villagers before. It sounded like a great opportunity.
I offered to shoot photos of the journey for their future promotion of it and we sorted out a very cheap deal – as well as negotiating an extra day into the package to explore the Plain of Jars and Phonsavan area, a side trip we'd been planning to make anyway. In the end Hana and I were the only two tourists on the trip and the next morning we set off early with Jewel Travel guides Yai and Phaivanh (the MD and founder).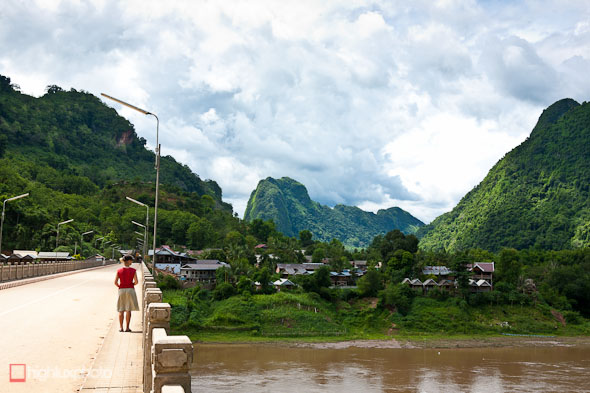 The trip took us in a clockwise loop from Luang Prabang north to Pak Mong and then west on very narrow and quiet roads to Nong Khiao, a beautiful riverside village set among karst towers and rampant jungle.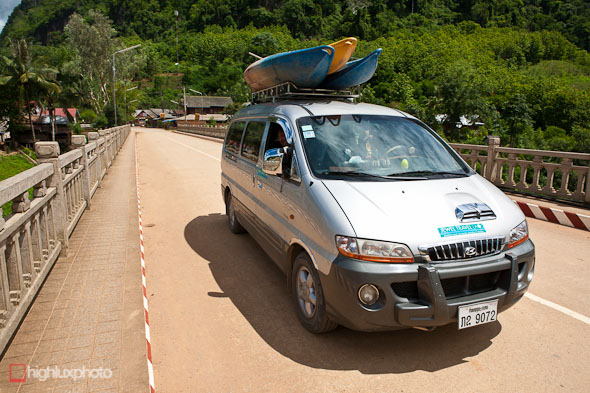 The mission vehicle.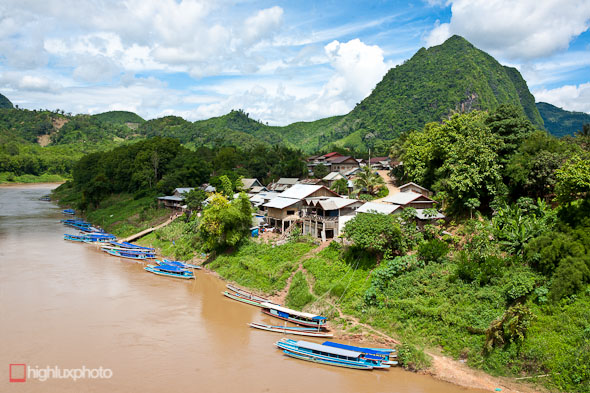 Nong Khiao.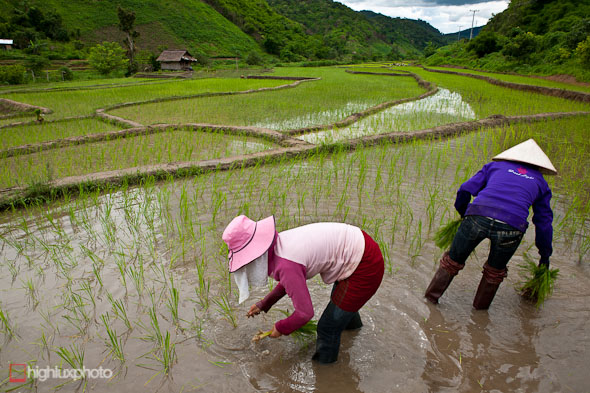 The nine hour drive on day 1 took us through some nice country; mist cloaked hills, occasional rice paddies and scarcely another car on the road.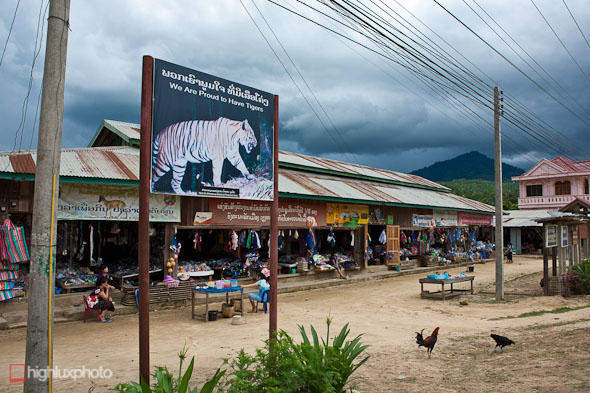 We overnighted at a guesthouse in Vieng Thong, just inside Houa Phan province and in spitting distance of the national park we'd check out the next day.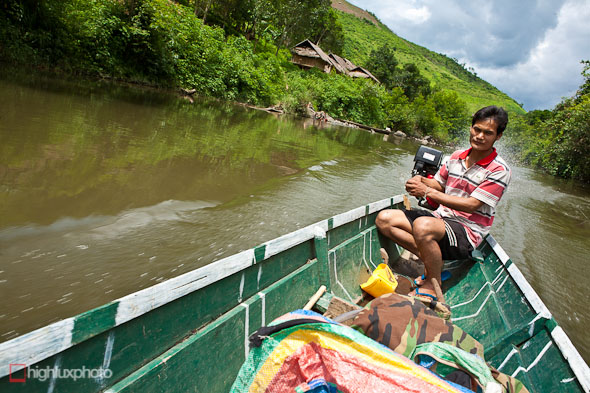 Next morning we drove 50 km further over more hills to a small village on the banks of Nam Neun river, from where we would access the national park by boat. In total 9 of us headed up the river: our two Jewel Travel guides; Sivilay, a tourism development officer for the national park; and a host of Hmong villagers to take us up the river in two long boats. These men also work as staff at the park's patrol base a couple of hours upstream.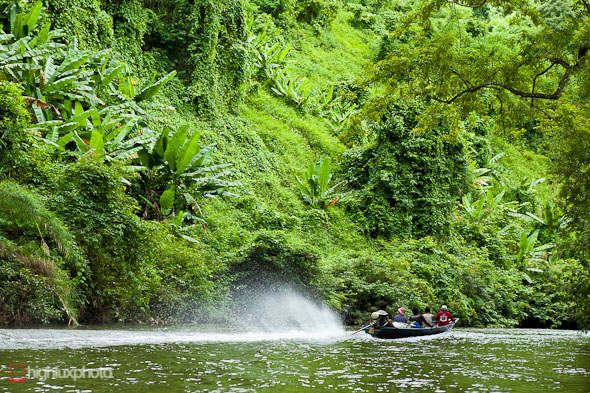 Heading upstream towards the national park. The river is very much the livelihood for local people here and fish provides a dietary staple. Fishing and game collection is allowed in the lower stretches of the river, outside the park, but in the interior poachers are actively patrolled for. Park authorities are having a very tough time of educating villagers in concepts such as conservation and protecting endangered animals.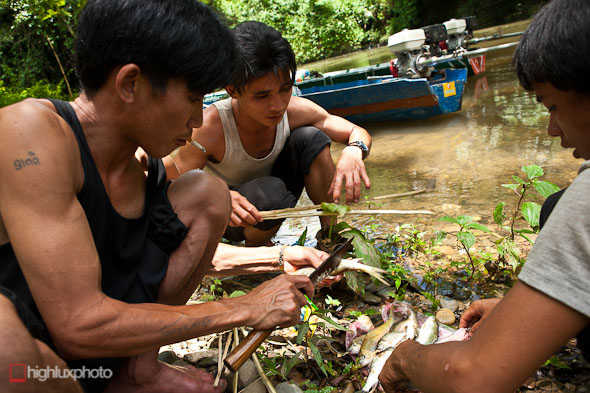 We netted some fish outside the park boundary and later stopped on the river bank while our Hmong river crew prepared us a BBQ fish lunch.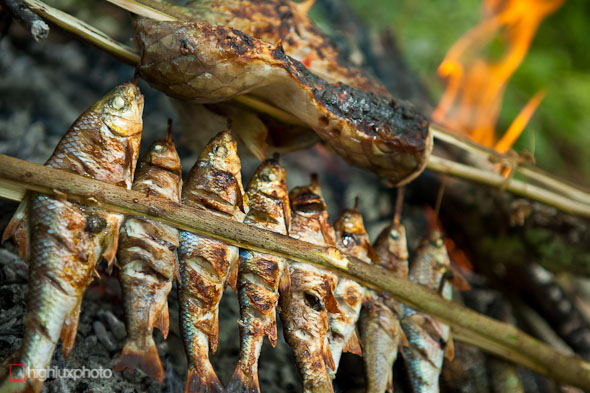 Very tasty…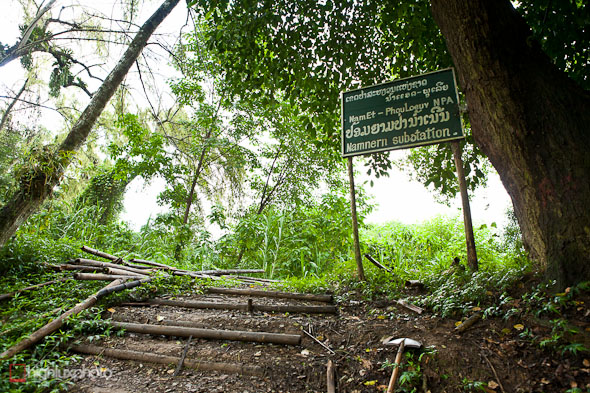 Nam Et Pho Louey National Park – only 8 years old! Sivilay, the park rep, was amazed when we explained that the likes of Yellowstone, Yosemite and even NZ's own Tongariro National Parks were all gazetted in the 19th Century. Such is the slow development of conservation in a country that has until recently been riven with power struggles and war.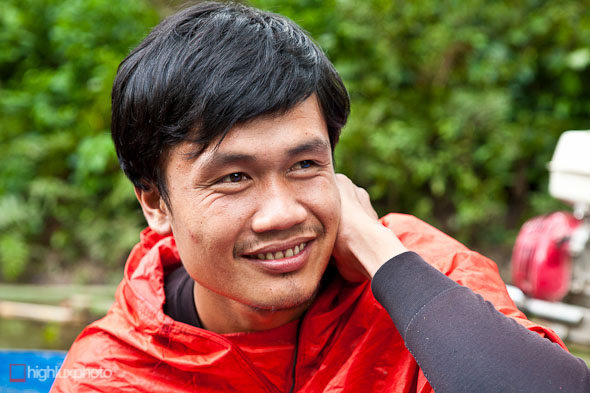 Yai – Jewel Travel guide and all round cool guy.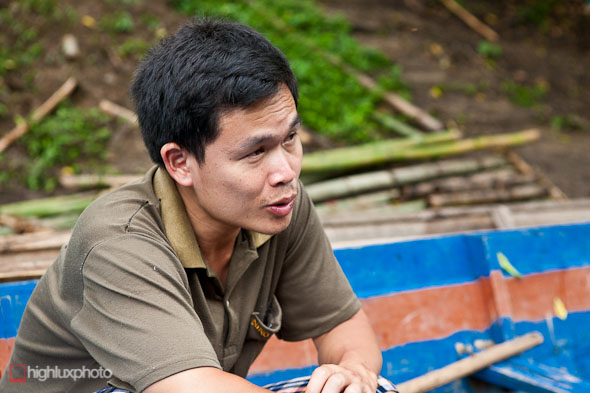 Sivilay – tasked with developing sustainable tourism within a fledgling national park.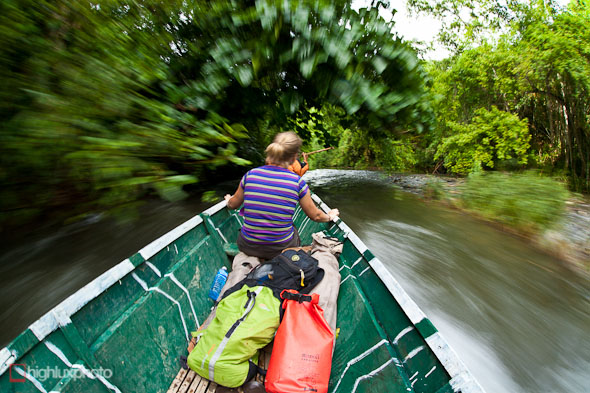 The trip up the river was a sometimes exhilarating journey as the boat crew – one at the stern controlling rudder and engine, and one at the bow with a long stick for fending – expertly navigated the rapids and overgrown sections.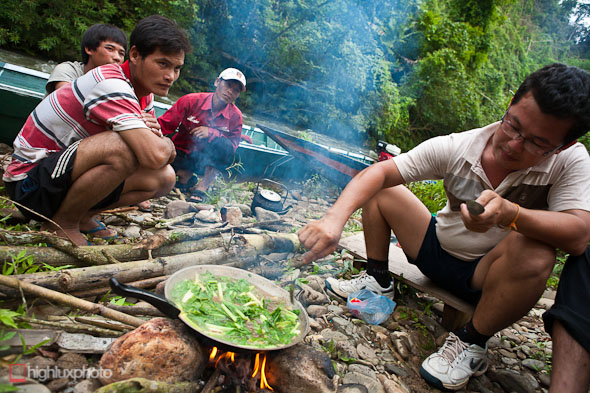 Phaivanh, the Jewel Travel founder cooks us some dinner – on the riverbank again.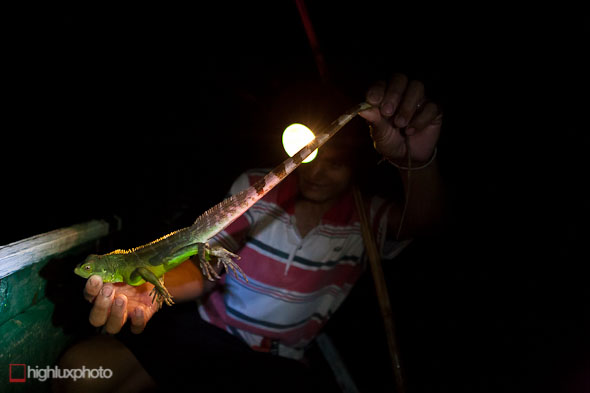 We went out for a night excursion in the boats to try and spot some wildlife – drifiting downstream with the engines off. Didn't spot anything very exciting, but I'm pretty sure the boat crew would have eaten this lizard for supper if Sivalay hadn't been there!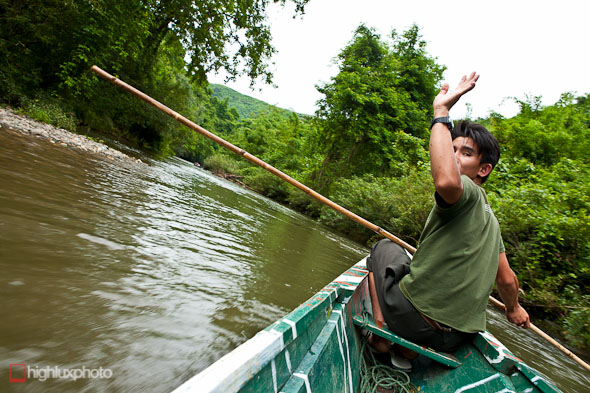 After a comfy night in some rustic bamboo huts were back off down the river the next day.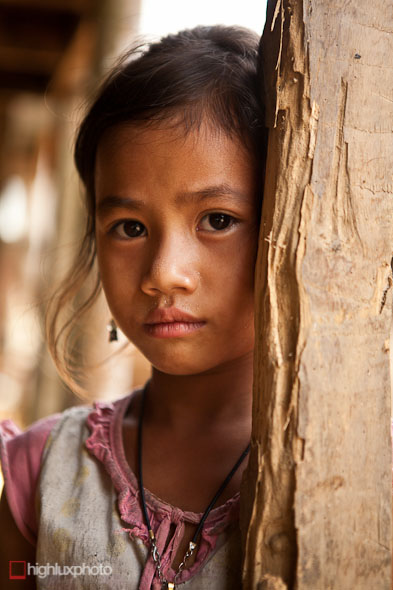 Children are so easy to portait here – they're curious, but quiet and often unselfconsciously stare right into your lens. They love it when you show them the shot on the preview screen too.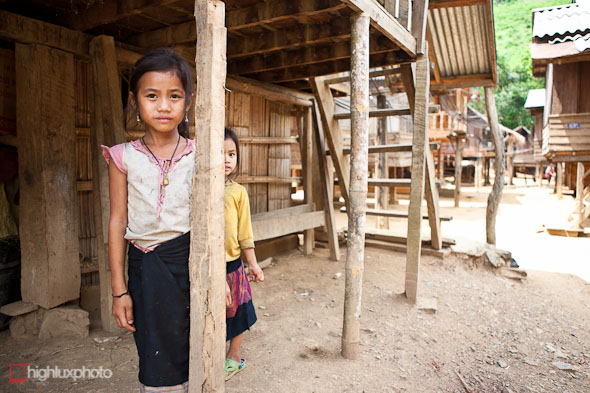 A couple of kids back in the Hmong and Khmu village that we used as a base for the river trip.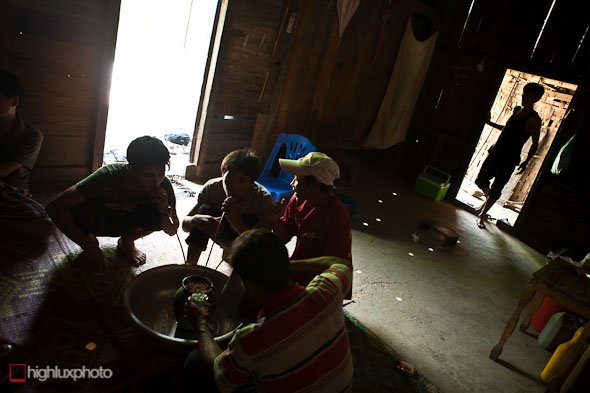 Back from the river, we were invited to lunch at the vilage chief-elect's house (I don't know that he was elected, but we'll stick with that for now…). Copious rice wine consumption preceeded the meal while his wife prepared a feed for ten people in her 'kitchen' (see next shot). The wine is drunk via long bamboo straws from a large jar, full of fermented 'mash'. It's quite concentrated by itself, so cups of water are poured in (the water came from an old motor oil bottle) to dilute it.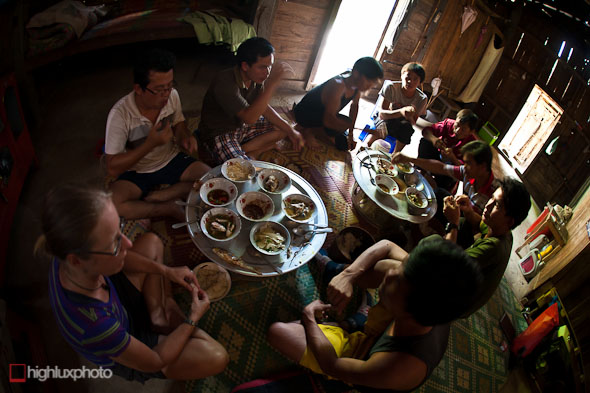 Sticky rice and fresh fish from the river…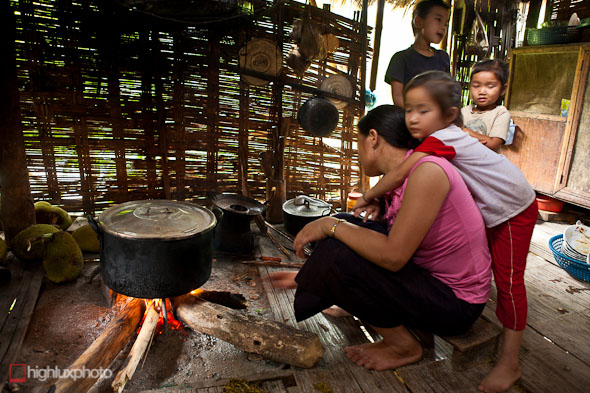 The chief's wife and kids, and her kitchen.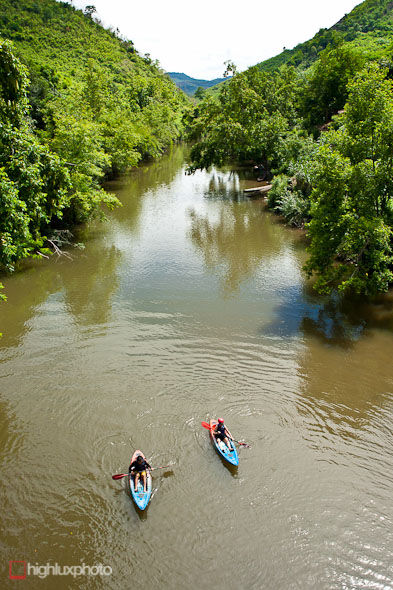 We spent a night back in Vieng Thong, and the next day made a 13km kayak excursion down river, from the same spot we'd made the trip into the national park (upstream).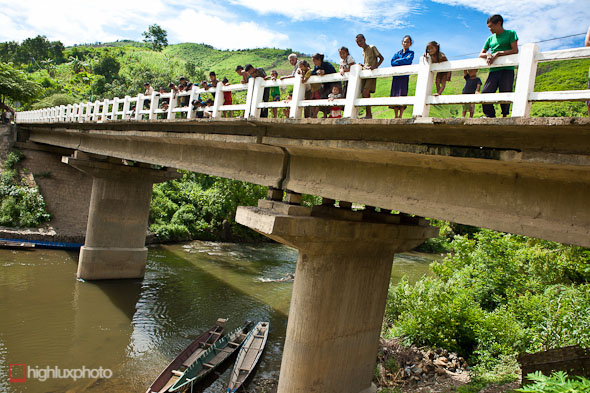 No one had kayaked this stretch of river 'recreationally' before, let alone two foreigners, so half the village turned out on the bridge to check out the spectacle.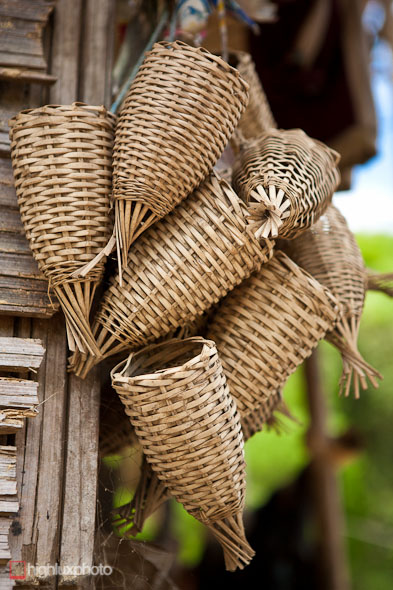 Fish traps.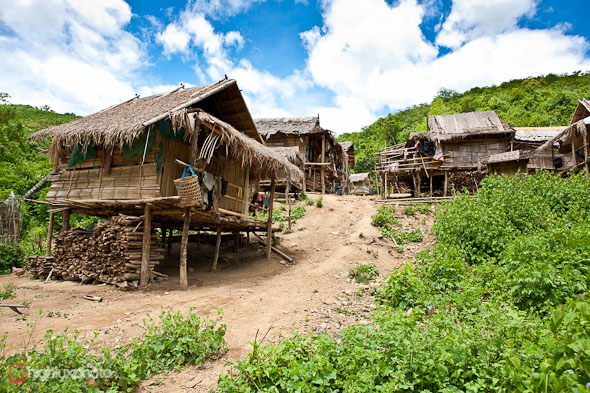 A fishing village we stopped at as we cruised down the mellow river – accessible only by river, or a motorbike trail in the dry season.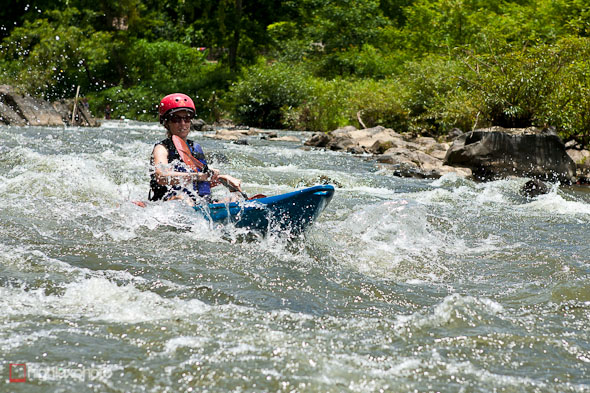 There were a few sections of rapids to keep things fun on the river.
Next stop, Phonsavan and the Plain of Jars.