Day 87: Villabury – Sepon (185m) 107km (inc. 25km to dead end and return!). Rolling sealed road (dirt for the dead end bit).
Day 88: Rest day in Sepon
Day 89: Sepon – Khe Sanh (400m) 68km. Rolling highway to Vietnam and short climb to Khe Sanh. SE Asia country number three!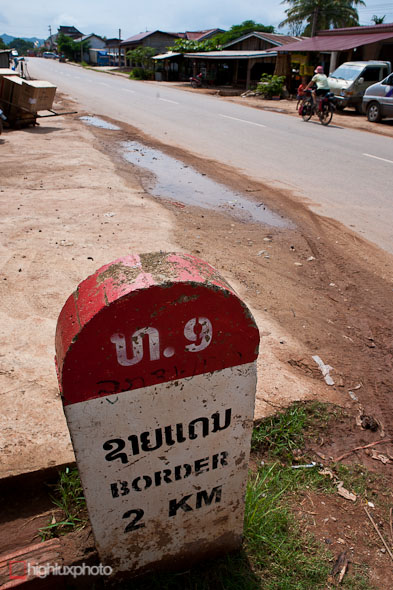 From Villabury we could have taken the easy option and had a cruisy 55km ride down more former Ho Chi Minh Trail to Sepon – on highway 9 – the last biggish town before the Vietnam border. A sealed road, light traffic and no big hills would have seen us sipping iced coffees in town by morning tea time.
We were tempted though by a sinuous yellow line on our map that wove through a large area of wilderness; suggesting remoteness, minority villages and, hopefully, some quality riding. Two days (we estimated) on this tempting trail would see us pop out on highway 9 at Ban Dong, just an hour's ride from Vietnam. We knew nothing about the route, except that it appeared to complete a loop, and the map showed a few villages peppered along the way.
Figuring we'd have to camp out we chucked in a few packets of instant noodles and some biscuits and bananas to keep us going, as well as some extra water for the day. At 5am, before the cocks had finished crowing, we pedalled out of town.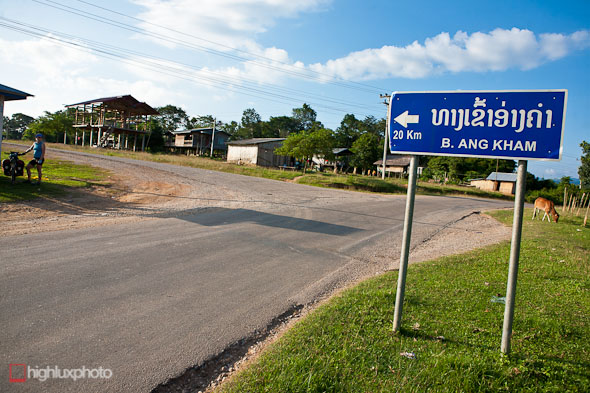 We left Villabury looking for a turn off to the left after 10-15km, and after one false turn down a quarry road, we finally turned off onto the road to Ang Kham. Strangely Ang Kham was not actually on our map (as with Boualapha two days before!), but two boys sitting in a bamboo bus shelter said one of the villages we were heading for was down this way, so we went for it.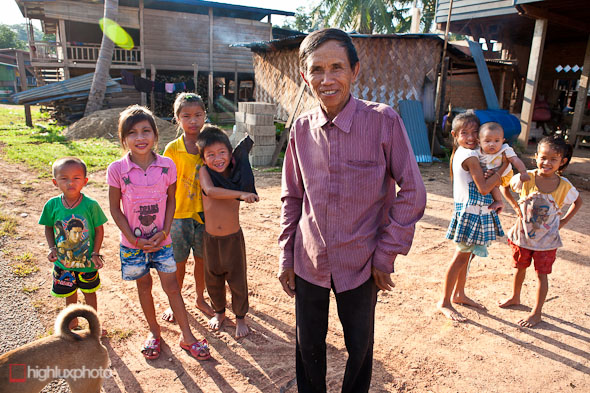 In the first village we arrived at we asked this friendly guy if the villages we were looking for were on this road. He seemed to understand us, nodded a few times, and gesticulated in the direction we were headed. It was good to have some confidence that the route was ok.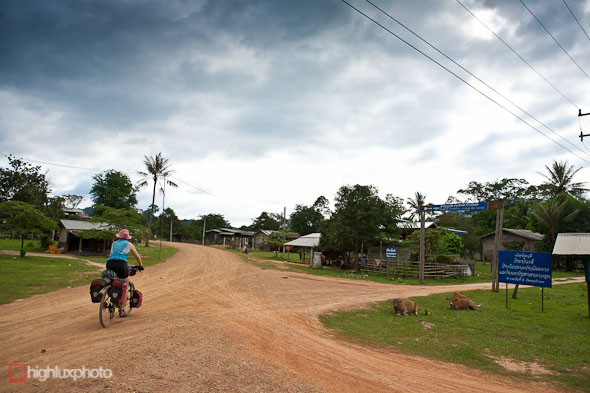 We pedalled on, passing through peaceful villages and seeing no traffic, except for the odd motorbike.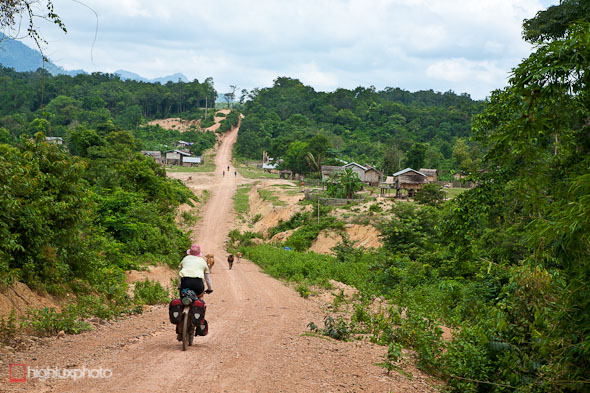 The road undulated a lot; short, sharp descents, followed by steep granny gear climbs. The surface was mostly pretty sweet though and we passed through more villages to lots of hellos and sabaidees.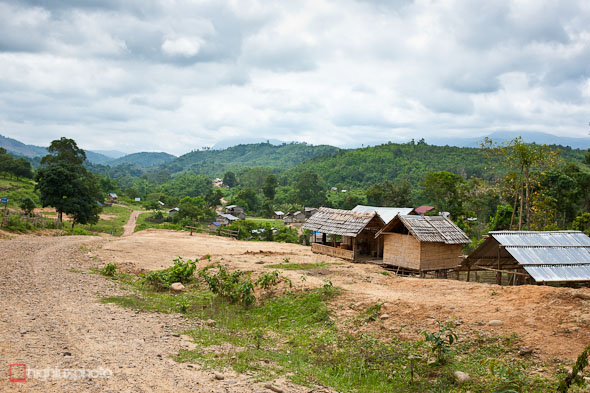 We came over one roller, 25km in, and the road suddenly degraded; petering out to a skinny track as it came into a village. Ominously I'd noticed that over the last few kilometres the road showed no trace of 4-wheeled vehicles passing – just a motorcycle groove down the middle.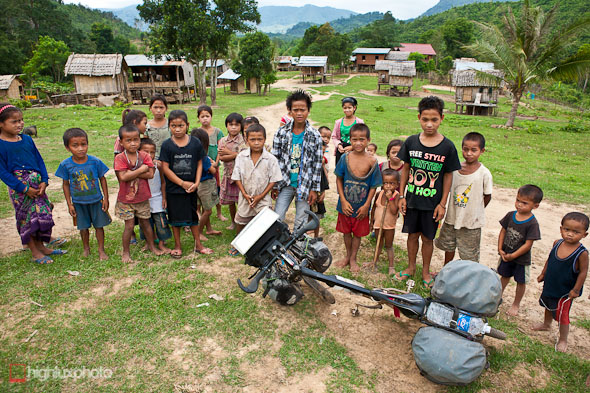 It then promply terminated on a grassy hillside with huts scattered on it! Within a few minutes all the occupants of the village dropped what they were doing and walked over to check us out. There were scarcely any adults – they would all have been out working and foraging. We stared at them, and they stared at us; boys in one group …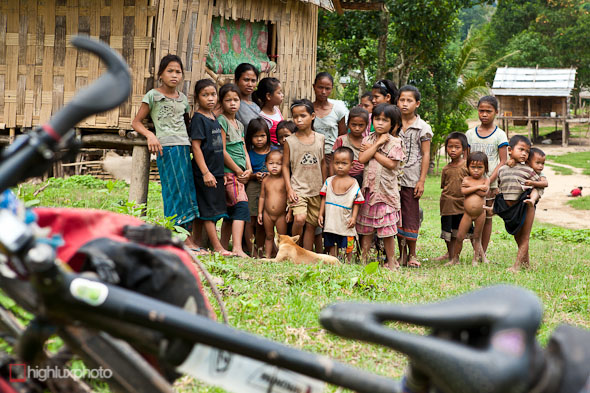 … and girls in the other.
We sat down on the grass, bewildered at the road terminating, and ate some food. With the phrase book, we asked the oldest guy there where the next village on our map was, and he pointed up a vague walking track that disappeared into the scrub behind us. Clutching at straws a little, we rattled off a few more names from the map – and upon hearing one name the man pointed though the village down towards the river. Odd, we thought, surely the road doesn't go right across bare grass through the middle of the village… Still, we headed down a steep bulldozer track to the knee deep river, with the whole village following us, and ferried our kit across.
We clipped the panniers back to our bikes on the other side and pedalled about 400m along a sketchy bulldozer track. Above a steep roller we could see the tops of some huts in another village. As we crested the short climb, the bulldozer track terminated at another, tinier, village.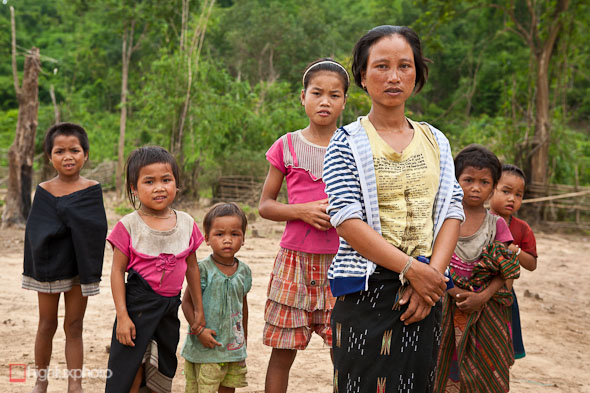 The inhabitants there seemed even more suprised to see us than the last lot – only 500m away back across the river. We asked where the village we were looking for was (expecting it to be some kilometres away) and they pointed at the ground!
This village was definitely the end of the line for us – only walking tracks went further and on bikes with skinny tyres, low-rider panniers and heavy loads any kind of exploratory jungle mission was out of the question. Cursing the people who poorly researched our map (but thankful that we'd seen a couple of pretty cool minority villages) we reluctantly turned tail and started the hot 25km grind back to the highway.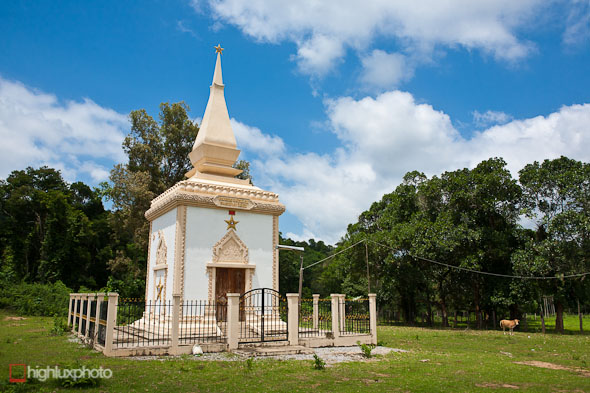 We passed this war memorial on the road on the way back out, indicating that this area too was embroiled in carnage during the war years.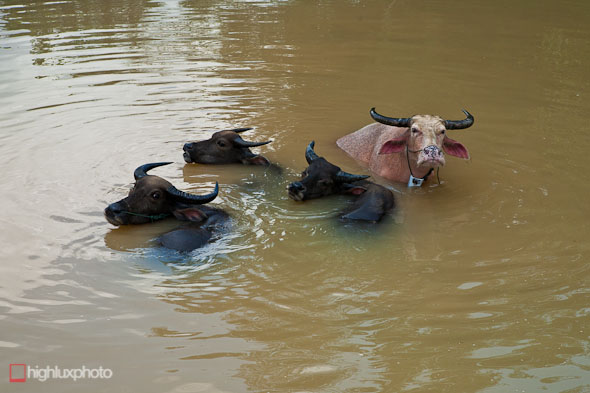 Even the water buffalos stared at us …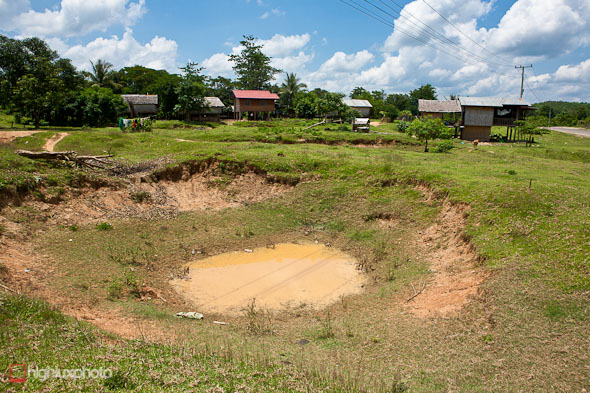 Back on the sealed highway after 25 sweaty kilometres (it was a 35 degree day) things weren't actually all that different in the villages we passed through, except that they had electricity and were more bombed. This village was completely cratered.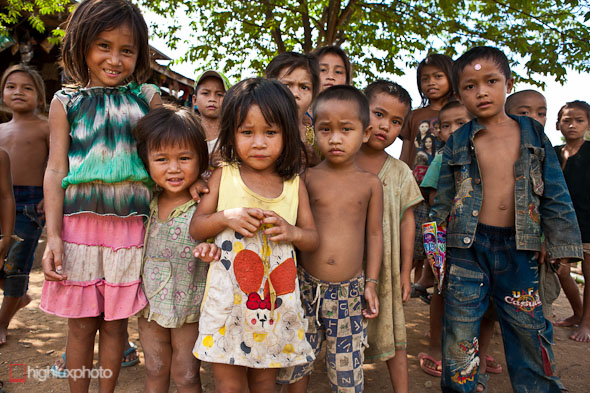 People in these places were equally fascinated by a couple of white dudes cruising by on bicycles too …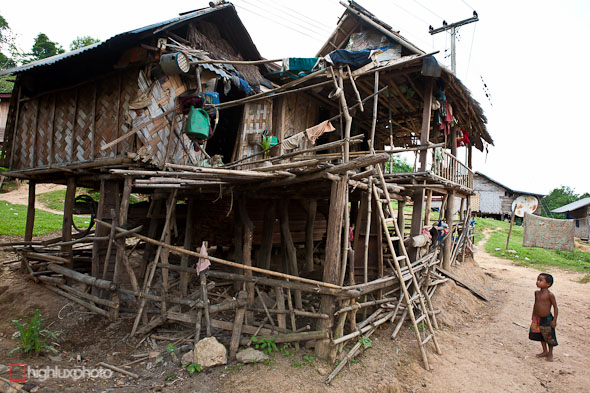 Amazingly, this rickety hut was inhabited, albeit by a guy who was as shaky looking as the structure. There's a couple of cluster bomb cannisters holding it up.

These dudes just hung out and watched us for 20 minutes while we cooled off and attempted to rehydrate (which was pretty much impossible!).
Note the arm 'warmers' that Hana's got on; our friends Chris and Louise (thanks!) in Sheffield gave them to us as a leaving present. They're designed to shield UV and work brilliantly to reflect heat and rays and stop arms getting cooked, as well as reducing our sunblock usage. We wear them from about 11am on, on clear days. Sometimes we soak them for a bit of evaporative cooling too. I'm considering a whole suit… ; )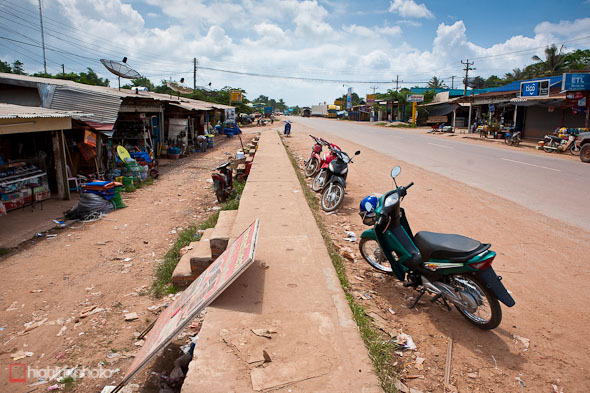 After a 107km day we finally rode into Sepon and found a guesthouse for the night. Sepon's yet another dusty and relatively uninspiring (but always still interesting) small Laos town. It was destroyed during operation Lam Son 719 during the Vietnam War, a combined US and South Vietnam (ARVN) incursion into Laos to disrupt a North Vietnamese offensive.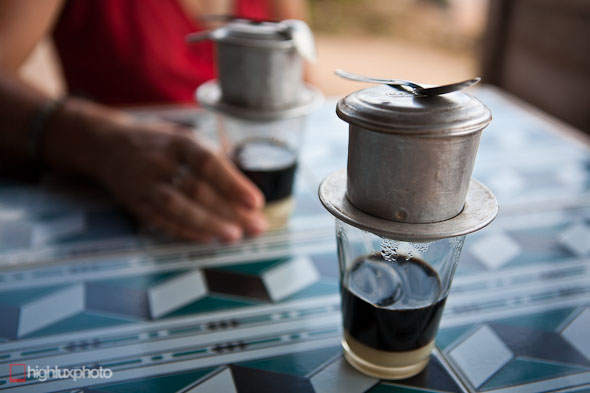 Next day we took a day off to chill out. This close to the border most of the restaurants are Vietnamese and we got to sample our first Viet-style coffee. It's typically served with condensed milk, and a few chunks of ice – yum. We love the nifty aluminium mini drip filters. Anyone at home want one?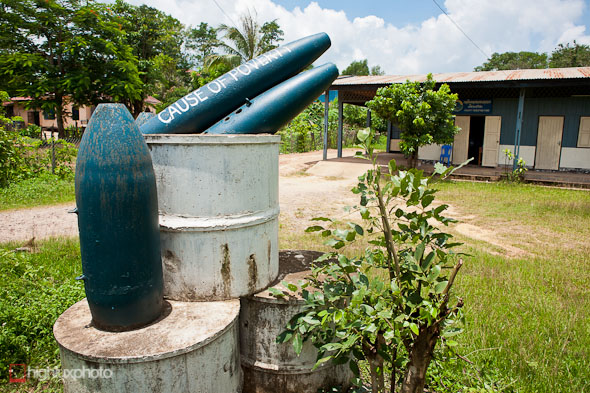 There's bombs everywhere in town – these ones with 'Cause of Poverty' painted on the side.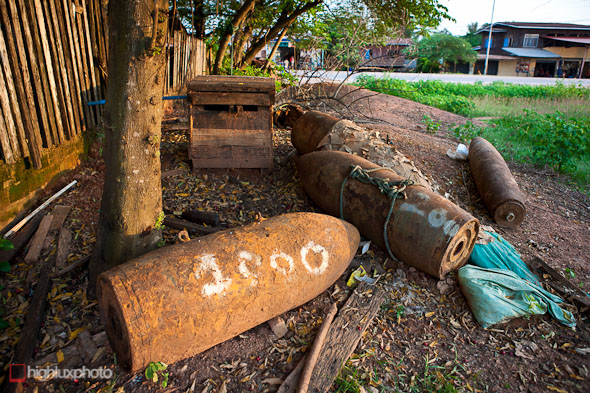 This pile of defused bombs was sitting outside a restaurant, right beside the main road. They're all found locally, defused (or destroyed where they lie if unsafe) and sold as scrap to Vietnam.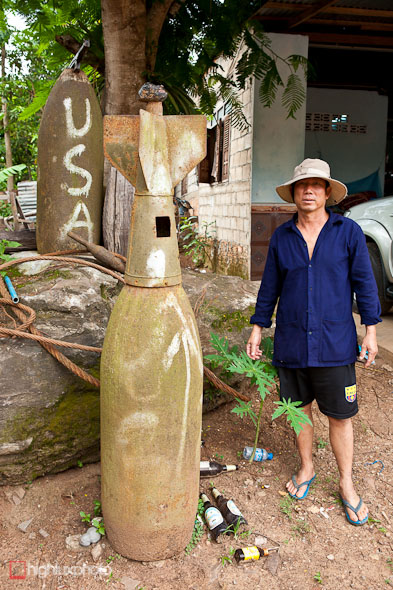 This man had dug these bombs up in his own backyard.

We dropped into the office of Handicap International, a Belgian NGO working in the region to clear unexploded ordinance. I think the main reason we went there was because we were desperate to speak to someone in English for a change!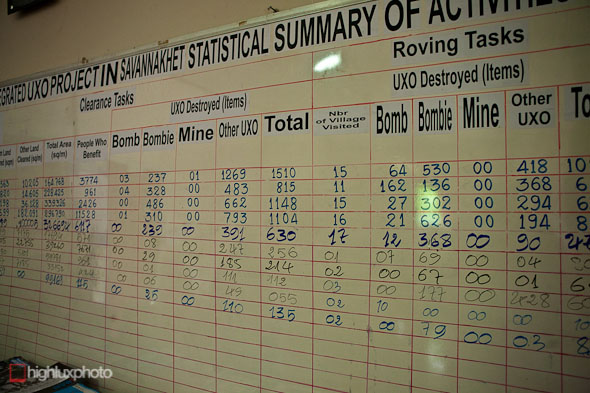 Their operations summary board has some telling statistics.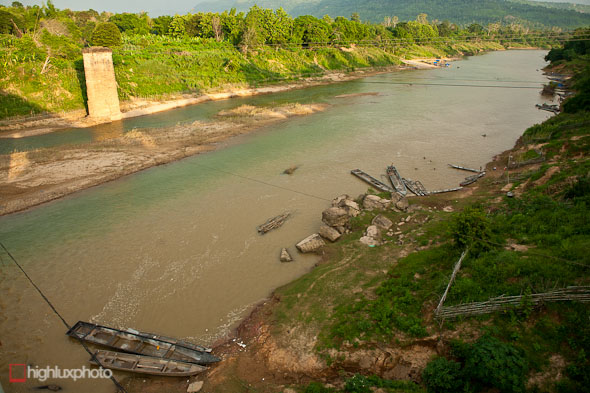 From the highway bridge over the river we got a view of the sole remaining pillar of an old bridge built by the French and probably destroyed during the Vietnam War.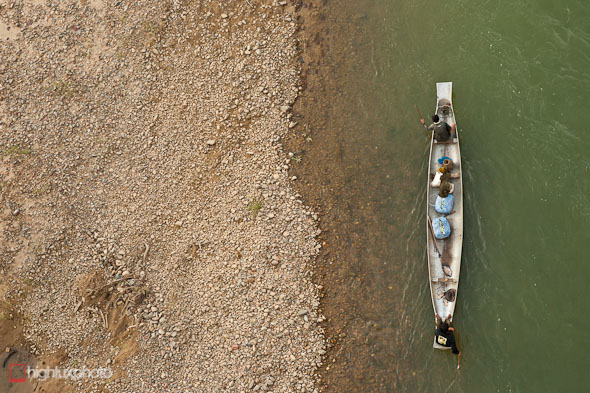 Some fishermen rowed upstream beneath us, paddling a boat made from fighter bomber long distance fuel tanks, jettisoned from aircraft during the war.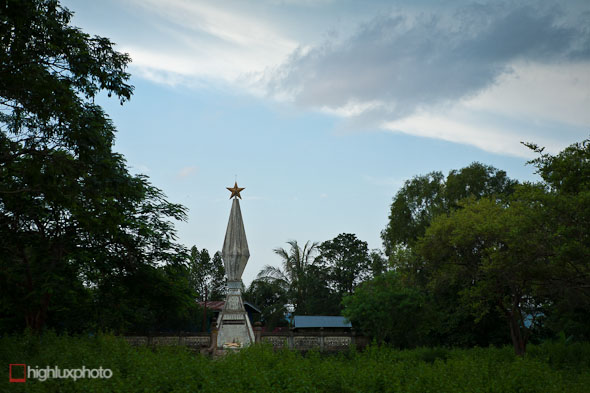 Cemetery in Sepon. Thousands of PAVN (North Vietnamese) and ARVN (South Vietnamese) soldiers died here.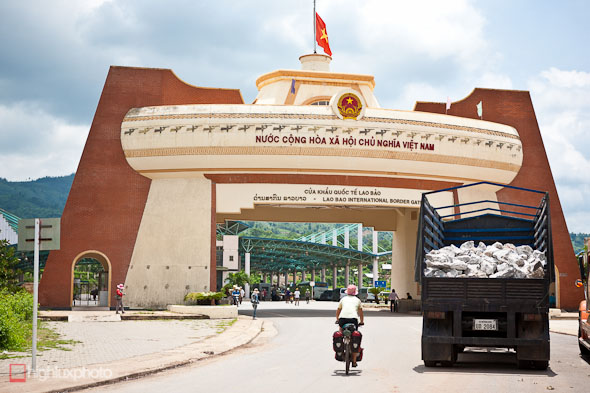 A couple of quick hours on the road the next morning and we were soon at the border – and entering country number three of our SE Asia trip, and also completing our first 5000km since leaving Sheffield.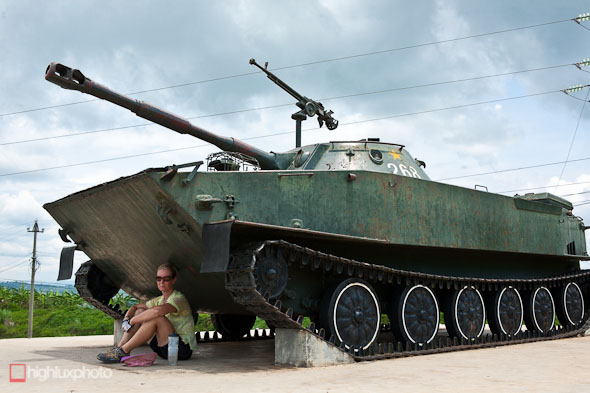 After completing our border formalities (and discovering that our entry visa was pre-dated and only had 3 weeks left on it!) we started the baking hot climb up towards Khe Sanh, our overnight stop. Hana found some shade under a tank which was parked victoriously at the site of the former Lang Vei US Special Forces camp, which was overrun by North Vietnamese forces in 1968.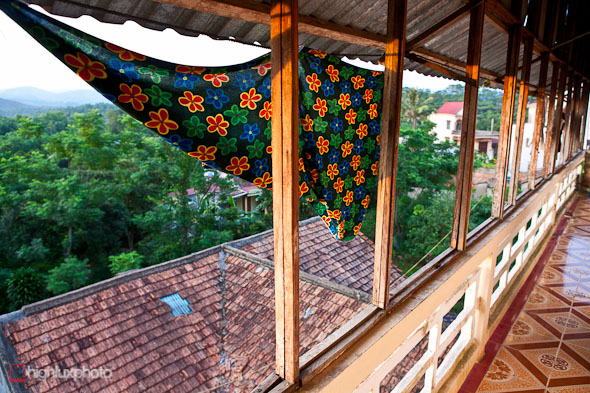 Khe Sanh guesthouse.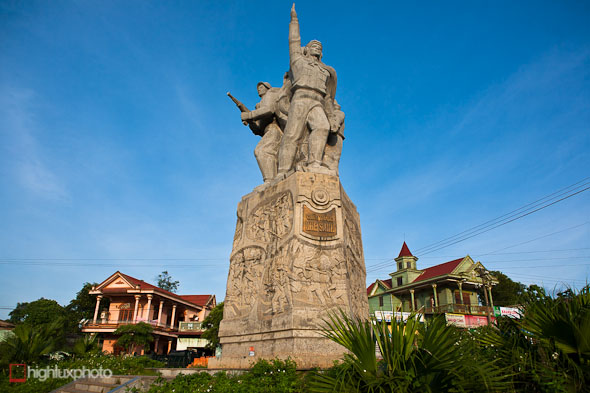 After the poverty of Laos; its simple bamboo huts and basic utilitarian shops, Vietnam has a totally different feel to it. Most notable is the improvement in quality of housing and the distinctive style of architecture, with a flourish of colour. The French 'Indonchinese' influence is very apparent here. Infrastrucure is generally a lot better too, and where wifi was a rare luxury in Lao hotels and guesthouses, it's standard here.
This memorial, by the way, is to the North Vietnamese forces who died in the battle for Khe Sanh, a large US Marine base that was the scene of long running seige during the Vietnam war.