Day 53: Na Thuey – Oudomxay (685m) 83km. Rolling country past small villages, 855m total climbing.
Day 54: Rest in Oudomxay.
Day 55: Oudomxay – Pak Mong (430m) 86km. Two long climbs totaling 1275m climbing. Road washed out and very rough in places.
Day 56: Pak Mong – Luang Prabang (370m) 118km. Easy rolling mostly along valley. 685m total climbing.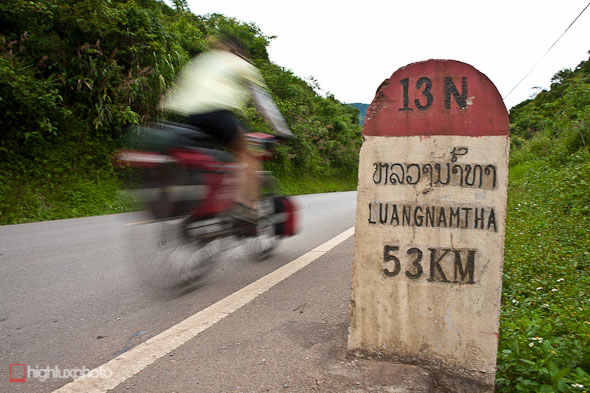 With the border formalities over with we were free to roam into Laos. With a 30 day visa we have time to make our way south to Luang Prabang and then Vientiane, before making our way east towards the Vietnam border.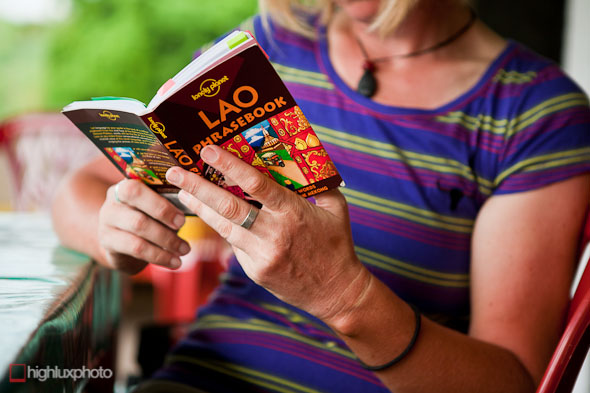 Time to start learning a few new words too…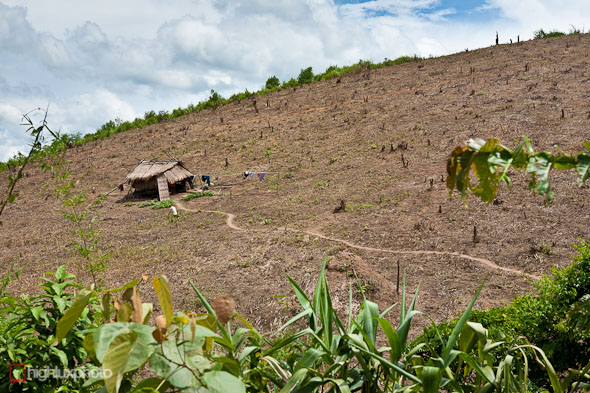 Pretty much instantaneously after crossing the China – Laos border apparent wealth has taken a dive. Towns are smaller and less frequent, many dwellings (whole villages too) are simply bamboo shacks and private cars are virutally non-existent on the roads. There's barely even any motorbikes ouside of towns.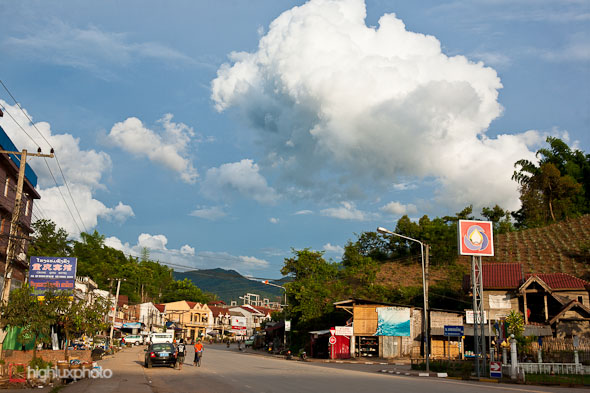 Paradoxically though, for one of the poorest countries in the world; the internet's way faster and more reliable than it was in China. There's a lot more English spoken here too (most places we went in China no-one spoke English at all). Oudomxay, the first sizeable town we rode into on our second day had at least three restaurants with English menus (very exciting!) and a bunch of guesthouses with wifi.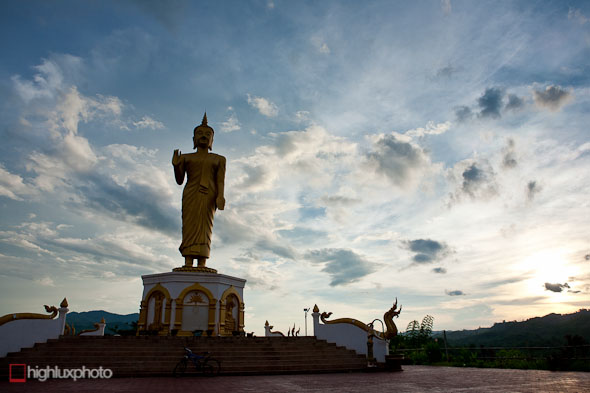 Hilltop temple in Oudomxay.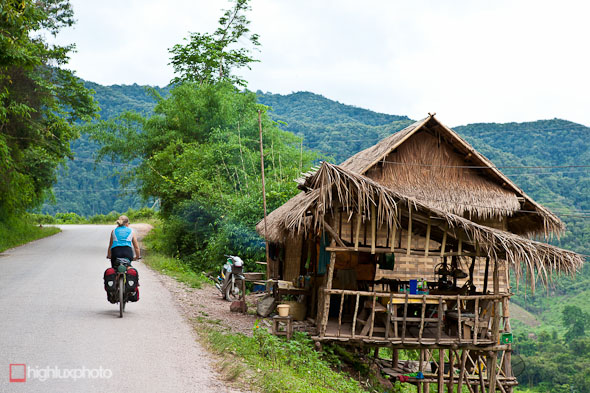 Typical roadside housing in Laos …

… and some typical roadside wildlife.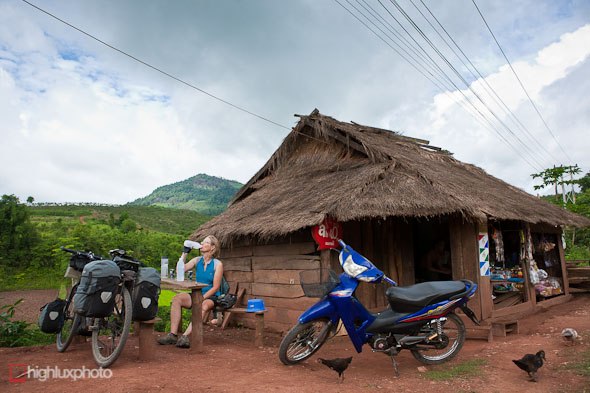 Handy spot for a coke on day three in Laos. No Chinese kiln fired roof tiles on these houses – just thatch that has to be replaced every 3 years and sometimes catches fire in the dry season!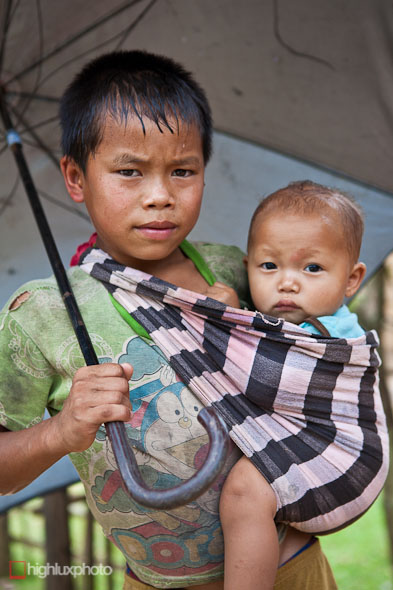 I couldn't get a smile out of this boy (or his little brother) – he might never have posed for a camera before – but most people here are super friendly. We're getting sore hands from high-fiving the kids as we ride past!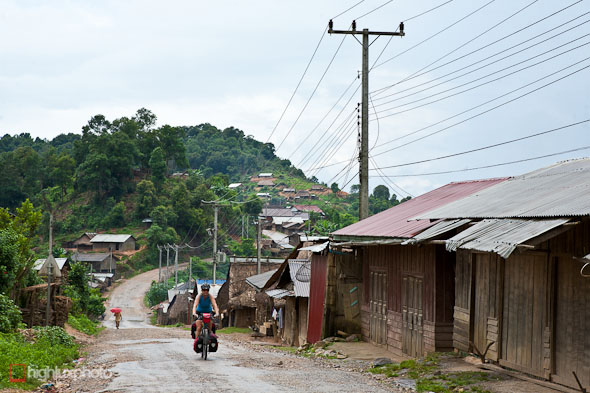 Hilltop village on highway 13 between Oudomxay and Pak Mong. This road is notorious for washouts and many stretches had missing seal for 50 metres or so. We had the first crash of the trip when I lost my wheels from under me going round a corner in the rain (oil on the road) and went down sideways. The mixture of oil and water on the road saved me from road rash though: I slid a good 10 metres before the bike came to rest in a deep pothole, panniers in a puddle and the wheels still spinning fast. Lucky to walk away with just minor grazes and no breakages on the bike or kit.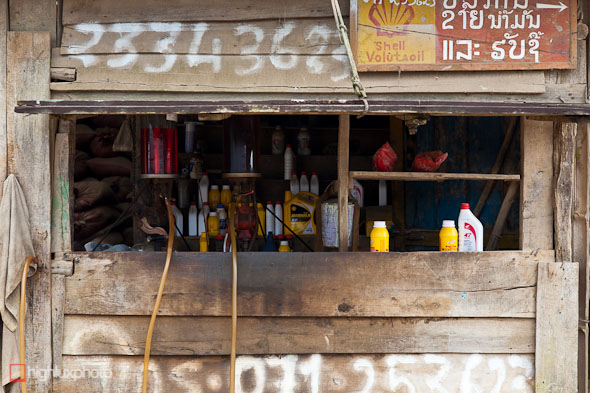 Laos petrol station.

Pak Mong. Not a lot here: three guest houses and as many restaurants. It's a mandatory stop after the 80km of mountains you ride over from Oudomxay to here though.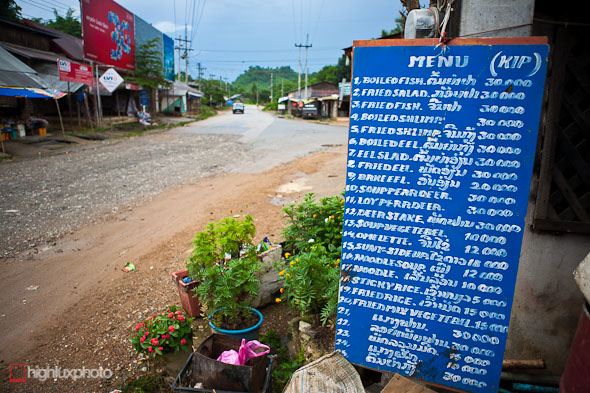 Menus in English! Still a novelty at this stage…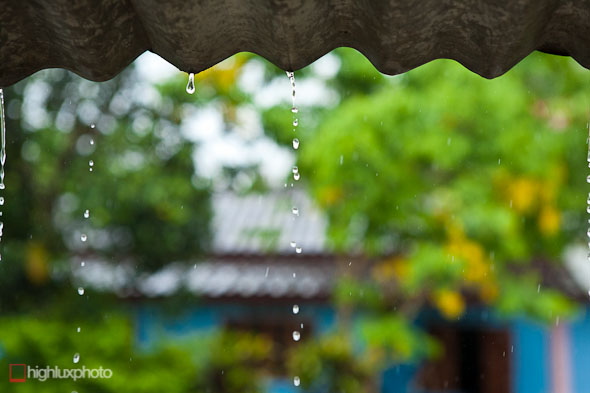 Been raining a lot too.

The highway between Pak Mong and Luang Prabang (a very wet 118km that day).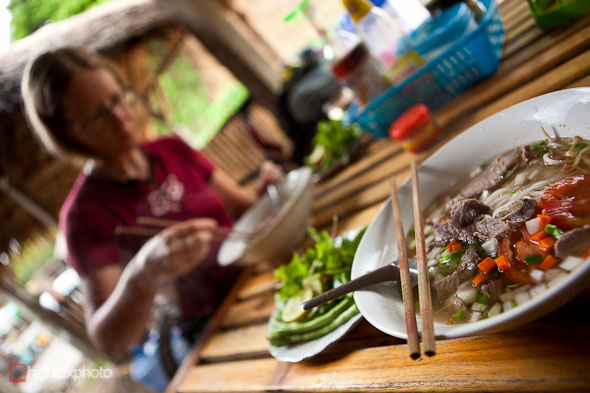 Noodle soup (foe) is a common and cheap feed here, as it was in China. A couple of NZ$ buys you a bowlful, with a side plate of fresh herbs, cress, salad and beans as standard. Yum.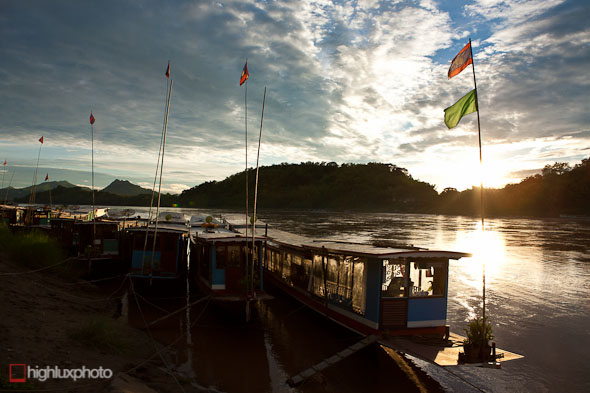 The Mekong River at Luang Prabang.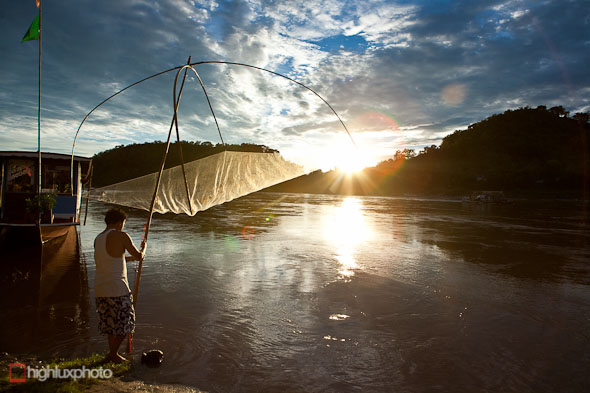 Fisherman with net on banks of Mekong. Didn't seem terribly productive this method: he caught about 5 herring sized fish in the hour we were there!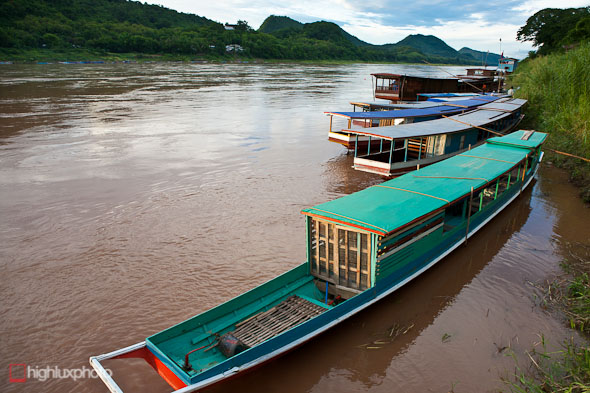 Mekong riverboats.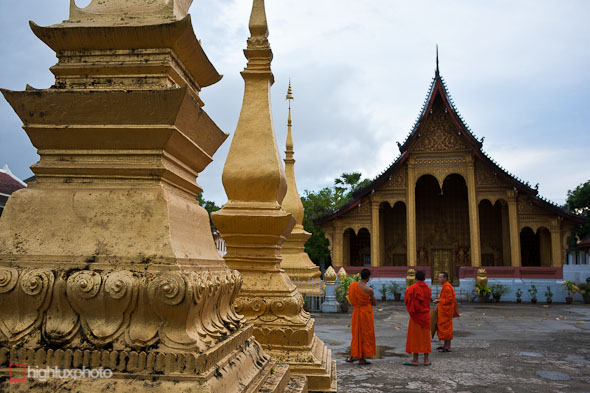 The World Heritage city of Luang Prabang has many faces: a little exotic mystique, a foundation of French colonial heritage and an ancient place of worship for the Laos people. Sadly it's also a full on tourist town, with every other business on the streets oriented towards the service industry and guided trips to here and there. Granted, it's kinda nice being here eating baguettes for lunch and dining in restaurants where we can order in English, but the town's certainly not the Shangri-La one might expect from reading any Laos travel literature from the past 20 years or so. Still; it's all good for the economy and the locals seem to love the business. And hey, where else in the world can you sit in a streetside cafe sipping iced coffee and watch monks wander by…?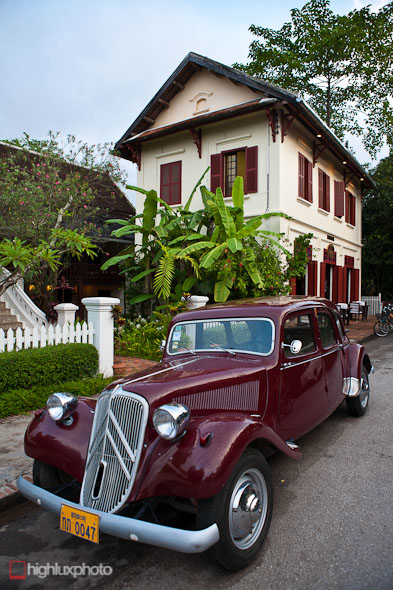 Juxtaposed with numerous wats, and traditional Laos lifestyle fused with modern amenities is the French/Indochinese influence, seen in colonial buildings all over the city. It's hard to believe you're in the centre of northen Laos sometimes.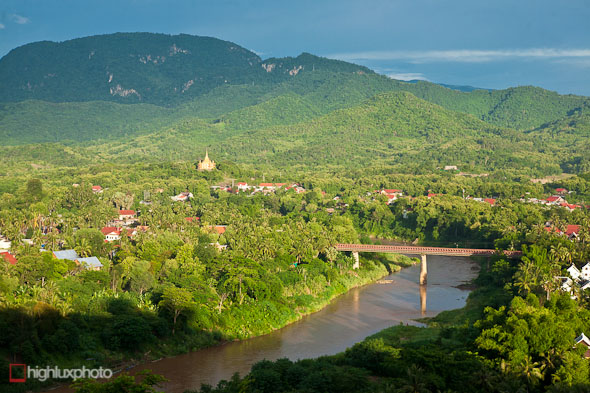 Not the Mekong, but the Nam Khan, a side river that forms the peninsula that the heritage area of Luang Prabang sits on. The gold temple is the Phanom Stupa.
More from here next post …