Day 48: Jinghong
Day 49: Jinghong
Day 50: Jinghong – Menglun (620m) 77km. Easy rolling ride, following Mekong partway.
Day 51: Menglun – Mengla (710m) 100km. Three hot and sweaty climbs totaling 1585m climbing.
Day 52: Mengla – Na Thuey (Laos, 700m) 80km. 60km to border, then 20km easy ride to Na Thuey.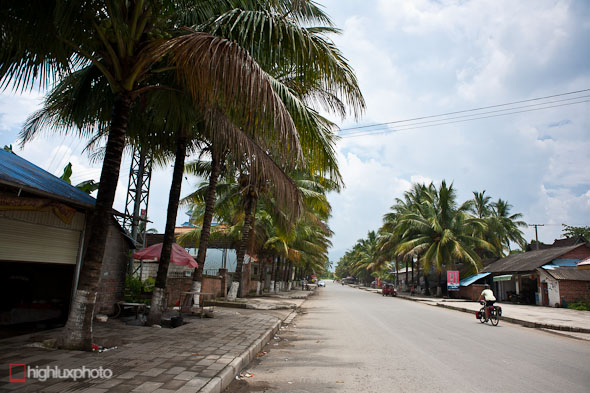 We left Jinghong after a couple of days resting and sorting out odds and ends and had only three days' ride left to the Laos border. Parallelling the mighty Mekong for a while, the route took us south on back roads through easy country for 77km, past Menghan and onto Menglun. While the towns aren't much, the changes in scenery and local culture always keep us interested; seeing coconut palms for the first time made the grasslands of the Tibetan Plateau seem very far away.

And with coconut palms of course, come coconuts: cheap as chips and full of good nutrients.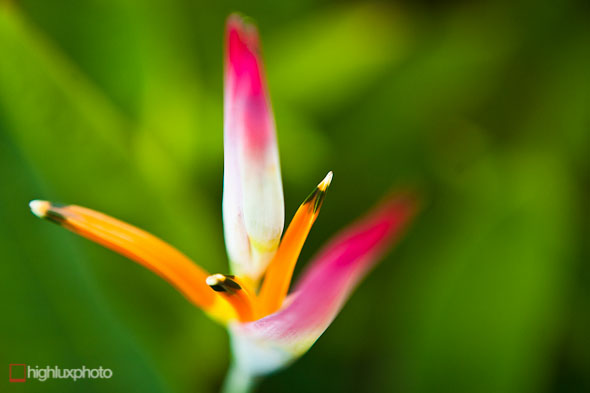 In Menglun we spent a night and checked out the Menglun Tropical Plant Gardens – well worth a vist for the 6000 species of trees, plants and flowers on offer.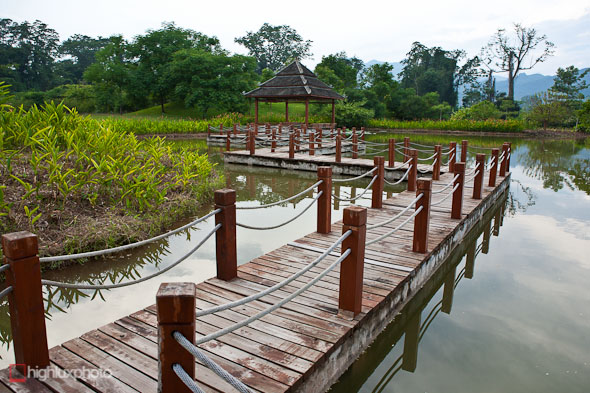 Lotus Garden at the Menglun Tropical Plant Gardens (Menglun Redai Zhiwuyuan).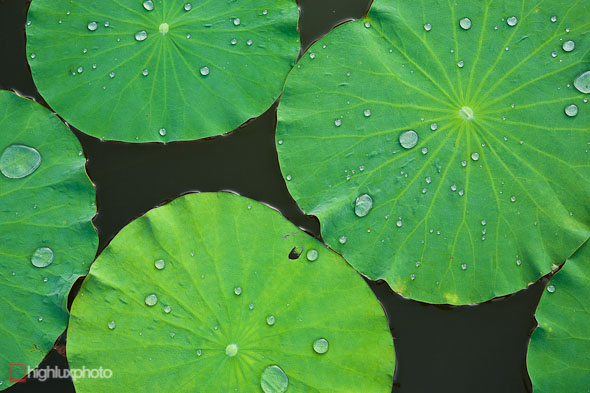 Lillies.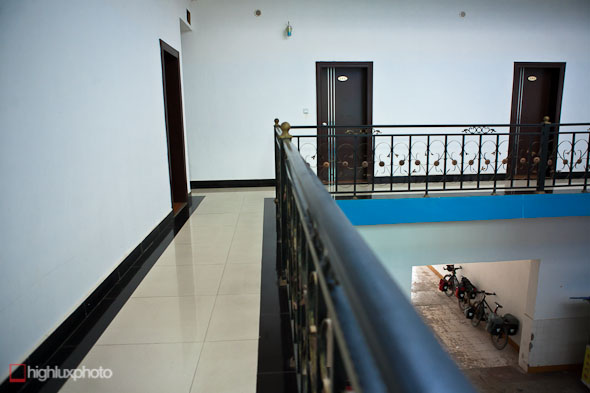 About half our nights on this trip have been in hotels (rather than in more tourism-oriented guesthouses). In most towns and cities NZ$12-$15 will buy you a room with TV, toiletries (we collect the toothbrushes for cleaning the bikes!), private bathroom with hot water, water cooler or electric jug and sometimes air con – pretty sweet for the price and luxurious after a long day on the bike.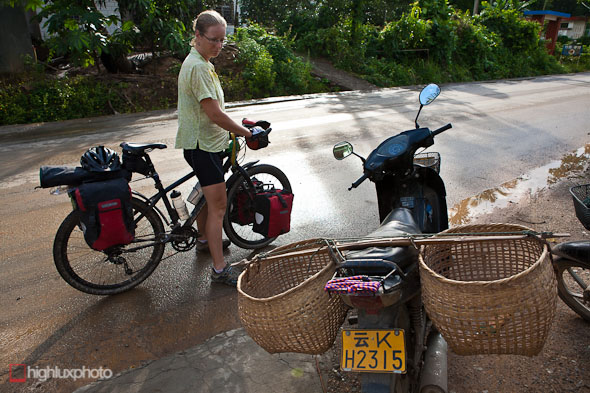 Thinking about swapping our panniers; you can fit loads of fish into these woven bamboo models.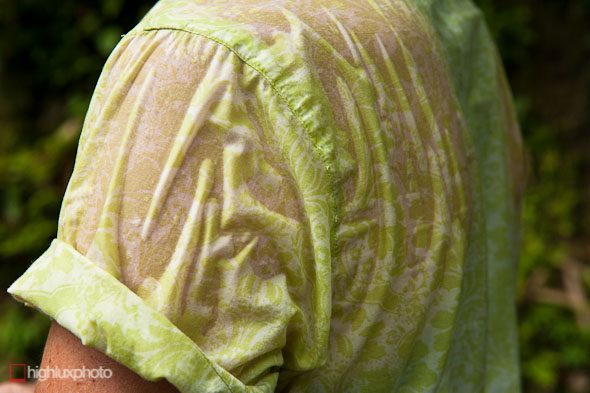 Been sweating a lot too… We thought it was hot when we got to the jungle areas north of Jinhhong, but since then the heat's been a whole new deal – the sweat pours off us when we're climbing.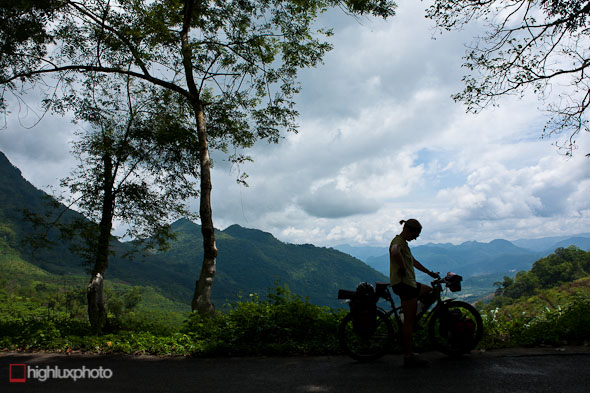 The ride south from Menglun to Mengla is a hot 100km day and takes us over three quite big climbs – totalling 1585m of climbing. So much for being out of the mountains. Reports suggest we'll be having more days like this coming in Laos.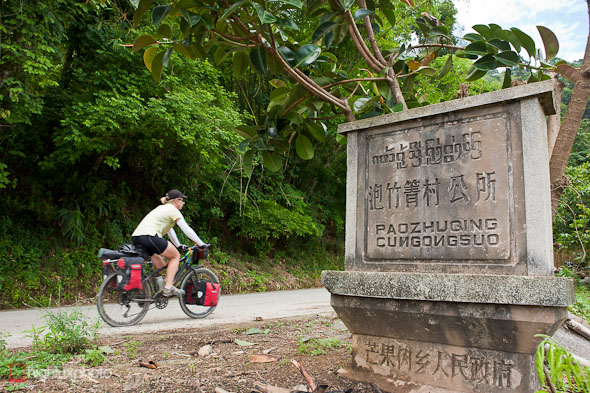 Laos, Chinese and Pinyin on the signs.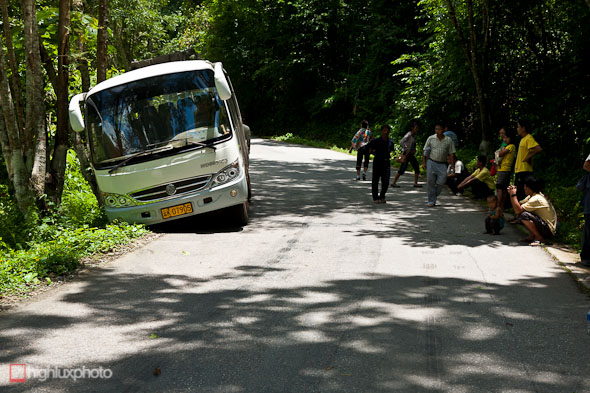 An all too common sight on the roads of China. This was the second bus off the road we'd seen in four days riding. One day we saw one bus and a car off the road, a large freight truck that had rolled down a bank – clearing a massive swathe of jungle in its path (the driver survived), a motorcyle accident and the remnants of a head on collison between a van and another vehicle. A couple of days later we helped an incredibly drunk man rescue his motorcycle from a ditch he'd just ridden into. He thanked me with a cigarette, and then burned off down the road, jandals sketching around on the foot pegs.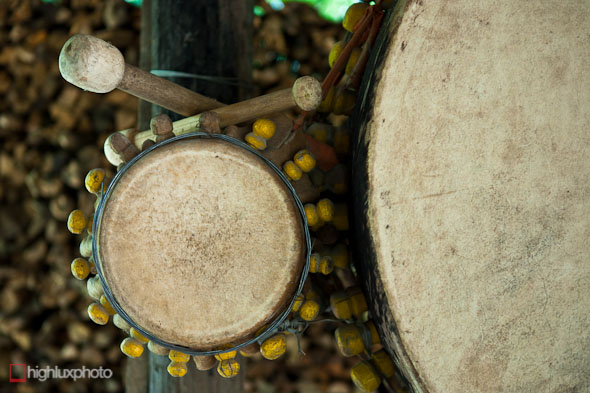 Drum at buddhist temple.

On day three out of Jinghong we reached the China/Laos border. Challenge number one was choosing which street dealer to change our Yuan into Laos Kip with.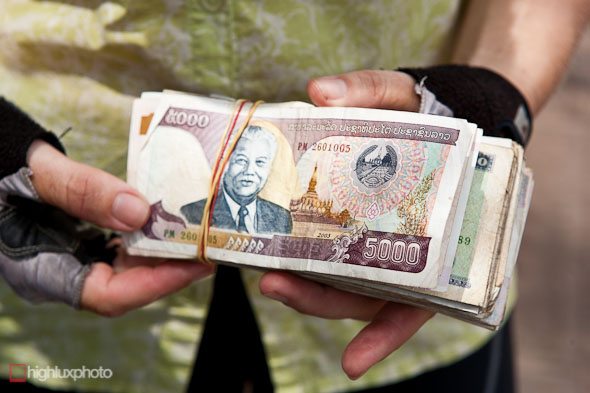 We became instant millionaires changing our Chinese Yuan/RMB (around NZ$500) into just over 3,000,000 Kip – such is the status of Laos devalued currency. With that formality over, all that remained was to stash all the cash in our panniers and ride out of China.
Challenge number two; getting into Laos, suffered complications due to me leaving China on my UK passport and attempting to enter Laos with my NZ one. Although the Laos authorities had just approved my 30 day visa and placed it my NZ passport, at the immigration window, the officer – confused that he couldn't find my Chinese Visa – asked me what the story was. Producing my UK passport brought an exclamation of incredulousness from the officer: 'You have TWO passports!' he said. For whatever reason they flat out refused to let me have the Laos visa in my NZ passport and proceeded to clumsily peel if out of the passport, tearing the page. Bizarrely it was then stuck into my UK passport, the NZ passport number twinked over and replaced with UK one and new stamps faked! Shortly after that we were on our way. Maybe I'll never be able to leave …