Shangri-La – Tiger Leaping Gorge
Day 26: Rest in Shangri-La
Day 27: Rest in Shangri-La
Day 28: Shangri-La – Baishuitai (2485m) 106km.
Day 29: Bahshuitai – Walnut Garden, Tiger Leaping Gorge (1900m) 71km.
Day 30: Hiking in TLG.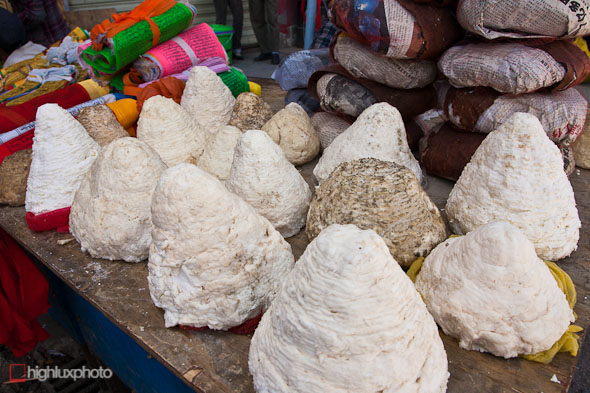 Cheeses for sale in the Shangri-La market.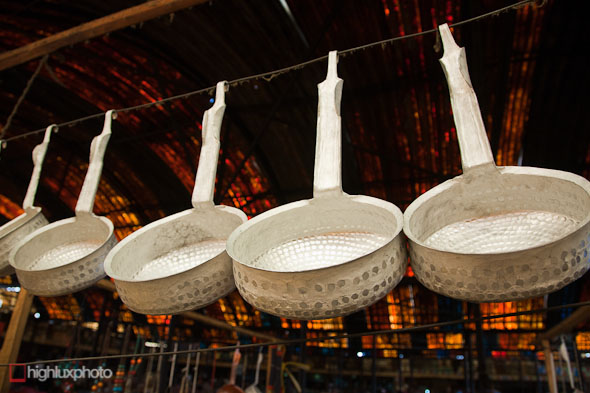 Locally made metal-ware.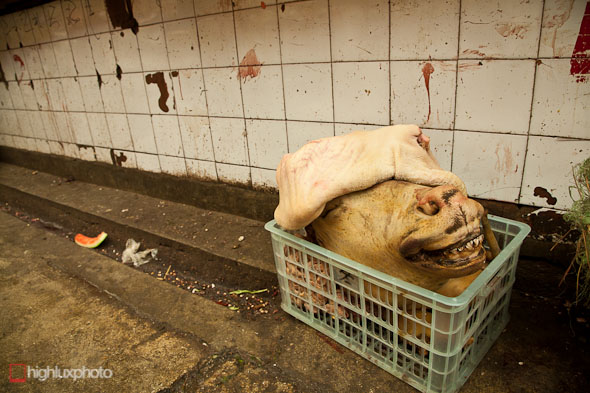 Sorry but there is something about the grotesqueness of the butchers in these markets I find fascinating… So much is hidden from us in the Western world.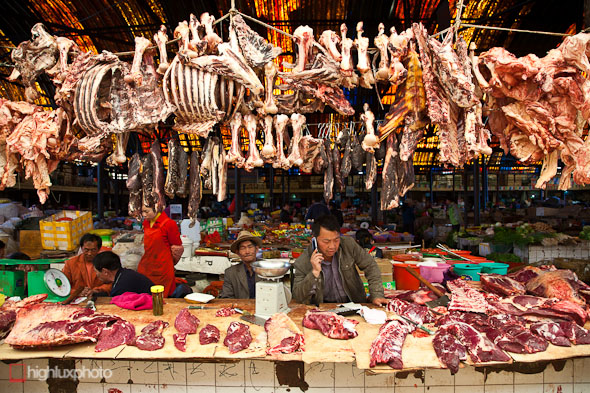 Butcher, mortuary, ossuary?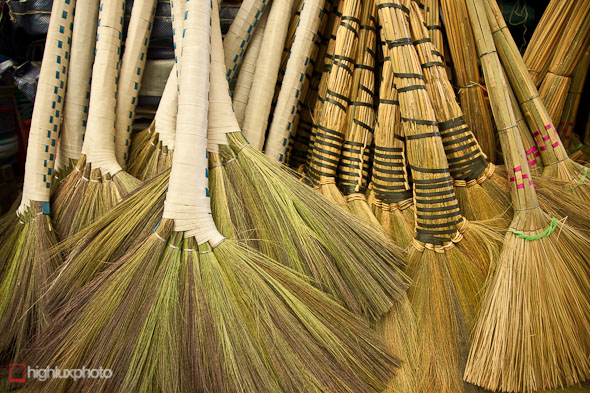 Locally made brooms.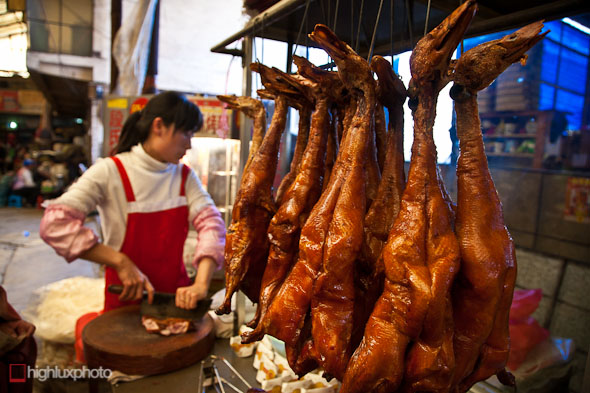 Peking Duck for dinner?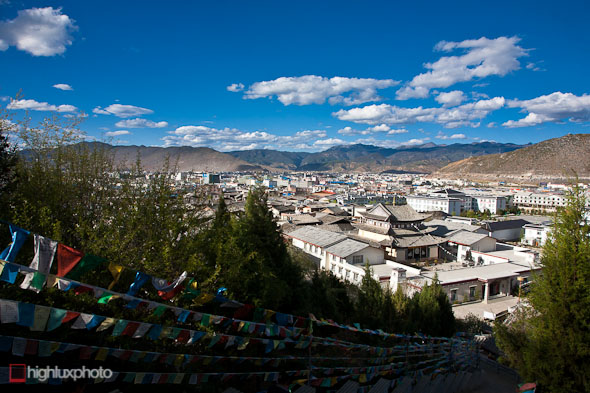 Shangri-La (Zhongdian), from the buddhist temple.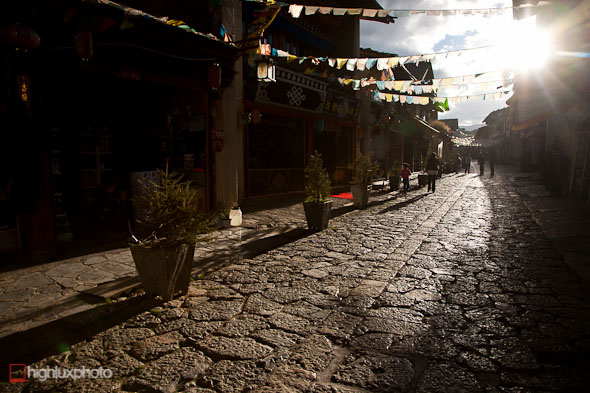 Shangri-La Old Town. We spent 3 nights here, looking round town, servicing the bikes and resting up after the mountains. It was the first time in a month that we were able to eat 'western' food. While a lot of the food we have eaten has been delicious and good quality, we have both been sick at different times (me twice), and greasy fried rice does wear a bit thin after a while. Due to the language being so difficult, we're often invited into the restaurant's kitchen to point at the ingredients we'd like.

Heading out of Shangri-La towards Baishuitai and Tiger Leaping Gorge – 2 days ride away.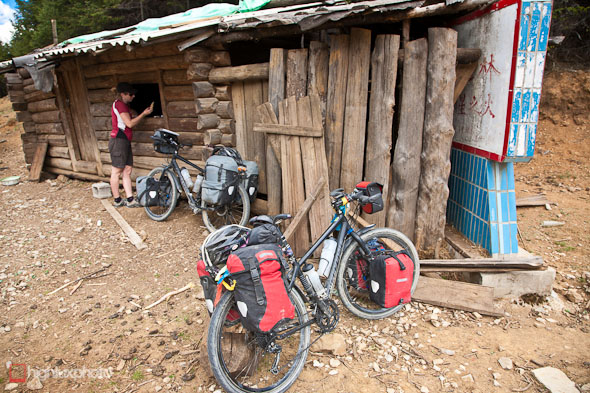 Rehydration stop. Shangri-La was by far the warmest place we've been in a month, and as we got further south and lower down it got hotter and hotter.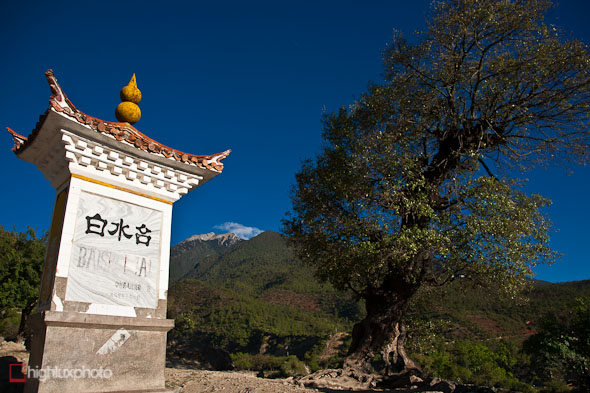 Baishuitai. It was a 106 km ride to here, gradually dropping over the day, but still with a huge amount of climbing over 2 main passes (the highest 3600m).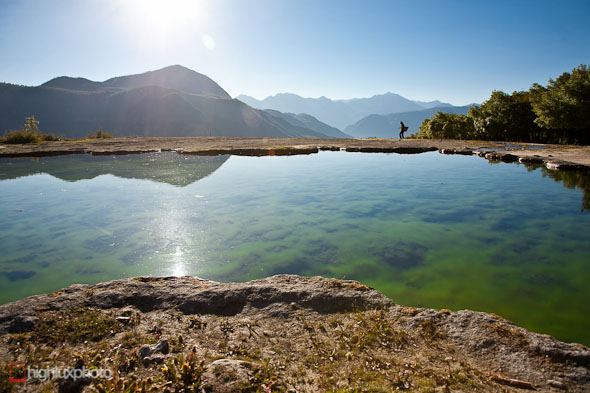 Baishuitai is famous for its natually-formed limestone terraces, filled with incredibly clear mountain water. It's the spiritual centre and homeland for the Naxi Dongba people, descendents of the Tibetan Qiang tribes of Qinghai. The Naxi until recently lived in matrilineal families, and created a written language over 1000 years ago (one of only a few cultures to do so around that time). The language consists of over 1300 pictographs and is the only hieroglyphic language still in use.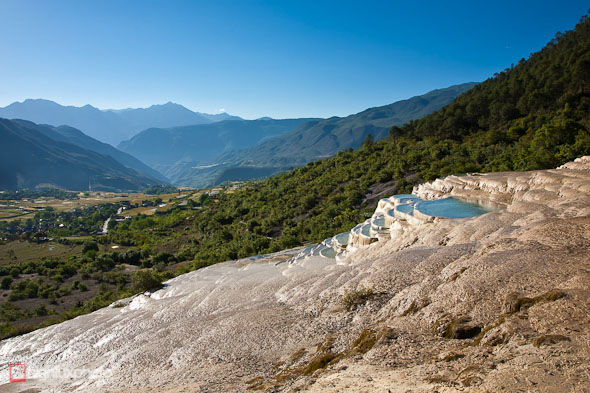 Baishuitai village and terraces.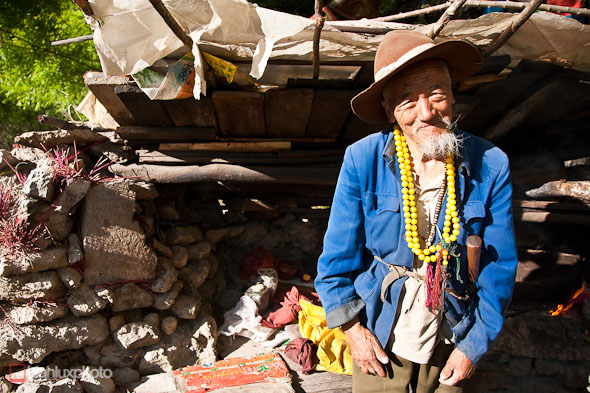 Naxi man at Baishuitai. This guy gave us some incense, blessed us with a wet pine bough, and gave us some grain to throw into a sacred spring, and then wanted a couple of Yuan of course!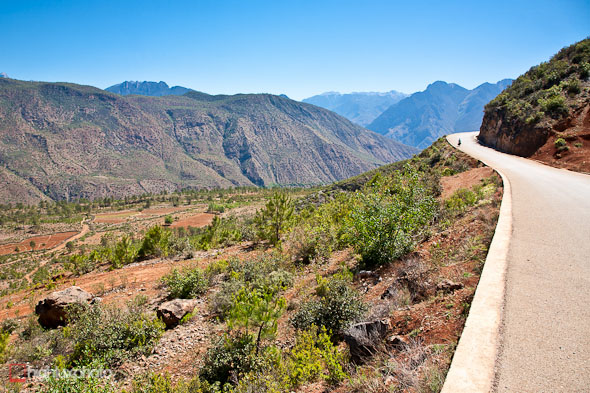 The morning dawned hot as we rode out of Baishuitai; a baking, dry, desert type heat and the landscape turned positively Australian – quite a change after the firs and grasslands of the Tibetan Plateau.

Haba Shan (5396m), above the village of Haba.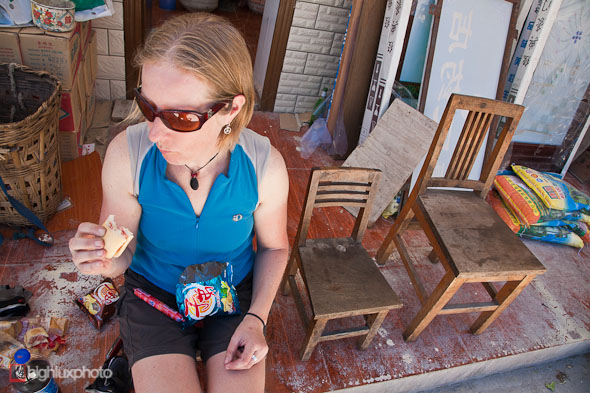 Lunch stop.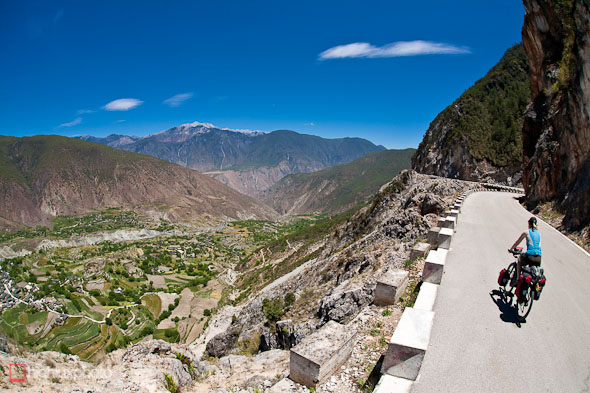 We'd climbed for about 18km and then dropped into Haba. From there a final 8km climb took us to the final pass and 25km descent to the Yangtze River and the entrance to Tiger Leaping Gorge. At 1900m we were the lowest we'd been in over 3 weeks.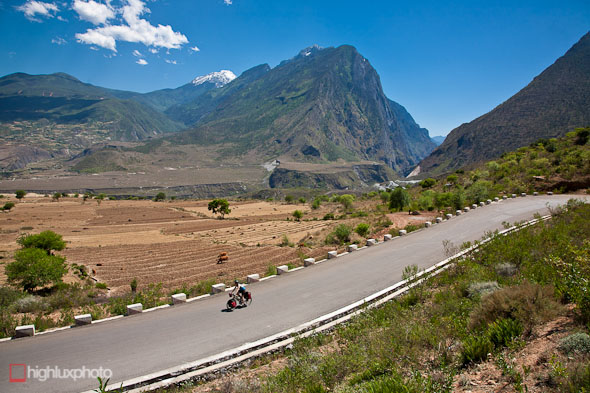 Dropping down the never-ending switchbacked descent towards Tiger Leaping Gorge. That's the north entrance to the gorge in the back ground, a 3900m deep limestone chasm through which the Yangtze river flows. This region is famous for the three massive rivers that run parallell through the mountains here: The Yangtze, the Mekong and the Salween, all draining the Tibetan Plateau.

Entering the gorge and our first view of the Yangtze, which is at one point reduced to a 10 metre wide churning torrent. The gorge is named for a tiger, which as legend tells, made a bold leap across the narrowest part of the canyon to escape a hunter.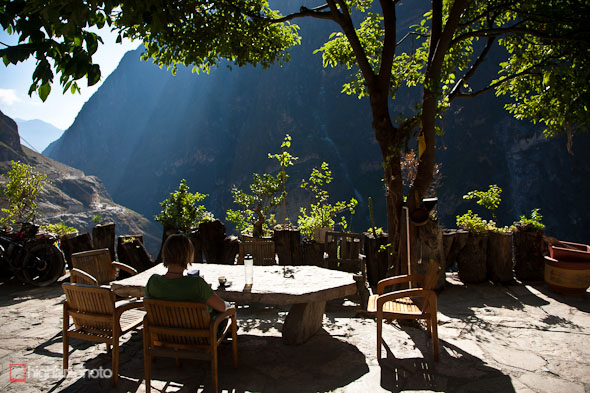 Pretty nice spot to chill out after 2 hot and hilly days. We stayed at a Seans Guest House; cheap room (Y60/NZ$12) and very helpful english speaking staff – a real luxury for a change. Great food too.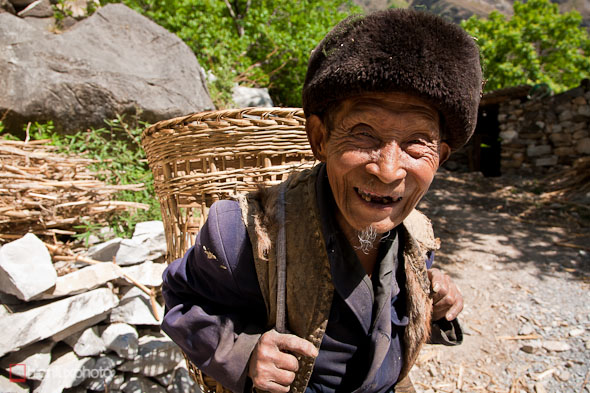 Next day we did a 4 hour hike down to the river and back (via a loop track). Met a couple of characters in the villages on the way down. This guy, and …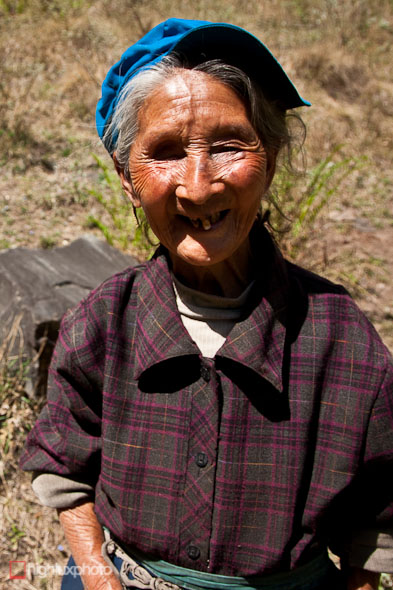 … this lady, with one eye and a very bad case of gum disease. She wanted some money in return for a photo so she could buy some new shoes.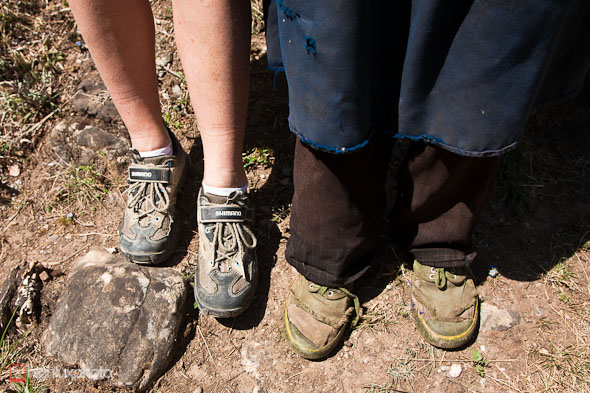 Her teeth were in a far worse state than her shoes though…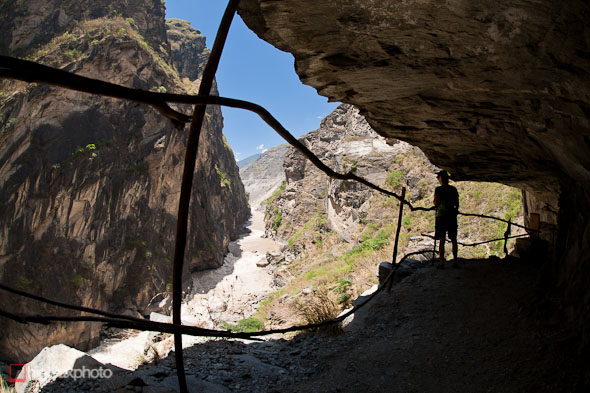 Walkway blasted into the cliff, with some very flimsy barriers to prevent a 100m plunge into the frothing Yangtze. No government structures here; the trail work has all been by local villagers, and we paid small tolls to pass by certain sections.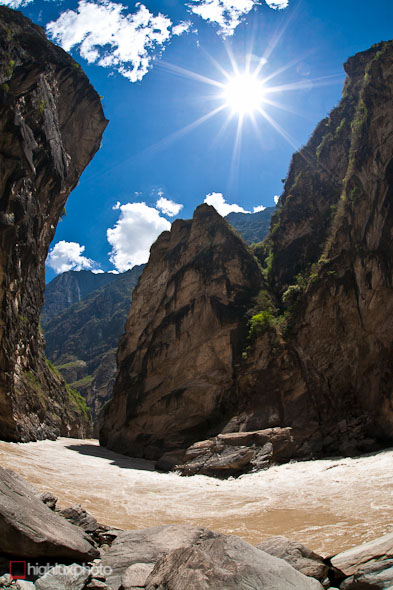 Bottom of the gorge, and the mighty Yangtze.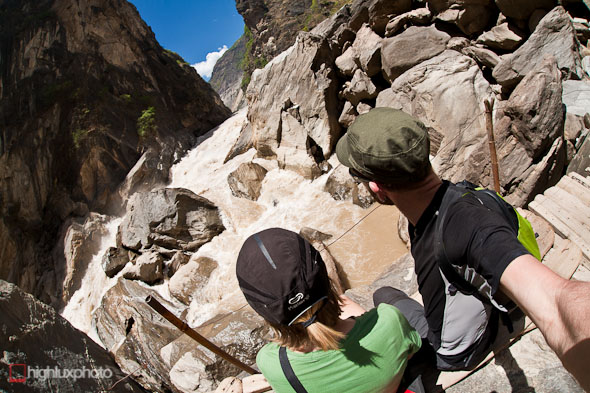 Hanging out on a somewhat dubious bridge.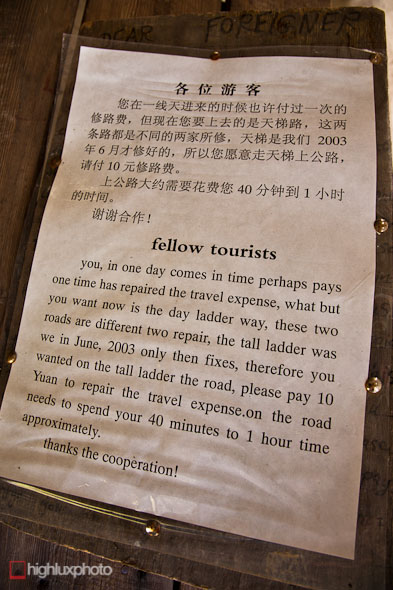 And some dubious translation!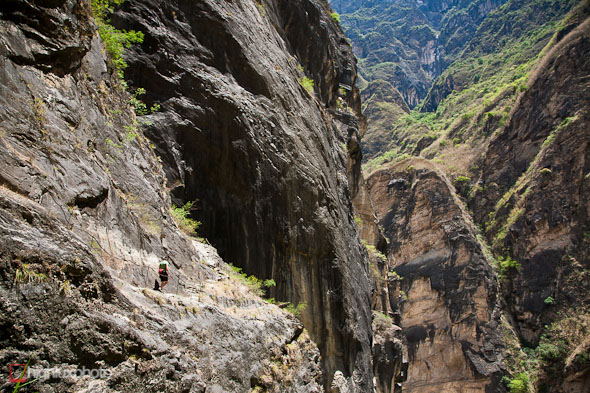 Lost among walls of limestone.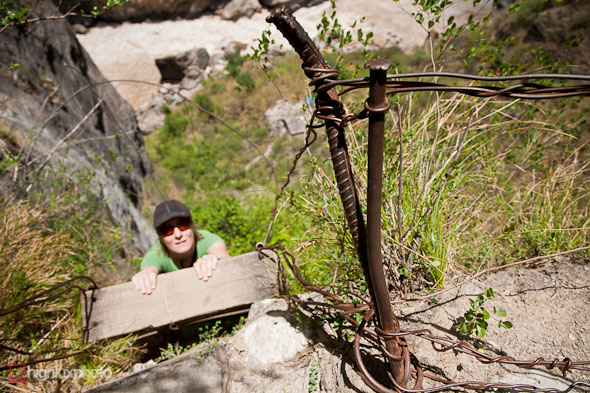 To get back out of the gorge we climbed a near vertical 15m ladder up the limestone walls, with some nicely engineered anchors holding it all together…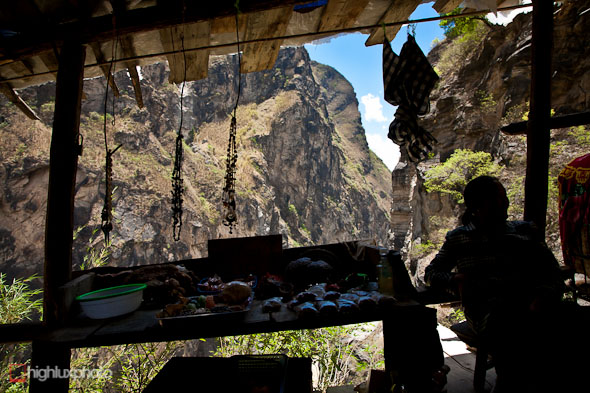 Souvenir seller.