Sangdui – Shangri – La
Day 21: Sangdui (4050m) – Xiangcheng (3000m) 86km, with double pass (highest 4708m).
Day 22: Xiangcheng – Ranwu Hot Springs (3168m) 39km, descent and then 500m climb to village
Day 23: Ranwu – Campsite (3720m) 71km, 54km climb on dirt road to 4326m Daxueshan Pass.
Day 24: Campsite to village (3300m?) 15km, Sick with food poisoning.
Day 25: Village to Shangri – La (3200m) 115km, with 900m climb to 4000m, descent to 2800m and another 800m climb over final pass.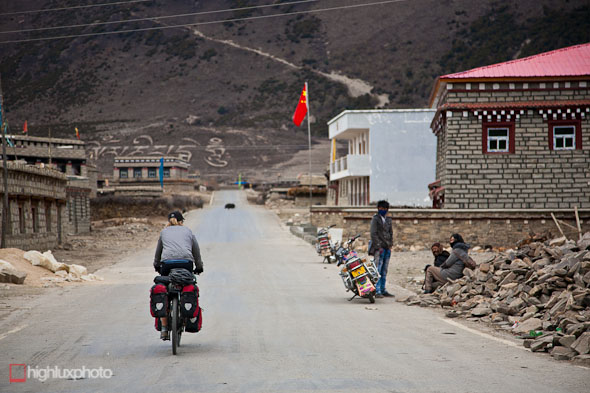 Heading out of Sangdui after 1 night in town. The road starts climbing pretty much straight away towards the next range and the first 4000m pass.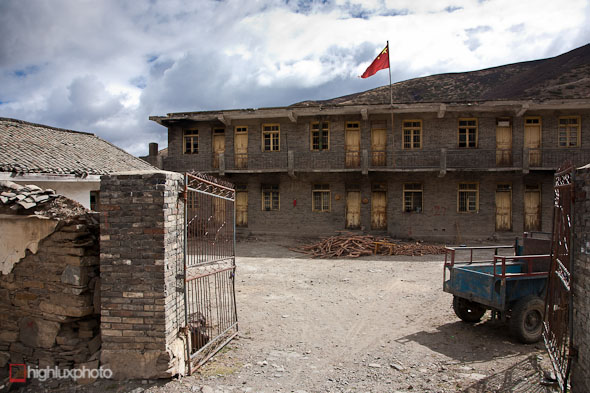 We pass lots of these spooky derelict barracks – I guess old army barracks that were used during the invasion of Tibet. Most of them now seem to squatted in by Tibetans themselves!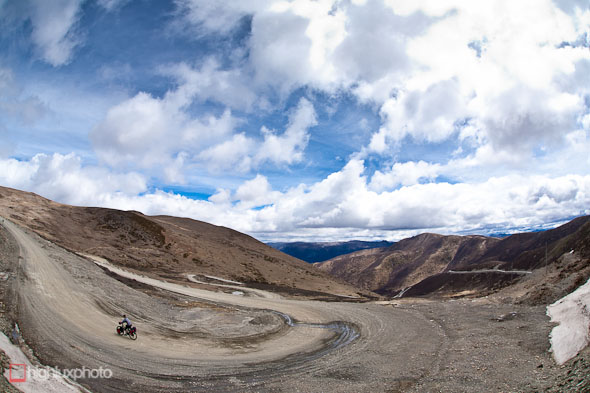 Nearing the first pass of the day. Nice riding conditions: not too hot or windy.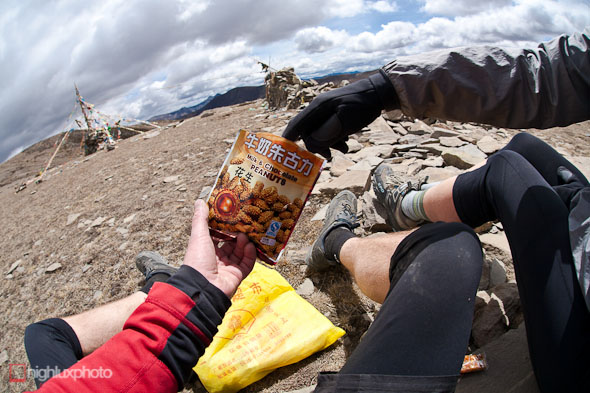 Morning tea on pass one.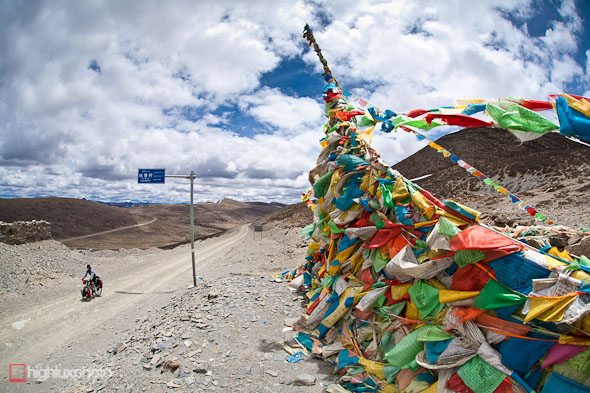 At 17km we came over the second pass (Kuluke, 4708m), just a short distance from the first and the highpoint for us on the range.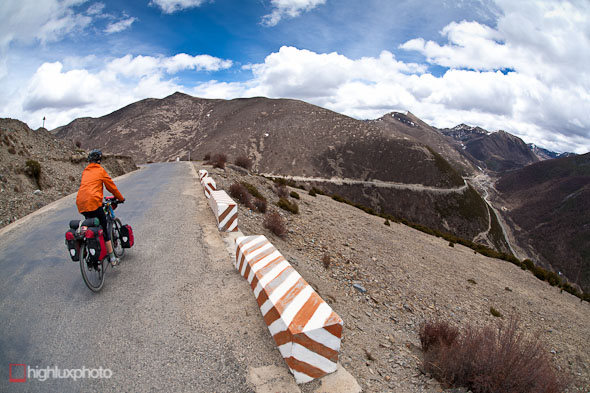 An awesome descent ensued: 40km down the side of the range to a lower river valley leading into our goal for the day, Xiangcheng.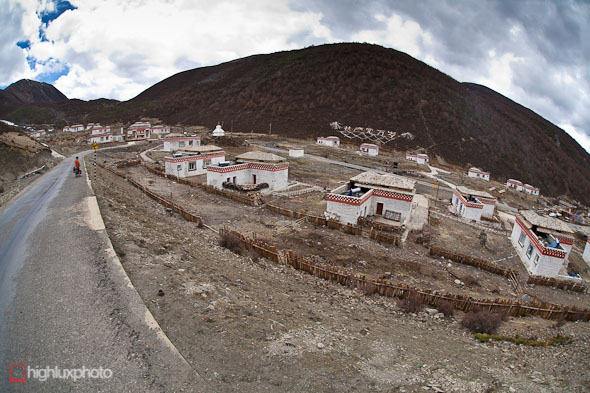 On the way we passed this wierd 'model' Tibetan village. I guess some tourism initiative by the Govt. The place was virtually deserted.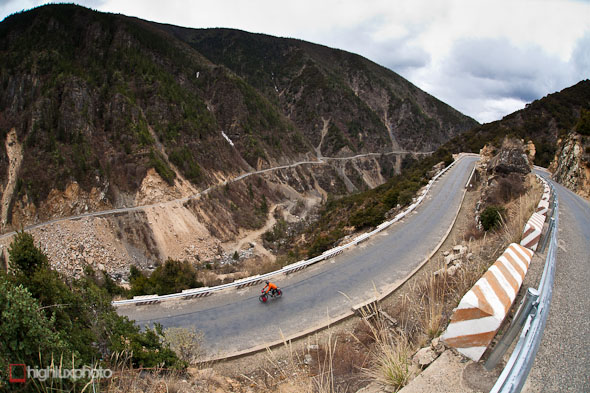 The landscape changed fast, from the steppes and rolling hills of the Tibetan Plateau, to tight gorges and granite cliffs.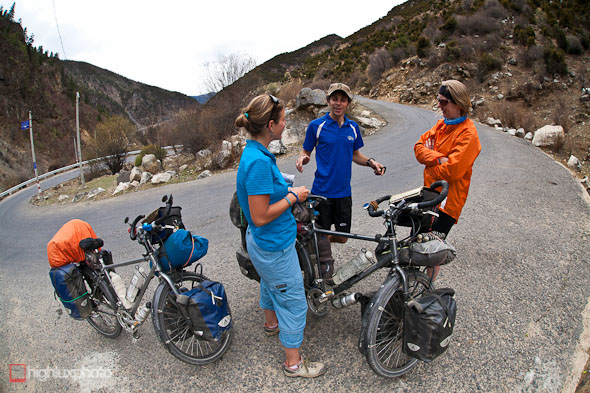 We met only the third pair of European cyclists we'd seen in over 1000km of riding. These guys were toiling up the 38km climb while we blazed down with big smiles.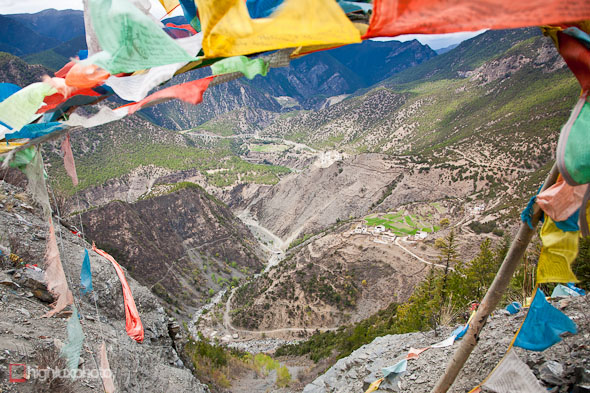 Gorges, rice terraces and a new style of Tibetan homes.

The diversity of scenery, landscape and climate on this tour so far has been amazing.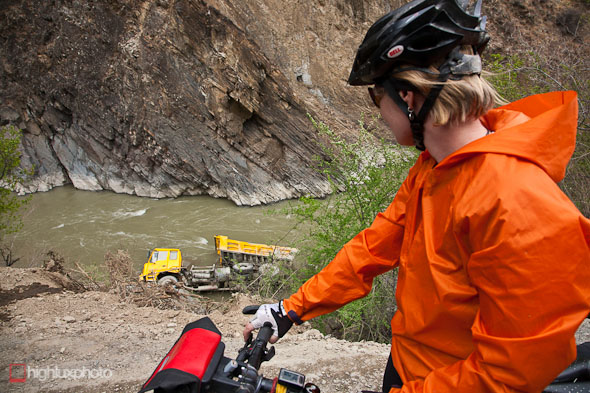 We hit the main river and still had another 40km of riding downstream to Xiangcheng. There's a lot of mining and dam building going on in the bottom of the valley, and we came accross a truck that had just gone off the narrow road and into the river. When we got there a bunch of guys had somehow gotten the driver's limp body out of the cab and all the way up a very steep bank. They were haplessly pumping his stomach in an attempt to revive him. I stepped in to take his pulse (there wasn't one) and a few moments later he was manhandled into a ute and driven away.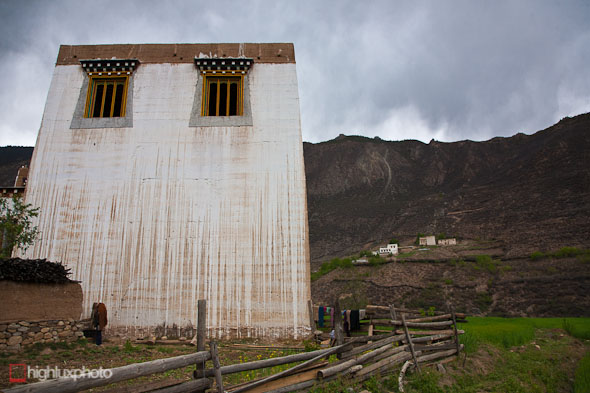 Rammed earth Tibetan homes.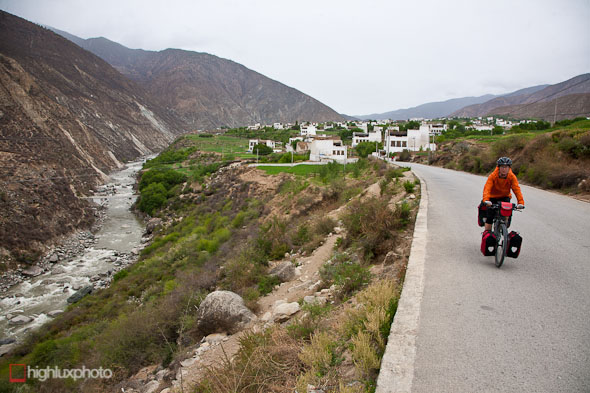 After a night in Xiangcheng we spent an 'easy' day transitioning 39km to Ranwuxiang. Ranwu is a small village at the base of the next monster hill – a 54km climb on a dirt road to Daxueshan Pass at 4326m. We wanted to base ourselves there to make sure we got over the pass ok the next day. The valley was quite similar to Mexico's Copper Canyon where we rode December 2009, except here they're growing rice and barley on the terraces instead of marijuana!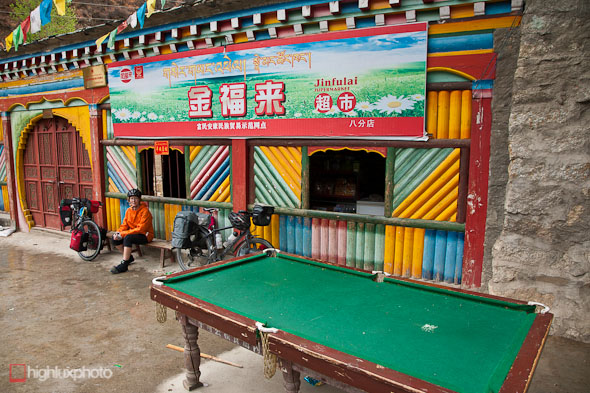 Pool and snooker are big in these parts…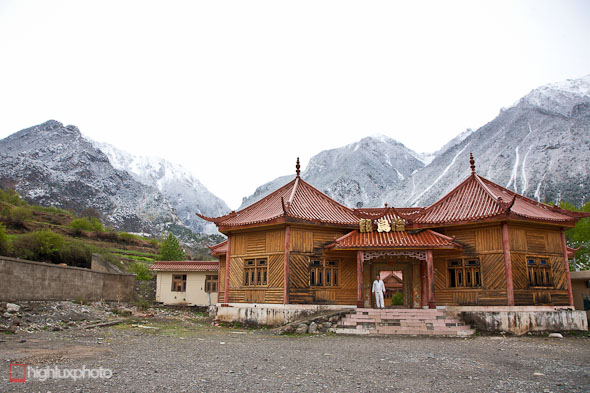 Ranwu is reknowned for hot springs, so what better thing to do than check into a well-past-its-prime tourist resort for a mere $20, and soak in your own private in-room hot pool – freshly filled with steamy water from the depths of the earth itself. Paradise! Overnight it snowed down to the village, and in the morning the owner saw us off in his pajamas.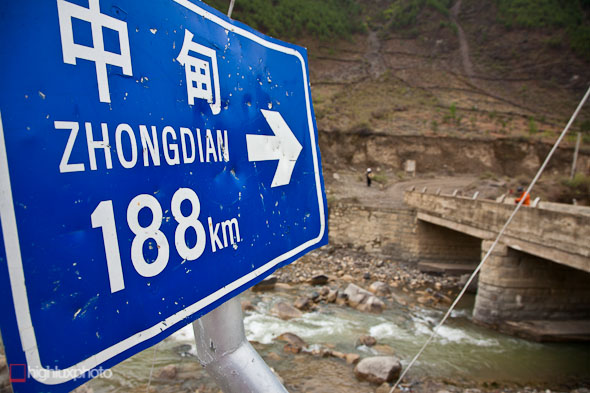 Zhongdian (Shangri – La), here we come…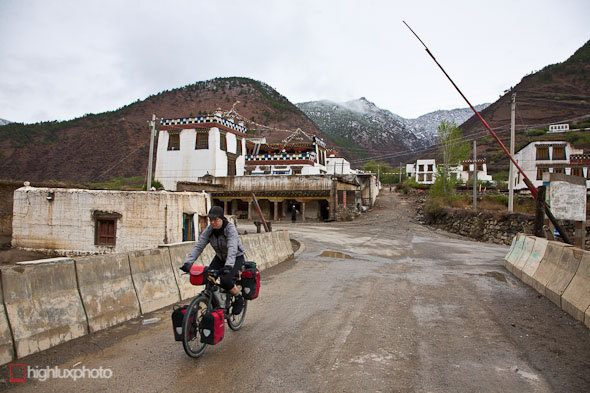 Heading out of Ranwu village and the start of 75km of rough dirt road.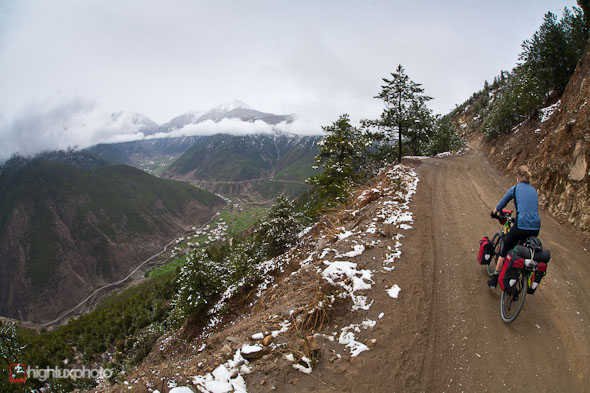 Rapidly melting snow and a very very long climb… Thats's Ranwu village just under the clouds upper left.

The owner of the funky resort gave us some hardboiled eggs for morning tea. Awesome!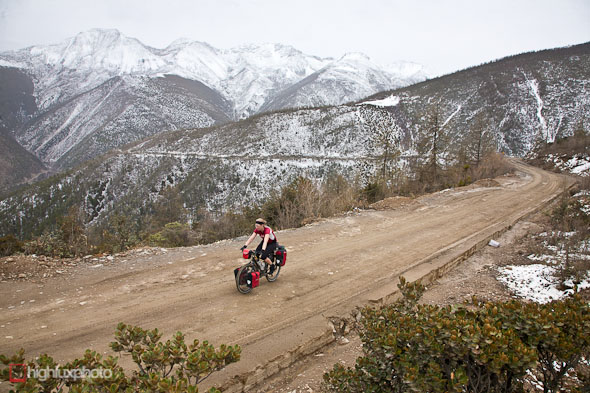 Passing trucks turned the road into a quagmire in places, but most of the time it was just ass-beatingly bumpy (we're running 1.75 Schwalbe tyres).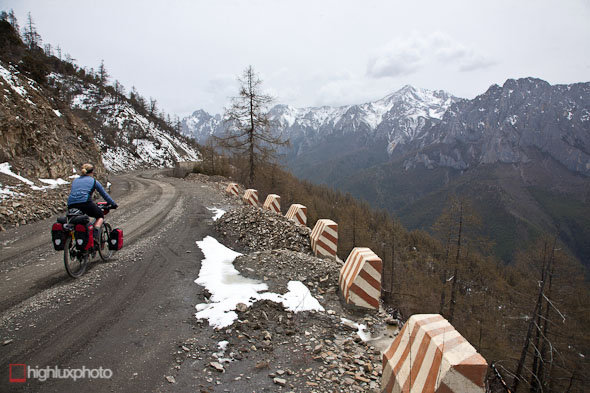 We parallelled a stunning range of limestone peaks. The road hits a pass at around 4000m, and then sidles the range for 20km, with a final 300m climb to the main pass.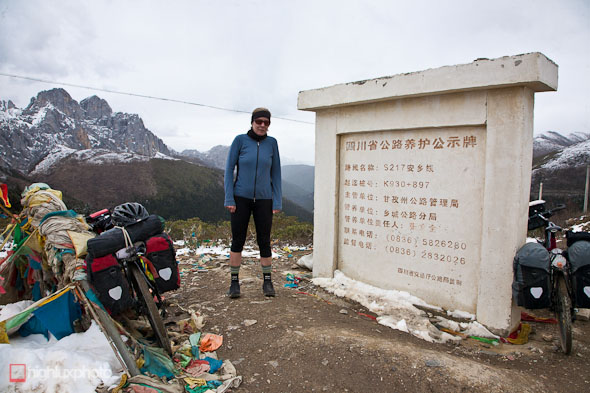 Daxueshan Pass (4326m), and the border between Sichuan and Yunnan Provinces. A few people had said that the Litang – Shangri-La section of this trip would be the hardest. Overall we found the altitude hardest right back on the first high pass out of Kangding, but definitely the riding and size of the climbs on this section have been a challenge.

A super rough 24km descent followed. We'd been pedalling for over 6 hours by now and just wanted to get as low as possible to camp.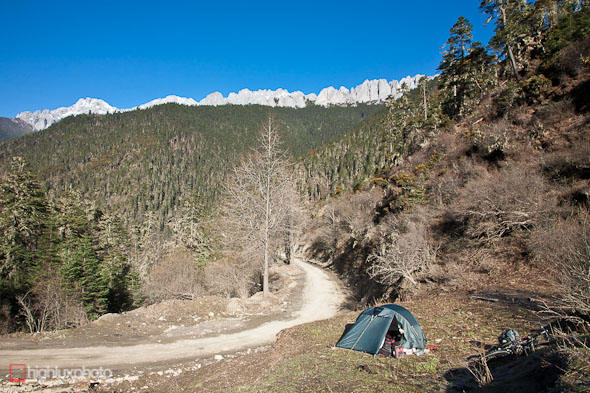 We found a sublime spot for the night (after scaring away the resident cattle beast). The morning dawned clear and quiet; the road deserted. But unfortunately I'd been up vomiting twice in the night. Morning had me not even able to hold down water, and the other end starting to loose control too. I necked some drugs and we limped 15km further down the valley to find a village with some accommodation. I spend the rest of the day asleep, and woke up the next day right as rain.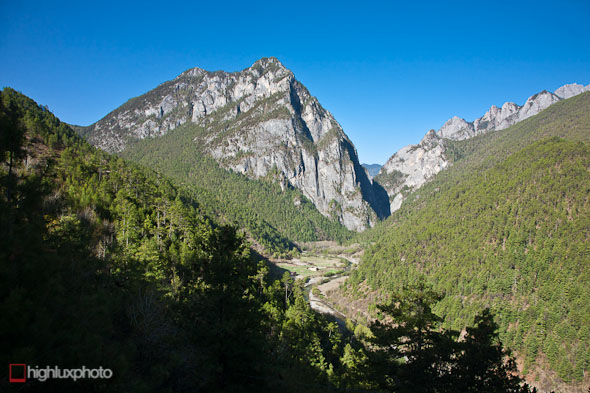 We had only 115km left between us and the tourist city of Shangri – La, which pretty much marks the end of the hardest mountains of our ride through Sichuan and Yunnan. That distance entailed a 900m climb to 4000m, a descent to 2800m and then another 800m climb before finally descending into the city at 3200m. We decided to go for it in a day… With a good road and perfect day it seemed silly not to make the most of it.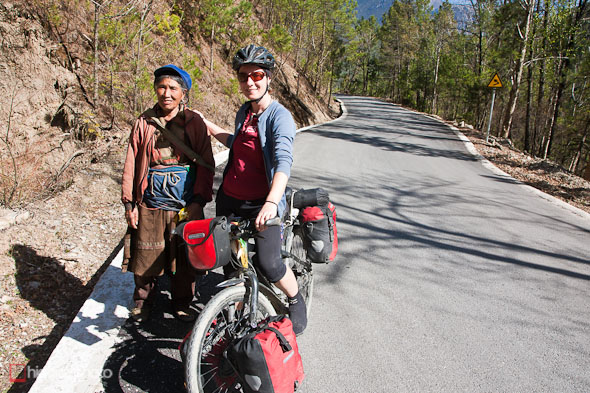 Climb number 1. We've discovered here, and in remote parts of Mexico, that you're never really alone in the woods and hills. Just when you think there couldn't possibly be another person around, someone will wander out of the bushes – have been checking their goats, tending their plot, or whatever. This friendly lady was one such person – probably walking dozens of km in day between villages.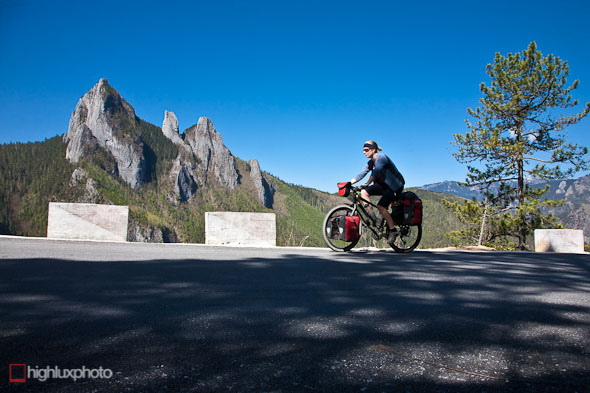 The scenery, by the way, was awesome.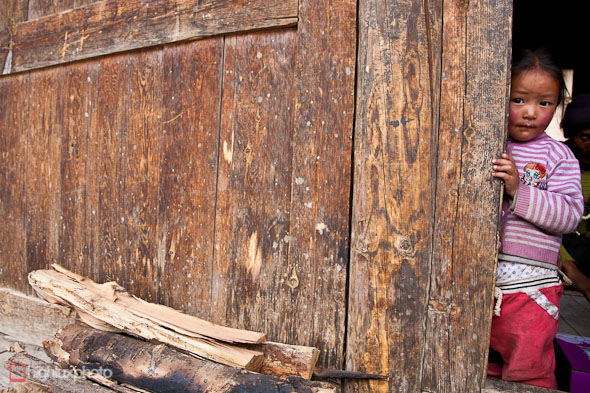 Shy but curious…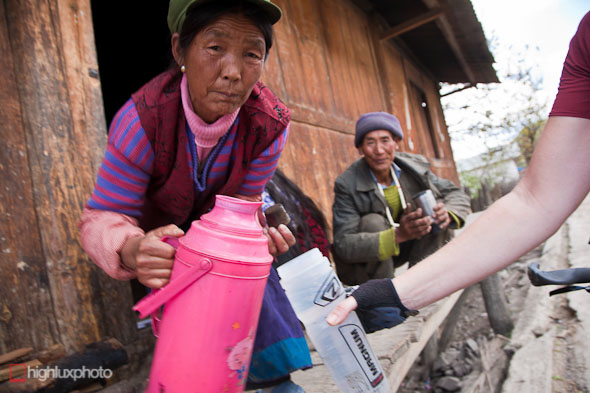 Water stop. These thermal flasks are ubiquitous in China; used for storing water that has been boiled to kill bugs. Every room we have slept in is supplied with a full one.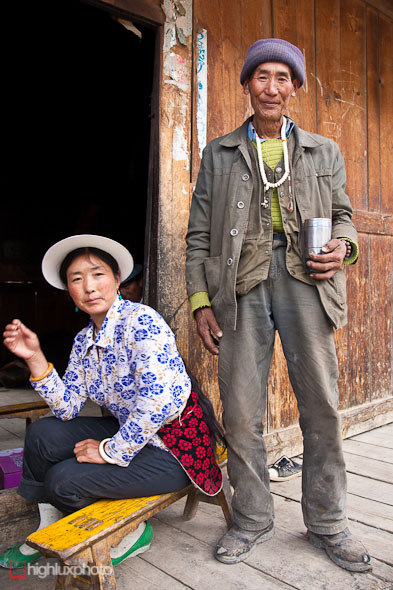 These guys were playing cards, until something more interesting pedalled into their village…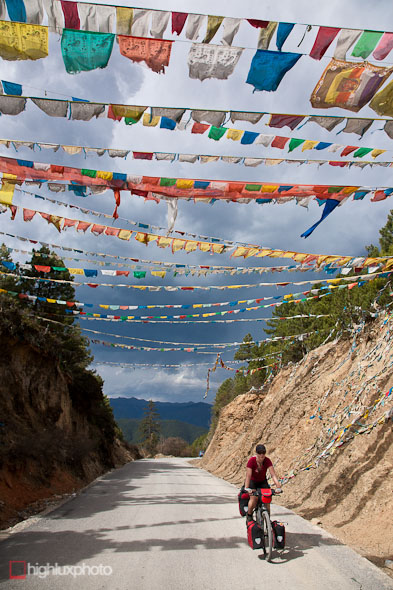 Last pass of the day!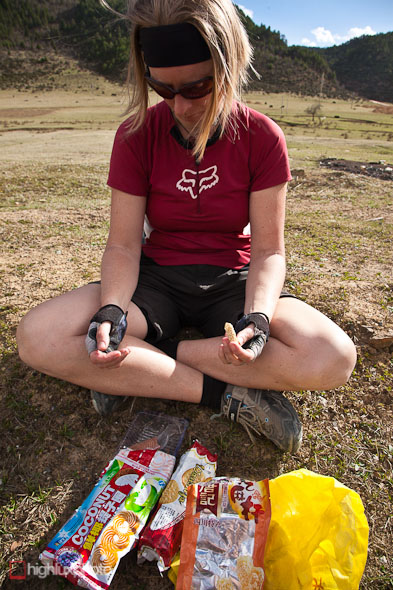 It's pretty hard finding decent riding food here (having been very rural for the past month), and about 80% of our calories during the day come from biscuits (the rest from nuts) – and we're fucking sick of them!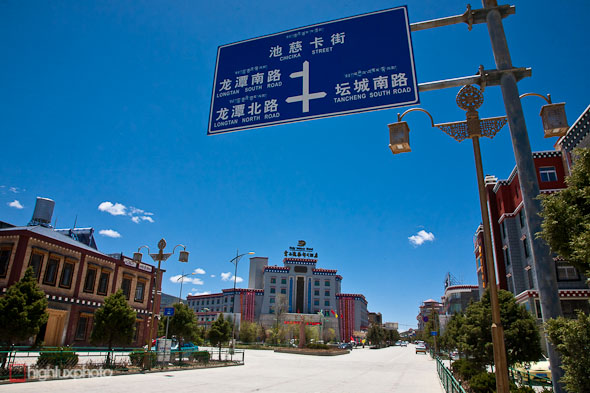 Shangri – La, original name Zhongdian, is a full tilt tourism oriented town that has sprung from nowhere in a little over a decade. The Chinese government claimed a few years ago that this region was the Shangri – La of James Hilton's classic novel Lost Horizon, despite the fact that is was a purely fictional creation, in a bid to turn the area into a tourism boomtown. Well it has worked, and the place is high on the list of travellers to China. Good reason too: there's huge cultural diversity, mountains, lakes and all round awesome scenery. We hotfooted it to the 'Old Town' (actually a rustically styled new town) and found a cheap room with a hot shower and a restaurant right over the street.
Next stop: Tiger Leaping Gorge…