Been a bit quiet on the updates lately… We've been heads-down riding for the past 8 days since we left Lijiang – counting the days until our Chinese visas expire as we make our way south to the Laos border.
Anyhow – here's the first of the updates I'm trying to get done as we take a days rest in Jinguu.
Day 31: Tiger Leaping Gorge (1600m at Yangtze) – Campsite (2900m), 73km, with 1600m/40km climb to pass at 3190m.
Day 32: Campsite – Lijiang (2400m), 43km.
Day 33: Lijiang, sightseeing, waiting for replacement lens & bike maintenance
Day 34: Lijiang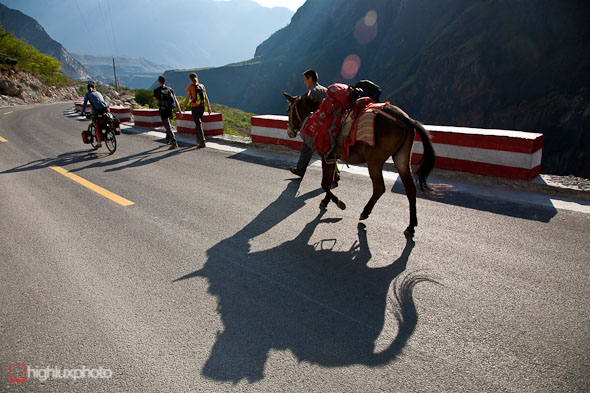 After 2 nights in Tiger Leaping Gorge we were off again, heading in the direction of tourist mega-town Lijiang, 2 days ride away. We chose to take the back route (of course), and didn't have too much idea of what it would entail; a climb over at least 1 pass – but first we had to cross the Yangtze by ferry, 10km downstream from the guesthouse. Another couple set off that morning to hike to Haba – a mountainside village we'd passed through two days prior.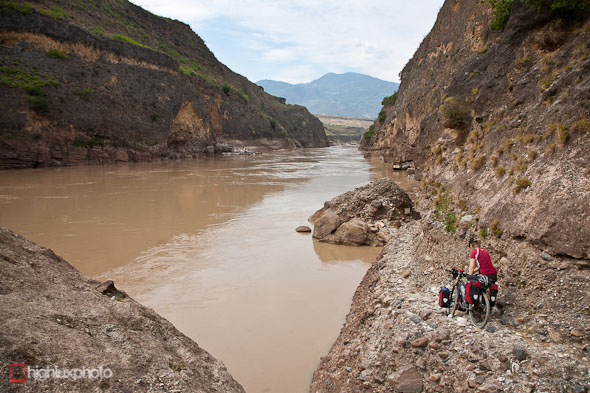 We dropped to 1600m at the Yangtze via a road, then a dirt track, and finally a vague trail chipped out of the cliff. The last part saw us taking panniers off and carting loads over the final section to the ferry itself. The delapidated looking boat had a single other hopeful passenger (with 2 piglets in her backpack) and we sat for about 45 minutes on the river's edge, quietly baking in the sun. Finally the ferryman turned up and a few minutes later we were making the 100m wide crossing.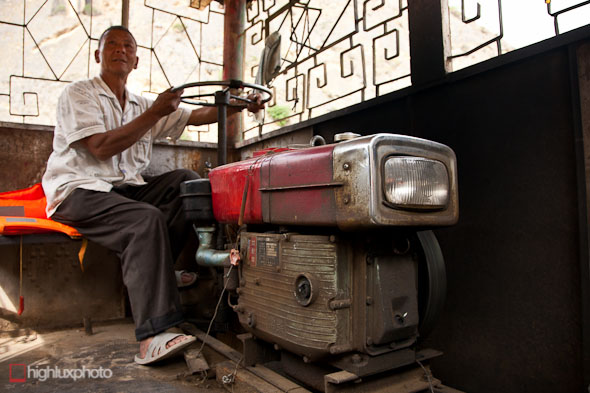 Ferryman and his motor. I'm not sure of the name for these diesel motors, but they are ubiquitous in China. They're used on everything from boats, to 'walking tractors', to lighweight trucks, to compressors and generators. I imagine they're very cheap, easy to fix, and from what I've seen so far; totally unreliable!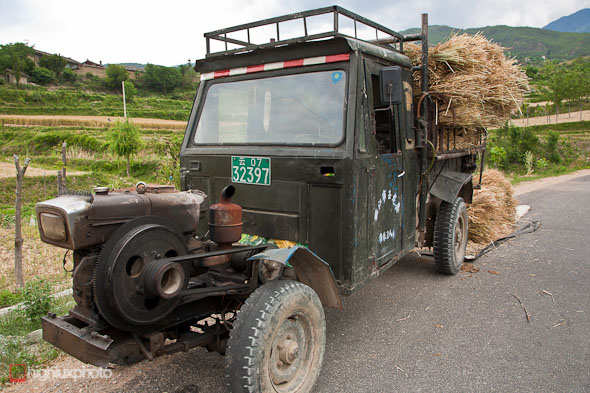 Here's another one; mounted on one these odd trucks that we see broken down everywhere.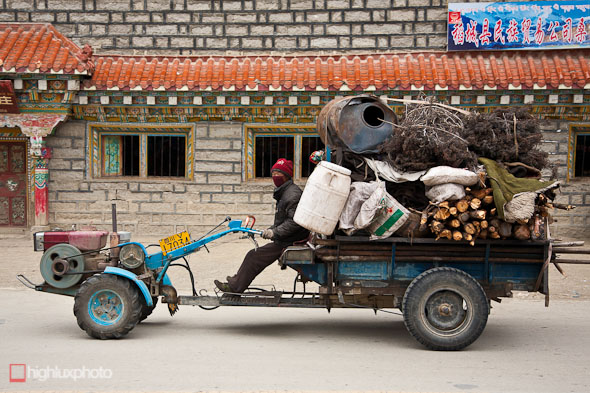 And another; this time on a 'walking tractor'. This shot was taken in Sangdui, Sichuan, but have seen these vehicles everywhere for the month we've been riding – carrying anything and everything.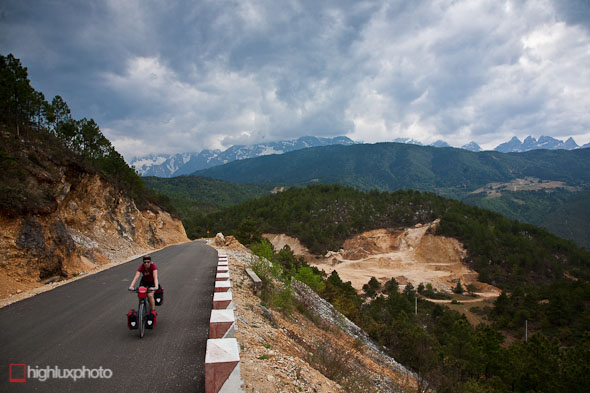 From the Yangtze the only way out was up, and up, and up … for 40km. By the time we topped out on the pass we'd climbed continuously for 1600 vertical metres. Thankfully on a perfect road, and with overcast skies to stop us getting cooked. That's the range containing Jade Dragon Snow Mountain (Yulong Xueshan) in the background. Far right are the peaks making the eastern edge summit of Tiger Leaping Gorge.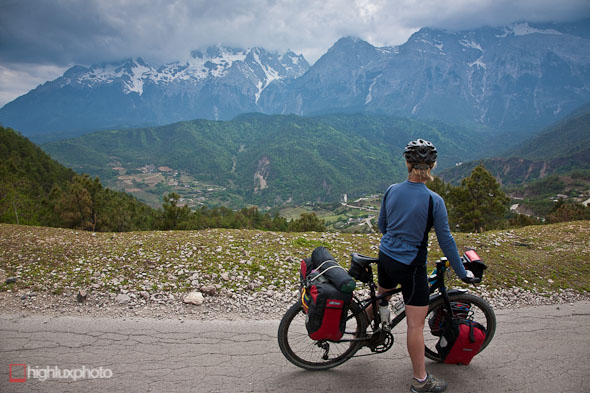 Jade Dragon Snow Mountain and the road down to Lijiang.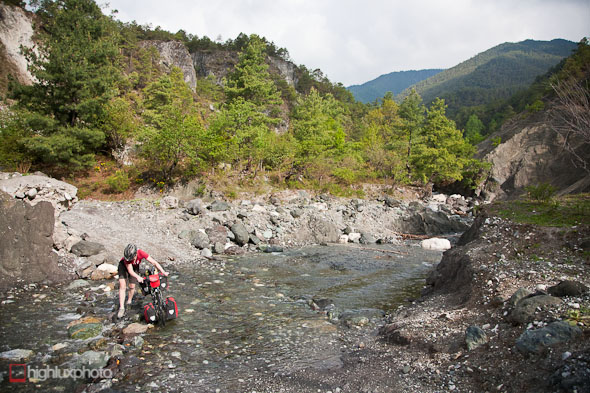 After 73km we found a sweet and well hidden camping spot by a creek, just off the main road. Next morning we were back into it again – with Lijiang only a 43km ride away.

This is how the truck drivers avoid head-ons on hairpins. Good for the amusement of cycle tourists too…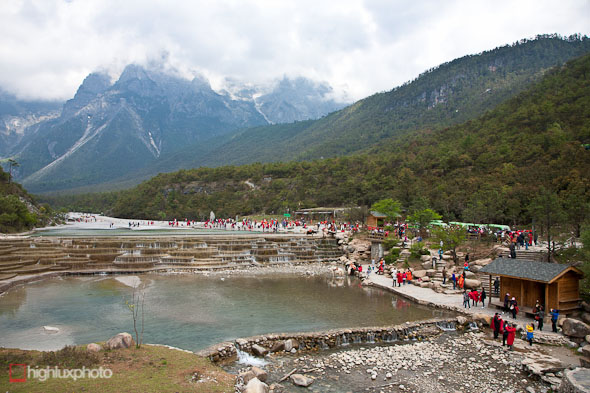 Tourism, Chinese style: dam a nice glacier-fed mountain stream and create fake terraces and ponds to make it 'prettier'. Then add bus loads of tourists dressed in red coats (so they can't get lost, or wet). Finally, add some yak and donkey rides so they don't get bored.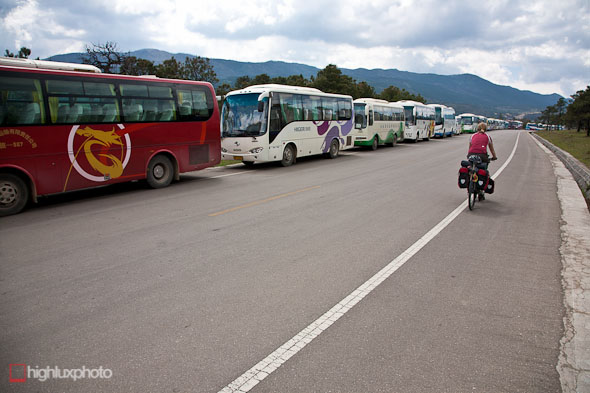 And I mean bus loads!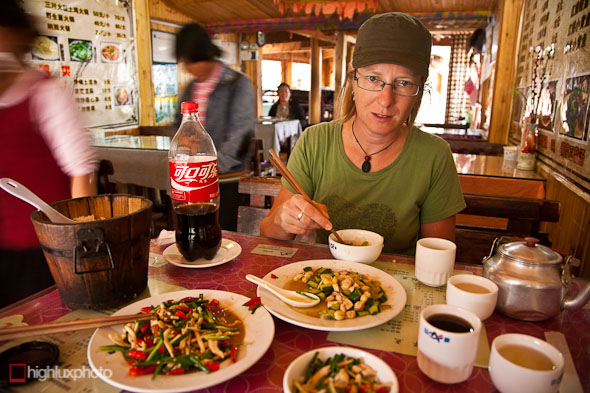 Still – the plus side to tourism (from a cycle tourist's perspective) is restaurant menus in English and plentiful cheap food to be eaten in comfortable seats…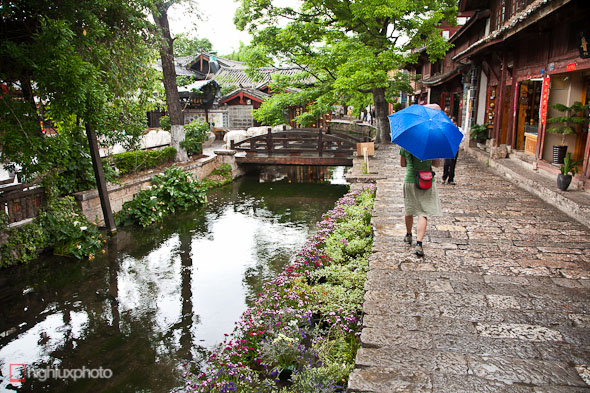 After the aridness of Shangri-La and Tiger Leaping Gorge the climate at Lijiang has an almost tropical feel to it – even though it's still at 2400m. The Old Town is a UNESCO World Heritage site and great place to stay.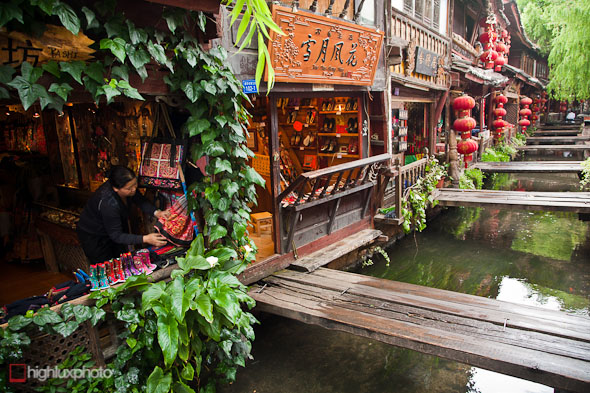 It's choked with Chinese tourists, but full of character with myriad streams and bridges, souvenir shops and restaurants.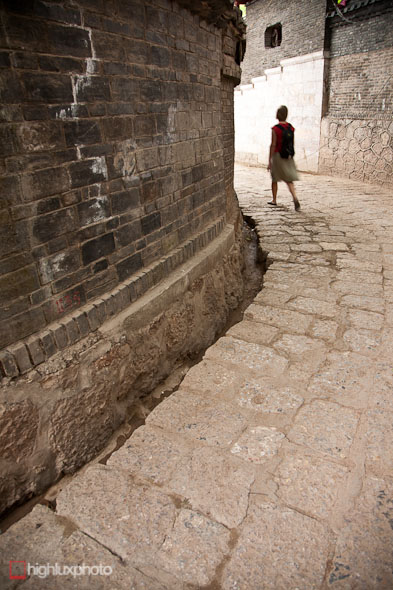 Cool cobbled alleyways …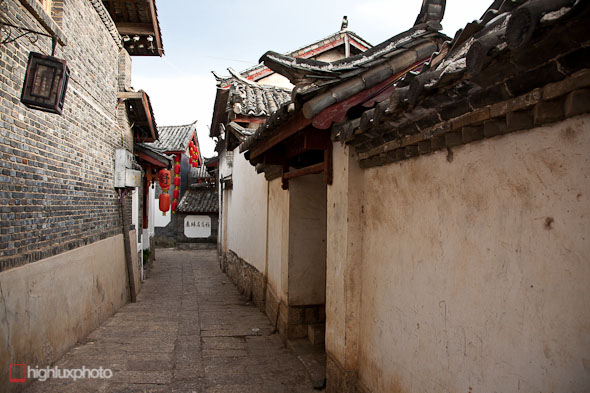 Authentic architecture …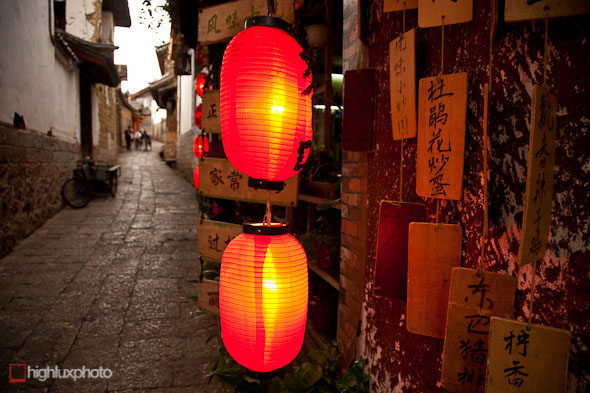 Billions of lanterns …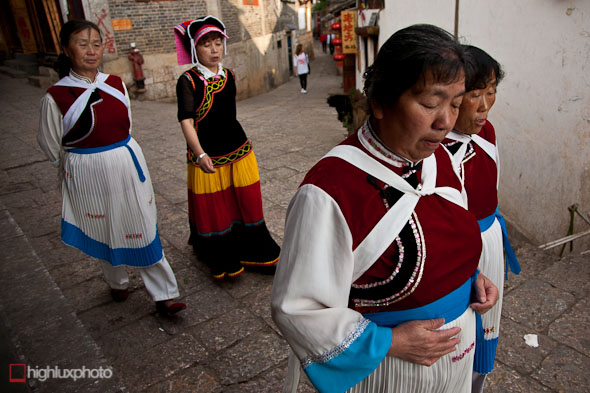 It's also the homeland for the Naxi people – one of many ancient ethnic minorities in the Yunnan province.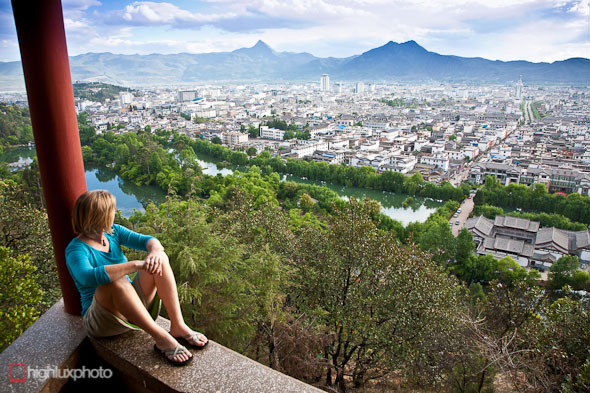 Looking out over the 'new town' of Lijiang, from the hillside above Black Dragon pond.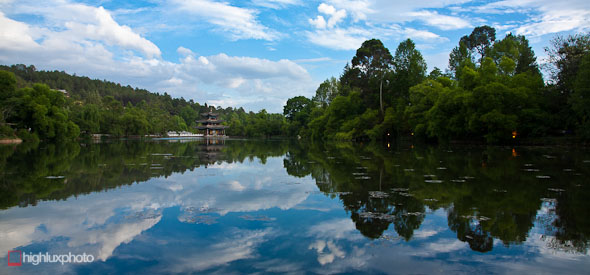 Black Dragon Pond and temple (go for free after 6pm – rather than pay the rip-off entrance fee). You can also sneak in for free anytime at the northen most entrance).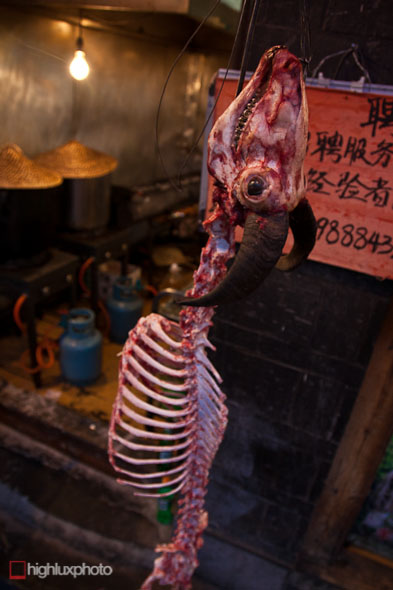 This was outside a restaurant. To tempt guests in?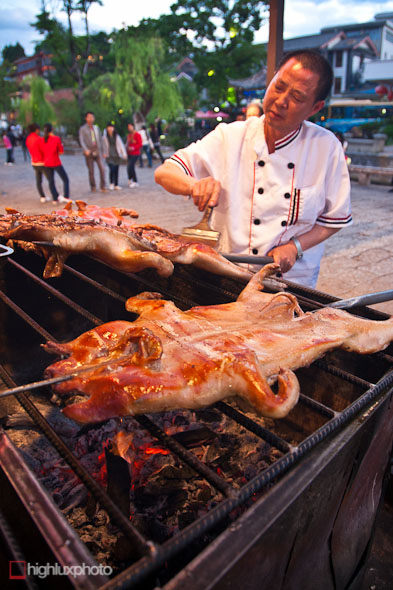 These piglets looked tastier!
a href="https://www.highlux.co.nz/wp-content/uploads/2011/05/5D-04-8859.jpg">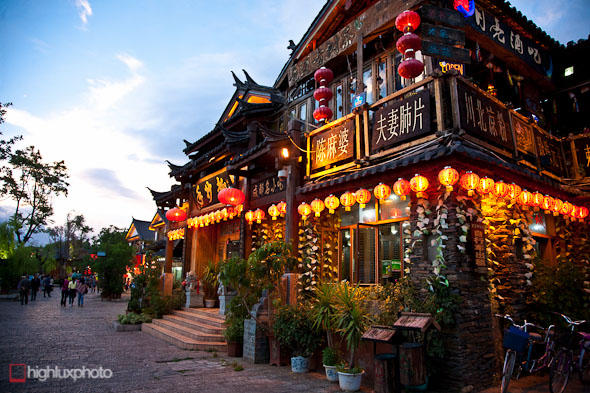 All up we spent three nights in Lijiang; taking the time to check out town, buy some new chains and lube for the bikes (from the Merida store) and wait for a replacement camera lens to arrive. My 24-105mm f4L died about a week back. It will only shoot in 24mm, and at any other focal length the mirror on the camera body just locks up. Seems to be a problem with the Image Stabiliser I think. Anyhow – I have bought a 24-70mm 2.8L to replace it and so far am very pleased with the results – it's awesomely sharp, tonally rich, twice as fast and seems to be way superior to the 24-105mm (which I was never entirely happy with). Check out the results in the next post!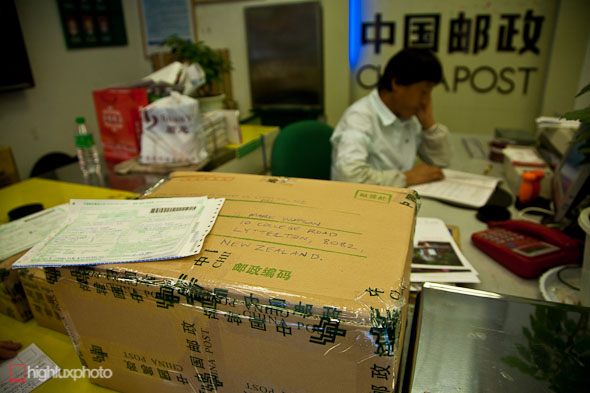 We also posted home our winter kit – lightening our loads by about 3 kilos. From here it's only going to get hotter …