Litang – Sangdui
Day 19: Litang – campsite (4050m) 51km
Day 20: Campsite – Sangdui (4050m) 75.5km with passes at 4696m and 4600m.

With no option to stay any longer in Litang (the police kicked all the foreigners out), and having had 2 days to do the tourist thing, clean our bikes and eat lots of food we were back on the road again. This time heading pretty much due south towards the province of Yunnan, through a few more hundred kilometers of mountain passes. Although a more minor road, the S217 was much better quality (at first anyhow) than the G318 had been – smooth, not too wide, and with very little traffic.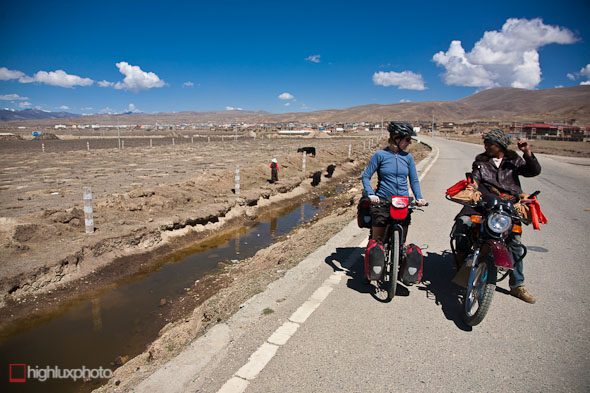 Back on the road again, not far out of Litang. Fascinated to see a couple of foreign cyclists, this guy shadowed us on his motorbike for about 6km down the highway.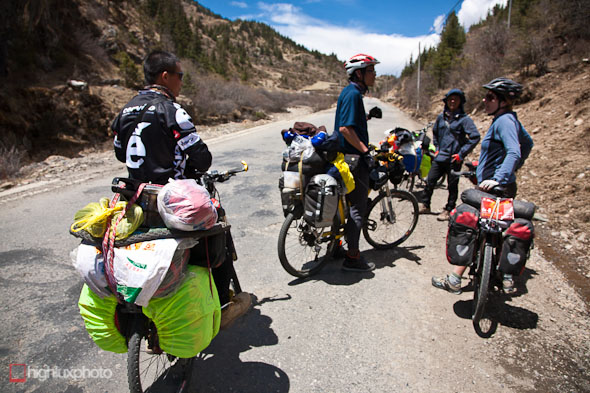 We crossed the Litang basin, climbed a couple of hundred metres over a lowish pass and then dropped down a valley to about 3800m. On the way down we met a group of Chinese cyclists heading to Lhasa. Not a lot of English was exchanged, but we were amazed to see that the guy at the back in the photo was carrying a pressure cooker!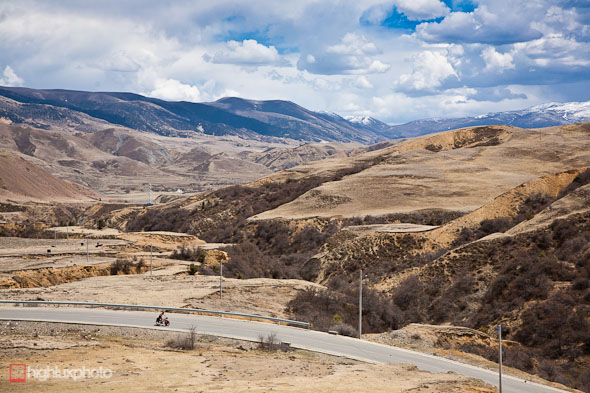 Just a valley over from Litang the climate and landscape was quite different: hotter and very dry.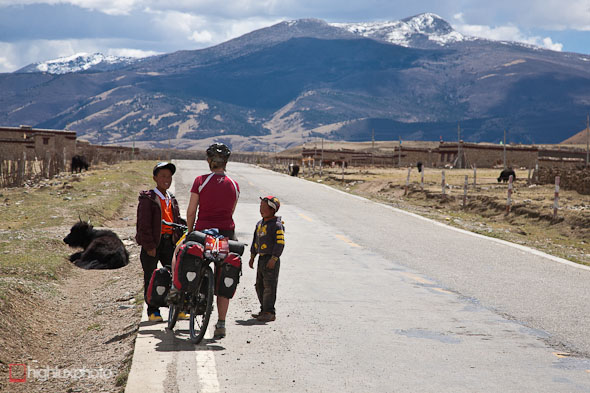 Kids are always keen to check us out.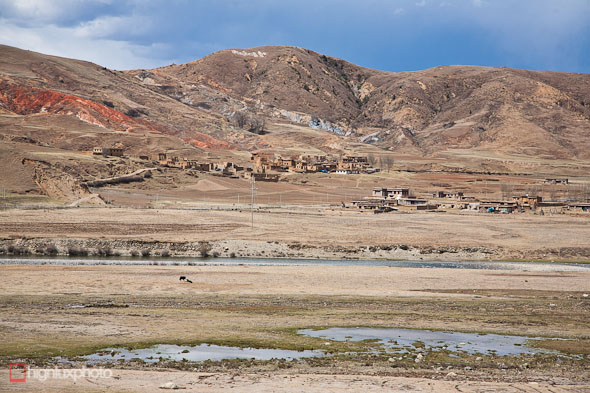 Tibetan homes.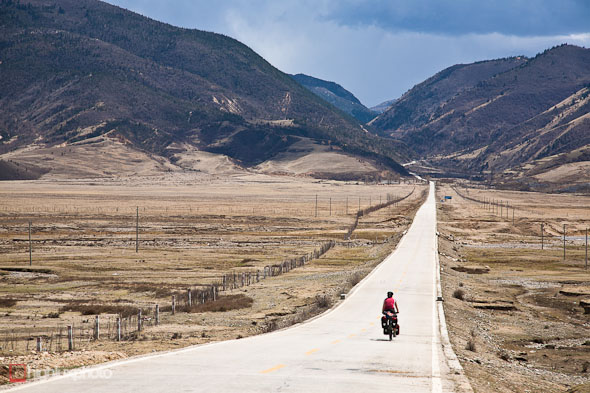 After a few km crossing the valley floor we were again heading into the mountains, this time for Tuer (Rabbit) Pass at 4696m. We rode for only a few km up the valley though and then camped at about 4050m. Shortly after we pitched the tent a coyote-like animal came and checked us out and then slunk off. We saw a small snake that day too.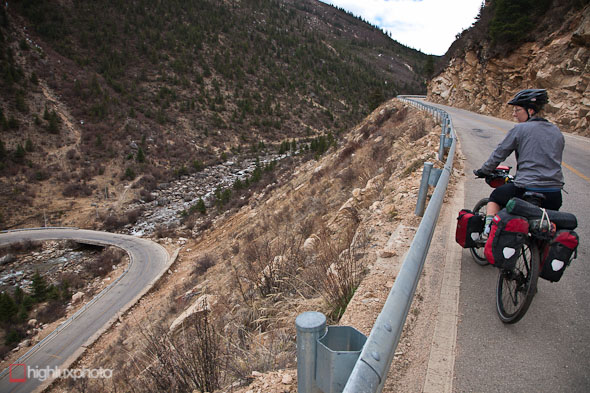 Looking back down at the site where we camped. A big day of climbing ahead of us…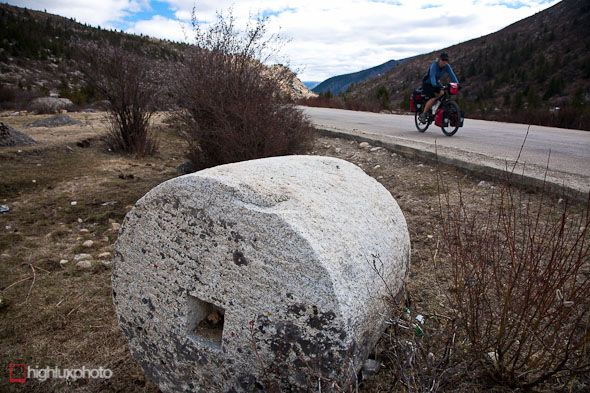 Have ridden past a few of these. Ancient road rollers? Some sort of millstone?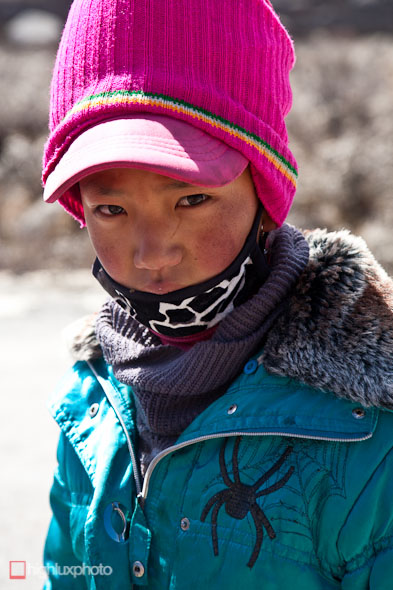 Bigger kid.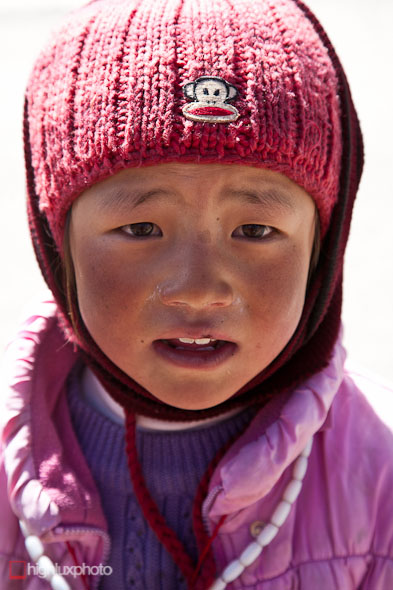 Littler kid.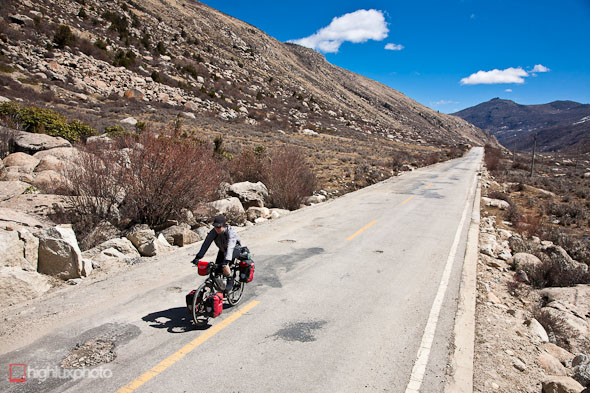 As we came out of the trees the landscape took on a Californian Sierras feel – complete with orange granite.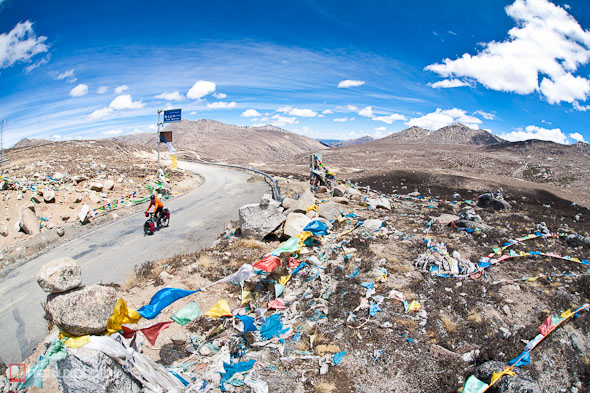 Crossing Tuer (Rabbit) Pass, 4696m.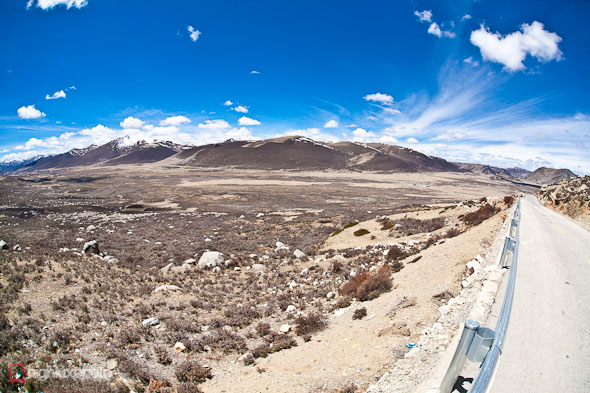 After the pass the road dropped to about 4350m, crossed a valley and then began climbing relentlessly again (in baking heat) to a pass at around 4600m.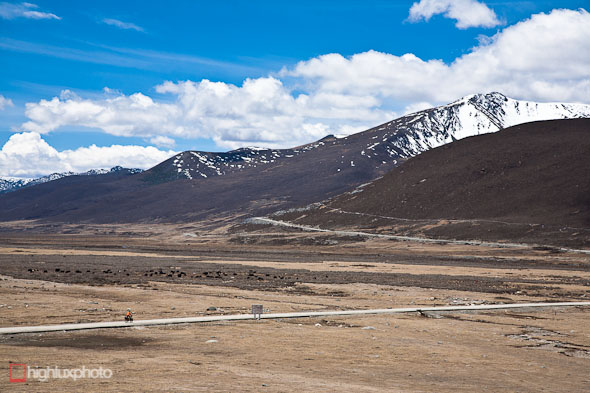 Crossing the valley floor past the no-horse 'village' (2 derelict buildings) of Longshe. This by the way is the last shot I took on my 24-105mm Canon lens before something in the image stabiliser mech crapped out. It will now shoot in 24mm only!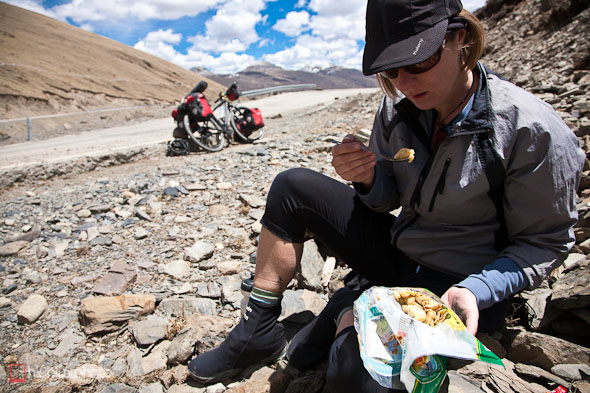 Last night's leftovers: pasta and dodgy Chinese pesto powder.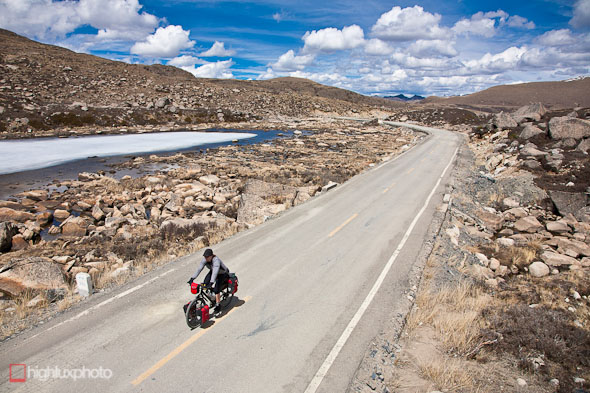 From the pass onwards the road stayed around the 4600-4700m mark for 12km crossing a barren plateau strewn with granite boulders and frozen lakes, eventually reaching a highpoint of 4750m. We battled into the same headwind we'd been pushing against all day, me with a savage altitude headache and Hana with a nasty bout of diarrohea (her turn for some antibiotics). Despite feeling crap it was an awesome place to be.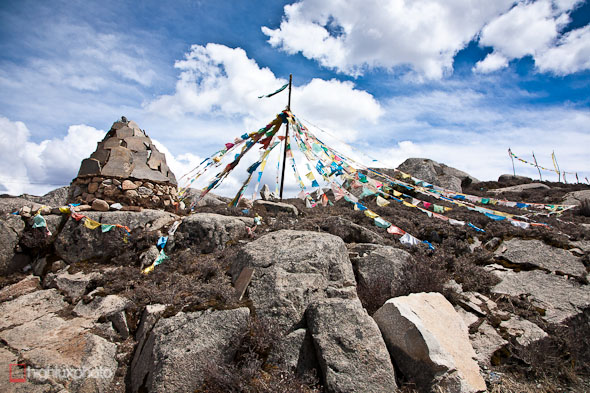 Prayer flags & stones we passed on the plateau.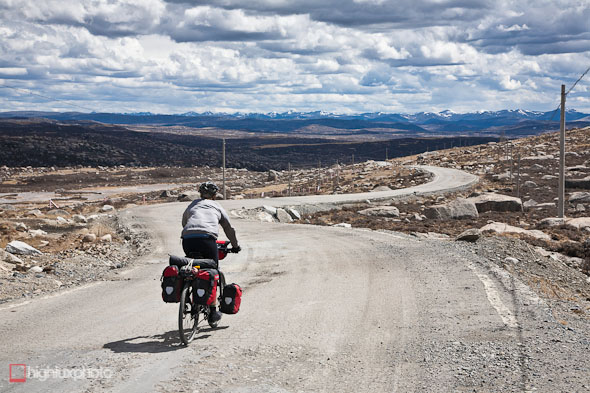 Eventually the road tipped slightly downwards and we began a long descent back to the treeline and into the village of Sangdui at 4050m.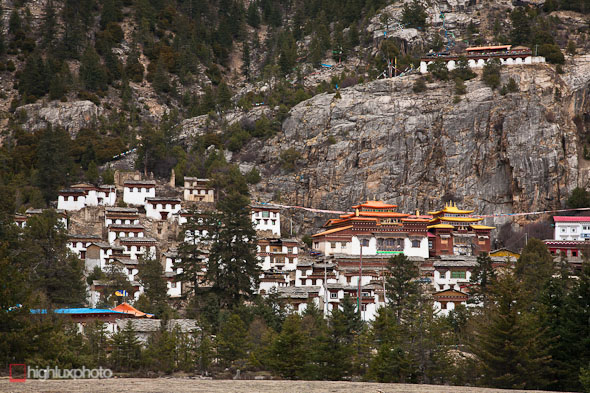 Monastery not far out of Sangdui.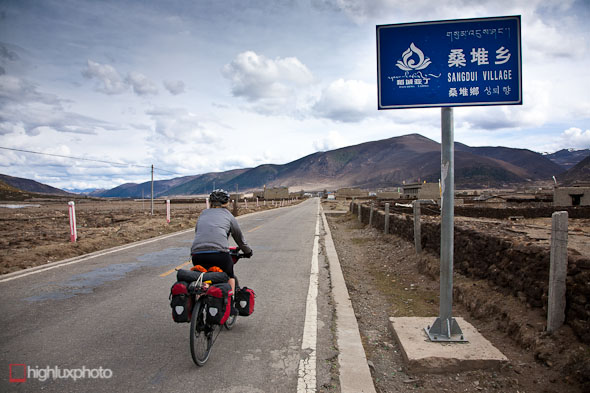 Very pleased to arrive in this wee village and find a Tibetan guest house for the night.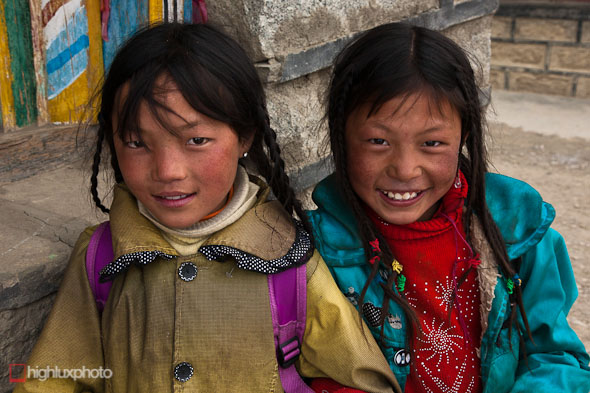 Kids in the village.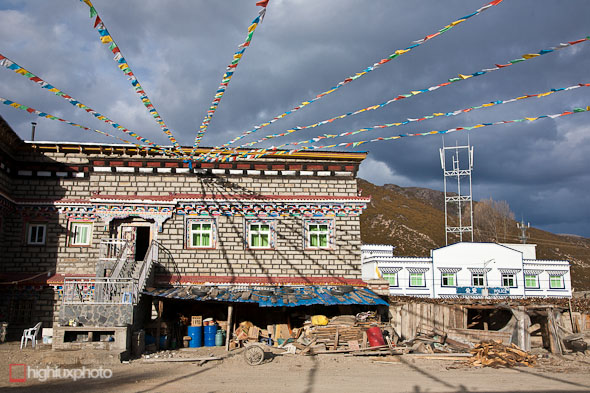 Back of the guest house, a sweet place to be after 75km and 5.5 hours pedalling time!