Day 38: Yangbi – Weishan (1760m) 95km, descent then 800m climb to 2300m & descent. Very Hot!
Day 39: Weishan – Aketang (1980m) 68km, descent then 700m climb to 2100m & descent.
Day 40: Aketang – Jingdong (1235m) 88km, mostly descending all day.
Day 41: Jingdong – Campsite (1835m) 104.5km, 74km to Zhen Yuan then very hot dirt road climb over range.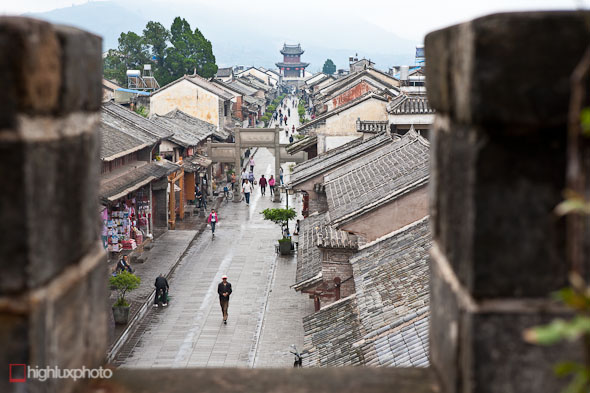 Heading south from Yangbi we suffered a baking hot, cloudless day as we dropped further down valley and then began a steep 500m climb to the Dali basin. Despite being a big destination on the tourist trail, with much history and local minority cultures, we decided to give Dali a miss (we'd spent time in Shangri-La and Lijiang). We skirted the edge of the city and then climbed a further 500-odd metres over a range, before coasting 17km down the other side (a great way to cool down!). Another 20km of flat valley riding took us into Weishan, a noted historic town where we spent the night.

We spent the following morning exploring Weishan's old town. Caged songbirds are found in many villages – so tame that when let out they'll never go far, and eventually flit back into their cages.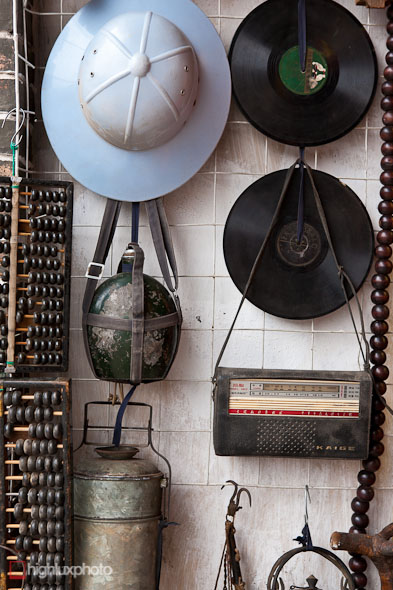 The town had a few rustic souvenir shops, selling genuine artefacts rather than the cheap, mass produced souvenir tack seen enmasse in Lijiang and Shangri-La.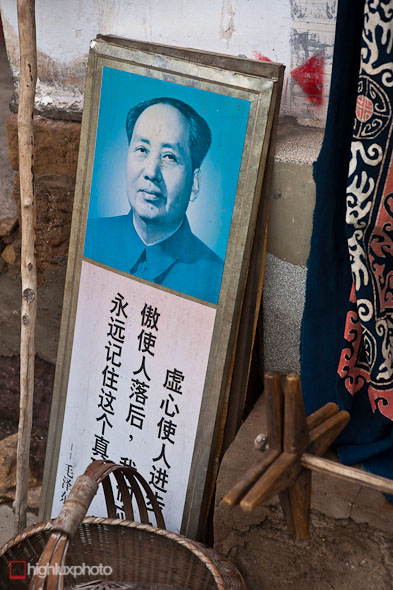 Lots of Mao-era odds and ends …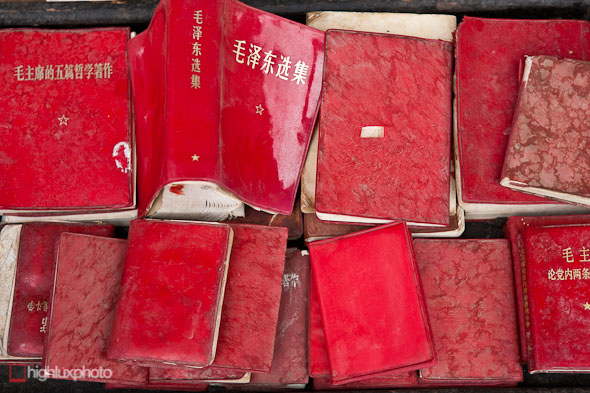 The Little Red Book – Chairman Mao Tse-Tung's collection of quotations …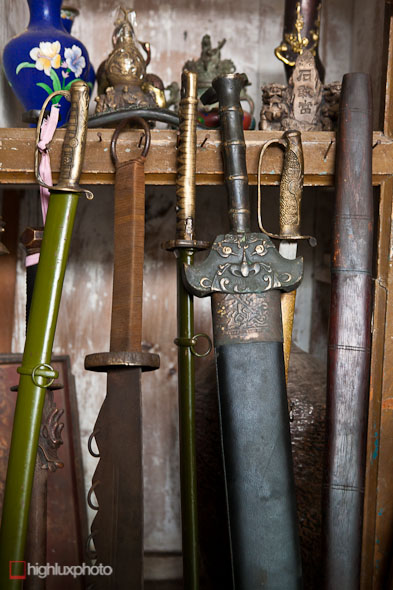 Swords and bayonets …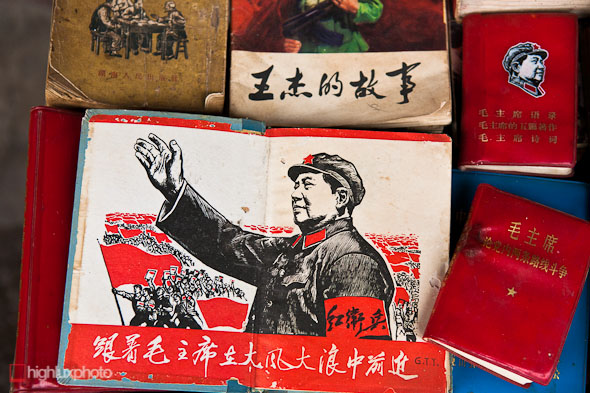 More Mao Tse-Tung-era memorabilia …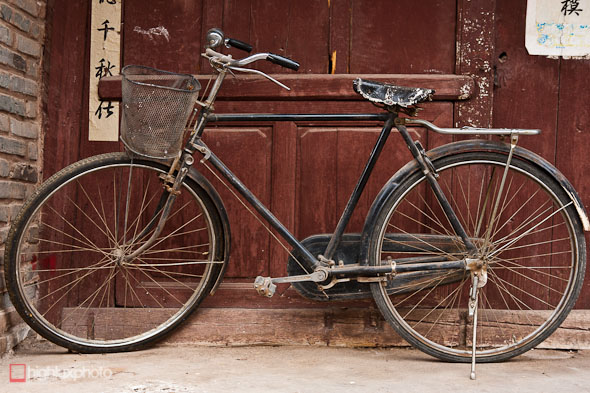 There's always vintage bicycles around.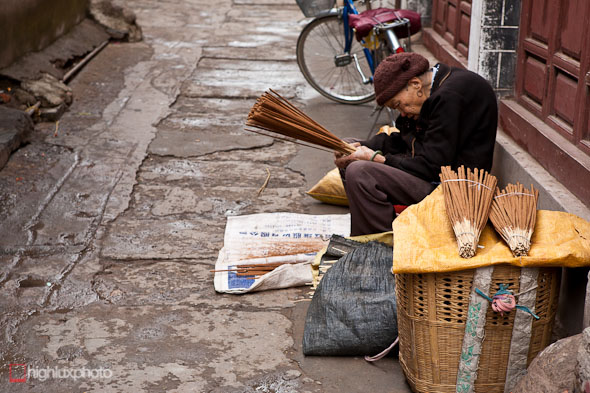 The cruel effects of a lifetime of manual labour. Many elderly women here are stooped like this.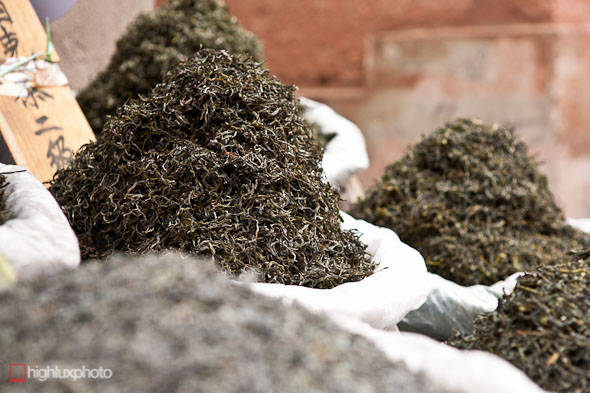 Chinese tea. Once regarded as so precious in England it was guarded with the same protection as gold!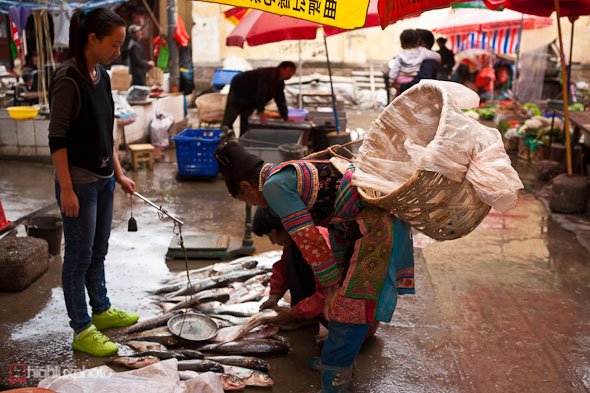 Fish for supper.

We left Weishan in the afternoon and headed downriver towards Nanjiang then back into the hills for a 700m climb to Aketang, where we spent the night (68km). Next day we're back into it again, descending 700m overall as we ride the 88km to Jingdong. The further we drop and the more south we get, the more humid and verdant it gets.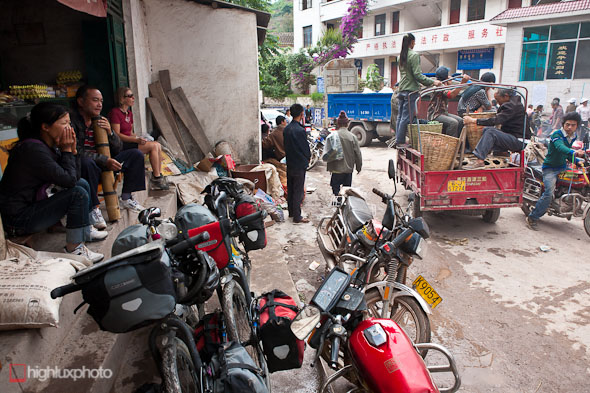 One village we pass through en-route to Jingdong is in chaos with market day: a traffic jam blocks the road, animals are herded around, horns are blaring, chickens squawking and pigs squealing. We stop for a bite to eat and look on in amazement. A lunch of potato salad with fresh herbs and fried bread costs us 2 yuan each (about 40 cents NZ!).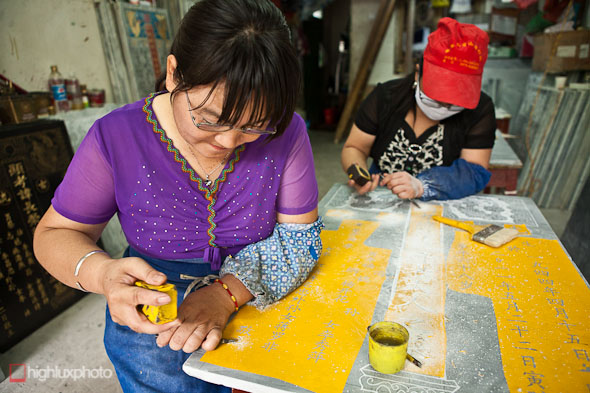 Jingdong's not notable for much – it's a big rural service town in the middle of endless rice paddies and agriculture. We spend the night and take a wander down the street and to to the market in the morning before heading off. These women are hand-carving headstones out of marble.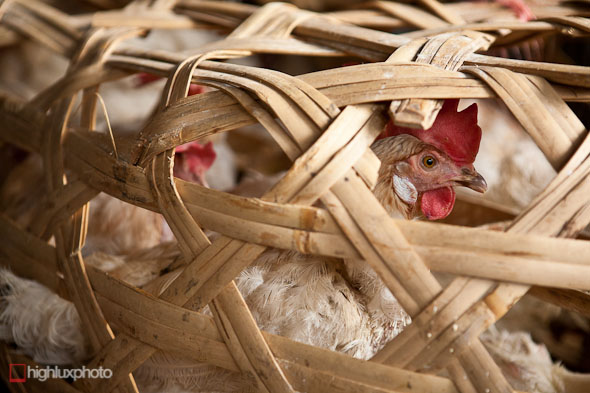 Chicken in the market – destined for someone's dinner.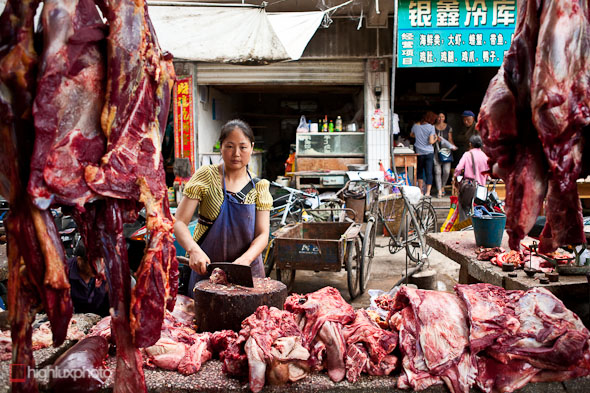 Meat market, Jingdong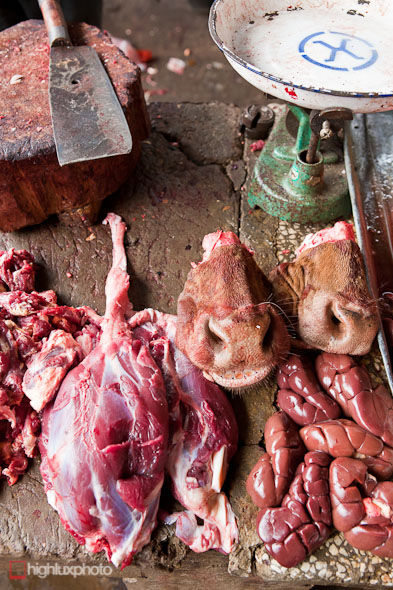 Nothing is wasted in the butchery.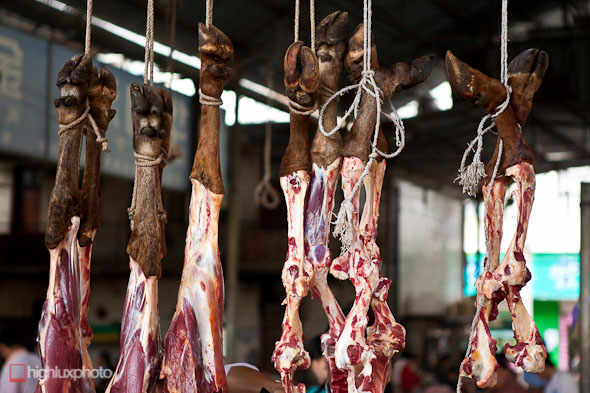 Legs.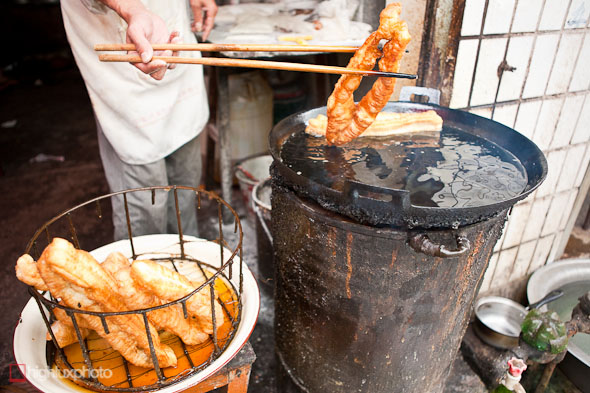 These deep fried bread sticks are delicious – and cheap at around 30 cents (NZ).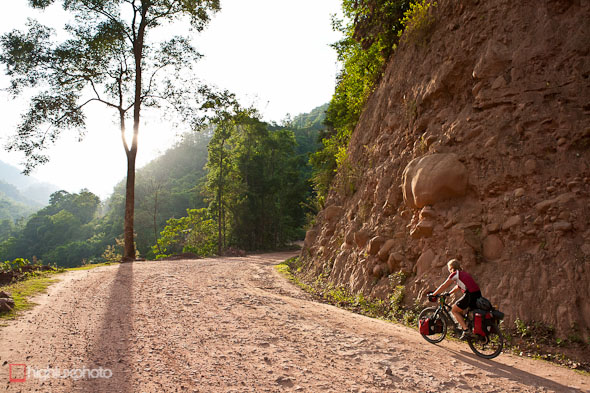 Next day we ride 74km down an easy valley to Zhen Yuan and then turn right and head into the hills again. After a few km the road unexpectedly turns to rough dirt and our progress slows. We'd been hoping to spend the night in a village called Menghai, but after 20km of climbing through dripping jungle (yes – it started pouring with rain) the village fails to materialise – it's simply a junction in the road. We climb on for another 8km in the dark and finally find a spot on the side of the road that we can fit our tent onto.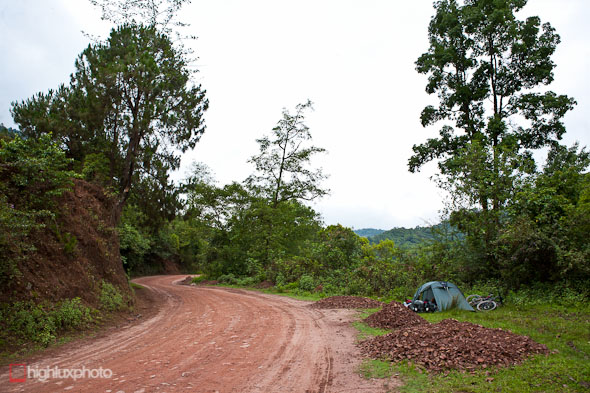 Not the best campsite we've had – but we were damn happy to find it!
Next post coming soon!