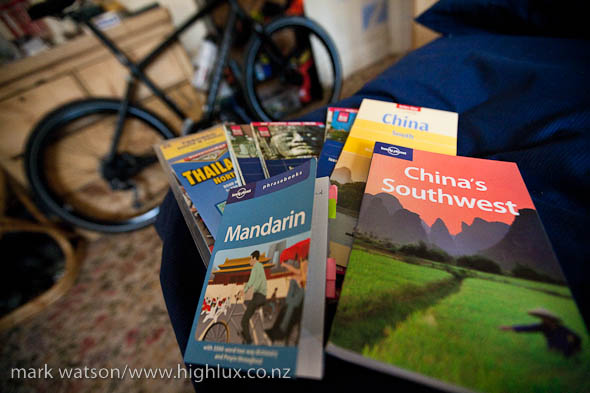 As mentioned in the previous post we are soon to leave Sheffield to embark on an 8 month SE Asia cycle tour. We're starting in Sheffield with a 600km ride to Paris, using the opportunity to say goodbye to my sister in London, a few other relatives, and see a bit more of the UK before we go.
At the beginning of April we fly from Paris to Chengdu in the Sichuan Province of south-west China. From Chengdu we plan to ride west, towards Tibet and a town called Litang – a ride that will take us from 500m to 4700m, taking in a number of passes on the way.
From Litang we're heading back south, down into the Yunnan Province, then Laos, Vietnam, Cambodia, Thailand, the length of Malaysia and into Indonesia. Plans for Indonesia are little loose as we've heard the roads can be hideously busy. We might island hop a bit there or even head over to Borneo. If time allows, we'll ride the east coast of Australia too, but at this stage it's too early to guess what our average progress is going to be like. We reckon we'll be back in NZ in late November anyhow – back in a city where the dust will have barely settled from the latest earthquake.
Much of our spare time in the past two months has been spent planning for this trip; finding maps, researching route ideas, making decisions about bikes and kit and asking people lots of questions! We've done a lot of touring in the past, but never a trip this long so it's a whole new ball game really in terms of what to take, what to leave behind and guessing what's going to wear out first (us or the bikes!)
We'll be posting on here as often as we can – so keep an eye on our travels!
Here's a bit about our bikes and some of our prep: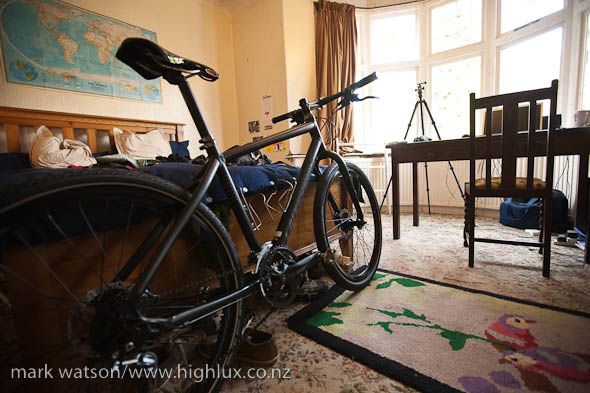 We settled on a pair of Cannondale Bad Boy 26s after quite a lot of looking around. For touring we prefer a mountain bike-oriented flat bar set up rather than the traditional drop bar touring bike. It's better for rough and off-road riding and overall more durable. 26 inch wheels allow for parts to be found more easily in Third World countries too.
Aluminium is a less common choice for touring, but the price (£500, they are 2010 models) and the fact that they came well set up for touring with Deore components, disc brakes, strong wheels and low-rider rack mounts on the forks won us over.
The pickings are actually pretty slim if you are looking a fully rigid MTB these days, with most bikes being much too 'commuter' to be touring suitable – especially riding rough back roads.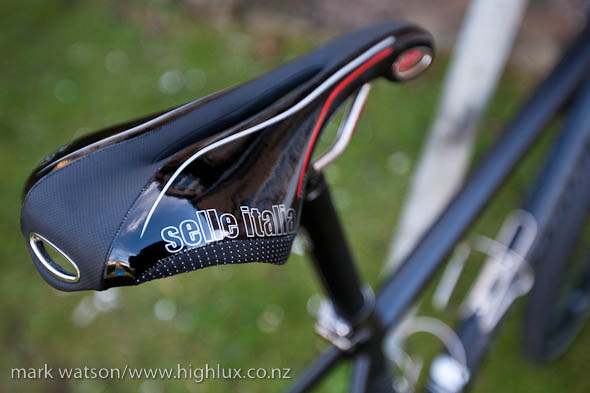 Saddle bling: Selle Italia's top off road model with lorica cover, carbon composite body, ti rails and gel inserts. Hope it lasts the distance!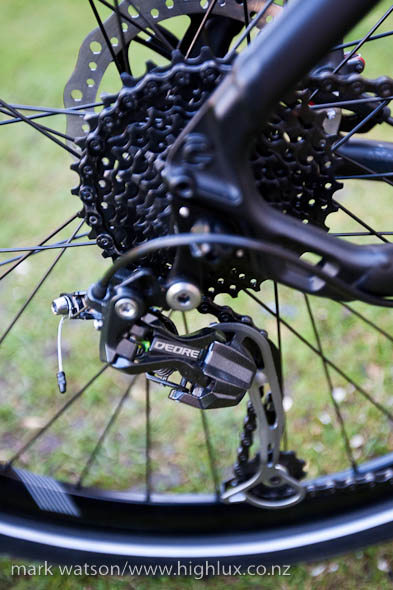 Deore throughout.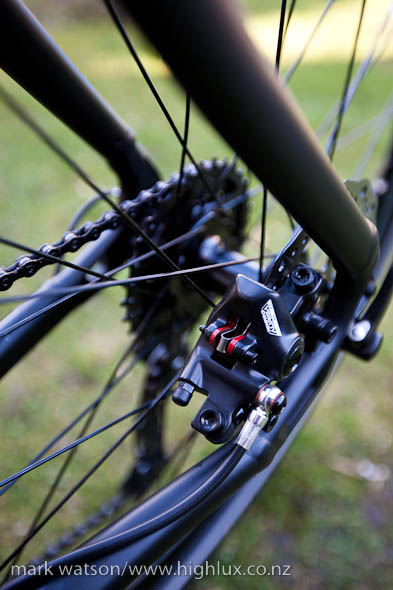 Tektro's Auriga Sub disc brake. Note that it's conveniently mounted on the chain stay instead of the outside of the seat stay – meaning that fitting a rack is no problem. Cable discs would have been ideal (for reasons of simplicity and reliability), but having used hydraulics for the past 5-6 years and having had zero maintenance issues, we're hoping these hold out the same way.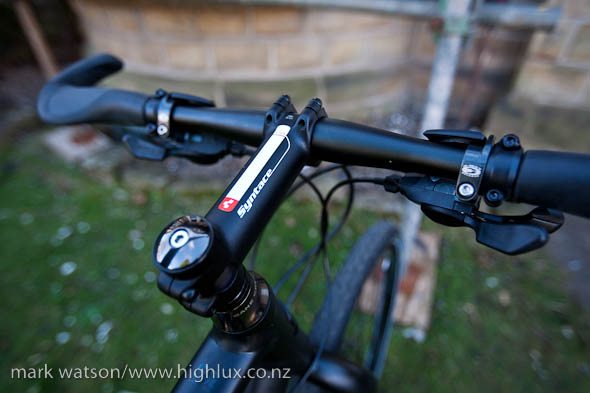 Cockpit.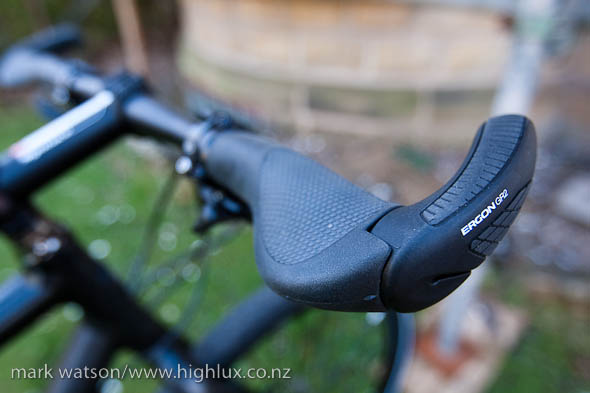 Ergon's GR2 grips seem to be the ultimate solution for touring on a mountain bike – they have a wide and anatomic hand piece for reducing pressure points and an integral bar end, allowing multiple hand positions.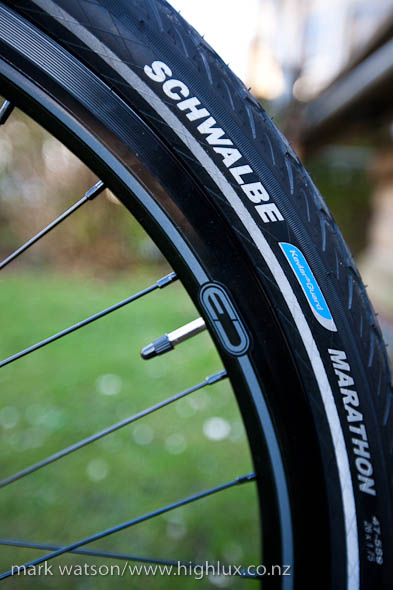 Schwalbe Marathon kevlar belted tyres. We're running 1.75 for a combo of low rolling resistance, but also enough volume for comfort and control on dirt roads and tracks. There's a beefier version these days (the XR – which we are carrying one of as a spare), but we reckon these should be ok given we'll probably be on seal 70% of the distance.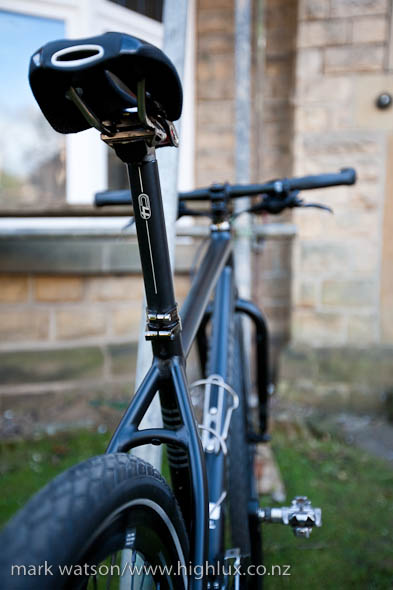 We're both using Shimano SPDs with their MT42 shoes – a sweet mountain bike shoe that's got a decent hiking/everyday use sole, but is stiff enough for serious cycling.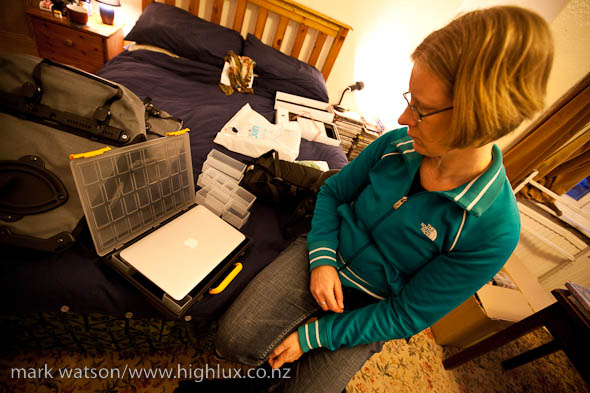 To process photos on the road and keep in touch with y'all we've bought a MacBook Air 11 inch. These sweet little computers come with flash memory and no DVD drive so there are virtually no (none?) moving parts to damage through road vibration. The challenge is isolating it from shocks and stopping it getting squashed. We've opted for a neoprene slip case and a sturdy plastic box (the type electronics nerds store their circuitry stuff in). We're carrying two Western Digital USB powered drives for storage and back up too (a 500 and 320 gb).