It's hard to believe that nearly 8 months have passed since we arrived in the UK. Time seems to fly when you slip into a routine after 14 months of itinerant camper van travel! We've been heads-down working really – trying to save money for more travel (more on that soon), but also trying to get out as much as possible locally – in my case to try and climb as much gritstone as possible. We've done well on the saving front, but the weather has put paid to a lot of climbing plans – still I have managed to knock a few things off my ticklist. Last week I finished working at sports megastore Decathlon and for the next fortnight have time on my hands to climb more – it looks like the weather is getting better too. Fingers crossed …
On top of retail work I've been taking care of some freelance design projects too – the most recent one being the Cactus Equipment 2011 catalogue. I'd just sent the final PDF files for this Christchurch-based company when the earthquake hit. A very sad day for Christchurch indeed, and I'm sure at some point in the next couple of months the catalogue might emerge from the rubble. Keep an eye out!
Our plan from here is to spend 8 months cycle touring from SW China, into SE Asia (including Laos, Vietnam, Cambodia, Thailand, Malaysia and Indonesia), if time allows we'll try to ride down the east coast of Australia too. More on this in the next couple of posts. It's only 2 weeks now until we leave Sheffield to start the trip, and I'll be posting regularly once we get travelling again.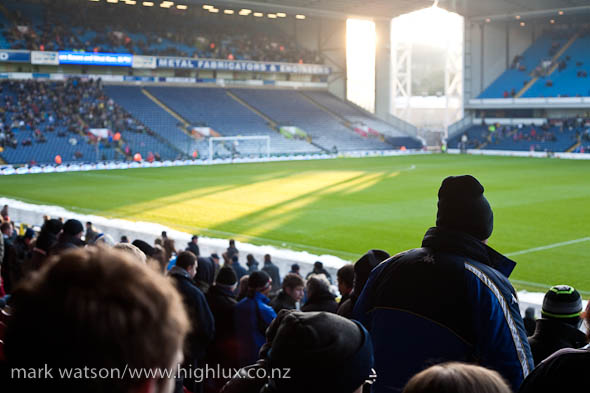 Blackburn Rovers vs West Ham – the first football match I've even been to. Was about -5 in the stadium that day!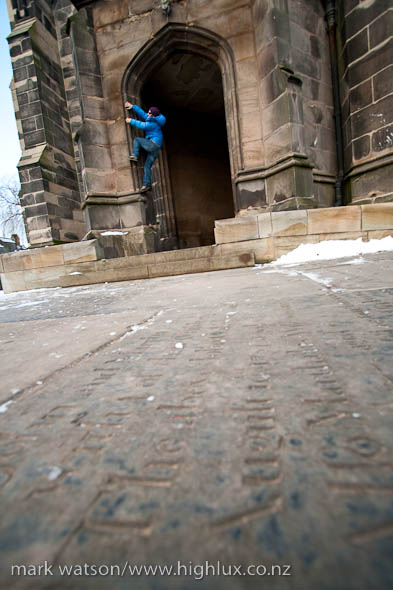 Fooling around in Stockport. Our Mancunian friend Chris Fox showed us around Manchester and Stockport for a weekend – including the football match in the previous photo. A classic all-round English experience.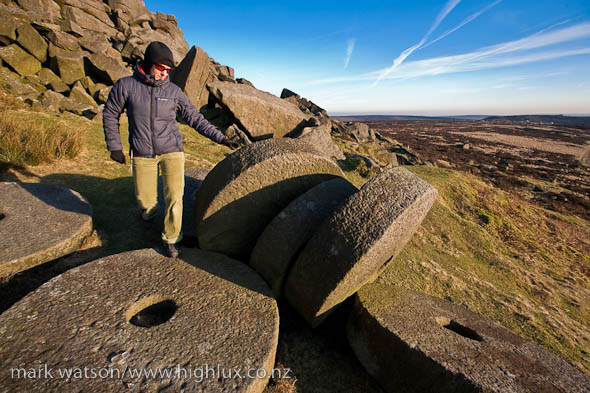 Hana milling around on some millstones at Stanage. These awesome relics were abandoned long ago during changes in the industrial revolution.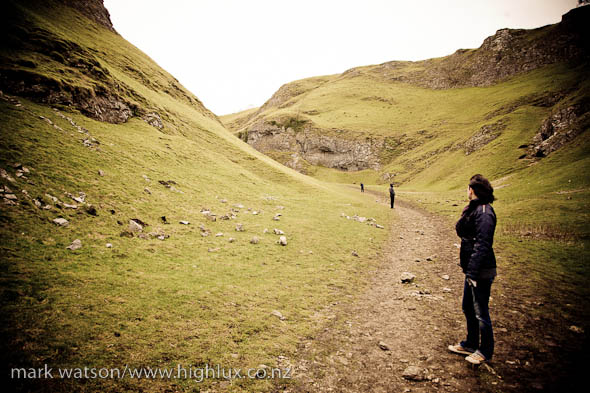 Castle Dale, Castleton. A quintessentially English limestone dale – complete with 11th Century castle! Just a half hour drive from Sheffield.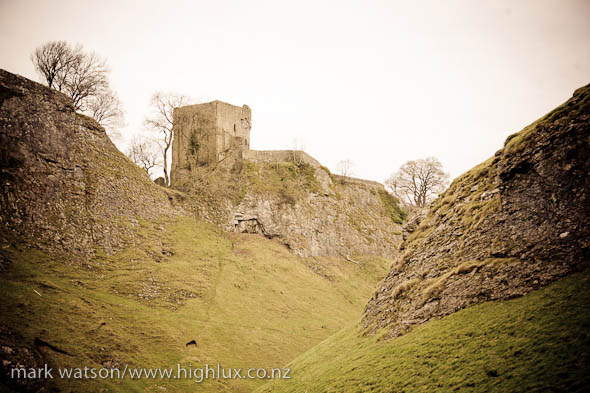 Peveril Castle , Castleton. Built between 1066 & 1086.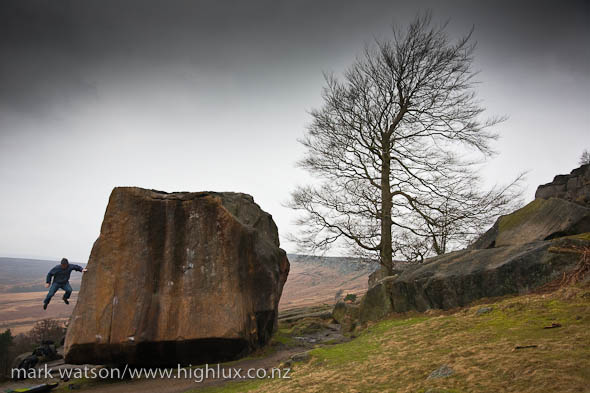 Chris Fox pops off Pebble Arete on a day when it basically never stopped hailing. Dealing with frozen toes and fingers is just part of climbing in the Peak District during winter – clear and dry days have been very few and far between – most days the sky is just a ceiling of heavy grey – with cold wind added. I've learned some clothing strategies to deal with it though!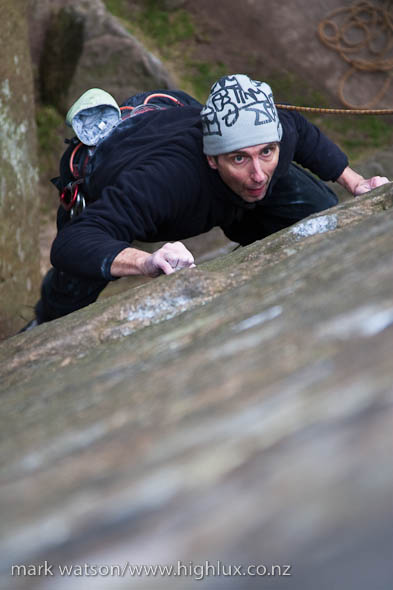 Armageddon (E3, 5c), Froggatt. As you might have noticed by the scarcity of it, I've not been putting a lot of effort into climbing photography (or much photography at all) lately – with short winter days and limited time I've been opting to put the camera down and just climb.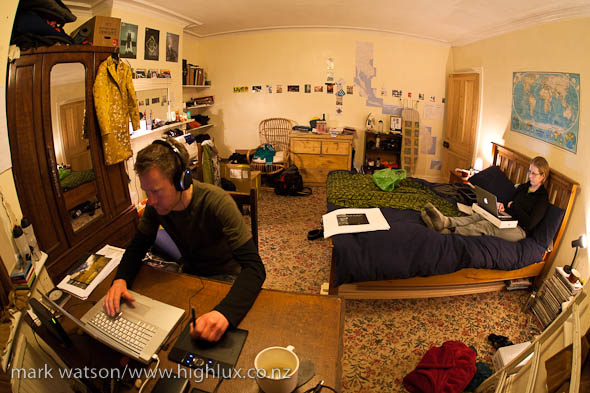 Mission control – Hastings Road, Sheffield. This has been our base for the past few months. We live with some awesome and generous friends Chris and Louise and their 2 kids Kathryn and Rachel (9 & 6). It's made for a fun time living here.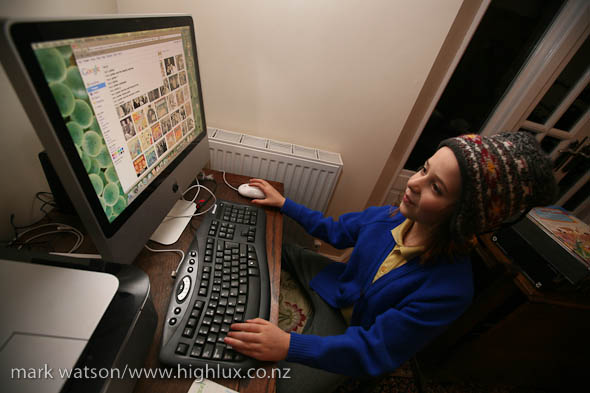 Kathryn loves the iMac!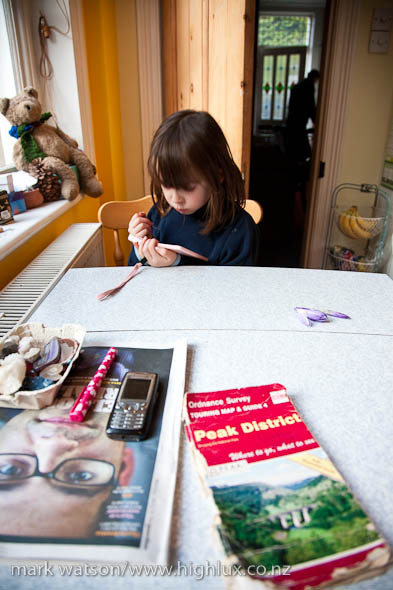 Rachel loves her Nintendo.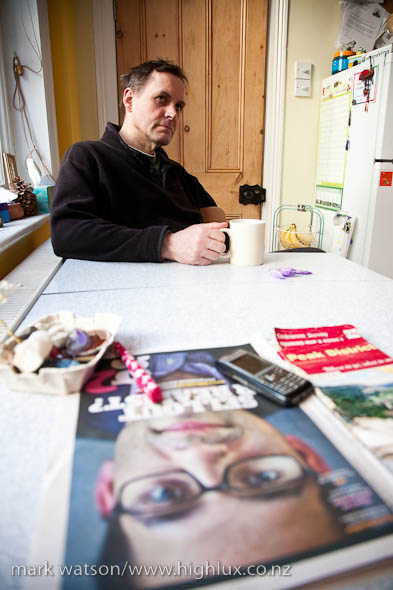 Chris is a physio at one of Sheffield's big hospitals.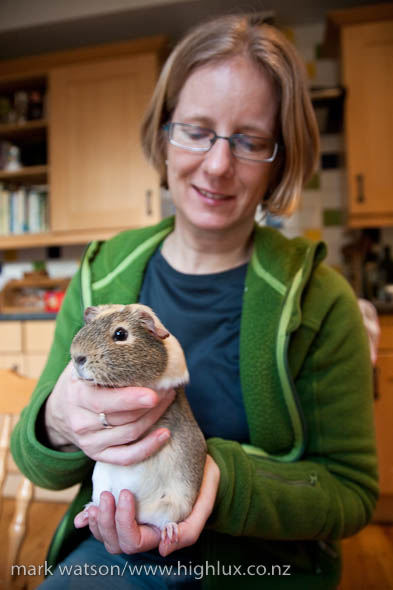 There's guinea pigs in the house too … more than we can eat!