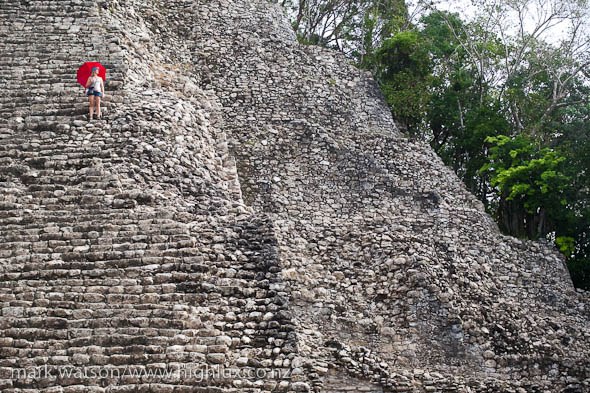 We joke about our Mexico trip (as opposed to Canada and the USA) being our 'holiday on the holiday', so we figured a trip out to the Caribbean island of Cozumel for three nights, leaving the camper parked on the mainland, must be a 'holiday on the holiday on the holiday.'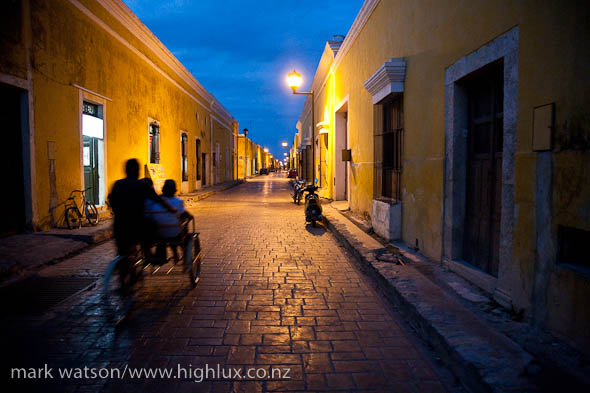 A 45 minute ferry ride whisks you from the over-developed coast town of Playa Del Carmen across a strait to the pancake flat island of Cozumel – an island reputedly brought to fame for its marine diversity by Jacques Cousteau in the 1970s and also the first point of contact with indigenous Maya people by Spanish conquistadors in the early 16th century.
We took our bikes for a bit of island exploring, the laptop and not a lot else and checked ourselves into a room in the island's only town for three nights. It was good to have a break from the camper for a while – as well as having a chance to eat a bit more local food, as we cook for ourselves most of the time. We did a couple of snorkel trips, but apart from some pretty awesome sea life and great visibility, the snorkelling we've done in Fiji and the Philippines was more impressive. Still – we did see a turtle, a huge spotted ray, some fat barracuda and a bunch of other cool fish. The day between the snorkelling trips we rode a 70km circuit around the island's loop road, checking out the isolated and windswept east coast and generally getting away from the hoards of cruise ship tourists in town.
After getting back to the mainland our next port of call was the Maya site of Coba and then the next day we visited Chichen Itza – one of the largest and best preserved off all Maya cities. We got in the gate at opening time at both sites to beat the crowds (it's standard for there to be 20 coaches parked in the car parks by midday!) and enjoyed the different vibes of both places: Coba being spread out, jungle covered and only partly excavated, while Chichen Itza has a very stately – almost Roman – feel to it; with expansive open spaces, massive structures and sophisticated architecture. Chichen Itza is spooky too; with lots of evidence of the celebration of widespread human sacrifice under the post-Maya Aztecs.
We're now hanging out in Merida for a few days while I work on production of the 2010 Cactus catalogue. We're back on the road on Wednesday to check out more Maya sites, and then making a 1200 km drive to the city of Oaxaca for more catalogue work (and for Hana to do a Spanish language course).
Hasta luego!
Photos from the past couple of weeks below …
Get the flash player here: http://www.adobe.com/flashplayer