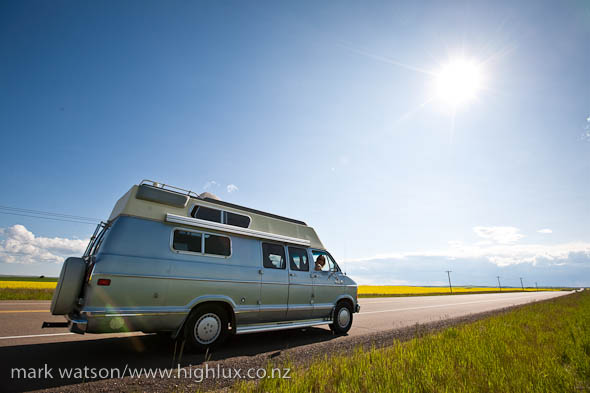 We've been meaning to post for ages about life on the road, our camper and our basic set up. After making the progression from sleeping in the back of a Nissan Bluebird stationwagon, to a Mitsubishi Delica van it has been luxury to upgrade to a 19 foot camper here in North America.
We spent a couple of weeks in Vancouver when we first arrived checking out campers and getting a feel for what would work and what wouldn't. Two of the key criteria were finding a set up that didn't require the bed to be stashed away each morning and to be able to cook and hang out fully standing.
After checking out a few shorter vans, we decided on the 19 footer as being about right, and it allows us to keep our mountain bikes inside in the back (actually they're in the loo!). Over 14 months on the road here we didn't want our bikes getting beaten up on the back of the van (or stolen).
The camper has a 5.9 litre V8 engine with automatic transmission. It's a gas guzzler but that's what comes with the territory in these parts. At least gas is cheaper in Mexico! With a 135 litre fuel tank it has a long range too – but we've only filled it all the way once!
She's been running pretty well for us over all – at least once we got over an early nightmare that saw us go through two alternators and two starter motors, and the U-joint we bent going over some abrupt railway tracks. Other than that it's just been basic maintenance (so far). Mexico roads are very hard on cars so fingers crossed we make it back over the border in one piece!
We try to find free camping as much as possible and it's pretty easy to find free spots. We have spent a lot of time in national parks though which always involves a small cost for camping. Mexico has been more of a challenge and so far we've been in RV parks quite a bit as it's a bit safer and they generally have wifi.
Hover over the photos below for a few more details…