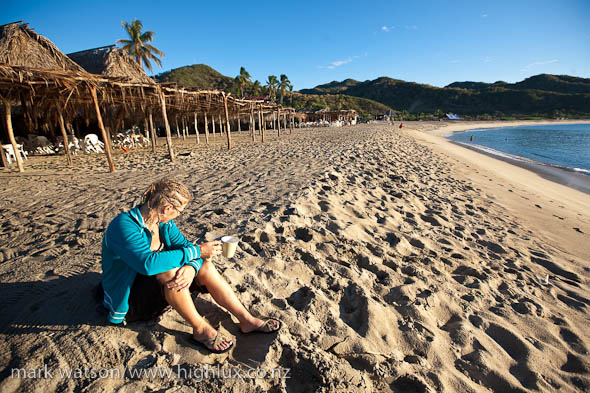 Since January 2 we've been beach-hopping our way south down the Pacific Coast from Mazatlan. It's been an eye-opening journey. Our Mexico trip so far has taken us from the central deserts and plains of Chihuahua, into the forests, mesas and canyons of the Sierra Madre Occidental and then out to the golden sand beaches, jungle and humidity of the coast and it seems that at every turn we discover a new aspect to this country.
The coast is a scene of contrast: the tourist-dense resorts of Mazatlan, Puerto Vallarta, Acapulco and Puerto Escondito are interspersed with dusty service towns and tiny villages populated with people living with the absolute basics. The coast has reminded us a lot of the travel we did in the Philippines last year, although overall there is more tourist infrastructure here and the region is less impoverished. Horse- or oxen-drawn carts are a very common sight, along with thatch roofed huts and yards full of chickens and goats.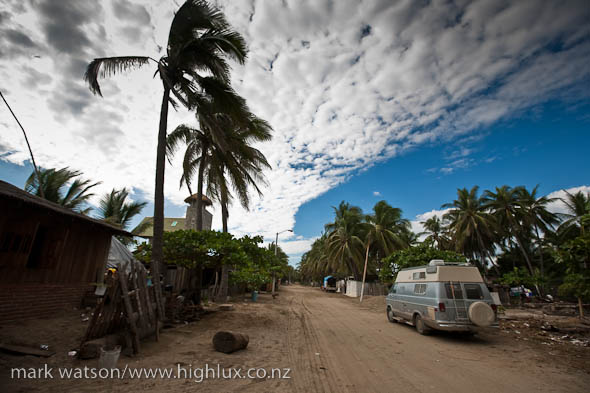 Locals reckon tourism is right down with fear of swine flu and the bad press Mexico has received with drug-related violence. Our experience of Mexico so far has been of a country filled with friendly, generous and good humoured people. We've had no problems at all with police bribery or with the military so far and get waved through most of the many checkpoints we encounter with a smile. RV parks and campgrounds have been more common since we hit the coast, but sometimes we have been the only people in the camp. We also free camp in the small towns sometimes – just parking on the side of the main street.
We cover no more than 400 km on our longest days on the road, and that's with an entire day's driving. The road conditions, constant villages, and omnipresent topes (speedbumps) make it hard to get anywhere fast. Donkeys, dogs and goats on the road call for full alertness. No one obeys speed limits here, and adherance to other road rules is vague at best, so to control speed through populated areas all town and villages have numerous speedbumps installed as you enter and depart town. Sometimes they're signposted or painted – sometimes not. And they come in many shapes and sizes – all devastating for your suspension if you hit them too fast!
Some of the notable beach/coast spots we've checked out are:
San Blas/La Tovara – Surf beach with a low key beach camping/cabana scene. We took a boat ride on the lagoon here and saw crocodiles, iguanas and abundant bird life.
Chacala – Nice and non-tourist-infested swimming beach in a small bay.
Sayulita – Famous surf spot with a cool beach scene and small town nestled in a bay. The town's touristy but not full on commercial or resort-style. Spent two nights here.
Puerto Vallarta – Big and very commercial resort town, but worth suffering to check out the 'old centre' of town and the cobbled streets and malecon (promenade). Packed with Canadians who drive down to escape the winter.
Maruata – Very cool beach with coves, islands and turquoise water. We spent the night watching turtles come ashore to bury their eggs in the sand. A low-key spot but definitely the most beautiful beach we've visited.
Playa Azul – Every beach we've checked out has had a character of its own, and this one's all about wide-openness and crashing surf.
Acapulco – Mexico's original resort city, with a ton of character despite the fame. We didn't bother with the glitzy bits of town and headed straight for the 'old centre' downtown. Just a short walk from there you can check out the legendary cliff divers plunging 35 metres into the sea. We parked in a campground at the Pie De La Cuesta playa and bussed to and from the city.
Puerto Angel & Zipolite – our last spot on the coast before heading inland towards Tuxtla Guiterrez and San Christobal. These are more low key tourist resorts with a range of accommodation options, but overall a very chilled backpacker scene. This seems to be the spot all the Aussies end up.
Check out the slideshow below for shots from Mexico's Pacific coast.
Get the flash player here: http://www.adobe.com/flashplayer