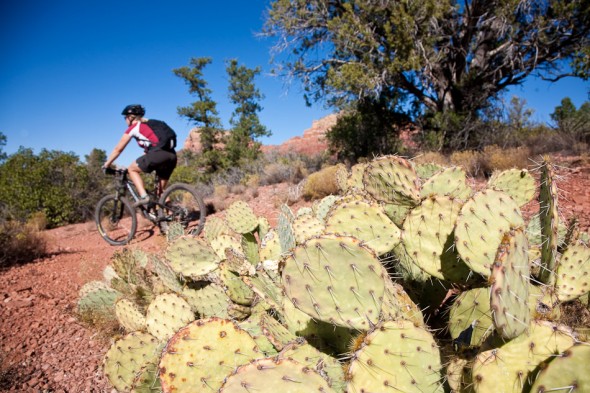 We left San Diego about a week ago now and drove into the south western corner of Arizona with a very vague and slightly disconnected itinerary in mind. Our drive took us within spitting distance of the Mexican border, and once in Arizona we pointed The Ram north east and headed to Prescott. There we found a sweet little all-American alpine town and some equally sweet riding around the edge of Granite Mountain (imaginative place names eh – we've seen about 10 'Granite Mountains' so far…). There wasn't enough to keep us around for more than a day though, so we kept on trucking in the direction of Sedona, cruising through some pretty cool alpine desert country and the very european-style historic mining village of Jerome. Across the valley from Jerome we could see the Mogollon Rim – a massive sand and limestone escarpment – and home to the unique tourist town of Sedona, nestled amongst sandstone towers and mesas, and featuring some pretty sweet riding.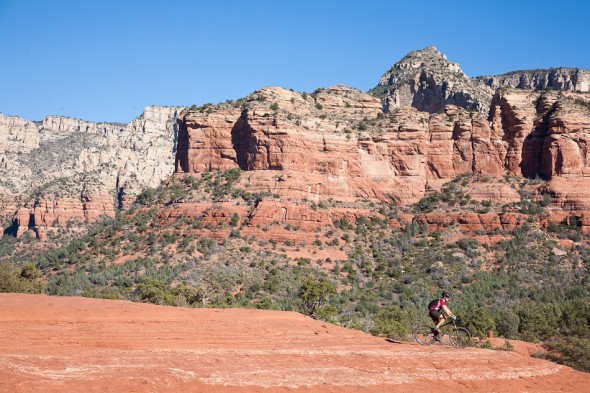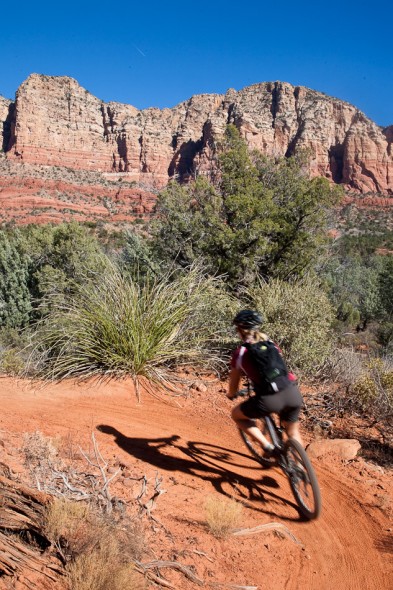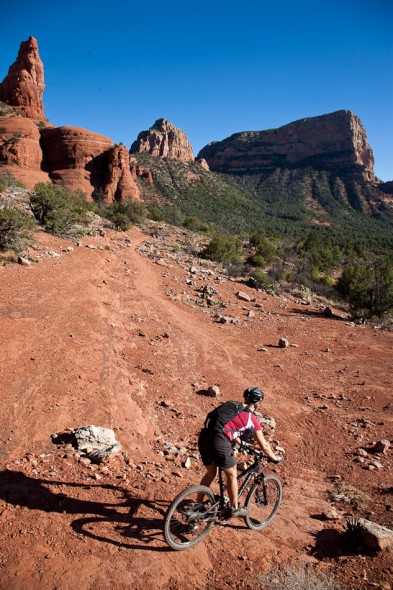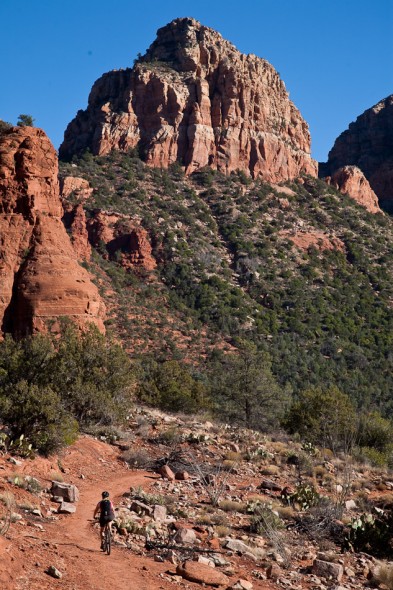 We picked the plum ride in Sedona, the Llama/Broken Arrow linkup – technical single track with sections of slickrock and amazing views among the sandstone towers, and then made our way up Oak Creek canyon onto the Colorado Plateau and rolled into Flagstaff, a college town with loads of character and a ton of climbing and riding nearby. There's an excellent guide to mountain biking in Arizona called Arizona Mountain Bike Trail Guide: Fat Tire Tales & Trails, by Cosmic Ray. It pretty much seems to be the bible for riding in the state and has solid info, useful maps and a quirky style.
First up in Flagstaff we checked out the Sunset Trail – Schultz Creek Trail loop on Mt Elden. A long but-not-too-steep 500m fire road climb to the summit of Mt Elden (sweet views of the Colorado Plateau) starts the ride, and from the summit it's single track-only all the way back down – about 10km of in all. The occasional rock garden punctuates an amazing descent of flowy riding that's never too steep, never too flat and technical enough to be continually interesting (especially with a bit of early-season snow thrown into the mix). Definitely one of the best single track downhills we've ridden anywhere.
One of the coolest aspects of mountain biking for me has always been the exploring that goes with it – checking out new terrain and beautiful places under your own steam. With this purpose in mind we planned our next mission for Waterline Road – an historic pipeline road that climbs from Schultz Pass, a short drive from town, up to the entrance to Abineau Canyon – 1000m of climbing higher. The book tempted us with 'views of the Grand Canyon' and amazing autumn colours en route.
Having encountered a bit of snow on the track the day before we knew we might be seeing some again, but seeing as we were climbing a road we hoped it might have had enough 4WDs up it to clear it a bit. As it turned out we were the first traffic since the snow, and that the snow covered the road liberally – especially in the shady aspects where is was several inches deep. Somehow it was actually quite rideable, and we ended up climbing solidly for nearly two hours – riding in powdery snow about half the time. Unfortunately this was only a bit over half the way to the top and with temps dropping, toes freezing and the road getting snowier and snowier we admitted defeat at 'the huts' and rolled back down the hill after about 14 kms of steady climbing. We tore up our plastic lunch bag and stuffed bits into our shoes to keep our toes from freezing on the way back down the hill (oh, and the autumn leaves had long since fallen off the trees). Next … !
[Hover over the photos for captions]