So yes, we're getting a bit behind in this blogging business right now… but bear with me and we'll try to bring you some updates from the front…
At the end our last episode we rolled out of the Bugaboos and soaked off 9 days worth of grime in the Radium Hot Springs. After a phone call to Nico (Montana-based film maker who lived with us in NZ for a few months) we were soon making a beeline for the US border and some awesome homemade pizza. The border people didn't seem so keen on us though – despite our passports containing brand new 10 year multiple reentry visas, and after succesfully negotiating the homeland security idiots we were soon chugging down the highway towards Kalispell, Montana.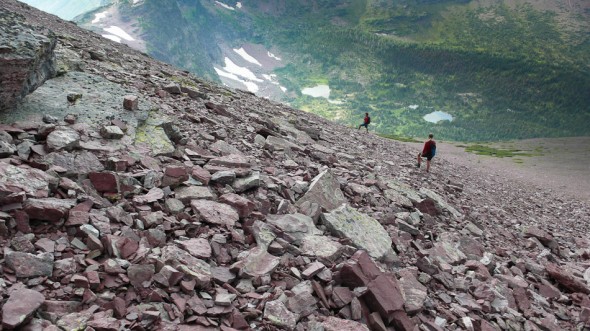 After a couple days chilling at Nico's we cruised out to Glacier National Park (oddly named as it seems to be apparently devoid of glaciation!). A day of scrambling and peak bagging was on the menu and a chance of thunderstorms on the forecast. After three hours or so we were on the desert tower-like summit of Painted Teepee eating lunch, and another couple of hours later were on the lofty peak of Grizzly Mountain – trundling rocks, taking photos and watching some very grey thunderheads building.
We bailed down the front face of the mountain, weaving our way along ledges and scuttling down steep, damp chimneys until we hit some awesome scree slopes on the lower flanks. Spits of rain ushered a growing darkness as the clouds rolled up the valley, but we were having too much fun to be bothered – following the scree down to a beautiful alpine cirque, hanging high in the valley and covered with tarns and little streams.
Nico had been sure there was a track in this valley – being such a beautiful spot. But as we pressed on in rain and soaking waist high scrub it became apparent that there probably was not. No worries we figured, there will definitely be a track by the time we drop to the main valley. An hour later, in steady rain and as dusk crept closer we hit the valley floor after stumbling over endless deadfall and pushing through tangled thickets. Meanwhile thunder and lightning crashed and flashed around us.
'Hmm, no sign of a track here either …'
Down valley we went, following intermittent animal trails and knowing that eventually we'd hit the main track we'd followed to Painted Teepee. The Glacier National Park guidebook contains a useful quote in regard to animal tracks. It goes something like this: 'animal trails, though sometimes useful, usually start nowhere and end in a similar place'.
Accurate words, though in our case the trails seemed to end at the spots that the local beavers had flooded sufficiently for the tracks to disappear into waist deep water. After wading through several such marshes – by now soaked to the skin – we pushed on up the side of valley, following more occasional tracks from nowhere to a similar place, as it gradually became dark. A glance at the GPS revealed that we were in fact only 50 metres shy of regaining the main valley track and after yet another bout of bashing through undergrowth we finally stood on the main track, which was by now flooded from the past few hours' persisistent rain. Fearing that every shadow was a grizzly grazing for its evening dinner we scuttled down the track. Nico with his bear spray in-hand.
We figured that the moral to this story is to be cautious of the bad karma you generate trundling rocks off mountain sides – you never know when it will bite back…
Nico, by the way, is making a film. It's a feature length doco about young native Americans from the Blackfoot Reservation in Montana. It's going to be awesome. Check it out here.