Studying Spanish and Exploring in the Guatemala Highlands.
Home for three weeks during August was the Maya village turned tourist town of San Pedro La Laguna on the edge of the beautiful Lago Atitlán.
With the excellent Orbita Spanish School we built further on the two week's previous tuition we'd done in Guanajuato and Flores. After over 6 months in Latin America so far our Spanish is functional for the daily necessities of ordering food, shopping, accommodation, asking about road conditions and basic small talk – such as families and work. We could also talk about where we came from and our journey in basic terms. But for both of us moving into past and future tense and being able to reciprocate in conversation with the people who are generous to us is essential for the following 20-odd months of cycling travel in Central and South America that we have coming up.
We'd originally planned only two weeks In San Pedro, but the vibe and magnetism of this volcano ringed lake and the 'eternal spring' climate the area is renown for was such that it was hard to leave.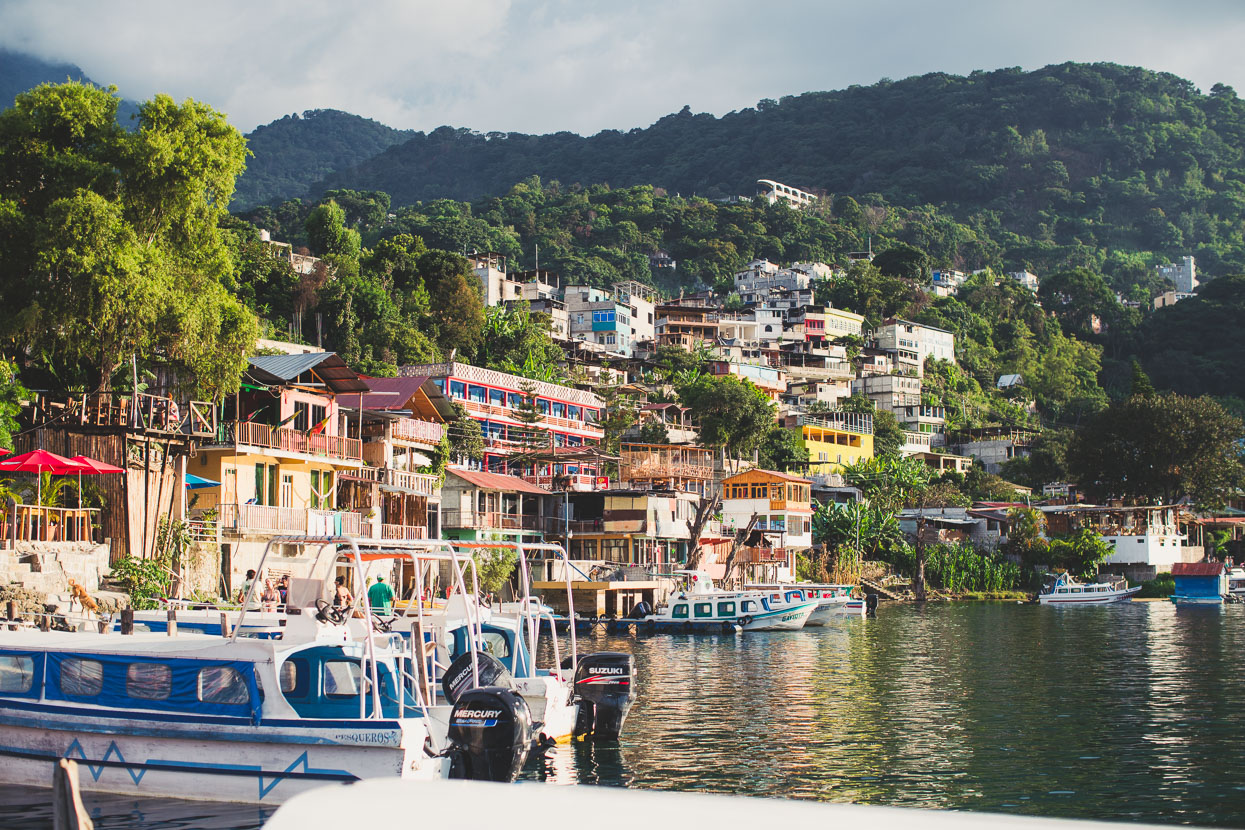 San Pedro la Laguna is one of several Tz'utujil and Kaqchikel Maya townships that ring Lago Atitlán and is well known as a tourist hot spot. Popularity can be the end of authenticity for such places but San Pedro manages to succeed with an amalgam of tourist-oriented accommodation, cafes, bars and restaurants along a strip near the lake, while the main part of town further up the hill remains very local; with cobbled roads, women in traditional dress, lazy street dogs and bargains in the market.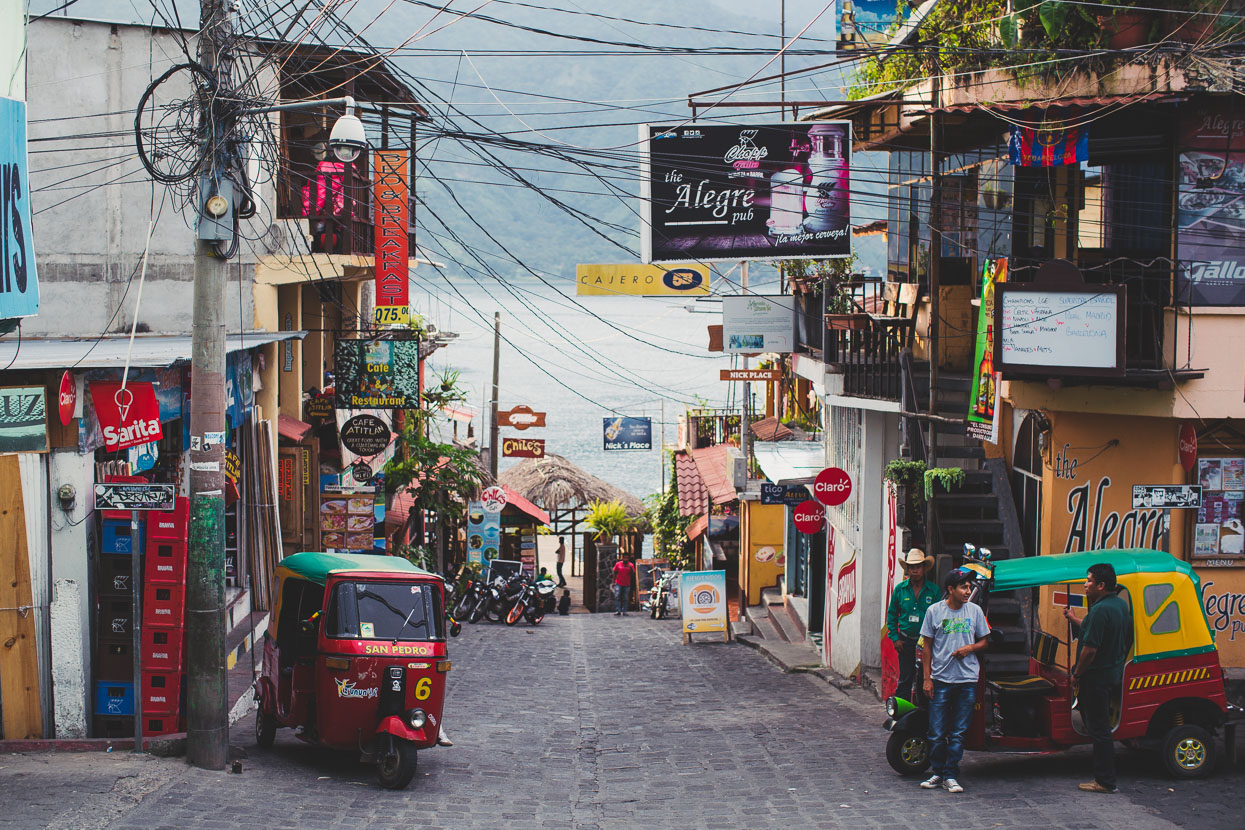 After higher priced Belize we were stoked to find abundant, cheap and good quality food in the many restaurants – essential for such a long stay. San Pedro has several Spanish schools and a high turnover of both local and international tourists.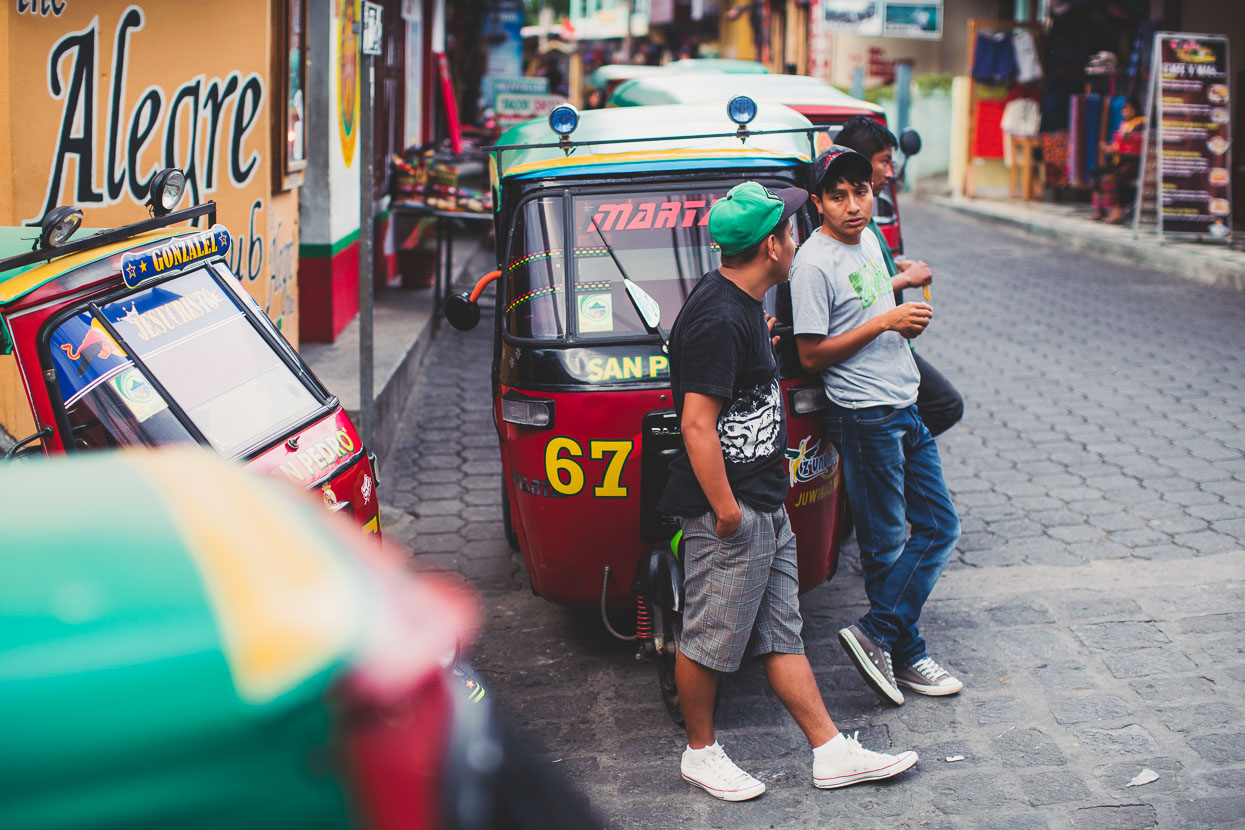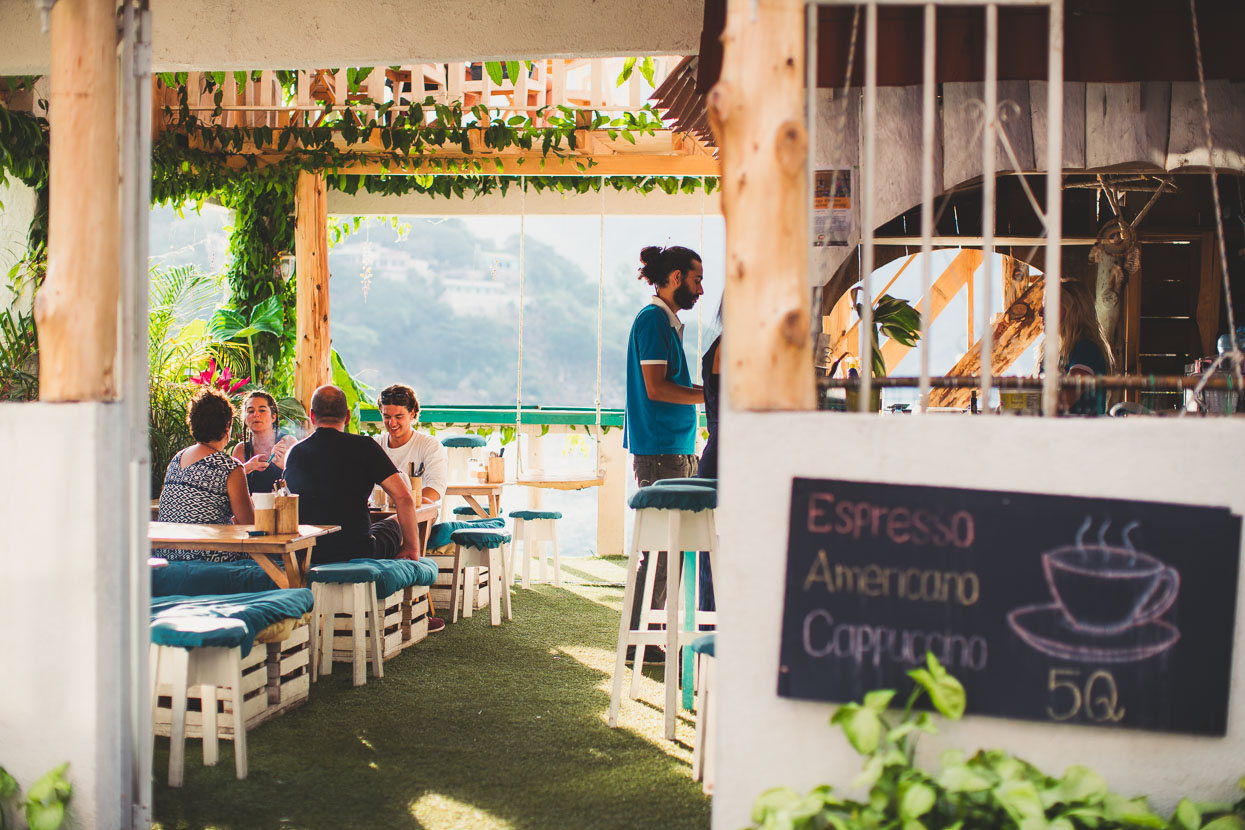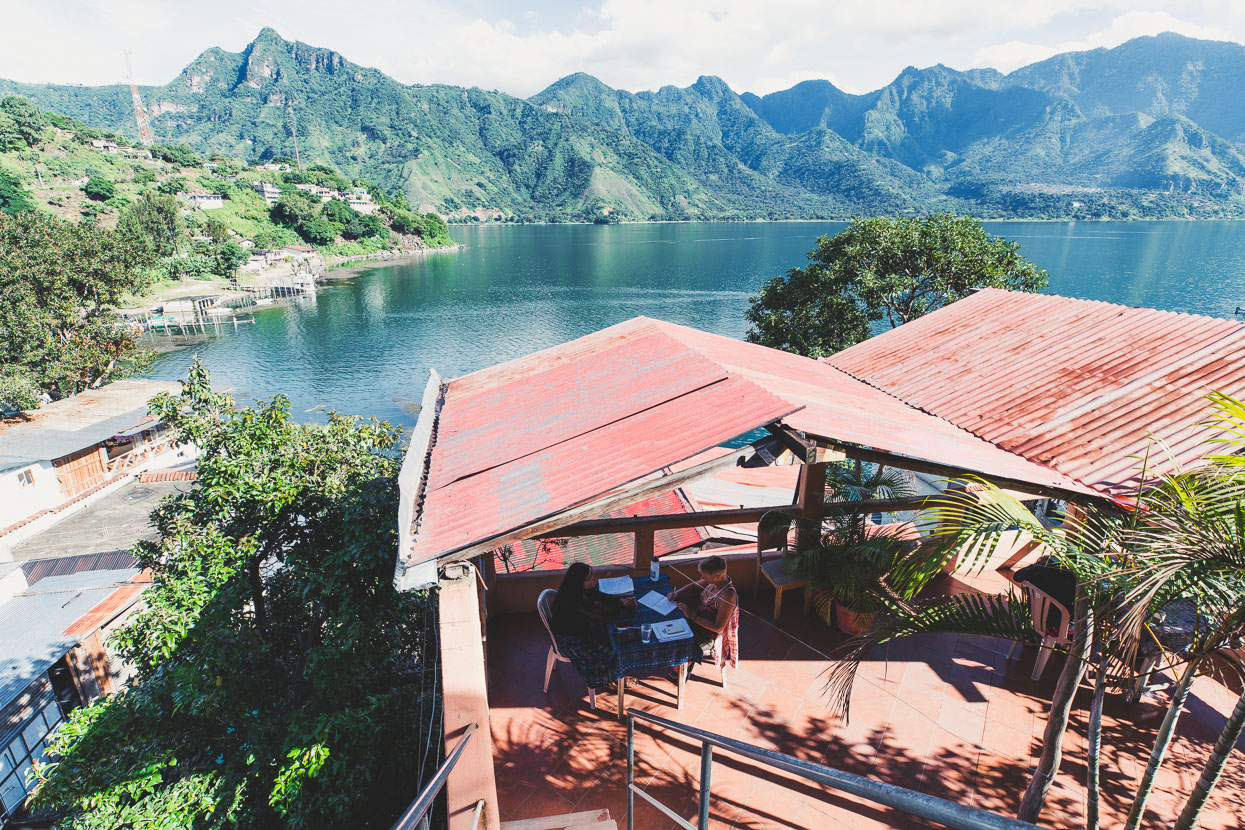 A better place to stay and study is hard to imagine. We stayed in a room at the school itself (they have several) and in the mornings it was just a matter of walking out onto the sunny terrace and sitting down at a desk with the teacher. Mornings at San Pedro were invariably warm and calm and rain – when it did fall – was usually brief and confined to the late afternoon.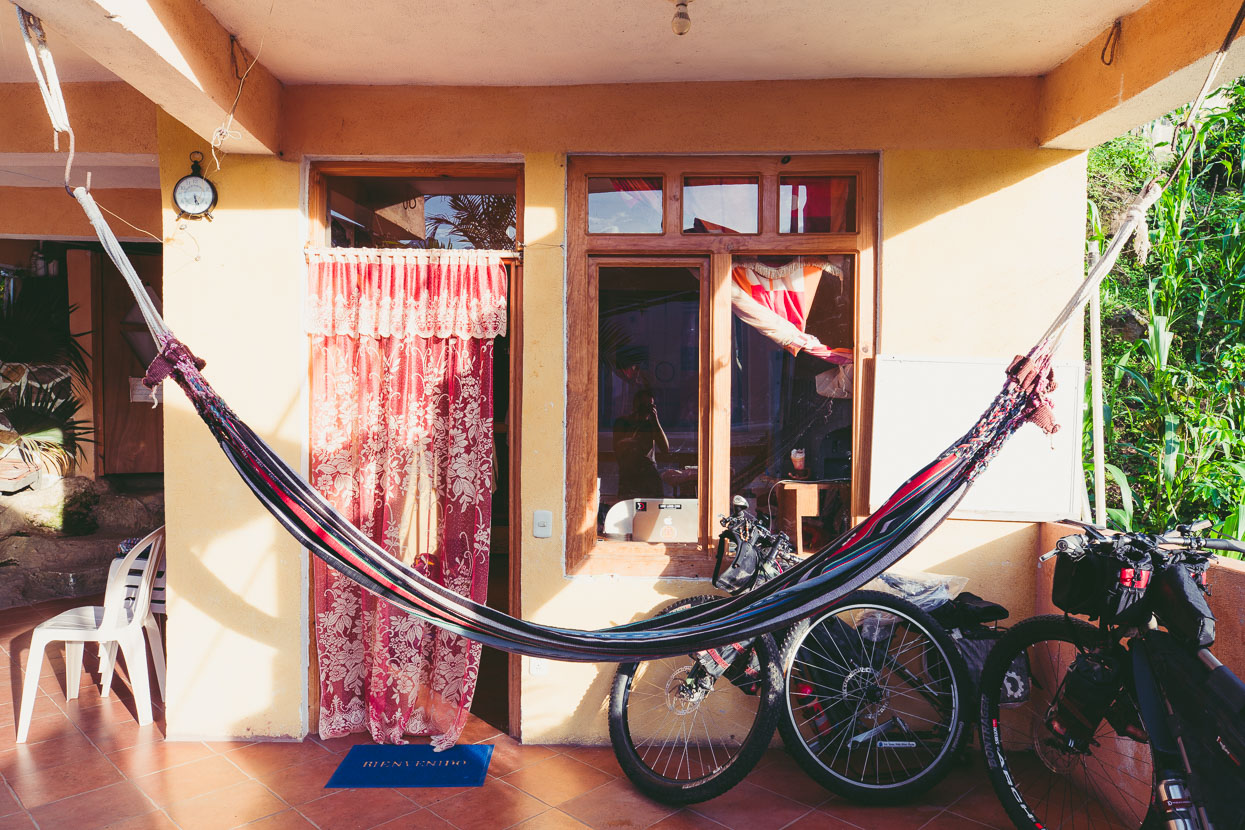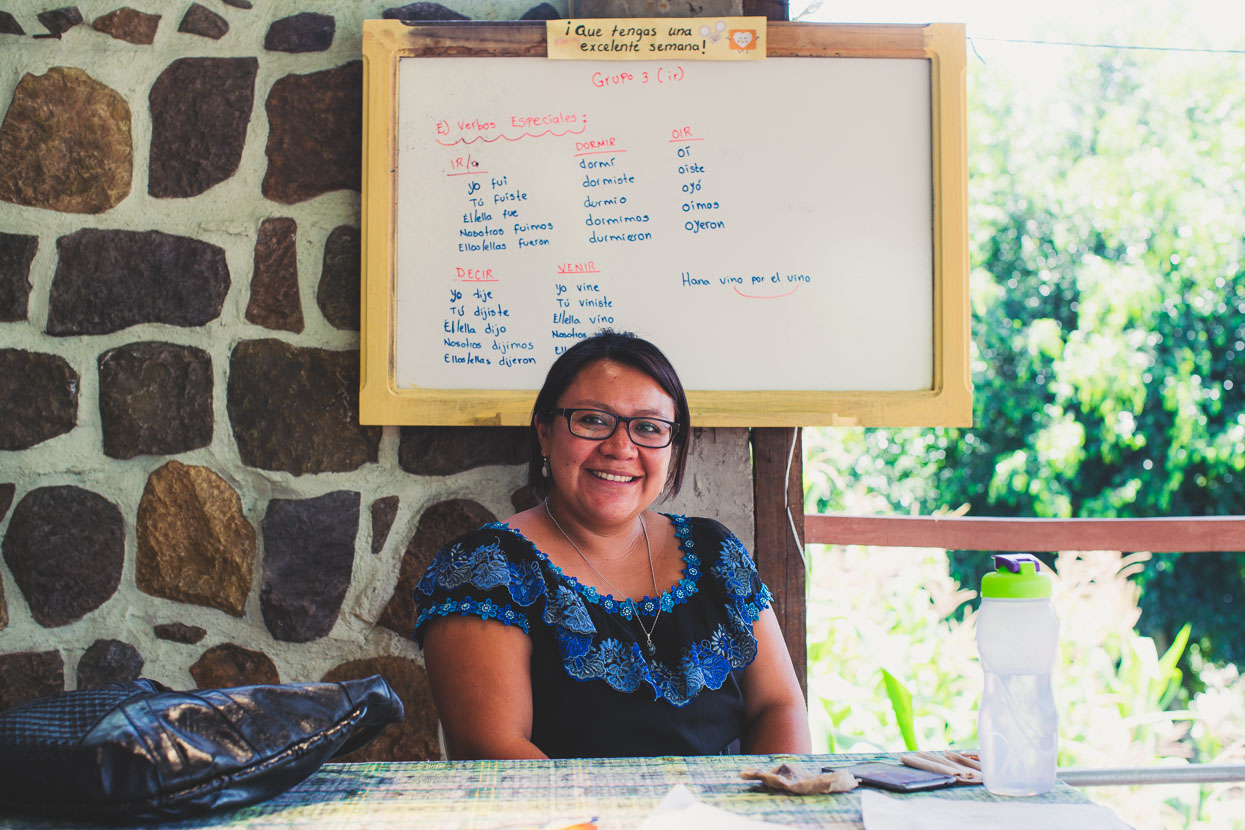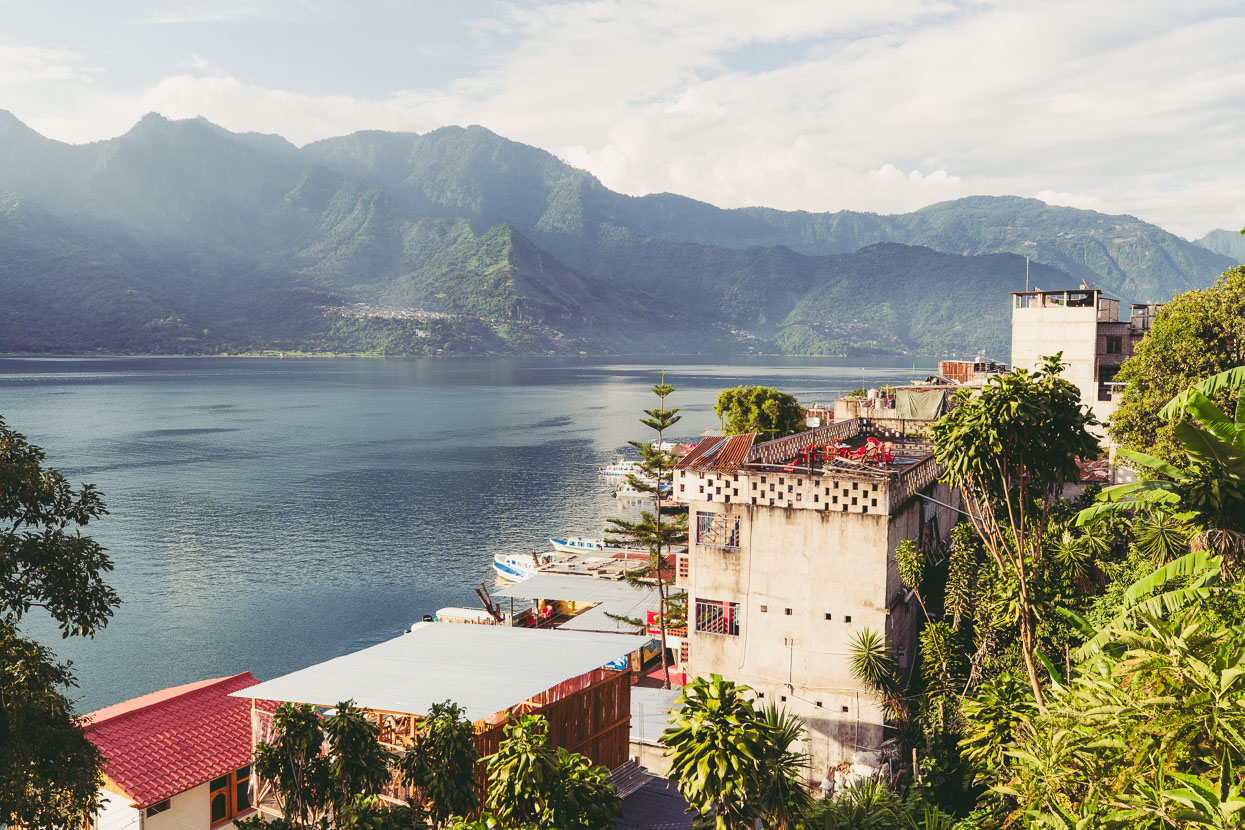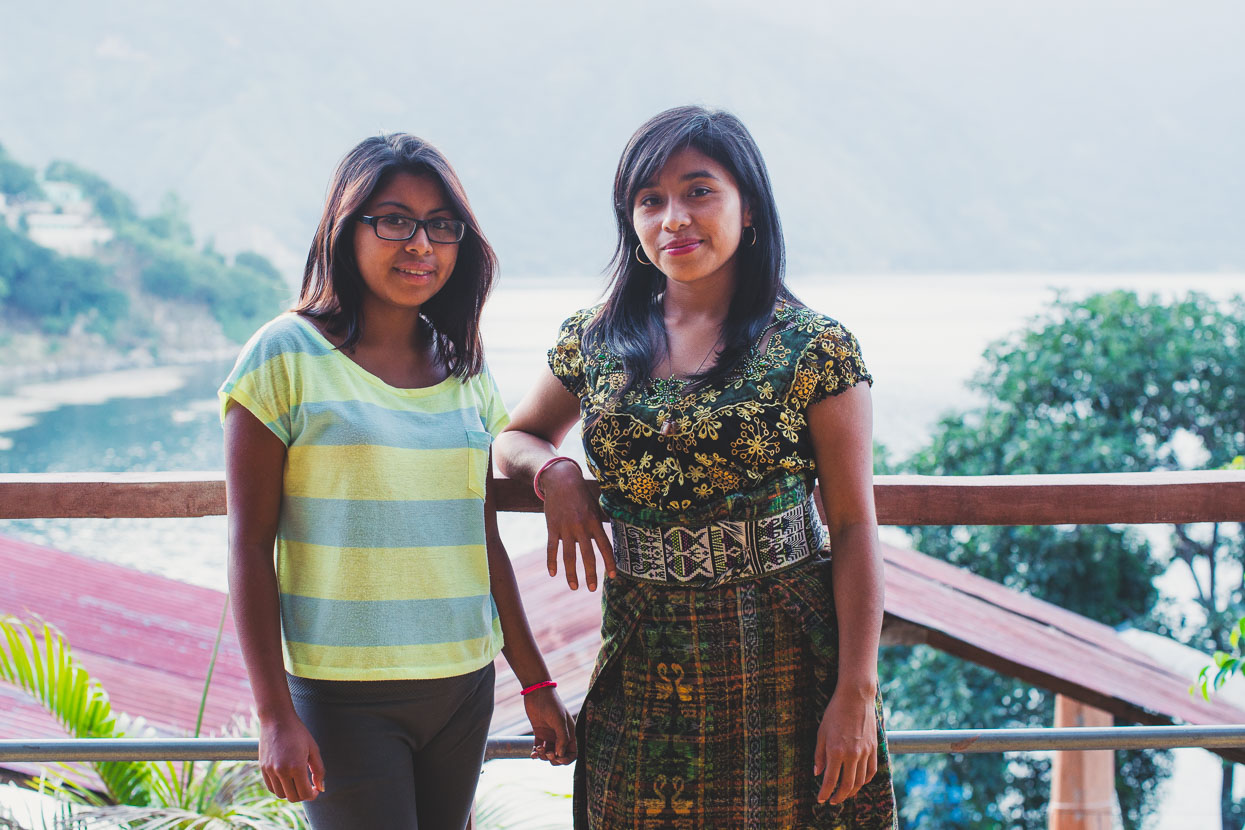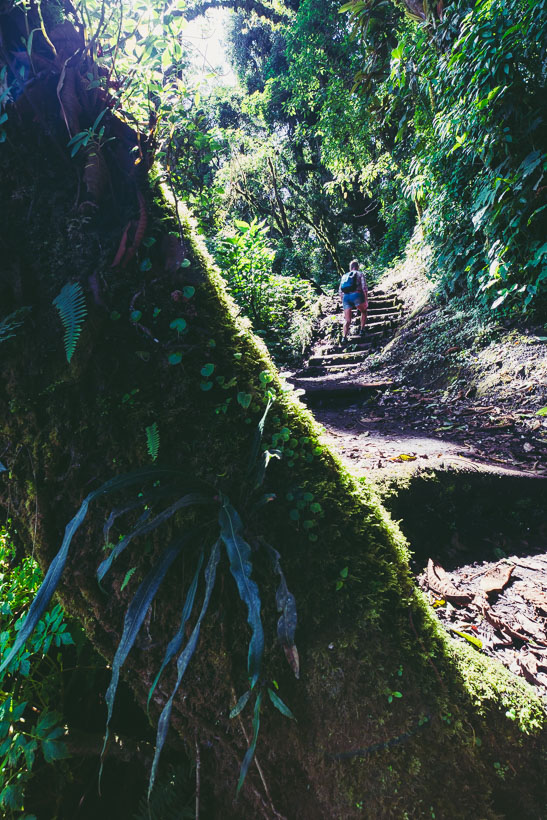 Overshadowing town is the 3020 metre Volcán San Pedro – a very popular day walk and overnighter with both tourists and Guatemalans from the cities. Volcán San Pedro is one of three volcanoes that border the southern side of the lake. Sunny slopes and rich volcanic soil make these mountains essential for Maya agriculture, which was the prime economy before tourism. Skirts of coffee and maize ring the slopes and this trio of volcanoes appear in countless photographs and paintings of the region making them very much icons of Guatemala.
The lake itself was wrought from a violent explosion 84,000 years ago which distributed 300 square kilometres of tephra over Guatemala, essentially creating the landscape you see today and which we crossed from Joyabaj. The resultant caldera was slowly filled to create the deepest lake in Central America.
With another student from the school, Nicola, we hiked the 1200 metre climb on a sunny Saturday, joined also by an enthusiastic callejero (street dog) who ran behind the tuk tuk for several kilometres to the trail head before following us to the summit and back!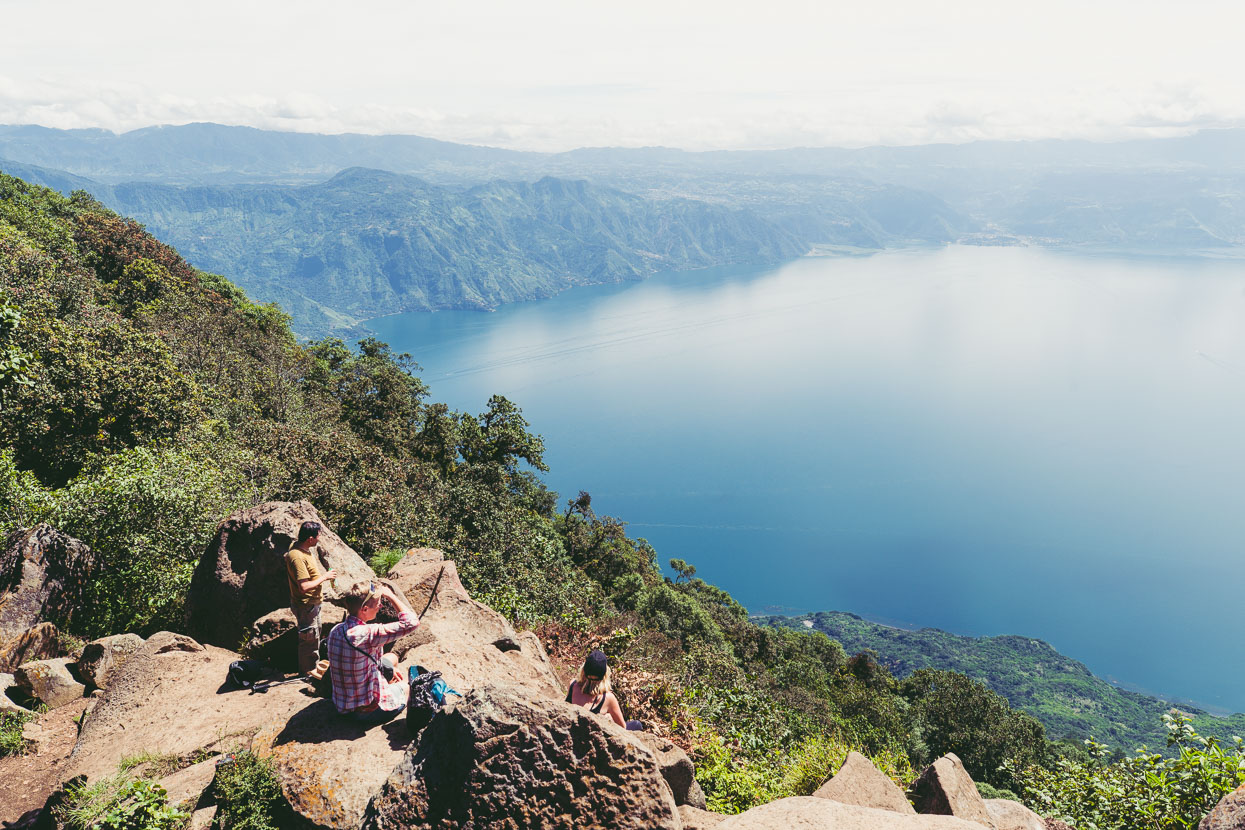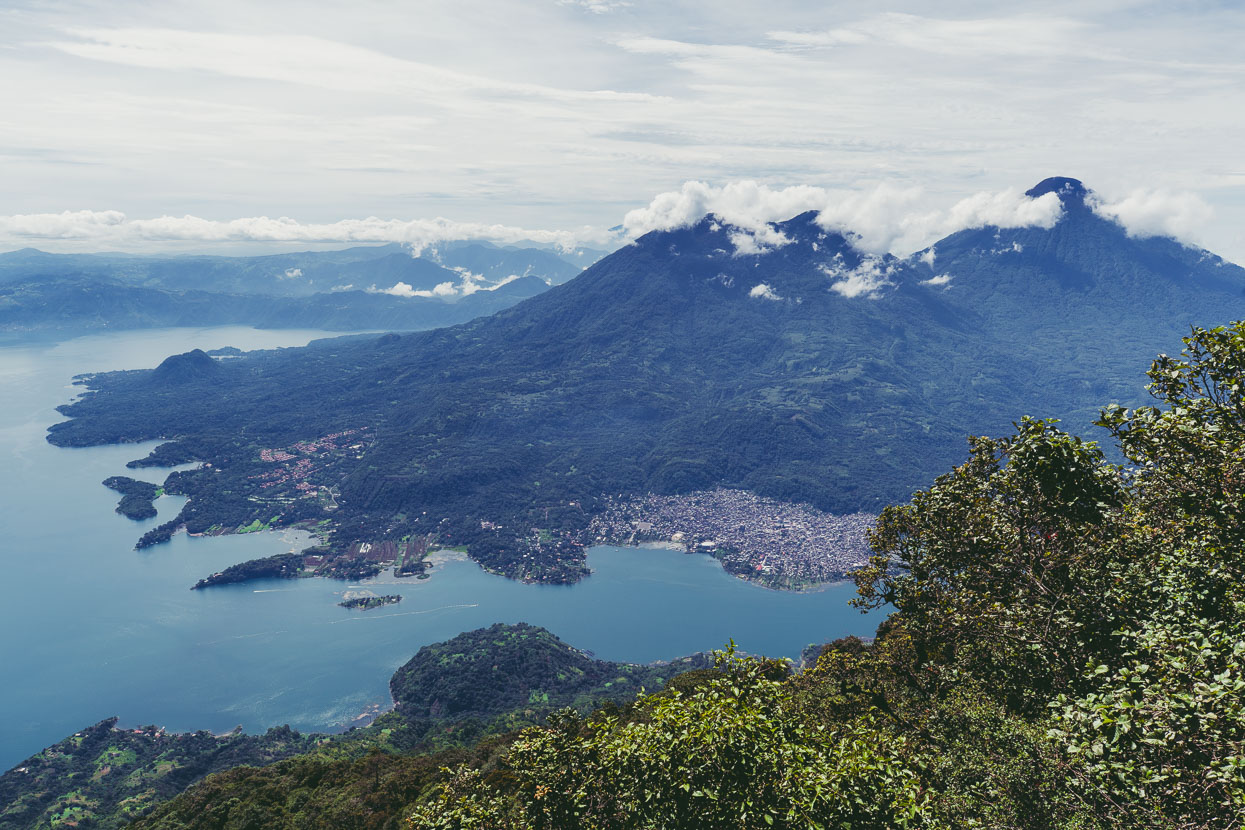 Looking across at Volcánes Tomilan and Atitlán and the town of Santiago Atitlán, one of the oldest in the region.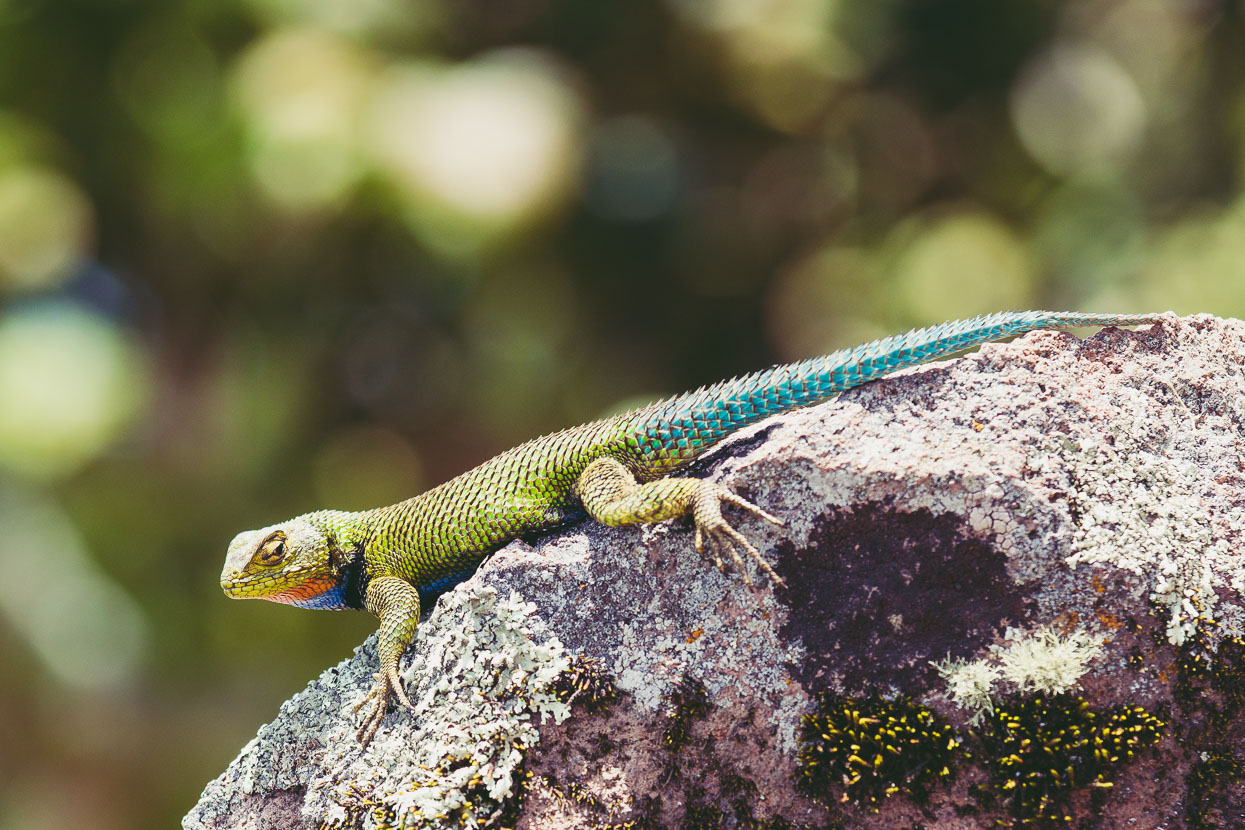 We weren't the only lizards lounging in the sun on the top.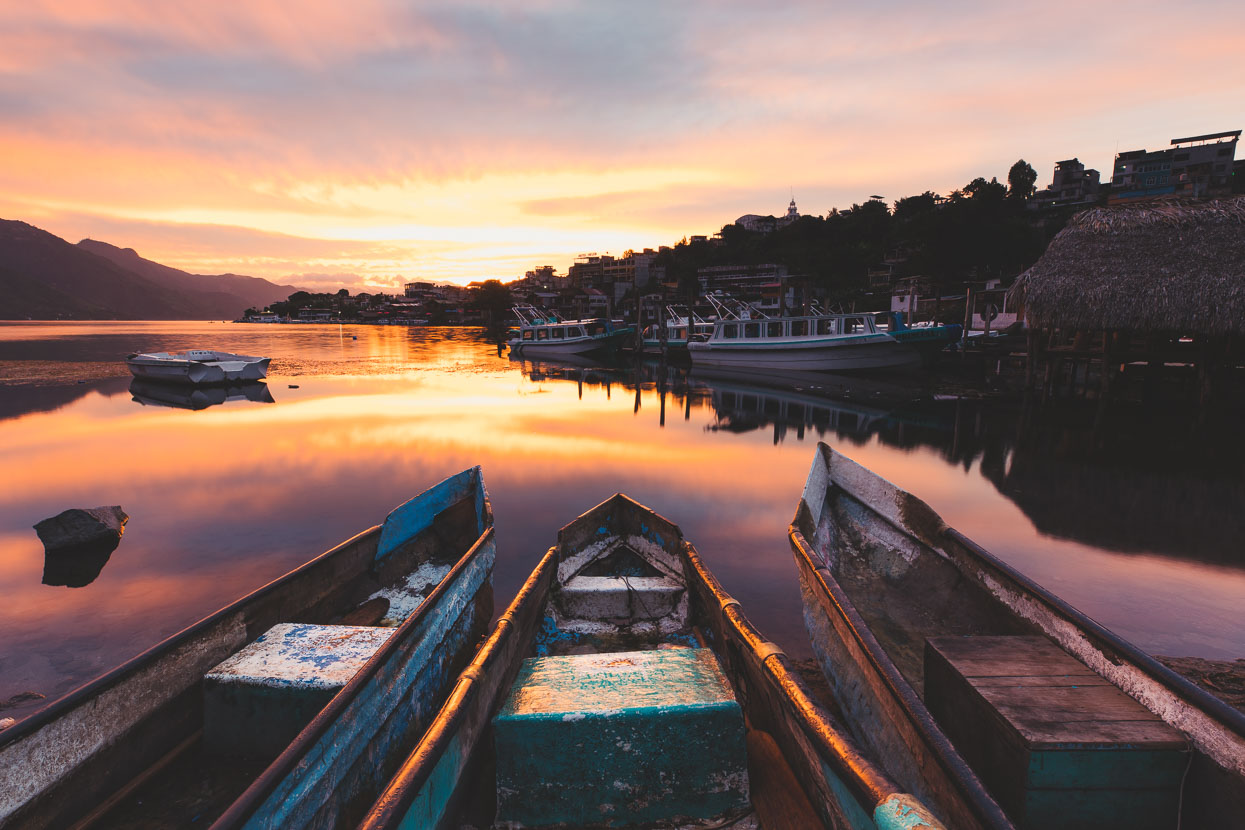 Another symbol of the region are the distinctively shaped cayucos used by local men for fishing. Looking across to San Pedro at sunrise.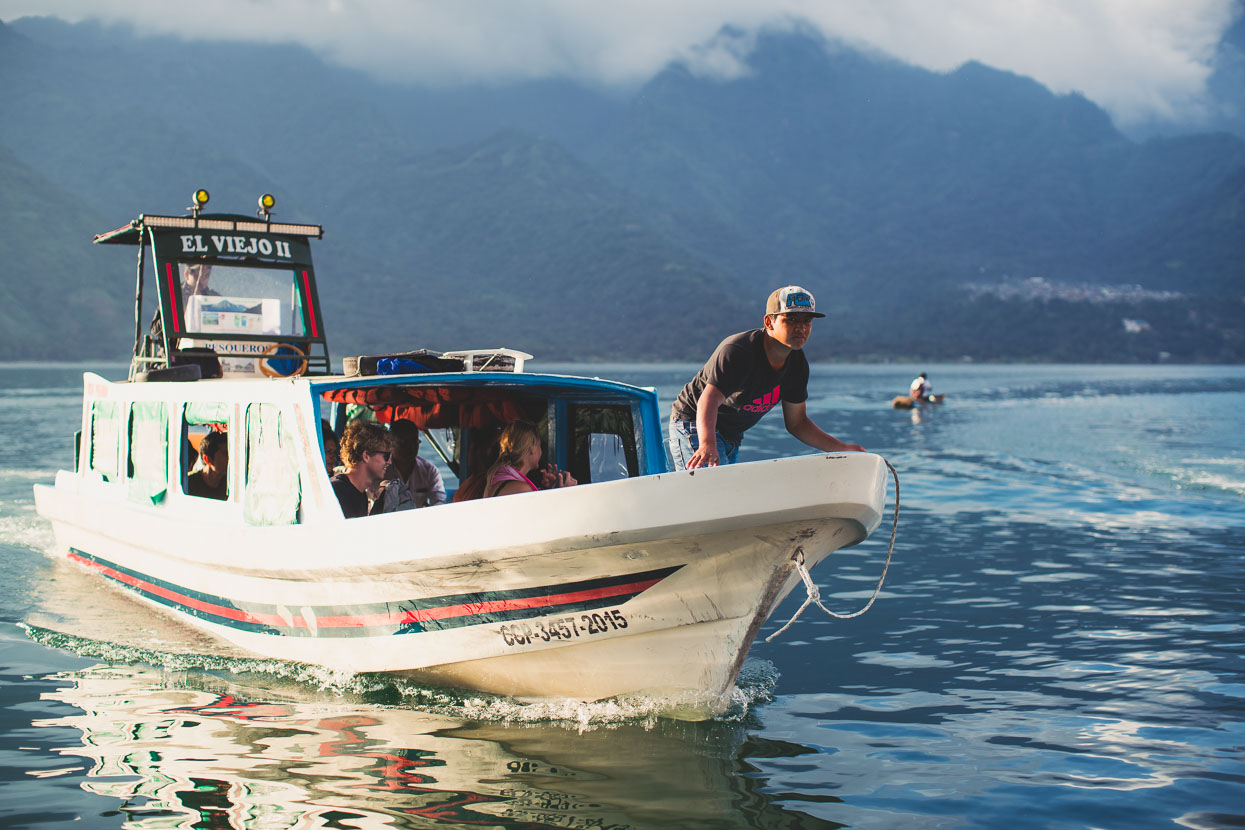 There's no ring road around the lake, due to the steep sided crater slopes and the convoluted terrain so the main transport between villages is water taxis which are constantly coming and going from the busy embarcadero.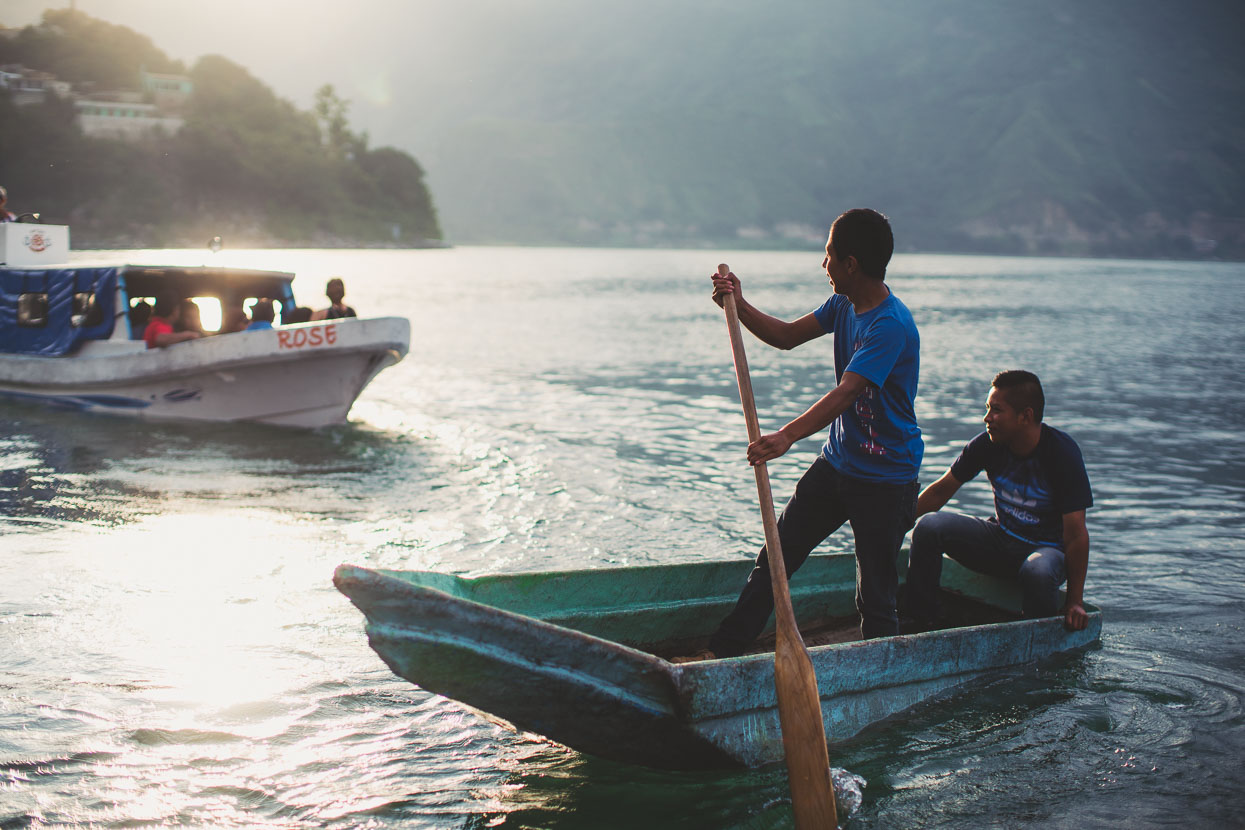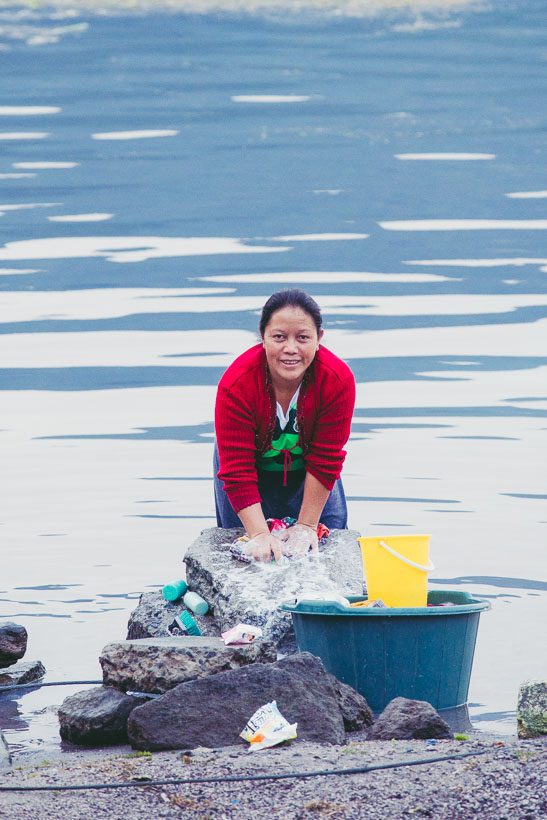 One of the things I liked about San Pedro is that despite the tourist infrastructure the local Maya continue with their daily routines as if the tourists were not there at all; every day women would be lined up on the lake shore vigorously handwashing clothes – and bodies – while men and boys net fish and probe the shallows for crabs.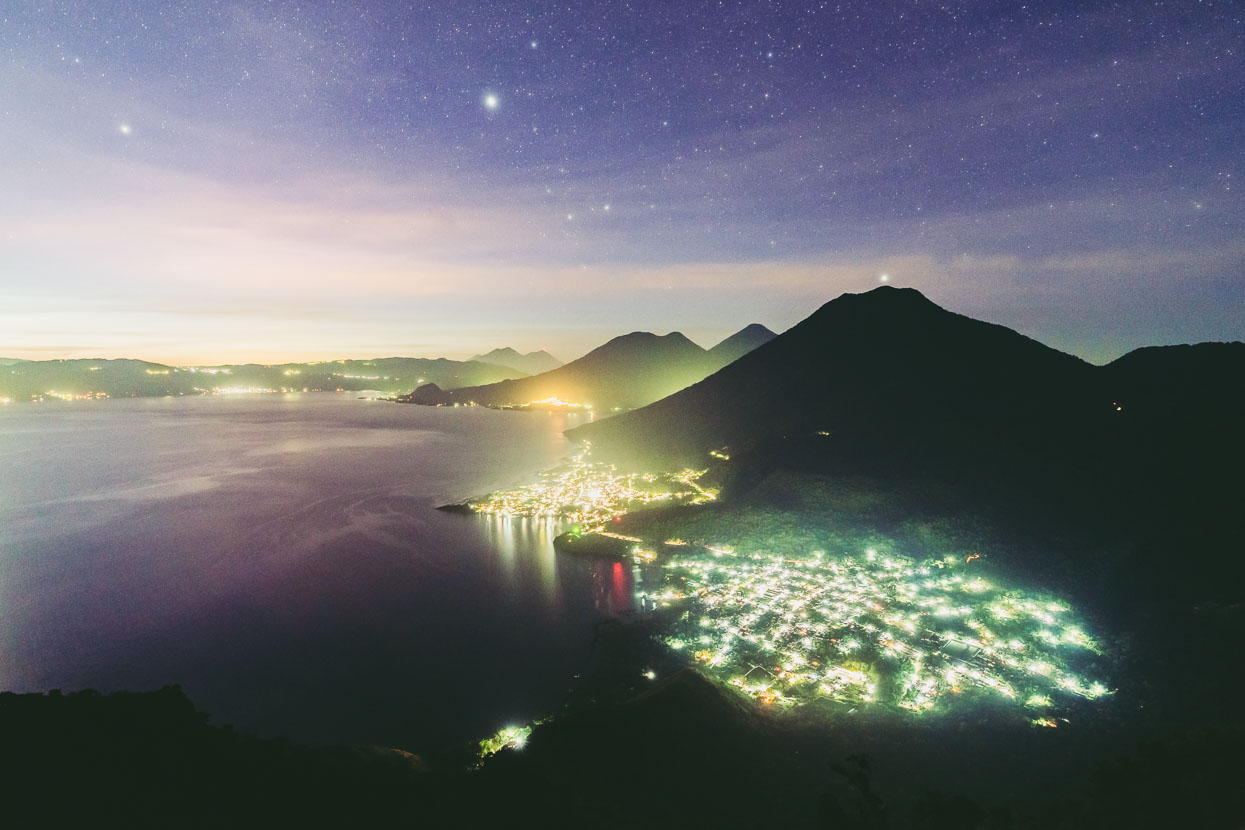 Another popular hike from San Pedro is Indian Nose – in fact the view is so good we did it twice, although round two was also a chance to help our cycling muscles transfer to walking mode for upcoming Volcán Acatenango (next post). This shot's the view into San Juan, San Pedro and across the trio of volcanoes. In the far distance (just left of photo centre) are two other volcanoes close to Antigua; 3976 metre Acatenango and 3763 metre Fuego, which can just be seen erupting in the photo.
A note regarding this walk: Most people do it via an hour-long (or more) very bumpy van or chicken bus ride to Santa Maria Visitacion followed by a 30 minute walk to the summit. We did this the first time round and were a bit disappointed as it was more time in a vehicle and less time walking and the road was so terrible (This and the following option are both done as guided and independent walks).
A much better option is from San Juan, you can walk there in 35 minutes from San Pedro or take a tuk tuk, and then it's a much nicer hike right up the 'face' of Indian Nose through milpa, forest and beneath cliffs. The track pops you out right on the summit. The people of San Juan have a small ticket office at the base of the walk and charge 30Q per person. The village of Santa Maria has no such official fee, however people who are technically bandits and give you no receipt will demand a fee from you if you go to the summit. 15Q is the going rate that the guides will pay these people, however we have read reports of people being forced to hand over 100Q under threats and acts of violence.
We had an unfortunate run in when we tried to leave the summit. A guide had made a point of saying to us that we'd be asked for money and to pay no more than 15Q, but an old woman and a younger man demanded 30Q each – even though we hadn't been through their village or used their track. A stand off resulted when we refused to pay more and once we started down the track and out of sight of others on the summit they blocked our path both up and down the mountain. The situation turned ugly and it felt as if we were on the verge of being assaulted by the young guy (he had a machete and a mean attitude). We resorted to our usual logic and argued back and forth in Spanish but the aggressive couple would not relent, so in the end we threw the extra money on the ground and stormed off. A sour note to an otherwise amazing hike up the peak for stars and sunrise. If you hike the San Juan trail unguided, stop just below the summit and you should have no problems.
Lago Atitlán is known for its large fluctuations in lake levels: it's high at the moment and we saw a few buildings long ago overcome by the encroaching water. Pre-classic Maya ruins have been discovered up to 55 feet below the surface.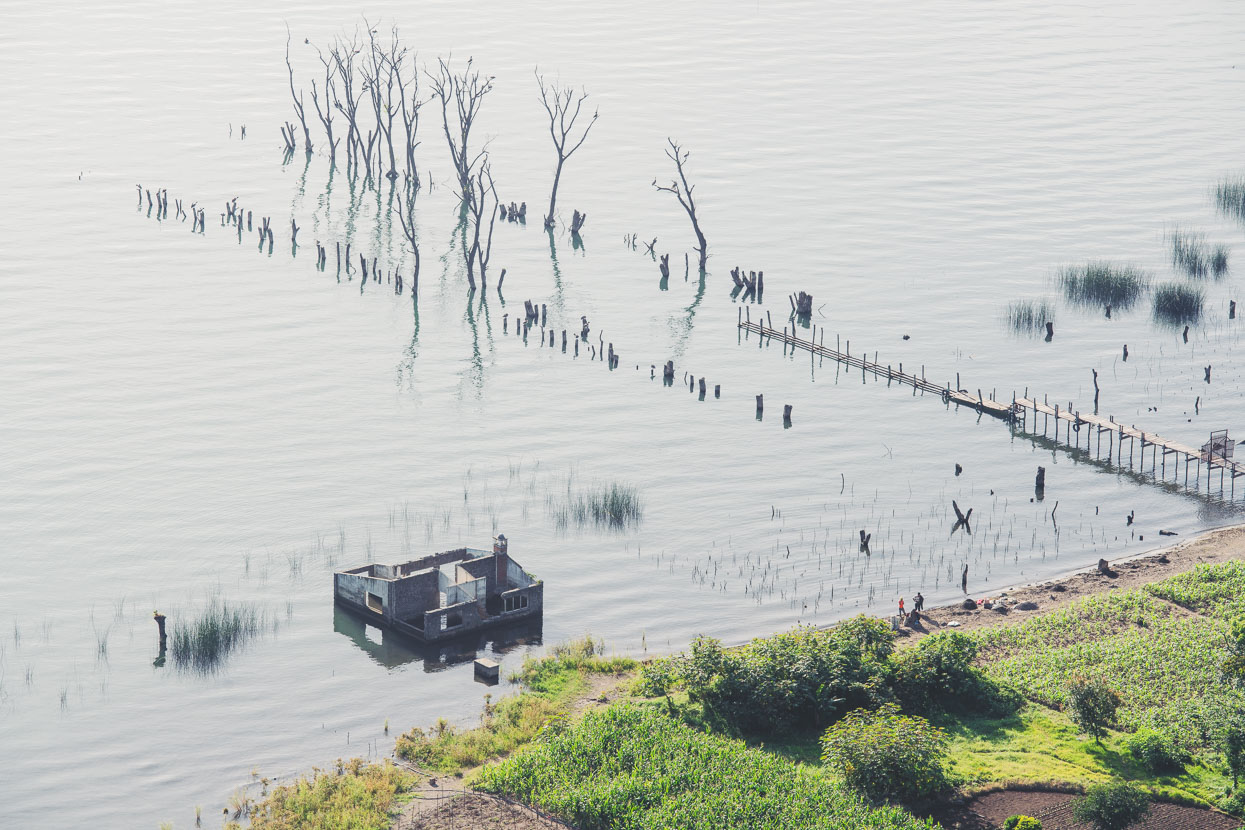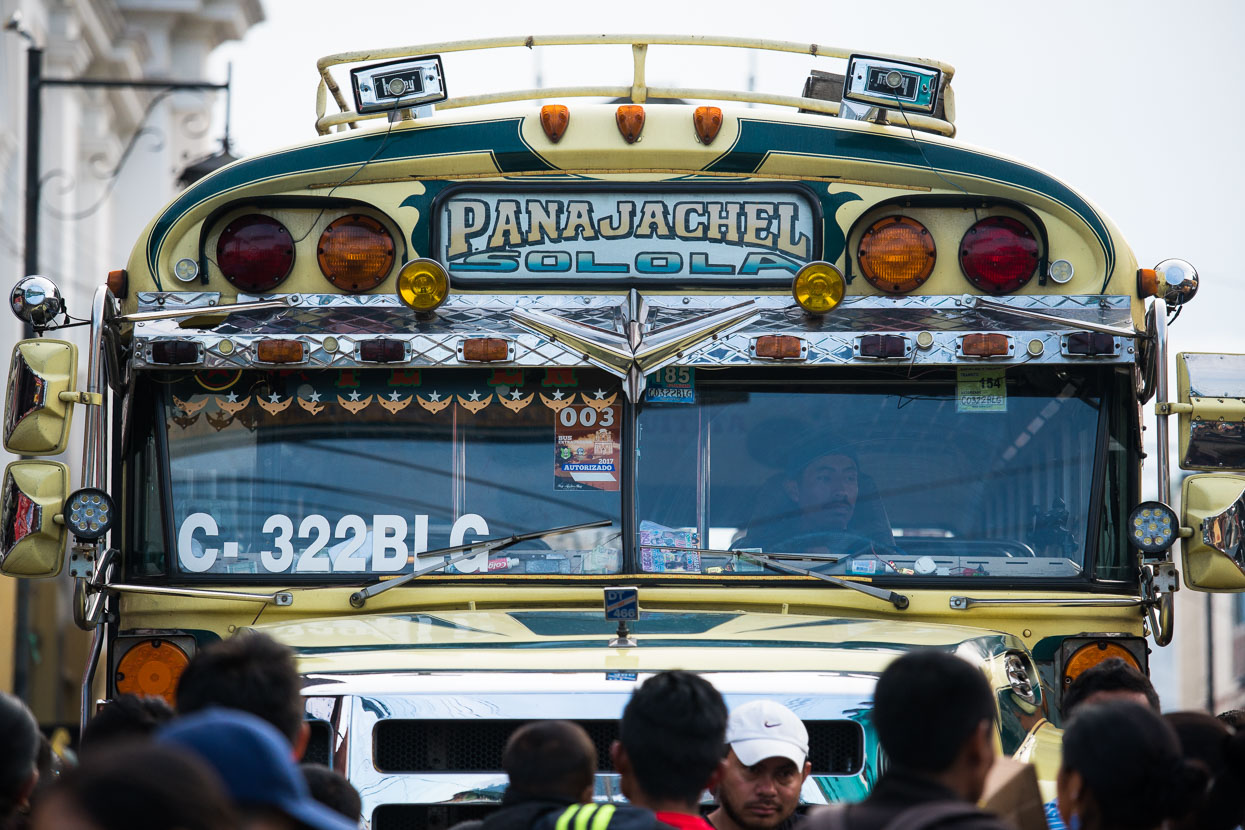 With school only in the mornings our afternoons were free for blogging, bike maintenance, hammock time and exploring. One afternoon we caught a water taxi and chicken bus up to Sololá to check out their festival.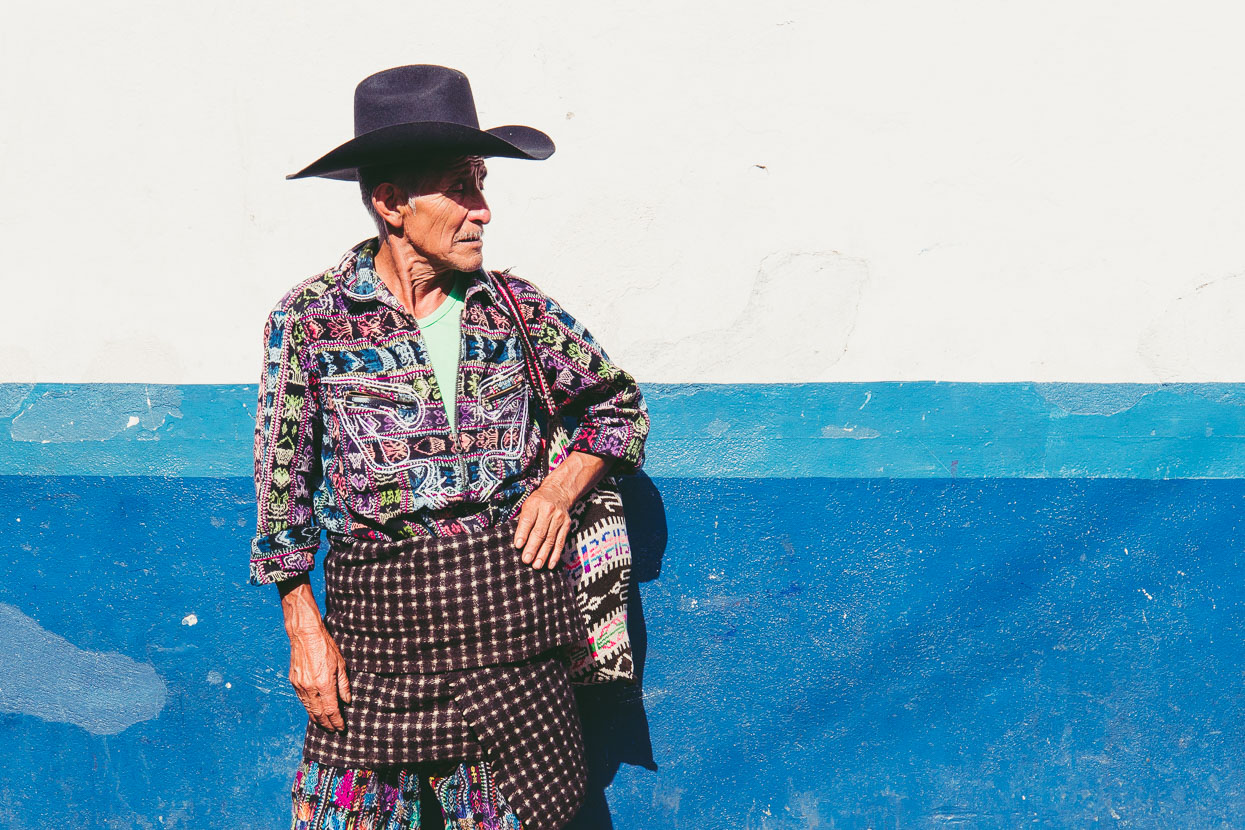 Like elsewhere in Maya Guatemala each village has its own variation on the traditional dress, but generally its more common to see only the women adorned with the local style. In Sololá and Santiago Atitlán its common for the men to still wear traditional traje too, making a visual feast of richly woven and embroidered clothing.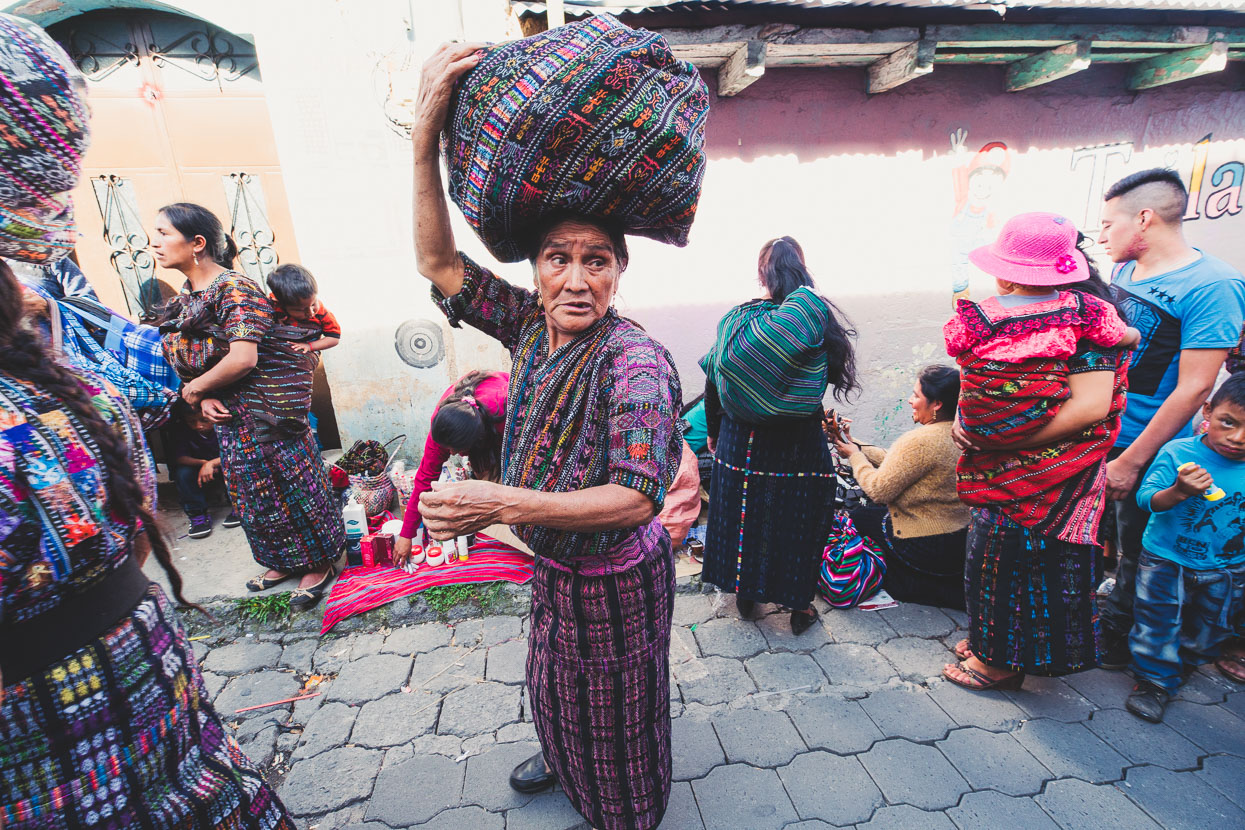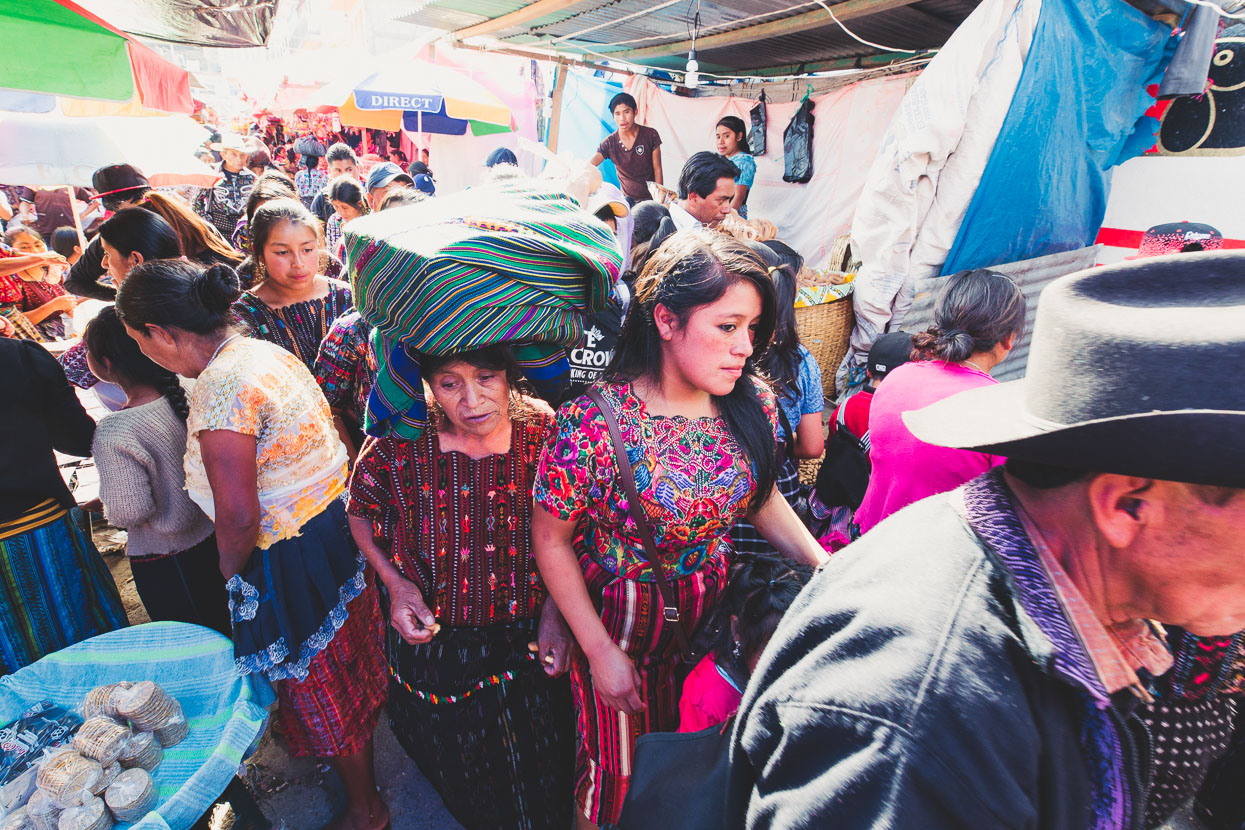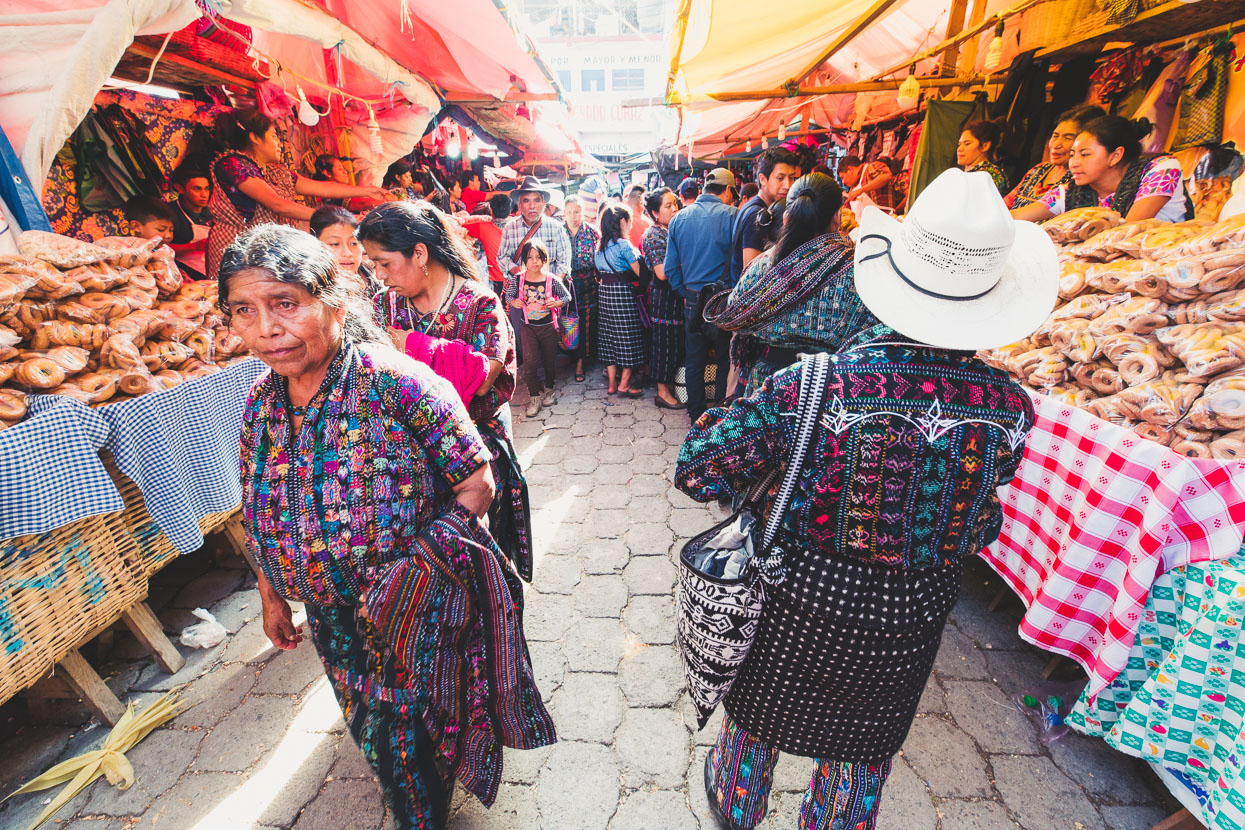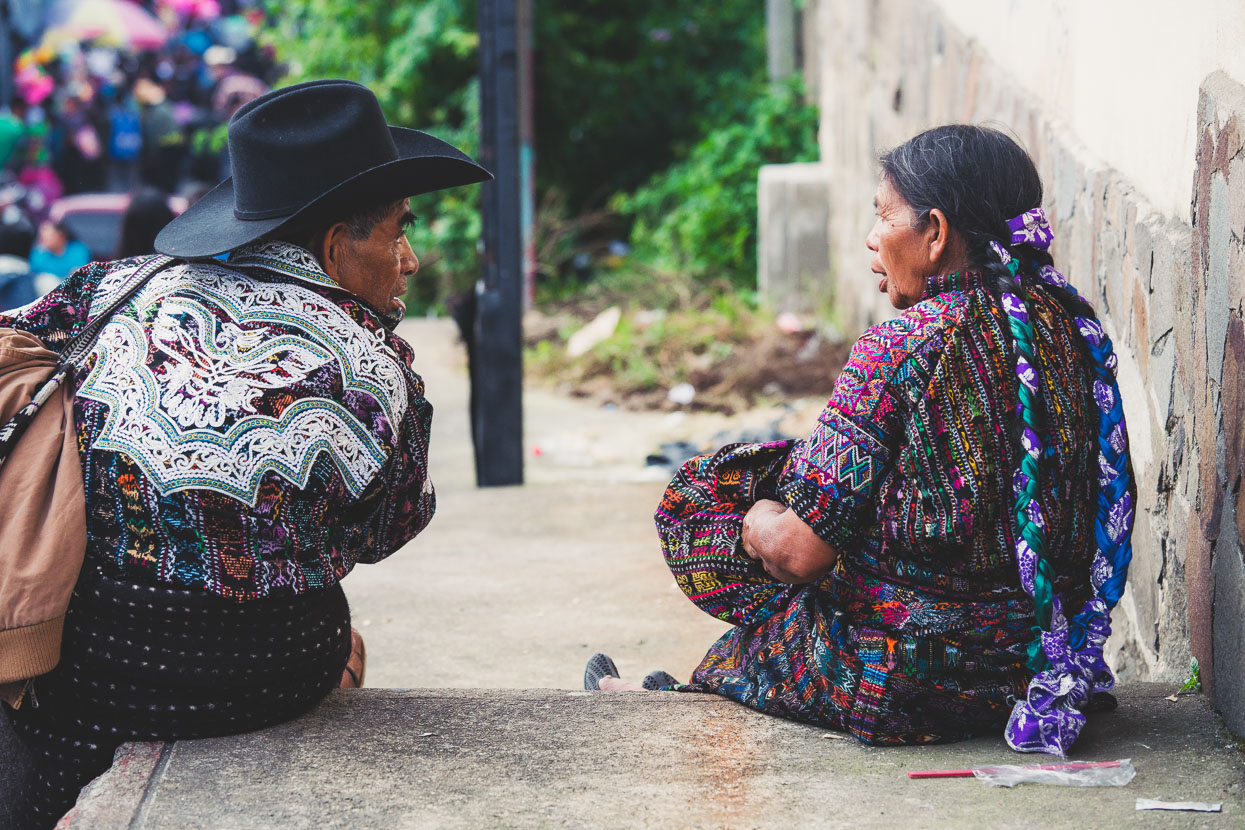 We had fun squeezing through the packed streets seeing different wares on offer, while in the plaza three different bandas played at a deafening volume as they each tried to make theirs the dominant sound.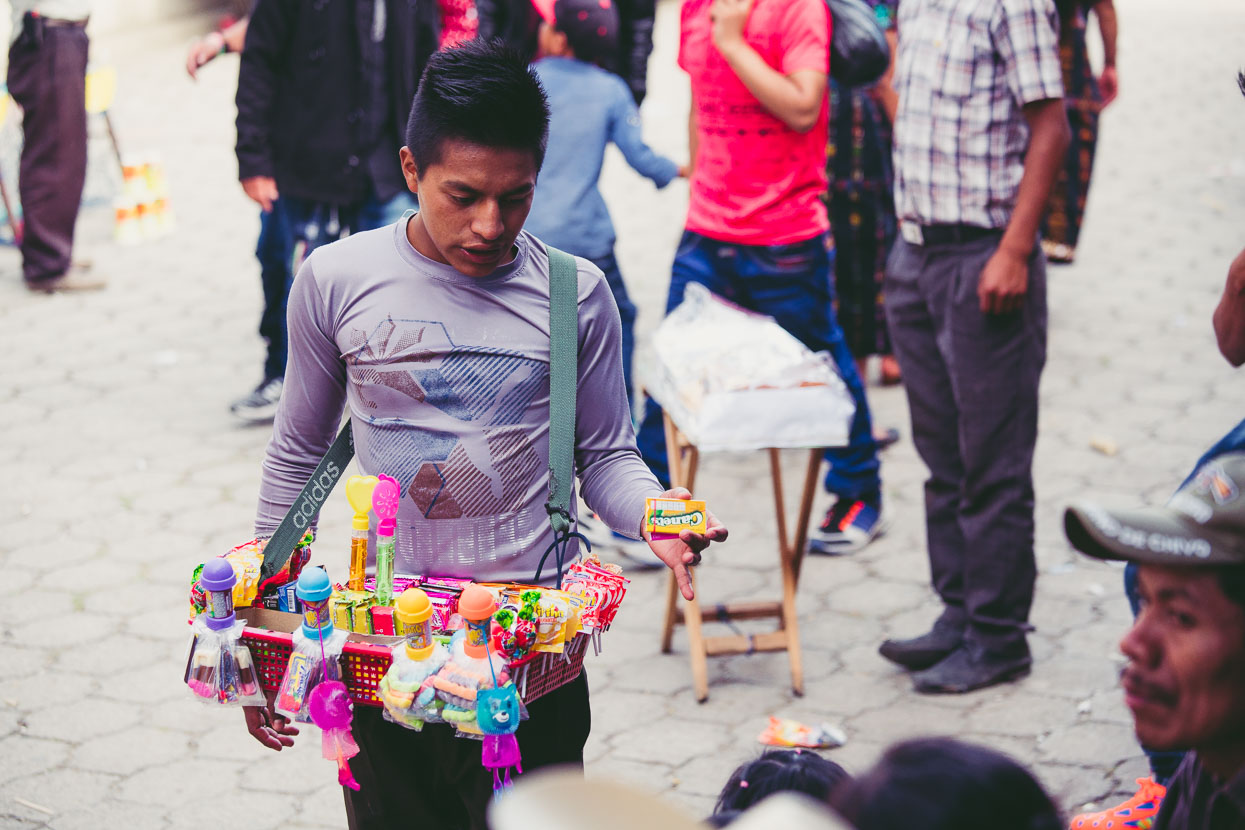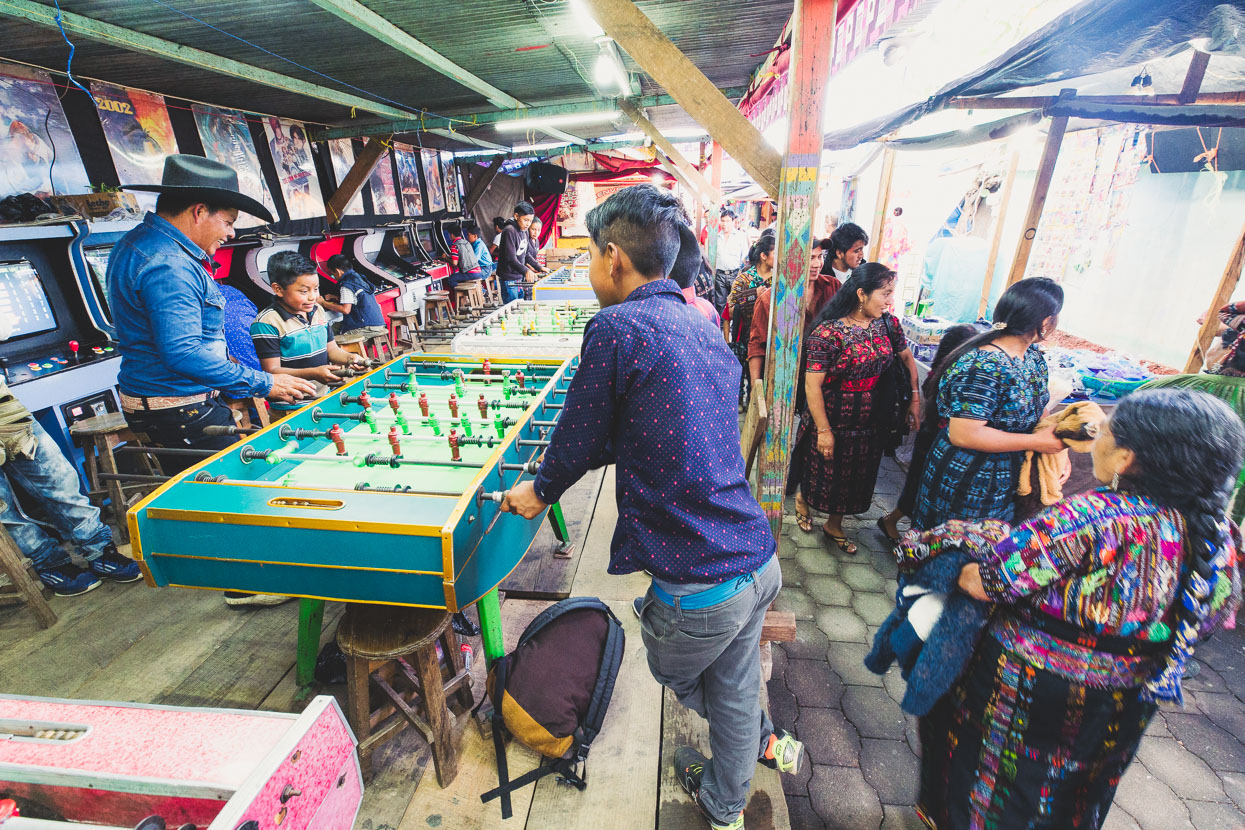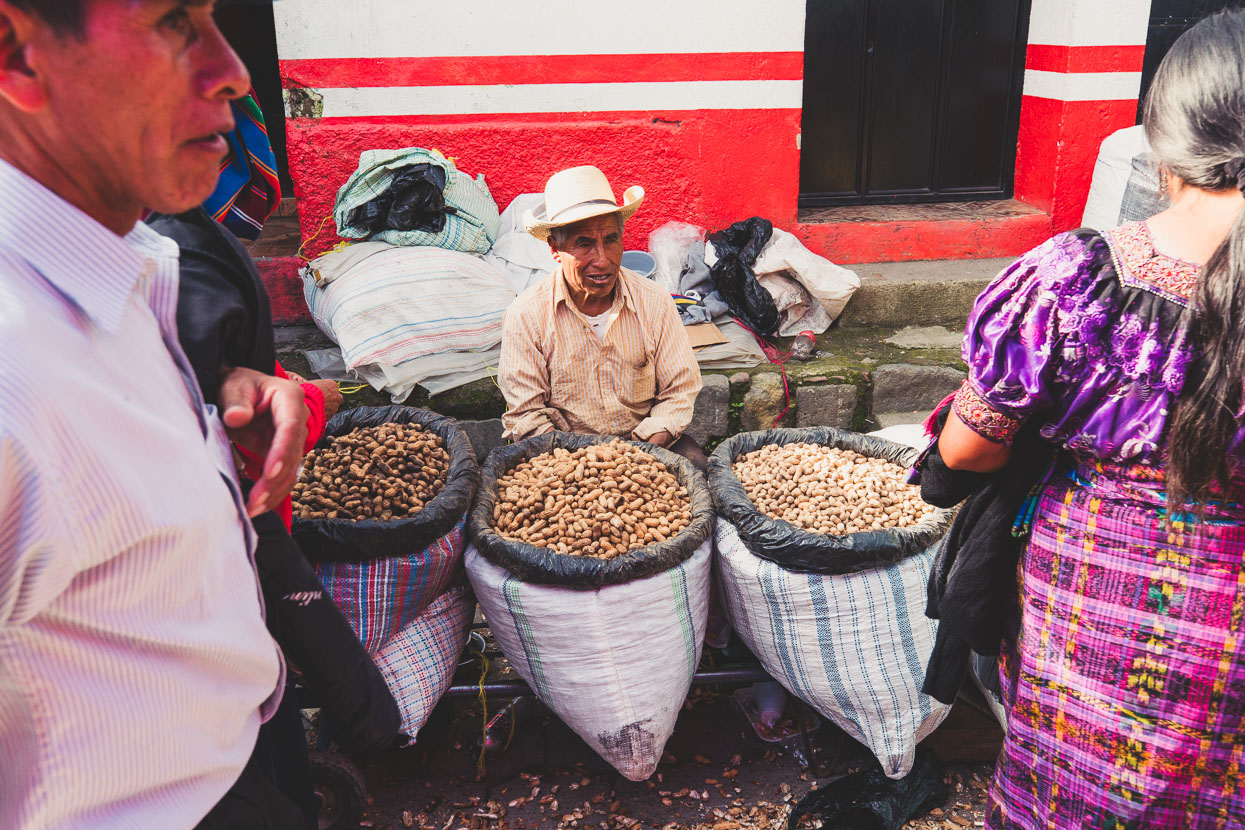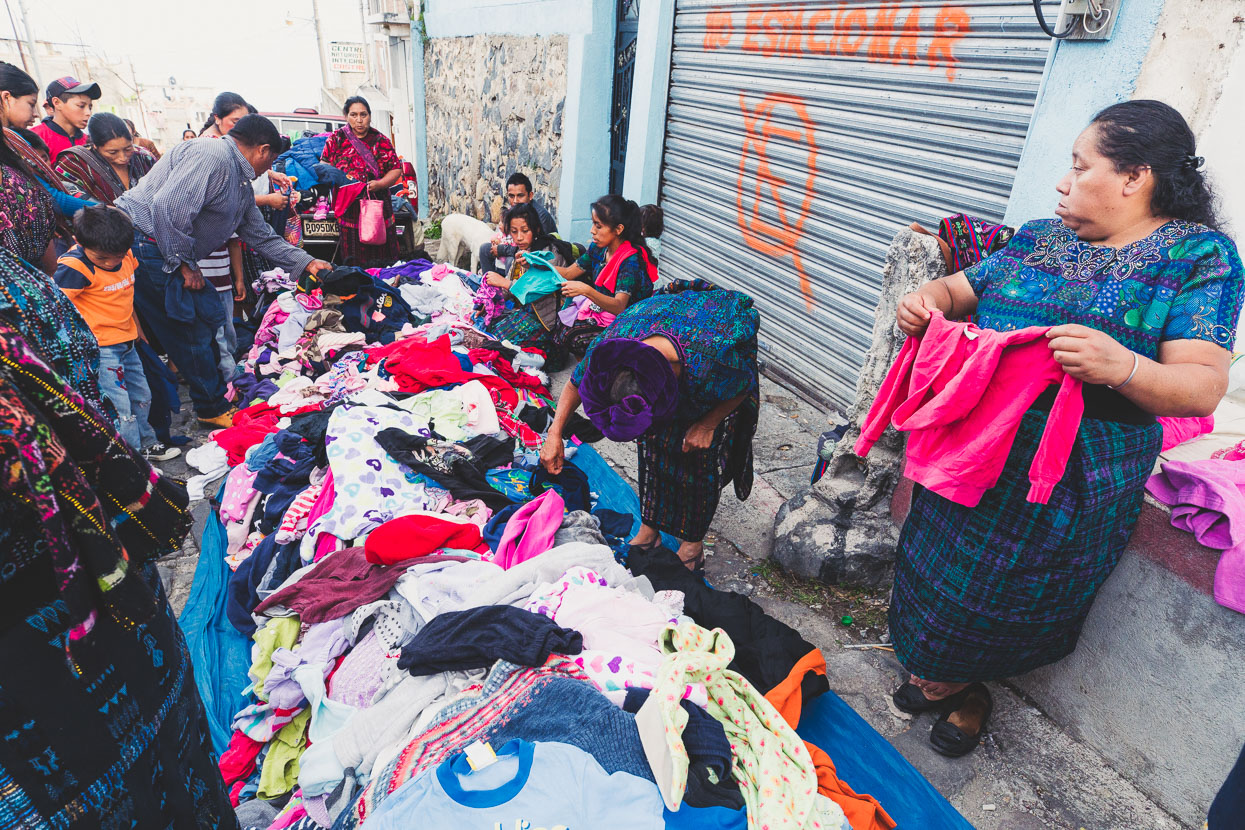 Ropa Americana is a big thing in Guatemala. Just like the famous Chicken Buses (ex US school buses), surplus used clothing makes its way cheaply to the Guatemalan market and in the small towns most of the inhabitants who are not traditionally dressed are wearing secondhand US clothing. We see stores and markets selling ropa Americana (American clothes) in every town, and often the items still have their thrift store tags.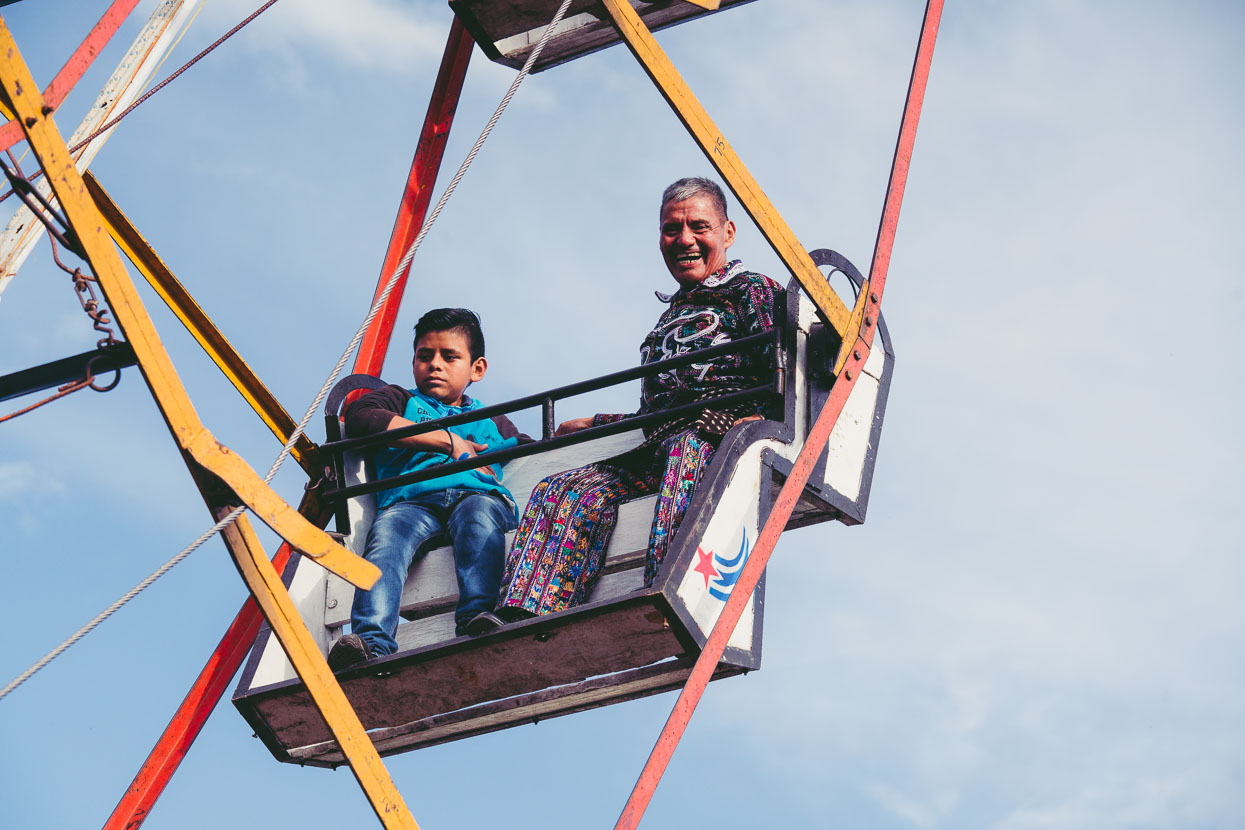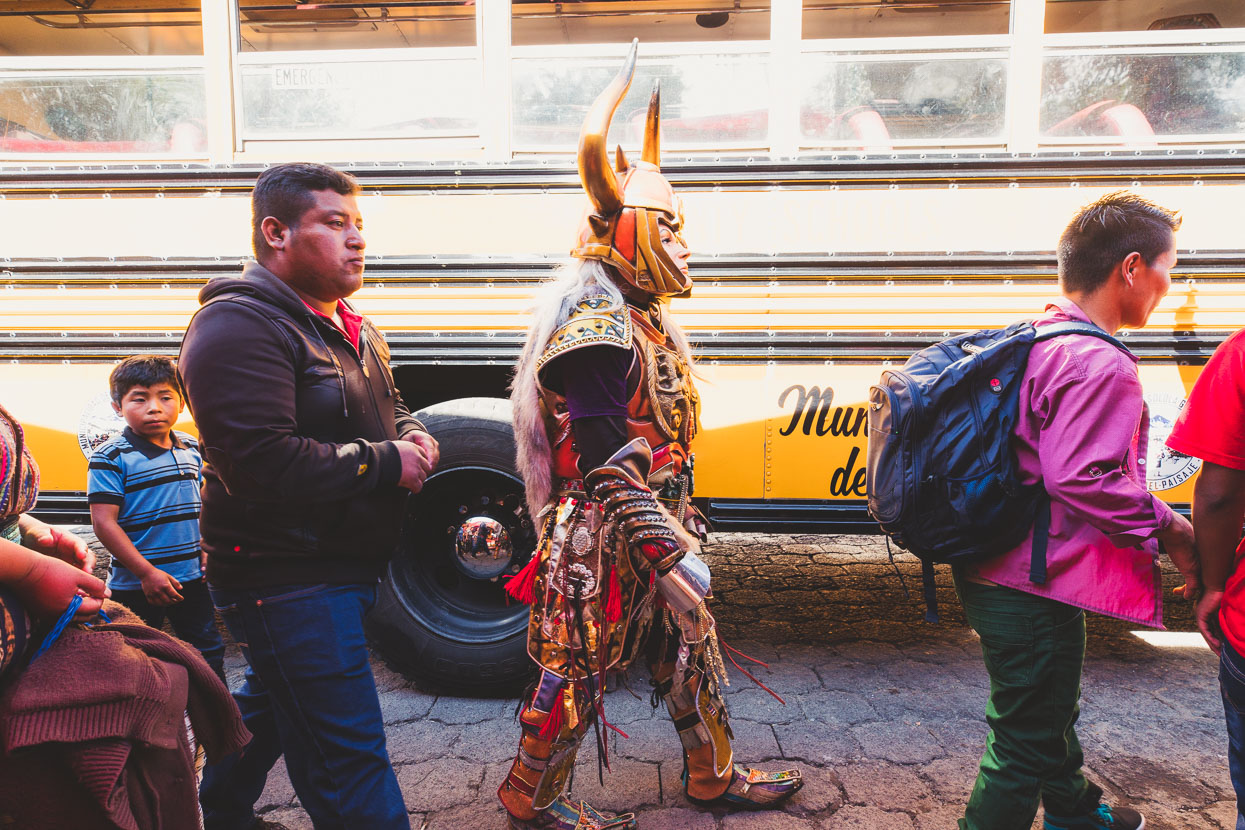 At one point we saw a troupe of dancers walk past in opulent costumes, but we we never caught their act. From my understanding outfits like this are worn for dance in some towns – a modern telling of the tragedy of the Spanish conquistadors subjugating the indigenous Maya.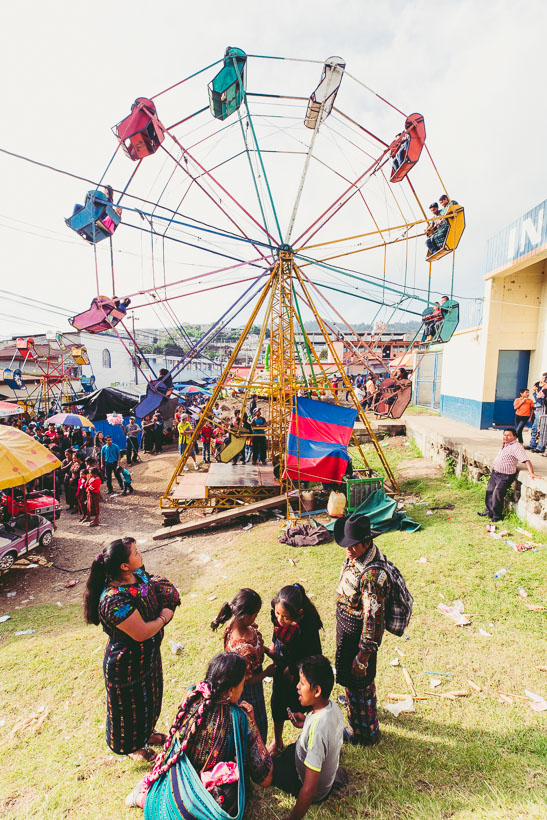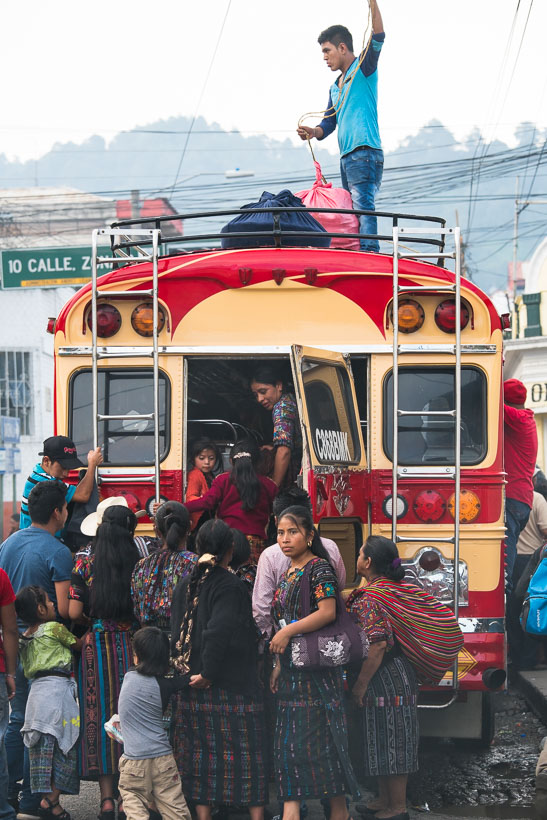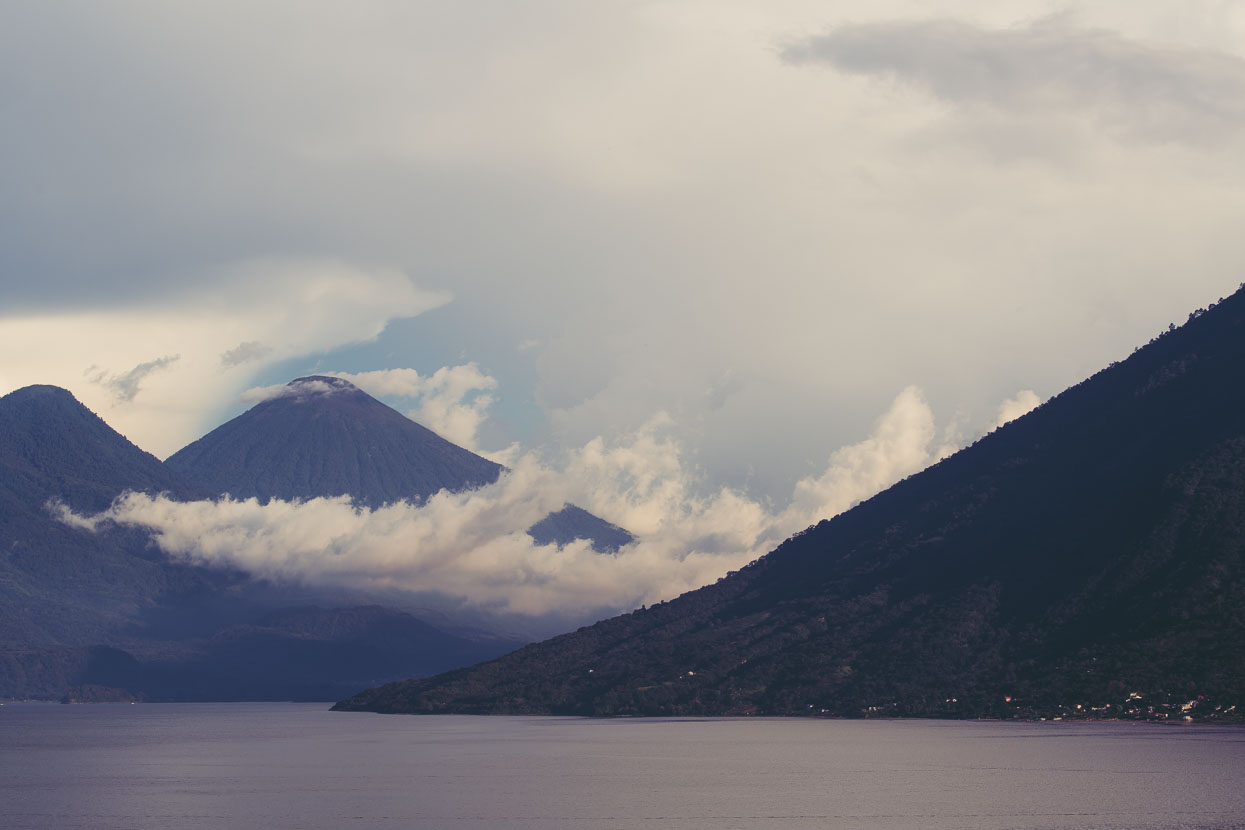 In San Pedro we were warned repeatedly about bad people on the road between San Pedro and Santiago Atitlán and one of our teachers reported that a family member had been robbed the previous weekend, and so we decided to take a short boat ride to Santiago Atitlán (just out of sight behind the toe of the volcano) to avoid that section and resume our ride there.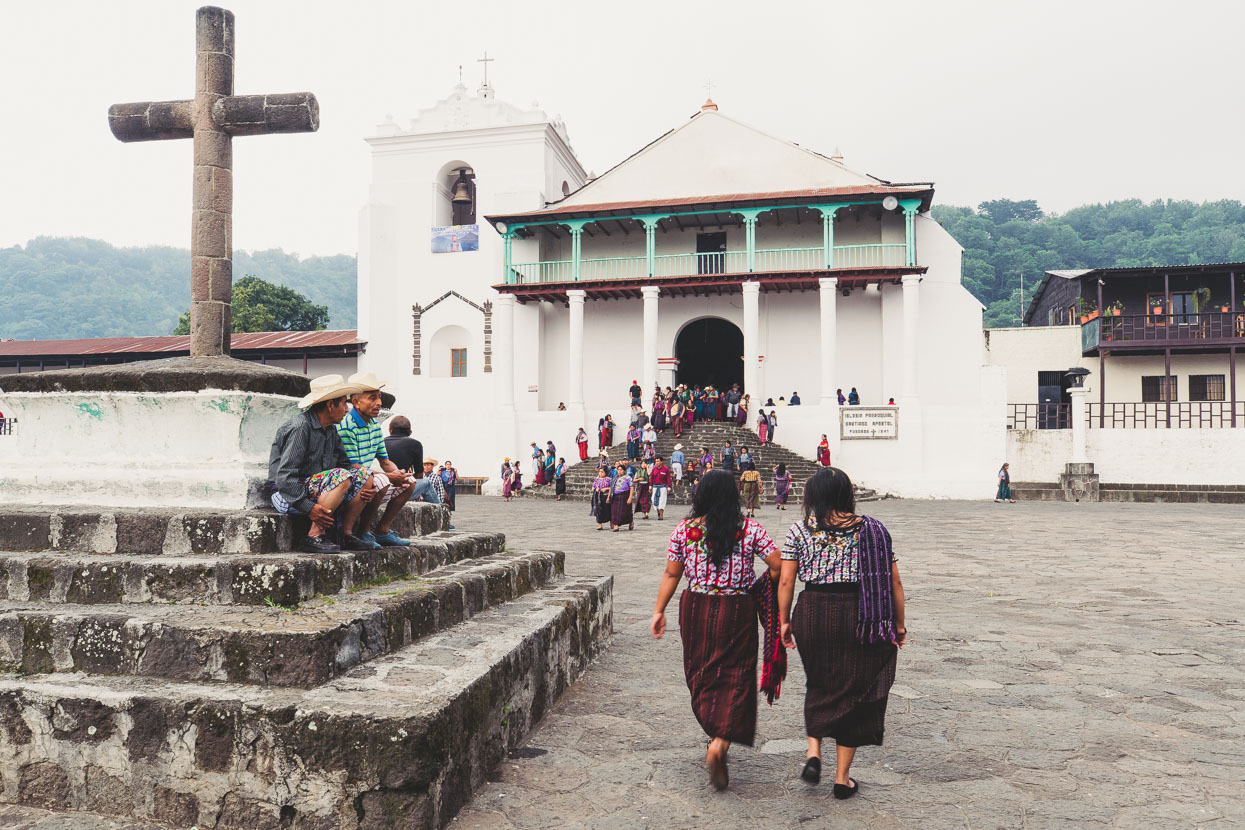 Being a Sunday it was all activity around the church in the late afternoon as groups of people met, shook hands and chatted before the service.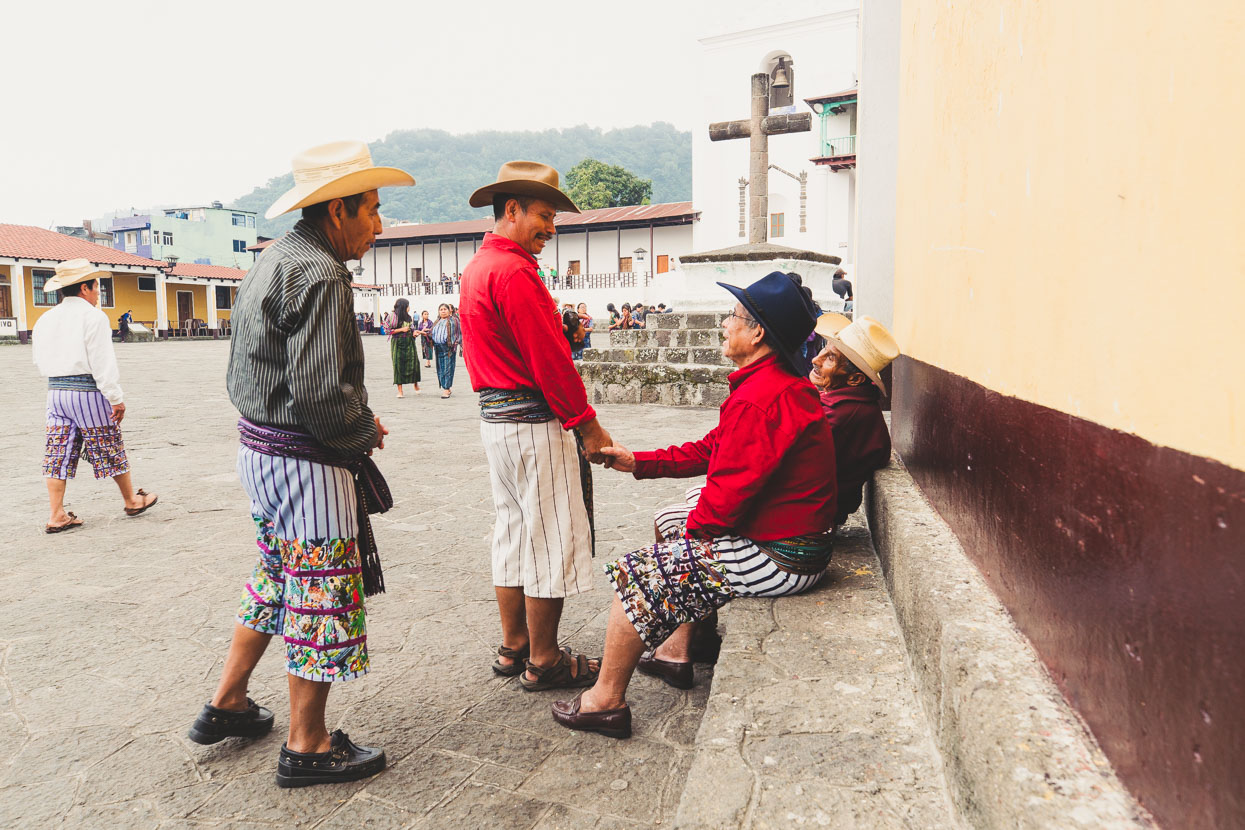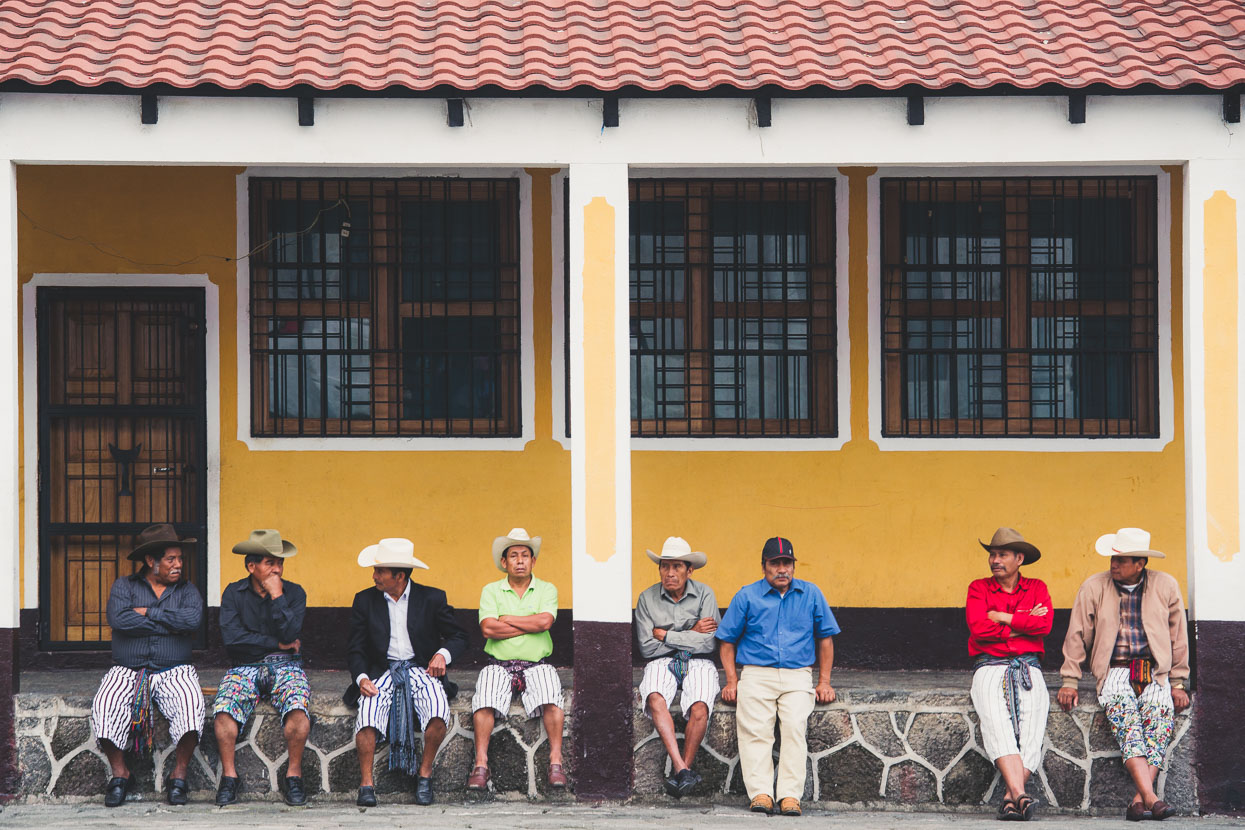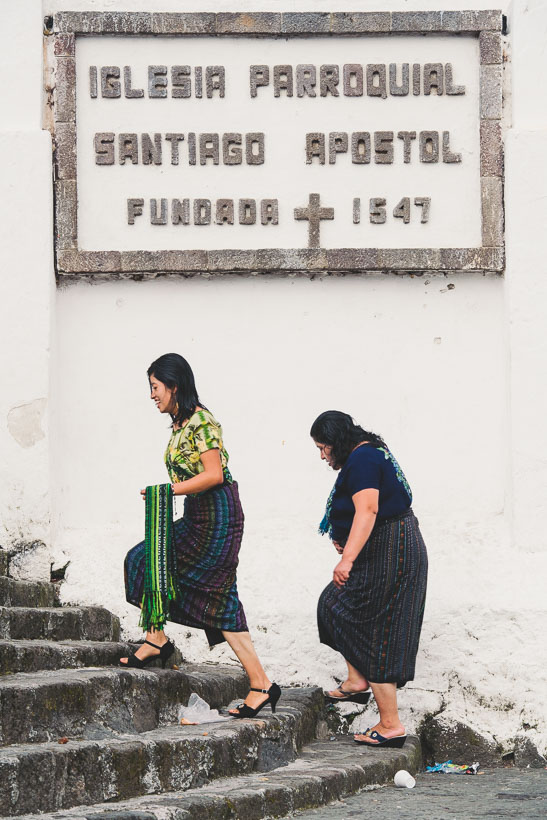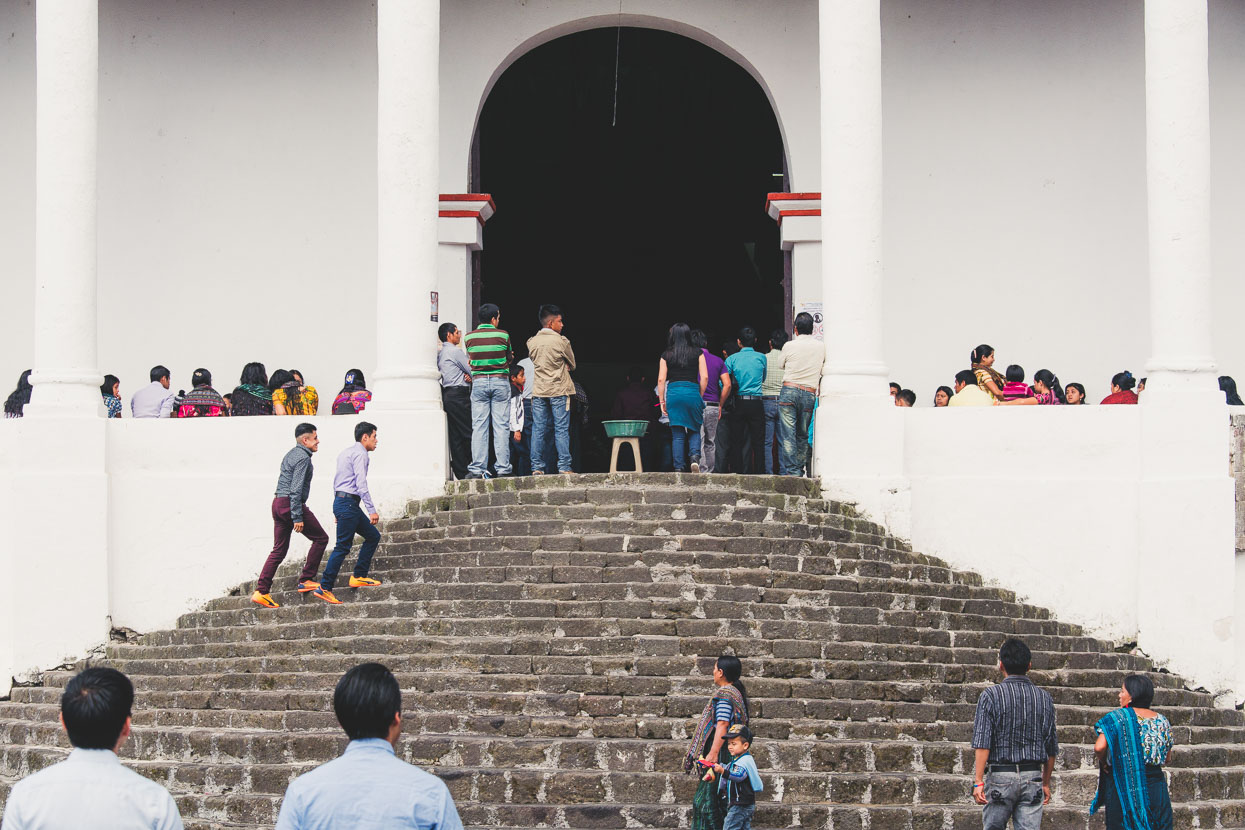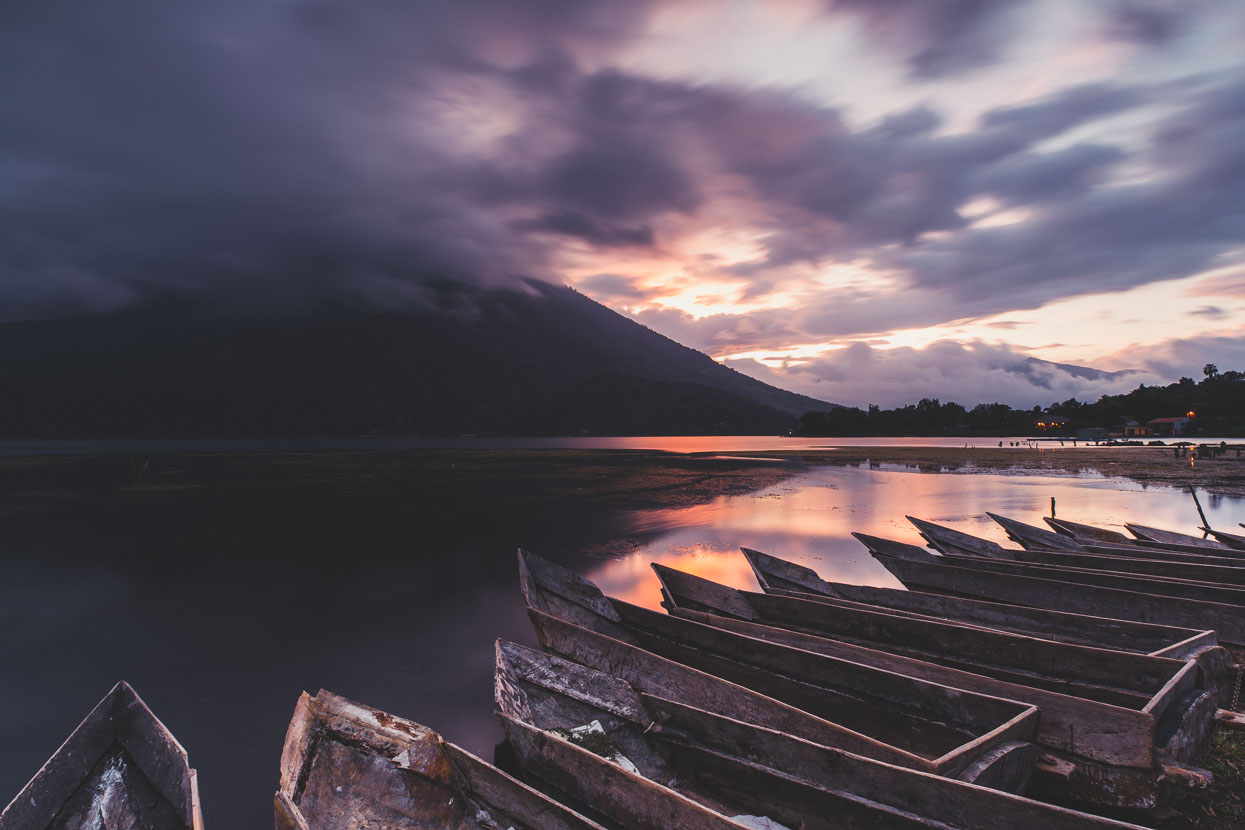 The lakefront of Santiago Atitlán is a great spot for photography in the mornings and evenings with a backdrop of Volcán San Pedro, dozens of cayucos lining the lake edge and fishermen coming and going.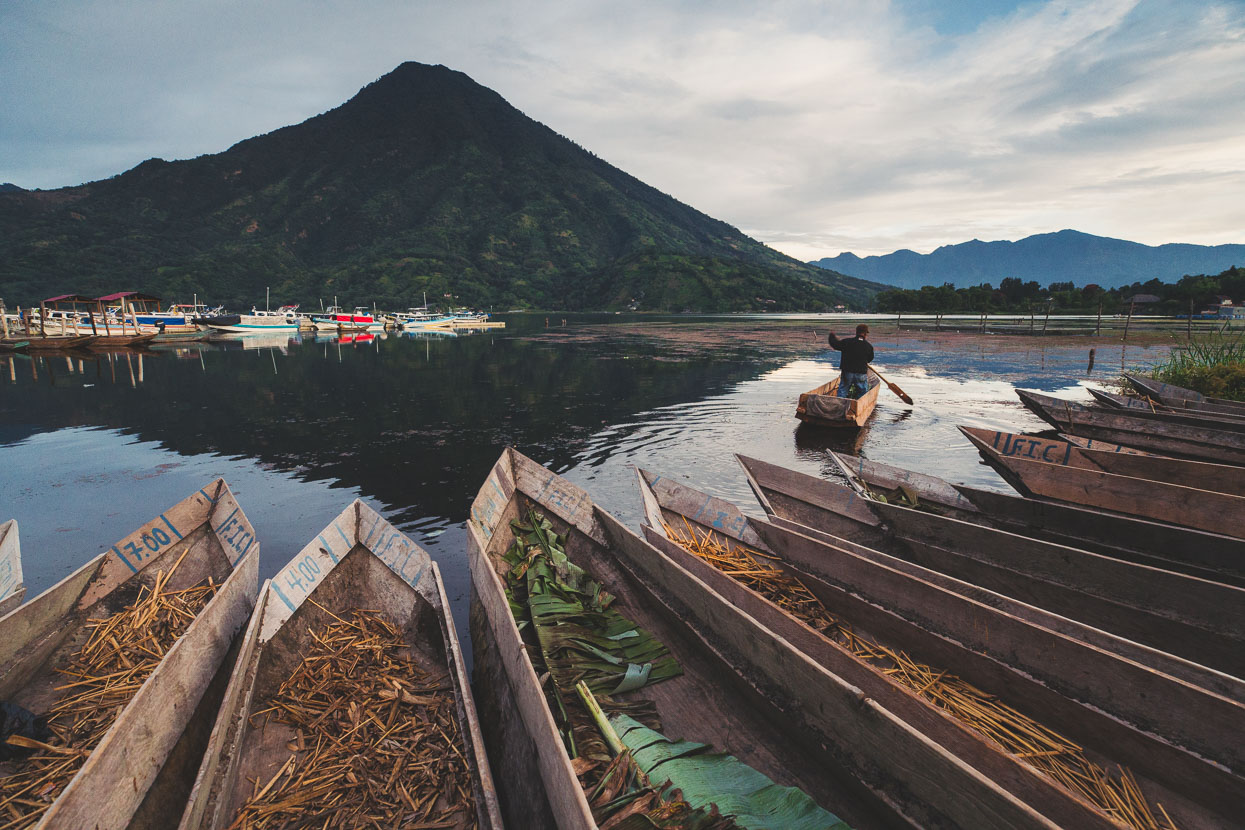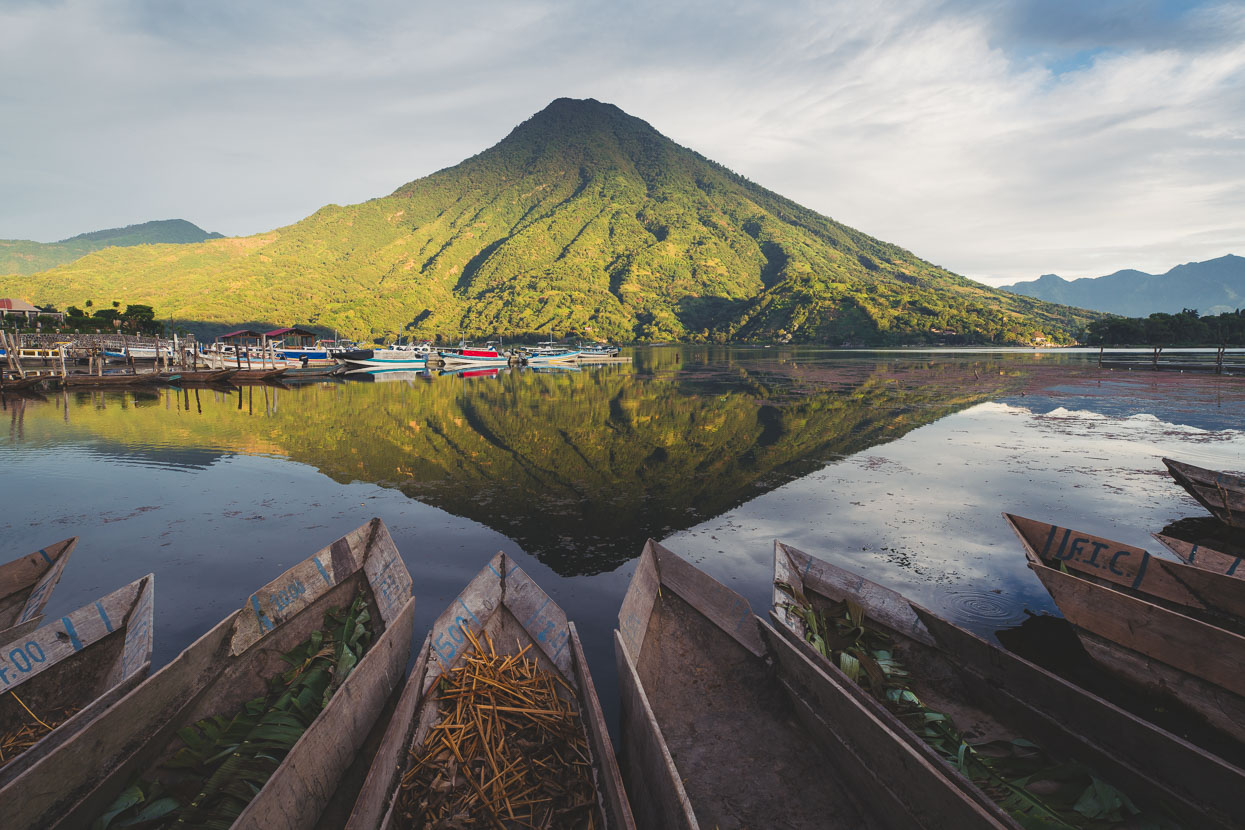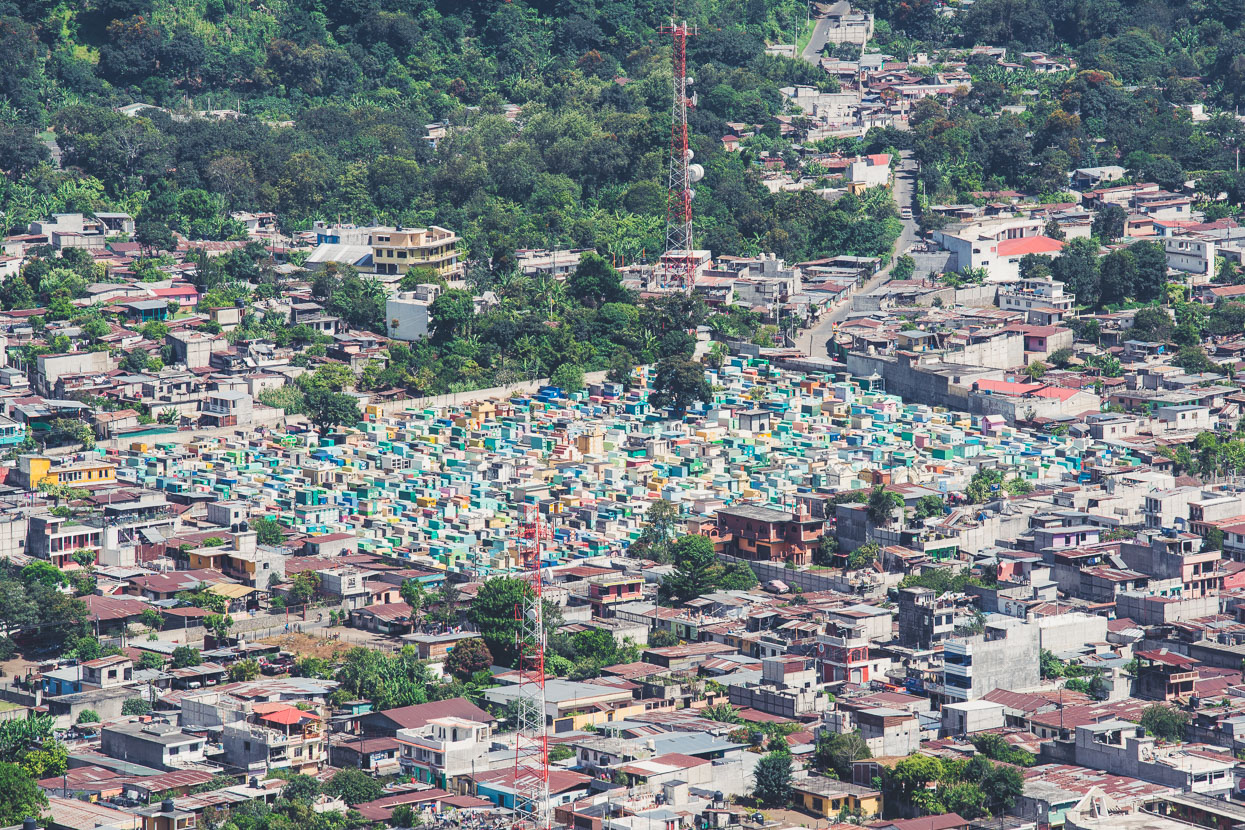 A town cemetery in San Lucas Tolimán – one of the towns we passed through on the two day ride to Antigua.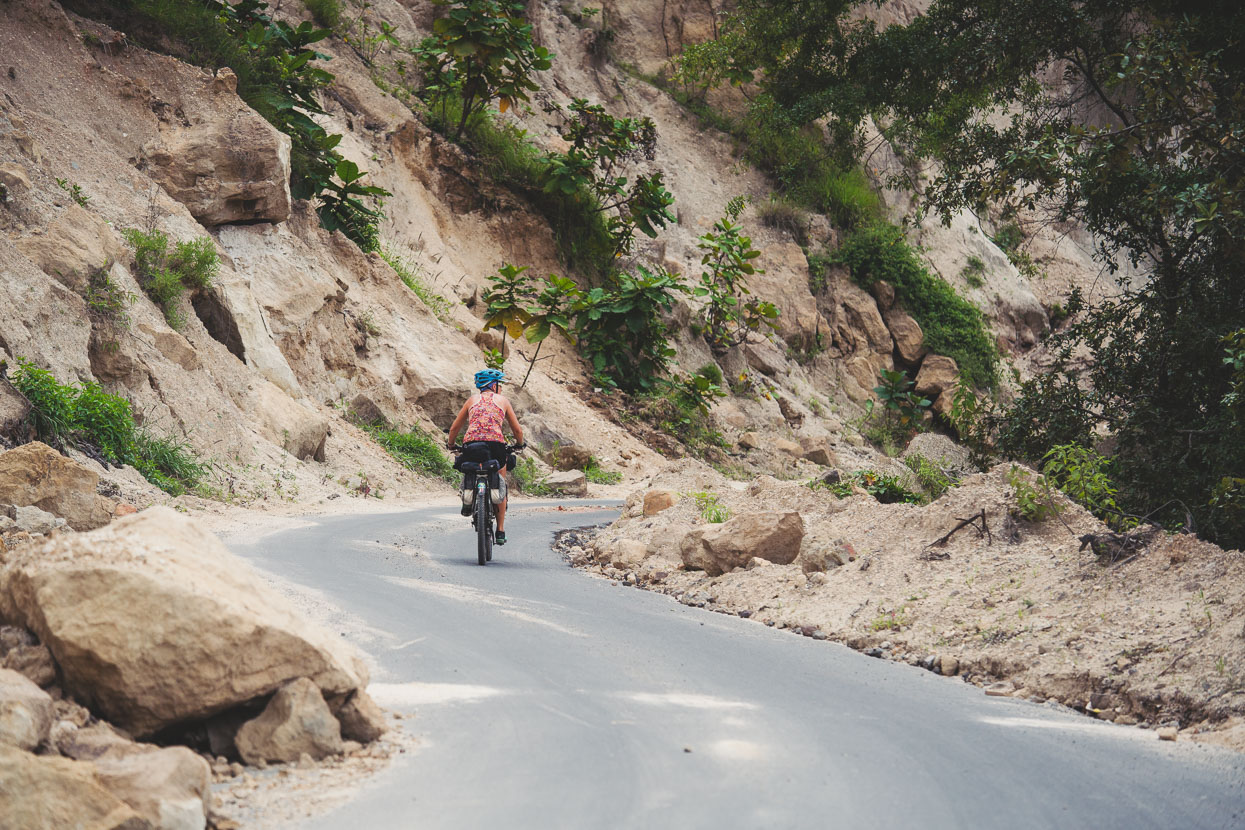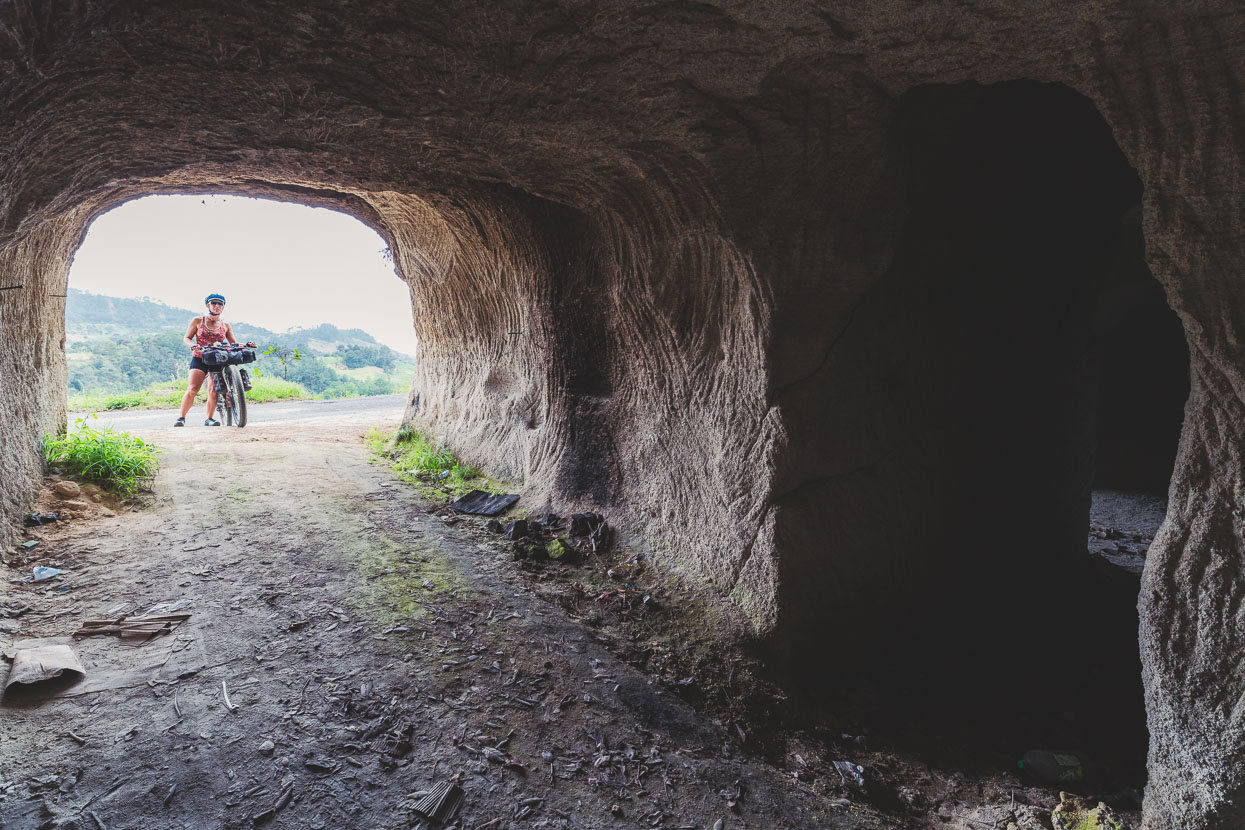 Keeping to our usual MO we plotted a route that avoided the main roads as much as possible, but when we were on the paved roads sometimes they might as well have been dirt… We did find some good dirt tracks though that made worthwhile deviations from the main routes.
Layers of tephra (volcanic ash) hundreds of metres deep from volcanic eruptions form the landscape here, and in places our route dropped into gorges cut deep into the soft land. Sometimes we saw deep tunnels in the roadside where the (presumably?) mineral rich tephra is being extracted.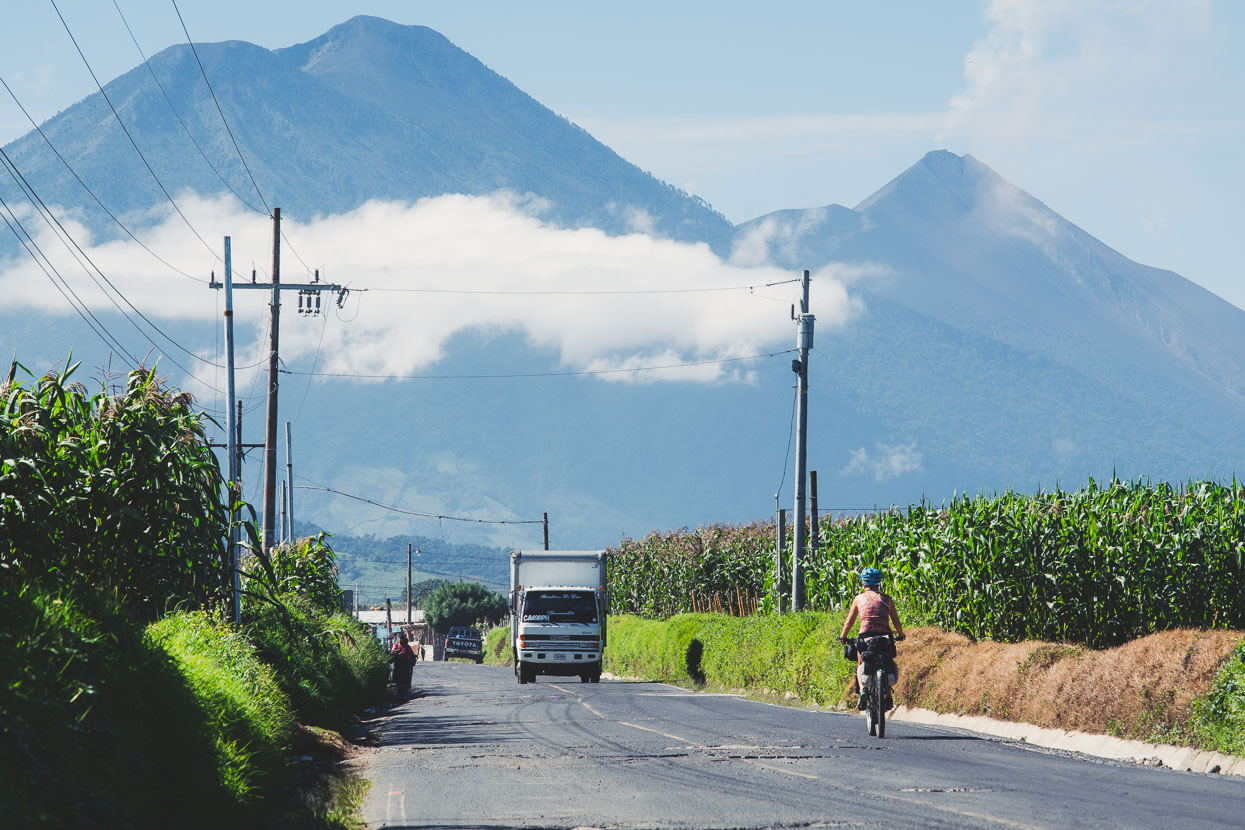 They look small here but that's Acatenango (just under 4000 metres) and Fuego (actively erupting) in the background. Maize grows as far as the eye can see as we cross the volcanic plain. We rode round the mountains' northern side to drop into Antigua.
Tortillas – fresh three times a day. Like Mexico they're eaten with every meal here. A 'thing' here is worn out rear axles from trucks concreted into the ground to protect the corners of buildings – another great example of Guatemalan recycling.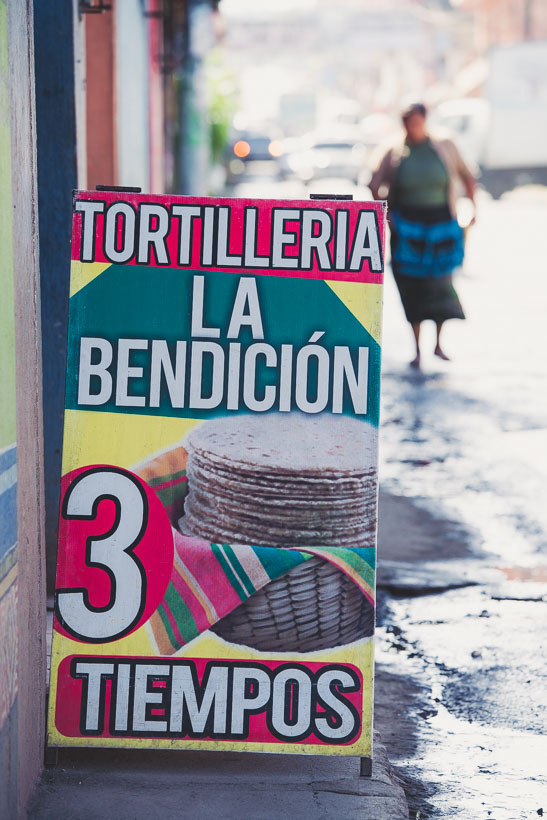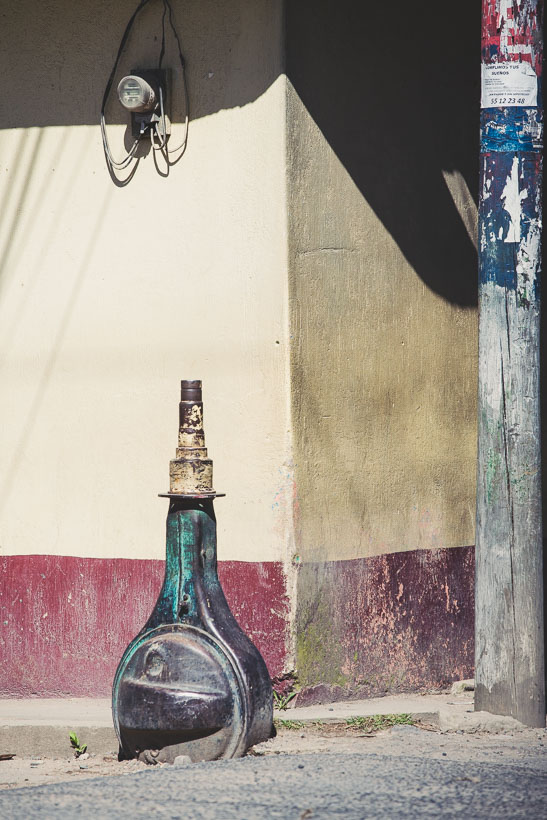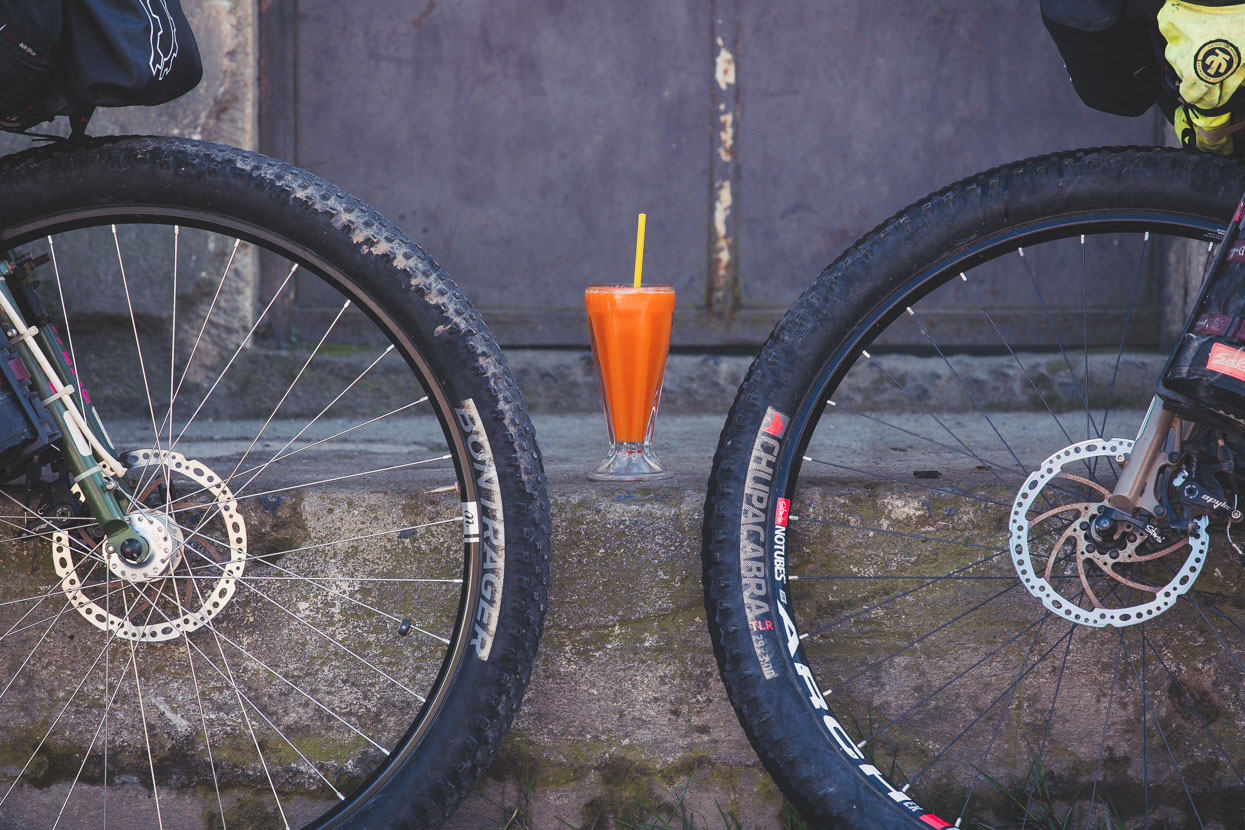 The licuado is a staple for us – smoothies made from fresh fruit and sometimes milk and yoghurt. Bought from a street stall for pocket change.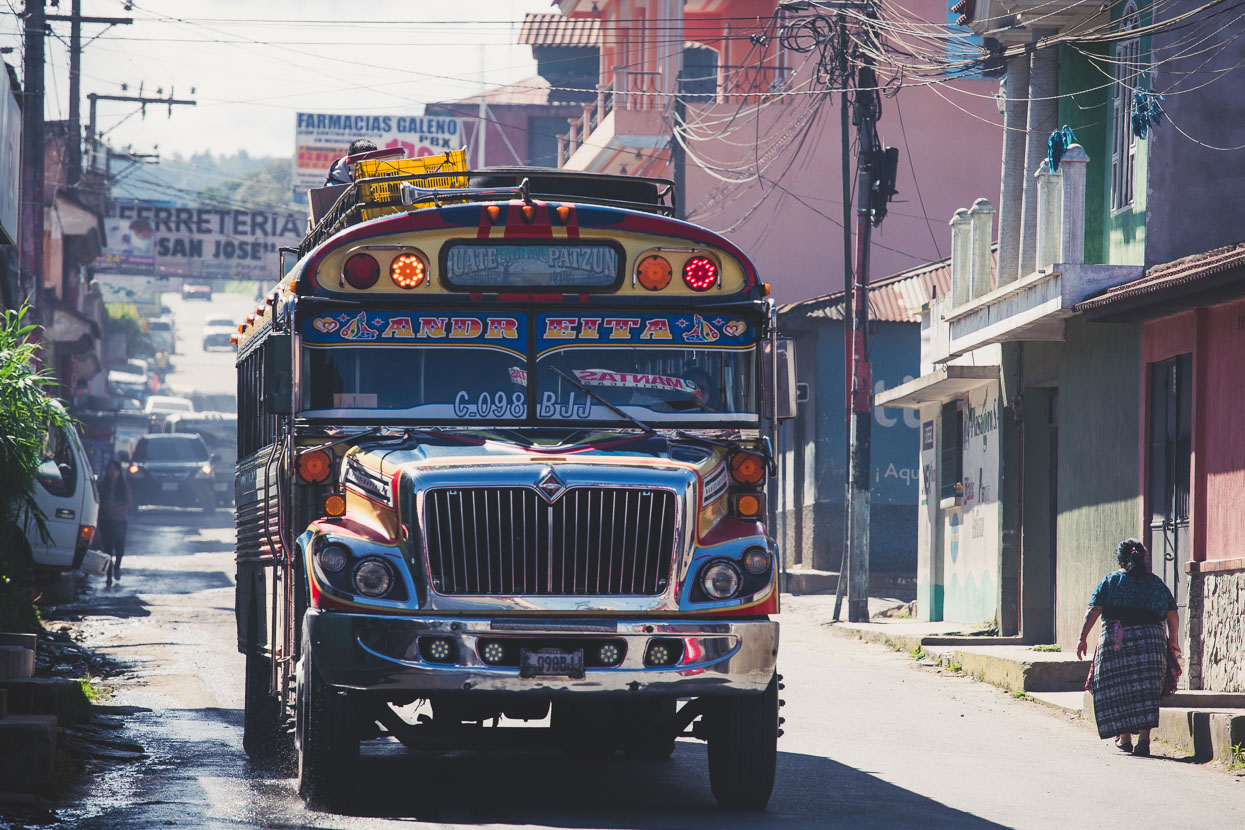 As we pass through a series of gritty agricultural towns traffic increases and we hold our breath as chicken buses thunder past in the narrow streets belching black fumes.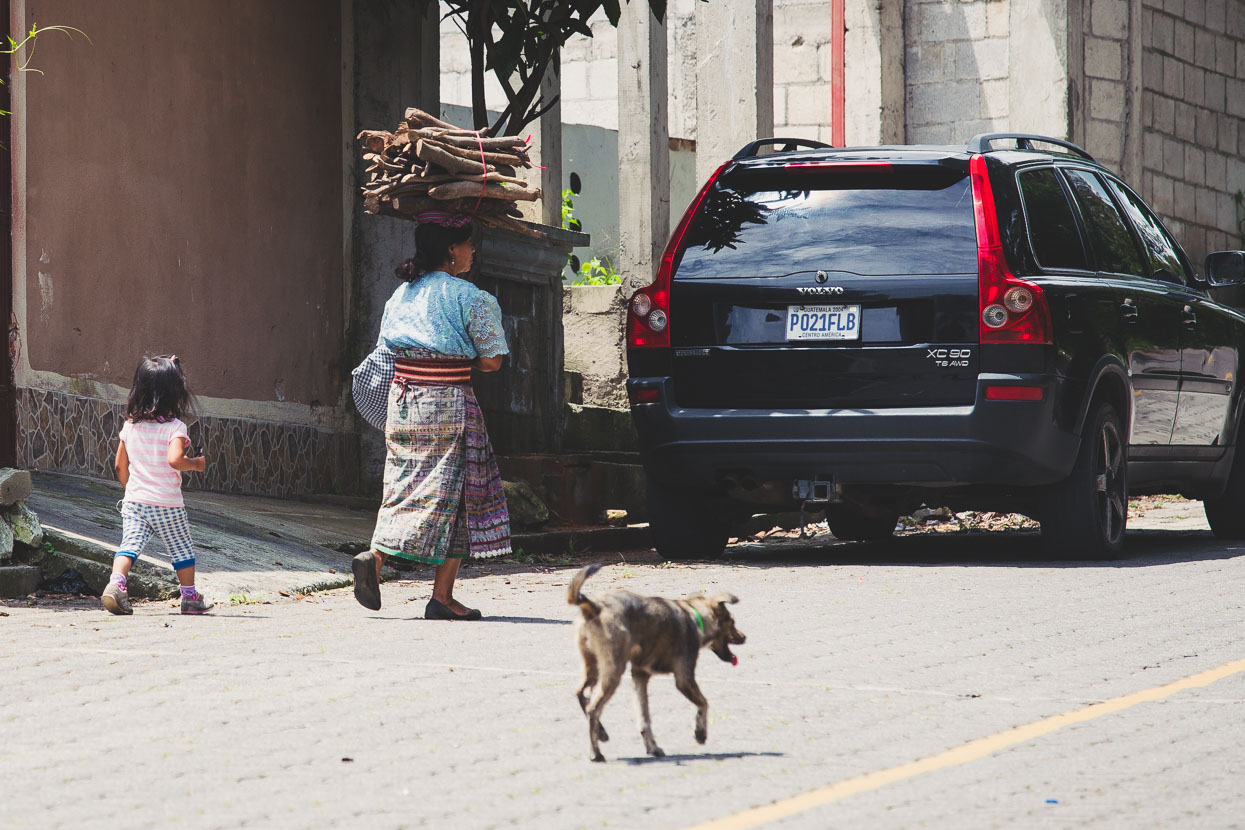 A moment of juxtaposition in the streets of Parramos as we hit pavement briefly between dirt tracks.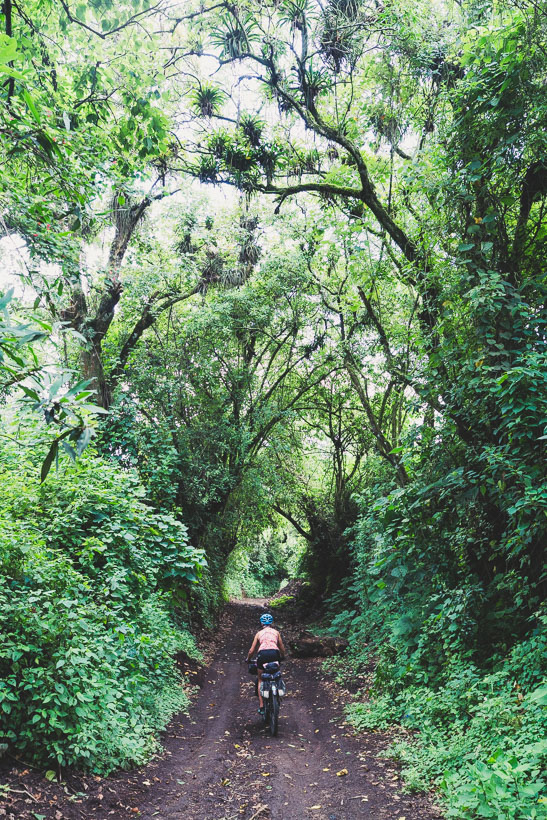 The back road into Antigua via a saddle that dropped us into San Antonio Aguas Calientes.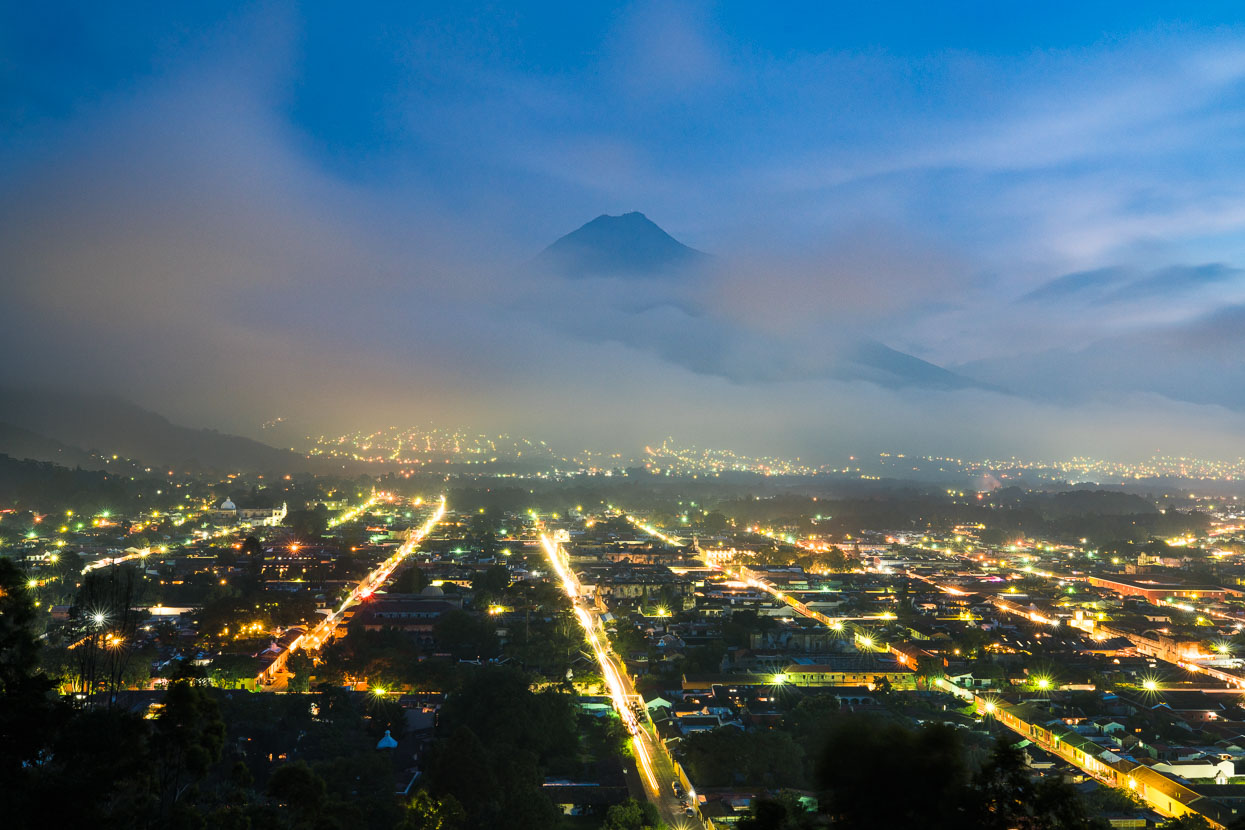 Antigua's cobbled streets and solid single story buildings with walls fortress-thick remind us we haven't been in a colonial city since San Cristobal in Chiapas. There seems to be an ornate stone church around every corner and the perfect symmetry of Volcán Agua forms a distinctive backdrop to the city; making it instantly recognisable in photos. After the lakeside charm of San Pedro it's a different vibe, but a good one and we're looking forward to exploring more and climbing nearby Volcán Acatenango.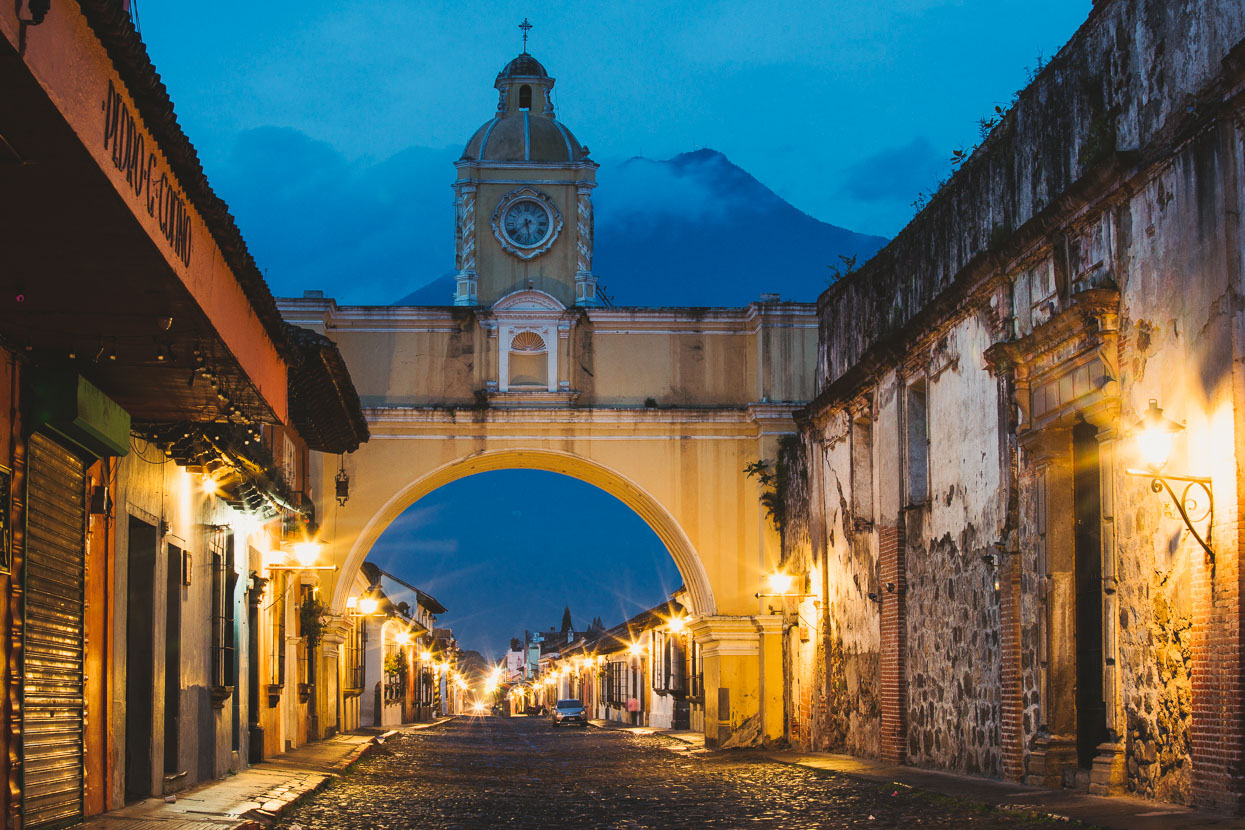 Do you enjoy our blog content? Find it useful? We love it when people shout us a beer or contribute to our ongoing expenses!
Creating content for this site – as much as we love it – is time consuming and adds to travel costs. Every little bit helps, and your contributions motivate us to work on more bicycle travel-related content. Up coming: camera kit and photography work flow.